These 3 Creative Guacamole Recipes are a healthy gluten free way to kick off your Cinco de Mayo party this Summer.

I don't think I've ever met someone who doesn't enjoy the creamy goodness of guacamole. That classic combination of avocados, lime juice, tomatoes and onion are enough to make you feel like you're on celebrating Cinco de Mayo down south. Thankfully, you don't have to go anywhere for a taste of Mexico and creative guacamole because Avocados from Mexico are available in Canada all year long. In other words, you can throw a Mexican fiesta any day, any time, any where and it will always taste great.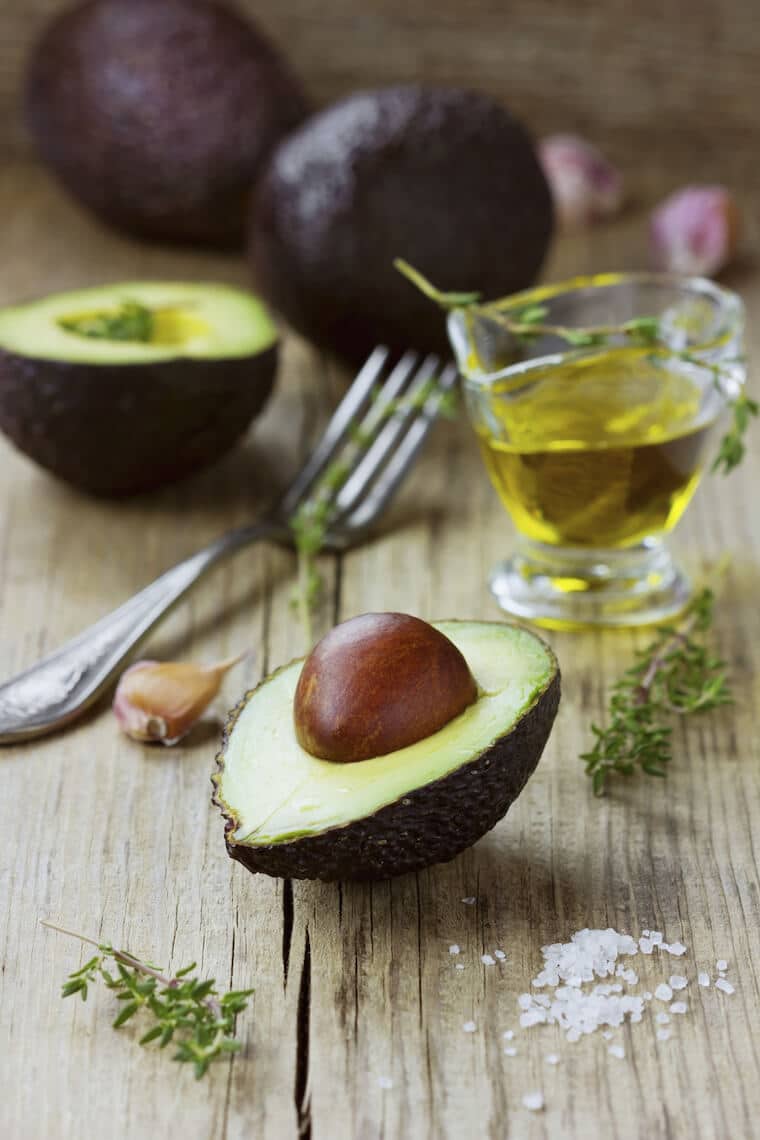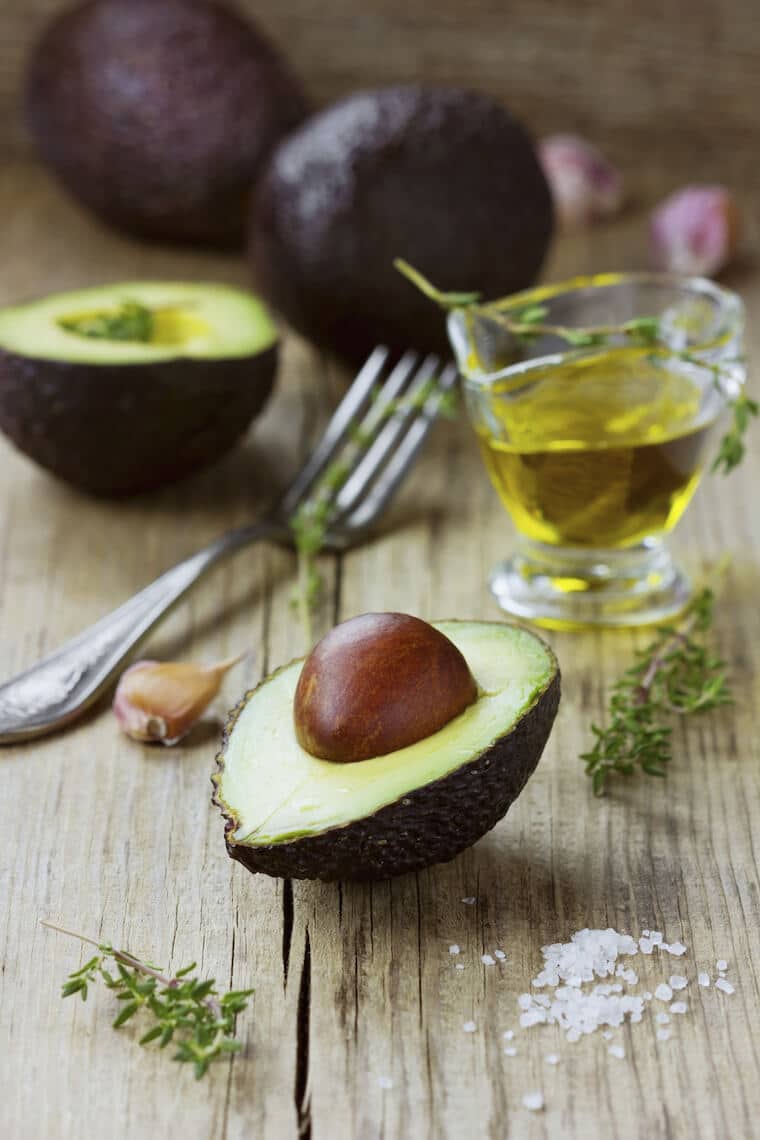 And as a dietitian foodie, that makes me and my belly really, really happy. Avocados are loaded with Vitamin K, B vitamins, C, Folate and are naturally gluten free, dairy free and vegan. They also have more potassium than a banana which is important for heart health and also great for a post-workout snack. But the biggest selling feature in my books are their super dose of heart-healthy monounsaturated fats. I don't know about you, but I'm kind of digging the fact that throwing a Mexican party at home is a surprisingly figure friendly choice. And hey, if a margarita happens to slip it's way into the mix, that's just what I call balance. With creative guacamole recipes like these, there's clearly lots to celebrate.
I'm all about innovation, especially when I'm entertaining. So rather than sticking to the classic guacamole combination when I have guests over, I'll be whipping up these three creative guacamole recipes by Avocados from Mexico.
Creative Guacamole Recipes – 3 Ways
The first creative guacamole recipe is a Pineapple Guacamole bowl. I kind of love the sweet and tangy kick from the pineapple so this is a regular weeknight TV-watching staple in my house.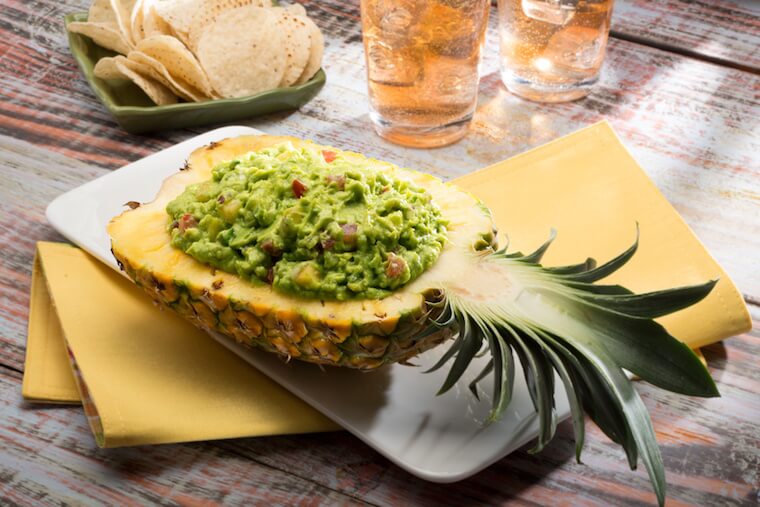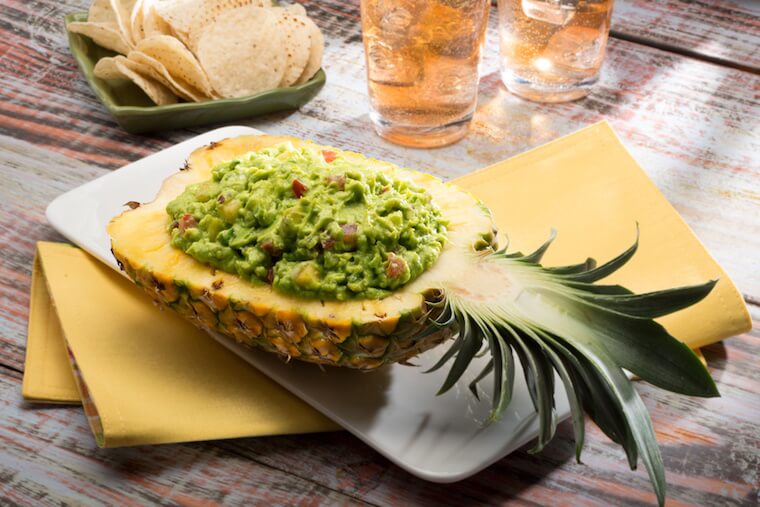 Our next creative guacamole recipe is for the cheese lovers in your life (which are hopefully all your friends because we all know that people who like cheese are good peeps). I love the salty kick of feta with the creamy Avocados from Mexico.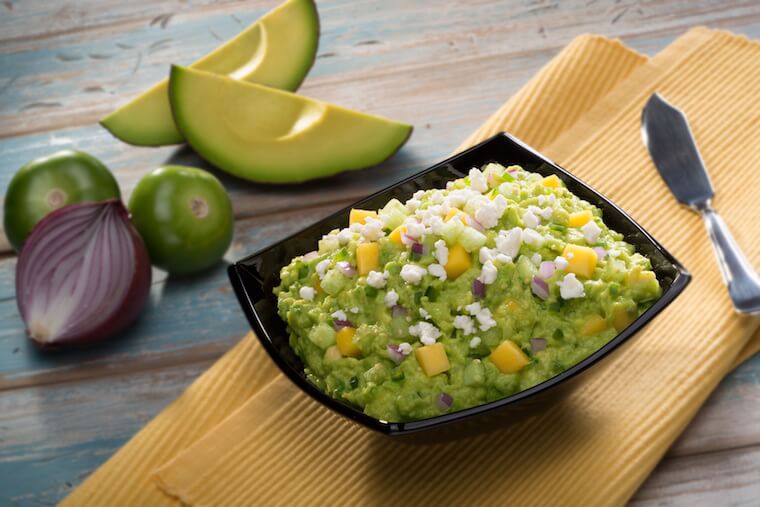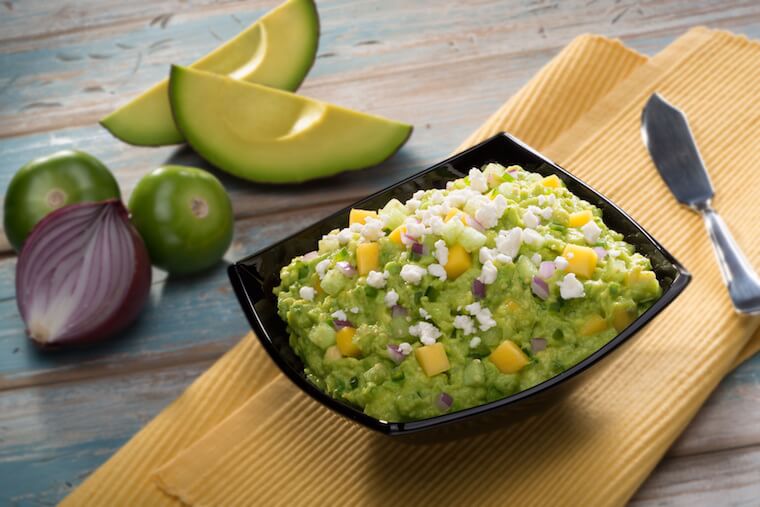 And last but not least, the King of Mexican cuisine himself, Rick Bayless, crafted an amazing layered dip that takes your creative guacamole to a whole new level.  Here you get hummus, sour cream, tomatoes, greens, bacon, and cheese snuggling up in bed with your guacamole. It's enough to make a double date in with your in laws a really good time.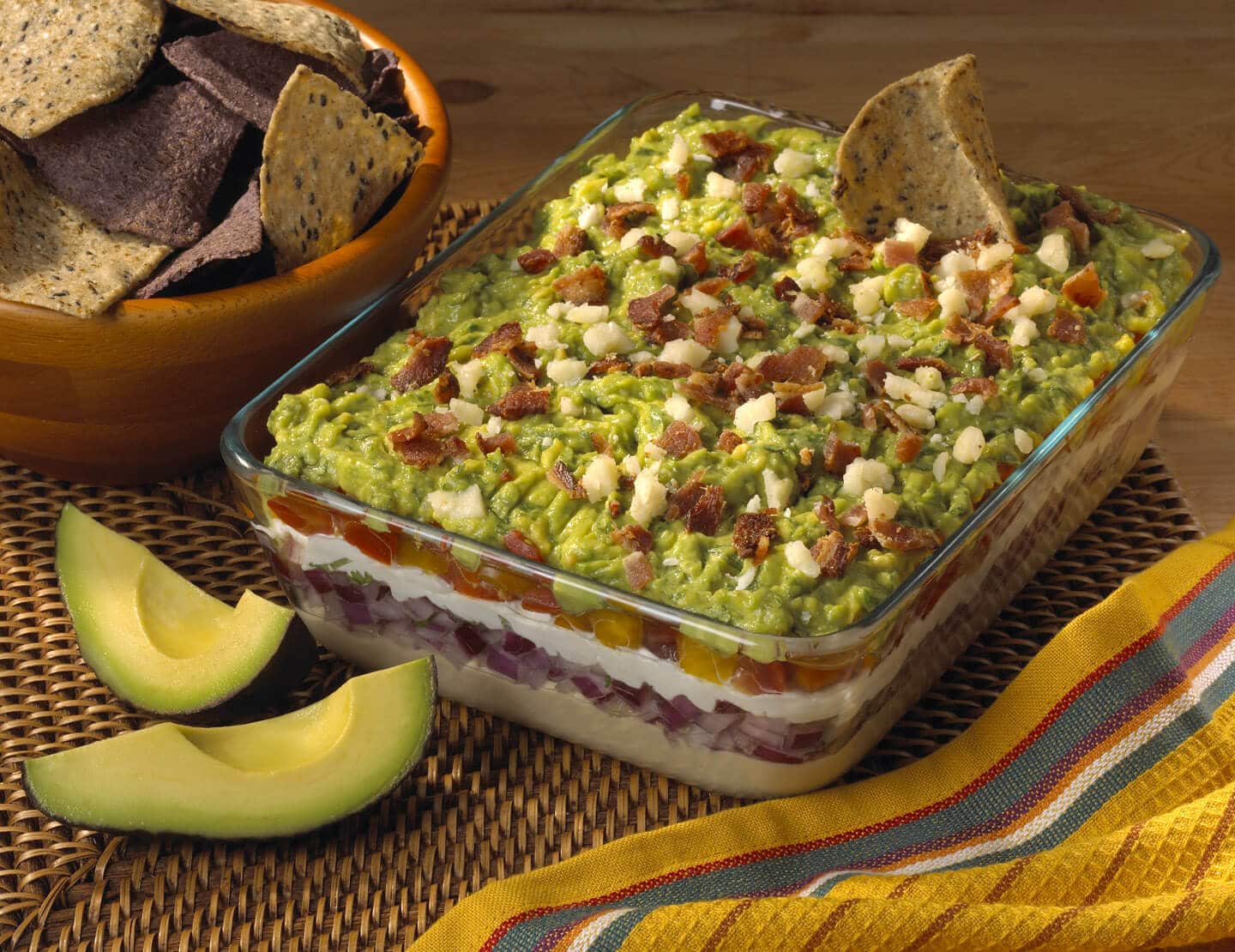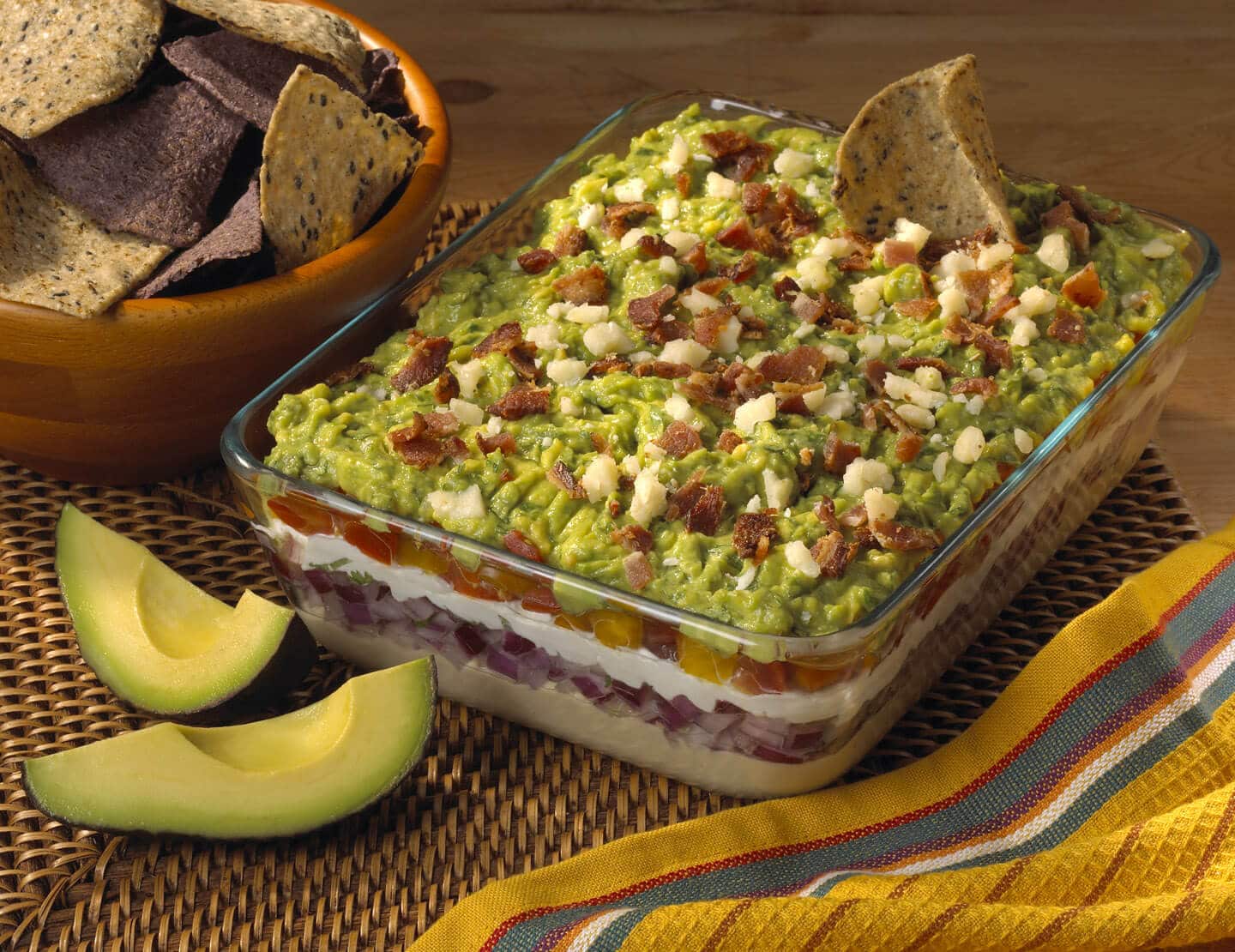 What are some of your creative guacamole recipes? How do you like to enjoy your healthy avocado dip? I would LOVE to read some of your suggestions, fun creative guacamole add-ins and flavour profiles! Leave me a comment below!


Holy Pineapple Guacamole
I love the addition of some sweet and tangy pineapple in this classic guacamole recipe.
Ingredients
3

Avocados From Mexico 

halved and pitted

3/4

fresh pineapple

diced

1/3

red onion

finely diced

1/4

cilantro chopped

2

roma tomatoes

seeded & chopped

1

jalapeno

seeded & finely diced

1

juice of lime

1

pinch

salt & pepper

to taste
Instructions
Mash the avocados with a potato masher or a fork.

After the avocados are mashed, add the lime juice and stir.

Next, add in the tomato, onion, jalapenos, cilantro, and season with salt and pepper to taste.

You're done! Refrigerate and use within 24 hours.
Guacamole Al Tomatillo Con Queso Fresco
I love the addition of tangy tomatillos and salty feta cheese in this updated guacamole recipe.
Ingredients
3

Avocados From Mexico

halved and pitted

2

red onion

diced

1

serrano chile

diced

2

tbsp

cilantro

chopped

4

tomatillos

finely diced

1

lime

salt

to taste

1

cup

feta cheese
Instructions
Cut the avocados in half and remove the pit.

Using a spoon, remove the flesh from the skin.

Place the red onion, serrano chile and cilantro in a molcajete and mash them. (A molcajete is a traditional Mexican mortar and pestle made of volcanic rock. If you don't have a molcajete you can use a fork to mash.)

Add the avocado and fold it in. Add the tomatillos.

Place the guacamole in a serving dish and top with the cheese.

Serve with lime wedges and totopos, fried tortilla chips.
Layered Arugula Guacamole Dip
Here you get hummus, sour cream, tomatoes, greens, bacon, and cheese snuggling up in bed with your guacamole.
Ingredients
1 1/2

cups

roasted garlic hummus

2

cups

red onions

chopped

2

tablespoons

fresh lime juice

1

tablespoon

chopped fresh cilantro

2 1/2

teaspoons

salt

1

cup

sour cream

2

cups

multi-colored cherry tomatoes

chopped

3

ripe large Avocados from Mexico

halved, pitted

1/2

cup

Frontera Tomatillo Salsa

or Original Guacamole Mix

1

cup

generous fresh arugula or spinach leaves

finely chopped

1/2

cup

crumbled crisply-cooked applewood-smoked bacon

5 slices cooked

1/4

cup

finely crumbled or shredded Mexican queso anejo or romano cheese
Instructions
Have ready a 9-inch by 7-inch by 2 1/2-inch (11 cup) rectangular baking dish (a clear dish will show off the layers nicely). Spread the hummus evenly over the bottom of the dish.

Red onion layer. Put the onions into a colander or strainer and rinse well under cool water. Shake dry and put into a small bowl. Stir in 1 tablespoon of the lime juice, cilantro and 1/4 teaspoon of the salt. Arrange in a single layer over the hummus in the dish.

Sour cream layer. Mix the sour cream with1/4 teaspoon salt. Spread in a layer over the onions.

Tomato layer. Pat the tomatoes dry and mix with 1 teaspoon salt. Arrange tomatoes over sour cream.

Arugula guacamole layer. Scoop the avocado pulp out into a medium-size bowl. Coarsely mash with a fork. Stir in salsa, arugula, remaining 1 tablespoon lime juice and about 1 teaspoon salt.

Gently spread the arugula guacamole over the tomatoes. Sprinkle with bacon and cheese.

Refrigerate up to 2 hours before serving. Serve with thick tortilla chips, sliced jícama or sliced cucumbers.
Disclaimer: This post was developed in paid partnership with Avocados from Mexico, however, as always, all opinions are genuine.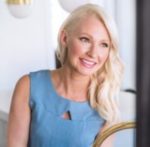 Abbey Sharp is a Registered Dietitian, an avid food writer and blogger, a cookbook author and the founder of Abbey's Kitchen Inc.