When I was a kid, I developed (what other's deemed to be) an "unusual" affinity for the otherwise unwanted fibrous bits of food.
Exhibit A) I ate the shrimp tails. No one told me you were supposed to discard them until I started getting dirty looks at a family Christmas party.
Exhibit B) I ate the tough outer leaves of artichoke. What a waste it seemed to only eat the tender inner bits. Sometimes I still do this a bit (if I'm hungry enough).
Exhibit C) I ate orange peels. Just once. When I did, my face fell asleep so I didn't try that again.
And Exhibit D) I always always always ate the peel of kiwi. I still swear by this one. I'll elaborate in a bit.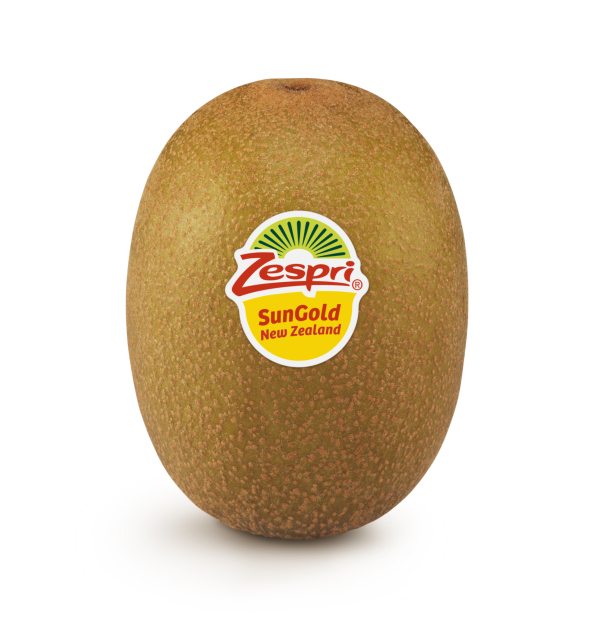 Kiwi has always been a favourite fruit of mine and while most kids had moms who would have to carefully peel the delicate fruit, I was happy to just eat them whole. Waste not want not, that's what I always say! I'm sure I wasn't thinking about regularity, satiety or cholesterol back then (all of which can be improved by a diet rich in fibre), but I was definitely doing my digestive system good with all that roughage.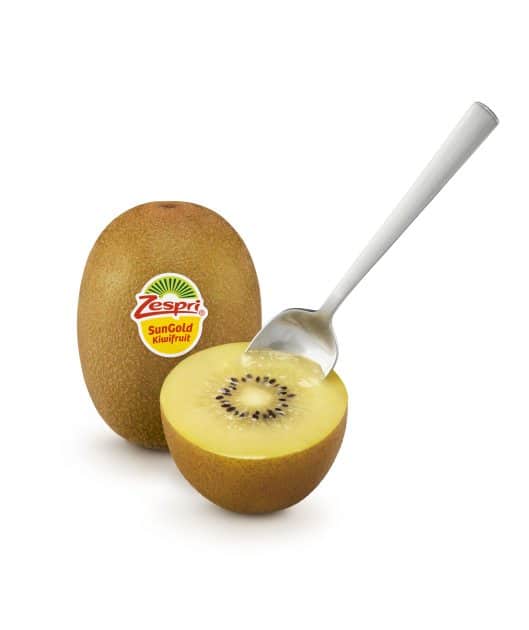 Well, skin or no skin, my favourite variety of Kiwi is the Zespri SunGold, which is a sexy hybrid between the traditional green and the less common gold fruit. If you're squeamish about the prospects of putting hairy Kiwi peel in your mouth, the SunGold is a "gateway" kiwi- it's skin is smooth and nearly hairless so you don't get that prickly sensation on your tongue.  But it's that delicate flesh that the skin is protecting where the real magic happens. SunGolds are sweet, explosively juicy and have just enough acidity to leave you wanting more, more, more.
Thankfully, you can feel good about having that second (or third, or even forth) helping with a nutrient profile like theirs. Check out the wicked infograph below.

With less than a 100 calories per two fruit serving, they have more vitamin C than an orange for a dose of antioxidant power and immunity, as much potassium as a banana (which many Canadians are chronically low in), they're high in fibre to help you feel full longer and are low to medium on the glycemic index scale (39) so it wont cause any crazy spikes in blood sugar levels. And if you eat the skin like I do, you'll be getting a little omega-3 fatty acids from the natural oils and extra helpings of fibre and vitamin C. Woo hoo!
Some of my favourite ways to eat kiwi fruit are sliced into salads, pureed as the base for a low-fat vinaigrette, muddled into sexy cocktails, or as a topping for a fresh fruit tart or pavlova. Oh, and of course, eaten whole (with the skin) as I did when I was a kid.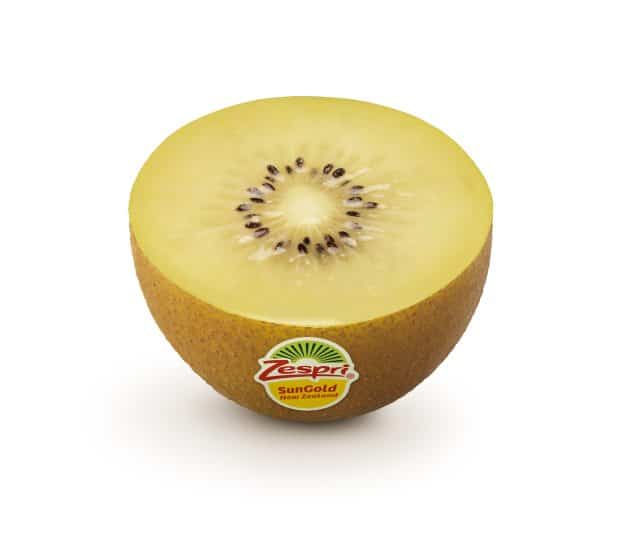 So next time you're in the grocery store, pick up a bagful of these gilded Zespri SunGold Kiwi which are available now until early Fall. They're perfect for throwing into lunches as healthy snacks (with a spoon to scoop out the innards if you're apprehensive about the skin), or if you're looking for some great ideas on ways to work Zespri Kiwi fruit into your family's meals, check out their website for some super tasty recipes.
Tell me friends, what's your favourite way to eat Kiwis?
Disclaimer: The preceding piece was written as part of a compensated Ambassador program between Abbey's Kitchen and Zespri Kiwi, however, as always, all opinions are genuine.
Updated on December 12th, 2015