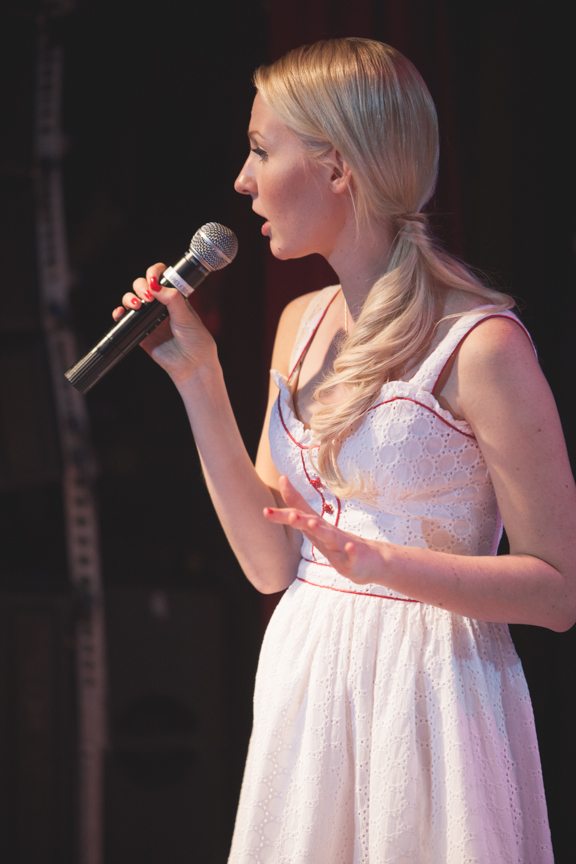 Modeled loosely after the Iron Chef model, AKS was designed to showcase some of Toronto's hottest chef talent, sample incredible drinks, and ultimately, to raise money for the new local food initiative, My Food My Way (MFMW).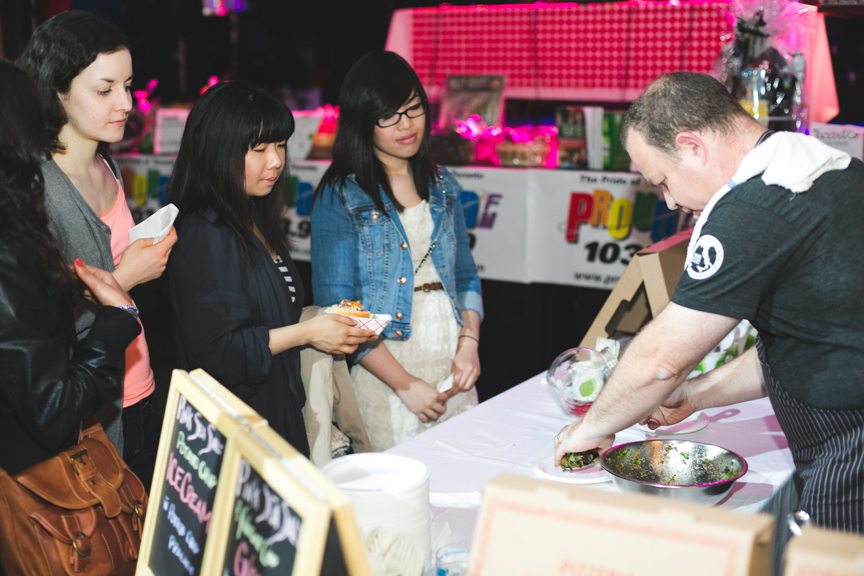 As both a hardcore foodie and a Registered Dietitian, I feel a personal and professional obligation to help inspire others to find as much pleasure and passion through food as I experience every day at every meal.  And while these sentiments can surely happen at any stage in life, I believe we should be concentrating our efforts on youth and tailoring our messages in a way that makes sense to them.  That means no hand-slapping, finger-wagging "eat this, not that, good food, bad food" dogma that "food police" dietitians are often accused of. But rather, it should be about creating a space for young people to have their say, get involved, feel invested and ultimately, make a change that is meaningful to them. Embodying my food philosophies to the letter, MFMW is a Toronto-based food charity that does just that. This young initiative sees that elementary students work with school officials to develop school culinary and nutrition courses, develop and prepare cafeteria school lunches, learn about food systems from a variety of experiential learning modalities, and ultimately, build life-long healthy relationships with food.  I was determined to spread the word and help raise funds for this initiative, and knew that getting our vibrant Toronto food community involved through AKS would be the ideal incubator for the job.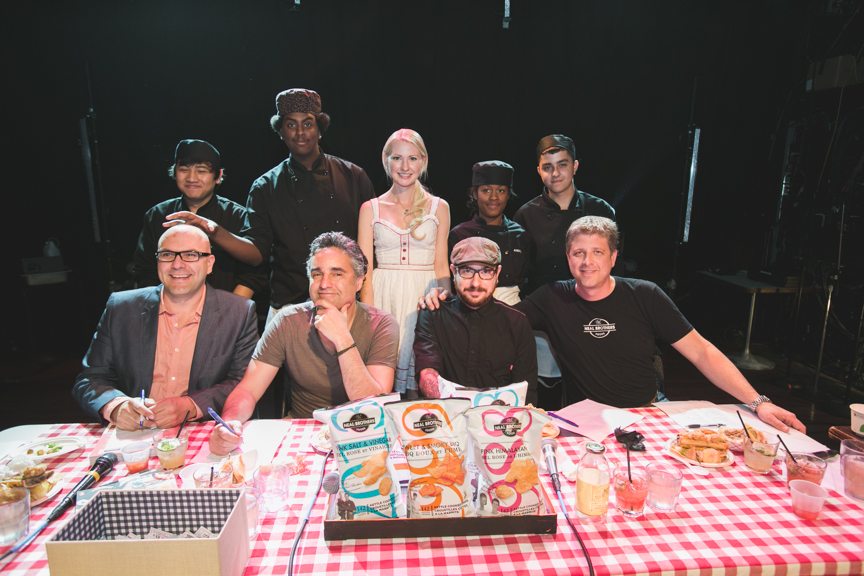 Abbey, the students and the judges
Structured as a four-part series, this season of AKS features three competitions at the MOD Club and a championship event where the winner from each of the three events, plus a viewer-voted wild card will battle it out one last time on the Delicious Food Show's Food Network Celebrity Stage.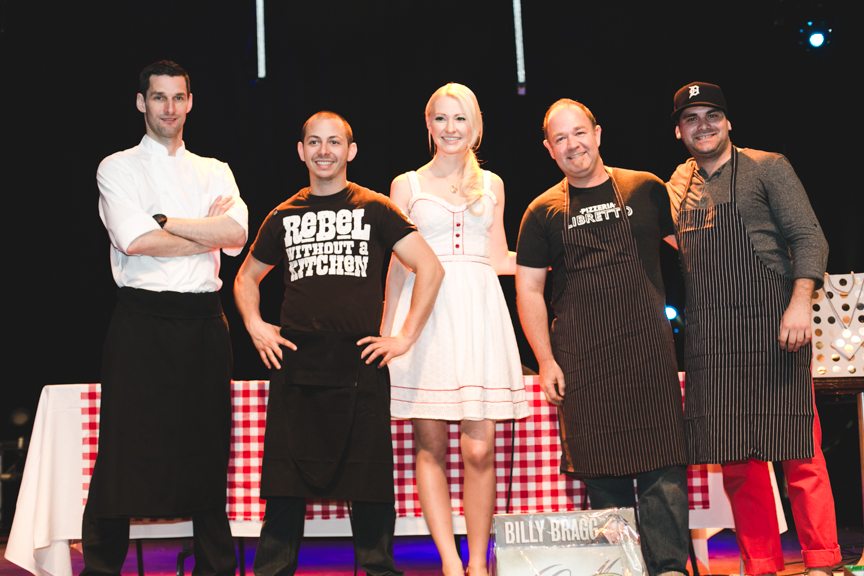 The heavily anticipated unveiling of the Secret Ingredient marked the kick off to Battle One where everyone's favourite snack food potato chips got a much deserved applause. Available in Sweet & Smoky BBQ, Pink Himalayan Salt, and Pink Salt &Vinegar, the brand new Neal Brothers' product line was about to receive the royal culinary treatment.
Within seconds, the competing chefs, Matt Basile (Fidel Gastros, Lisa Marie), Matt Pettit (Rock Lobster Co), Rocco Agostino (Pizzeria Libretto, Enoteca Sociale) and Bruce Woods (Woods Restaurant), rushed to their respective stations and were greeted by a surprise.  One of the schools that MFMW has been working with, Thistletown Collegiate, brought four students to help assist the chefs in their service and to allow them to test out the skills they've acquired in culinary class at school.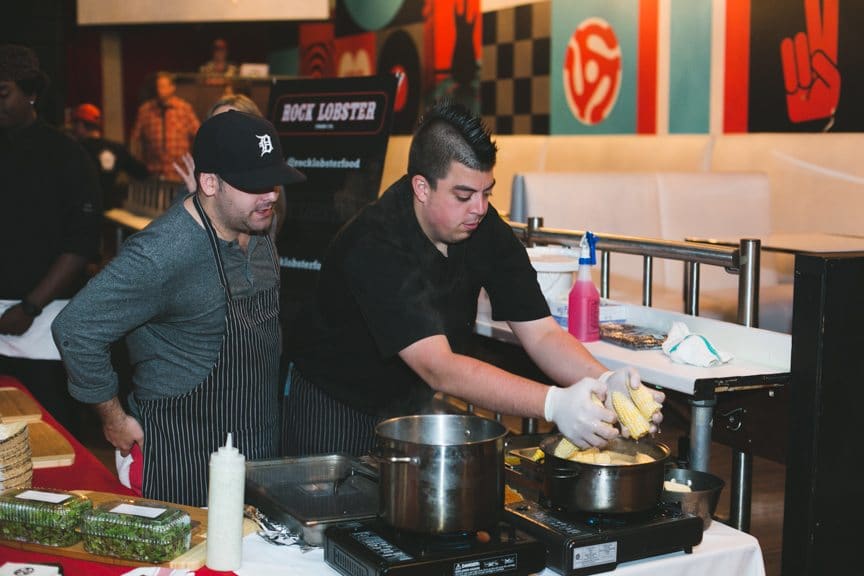 Here's a little foodporn overview of the goods these guys pumped out.
Bruce Woods: Neal Brothers Sweet & Smoky BBQ Chip with Duck Confit, Poached Quail Egg and Bernaise Sauce
Bruce Woods: Maple and Brown Butter Glazed Donut with White Chocolate and Bacon coated with Neal Brothers Pink Salt and Vinegar Chips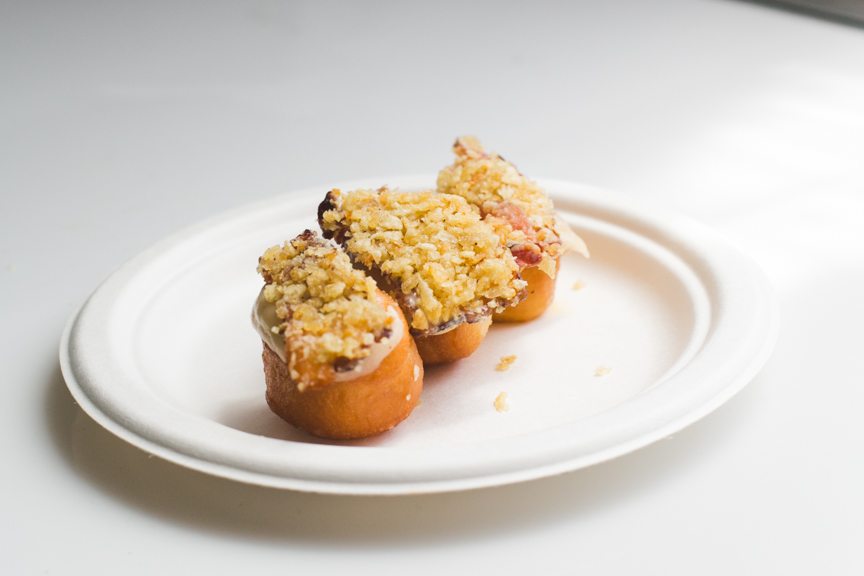 Matt Basile: Himalayan Marrow Mash with Buttermilk Fried Onions & Neal Brothers Pink Sea Salt chips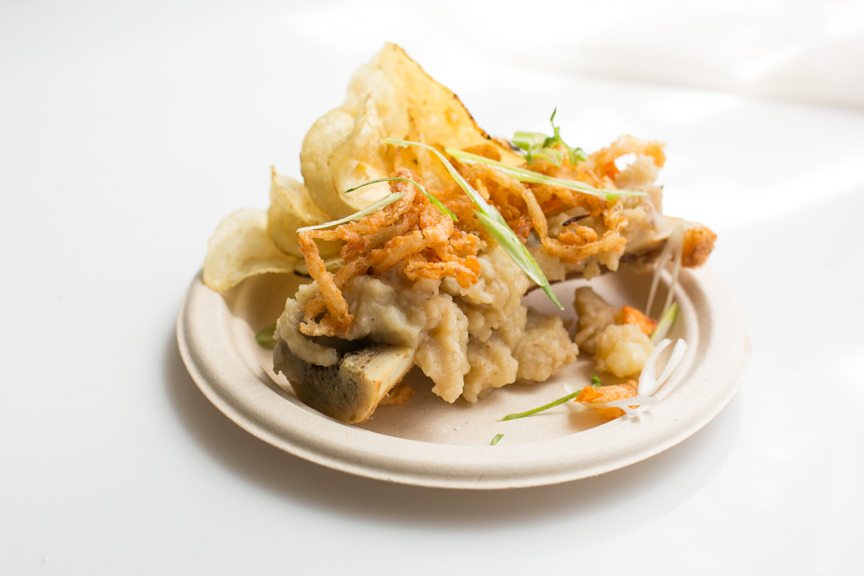 Matt Basile: Sweet & Smokey Potato Pork Sausage with Caramelized Onion Aioli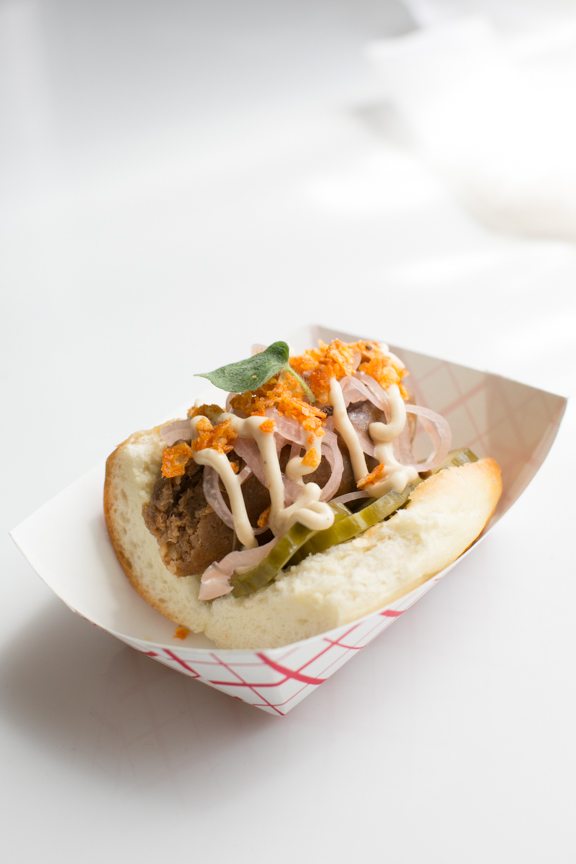 Rocco Agostino: Neal Brothers Pink Sea Salt & Vinegar chip Gnocchi with Eggplant Caponata and Salmoriglio
Rocco Agostino: Neal Brothers Pink Sea Salt chip Ice Cream with Potato Chip Praline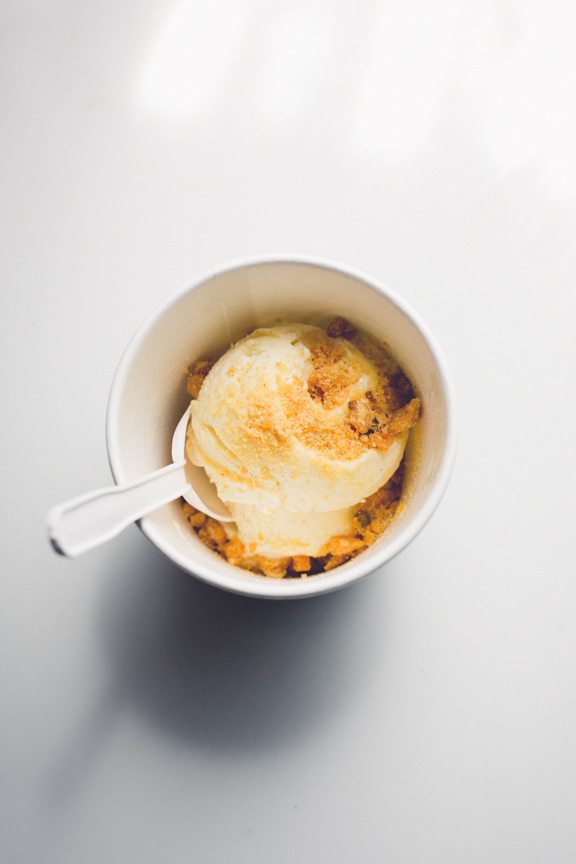 Matt Pettit: Cowboy Corn: Corn with Butter, Neal Brothers Sweet Smoky BBQ Chips, Cilantro Crema and Micro Greens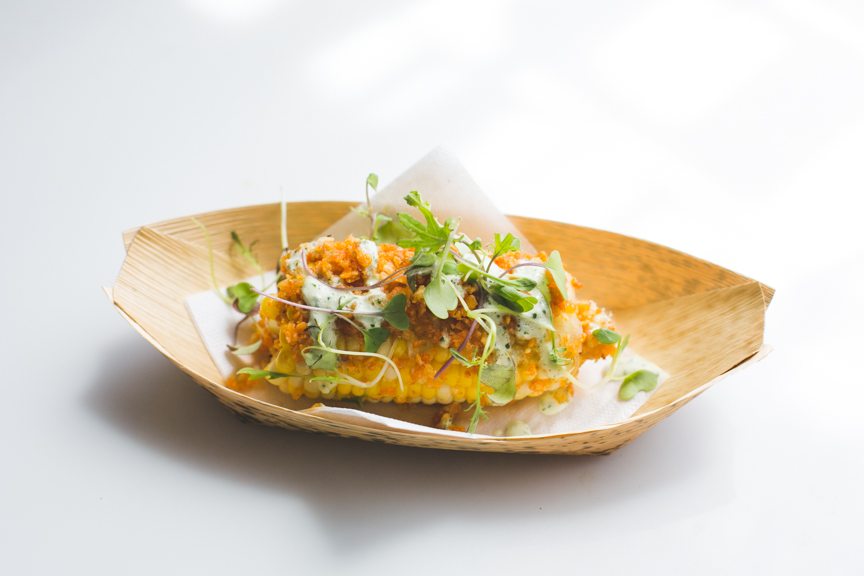 Matt Pettit: Not Your Momma's Peanut Brittle with Neal Brothers Pink Salt and Vinegar chips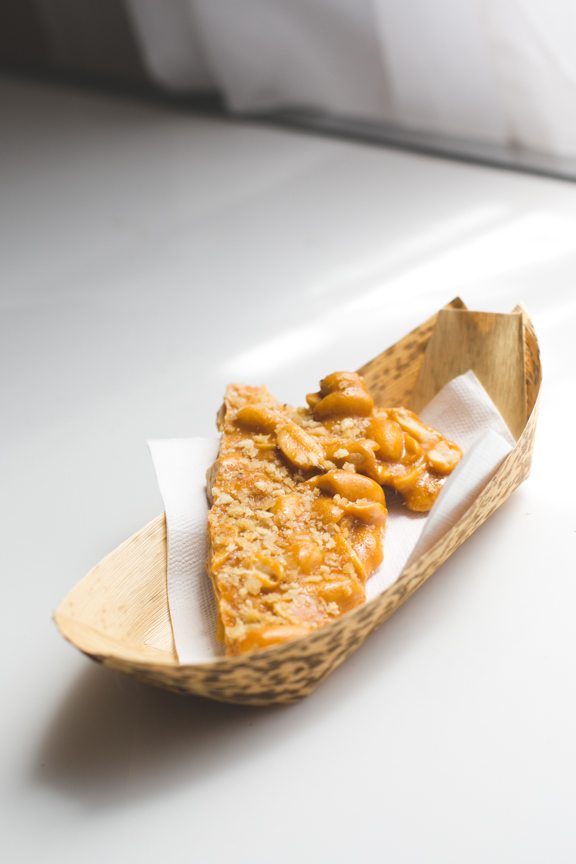 As the guests tasted their way through the offerings, hemming and hawing over their top picks, our bar was serving up some incredible drinks to ease the burden of decision making. Presenting Sponsor, Forty Creek served up a beautifully balanced Forty Apples cocktail using their Copper Pot Whisky, Sam Adams was whipping through cases of their Boston Lager, and Beamsville's own Dillon's Distillery was pumping out the smoothest G Ts around.
Forty Creek Signature Cocktails at the Judges Table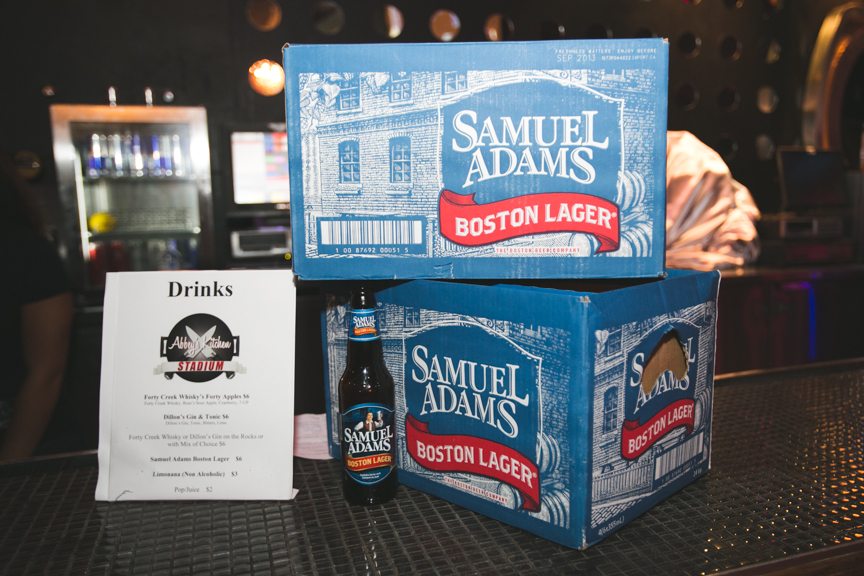 Samuel Adams
Boston Lager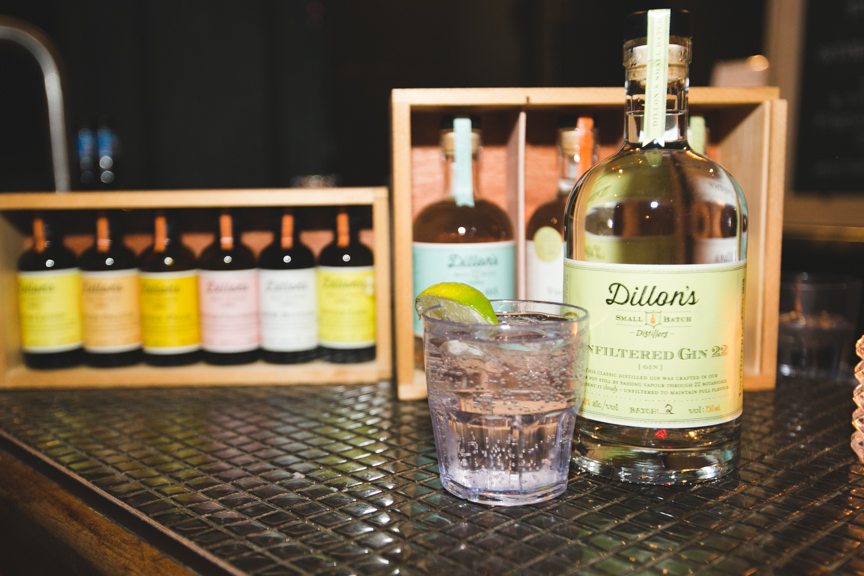 Dillon's Distillers Gin
And for those still recovering from a rocky Saturday night, there was also refreshing Limonana for purchase, and good-for-you samples of the Tea Emporium's hot and cold line of teas.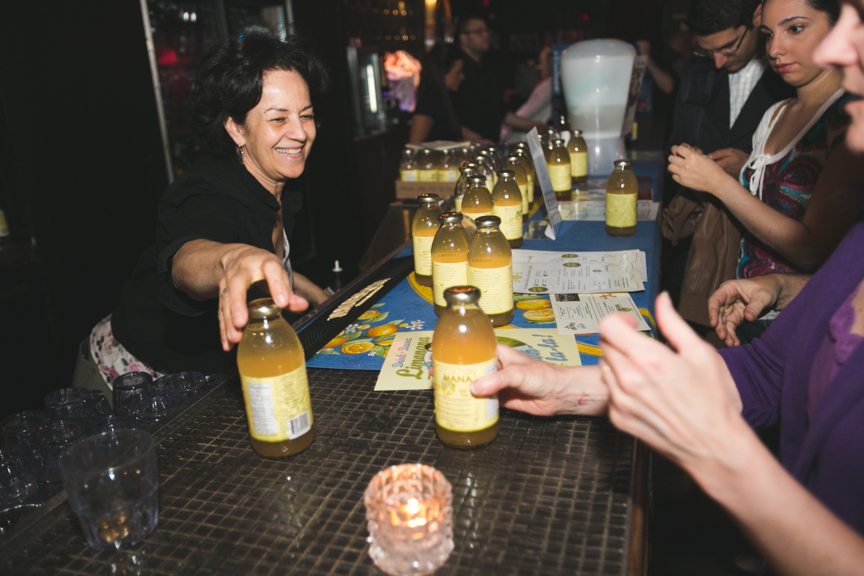 But boozed up or sober, everyone was pulling out their wallets when it came time to draw numbers for the raffle.
In the weeks leading up to the battle, I was overwhelmed with the generosity of local food businesses who together hundreds of dollars worth of product and gift cards to raffle off for the charity including:
$100 for Jacobs and Co. Restaurant
Handmade Earrings by 3 Shahs
Neal Brother's Food Product Basket
3-Course Dinner for 2 at 417 Restaurant
Dine Alone Records Swag Basket
Eat St Cookbook (Signed by James Cunningham)
Bumpercrop Preserve Basket
$100 for Tabule Restaurant
Case of Limonana
Lagostina Nonstick Skillet
Supicucu Hot Sauce Bag
Simply Bar and Protein Chip Basket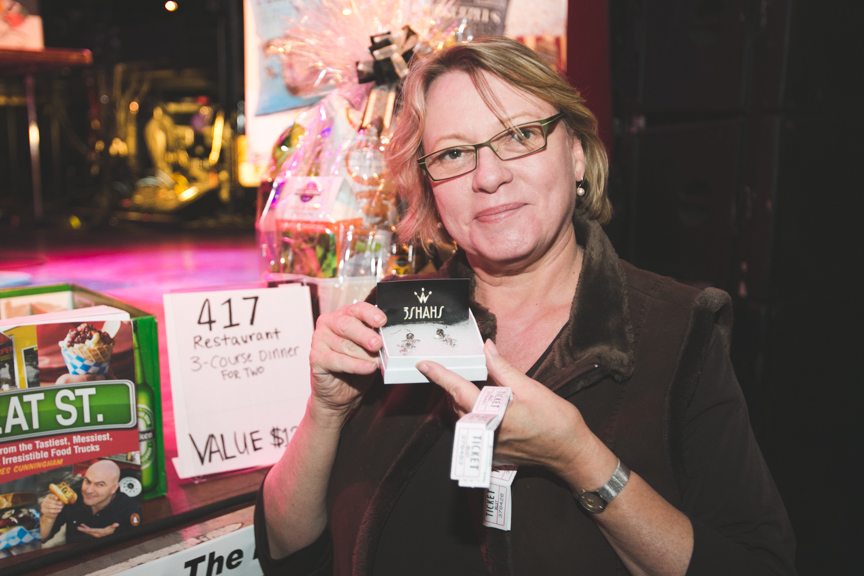 My momma winning earrings!

Following the raffle, it was time for the judging to get underway. One at a time, the chefs were invited on stage to present their two dishes to the celebrity judge panel that included Bruce Croxon (Dragon's Den), James Cunningham (Eat St. Food Network), Jordan Hastings (Alexisonfire, Dine Alone Records) and Peter Neal (Neal Brothers).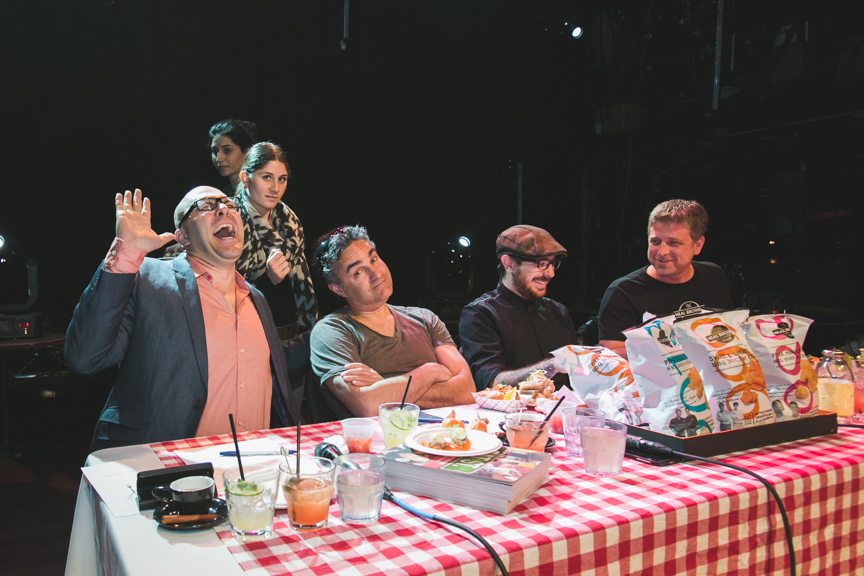 Understanding that judging four top Toronto chefs could very well be anxiety provoking, Oliver Stern from the Toronto Temperance Society offered a little liquid relief. Each judge received four Forty Creek Copper Pot Whisky signature cocktails, each one appropriately paired with one of competitor's creations.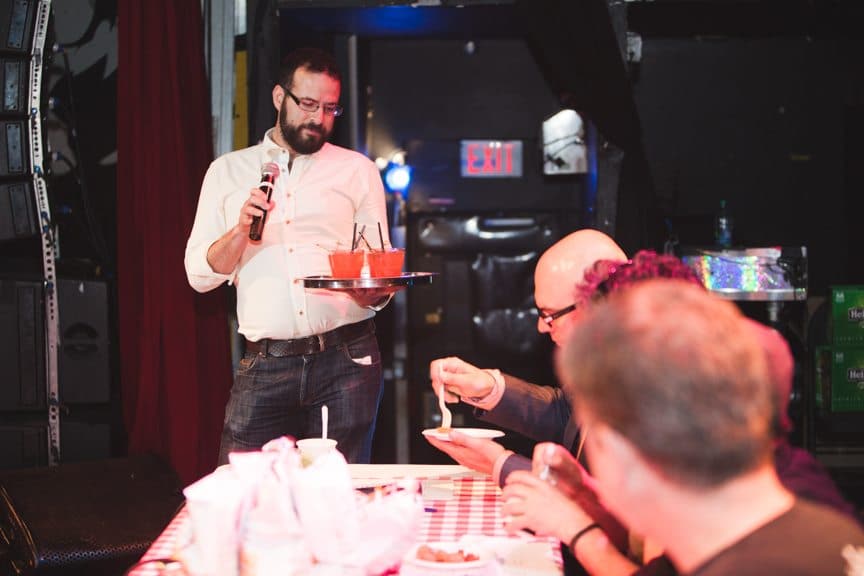 And while the booze may have softened their critique, and slowed down their deliberation, the judges finally came to a decision, sending Chef Bruce Woods home with bragging rights, and a 10 piece Lagostina cookware set and assorted prize package from our sponsors.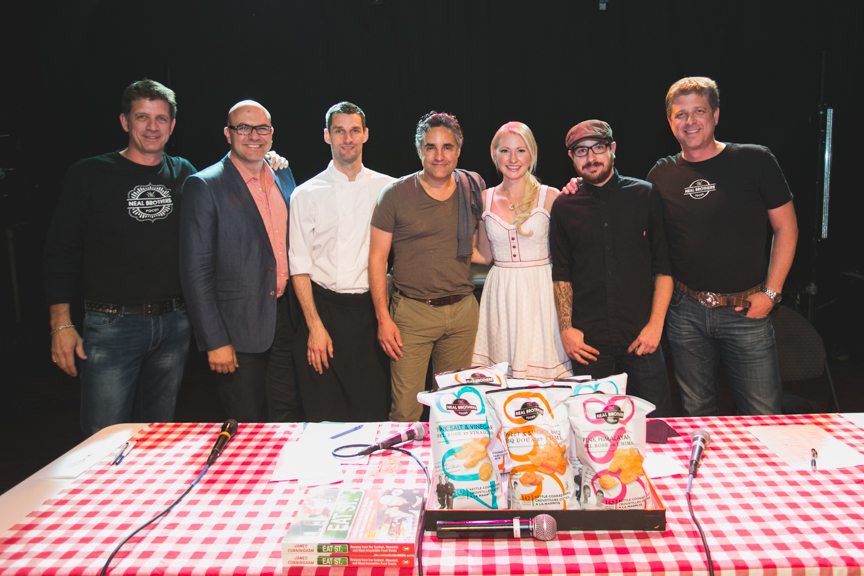 The even bigger winner of the day, however, was obviously My Food My Way and the four teenagers who got the opportunity to work with the city's best, three of which were offered jobs in their mentor's restaurants! What a beautiful example of how the MFMW and AKS partnership is going above and beyond a simple fundraiser.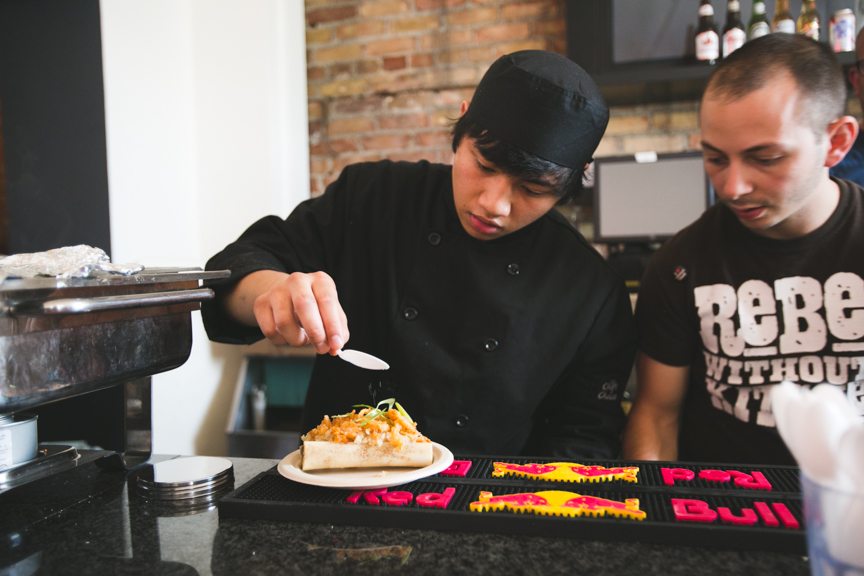 Matt mentoring one of the students
And as we reflect on the afternoon in anticipation of Battle 2 on July 21st, you can bet it's just going to get bigger and better from here.  For one thing, I think we will be tightening subsequent battles to three hours so that you can enjoy the show from start to finish without making it a lengthy day. I will also be finding out menus ahead of time from the chefs (it was a surprise for me this time too!), and adjusting price or portion accordingly to ensure the great value across all chefs.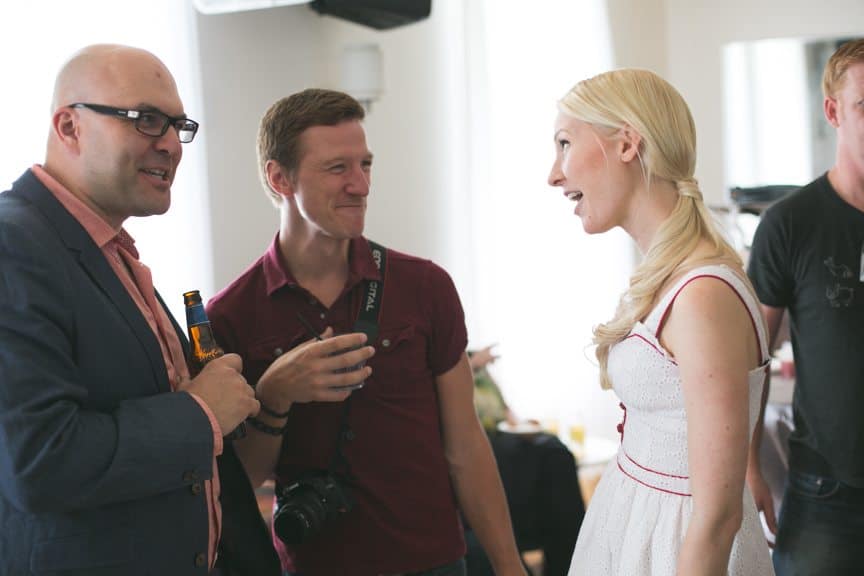 We will also hopefully be mobilizing our camera so that the footage can be captured on screen from each station around the room (this was my original intension, but we had a last minute problem with technology).  Finally, I also would like to make sure there is more seamless transition between talking and music and that the noise level is a bit more comfortable.  If you have any more feedback for improving this event, please email me at [email protected].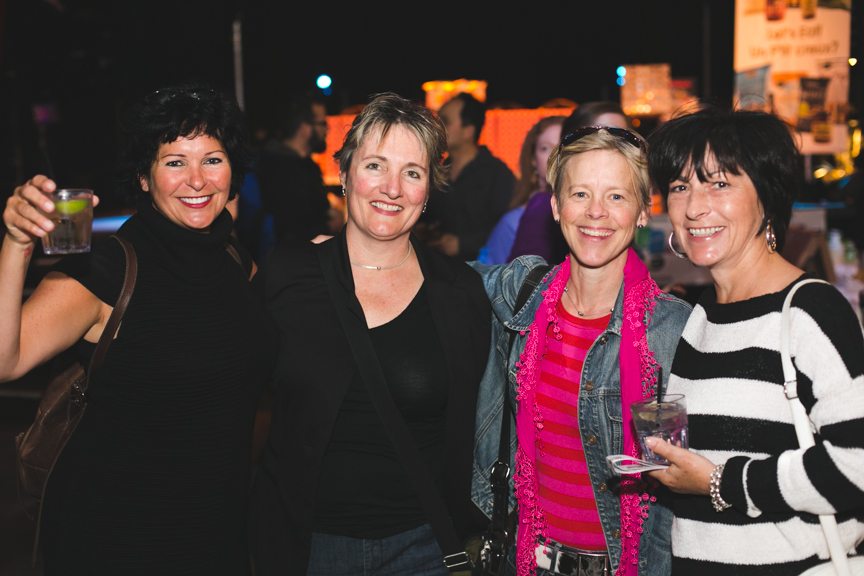 Guests enjoying the drinks!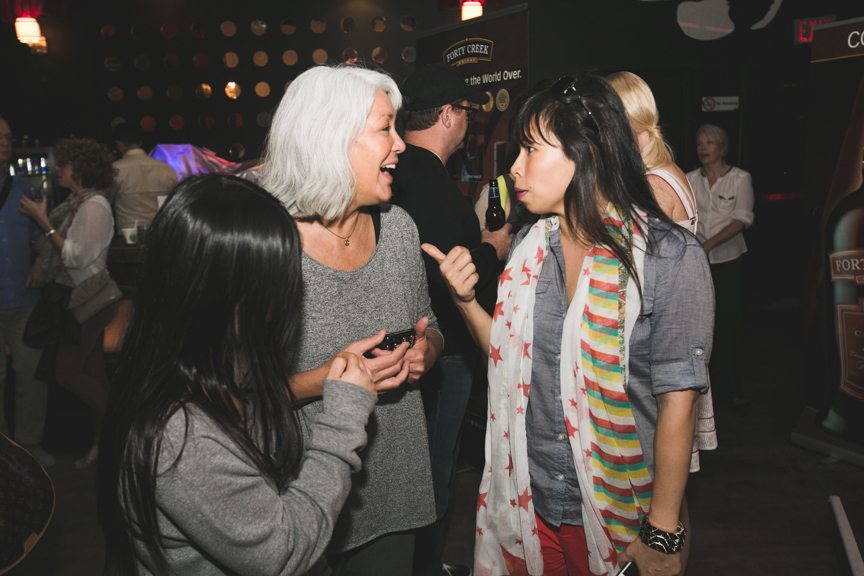 Overall, I think our first round of Abbey's Kitchen Stadium successfully delivered phenomenal eats, tasty drinks, wicked entertainment value, and not-to-miss prizes, and did it all for an amazing cause. A huge thank you to my chefs, judges, Toronto Standard Media Sponsor, Forty Creek presenting sponsor, Sam Adams, Dillons Distillery, Proud FM, Limonana, The Tea Emporium, Branding & Buzzing, Foodea, DJ Mike Anthony, Scott Ramsay Photography (who contributed all of the photos in this post), MOD Club, our donation companies, Cory Pagett, Donna Li and the rest of my hard-working volunteer team for helping the day run smoothly. And most importantly, thank you to all of the attendees who came out on Sunday, who tweeted such beautiful photos and positive comments, and who supported the wonderful workings of My Food My Way. Mark your calendars, folks- I hope to see you all at the next epic battle on July 21st!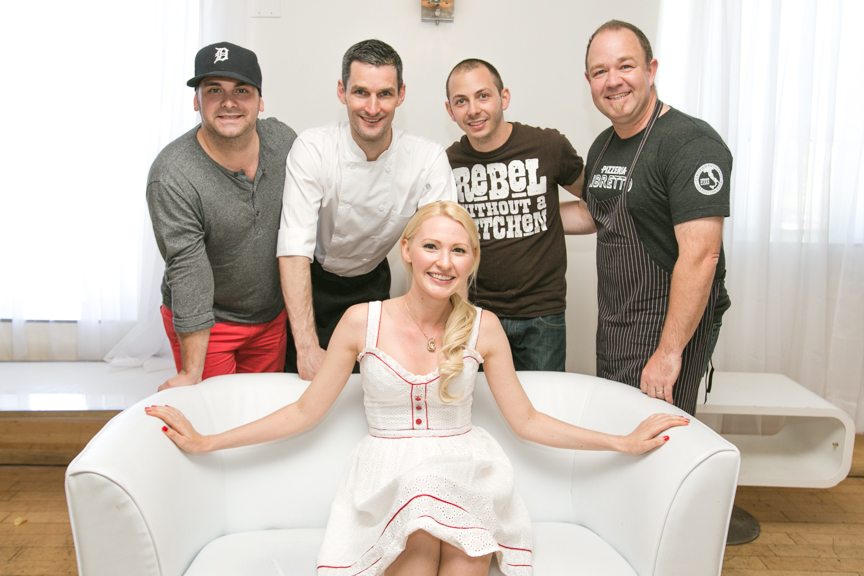 Updated on May 8th, 2019