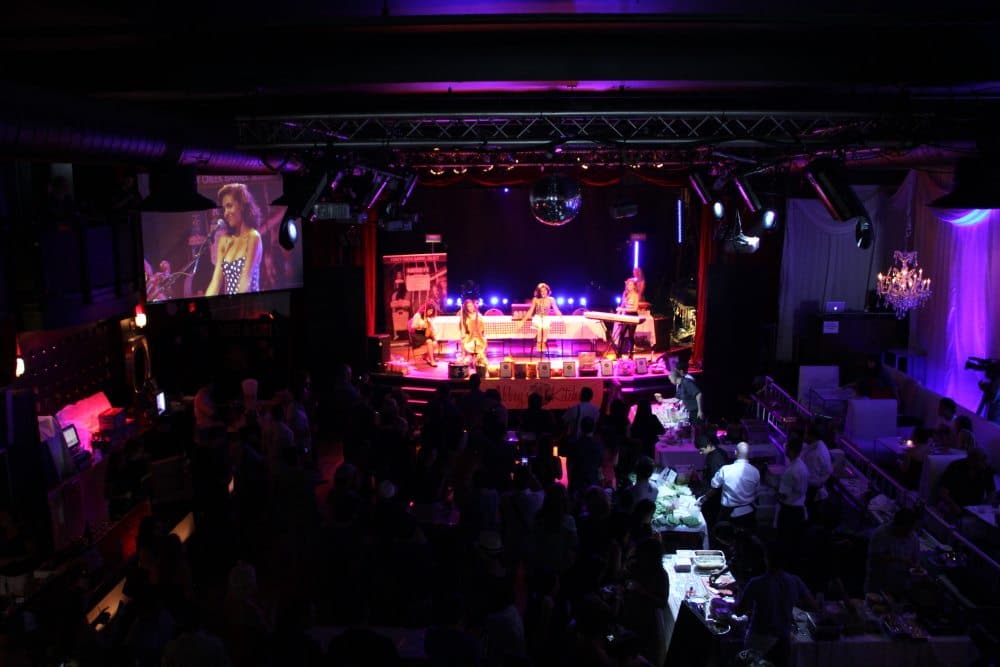 Photo credit: Samantha Noakes
This past Sunday, July 21st marked the second installment of the newest and hottest food event series to hit Toronto, Abbey's Kitchen Stadium (#AKS). Modeled loosely after the Iron Chef model, AKS was designed to showcase some of Toronto's hottest chef talent, sample incredible drinks, and ultimately, to raise money for the new local food initiative, My Food My Way (MFMW).
Photo credit: Adam Wiseman
So, why MFMW? Well, as I, the host, explained to event attendees on stage, being both a hardcore foodie and a Registered Dietitian means that I see the apple from both sides. I know it's packed with Vitamin C and fibre, but I also know it tastes delicious tucked into my grandmother's flaky pastry with a massive scoop of vanilla ice cream on top. I really don't think that we are doing society any justice by ignoring the pleasure inherent in food in favour of abstract nutrients and numbers most normal people don't care about anyways. This is probably most true when we're talking about kids. Any time you tell a kid not to eat something because it's bad, you can bet your last organic gluten-free cracker that they're going to do the opposite.  Teaching young people (or anyone, for that matter), about food and nutrition should really be about creating a space for youth to have their say, get involved, feel invested and ultimately, make a change that is meaningful to them. Embodying my food philosophies to the letter, MFMW is a Toronto-based food charity that does just that. This young initiative sees that elementary students work with school officials to develop school culinary and nutrition curriculum, prepare cafeteria school lunches, learn about food systems from a variety of experiential learning modalities, and ultimately, build life-long healthy relationships with food.  I was determined to spread the word and help raise funds for this initiative, and knew that getting our vibrant Toronto food community involved through #AKS would be a tasty place to start.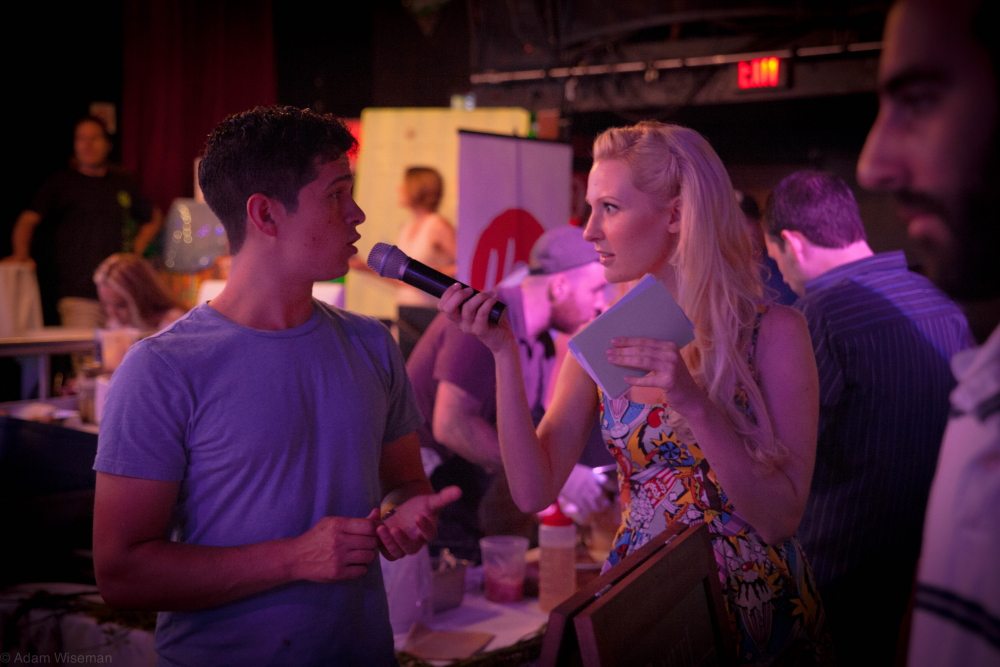 Photo credit: Adam Wiseman
Structured as a four-part series, this season of #AKS features three competitions at the MOD Club and a championship event where the winner from each of the three events, plus a viewer-voted wild card can battle it out one last time on the Delicious Food Show's Food Network Celebrity Stage.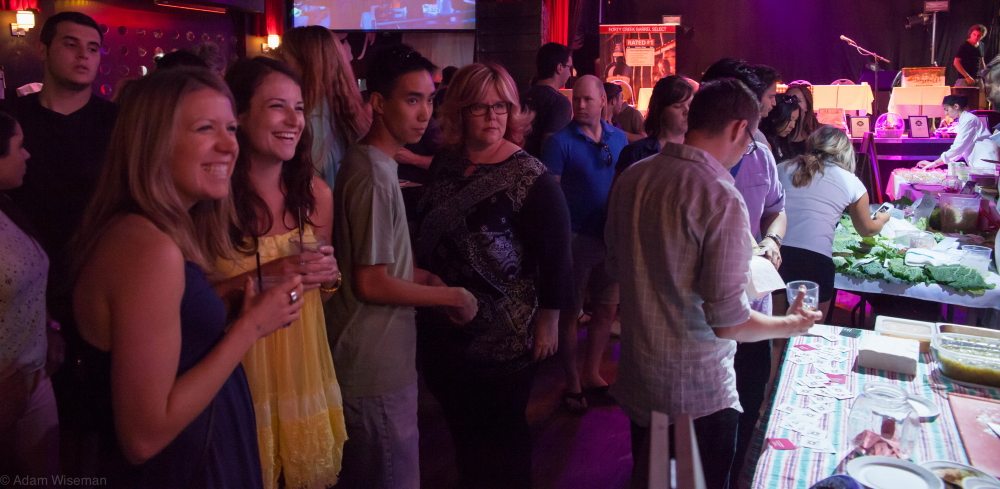 Photo credit: Adam Wiseman
The heavily anticipated unveiling of the secret ingredient marked the kick off to Battle Two where everyone's favourite tangy, juicy, crunchy snack was put front and centre of the afternoon meal. Available in Classic Dill and Spicy, McClure's pickles had been pureed, minced, infused, and even "puffed" into a myriad of top Toronto chefs' culinary creations.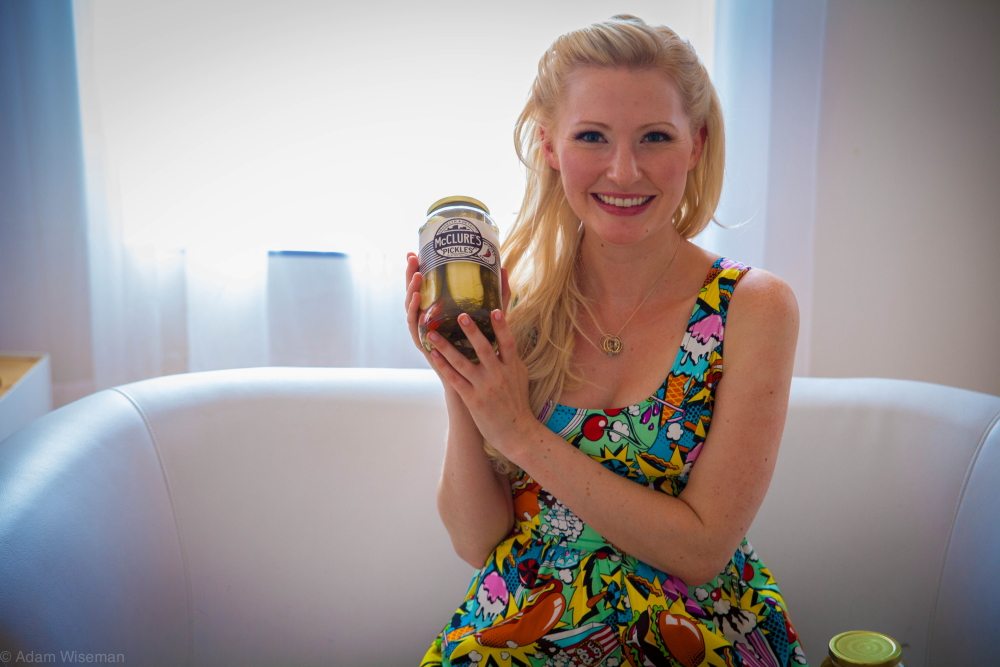 Photo credit: Adam Wiseman
Within seconds, the competitors, Jesse Vallins (The Saint Tavern), Peter Ramsay (The Geraldine), Andres Marquez/ Howard Dubrovsky (Fonda Lola) and Rodney Bowers (Hey Meatball; Hey Restaurant) rushed to their respective stations and were greeted by a surprise.  One of the schools that MFMW has been working with, Thistletown Collegiate, had brought in four students to assist the chefs in their service and of course, test out the skills they had acquired in culinary class at school.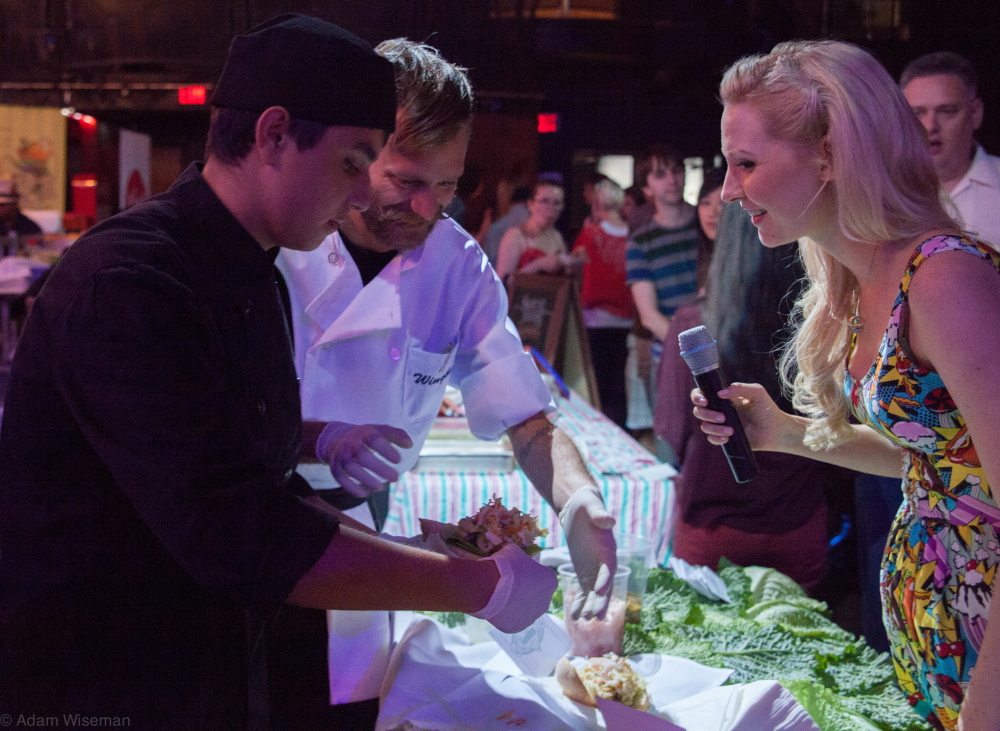 Photo credit: Adam Wiseman
Jesse Vallins of The Saint Tavern offered a sexy Heirloom Carrot and Dill Soup with Crispy Cheddar and Dill Pickle Brown Butter, as well as a Spicy Pickle Brine Braised Bacon Sandwich with Russian Dressing (shown).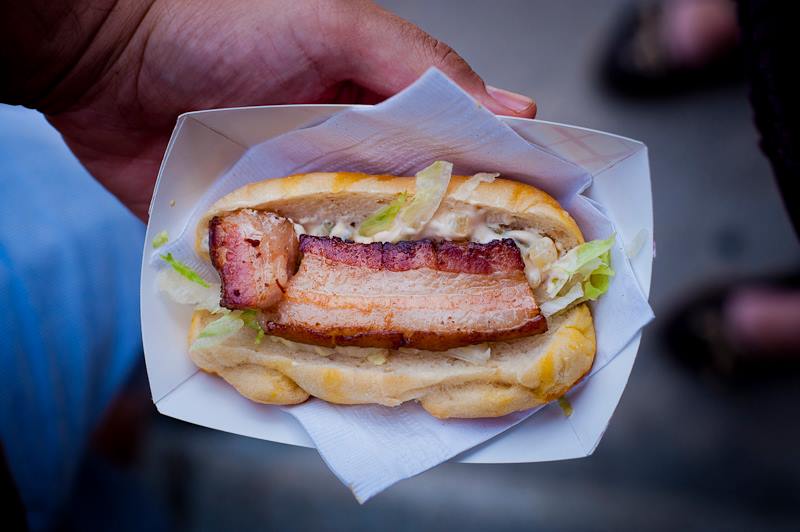 Photo credit: Robin Sharp
Peter Ramsay of the upcoming Geraldine introduced us to the world of molecular gastronomy with his Fried Smelt on a Housemade Bun with Geraldine Coleslaw, Pickled Shallots, McClures Pickle Puffs and Pickle Brine Caviar (sold).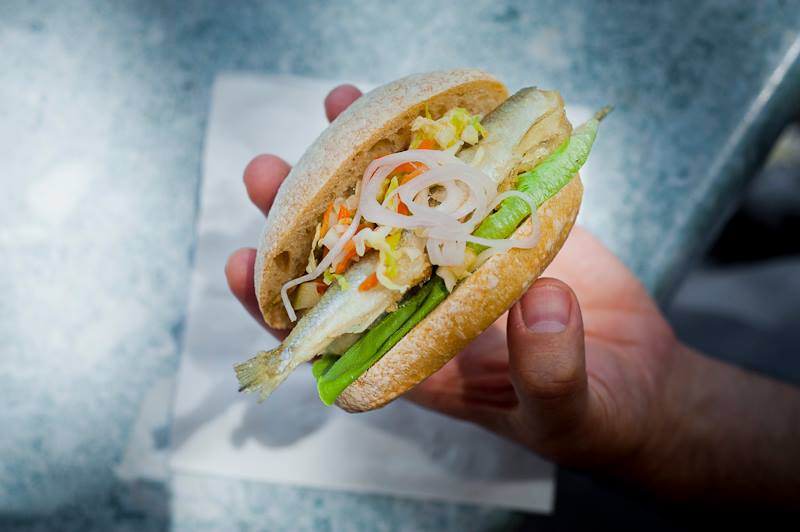 Photo credit: Robin Sharp
Fonda Lola's Andres Marquez and Howard Dubrovsky brought us a Mexican fiesta with their Tostada de Tinga with McClure's Pickle de Gallo, Crema Jelly, and Guacamole as well as a mouthwatering Quesadilla Nopales with McClure's Pickles, Salsa Verde, and Fried Wheat Dust (shown).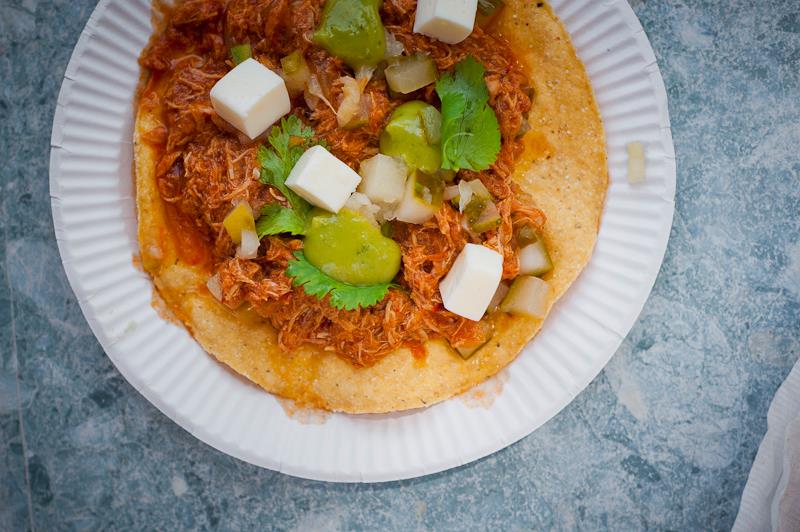 Photo credit: Robin Sharp
And finally, Rodney Bowers of Hey Meatball gave us, well, of course, meatballs in the form of a Meatball Donair with McClure's Pickle Relish, Pickled Onion, Donair Sauce and Herb Salad as well as a beautiful McClure's Pickle Soup with Fried Pickles, Pulled Pork and Mussels (shown).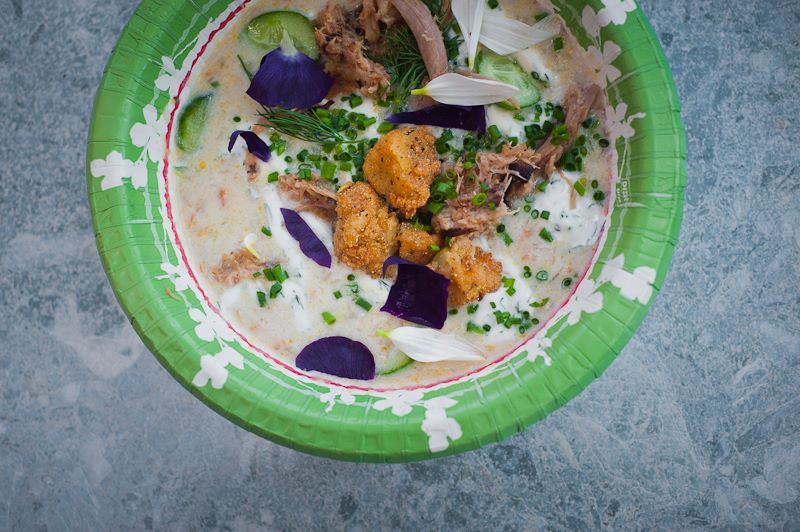 Photo credit: Robin Sharp
As I'm sure you could imagine, our chef's food was so sexy-hot, we ended up with a #foodporn overload and nearly lit the venue on fire! No, seriously, it almost happened! The mini electric fire wasn't actually a planned pyro-technics show (though it did add another layer of excitement). Thankfully, after a quick save from our amazing tech folks at the MOD Club, and a little 40 Creek whisky down the hatch (at least for me), and we were rockin', rollin' and having a wicked time.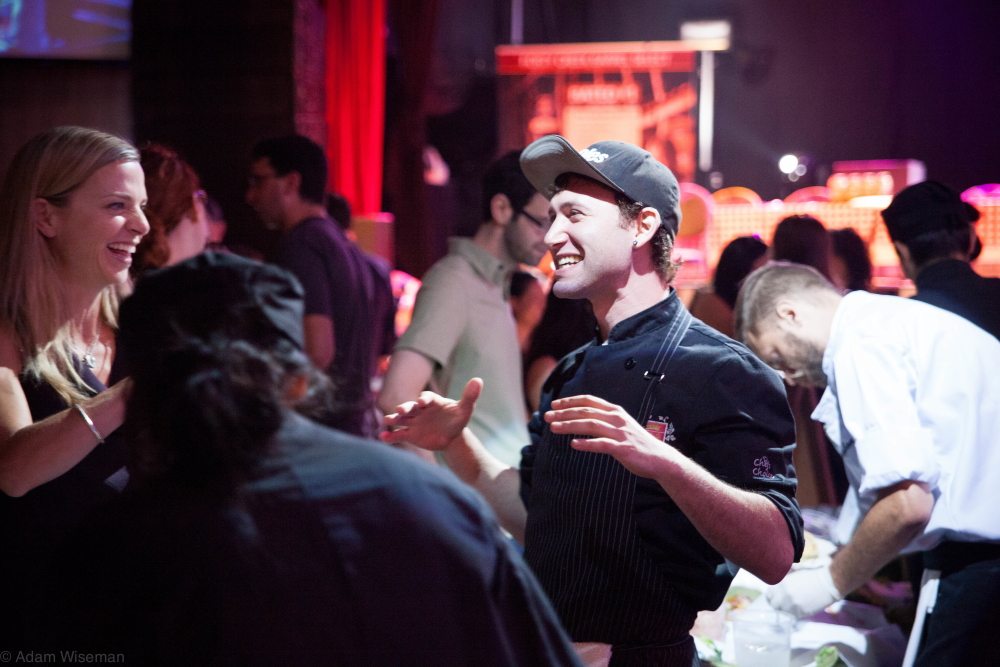 Photo credit: Adam Wiseman
As the guests tasted their way through the offerings, our bar was serving up some incredible drinks to wash them all down.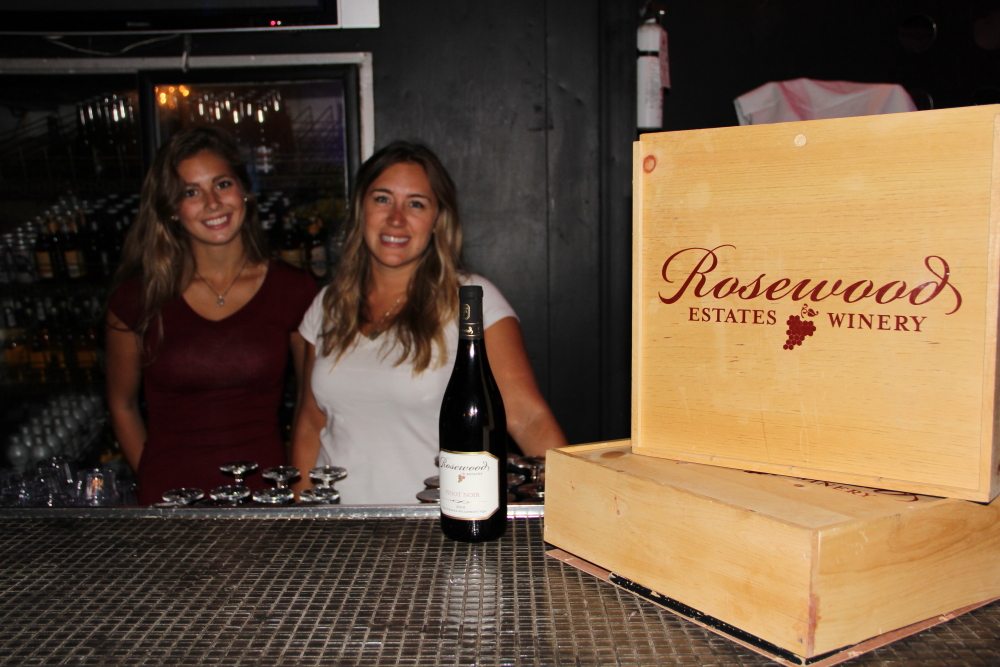 Photo credit: Samantha Noakes
Presenting Sponsor Forty Creek handed out free samples of their beautifully balanced 40:40 coffee & cream based cocktail using their Copper Pot Whisky, Rosewood Estates served a lovely summer Semillon and a Pinot Noir, Sam Adams was whipping through cases of their Boston Lager, and Beamsville's own Dillon's Distillery was pumping out their classic Sunday Caesars & a Rhubarb Gin and Tonic.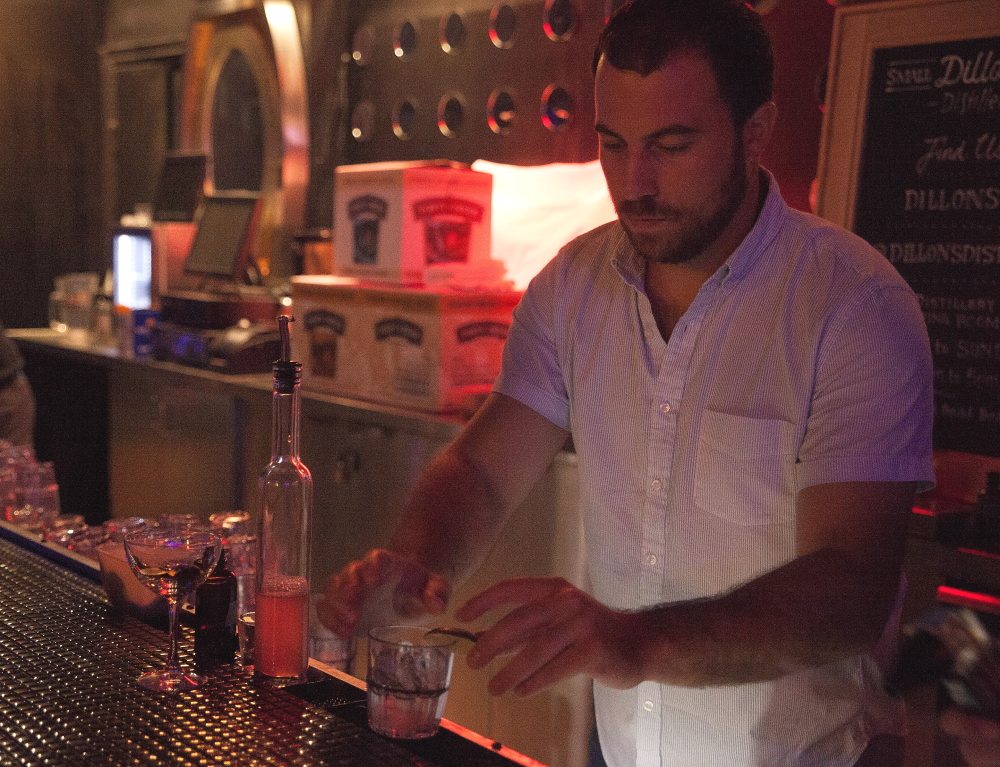 Photo credit: Adam Wiseman
And for those still recovering from a rocky Saturday night, there was also refreshing Limonana  for purchase, and free samples of the Tea Emporium's iced teas.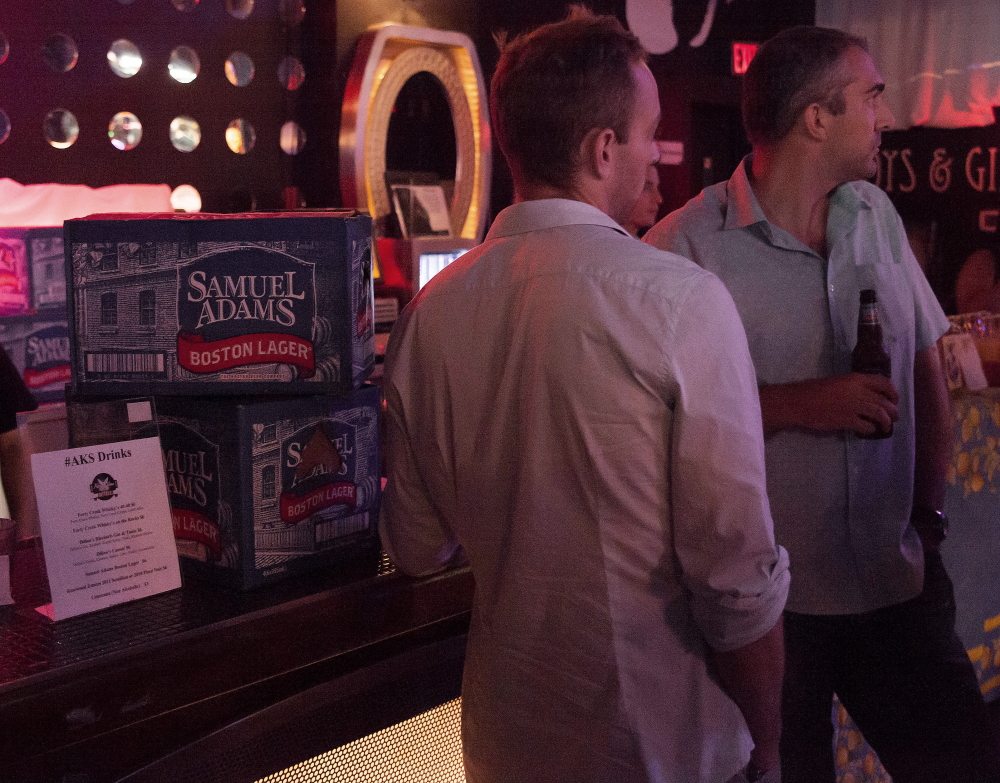 Photo credit: Adam Wiseman
But boozed up or sober, everyone was pulling out their wallets when it came time to draw numbers for the raffle from which 100% of proceeds would be donated to MFMW. In the weeks leading up to the battle, I was overwhelmed with the generosity of local food businesses who donated hundreds of dollars worth of product and gift cards to raffle off for the charity. Check out some of the fabulous goodies our guests got to take home!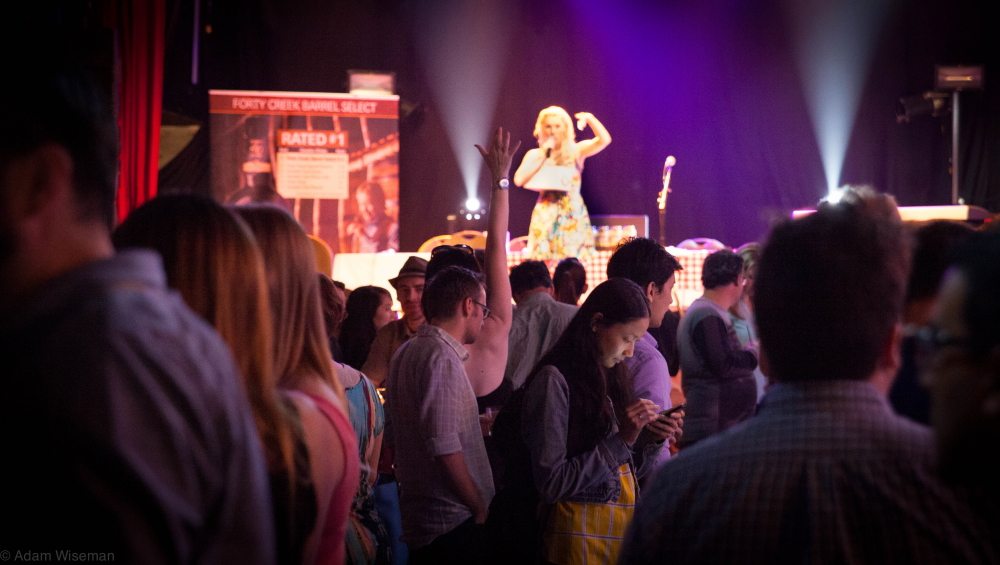 Photo credit: Adam Wiseman
$100 for the Saint Tavern Restaurant
McClures and Salt Gourmet Foods Product Basket
$50 at Hey Meatball! Restaurant
Dine Alone Records Swag Basket
Signed Trish Magwood In My Mother's Kitchen Cookbook
Bumpercrop Preserve Basket
$150 for Vita Sociale Restaurant
Case of Limonana
$100 for Ursa Restaurant
Three Lagostina Nonstick Skillets
Supicucu Hot Sauce Bag
C is for Clean Eco-Friendly Cleaning Gift Basket
Simply Bar and Protein Chip Basket
Samual Adams Swag Basket
Two Tickets to Toronto Beer Festival plus Swag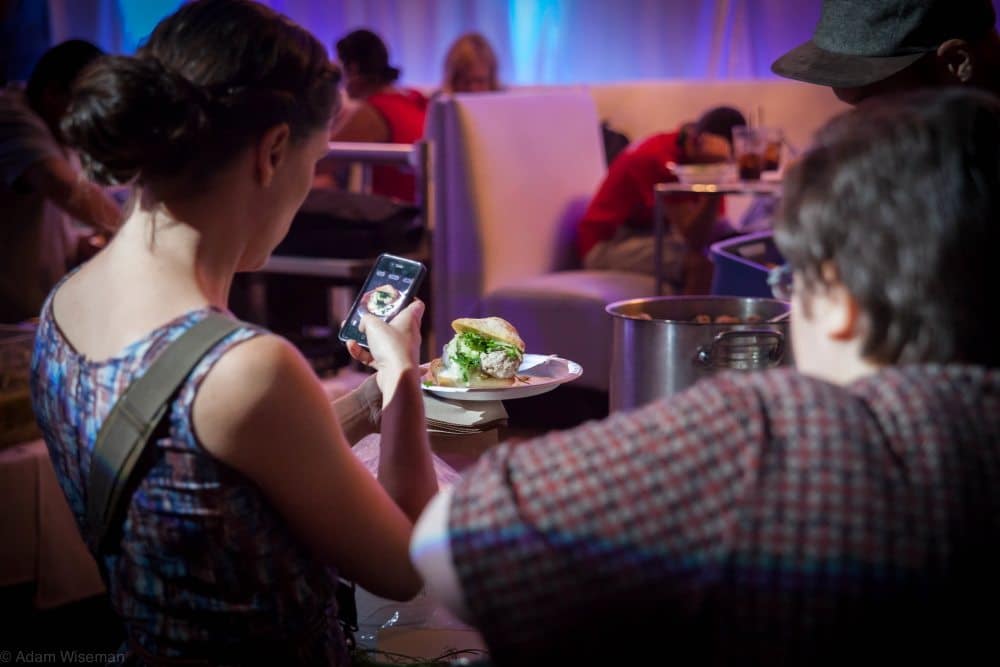 Photo credit: Adam Wiseman
And in between sips, nibbles, prizes, and pictures, guests got to enjoy an intimate and beautiful performance by superstar sensation, Vita Chambers. Accompanied by an all-female band including a pianist, violinist and cello player, the remarkably talented singer captivated the audience with her gorgeous voice and charm.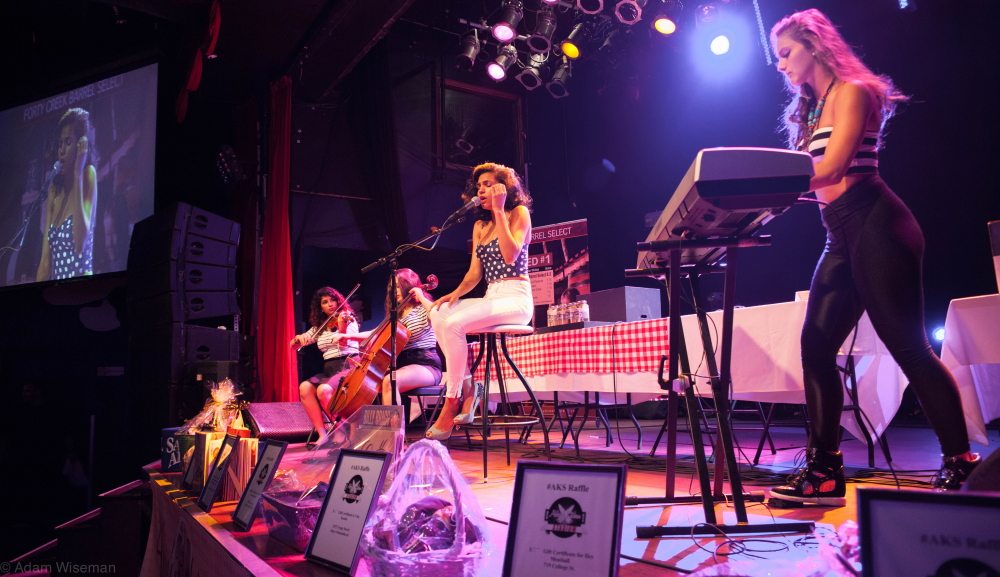 Photo credit: Adam Wiseman
If you don't already have her songs on your playlist, do your little ears a favour and get-them-now.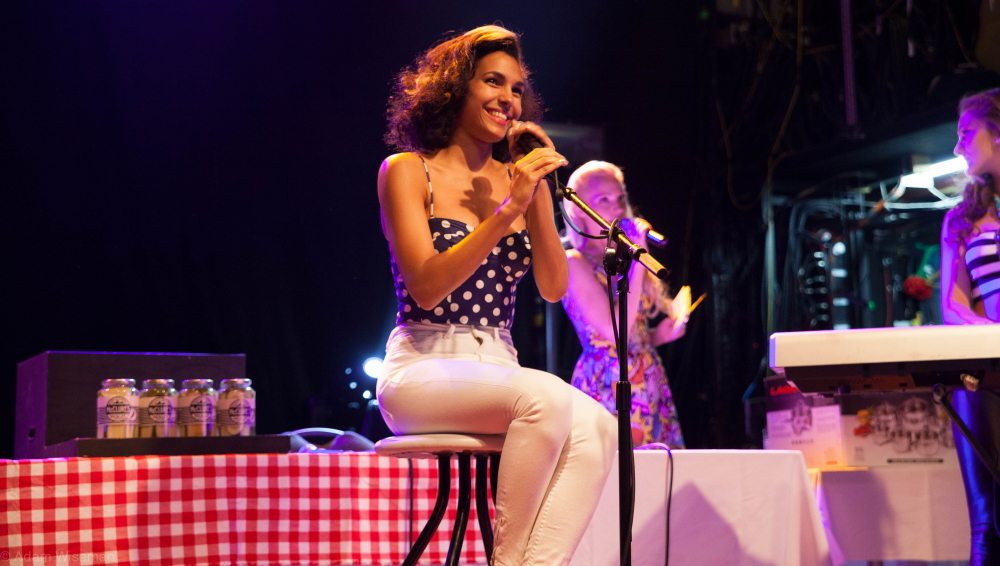 Photo credit: Adam Wiseman
Well, Ms. Chambers was certainly in good company when it came to the judging line up.  She was joined on stage by Trish Magwood (Food Network), Mike Chalut (Proud FM), Maggie McKeown (Food Network), and Joe McClure (McClure's Pickles, Owner) who were each entrusted with the difficult task of sampling the chef's wares, questioning them on stage, and choosing the ultimate winner for the day.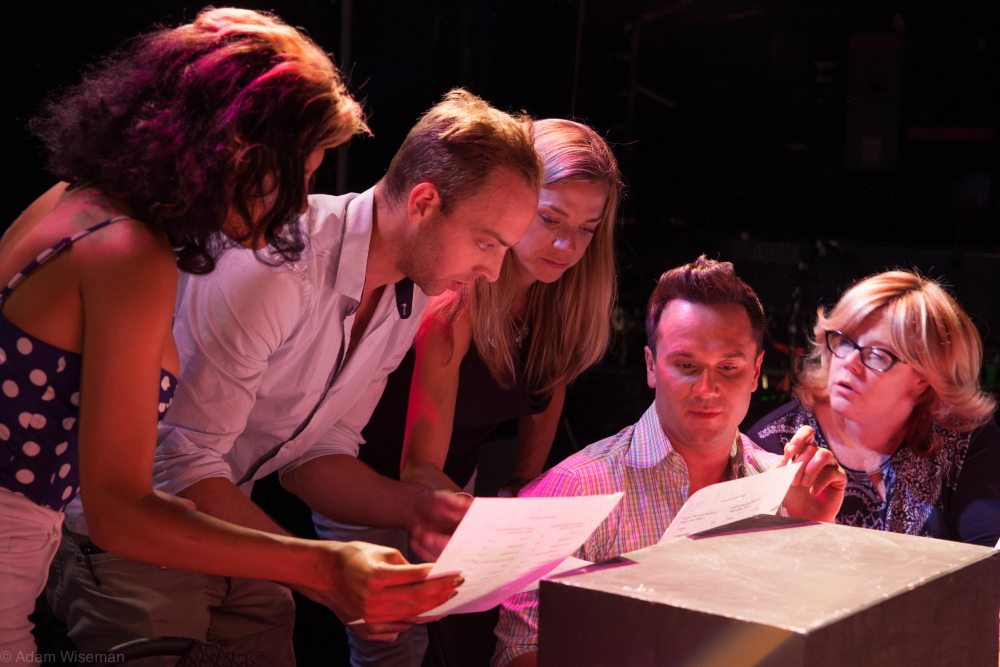 Photo credit: Adam Wiseman
Appreciating the challenge these judges had ahead, Dave Warner from 40 Creek was standing by with an impressive line up of their beautifully crafted whiskeys.  Each judge received four different 40 Creek whiskeys on ice, each of which had a completely unique flavour profile to pair with each chef's pickle-icious creations.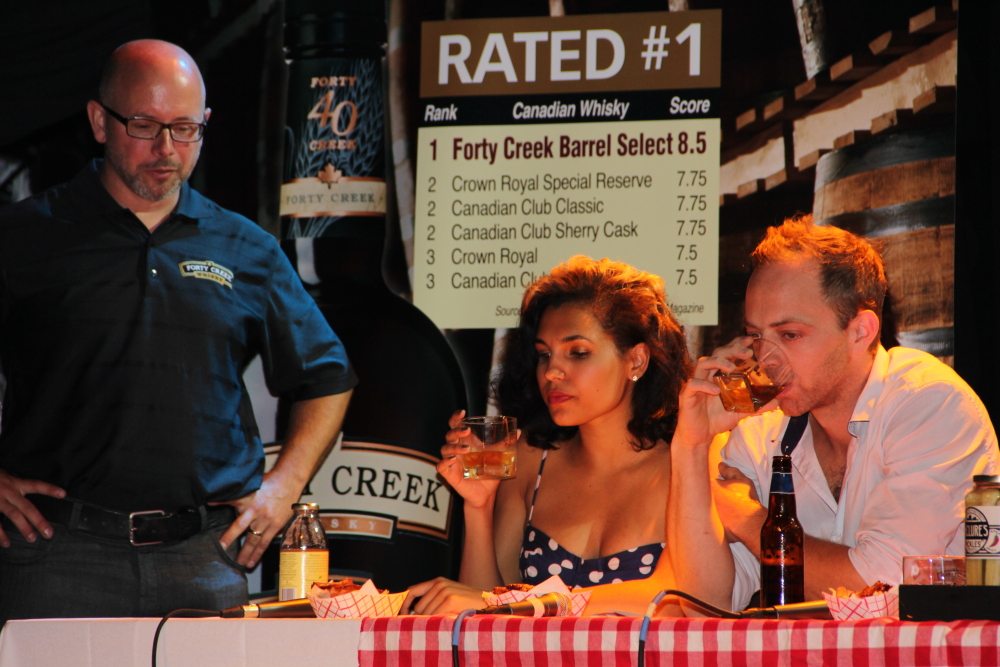 Photo credit: Samantha Noakes
And while the booze may have softened their critique and slowed down their deliberation a wee-bit, the judges finally came to a decision, sending Chef Rodney Bowers home with bragging rights, and a 10 piece Lagostina cookware set.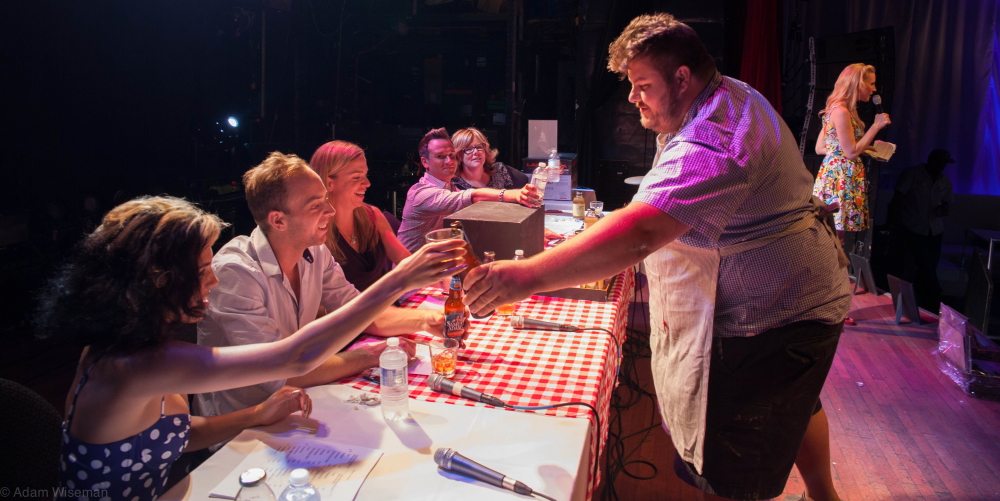 Photo credit: Adam Wiseman
The even bigger winner of the day, however, was obviously My Food My Way and the four teenagers who got the opportunity to work with the city's best! What a beautiful example of how AKS is not just a passive fundraiser and handover of money. In line with MFMW's mandate, AKS aims to empower, collaborate and promote youth to engage in exciting experiences with food.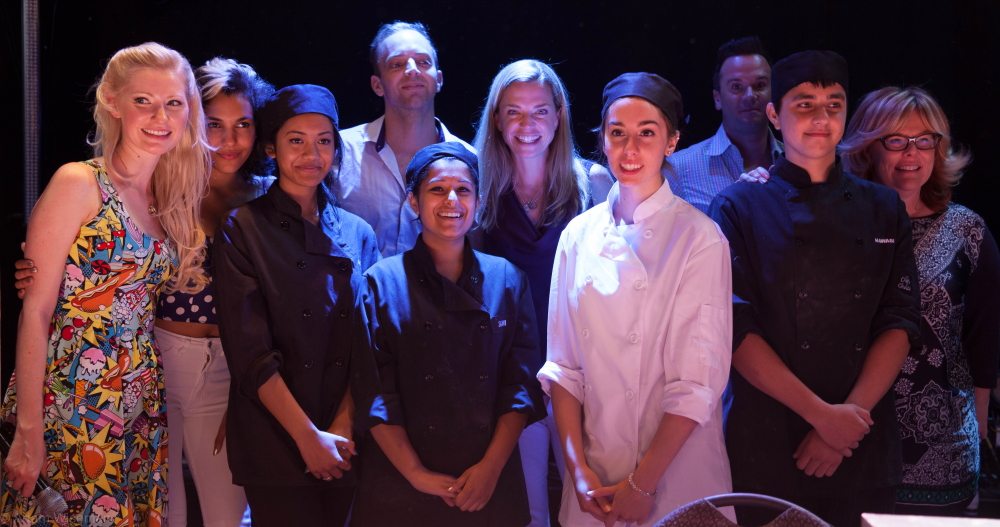 Photo credit: Adam Wiseman
Overall, I think our second installment of Abbey's Kitchen Stadium successfully delivered phenomenal eats, tasty drinks, wicked entertainment, and not-to-miss prizes, and did it all for an amazing cause. A huge thank you to my chefs, judges, Toronto Standard Media Sponsor, Forty Creek presenting sponsor, Rosewood Estates, Sam Adams, Dillons Distillery, Proud FM, Limonana, The Tea Emporium, Branding & Buzzing, Foodea, ElectriCITY Events, MOD Club, our donation companies, and my hard-working DJ, photographer and volunteer team for helping the day run smoothly. And most importantly, thank you to all of the attendees who came out on a beautiful summer Sunday afternoon, tweeted such #foodgasm worthy photos and positive comments, and supported the wonderful workings of My Food My Way. Mark your calendars, folks- I hope to see you all at the next epic battle on September 29th!
Updated on May 8th, 2019