This is how it happened:
It's February 2013. I knew that sometime this Summer I wanted to go to Chicago so I could eat at Alinea, the three-star Molecular Gastronomy mecca that holds #15 on the World's 50 Best Restaurants 2013 list.  I had a thought one Saturday afternoon that maybe I should just check to see where they were booking into. I checked. I saw. I started to enter my credit card information simultaneously yelling to my partner in the other room, "We're going to Chicago on June 14th FYI!!" Yes, that's how magic happens, folks. It's not easy planning a dinner to a place like Alinea from a far away home now that they've switched over to the ticketing approach to reservations. What this means is that you go online, look at their reservation book and see which slots they have open for different party sizes, and you must pay the ticket price before you even go. The price of your tasting menu (no a la carte option is available) will vary depending on the day, the time and how many people you're with. For our Friday night 9:15 PM reservation for two on a Friday, our price was $270 per person not including tax, tip and whatever booze we decided to drink throughout the meal. Not cheap, I know. But as a young food blogger who has been very lucky in my life to have been around the restaurant loop, I can say that sometimes it's just worth the splurge to try it. This for me is particularly true for molecular gastronomy, likely because I have a food science background and here in Toronto we have very little access to it. I like the excitement, the mystery, the mind-f*ck in my mouth that begs me to recruit all of my senses and fully engage myself in the full-bodied experience of food.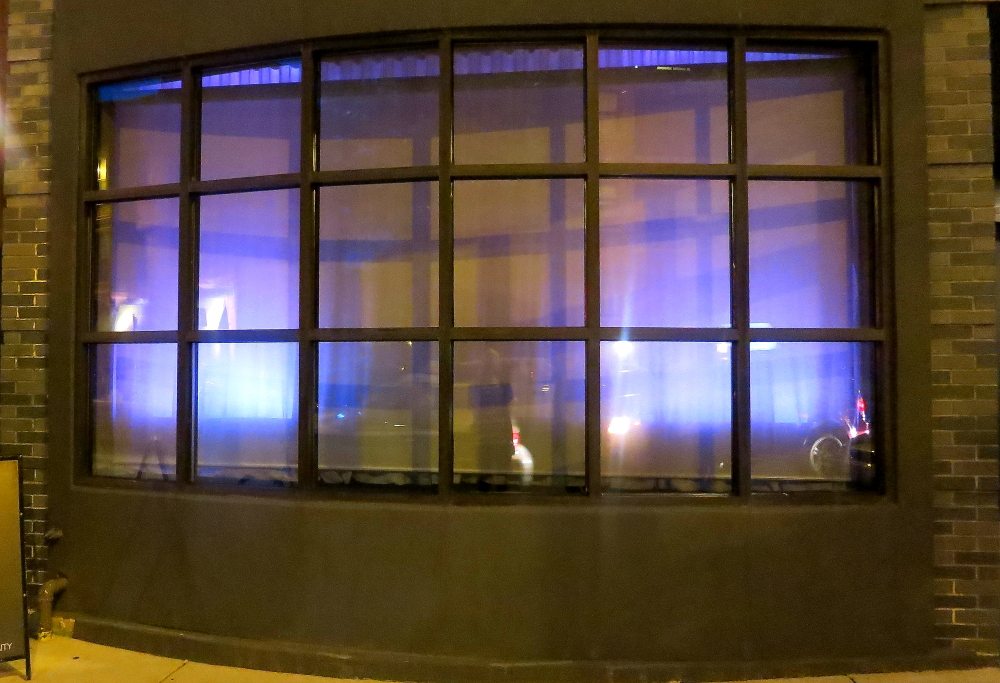 So we arrived ready for our senses to be spanked for our late night reservation.  Now, don't judge a book by its cover on this one, folks. Like the culinary surprises we were about to imbibe on inside, Alinea's modest street signage may suggest something quite different from what was to come.  We were first shown into a moss-lined hallway decorated with vines, pink flowers and tea lights hanging from the ceiling. Very whimsical indeed, this path led us to the automatic sliding door where… boom!… hello! The door slid open and we are greeted by a friendly hostess and a bright hallway beside the open kitchen. As we waited for our table to be ready, I got to peak my head into the tightly orchestrated, clean as a whistle vast cooking arena. I guess I shouldn't be surprised at the size as it takes a lot of room to plate with such precision and intricacy.
We were then guided upstairs to one of the dining rooms and sat in a table that would easily fit for 6 in any other restaurant. It was definitely appreciated that we got a little extra real estate, especially for the price of the meal. The room around us was very simple, modestly lit, though not at all sexy or chic. It really was just a purple painted room with only one unusual flower sculpture spurting out of the wall. I'm not sure what I was expecting, but I guess I was just looking for a bit more character. Having said that, with only another 4 couples in the room at the time, the noise level did not exceed a gentle buzz, and the temperature in the room was quite comfortable for me.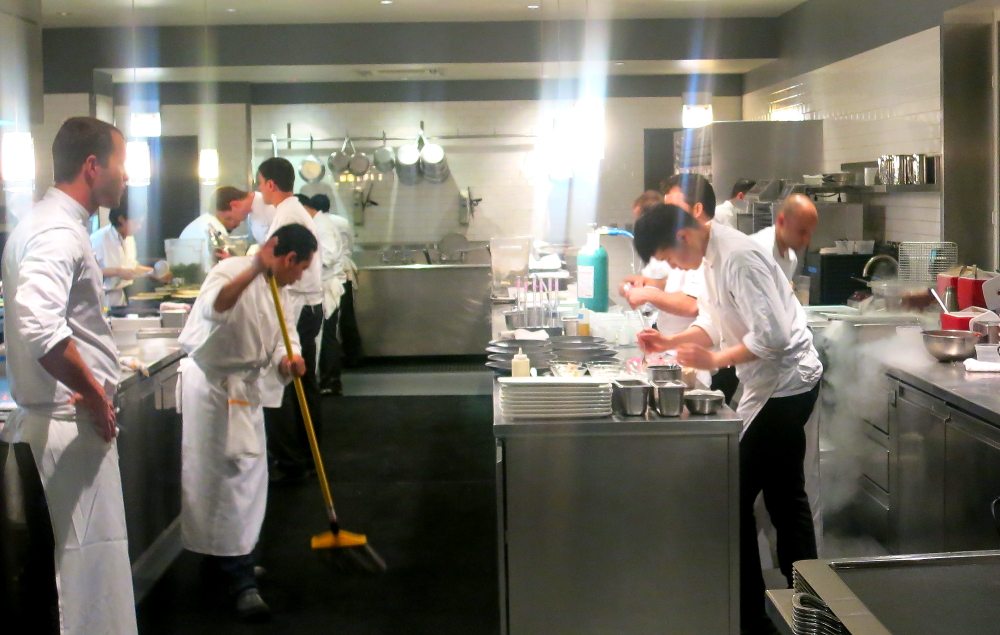 In contrast with the room, I found the service a little cold. Professional, knowledgeable and very sharp, but lacking a human touch. With the exception of maybe one of our servers (there were numerous gentlemen at our table throughout the night), most of them came to simply deliver our plated meals, regurgitate a quick description, and prepare our tables for the next course. There actually were very few smiles cracked throughout the entire night, despite our best attempts to strike up a friendly conversation. Maybe the older clientele like this sort of approach, but considering Alinea's whimsical menu, I didn't feel the service matched.
Cheerful or not so cheerful, our sommelier was particularly descriptive when it came to pouring wine. The drink offerings at Alinea featured a wine list curated by Joseph Catterson, and were charged above and beyond the $270 price per head. With the choice to opt for drinks a la carte, the standard wine pairings at $150 or the reserve selections at $250, we went for the middle of the road option and coughed up an extra $150 per head.  The wine pairings were all tasty, with some definitely favourites amongst the bunch, and we both felt they complimented the food fairly well.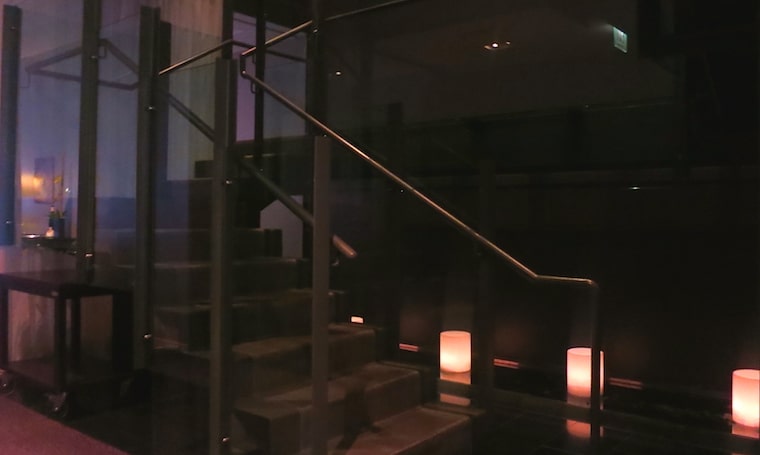 And speaking of food, since the departure of six-year Alinea veteran Matt Chasseur, former sous-chef Dave Beran has stepped in as Chef de Cuisine.  Upon being sat we were asked once again just to verify if we had any dietary restrictions or dislikes, and then we were off to the races with our first course.  We were promised we would be receiving our evening's menu after the dinner was over, which turned out to be pretty bare bones in terms of tasting notes. So that means that unfortunately, I have very little in the way of description other than what I can remember off-hand (which admittedly is not as much as usual considering we were signed up for wine pairings).  I also apologize that my photos aren't the best. I technically am not supposed to take photos, so I was trying to be quick and not cause a fully lit up scene, so this is what I got:
Osetra Caviar
Pierre Gimonnet 'Blancs des Blancs' Brut NV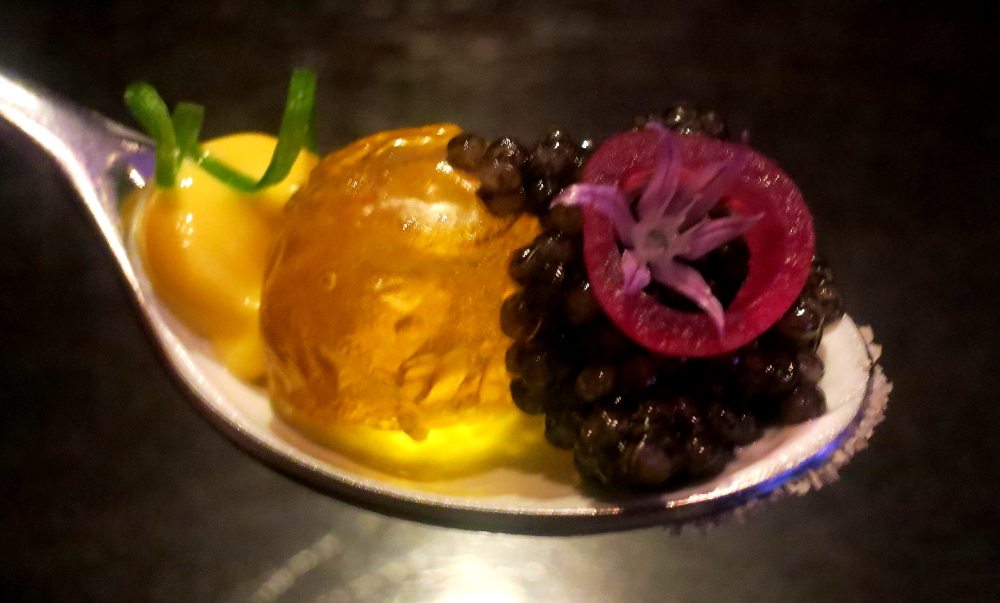 A beautifully well-balanced first bite- the bottom of the spoon was crusted with some type of crumb that created a playful crackle to balance the bright pop of the caviar and the jelly component.
Rabbit with Cherry Blossom, Radish, Smoke and Wasabi
Fritz Haag 'Brauneberger' Riesling Kabinette, Mosel, 2010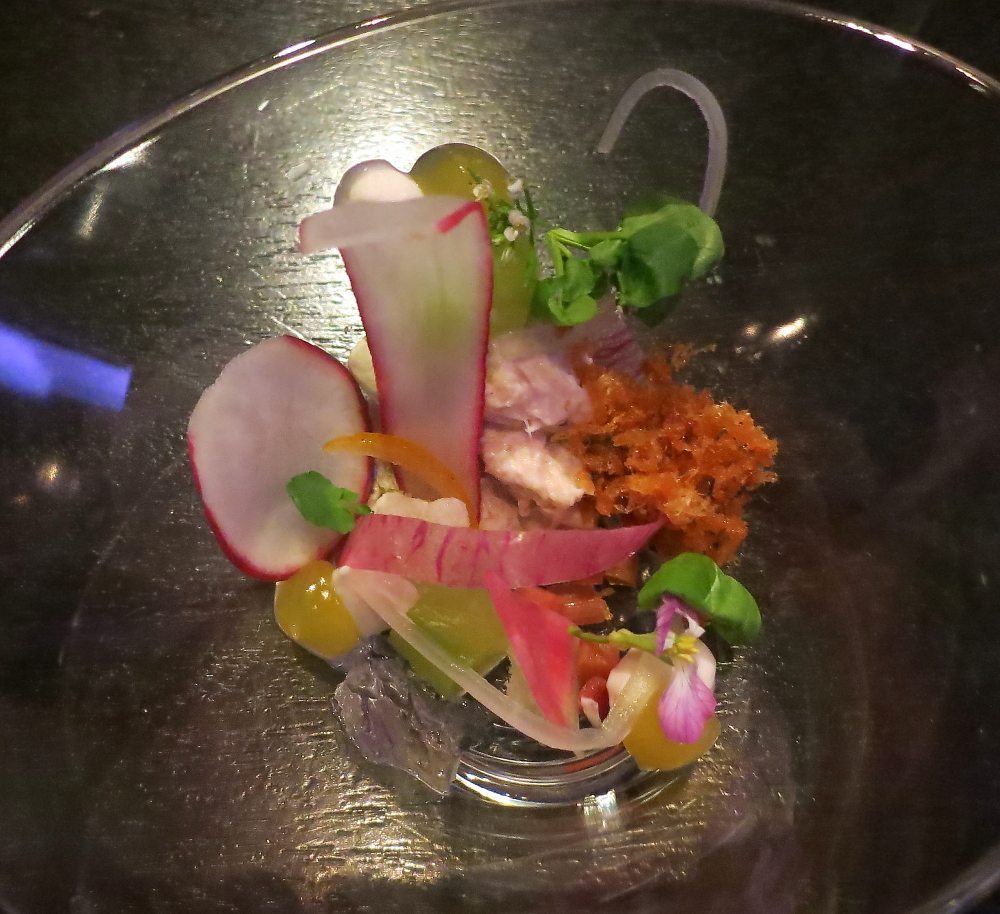 A lovely fresh 3-bite course. The cherry blossom had a gentle aromatic sweetness against the peppery radish and heat of the wasabi. This was also by far my favourite wine of the evening- bright, slightly sweet with a nice balance of acidity.
Scallop with Citrus Aroma, and Fourteen Textures
Fritz Haag 'Brauneberger' Riesling Kabinette, Mosel, 2010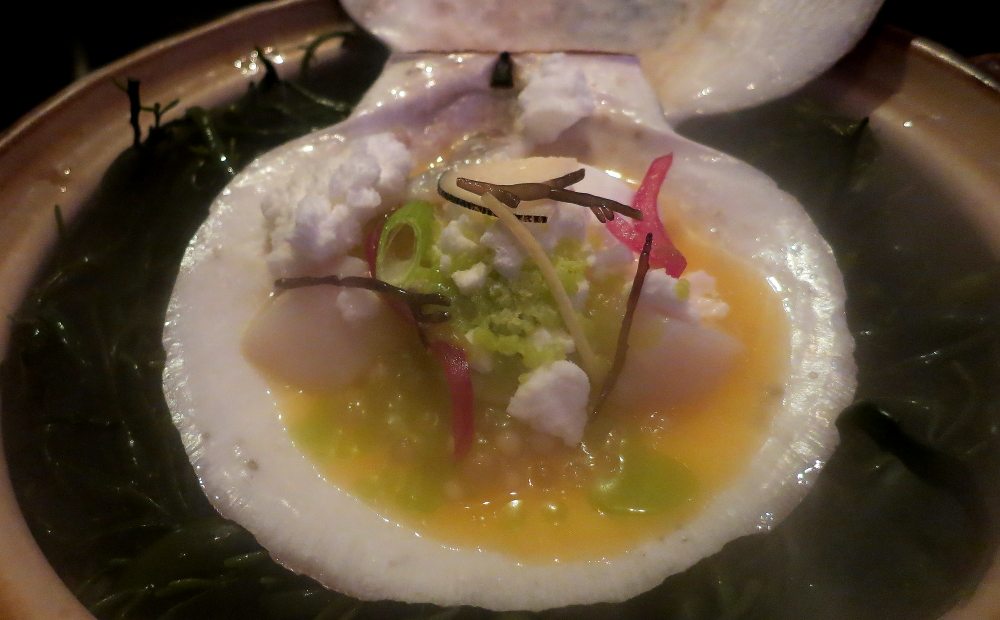 One of my favourite dishes of the night, it arrived as a caldron of seaweed bubbling and smoking from dry ice, upon which a stunning scallop shell was waiting to be opened. The scallop inside was perfectly cooked, sitting atop a pool of citrus orbs and garnished with something frozen by liquid nitrogen giving it an interesting Styrofoam-like chew (in a really good way). There was also a little chili in there which created a really unique temperature sensation in my mouth- the scallop and everything inside it was smoking ice cold, yet the chili made my tongue tingle with every bite. Really pleasant.
Artichoke with Octopus, Eggplant and Allium
Lopez de Heredia 'Vina Gravonia' Blanco, Rioja 2003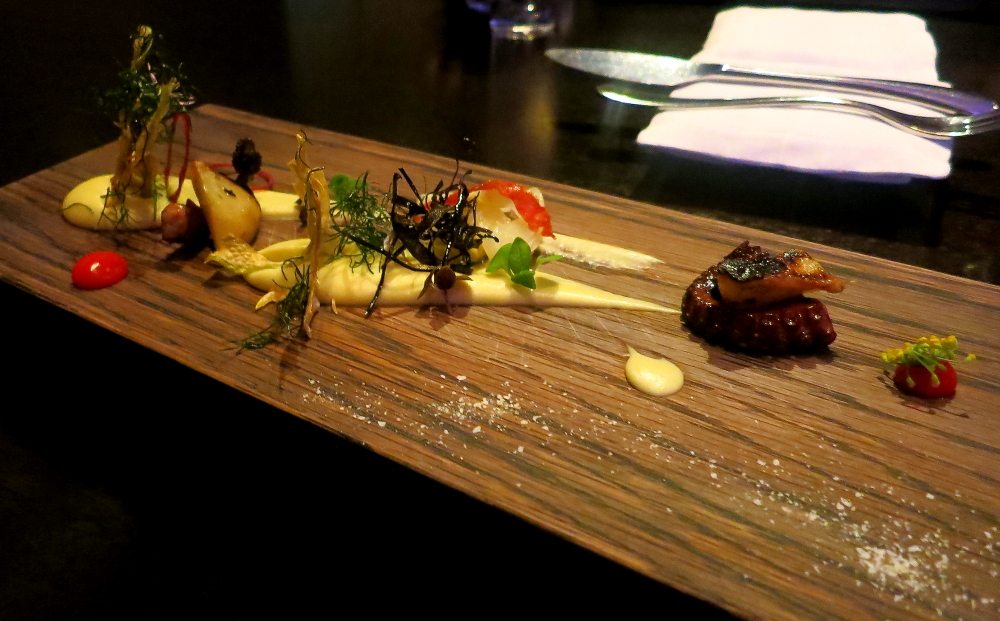 This was probably my least favourite dish of the evening. I could have licked the plate clean of the Jerusalem artichoke puree and the perfectly caramelized pieces, but I found the octopus a little overcooked and chewy for me. I actually heard another table say the same thing after us.
Bincho Tan with Tokyo Inspiration
Takatejin Junmal Daiginjo-shu 'Soul of the Sensei' Doi Shuzo, Shizuoka-ken Hitachino Nest White Ale, Kluchi Brewery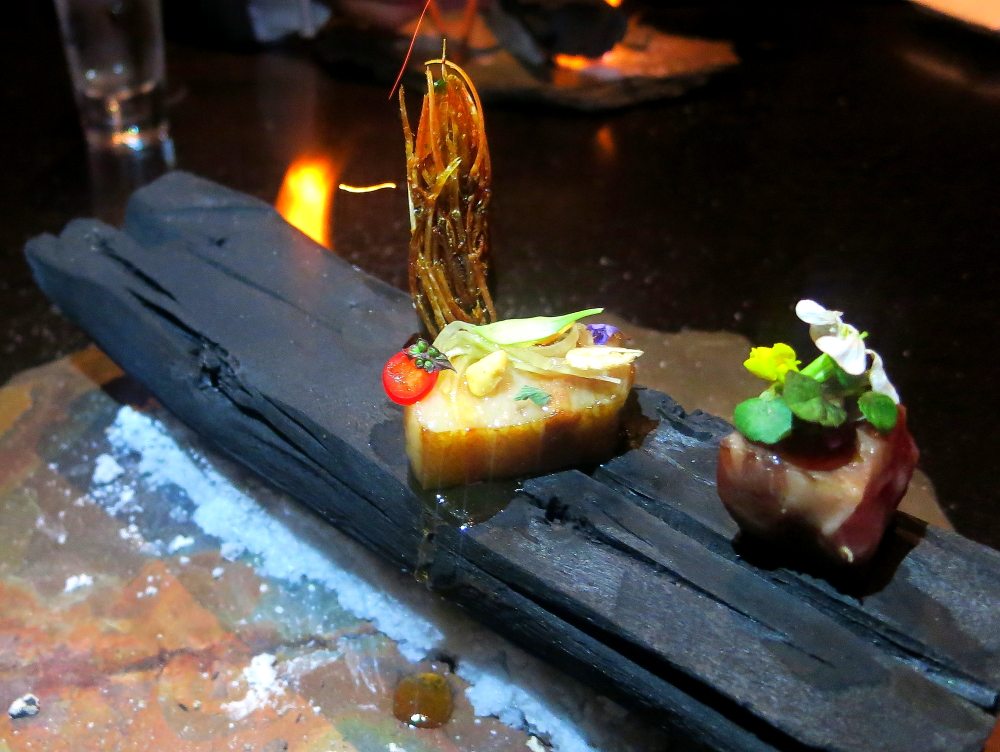 A very interesting presentation- this one arrived as a block of wood set ablaze with three unique elements- a deep fried shrimp head, a piece of pork belly and a beautiful square of raw beef. While I wasn't quite able to escape the overwhelming fattiness of the pork (which is beautiful when seared crispy, but a little offputting when not), the beef was packed with so much rich marbled flavour that literally melted upon hitting my tongue.
Veal Cheeks & Crispy Sweetbreads with Spring Bounty
Eyrie 'Estate' Pinot Noir Willamette Valley 2010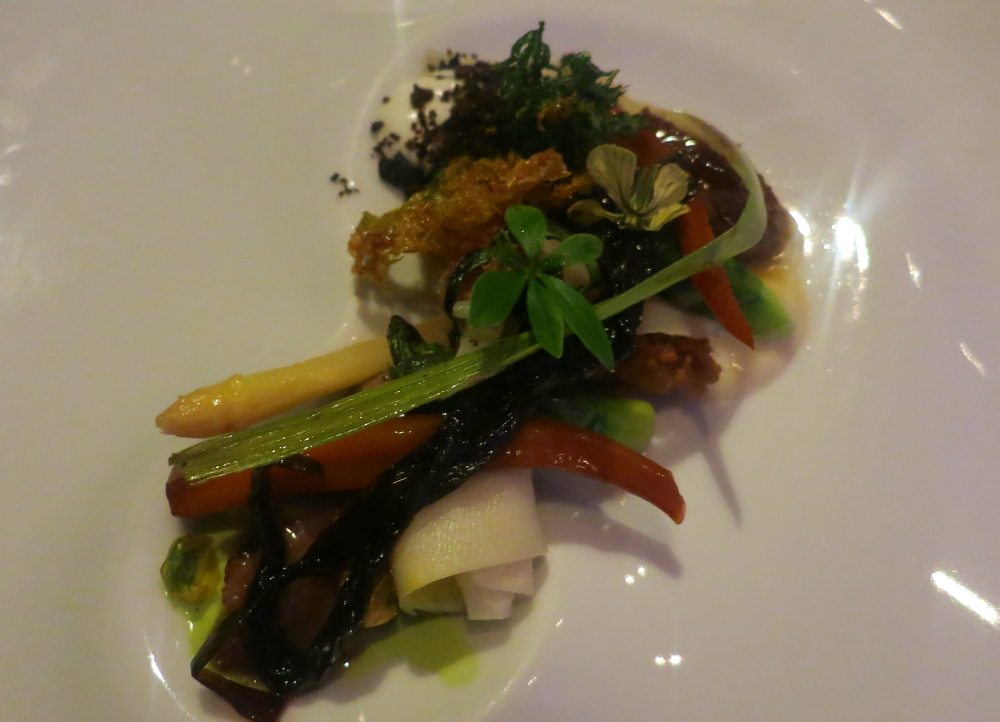 A masterpiece of textures- I loved the fatty tender cheeks against the light and crispy fried sweetbreads, and that all of the otherwise rich flavours on the plate were tempered by the beautifully prepared spring vegetables.
Hot Potato with Cold Potato, Black Truffle & Butter Soup
Eyrie 'Estate' Pinot Noir Willamette Valley 2010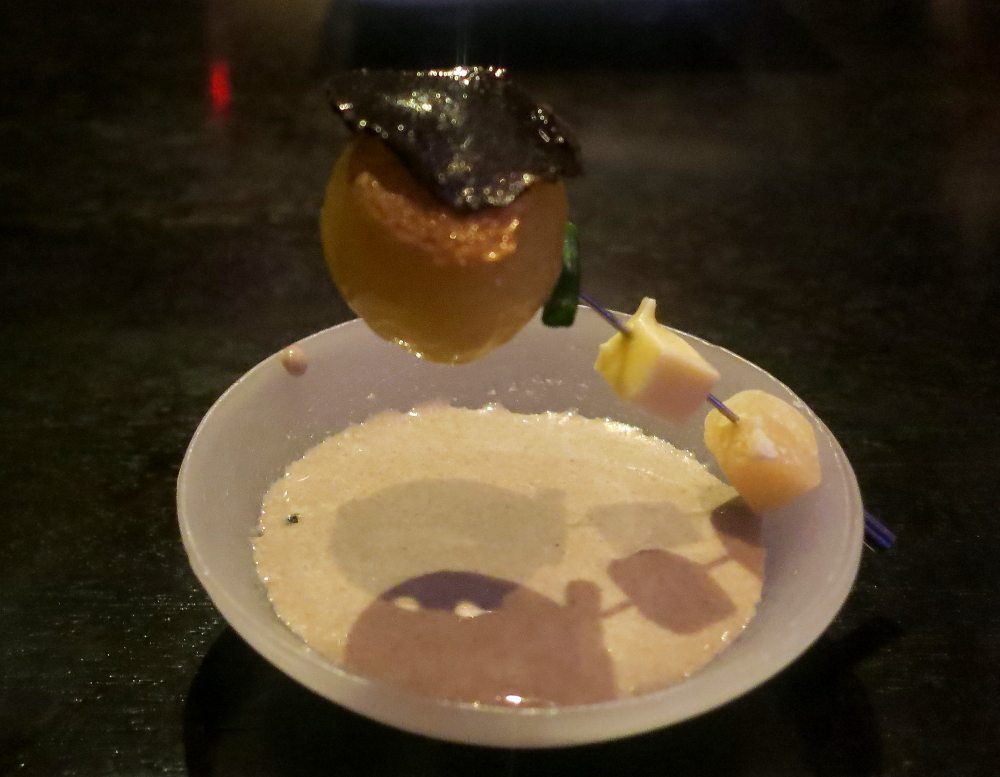 Pre-dropping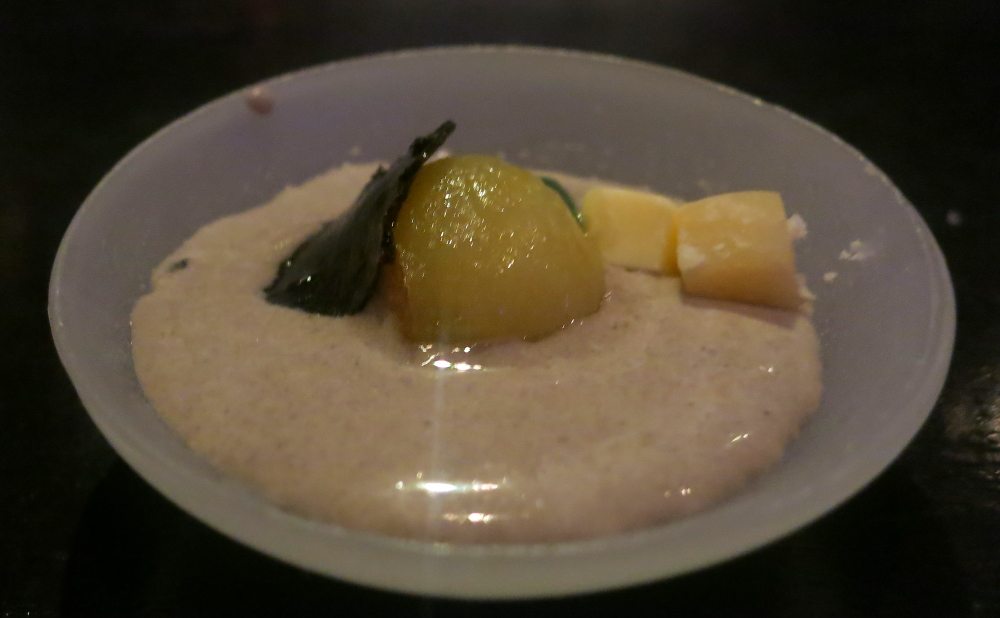 A "time sensitive" dish, as the server explained- this dish required that we hold the dish carefully in our hand, remove the metal pick and allow the potato and butter to drop into the cold potato soup before taking it all down in a single bite. The result was an explosion of umami-rich truffle and comforting carbohydrate delight in a single two-temp bite.
Duck Five Ways with 60 DIY Flavour Accoutrements
Chateau Musar, Bekaa Valley Lebanon 2004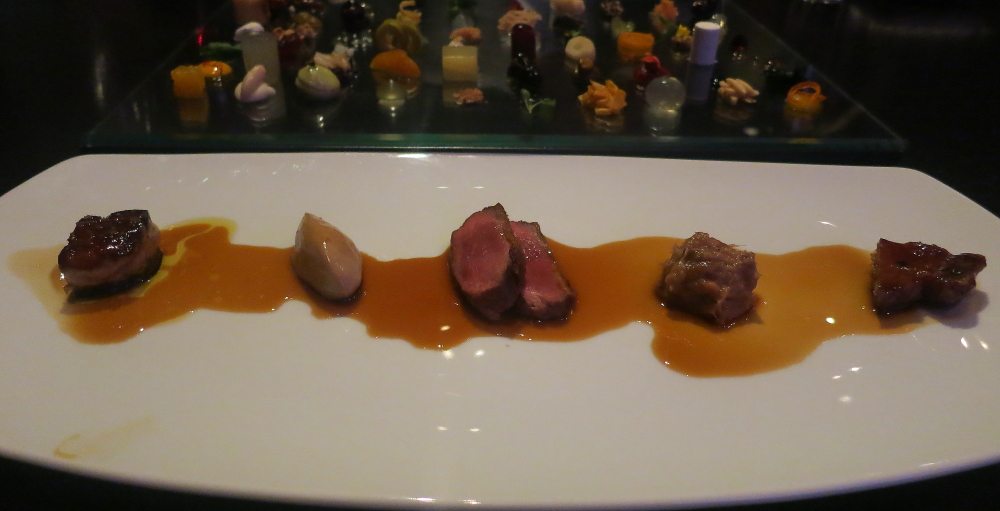 The Duck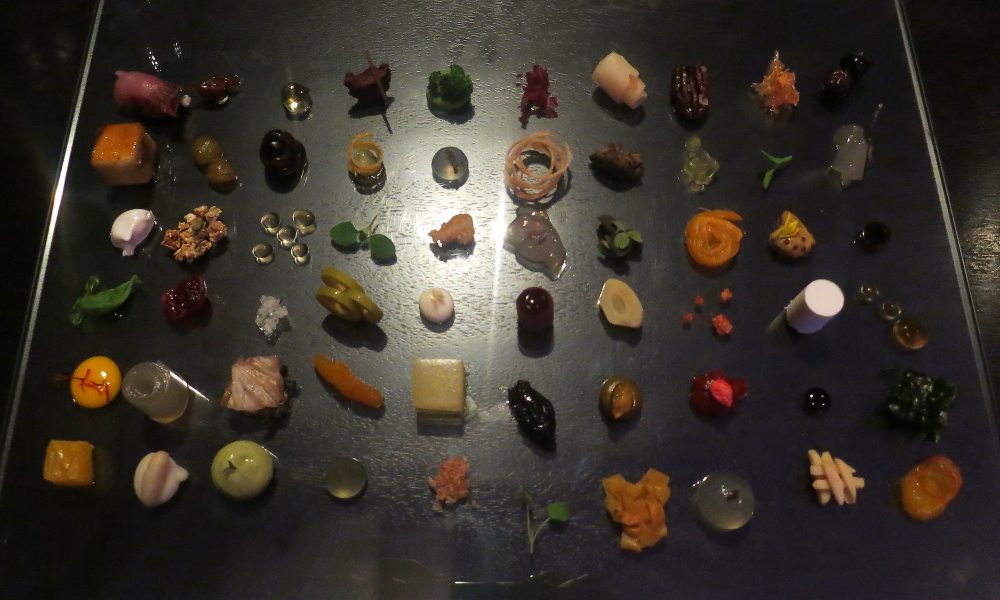 The Flavours
You would think for $250 that we wouldn't have to play chef, but this was part of the fun. The way this worked was that we were given the flavour "palate" of 60 appropriate accompaniments to pair with any of the five duck preparations including parts like the breast, and foie. We were not told what anything was, but rather to select any two to smear on top of the bird and to simply use our instincts and senses- everything should work well. My favourite combo of the night? Caramelized banana and candied pecan on foie gras. Least favourite? Mint gelee and broccoli on rillettes. Yikes.
Black Truffle Explosion Ravioli with Romaine and Parmesen
Chateau Musar, Bekaa Valley Lebanon 2004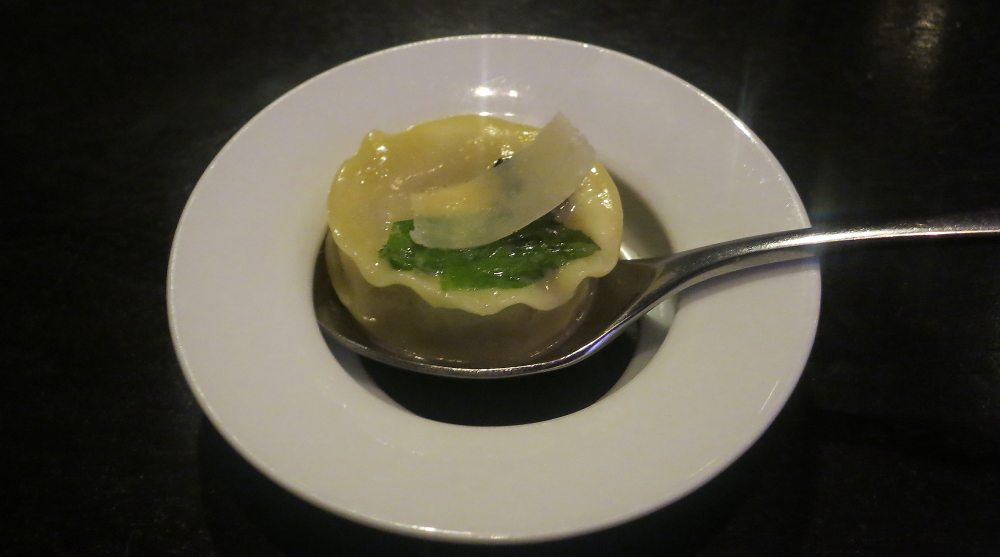 Another dish with specific eating instructions. This one was served in a spoon that we were to bite down on making sure to keep our mouth closed. Why the insistence on chewing with our mouths closed? Well, unlike a traditional solid food ravioli, this one was packed with a light black truffle scented mildly salty broth that literally exploded into every corner of my mouth upon bursting. It was damn good.
Ginger Palate Cleanser Tasting
The Rare Wine Co. 'Boston Bual- Special Reserve' Madeira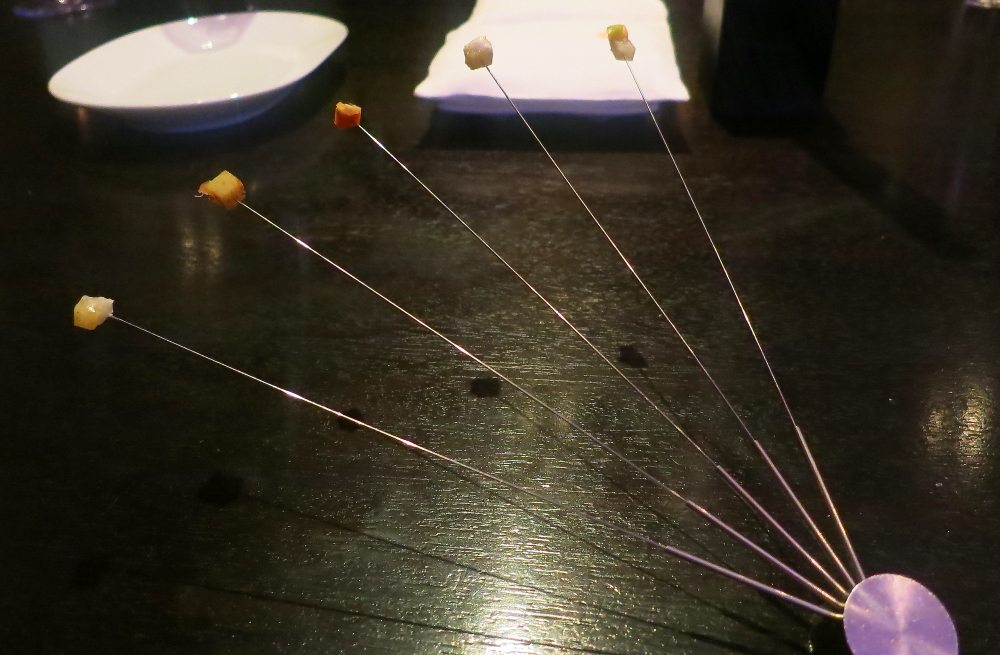 A very satisfying way to acknowledge the divide between savoury and sweet- each little tiny bite of ginger took on a different flavour profile, that while all equipped with a pretty serious kick of heat, ranged from quite savoury to more sweet.
Green Apple Helium Balloon
The Rare Wine Co. 'Boston Bual- Special Reserve' Madeira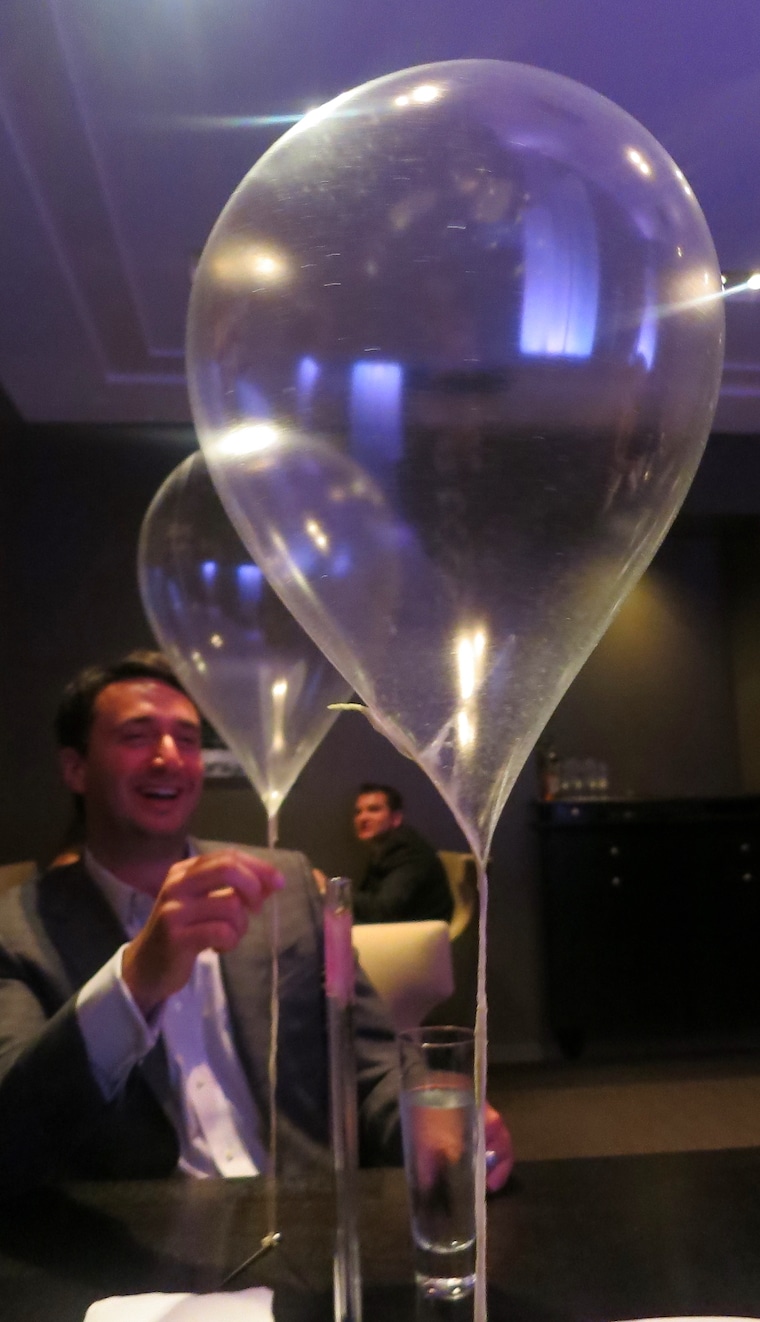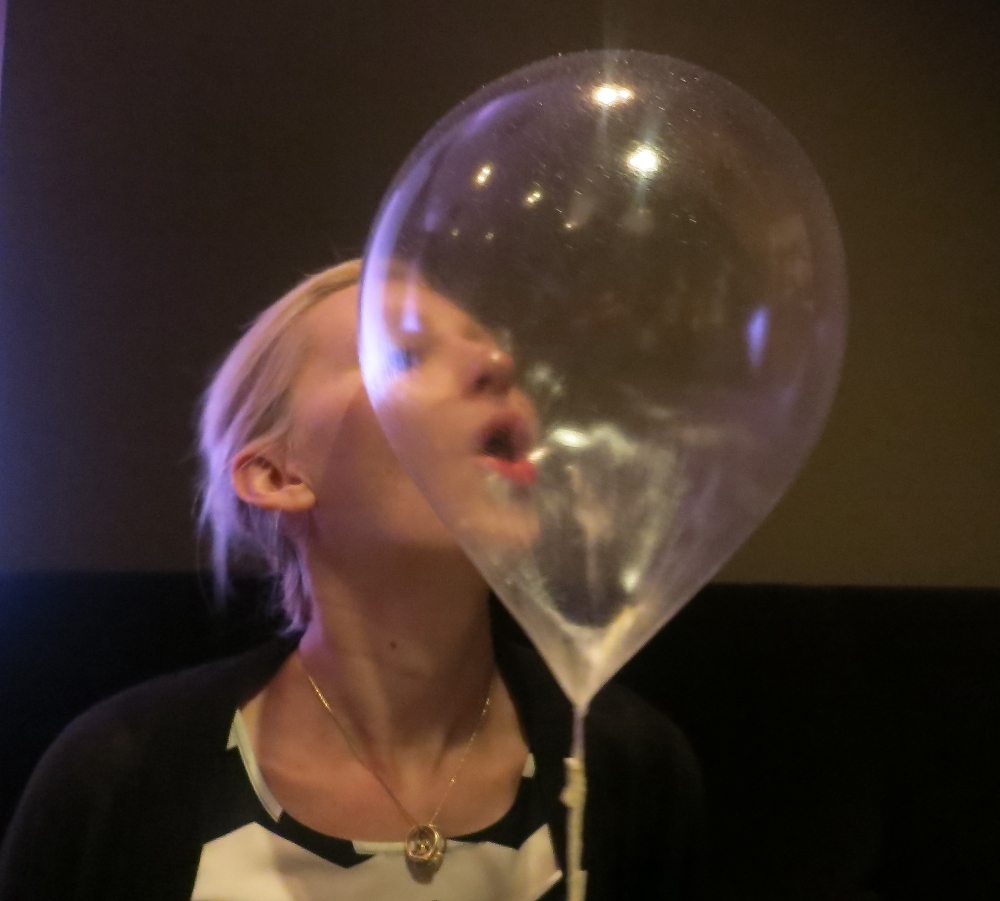 There was no sexy way to do this
Now this was the show stopper. Ladies, just a warning: you are not going to look sexy doing this. Fully enlarged helium balloons were (very carefully) escorted to our table, with their "string" tied to a metal needle that could be set in front of us until we were ready to dive in. The instructions were to bring our mouths to the balloon and suck in as hard as we could to essentially pop the balloon and breath in the helium inside. The surprise? The balloon and the string were completely edible- made from green apple and whatever else the chef dreamt up in his mad scientist lab. We each took turns quoting Arnold Schwartzenegger movies in our chipmunk voice before tucking into what tasted like a really really good fruit roll up.
Liquid Nitrogen Frozen Strawberry, Sorrel, Sassafras and Pine Nut
Disznoko '5 Puttonyos', Tokaji-Aszu 2005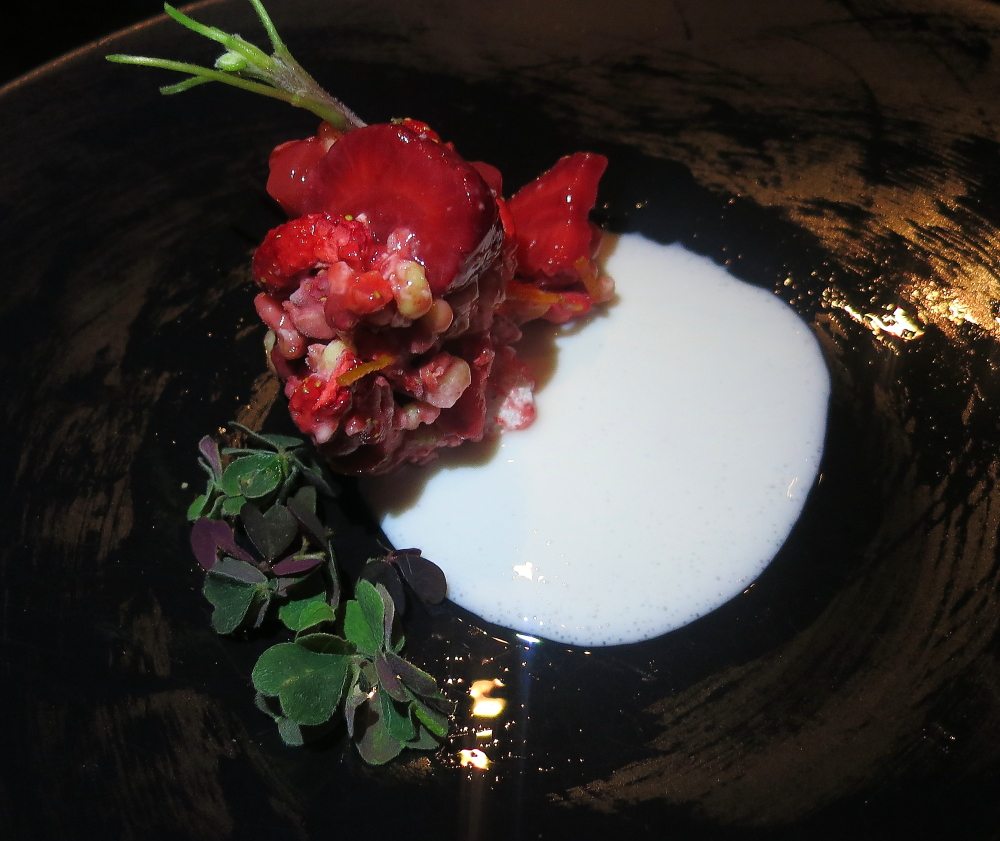 A very tasty dessert paired with an exceptional sweet dessert wine. I loved how the liquid nitrogen freezing technique left the outside very crunchy, while the core had a nice meringue like chew. I also enjoyed the mild root beer like flavour of the sassafras and the almost herbaceous quality of the sorrel to balance out the sweet strawberry.
Raspberry Rose Infused Soda
Disznoko '5 Puttonyos', Tokaji-Aszu 2005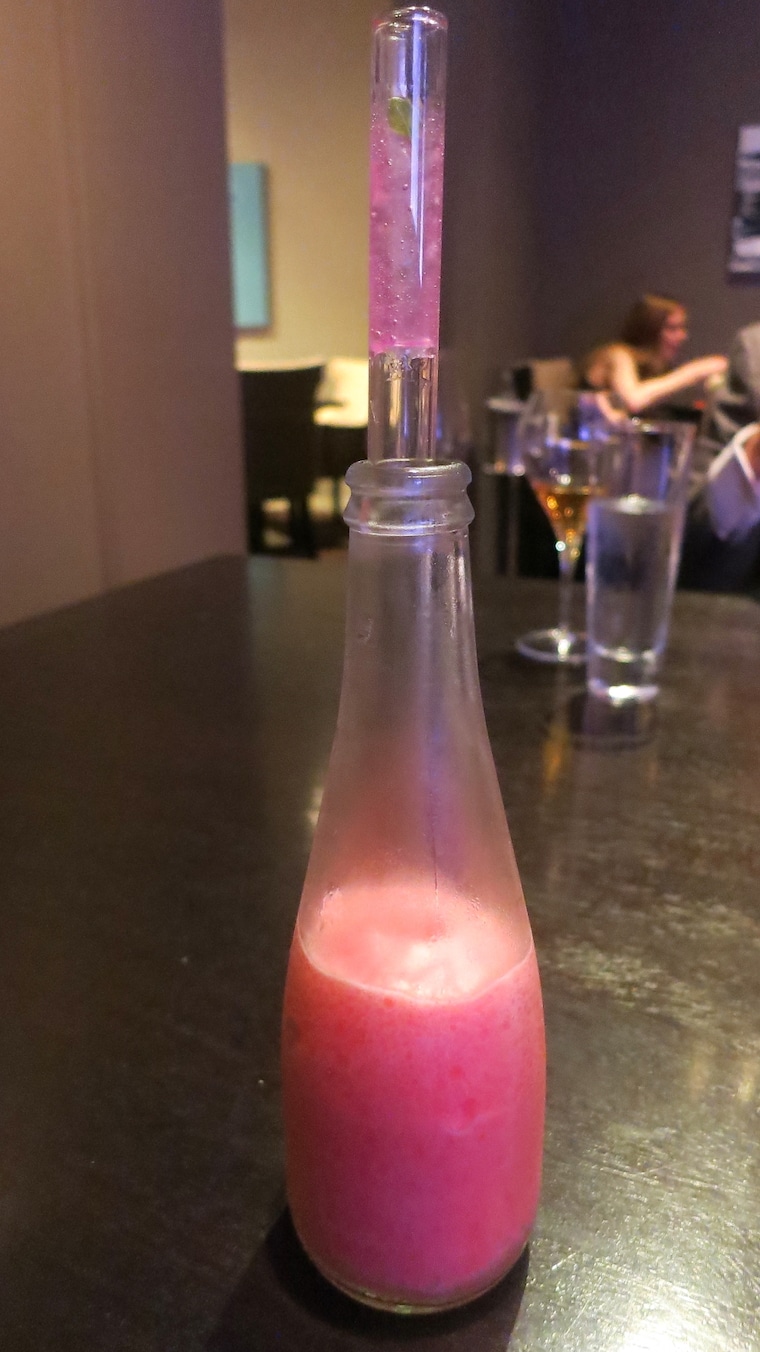 In contrast with the later, this one was much sweeter, but with an unmistakable floral note existing inside the straw in the form of a rose jelly of sorts that took it beyond just cloying sugar flavour. The carbonation in this soda had an interesting "foaming" effect on my tongue, kind of like those super sour candies that upon breaking through their shell foam up and tingle. This is kind of what I expect Willy Wonkas fizzy lifting drink to be like.
Edible Table Artwork, Liquid Nitrogen Chocolate Tart with Crème Fraiche Meringues, Hazelnut Toffee and Violet Gelee
Gini Recioto di Soave 'Classico' 2007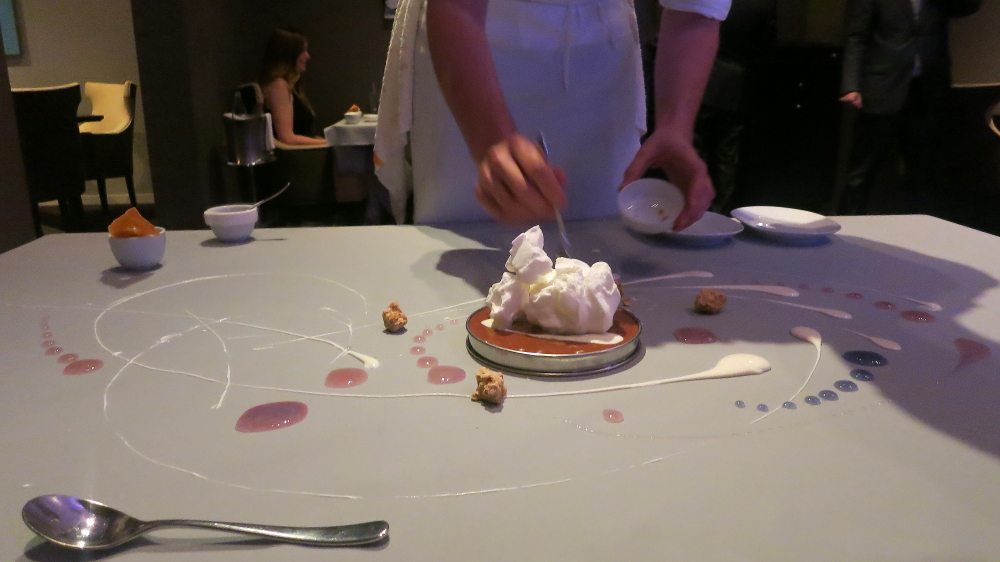 The chef in action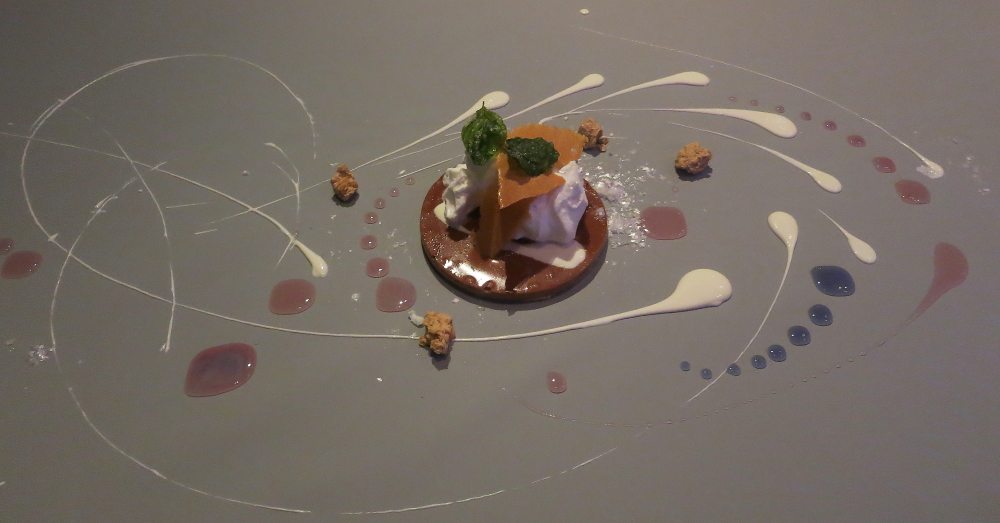 It's this kind of interactive food experiences that I really love. A small team of service staff arrived at our table with a foam-type tablecloth and proceeded to lift up all of our drinks and other personal effects while laying it down and smoothing it out. Soon after, they arrived again with a selection of small dishes, and the chef came by to prepare dessert. We watched in awe as he set down a metal ring in the center of the foam mat and started to add uncooked piecrust to the bottom from a smoking ramekin (assumedly from liquid nitrogen). Then he poured in a liquid chocolate filling and started to get creative. He painted smears of crème fraiche in a whispy pattern, and added dots of a clear violet flavoured gelee. The strange part was that although the gelee all came from the same glass, the first few dots came out pink, while the latter were all a lavender hue. I don't know how that magic happened. He finished off with a sprinkle of crème fraiche meringues frozen by liquid nitrogen and crunchy hazelnuts likely composed the same way, and then carefully removed the ring. It was fun to eat off the table like naughty children, especially when the flavours were so profound. The chocolate had set to a pudding like consistency, beautiful against the unusual crunch of the meringues that melted on the tongue. I don't really care much for chocolate, but I would lick any table clean (literally) if it had this on it,
So this is where the dinner ended. Three hours, 14 courses, lots of wine and even more money spent. Uh I don't want to think of how much so I'm going to skip that part. Was it worth it? Honestly, I'm not sure. I am starting to worry that my expectations are just too high when I go out, particularly with regards to all these Michelin star spots. Did I enjoy this more than, lets say, French Laundry? Definitely. WD-50? For sure. More than Machneyuda or Catit in Israel or Eleven Madison Park in NYC? Maybe not so much. The food was all incredibly tasty and well prepared, and some of it got me excited and curious. But was I blown away by the creativity and techniques of molecular gastronomy? Other than the balloon (which was pretty damn cool), not really. Did I love the atmosphere and service? Both could have been a little more engaging. But would I return? Absolutely, I would. But not until I've had a few more Michelins under my belt. Let's hope when I go to Fat Duck this fall that I will leave happy having dropped that cash. Fingers crossed, foodies. Fingers crossed.
Updated on May 8th, 2019