Since my first visit to Beast back in December 2010, I have foolishly been neglecting my persistent cravings for their hearty comfort fare.  Well, I guess, I finally came to terms with this after having to (painfully) revisit all of my blog posts during site transfer, and stumbling upon the (terribly poor) photograph I took of their Sticky Toffee Pudding.  This was not just any STP- it was the best STP I had ever had and so good that even a picture so dark that it could have been mistaken for dog s*it made me unable to resist a revisit.
While it isn't a new noteworthy spot, Beast opened up in 2010 on Tecumseth at King, and has been popular ever since.  Even if you haven't ever been to this hidden away haven, you likely have heard of at least one of the two owners, Scott Vivian (Chef) and wife Rachelle (Pastry Chef).  Made famous by his nose-to-tail dining experiences, Scott is one of the men behind the Group of Seven Chefs. Working (usually) with a less carniverous set of ingredients, Rachelle is likely most famous for her outrageous fresh-fried doughnuts that sell out by the crack of dawn.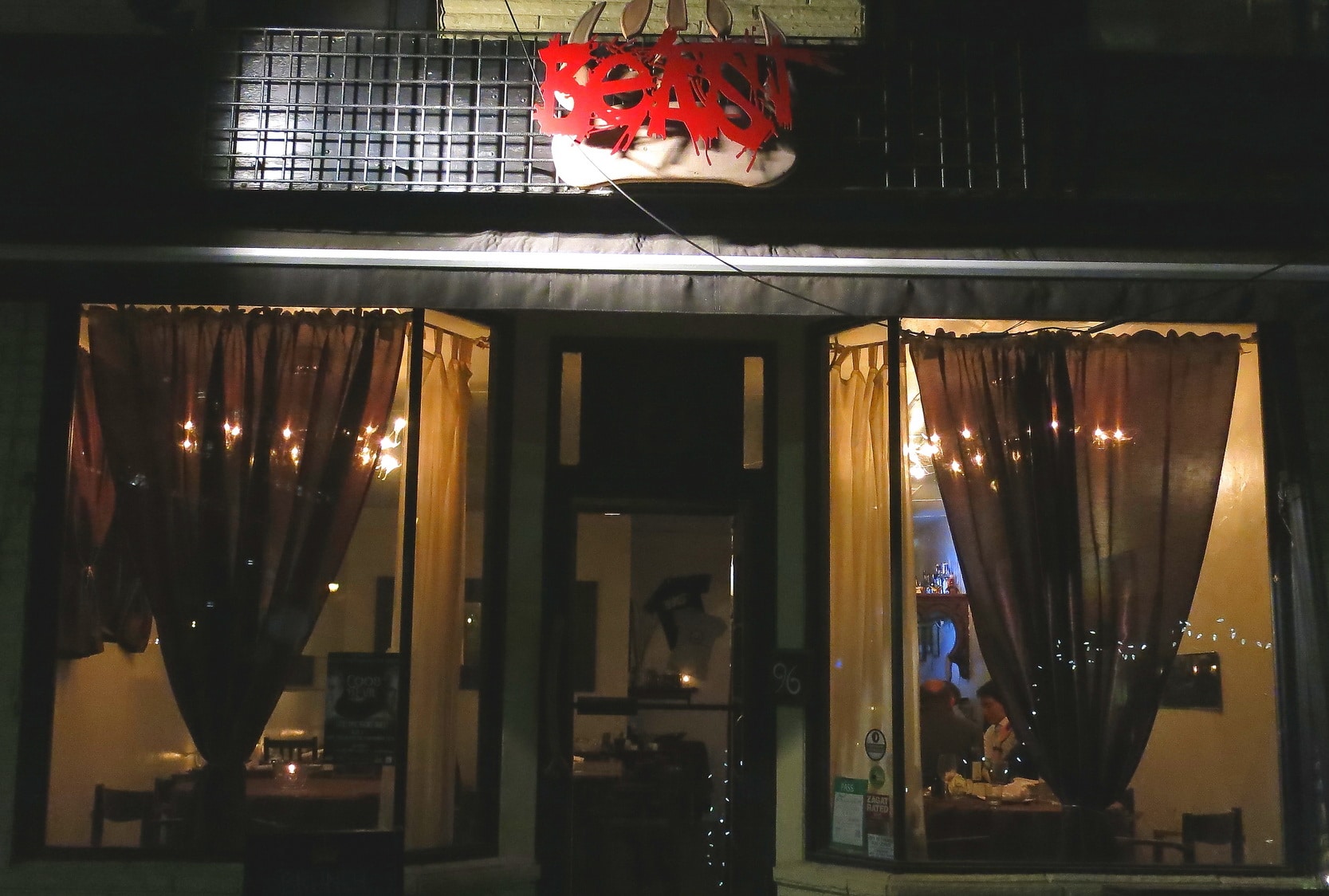 Well, this Saturday, my girlfriend and I planned a double-date dinner, because even though the boys are best friends, they would likely not see one another if it wasn't for our coordination. Knowing we had a 10 PM Second City show downtown made for a perfect excuse to get my Beast fix. Finally.
Beast is hidden away on the corner of a neighbourhood street in a house that previously was home to restaurants like Amuse Bouche (Jason Innis) and Lotus (Susur Lee).  While the summer months tout a fair-sized patio, tonight, the cozy 35-40 seat room is the only option on offer (and rightfully so, at -5 F). On the walls hang unusual paintings of personified animals, assumably the "Beasts" representing the restaurants nose-to-tail approach.  It's quirky yet inviting, and makes me feel that I'm enjoying a casual meal at a close colleagues house.  The dining room itself is a mere few steps from the small bar and kitchen, the latter through which you practically walk through to find the ladies room at the back.  Understandably, with so little space and so many beast-digesting high -speed metabolisms going off, the room got a tiny bit hot.  This does not happen often to me, and for that reason, I can't even consider it much of a flaw since I would rather strip off one of my (many) layers, than shiver through a drafty dinner.  So just a little tip ladies, slap on an extra layer of ladies speed stick and see this as an excuse to show a little shoulder.  Now, thankfully, despite the tight quarters, the spacing allowed for adequate room between tables, and enough intimacy for our party. Speaking of intimacy, other than a brief roudy moment around the restaurant's climactic hour at 8 PM, and an eerily stint of silence around 9 PM, I was very pleased with the moderate noise level throughout the night. I could hear my server, and my friends, and didn't leave the restaurant sans voice. Miracle!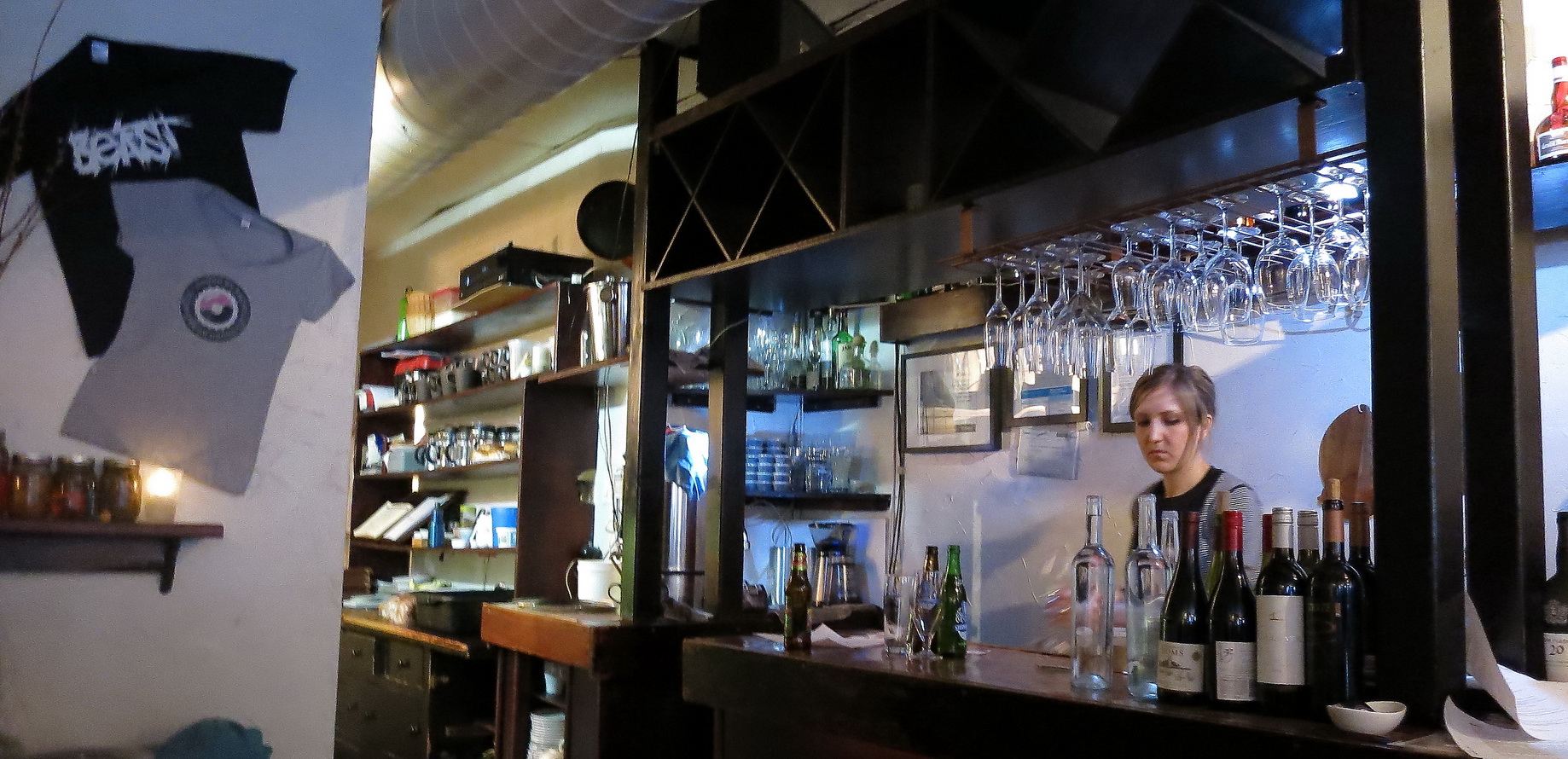 Service was remarkably friendly, laid-back, and attentive.  The servers consistently replenished our table's communal water bottle, cleared our dishes in a timely pace, and ensured that the meal was spaced out appropriately.  I particularly appreciated the servers' enthusiasm each time a new plate came or left our table. I mean, it's not like I need a pep talk to get myself excited for STP but a positive attitude from restaurant staff always seems to enhance good flavours.
Drinks at Beast include a good spread of local and international wines, artisanal beers and ciders, and about 6 house-made cocktails.  While most of our party stuck with beer (Beau's etc.), I went with the cocktail list which touted a good balance of classic stand-bys (ie. Caesar, Negroni, Manhattan), and unique recipes. Over the course of the night, we sampled their Caesar (standard recipe), French Martini (Grey Goose Vodka, Chambord Raspberry Liqeur, Pineapple Juice), and the Victorian Lady (Victoria Gin, St. Germain Edlerflower Liquer, Lemon Juice, Sparkling Wine).  The martini was very smooth with a good level of fruit and sweet, while the Lady had a really gorgeous floral note.  Being a sparkling wine bevvy, it wasn't the kind of thing I could order all night long, but certainly a great way to start.  The boys also got themselves into the Scotch and a little Sauternes, which turned out to be the perfect distraction so us girls could get a head start on dessert.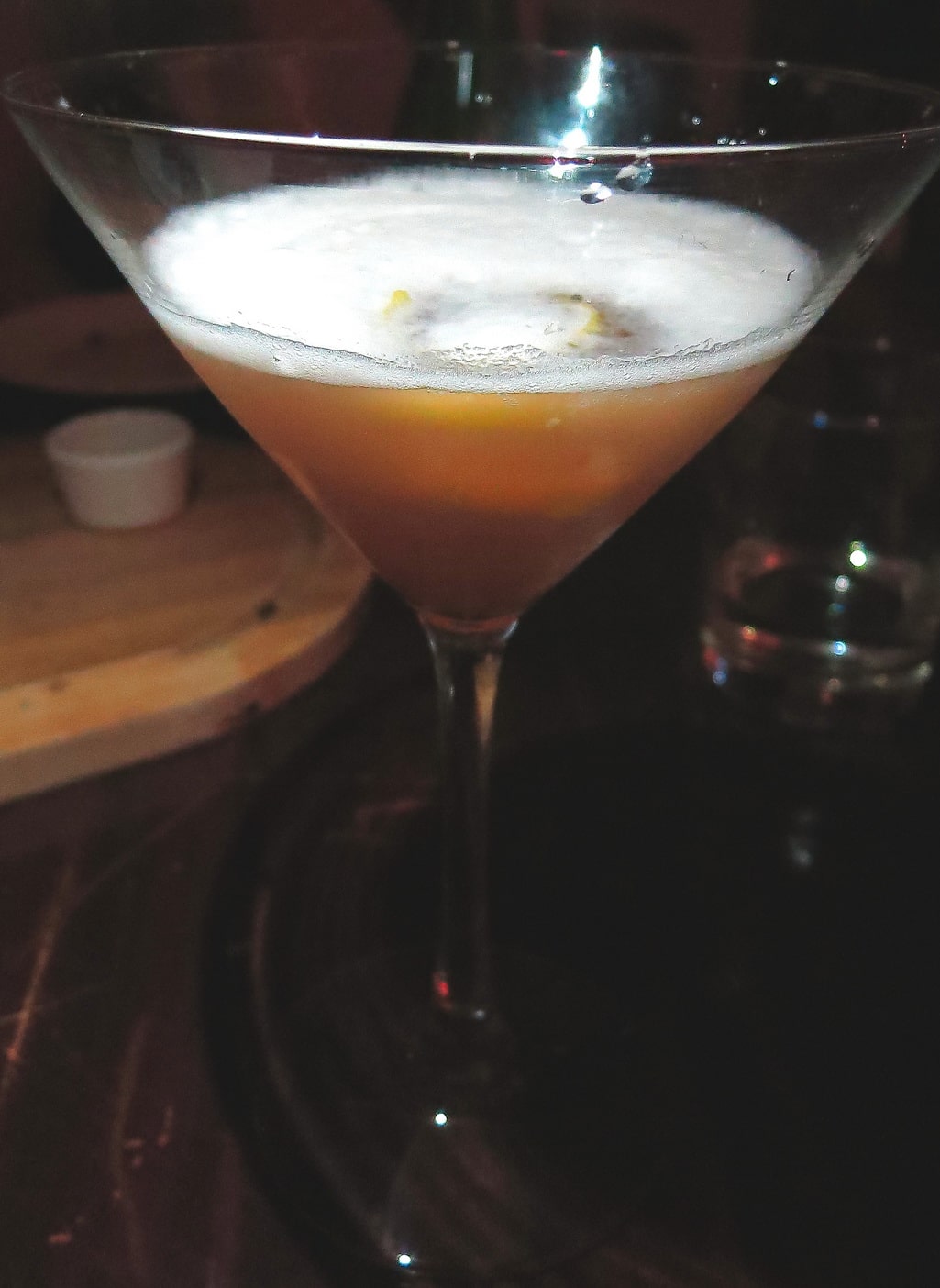 French Martini

Victorian Lady
The menu at Beast is broken into vegetables, fish and meat, all served as small plates with encouragement to share.  With nearly everything made in house, Beast aims to showcase the best of Ontario's ingredients with decadent and unapologetically hearty comfort food. While I was assured the menu changes seasonally, I was pleased (okay, so I was elated) to see that the menu item fueling my visit was still available (bring on that bowl of caramel).  Advised to select approximately 2-3 dishes were person, we ended up going with:
Parker House Rolls & Mini Baguette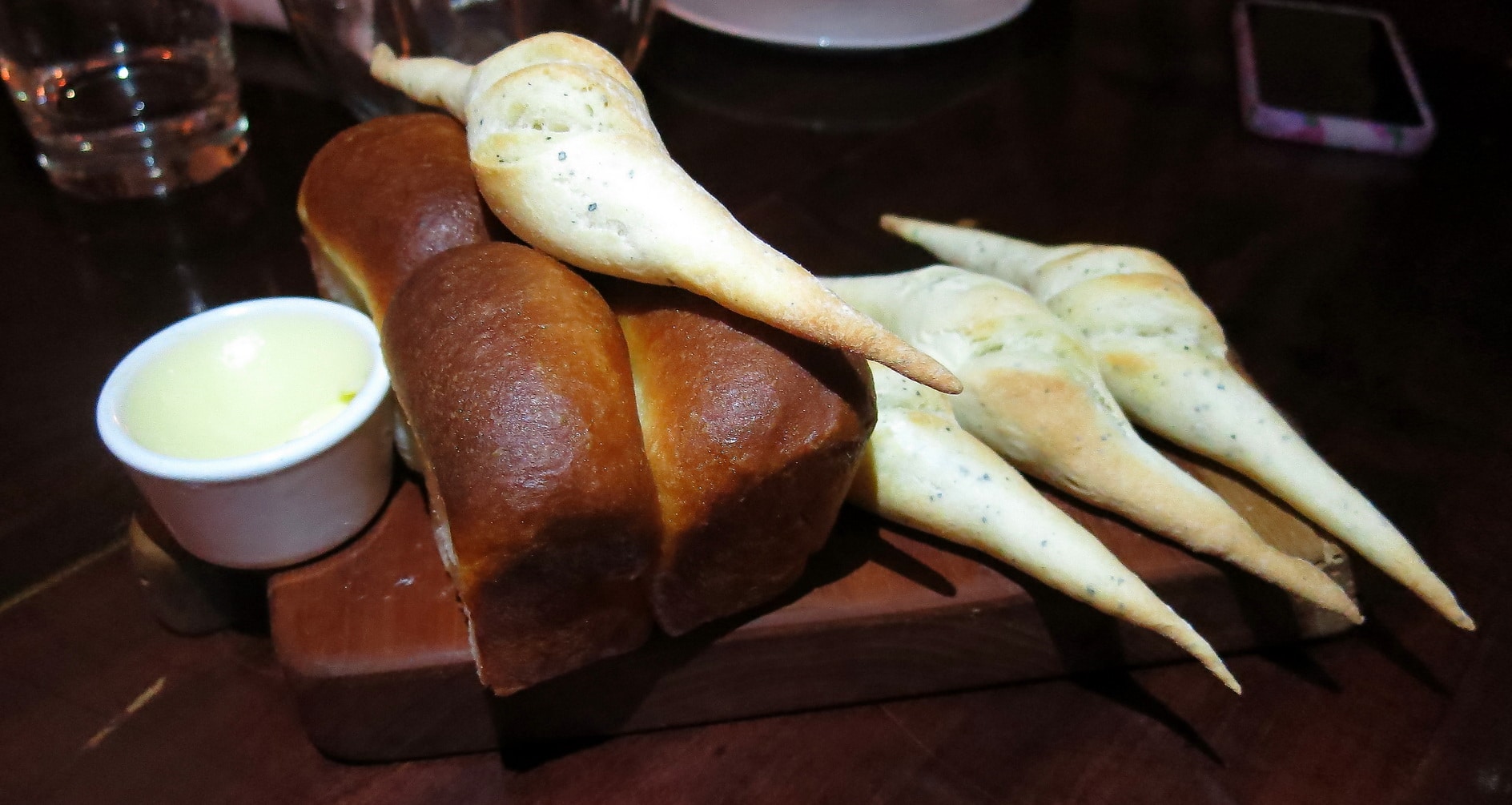 Oh yum. I try not to fill up on bread in a restaurant, but when it looks as good as this, I have absolutely no shame.  The parker roll was buttery and fluffy, while the baguette had a gorgeous chewy crust.  Had there been more than one of each per person, we might not have made it to dessert (and what a massive shame that would have been!)
Fried Pickles & Buttermilk Ranch Dressing ($5)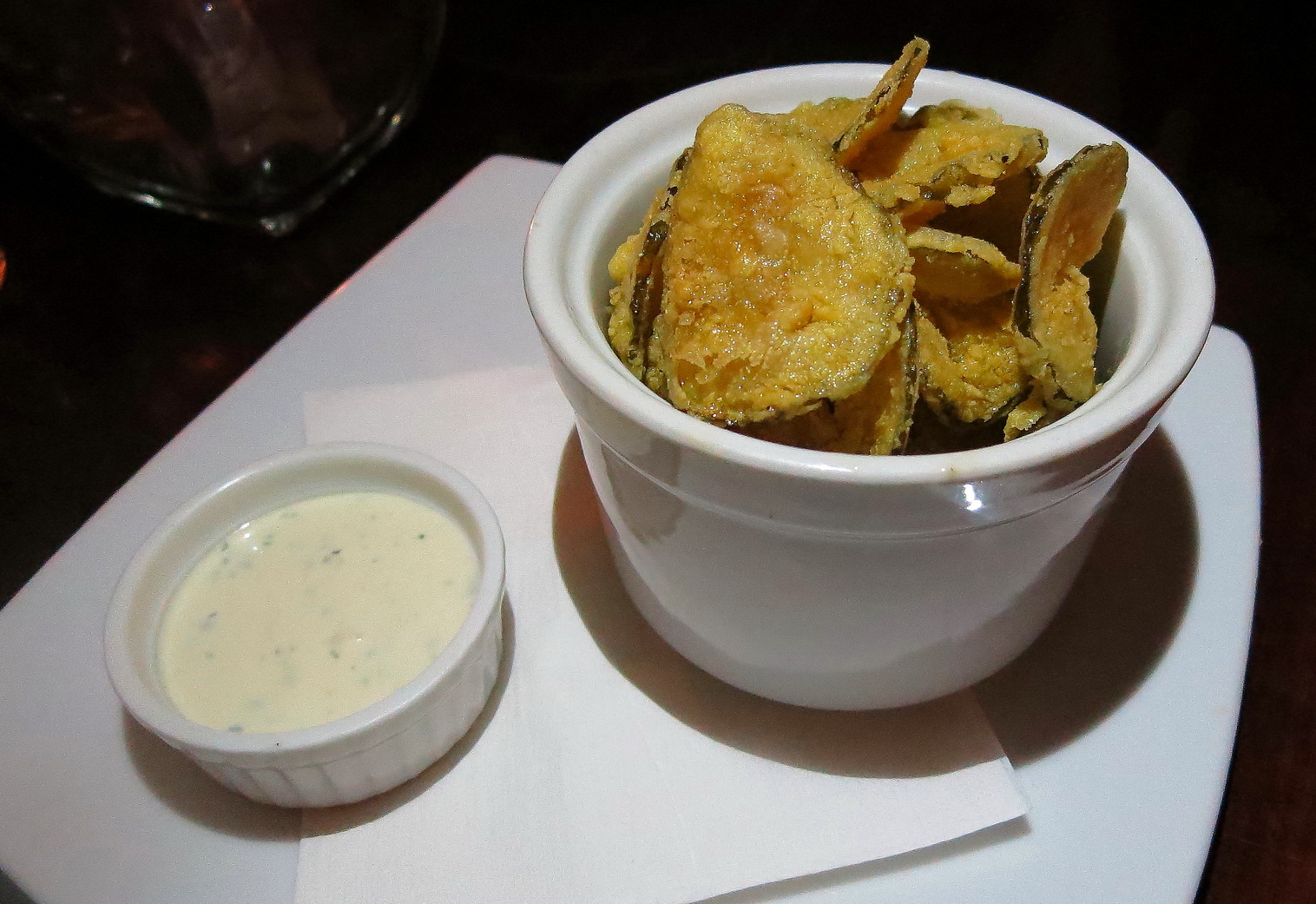 While the pickle "chip" variety turned out to be easier to eat than the mini-pickle versions I always make, I missed getting that wicked burst of tangy pickle juice after I cracked through the batter shell.  Regardless, I still certainly found these pickles tasty, particularly since the ranch dressing stood in for the sour factor I was missing in the pickle itself.
Pickle Plate ($4)

A really lovely selection of unique pickle flavours that included fennel, pumpkin, parsnip, celery and beet.  My personal favourite was probably the sweet beet, and the nutty parsnip, but I also enjoyed the kick of heat from the celery.
Buffalo Milk Ricotta Gnudi, Masala Tomato Sauce, Eggplant Pickle ($11)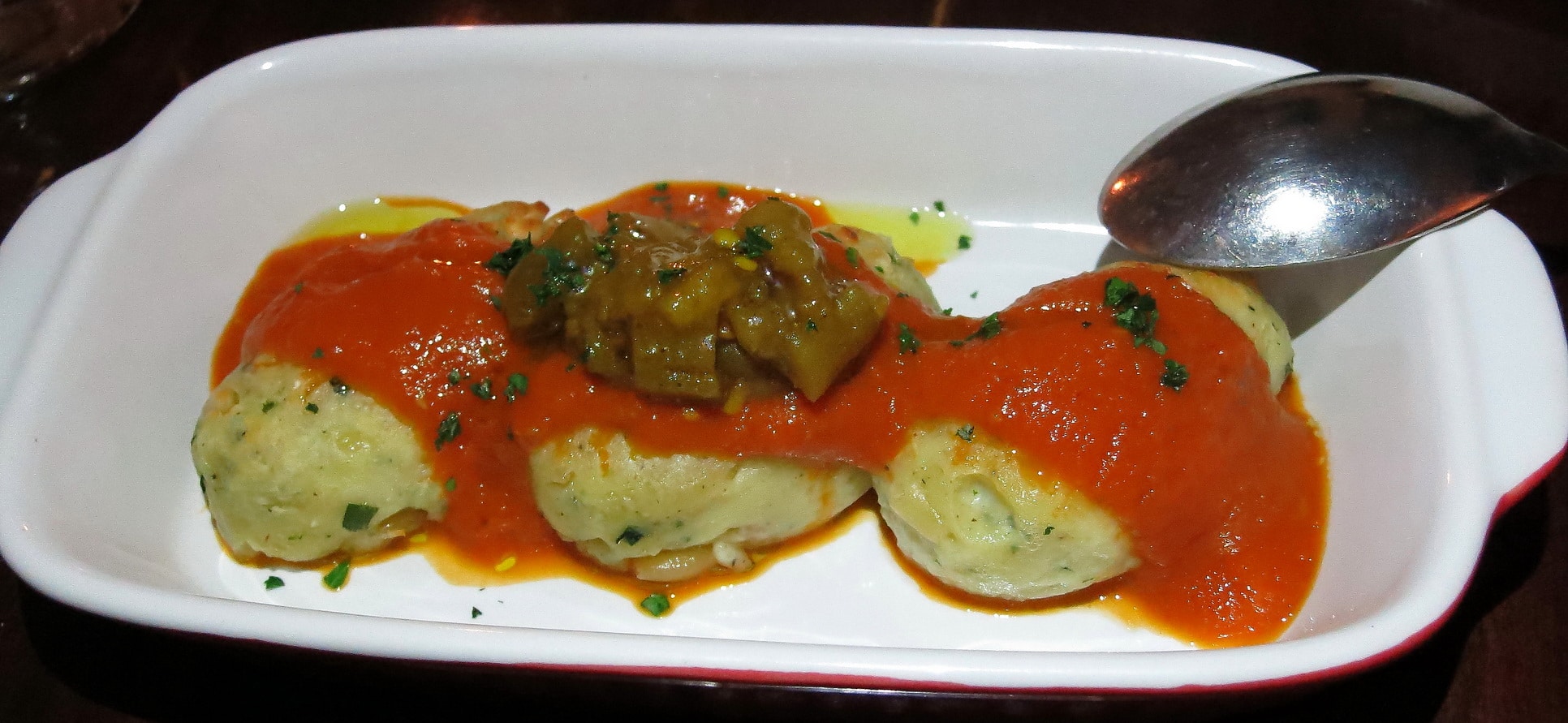 These were three beautifully fluffy gnudi with just enough delicate cheese flavour so as not to overpower the Indian inspired flavours.  The Masala sauce had a gorgeously sweet and aromatically spicy flavour that was balanced out flawlessly by the tangy eggplant pickle.  Just give me a bowl of this sauce, some pickles and a loaf of bread (or maybe, more appropriately, naan), and you know it's going to be a good night.
Canadian Artisinal Cheese Plate ($15)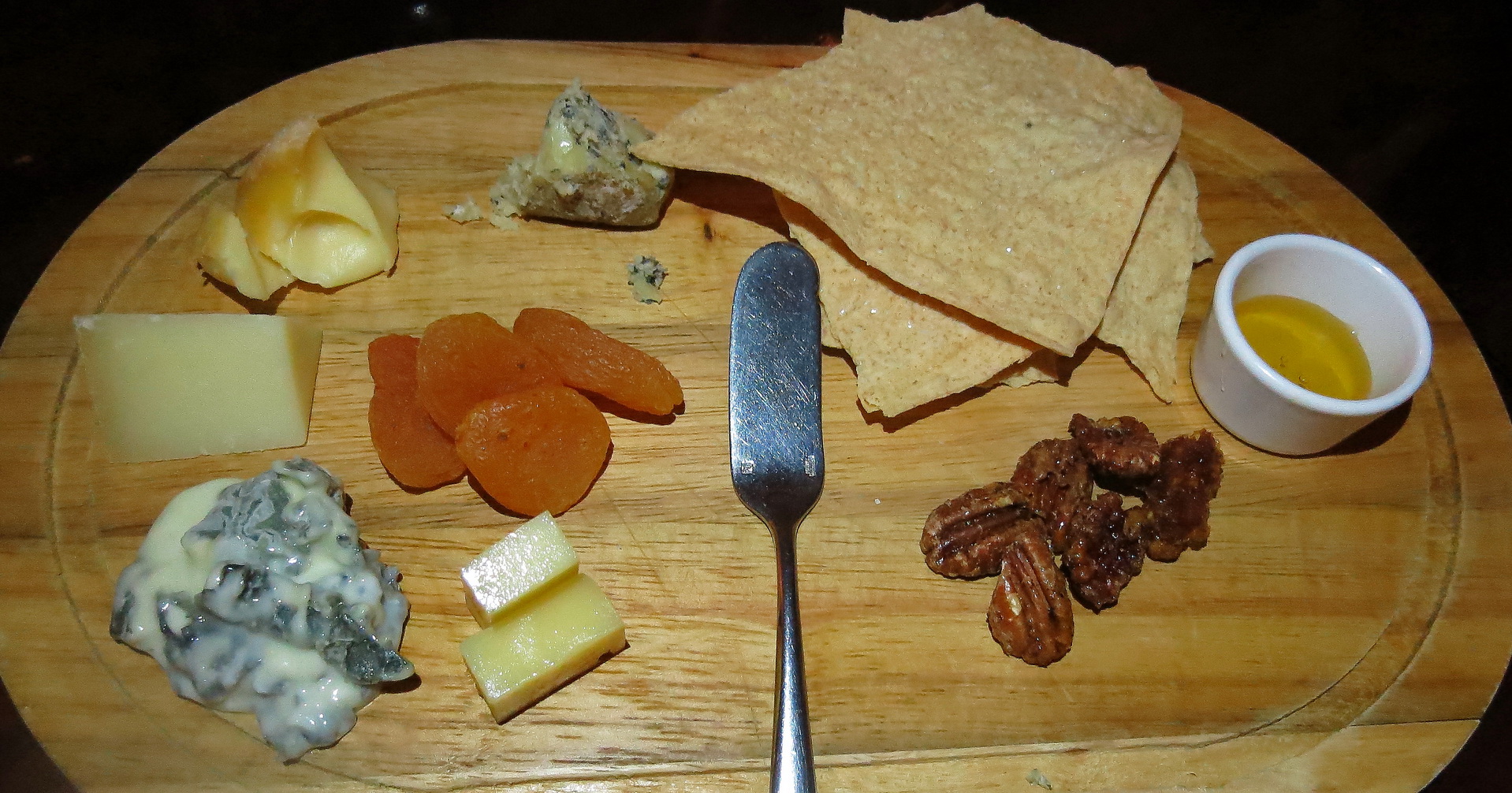 A nice spread of raw cheese from a variety of "Beasts", I believe we got a cow's milk, goat's milk, sheep milk grey owl, a wash rind, and a blue. Judging by the order of their disappearance, I would say the wash rind was the hands down favourite, with the goat's milk following behind.  Like most cheese plates I get in restaurants, the downfall of this one was not the cheese itself, but rather that there weren't enough cracker/crisps to act as cheese-carriers! I can appreciate that maybe aesthetically it doesn't look as sexy to have a pile of old crackers on a cheese board, but from a practical standpoint, it's important!  Who wants to eat soft cheese with their fingers and then drizzle it with honey? It's a sticky situation, folks.
Rock Crab, Fregola Sarda, Piquillo Peppers, Chili Crumble ($12)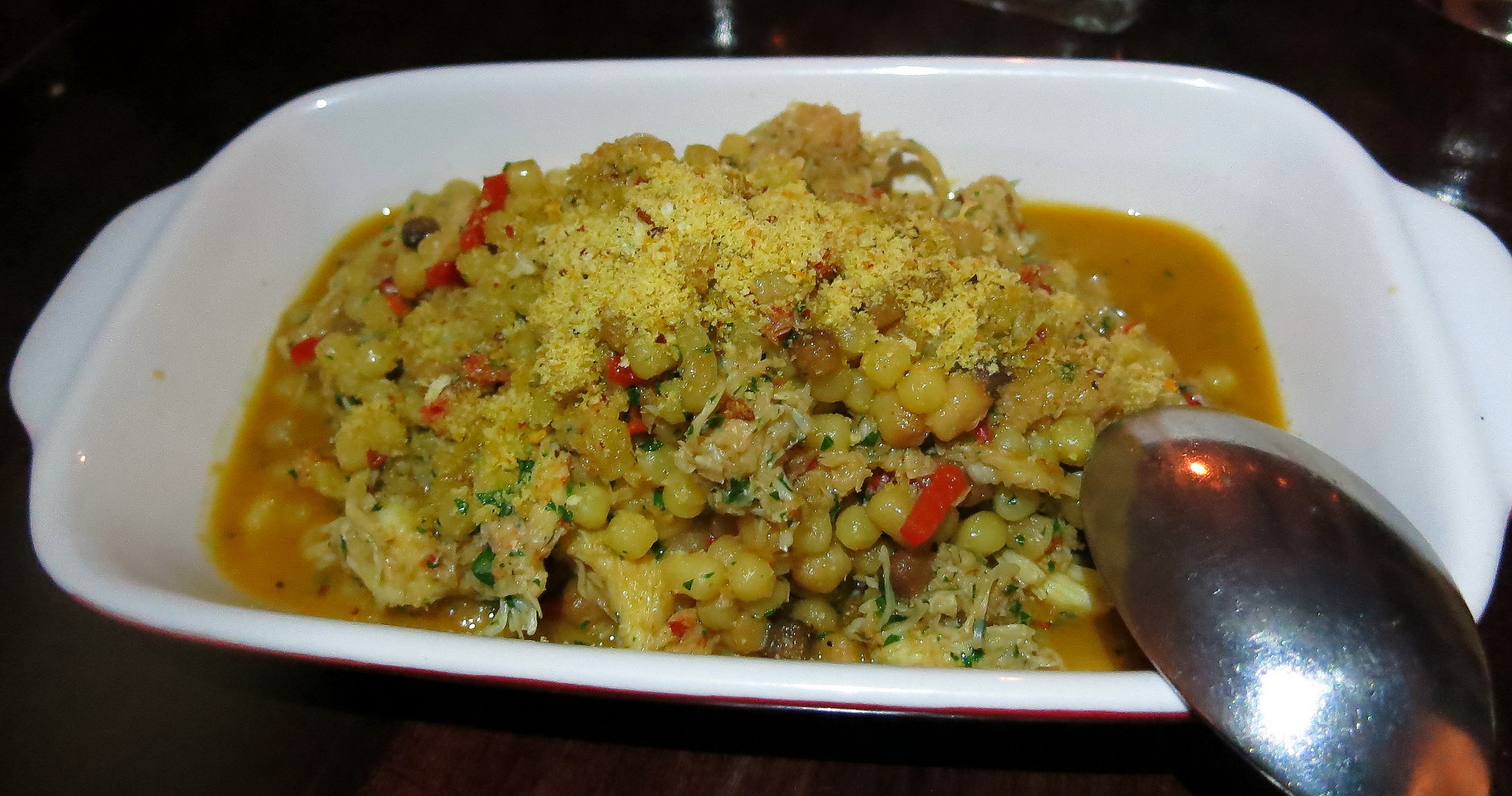 With a nice nuttiness from the fregola, sweetness from the crab and a gentle but satisfying hit of heat from the peppers and chili, the flavours here were spot on.  But I felt that texturally, the dish left something to be desired. As my friend put it, it tasted a bit like tuna helper- that is, a little on the retirement-home-mushy side.  You know, what we call "minced" in the therapeutic diet world.  Now, I am sure that makes it sound much worst than it actually was, as it was an enjoyable dish nonetheless. But I really think adding a good crunchy vegetable in there, and maybe including a few more hearty chunks of shellfish would have helped this dish along.
"Poutine", Fried Gnocchi, Braised Beef, Cheese Curds ($10)
This in contrast, was a textural gold mine.  I love a good poutine, especially when it's smeared with sexy sweet beef juices, and this rendition didn't disappoint.  Despite being a touch underseasoned, the gnocchi were soft and pillowy on the inside, and golden and crispy on the exterior. The cheese was squeaky while managing to melt just enough to get some pulling action success.  I actually recall ordering this dish way back when we first visited Beast, and while I thoroughly enjoyed it then, I found it to be even better today!
Crispy Pork Hocks, Kimchi, Candied Peanuts ($12)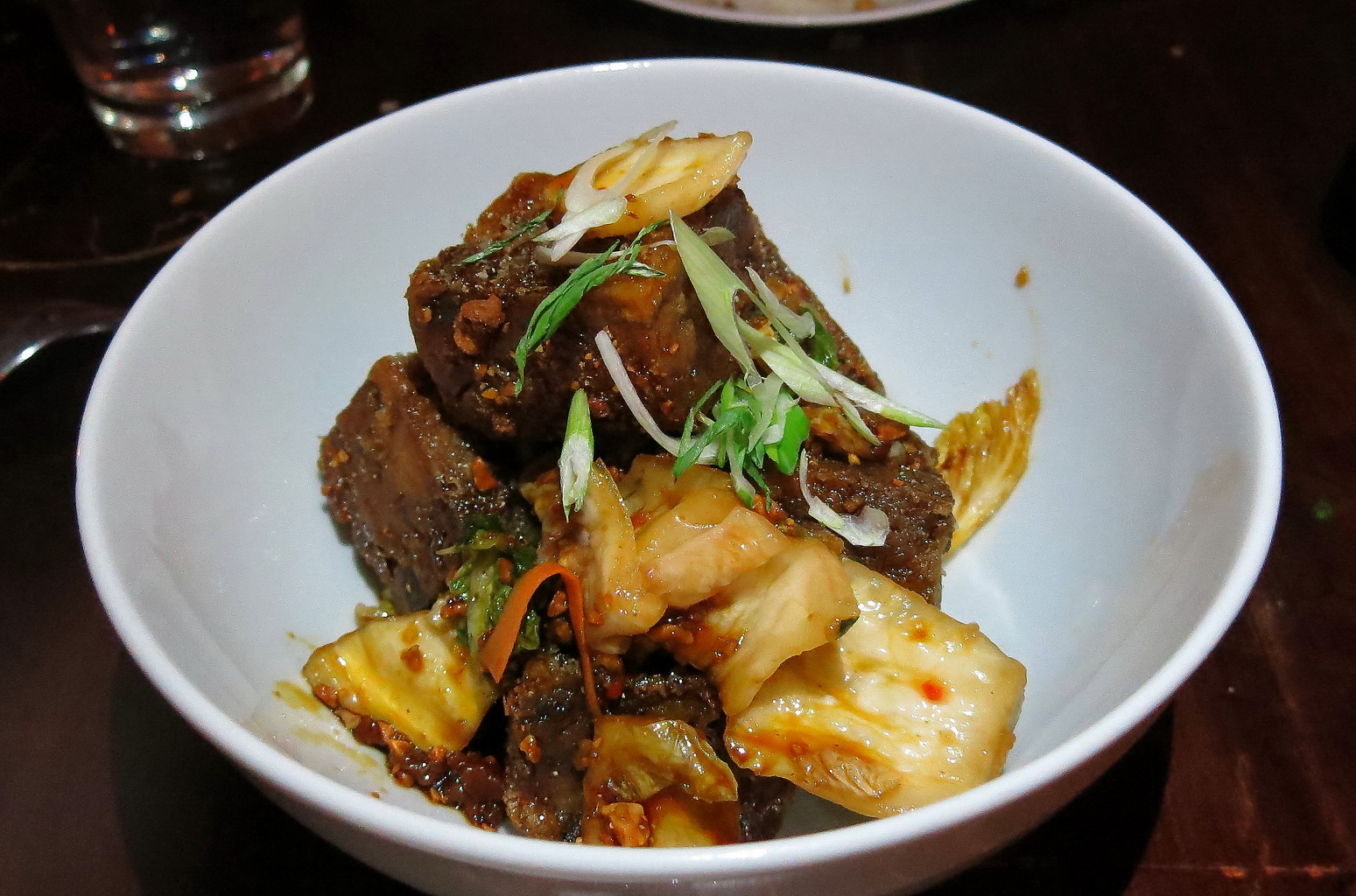 This was my top savoury dish of the night. The generous portion of pork hocks were wickedly crunchy on the outside and just oozed porky pornography upon getting to the goods inside. I appreciated the acidity of the kimchi in helping to cut all the richness of the fat, and the nuts brought that addictive sweet-salty combo. Tuck me into a bowl of pork hocks and I'll be one happy Jewish girl.
Beef Cheeks, Butternut Squash, Braised Cabbage ($16)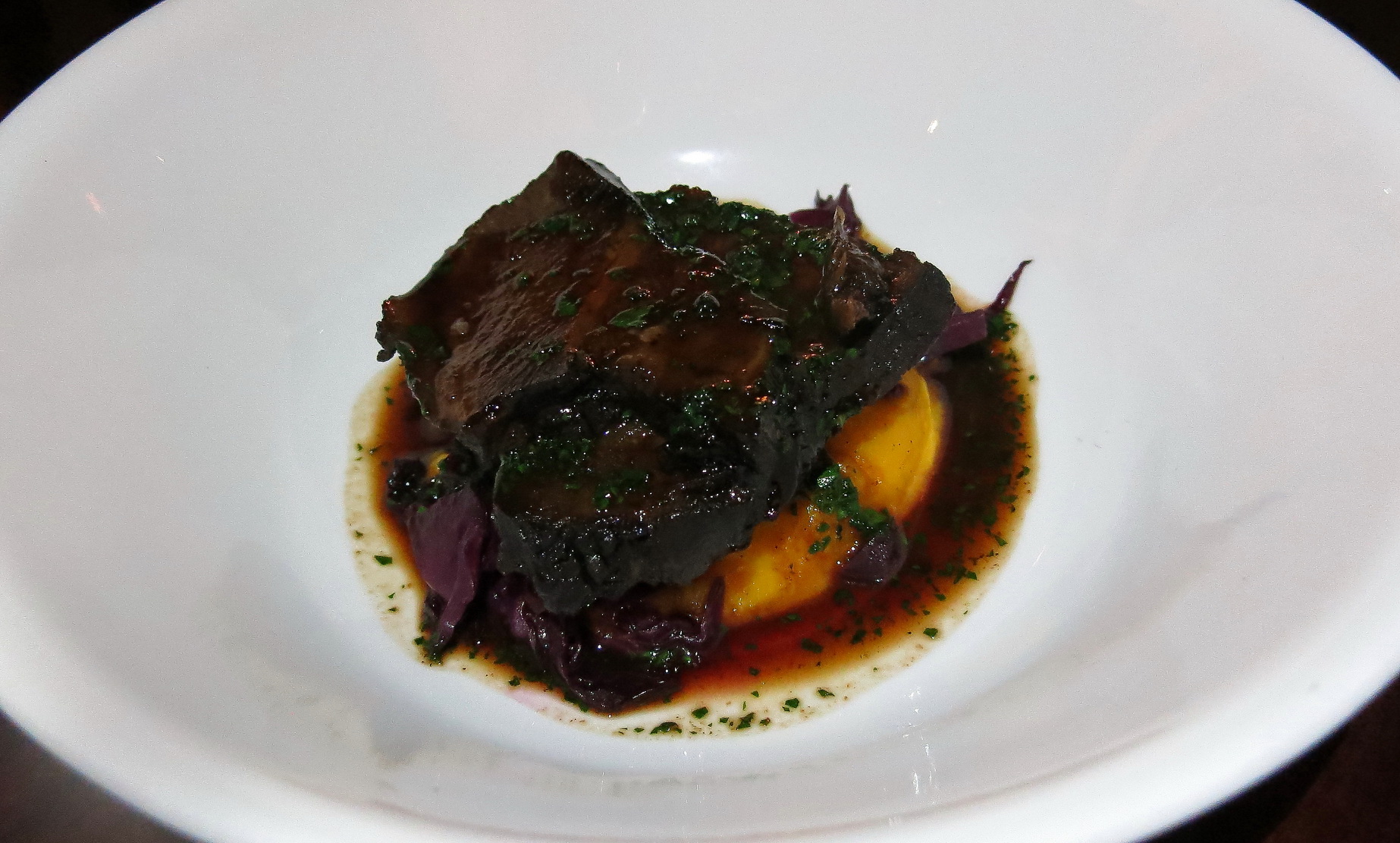 A simple, yet tasty combination of flavours, this is the kind of meal I would conceptualize as my kind of comfort food. I loved the sweet tangy cabbage, and the pool of creamy squash, but I found the fatty beef cheeks a little overcooked. With all that fat and braising time, beef cheeks have no excuse not to just melt on your tongue, but these one's required a little more work.  It wasn't my favourite dish, but somehow the bowl still got cleaned.
Apple Cinnamon Crisp with Vanilla Ice Cream ($10)
Though certainly nothing to write home about, this was a solid classic apple crisp, with a well-spiced filling and a wickedly crispy top.  The ice cream was also really rich and satisfying, but I had only wished for more of it when it came time to finish that toffee sauce.
Gulab Jamun ($6)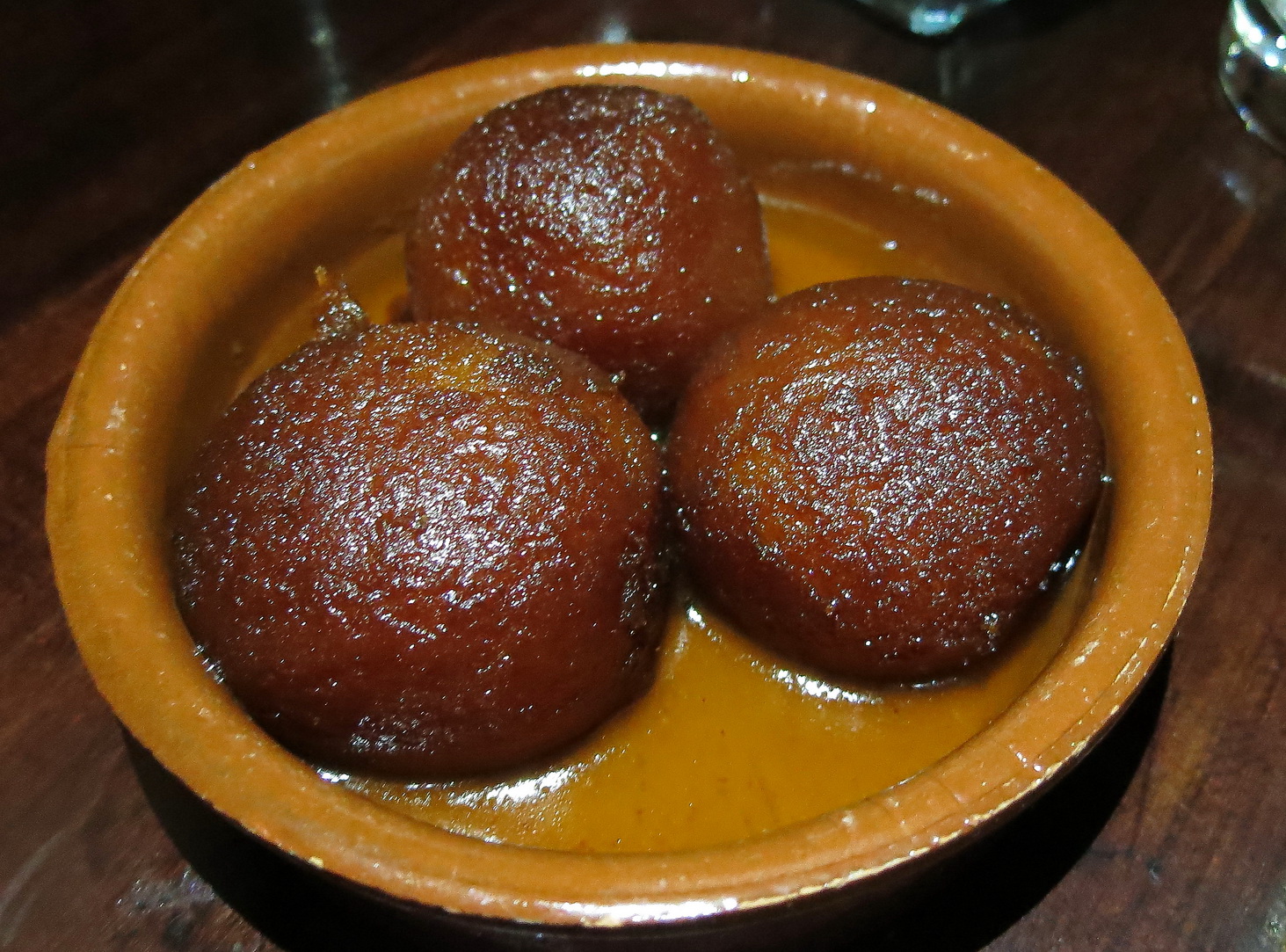 These were three spongy milk balls that had been thoroughly soaked in a floral cardamom rose syrup. They reminded me a bit of Greek Loukoumades, but were less sweet, and more flavourful because there was more going on than layers of sugar. Having said that, I also appreciated Beast's restraint with the spices, which can often become overwhelming and perfume-like if overdone.
Sticky Toffee Pudding with Crème Fraiche ($10)
We each had one bite, and both of my friends said, "man, we should have just ordered a bunch of these for dinner." Didn't I tell you it was good? In an effort to do this dessert justice, I will try to relive the transcendental experience that is Beast's STP.  Beast takes this low-brow classic to haute cuisine standards, offering the pudding as a perfect round sphere swimming in an entire bowlful of tangy liquid gold.  It's served warm, fluffy and surprisingly soft, and the sauce is thick, rich, sticky (obviously) and served in ridiculous quantities.  The acid of the crème fraiche offers some palate relief from the sugar, but in the end, you are literally thinking of ways to drink the stuff without looking less-than-lady-like infront of friends. Word from the wise- just do it.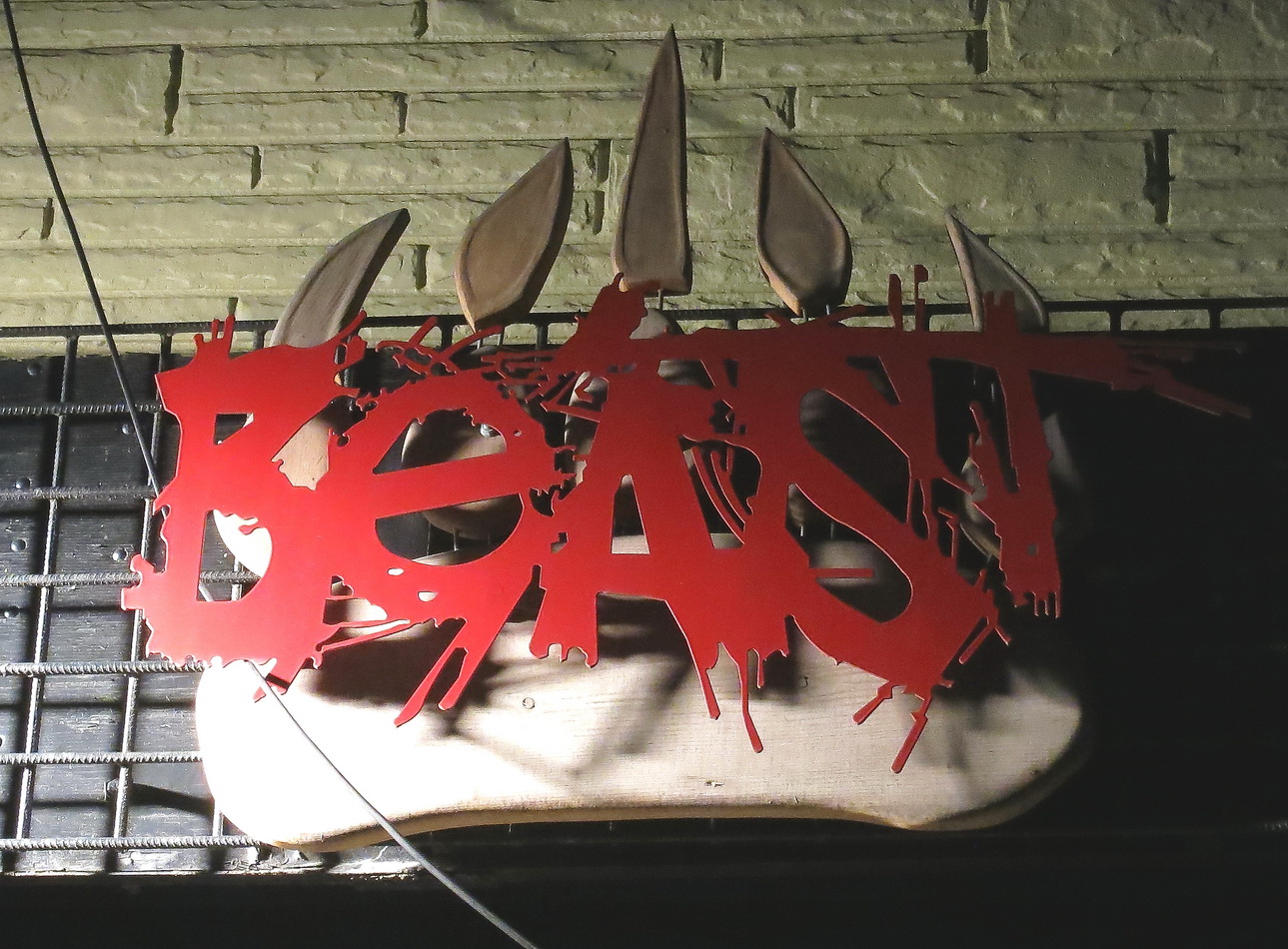 So for 3 beers (two of which were the massive 600 ml variety), 3 cocktails, a scotch, a dessert wine, 2 coffees, 8 savoury dishes and 3 desserts, the bill came to about $290 including tax and tip. Wow, that's pretty remarkable considering we basically waddled out of there in a food coma and had a good amount of booze, too.  I also like that the small plate set up of the menu at Beast allows one to try a variety of flavours, and ingredients throughout the night. While I still haven't made it out for Brunch yet (which, by the way, looks pretty amazing), it's definitely at the top of my list. I also noticed that on Wednesday's they do half price bottles of wine! Wine and STP (like for appetizer, main and dessert)? Now that's what I call a hot date on hump day. Thanks Beast, you've got something I need, and you know I'll be back.