This was a hard, long week. I know, I say that every week… but this one was a different kind of hard. It wasn't stressful, or particularly busy in the busy-body sense, as pretty much stayed glued to my computer and dining room table all day, but it was definitely hard. I have been working on writing the Discussion and Results sections of a research paper on women's changed identities as related to disease-implicated dietary change, and it has taken a hell of a lot out of me. Now, let me clarify something, here. I might sound like a whiner here, but I will take the fulfillment of research over 8 hour days homework in the hospital any-day-of-the-week. I really do love this part of my life and look forward to a future with many many more projects like this. But come on, its Friday, I'm tired of thinking so-damn-hard about sentence structure, and theory, and the existing literature. It seemed like a good night for a mean burger.
I wanted to see the Three Stooges (which, you should know, was incredibly stupid but if you like stupid physical comedy and you grew up watching TTS like me, then you might at least get a few good laughs). So I crafted a plan that we go see the movie in the Beaches cinema and pick up dins at Burgers Priest before the show. Before showing up, I of course re-familiarized myself with the "secret menu". Now, for those who have never been to the BS, first, um, go. But, actually before you go, read this blog post as you're about to obtain some VERY important info to inform your visit.
This is what the Burgers Priest's actual menu looks like:
Now, amongst the ridiculous sea of "gourmet" burger shops around the city, this looks pretty mundane, no? Not if you use my guide and order yourself something fabulous from the "secret menu". Here's a look at some of your options:
The High Priest: A Big Mac type sandwich. an extra bottom bun is added to the middle of this sandwich with a sauce and condiments to match.
The Vatican City: Grilled cheese sandwiches (the sandwiches are each made from two bun halves flipped so that the outsides face the cheese slice between them) stand in for buns. This is sort of the stuffed-crust of burgers–but delicious instead of ridiculous. The default setup here is a double-double but it sounds like you can "Vatican-style" any of the burger options. (GrilledCheese-Patty-Patty-GrilledCheese)
Tower of Babel: Same as the Vatican City but with an Option squeezed between the two patties. (GrilledCheese-Patty-Option-Patty-GrilledCheese)
Judgment Day: Two Options with a cheesed patty between them. (Option-CheesedPatty-Option)
Armageddon: Same as the Judgment Day but with two cheesed patties squeezed between the Options. (Option-CheesedPatty-CheesedPatty-Option)
Noah's Ark: An Option with chili and cheese on a bun.
Religious Hypocrite: A veggie burger (the Option) with bacon added.
Jarge-style: Ask for Jarge-style (pronounced Jarz-sh) and they'll fry it in ballpark mustard. Those familiar with In-N-Out's trademarked secret menu will know this as "Animal-style".
Holy Smokes: The standard double-double but with a panko breaded jalapeno pepper. You can add "smoke" to any of the regular menu options.
So, as I was hungry and in the mood for something un-G-dly, I ordered a Priest "Vatican Style" with fries.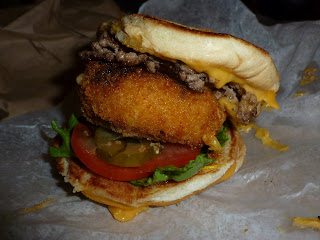 That's a grilled cheese bun with a cheeseburger and an "option" patty (aka. a large portabello mushroom stuffed with cheese, breaded in panko and deep fried), dressed with lettuce, tomato, pickles, ketchup and mustard and topped with another grilled cheese. It was good, and believe it or not, I ate the whole thing. But both of us agreed that the beef patty itself was a little lacking in flavour. I know beef purists say you don't need all the extra seasoning etc. but I do believe in s p, and the beef could have used more of it (at LEAST pepper… I mean, if you go all out like us and get all that cheese you probably don't need extra salt). Having said that, the best part, in my opinion, was the option patty. When I say it was stuffed, it was ABSOLUTELY stuffed, every bite was getting punched with cheese in the face, and it retained a good crispy crust. My main criticism of the whole burger was that all of that cheese/bread/meat could have used a bit more sweet/acidity/heat to cut some of that starch and fat. Next time I go I will ask for triple pickles (which definitely helped when I got them in my bite), maybe some of how "holy smokes" and extra ketchup and mustard.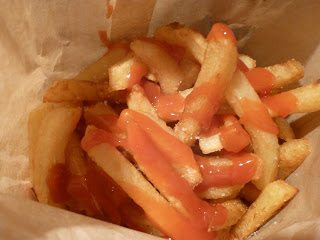 The fries were pretty good, but not swoon worthy. I personally really hate when fries are put in a little paper bag to get all steamed and soggy. It definitely destroys the whole point of fries. Personally, I would save the calories (and stomach room) for a bigger burger.
So, for 2 Vatican style priests and two orders of fries, our bill was $35. Have you ever seen a number like that in one of my posts? Let me tell you folks, while it may not be the atmosphere you're looking for on a date (we ate on a metal table in the movie theatre lobby), it's a pretty awesome burger and totally worth an occasional splurge.
Updated on April 2nd, 2016