So back in November, my friends and I all had to write a very scary, very long (try 6 hours), very challenging final exam in order to obtain our official designation as registered dietitians (RD). To prepare ourselves, I came up with the idea that every other friday starting in September, we would all get together at my place to "study".  Well, let me tell you. I tried my hardest to keep us 5 gals on track but in between the cocktails, the take out Thai food, the ketchup chips, the mini-chocolate bars, and most importantly, the gossip, it was always a bit of a challenge. Mind you, I do like to think I learned something in those sessions. For example, I re-learned that a woman with a healthy BMI is supposed to gain 25-35 lb during pregnancy, and that amounts to an extra 350-450 kcal a day. That's like, a muffin, people!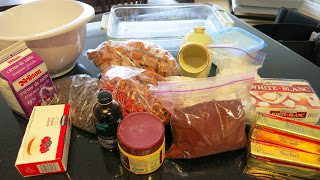 Ingredients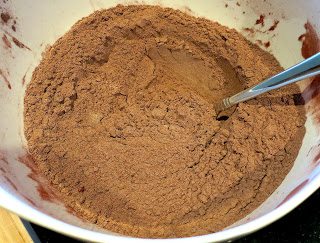 Mix in the dry ingredients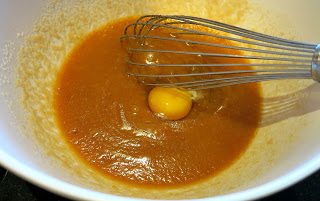 Whisk the wet ingredients

Anyways, the good news is we all passed and definitely deserved some celebration! And hey, without an exam to stress over at our regular friday night get-together, we would have even more time for food, Caesars and girl-talk. Bonus! So, for this special celebratory friday night sesh, I decided to have a little fun in the kitchen. Yep, it's one of those days I felt the urge to bust out an "ultimate" type recipe where I pull out all my favourite indulgent ingredients, layer them into an addictive salty-sweet casserole, and bake them just until my neighbours start collecting at the door.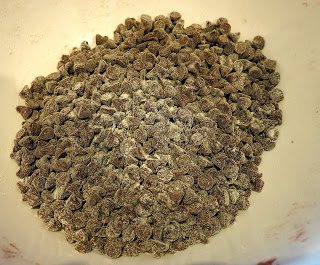 Toss those puppies in flour so they don't all sink to the bottom of the pan
I came up with this idea a while back and loved the way they turned out. But I learned a really important lesson after serving them to the girls- do not refrigerate. Yes, these treats are best served soon after assembly because the pretzels tend to stale if you put them in the fridge. The challenge? The cream cheese icing and caramel, which can't sit out on the counter all day/night. So here's what I recommend: Make the icing whenever. Make the caramel whenever. Keep the brownies on the counter, and refrigerate the icing and caramel until about 30-45 minutes before serving. Allow the icing to come to room temperature and soften back up before icing the brownies and then warm up the caramel in the microwave until fluid (probably about 30 seconds on high), and transfer to a squeeze bottle. When you're all set, frost the brownies, drizzle with warm caramel and then top them with the pretzels just before its time to attack. Definitely try to gobble them all up in one shot by feeding a crowd, but if you know you can't (like I couldn't when feeding dietitians), then it may be best to hold off on the pretzels until serving but add the frosting and caramel beforehand. Cut your pieces, allow them to come to room temperature subsequent servings, (so you can enjoy the moist soft interior and the gooey caramel) and then top with a fresh pretzel.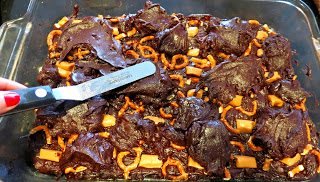 Hide the Evidence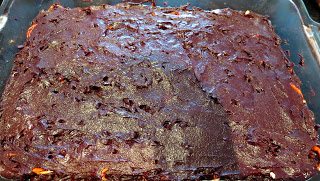 Ready for the oven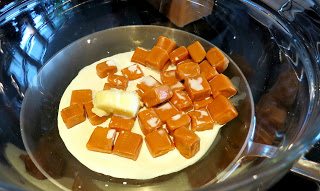 Melt those caramels
So what was my inspiration for this baked treat this time around? Well, lately I have really been seriously craving cream cheese frosting. It's a huge guilty pleasure because it hits all my trigger buttons- sweet, and tangy with a gently touch of salt. I also think it goes particularly well with the dark chocolate of brownies, which is not particularly sweet. Add in a little pretzels to bring a nice salty crunch, and the caramel? Well, you didn't think I could get through dessert without caramel, did you?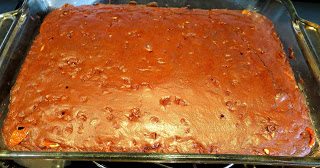 Fresh from the oven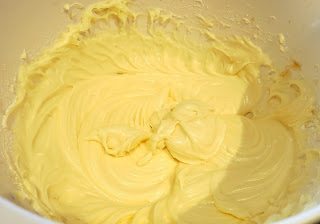 Frost me baby
Drizzle me in liquid gold
This recipe is for all of the people I meet who find out I'm a dietitian and instantly hide their chip bag. Um, I'm human too. I like chips. I like burgers. I like brownies! We all do. And in between the veggie curry, maple mustard chicken, and the two bean salad with pickles onions, not to mention the KILLER training sessions I've been enduring lately, there is plenty of room for dessert.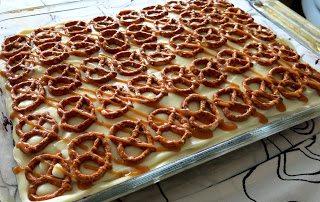 Feed meOh mamma!
So let's get to it, friends. Here's to a delicious career as a registered dietitian. Congrats girls! We deserve it (oy, do we ever…)!
Caramel Pretzel Brownies with Cream Cheese Icing
Updated on May 8th, 2019