After two weekends spent alone, and another week of absolute torture at work, I was really looking forward to the weekend.  I needed a tall drink of something, truly anything to end the workweek, and preferably something satisfying to soak it up.  Having seen some pretty tasty looking Instagram photos and heard a bit of chow-chatter, I was eager to check out the new Spanish restaurant, Carmen for Friday date night.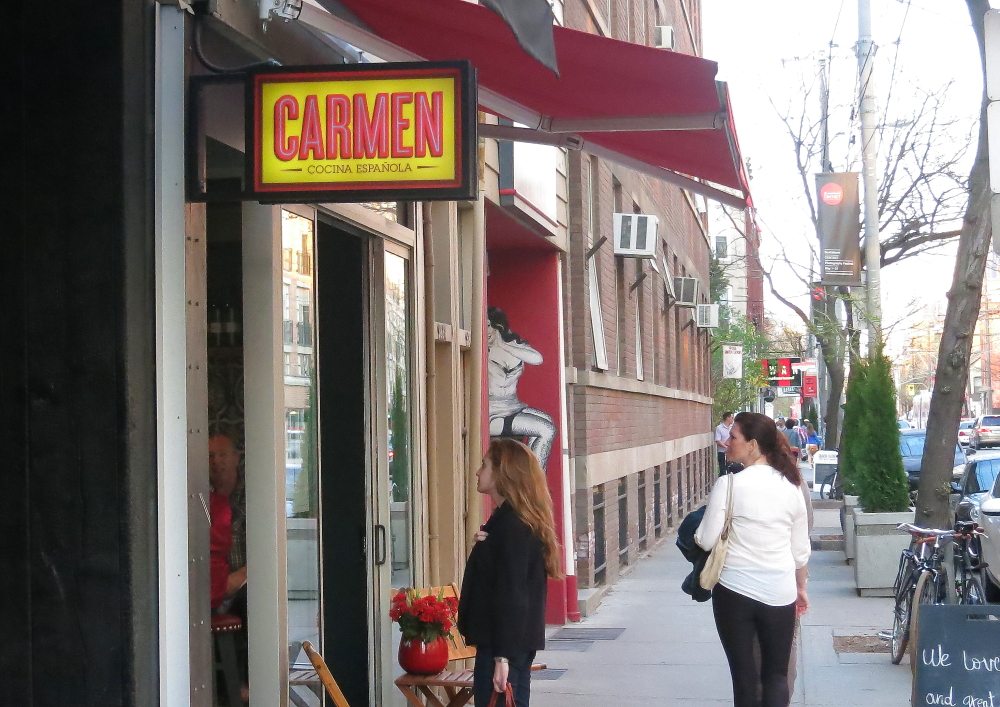 Veronica Carmen Laudes and Chef Luis Valenzuela (both of Kensington Market's Torito Tapas Bar) opened Carmen's doors a month ago in Trinity Bellwoods' Queen St W. The 70-seat space includes a downstairs bar room (with tables for dining) and an upstairs main room with an open kitchen concept. The décor features hung black lamps, red banquettes, yellow backed chairs, and sturdy wooden tables.  It's further embellished with romantic portraits of women, black and white flamenco photos, porcelain figurines, and mosaic tiles on the bar wall.  In general, I'd say it feels quite eclectic, yet still clean and put together.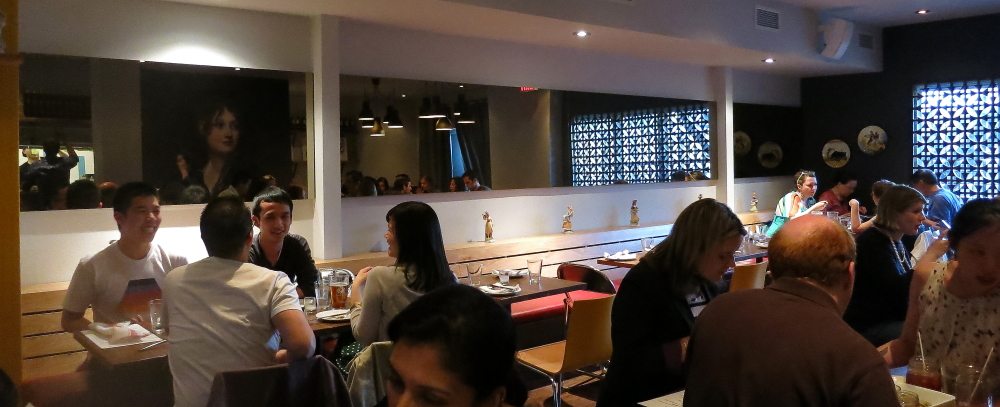 We had the great pleasure of being sat at one of the large communal tables with another couple at the other end.  While I don't usually like communal seating, our table could have easily sat a party of six, meaning we (and another couple) could claim a little extra elbow space.   This also meant I didn't have to overhear the conversations of the neighbouring couple, though I can't speak to the intimacy of the other seating arrangements (the deuces along the banquette did look a little more tight).  Having said that, like most west end dining establishments these days, Carmen is no lamb, so it very well could have been that it was just too loud to hear them even if we were close by. I don't recall the music being obnoxious, but I certainly did have to really concentrate to hear my partner. On a more comfortable note, the temperature in the room was perfect. I know we're in that kind of awkward phase of temperature control where business owners are not sure if they should go AC or heat, but you know it's where it should be when you can wear a sheer blouse and feel no discomfort at all. Let's hope they can maintain this balance into the summer months.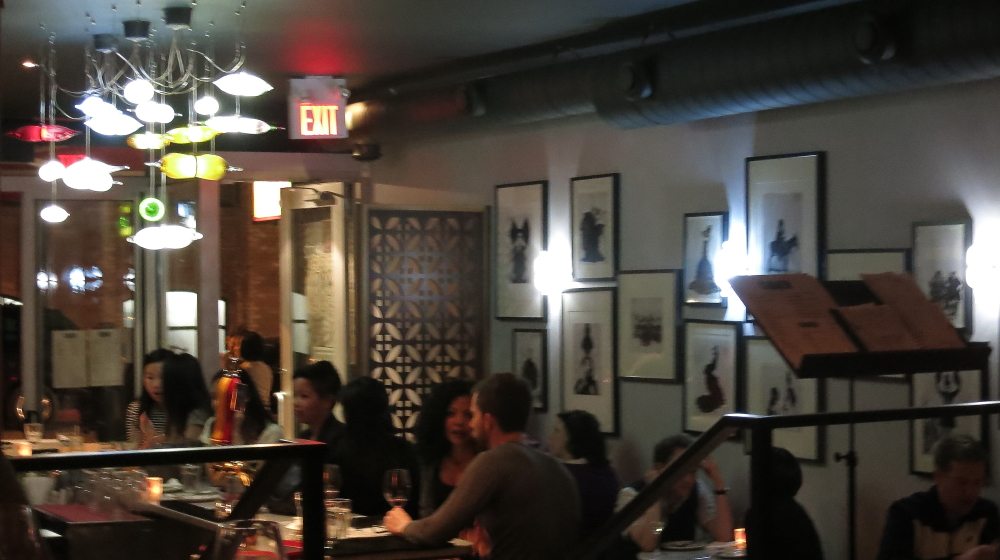 Service throughout the evening was also a pleasure. Our adorable young server was friendly and attentive with replenishing cutlery and refilling water glasses, though perhaps a little lacking in menu knowledge. Thankfully, being literally right beside the kitchen, chef Luis was always close by (and gracefully willing) to fill in the menu blanks as needed.  Speaking of the kitchen, I was pleased that each of the dishes were spaced out and delivered at an agreeable pace, and even though one dish was forgotten and rung in after we'd received the first five, we were still in and out in 1 hour 20 minutes.  Yes, the bar was maybe little more leisurely with their service, but there were still no excessive waits.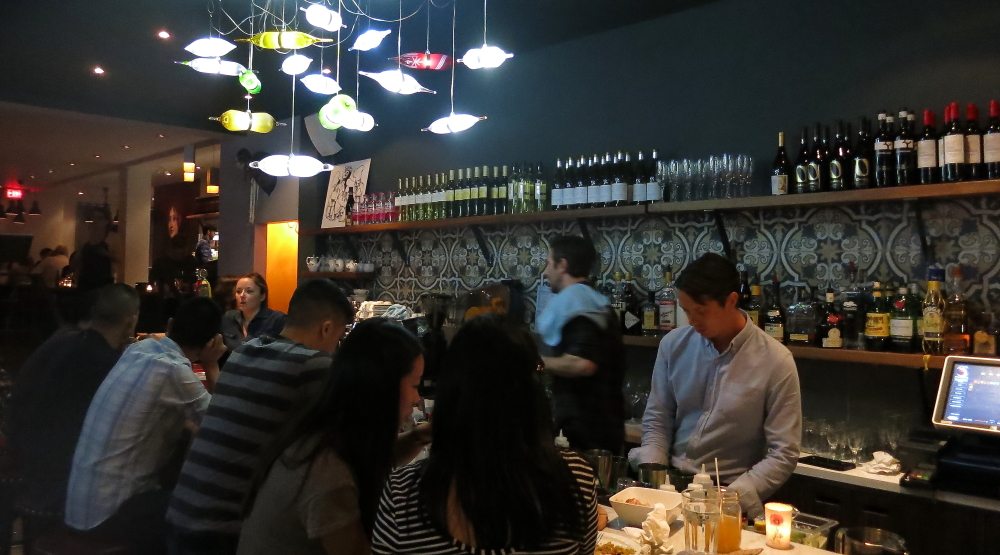 Even if there had been, I was determined to have something to drink after my challenging work week. At Carmen, you can choose from white and red sangria, four cocktails, and a short but tempting list of Spanish wines, half of which are available by glass ($9-12). And if (edible) dessert isn't really your thing, you can also tuck into one of the five sherry offerings ($5-8). Over the course of the night we enjoyed a couple glasses of Freixenet Oroya wine ($10), a mason jar of White Sangria ($14), Plaza Vieja (Spanish Brandy, Bourbon, Sweet Vermouth, Benedictine, Angostura & Black Walnut Bitters, $14), the Federico (Tequila, Lemon, Sage, Serrano Syrup, $12), and a decaf cappuccino ($3.50). While we loved the dry white Oroya, I found the flavour of the sangria a little flat and muted, disappointing considering the $14 price tag. Admittedly, however, I do have a bit of a fetish with mason jars (should I admit that?), so I at least appreciated its playful presentation. In contrast, both of the non-wine cocktails we sampled were very tasty, with preference going to the latter tequila offering. Neither of us have touched a cocktail with chili in it since a traumatic incident in in Israel (lesson for my guy-friends out there: wash your hands before AND after you use the washroom if you've touched a hot pepper), but I'm so glad we braved it with this one. I loved the nice balance of the bright citrus, aromatic sage and a gentle tickle from the Serrano syrup. Fabulous.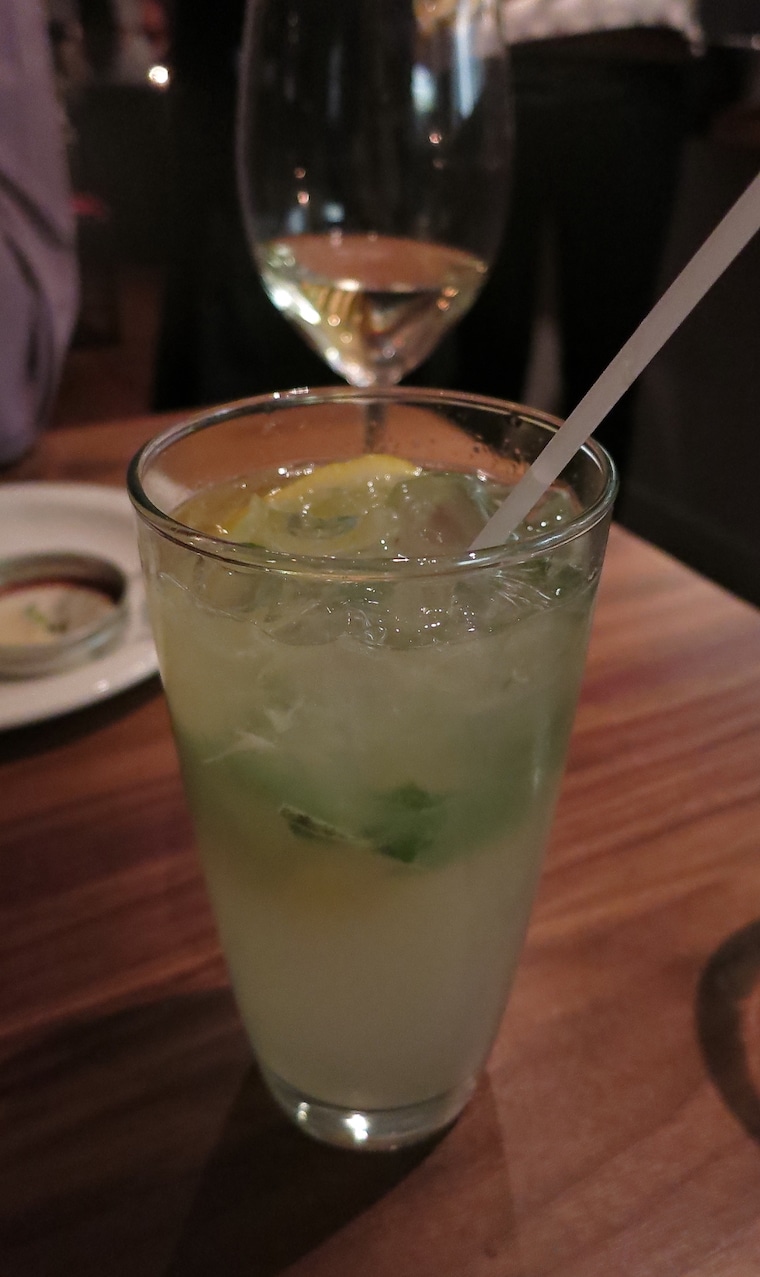 The Federico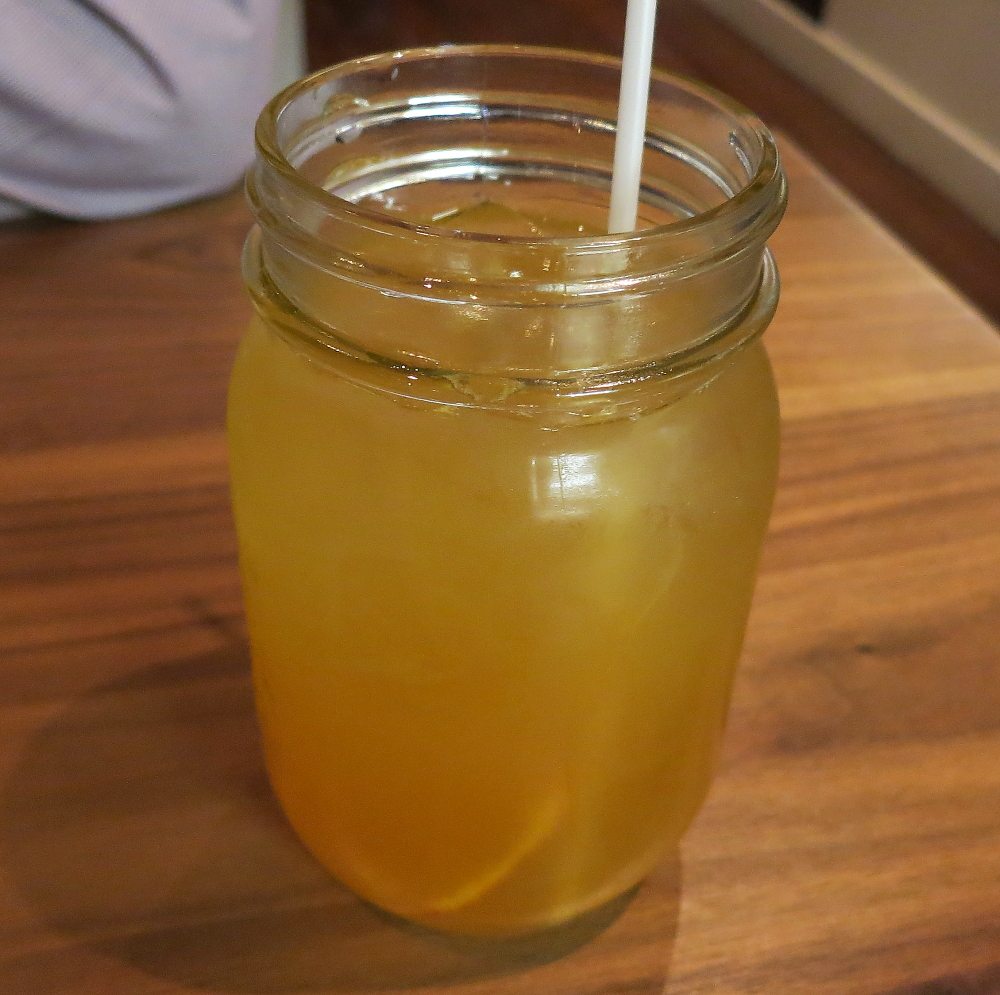 White Sangria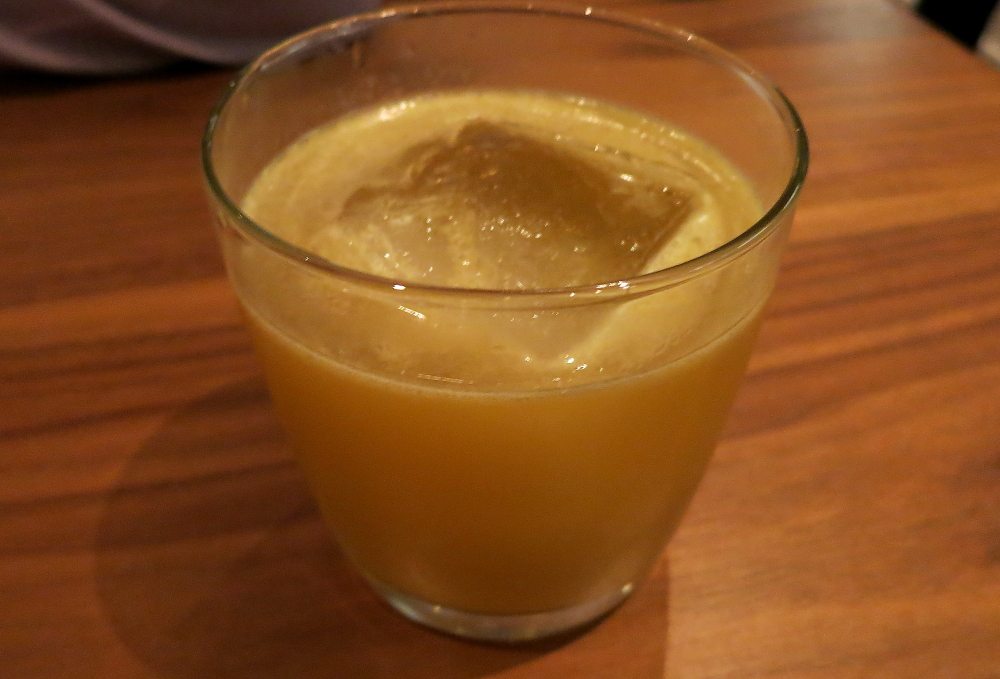 Plaza Vieja 
Chef Luis Valenzuela's menu is definitely focused on tapas- with about ten traditional options ("Tradicionales") and the same number of more modern interpretations ("De Vanguardia"). If looking for a more substantial meal, there are also four made to order paellas and four desserts (Postres) to ponder. I kind of think that tapas style menus are a food bloggers delight because it means I can sample a variety of ingredients, preparations and flavours without blowing my budget or belt-buckle.  At the recommendation of our server, we opted for 6 small plates- 2 traditional, and 4 new, and one dessert to share.
Tomate Verde Frito con Queso Feta, Maiz y Pimientos- Layered Fried Green Tomatoes, Feta, Red Pepper Corn Chutney ($7)
One of our favourite dishes of the night.  The acidity of the tomatoes was appropriately balanced out by the sweet pepper and corn chutney and the briny bite of the feta cheese. I was also pleasantly surprised that despite the moist preserves that separated the slices, the batter retained its light crisp qualities.
Jicama con Aguacate- Bite Size Jicama Shells, Creamy Avocado ($6)

Light, refreshing and simple, this was a lovely tapa for a warm summers night. I liked the fresh flavour of the jicama against the rich herbaceous quality of the avocado, and every component had been seasoned extremely well. My only critique is that the jicama was not crispy enough to provide a substantial textural contrast with the smooth guacamole-like filling.
Conejo Confitado con Aceite de Arbequina- Rabbit Rillette, Olive Oil, Apple Butter ($10)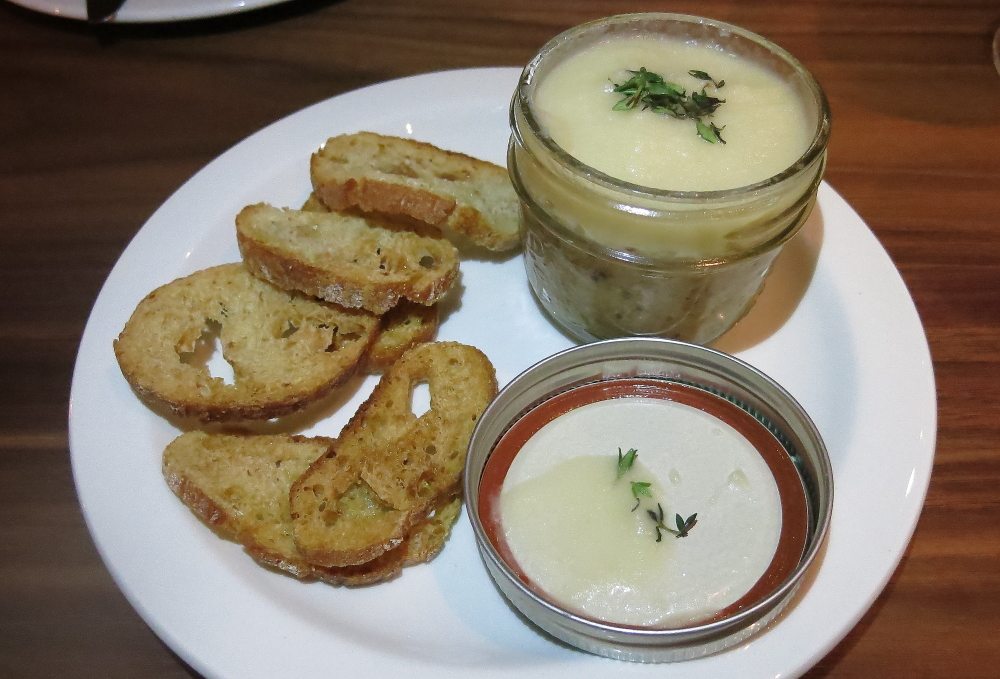 Probably the best tapa of the night- we literally fought over the last bite in the pot. The rillettes were perfectly seasoned, meaty and surprisingly light as the sweetness and acidity from apple butter seemed to cut through the fat.  My only criticism was that the crisps were a little bit too crispy. I know, right? This porridge is too cold, this porridge is too hot. And honestly, I do love well salted crispy crisps for just plain snacking. But if anything is to go ON TOP of it, it needs to safely be able to make it to my mouth without shattering on my plate, or making said topping fall off. Rant over. Fabulous Rillette.
Sandia Comprimida con Crocante de Jamon Iberico- Compressed Watermelon Cubes, Cured Ham Chips ($7)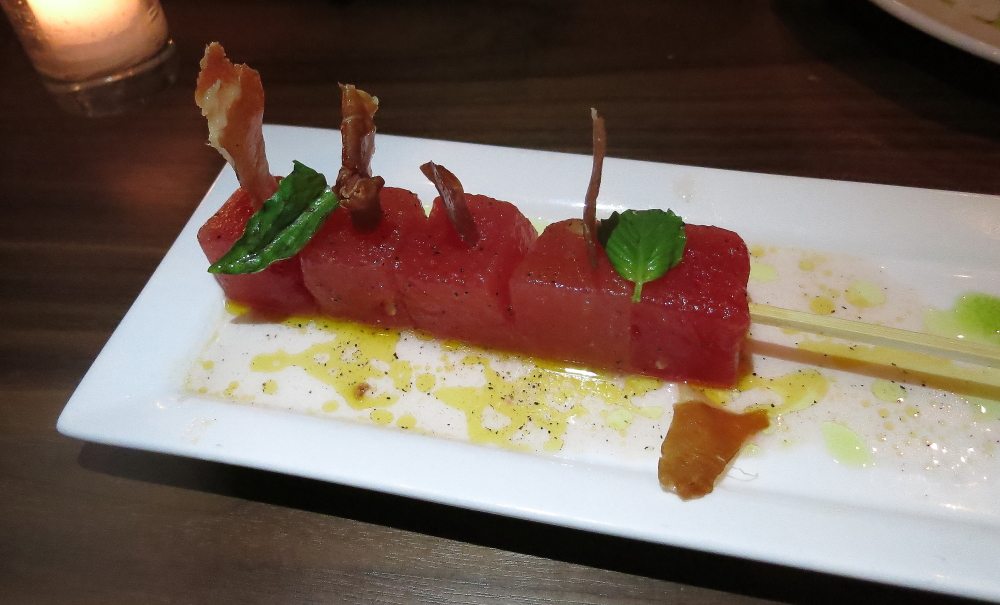 This was fine, but not a dish I would order again. The ham itself was crispy and salty, and the watermelon was surprisingly sweet (where is he getting this in May?? Want!), but their was something unusual about the flavour combination in this specific dish. Don't get me wrong, I am a big fan of cantaloupe and prosciutto- I ate it every day in Italy- so it's not that I don't "understand" this classic pairing of melon and pork products. I really just think that the flavour of this particular ham (likely due to its particular curing process) overwhelmed the watermelon here.
Patatas Bravas- Roasted Potatoes, Brava Sauce, Aioli ($7)
A great rendition of Patatas Bravas. The potatoes were crispy on the outside and fluffy within, the bravas was sweet with a hint of smoky heat, and the aioli brought the sumptuous creamy mouth-feel. Simple, and well done.
Berenjena con Molazas- Battered Eggplant, Pomegranate Molasses ($6)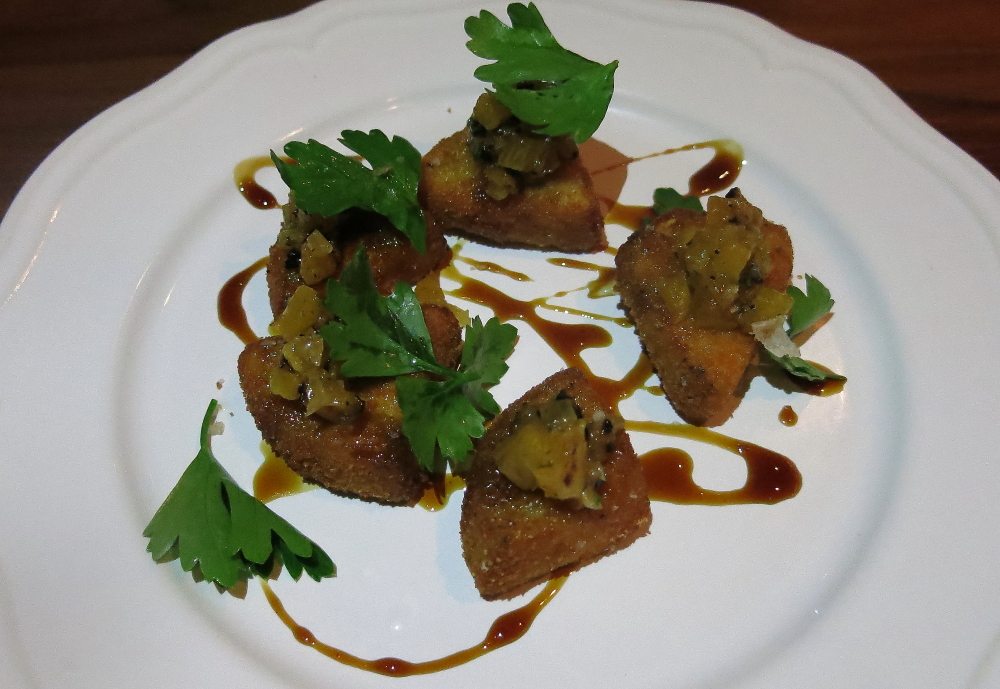 I think this one was my second favourite dish of the night. The eggplant was crispy and light, with its mild bitterness balanced out by the sweet and sticky pomegranate molasses and the fresh pineapple chutney on top. I'm usually not an eggplant fan, but I think I've been converted.
Paella de Arroz Dulce con Coco y Mango- Sweet Rice with Coconut and Mango ($9)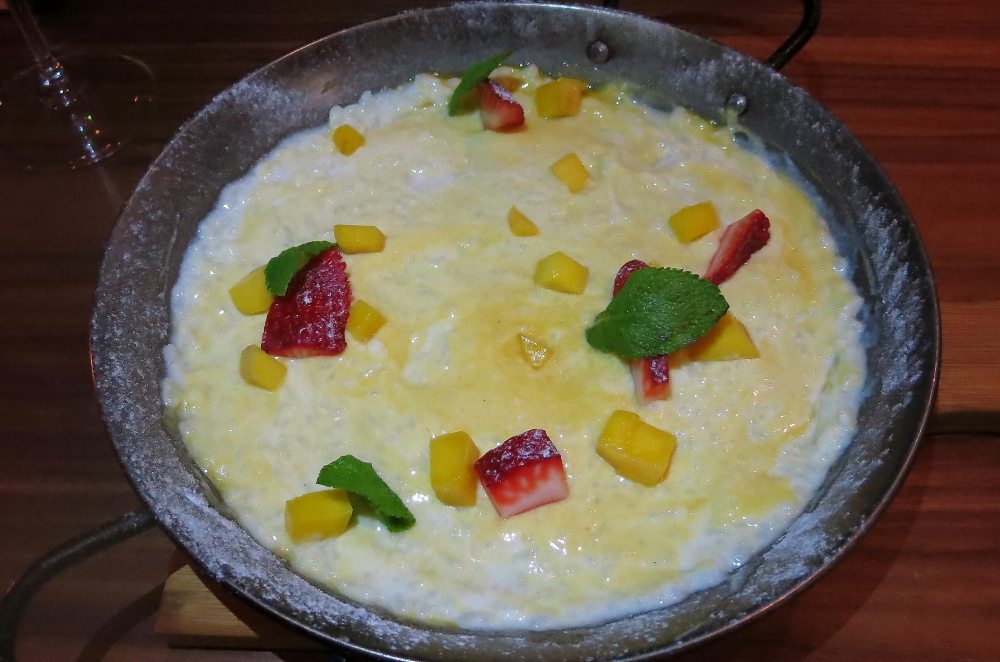 Our server described this as a rice pudding, but seeing as I grew up on my mom's rice pudding (which is a-maz-ing), that description pretty much set me up for a disappointment. Before I even tasted it, I think I was a little thrown off because it arrived in a paella pan and thus, falsely lead me to think it was warm. I also found it to be a little thin and watery in consistency. Having said that, the rice had a nice tender bite and while very subtle, I quite liked the delicate underlying flavour of the passion fruit.  If you don't like sweet or rich desserts, than you may really enjoy this one, but for me it wasn't as good as the savoury dishes.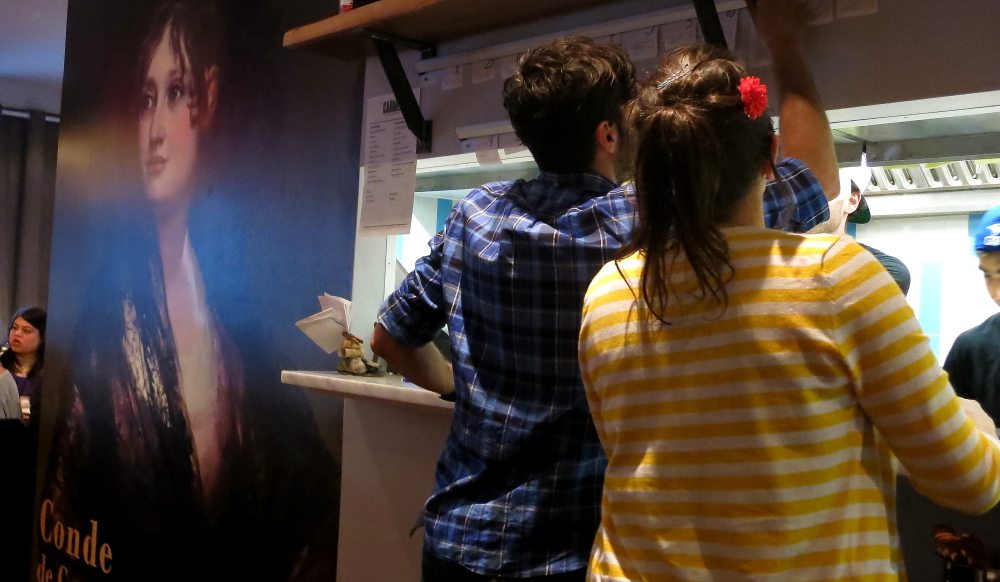 So for 2 glasses of wine, 2 cocktails, 1 sangria, 1 cappuccino, 6 savoury and 1 sweet dish, the bill came to $154 including tax and tip. I think we ordered the perfect amount of food, leaving us well satiated but not bloated, and with ample energy to power us through the rest of Friday night.  We both agreed that in terms of value, the food was very generously priced, as depending on what you choose, you could make a meal of 3 tapas and dessert for around $25 + tax and tip.  Obviously it's the cocktails that bring the meal into standard West-End price territory, so keep that in mind if you're planning an evening out with Carmen.  All things considered, while the Spanish inspired dining scene has recently exploded with downtown hot spots like Bar Isabel or Patria, there's definitely room for Carmen to hold its own. So thank you Carmen for kicking off an exciting weekend with a delicious date night meal after a brutal week at work.  As long as Carmen Sayz there will be rillettes or fried eggplant, I'll definitely be back for my fix.
~*BE SURE TO CHECK OUT MY POST ON MY NEW UPCOMING EVENT, ABBEY'S KITCHEN STADIUM, TICKETS ARE ON SALE TODAY!*~