These *NEW & IMPROVED (UPDATED RECIPE)* Cheesy High Iron Baby Meatballs are perfect BLW, Toddlers & Families as an easy way to sneak more iron in!
After a baby transitions off breastmilk or formula, I think one of parents biggest fears is that they're not getting enough iron. I created a comprehensive guide about iron before 1, and I heard a lot of feedback that there was NO WAY your kid was getting enough. If you haven't seen the guide, check it out
here
.
Here's the thing- these numbers are averages based on babies also getting iron from less well absorbed sources (like plant based foods), so if you're including animal protein in your baby's diet, there's a good chance they actually need significantly less than that magic 11 mg number. These Cheesy High Iron Baby Meatballs are one of my secret weapons for those days when I'm thinking our iron intake has been a little low. They're flavourful, packed with iron and tasty enough that the whole family will love them!
key ingredients to make these cheesy meatballs
Iron fortified baby cereal – this will add an extra iron boost and will also act as a binder to bring the meatballs together
Breastmilk or milk – This will add moisture and an extra nutrition boost
Ground beef – feel free to use any other ground meat of your choosing (like pork, chicken, or turkey)
Cheese – I use aged white cheddar or mozzarella cheese
Egg – this will also act as a binder to help the meatballs stick together
How to Make Cheesy High Iron Baby Meatballs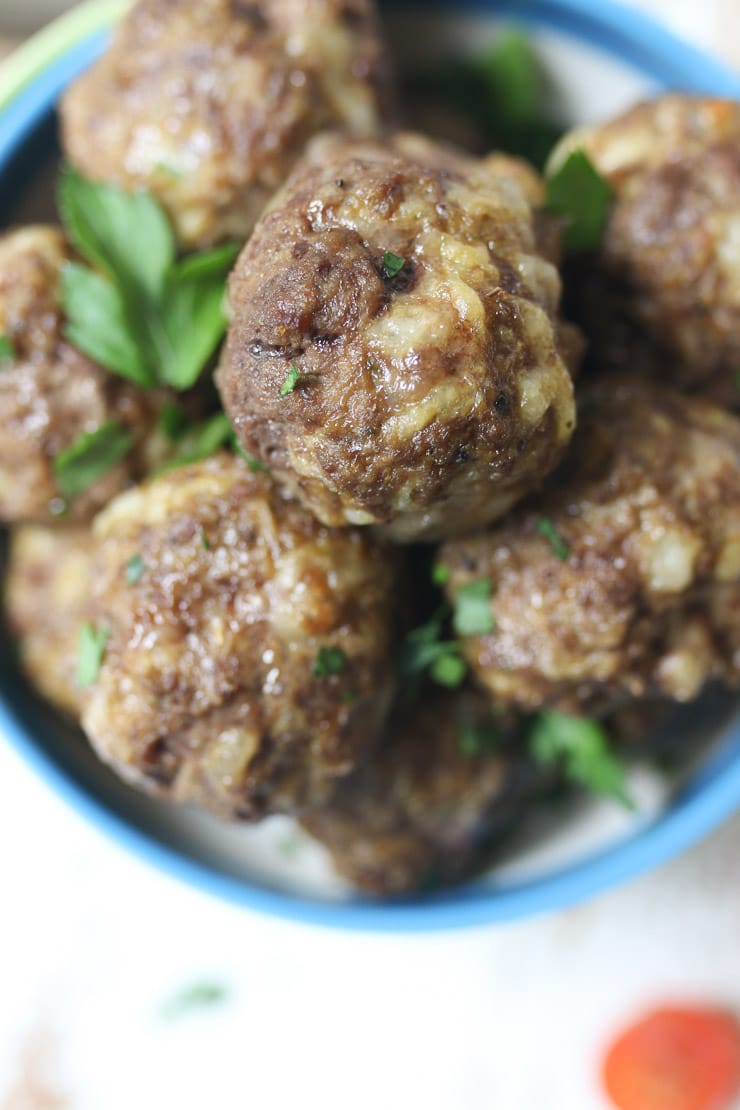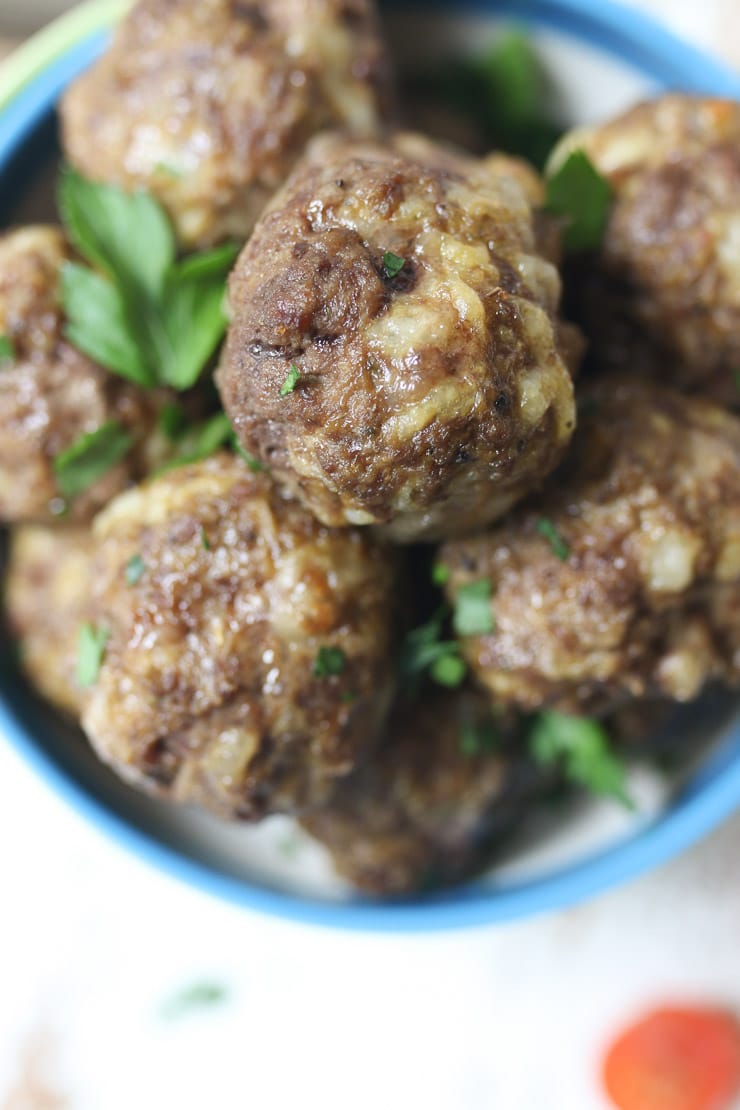 These baby meatballs are ideal for BLW and toddlers, because they're tender enough even for a new beginner eater to enjoy. I simply soak some iron fortified baby cereal with some breastmilk or milk of your choice, then mix it up with ground beef, mozzarella (a nice low sodium option that's super melty and delish), and egg and spices. I then bake them off until cooked through and they're ready to eat as is, or with some tomato sauce.
How are these Cheesy Baby Meatballs High in Iron?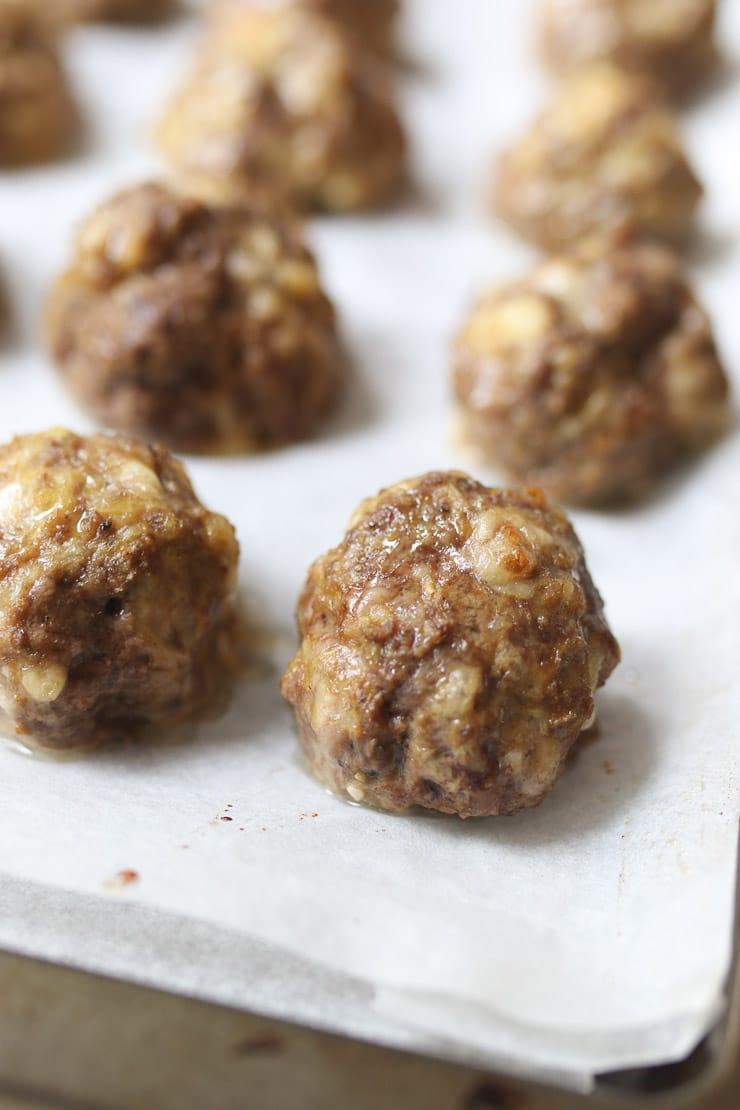 There's lots of iron sources in these meatballs. We have the iron fortified cereal, the egg, and the ground beef (one of nature's best sources of iron!) You can easily swap in ground turkey or chicken if you prefer, but go for the dark meat which is higher in iron and good fats for baby's growing brain.
faq about this recipe
Can I Make these Baby Meatballs for Adults?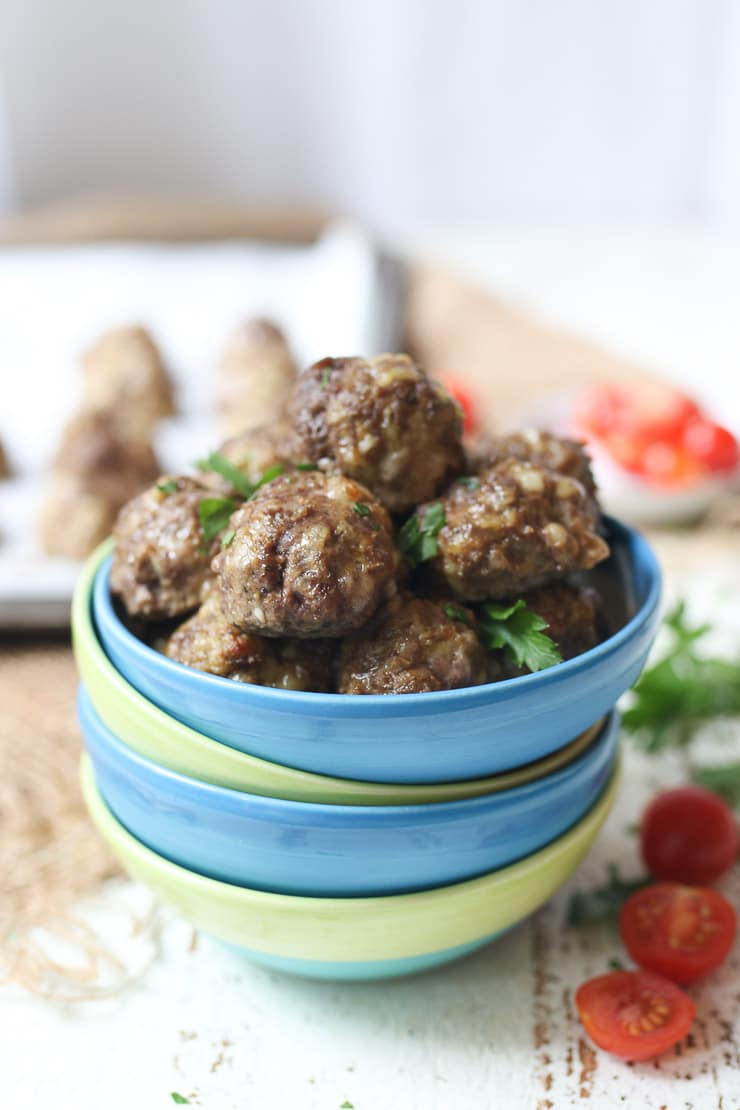 Totally! If you want to put half aside and add salt to the adult portion before cooking, that is a great way to ensure you also can enjoy the same meal as baby without having to give the little ones too much salt.
Can I Freeze these Baby Meatballs?
You bet! I make a big batch, letting them cool to room temperature on a cooling rack. Then I flash freeze the meatballs on a baking tray before I transfer to freezer bag for 3 months. They never last that long, but these meatballs are perfect for the nights when my hubby and I want to have something for dinner that's not so baby friendly (ie. spicy food!)
Are these Cheesy Meatballs gluten free?
Yes! Assuming you use a gluten free grain, these are gluten free.
What allergens are in these Cheesy High Iron Baby Meatballs?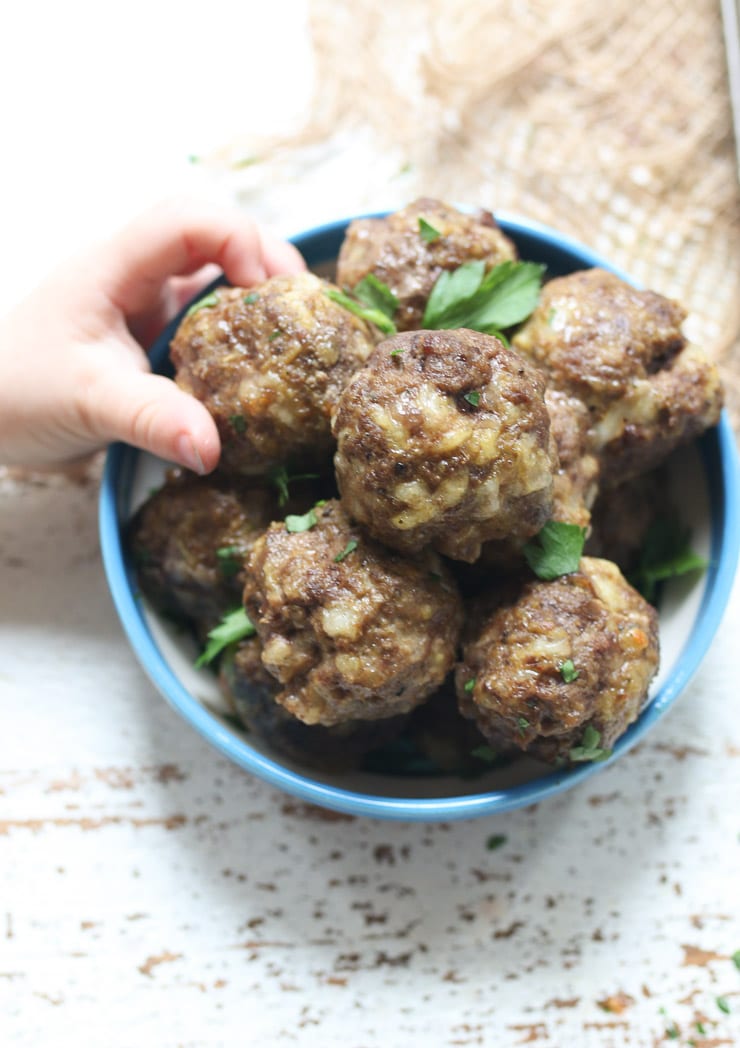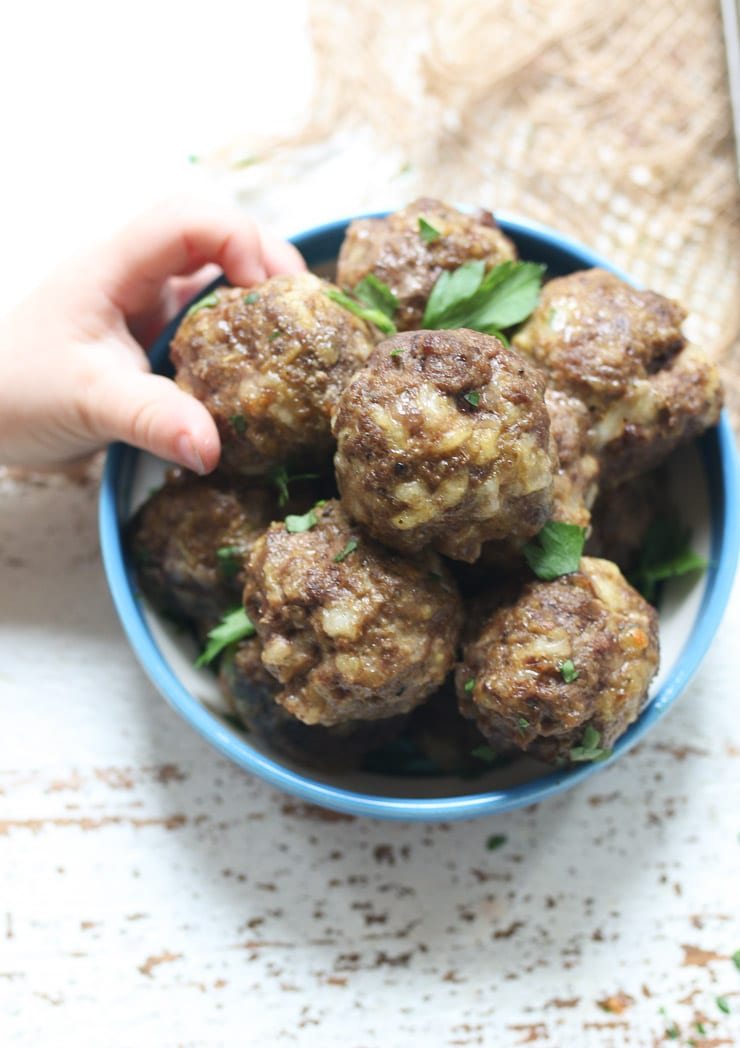 The main allergens in these are dairy, and egg, and possibly wheat depending on what kind of cereal you use. You can check out my amazing allergen introduction guide here!
do you have any other high iron baby led weaning recipes?
Gluten Free Hummus Baby Meatballs
Healthy "Better Than McDonalds Chicken Nuggets"
So moms and dads, tell me- what are some of your favourite meals and snacks for sneaking iron into your baby and toddlers' diet? Leave me a comment below with your thoughts!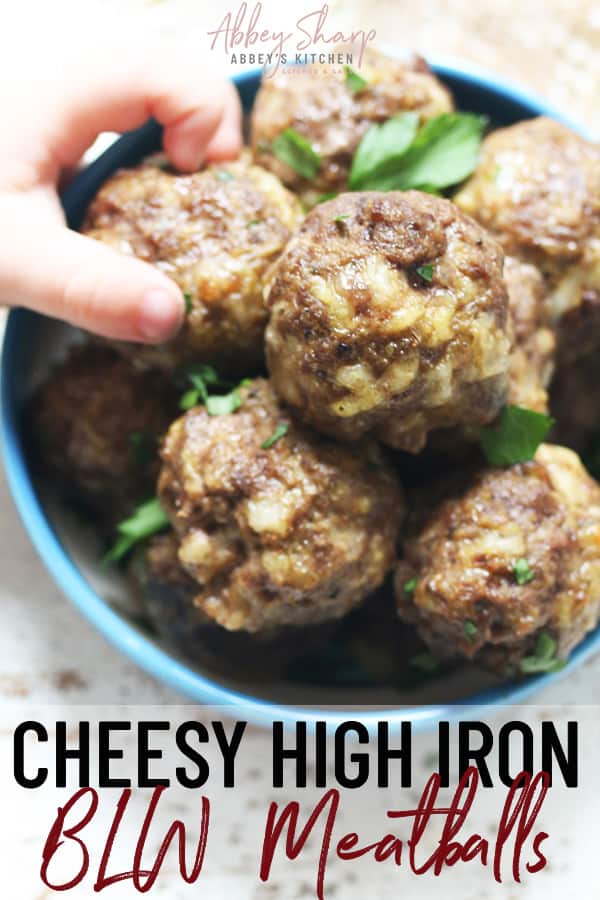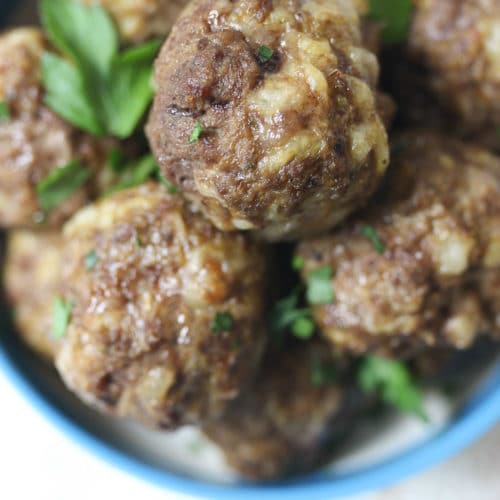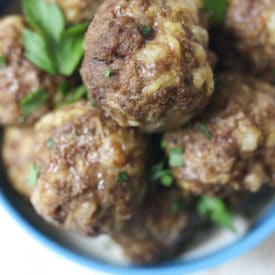 Cheesy High Iron Baby Meatballs
These Cheesy High Iron Baby Meatballs are perfect BLW, Toddlers & Families as an easy way to sneak more iron in!
Print
Pin
Rate
Ingredients
1/2

cup

iron fortified baby oat or ancient grain cereal

½

cup

breastmilk or milk

1 ¼

lb

medium ground beef

1

cup

good quality aged white cheddar or mozzarella cheese

finely grated

1

egg

beaten

1

tsp

dried oregano

½

tsp

ground pepper

¼

tsp

salt

optional for adults
Instructions
Preheat oven to 400 F and put the baking sheet in the oven to preheat.

In a large bowl, mix together the baby cereal and milk and allow it to sit for 10 minutes.

Add in the meat, cheese, egg, oregano, pepper, and salt (optional). Mix until combined then roll into 1 tbsp meatballs. Grease the baking sheet. Place on the baking sheet and spritz with a bit more oil in an oil atomizer. Bake for 15 minutes or until it reaches 165 F, flipping once half way through.

Allow to cool slightly before serving to baby, or transfer to a freezer bag for later eating.
Nutrition
Calories:
165
kcal
|
Carbohydrates:
2
g
|
Protein:
11
g
|
Fat:
12
g
|
Saturated Fat:
5
g
|
Cholesterol:
56
mg
|
Sodium:
154
mg
|
Potassium:
153
mg
|
Fiber:
1
g
|
Sugar:
1
g
|
Vitamin A:
177
IU
|
Vitamin C:
1
mg
|
Calcium:
72
mg
|
Iron:
1
mg