In her acceptance "speech" for the Rylie-Jeffs award at the Dietitians of Canada, Mary Sue Waisman told us that when she asked RDs to submit recipes for the 2011 DC cookbook, Cook! (a book I have a recipe in), she got a SLEW of black bean salad recipes. Why do we (dietitians, and otherwise) love black bean salads? While I do enjoy eating black bean salads, I think that the reason it was so visible in the recipe submission pile was that it's so super easy to prepare (well). It's kind of one of those sure fire-can't mess up too much-healthy and tasty recipes that we all have hanging around in our back pocket to bust out when the canned beans go on sale.  Hey- that's what happened to me!  I had some shrimp in the freezer that I figured would enjoy a snuggle with beans in the bowl, as well as a host of left over veg… and much like the elusive "stir fry", a Mexican-inspired dish was born.  Now, just as an aside for if/when you attempt something like this at home, I would normally add in some chopped avocado- and believe me, I tried. I had bought an avocado on Sunday thinking it would ripen by Thursday, but no such luck. By the time I thought about one of the speed-up methods (i.e. popping it into a bag with other gas-emitting goodies), it had to be on the table. Just an FYI for your DIY adventures.
Chipotle Shrimp, Corn and Black Bean Salad
Chipotle Shrimp, Corn and Black Bean Salad
This chipotle shrimp, corn and black bean salad is a perfect quick and healthy weeknight meal.
Ingredients
1 1/2

tsp

oil

1/2

lb

medium shrimp

peeled and deveined

salt and chili powder to taste

2

cobs corn

kernels removed or 1 1/2 cups frozen corn

1

can of black beans

rinsed and drained

3

red peppers

diced

1

pint

cherry tomatoes

halved

3

green onions

sliced thin on a bias

1/4

c

smokey BBQ sauce

1

canned chipotle pepper in its sauce

minced (you can remove some seeds if you don't like it too hot)

Zest of 1 lime

3

tbsp

lime juice

1

tbsp

oil

salt and pepper to taste
Instructions
Preheat a pan over medium high and add in the oil. Once hot, add the shrimp, a pinch of salt and a generous dusting of chili powder, and saute until the shrimp are pink and cooked through, just 1-2 minutes per side. If using frozen corn, throw the frozen kernels into the pan to allow to thaw for 30 seconds.

If using fresh corn, bring a small pot of water to a boil. Add in the corn kernels and blanch for 1 minute. Drain and run under cold water to stop the cooking.

Mix together the corn, shrimp, beans, peppers, cherry tomatoes, and green onions.

In a bowl, mix together the BBQ sauce, chipotle pepper, lime zest and juice, oil, and salt and pepper to taste. Toss with the salad, refrigerate, and serve either at room temperature or cold.

If you want to heat the entire thing through (cooking the corn, and peppers and tomatoes in the sauce with the shrimp and beans), you can totally use this as filling for tacos or quesadillas etc. Enjoy!
Nutrition Facts
Chipotle Shrimp, Corn and Black Bean Salad
Amount Per Serving
Calories 300
* Percent Daily Values are based on a 2000 calorie diet.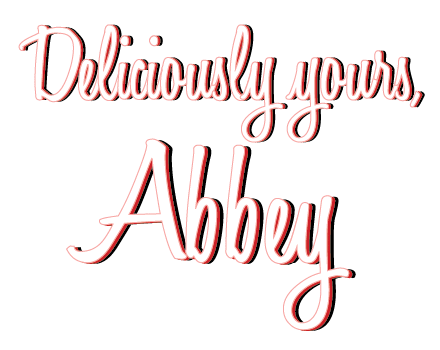 Follow Abbey!
Subscribe to new posts!
Subscribe to my weekly newsletter so you never miss any contests, restaurant news, recipes and more foodie fun!
Email:

You might also like…
Updated on June 11th, 2017