In the spirit of the just-passed Valentines Day as well as a beautiful wedding I attended yesterday here in Jamaica, I have a cute story for you.
At some point in me and my man's relationship, whenever we stayed over in a hotel, it would be tradition for us to have chocolate covered strawberries. The first time, he called to order them ahead. The next time, thinking he would forget, I called, and the gentleman at the hotel said "oh yes, not to worry, they've been ordered." This is what happened every time afterwards. He would call, I would call or I would call, then he would call, all because we both knew it was important.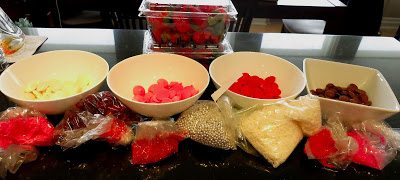 Ingredients
So for Valentines Day, I wanted to recreate that memory for us in the comfort of our own home.  Now, I admit, I'm no candy artisan.I also knew it was going to be a wickedly busy day as the eve of our big Sips & Nibbles. So, I wasn't even going to bother to attempt those intricate little tuxedo strawberries we sometimes would receive.  This dinner was about nothing more than fun.
So I busted out all of my coloured melting chocolate coins, sprinkles, sugars, coconut and dried cranberries and got to work dipping, sprinkling and drizzling away. This would make for a great project for kids to get involved with because they can decorate their strawberries exactly how they want, and while it's no means "health food", at least they're tucking into a fruit rather than another cookie or truffle.
So empty out your baking cupboard and buy the best looking out-of-season strawberries you can find. This is a simple sweet ending to a meal that may lead into an even better ending to your night!
Valentine Themed Chocolate Dipped Strawberries
Updated on February 13th, 2016