The other night, I brought the below puree to the dinner table to hear a very enthusiastic, "Are we having mashed potatoes?!" My reply, of course (judging by the title of this post) was "no, it's celeriac" (I left out the cauliflower part). He scrunched his nose a bit and I replied as I would to a child "you have to try it before you decide you don't like it".
 Ready to be boiled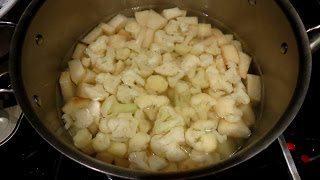 Adding the cauliflower
Well, like a picky preschooler, he cautiously brought a teaspoon to his lips, let the puree melt on his tongue, and I watched as his eyes lit up. He scooped about a cup-worth of puree onto his plate, finished it off, then did it again. It was only then that I told him it was low in fat and lower in calories than mashed potatoes because half of what was in that bowl was cauliflower.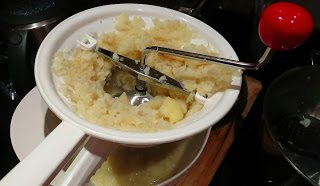 Mashing Step 1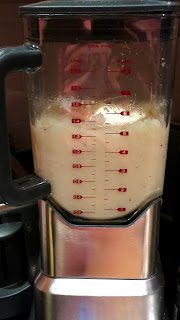 Mashing Step 2
The trick? It really is the blender step. You cannot skip this if you want to achieve a fluffy, creamy, dreamy consistency. If you only mash or rice the vegetables, what you will essentially get it a watery and fibrous consistency. Not sexy. But once you whiz it all away in the blender with a little milk, maple and seasonings, it will emerge incredibly decadent. Fooled my meat-and-potato "preschooler", and could no doubt do the same for yours. This is what I did:
Creamy Celeriac and Cauliflower Puree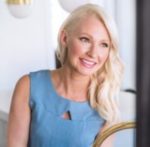 Abbey Sharp is a Registered Dietitian, an avid food writer and blogger, a cookbook author and the founder of Abbey's Kitchen Inc.