Maybe 5 or so years ago I had a pulled pork sammy with peaches in the sauce, served at some standard Toronto pub. While the sandwich itself wasn't much to write home about, I was instantly in love with the peach idea. I mean, let's be honest. I'm not going to turn down anything with that seductive blushing fruit engorging my taste buds with happiness. Mm. Engorged. Great word, right?
Ingredients
Well, when you pair one of my favourite summer fruits with one of my favourite summer foods (Pulled Pork), I'm inevitably going to smile, even if it is just a run of the mill chain pub item.
Unfortunately, cooking at home for two makes whipping up a massive 6 lb pork shoulder a little foolish. Truth be told, even if I were to assume left overs, I don't know I'd have enough room in my freezer with all the homemade ice cream I've got accumulating. Uh. I know. Talk about #firstworldproblems. Well, I have a solution to said problem, and while it's admittedly not as exciting as PP, it's healthier, faster and easier to work with for a weeknight meal.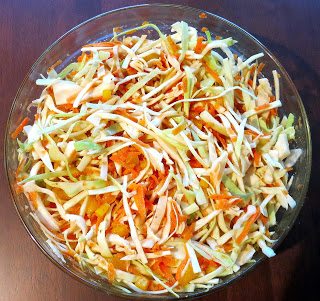 Slaw
 Making pulled chicken breasts allow you to adjust the serving size to your needs. You could feed a crowd for a Superbowl party for example (and believe me, there's enough slaw here that you'd be covered), or you could cut this recipe in half and make it for just yourself. You're budget, your belly, your call.
Caramelizing them onions
And of course, you could make your own BBQ sauce, but with the plethora of options out there to choose from, many of which are gourmet, natural and locally produced, I don't feel bad about this shortcut. Especially not for a Tuesday.
Lightly searing the breasts
Now let's just briefly chat about accompaniments. I am a big fan of making and eating slaw. Because cabbage is so much more hearty than regular leaf lettuces, it can hold up in the fridge really well, and actually gets better with a little incubation time. I also find it's one of the best salads for low-fat, full flavour dressings, since so many classic recipes call for a heavy amount of acid. In line with the peachy theme, I added a bit of body to this dressing, and beautiful natural sweetness by throwing pureed peaches into the mix.  Using pureed fruit is a technique I use a lot for amplifying flavour and balancing out the acid in dressings while keeping the oil levels in check.
Everyone in the pool
And with a low fat dressing going on, you can totally justify a little smear of mayo.  I use the reduced fat variety rather than fat free, which just tastes like plastic to me, and I rev mine up with a little sweet BBQ sauce and spicy chipotle pepper. Feel free to make a double batch of this to use throughout the week on your turkey sammies.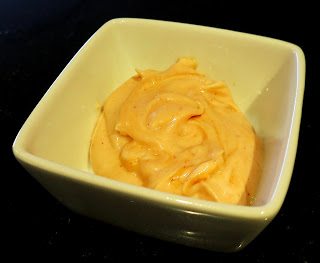 Chipotle mayo
And we can't forget about those onions. I am obsessed with caramelized onions and have been known to whip up a batch in the middle of the day just for a snack. Again, why not make a double batch of this, throw some into your basic salad, and make your colleagues jealy in the lunch room?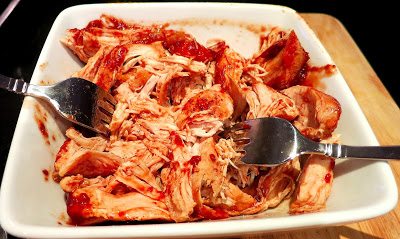 Shredding up the goods
Crock-pot BBQ Peach Pulled Chicken Sliders with Peachy Slaw, Caramelized Onions and Chipotle Mayo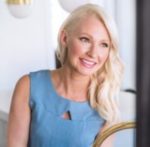 Abbey Sharp is a Registered Dietitian, an avid food writer and blogger, a cookbook author and the founder of Abbey's Kitchen Inc.