It's Nutrition Month, folks, and this year the theme is all about helping Canadians put their best food forward when meal planning and grocery shopping. And yes, it's easy for a dietitian like myself to tell you to buy lots of fresh fruits and vegetables, lean meat, low-fat dairy and whole grains, but let's be honest- most of us have to balance those healthy eating standards with our budget.
Our Ingredients
Unfortunately, until some changes occur in food policy, a lot of healthy foods are pricey. Heck, I just saw a teeny package of baby cauliflower (like literally maybe a cups-worth) for $5! Yikes. Now, of course, I have the choice to just choose regular cauliflower, or try frozen if that worked out as a better deal, or maybe just pick a different vegetables.
Pound that puppy!
So, arguably, if I were flexible, that expense could perhaps be somewhat mediated by the huge selection of produce options.  But what about our meat?
Roll 'er up
I bet if you took a close look at your grocery bill that you'd see how pricey animal protein can be! I mean, sometimes I can get a couple chicken breasts on sale, but often, I'm paying $12-15 or so for two basic non-organic breasts, and that's just for one weeknight meal! Don't even get me started on the filet mignon! And while I definitely advocate for a meatless Monday (for your wallet and your waistlines sake), there are ways to have your meat and pay your rent, too.
Brown 'em off
Round, eye round, bottom round, flank, skirt, and brisket (though this is sometimes more pricey) are a few examples of less expensive beef options that are naturally low in fat, but sometimes can be chewy or unpalatable if cooked quickly like you would a pricey steak. So what do you do to make these cheap cuts seem flavourful and juicy despite their low fat content and price tag?
Everyone in the pool!
Hello there, Mr. Crockpot. Slowcooking, as the crockpot is designed to do, particularly in a moist environment, will help to tenderize that tough muscle tissue and turn your budget-friendly beef dinner into a family fave.
Brown those mushrooms
I made this recipe for just the two of us, but the meat portion can easily be doubled or tripled to accommodate your family's size.  Obviously, for just two of us, the sauce yield is excessive, but I simply freeze the leftovers and will later use them for making a quick ground-meat sauce.
You can also feel free to add in your family's favourite vegetables. We are huge mushroom fans over here, but this could have easily been packed with eggplant, zucchini, spinach, or bell peppers. Get creative and let me know how it goes!
This is what I did:
 Crockpot Italian Beef Braciole with Mushrooms and Sundried Tomatoes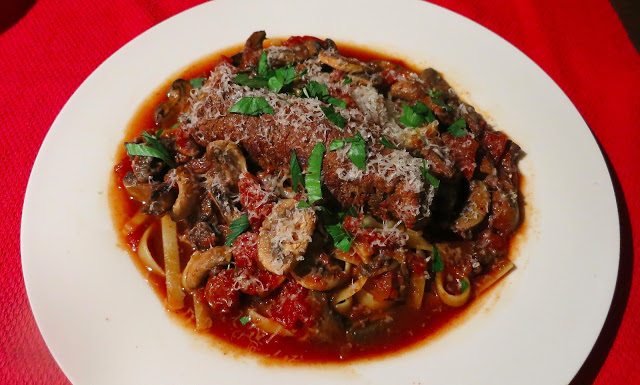 Updated on February 13th, 2016