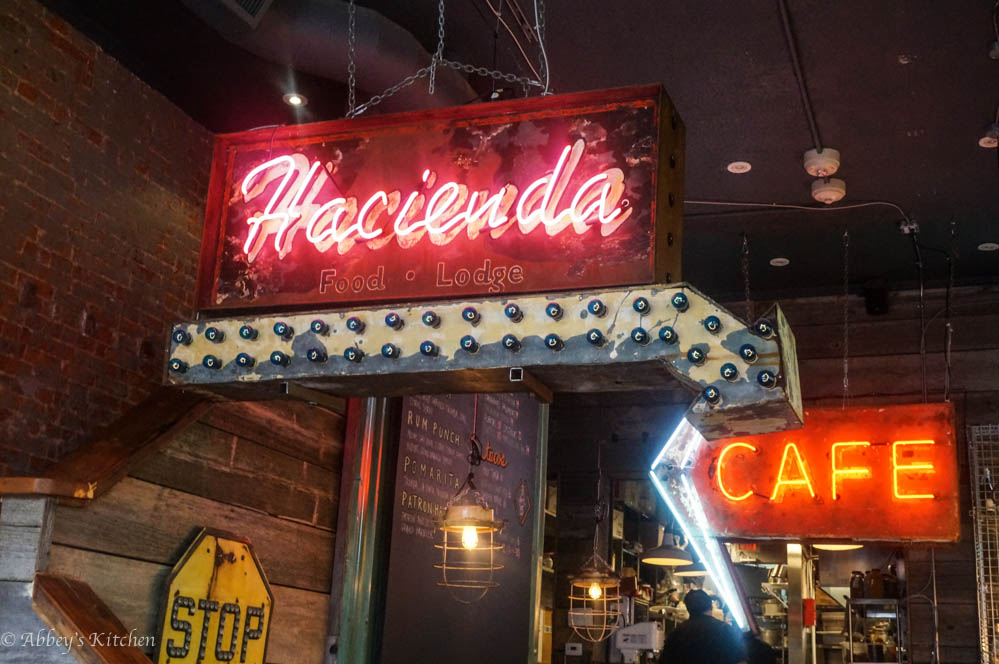 Just about two years ago, Executive chef and restauranteur, Dave Sidhu opened up his first Mexican outpost on Dupont at Davenport, and called it Playa Cabana.  About every 6 months or so thereafter, Sidhu would get back on the restaurant opening bandwagon and launch another super successful joint. From the original Dupont came Cantina in the Junction, then Hacienda on Dupont at Avenue and later a Mexi-Asian joint in Koreatown called Barrio Coreano. Just last week, I hit up his new joint La Libre in the backyard of Hacienda.
The spices
If you walk into any of them on a Friday night without a reservation, there's not much more than a slim chance you'll get in. They have managed to maintain crazy popularity despite the fact that tacos are no longer the top trend (that one goes to falafel and hummus). Based on their quality of food, I don't imagine that changing any time soon.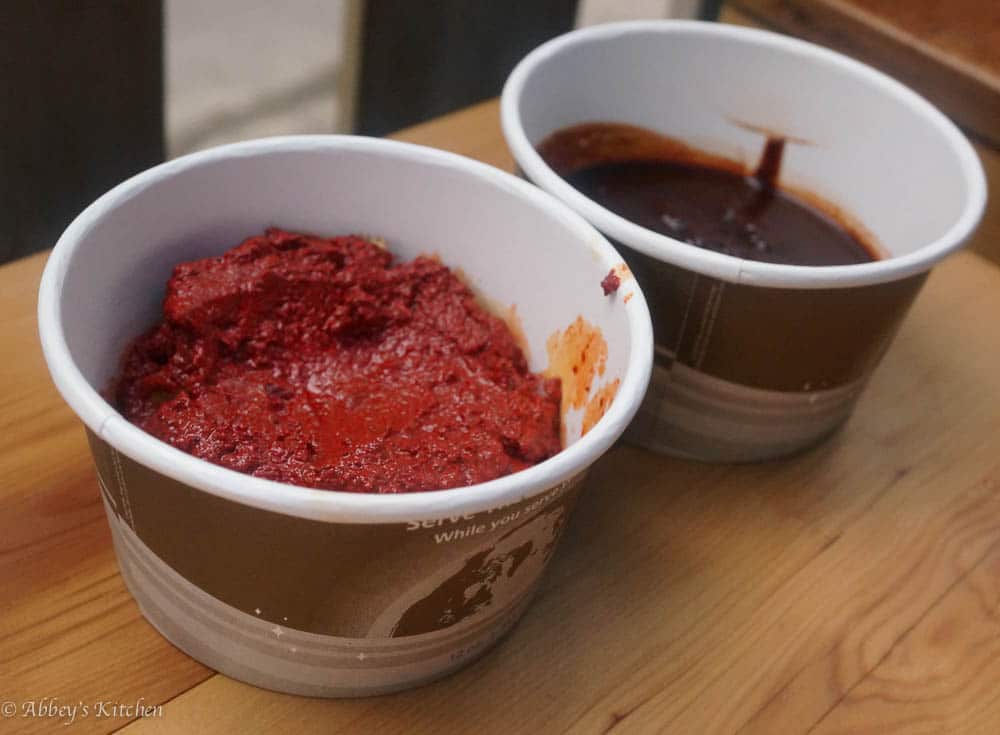 The vibrant marinade
Having eaten in 4 of his 5 restaurants (see it here, here, here and here), I was easily convinced the Playa Cabana brand was a star. So naturally, I invited Dave to participate in Abbey's Kitchen Stadium Battle 3 where he showcased Apple Sauce in some crazy good churros and tamales. Yep. Sounded impossible, but man, he killed it. With ninja skills like that, he was high on list for chefs I wanted to cook with in this series and I was thrilled when he agreed to teach me a Yucatan recipe for Smoked Pollo Pibil.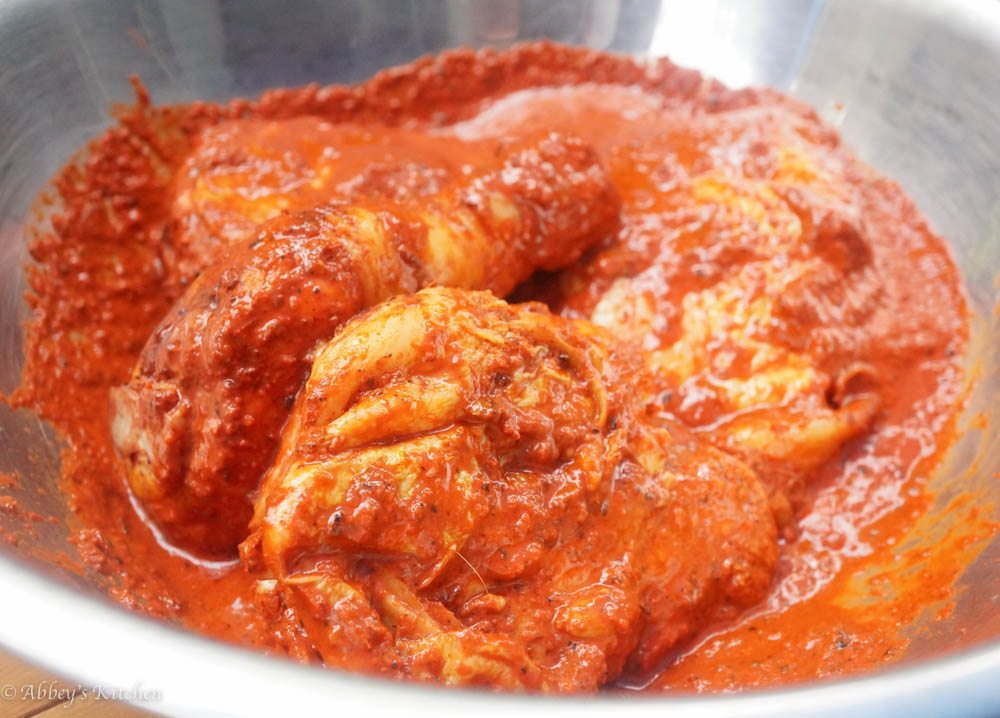 Marinating the chicken
Quick Facts on Playa Cabana:
-There are five locations: Playa Cabana Original (111 Dupont St), Cantina (2883 Dundas St W), Hacienda (14 Dupont St), Barrio Coreana (642 Bloor St W), and La Libre (14 Dupont St).
-Playa Cabana means "Beach Cabin".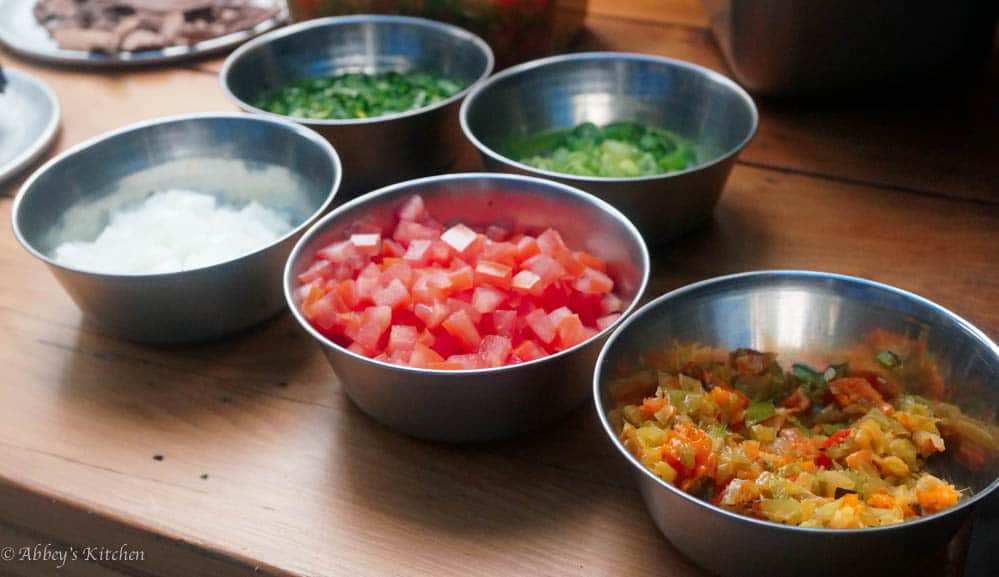 The ingredients for the X'Nipek
-The empire started with the original in June 2011, and the latest addition opened June 2013. La Libre's focus is on Yucatan style cuisine in the backyard of Hacienda- A perfect pair for patio season if you ask me!
-While all of the menus vary between the five outposts, expect variations on Mexican staples like tacos, guac, burritos, and enchiladas.
 The mixed up X'Nipek
Quick Facts on Dave:
-Dave's mother was "a truly amazing Filipino cook" whose chicken adobo is to this day his favourite nostalgic meal. Despite her influence, Dave came into the kitchen out of a bit of necessity, as she worked long hours at a hospital so he had to pick up some skills.
-His culinary inspiration includes a variety of great old school Mexican teachers like Rick Bayless, Diana Kennedy, Richard Sandoval, and Bobby Flay- "I read their books when I was starting out," Dave shared.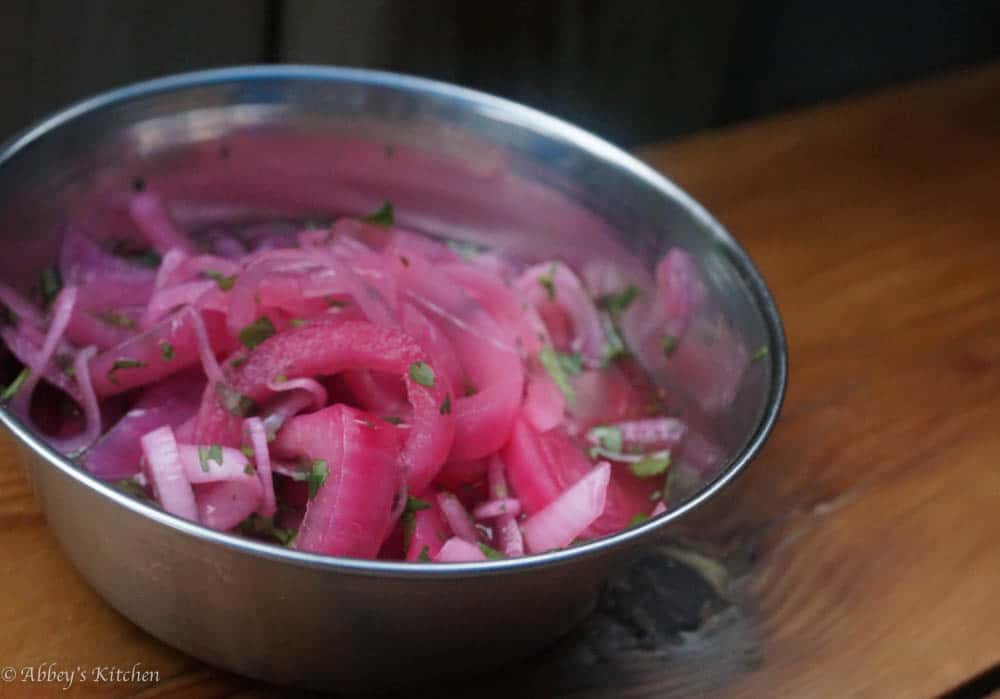 Yummy pickled onions
-His go to eats across Toronto include the curry goat at Albert's Jamaican, The Stockyard's Fried Chicken, Khoi Soy at Sukho Thai and the pork and Shrimp dumplings at Dumpling House –"I'm a simple guy." Well, we all know that the simplest things are always the tastiest.
-The best meal he's ever had was a large "jaibas" blue crab wok-fried in chipotle and guajilo in Puerto Vallarta. "[There's] something about the fresh crab, and [that] their chipotles aren't as brittle as ours are. They're more moist and have better flavour and texture." Sounds amazing.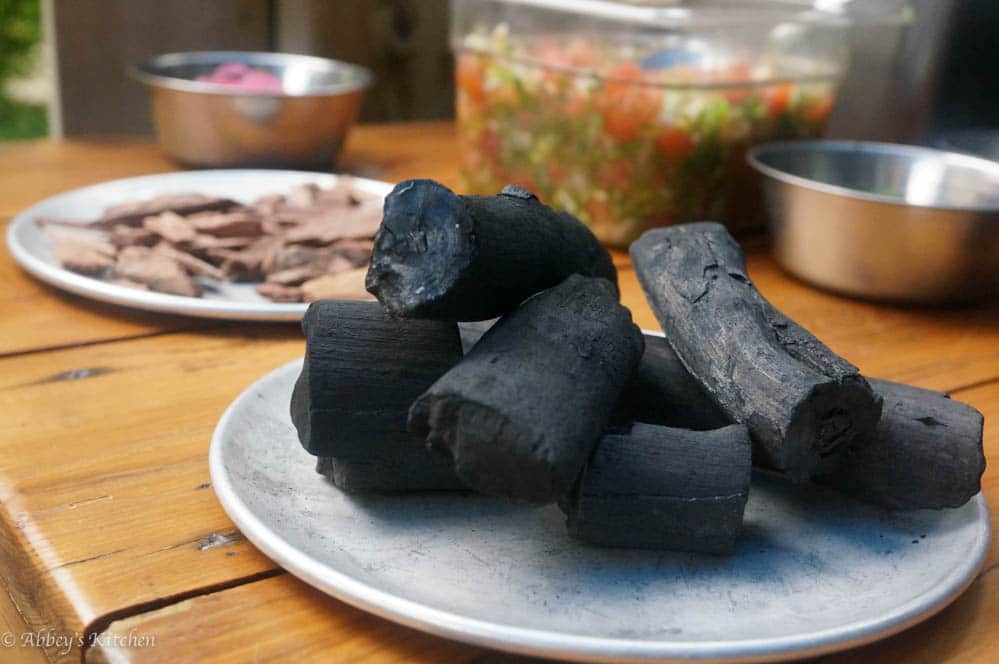 The Arbol de Pimenta for the smoker
-At home, surprisingly, Dave likes to cook Italian cuisine but using Mexican ingredients. Sounds like he needs to open another Play Cabana outpost on College St.
-One of Dave's most rewarding experiences has been working with the range of talented people in the city, and "making solid contacts and amazing friends along the way."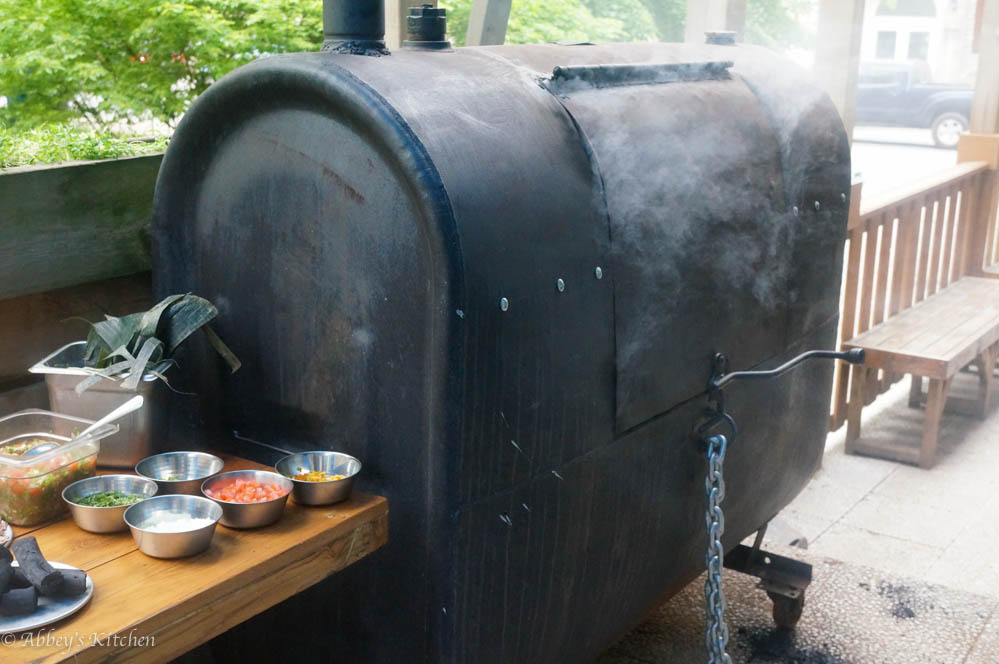 Getting the smoke ready
Quick Facts on the Recipe:
-This dish originates from the Yucatan region of Mexico of Tikin Xic, which Dave loves to visit because of the "vibrant colours and refreshing summer feel to their food."
-This recipe calls for a variety of Mexican ingredients including ancho chili pepper, Achiote seeds, clavos de olor, black cumin seeds, Columbian all spice, Mexican oregano, Mexican thyme, sour orange and Guatemalan cardamom but don't worry if you don't want to go seeking them out.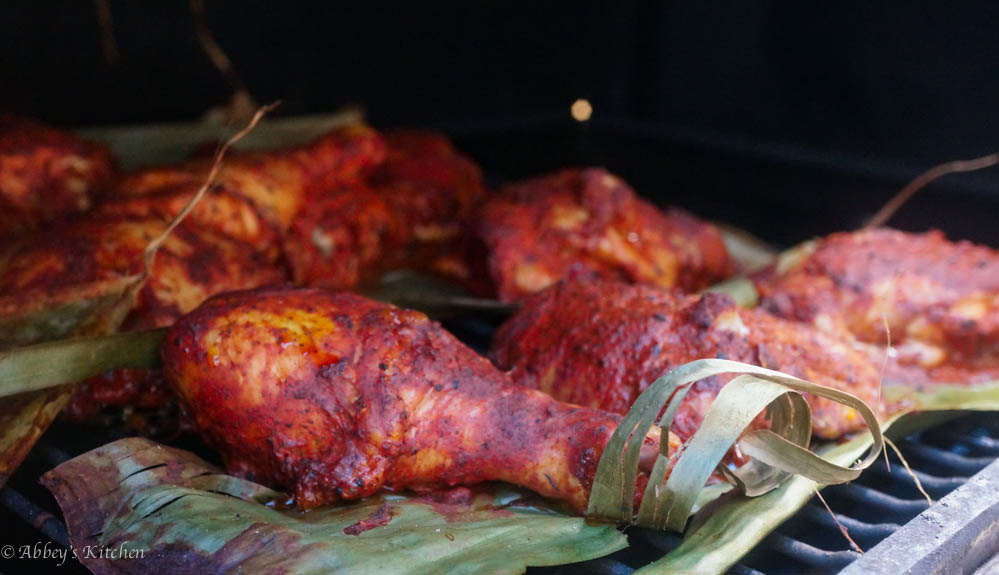 Smoky chicken
-Here's the skinny on some easy every day substitutions that will work perfectly nonetheless.
Clavos de Olor- it's very much like cinnamon, so you can just substitute the regular oatmeal-topper.
Black cumin- more grassy than regular cumin, but the basic stuff will work too.
Columbian All Spice- yup, regular all spice.
Mexican oregano- it's a little milder than the Mediterranean variety, but it's an easy substitute.
Mexican thyme- you know the drill.
Guatemalan cardamom – basic cardamom pods work.
Achiote seeds- turmeric and sweet paprika
Sour Orange- just mix 3 parts orange, 2 parts grapefruit and 1 part lime
Let it smoke!
-The condiment, called X'nipek is a Yucatan equivalent of Mexico's classic Pico de Gallo. Instead of the well known combination of tomatoes, onion, serrano chilis and cilantro, X'nipek includes charred habaneros, oregano and green onions.
-In general, Dave told me that Yucatan cuisine differs from traditional Mexican in that there are: more preparations with banana leaves, the use of Sour orange instead of lime, lots of pickled items like onions and the X'nipek staple condiment.
-At PC, Dave uses Arbol de Pimenta from the Allspice tree for fueling his smoker. He uses the charcoal version on the bottom as coals, and wets the wood for aromatics on top.
-Inside the smoker, Dave positions the marinated chicken on top of a bed of banana leaves, which not only keeps the meat moist, but adds a sweet aromatic flavour.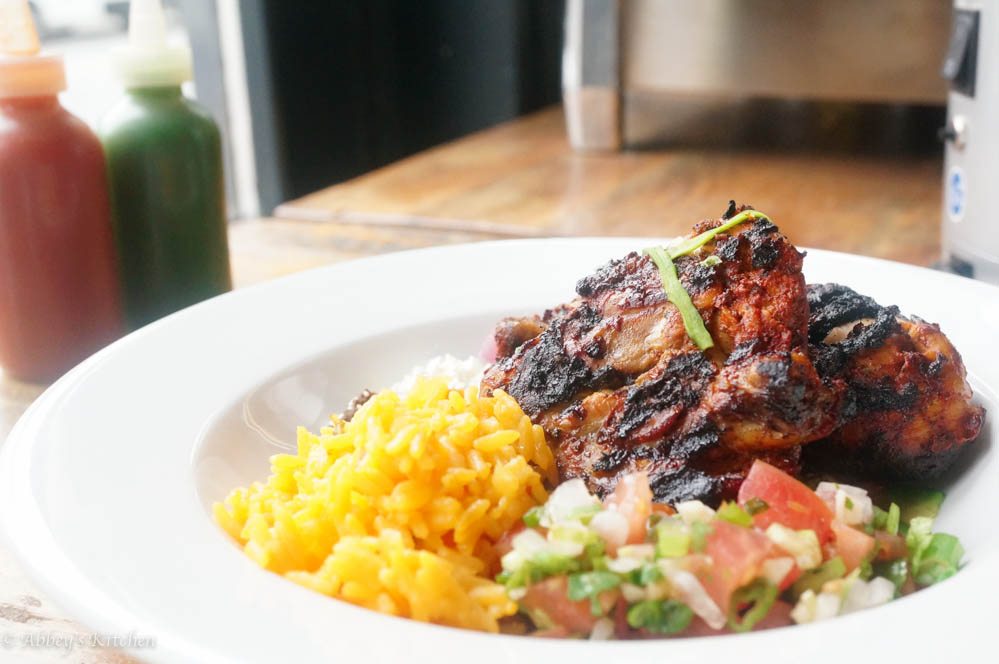 -This marinade can easily work for pork, fish, seafood, or poultry, and requires no additional fat because the pulverized cumin seeds add oil.
-When La Libre opens up this Summer, you will see this dish on the menu as Smoked Pollo Pibil served with Mexican rice, refried beans, pickled onions, X'nipek and marinated shaved cactus for around $14 per plate.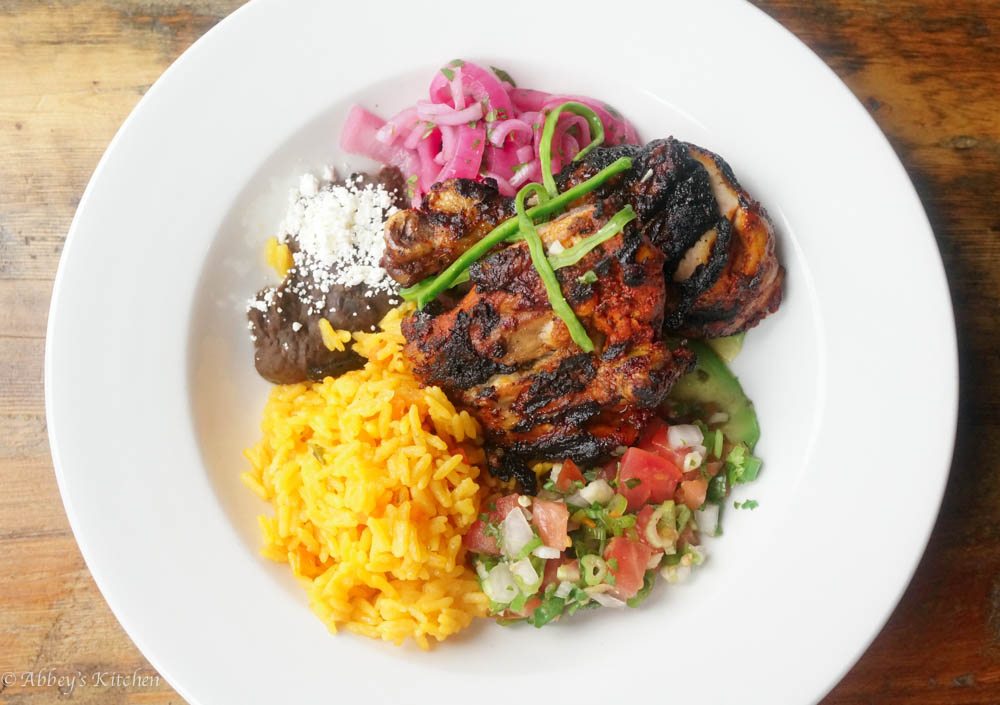 Thank you so much to Dave and Playa Cabana for cooking with me and sharing this amazing recipe. For more information on the Playa Cabana family, check out their website and their new La Libre restaurant!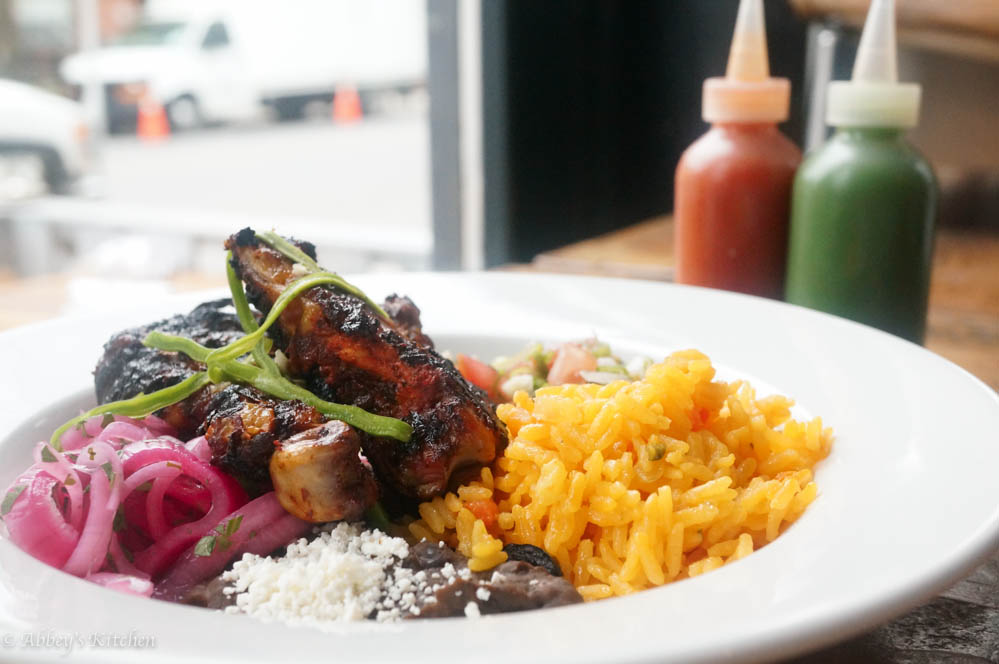 Updated on May 8th, 2019