This past week's Friday night not only meant that my man was home from a week-long trip, or that date night had (finally) arrived, but that we had the pleasure of another couple of our foodie friends joining in for the date night fun. In the mood for something fun, casual, and shareable, we made a reservation at the 3-week-old El Catrin, a Mexican tapas restaurant in the historic Distillery District.Speaking of reservations, I do recommend you make one- the line up for walk-ins when we arrived at 8 PM was snaking down the cobblestone street. Considering there are so few "hip" restaurants today actually accept them, it's important to take advantage when they do.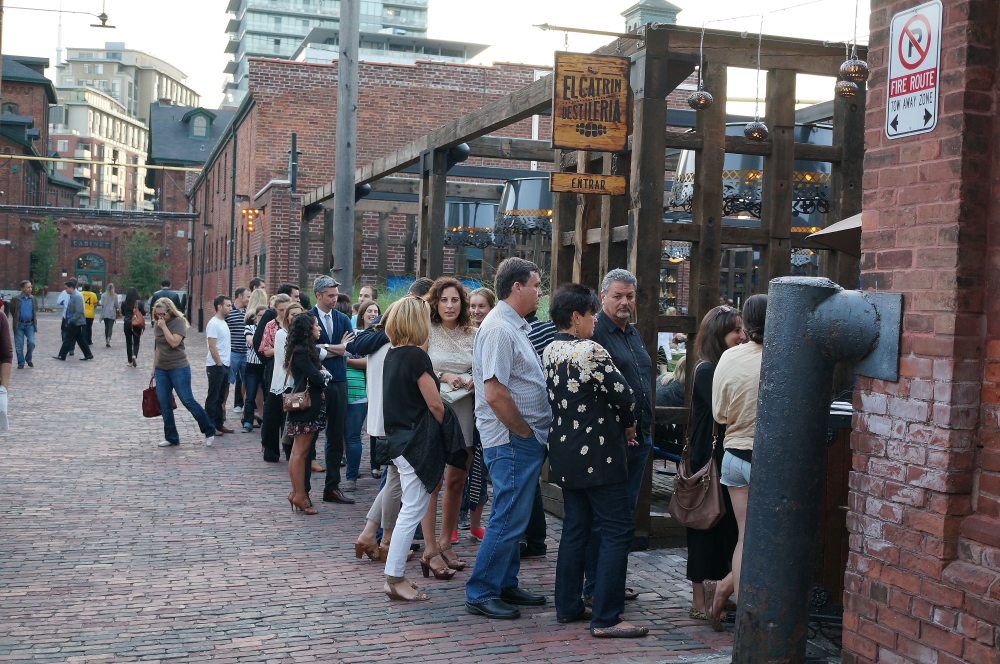 Occupying the old Boiler House on Tank House Lane, we arrived to find a sprawling Mexican treat for the eyes. While I do find the Distillery district stunning in its most bare-bones natural state, designer Munge Leung took its inherent attributes to a whole new sensational level of dining decor. Stepping onto the 5,000 square foot patio revealed a blazing open fire pit surrounded by spacious painted yellow tables and chairs, and metallic stencil-cut-out chandeliers.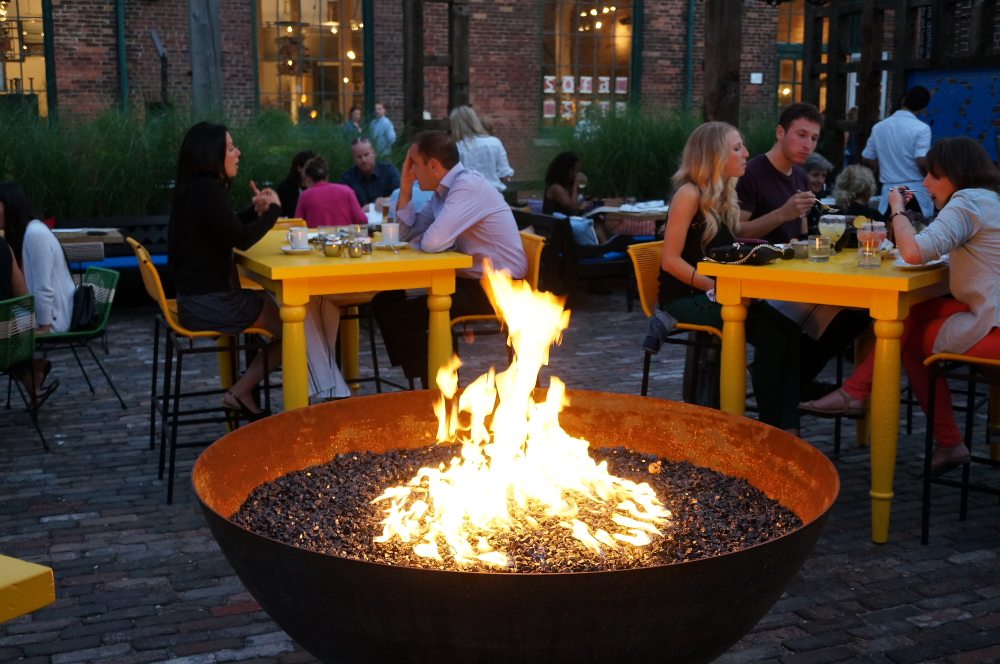 When we walked back out past night fall, and I couldn't help but feel as though I was in a different place – far away from the CN tower, the condo buildings and of course, the fact that I would be coming home and having to work the next day.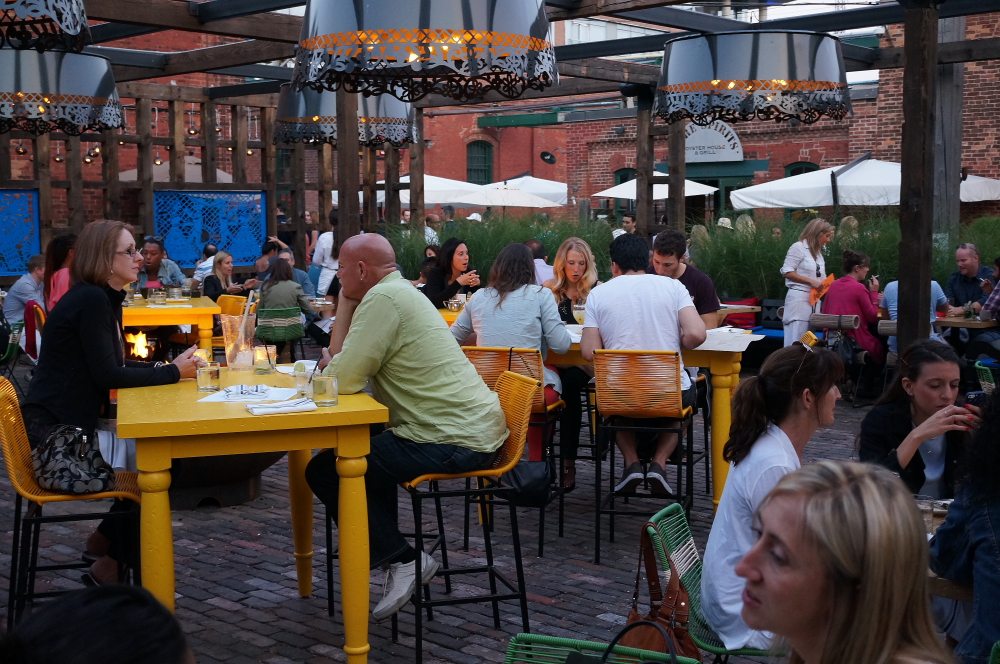 Inside, the Latin-chic aesthetic continues but the mood is dramatic, grande and even more sexy and exotic. The main wall is painted with a floor-to-ceiling Oscar Flores Mexican street art mural, lit up by a black light for extra intensity.  And what a difference that black light makes! Some of the skulls incorporated into the design seem to pop out of the art, floating somewhere between the wall and the bar across the room.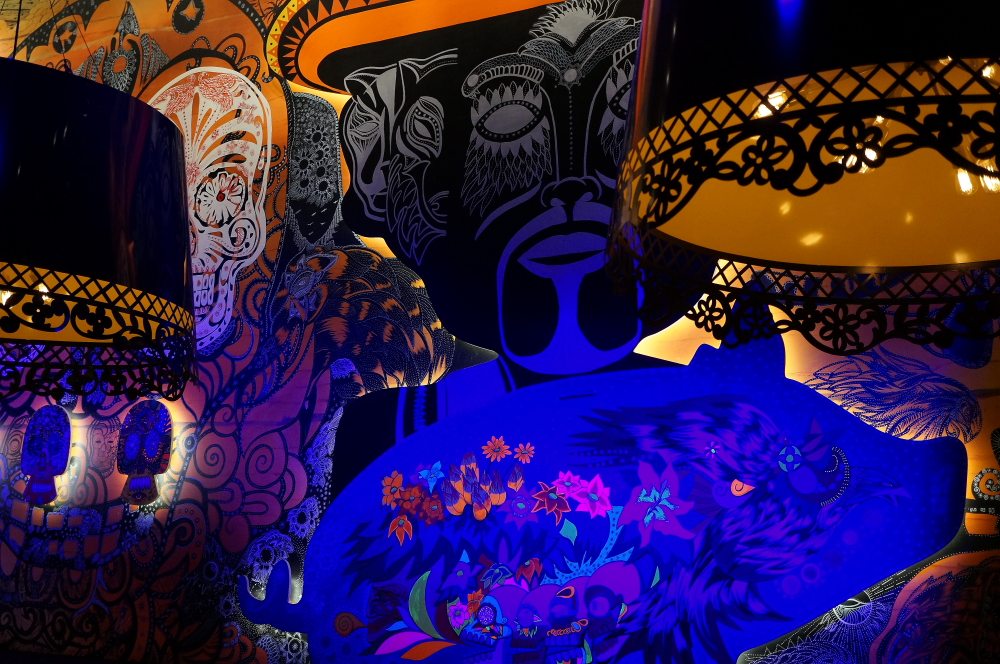 Speaking of the bar, it too spans the entire length of El Catrin's wall, displaying an impressive selection of tequila and mescal in a grid of wooden shelves. That same grid system encases a selection of glow-in-the-dark painted skulls that occupy one of the two private dining sections of the space (the second of which was unoccupied upstairs).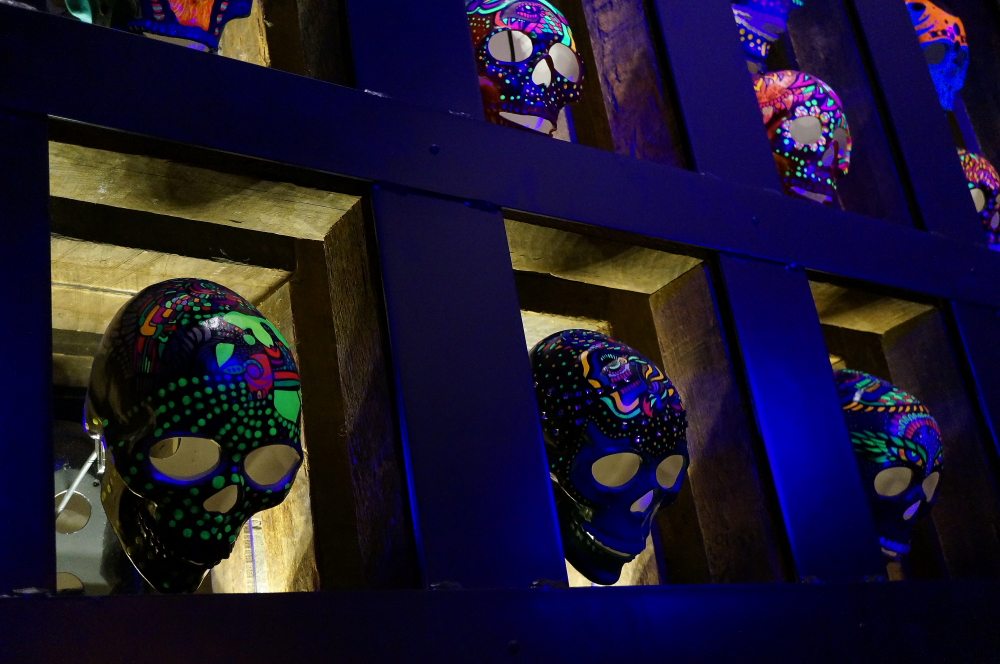 Just our luck, we were seated right in the centre of the skull-adorned room, at a generously spaced table for four. I am always very gracious when I go to restaurants with ample table space, especially when the cuisine encourages sharing (which is not-so-easy in tight quarters).
Service was friendly, casual and playful, typically our style when dining out with friends. Our server was particularly helpful with making menu recommendations, letting me know what was a must try and what may not be "worth" the stomach space (foie gras tostadas? Maybe not so much).  The meal moved at a comfortable pace, with dishes coming randomly but comfortably spaced over 1 hour and 45 minutes.  I did, however, wish that there were more bussers or servers to remove finished dishes, which hung around a little too long after we were finished with them.  A minor quibble but of course, something for improvement.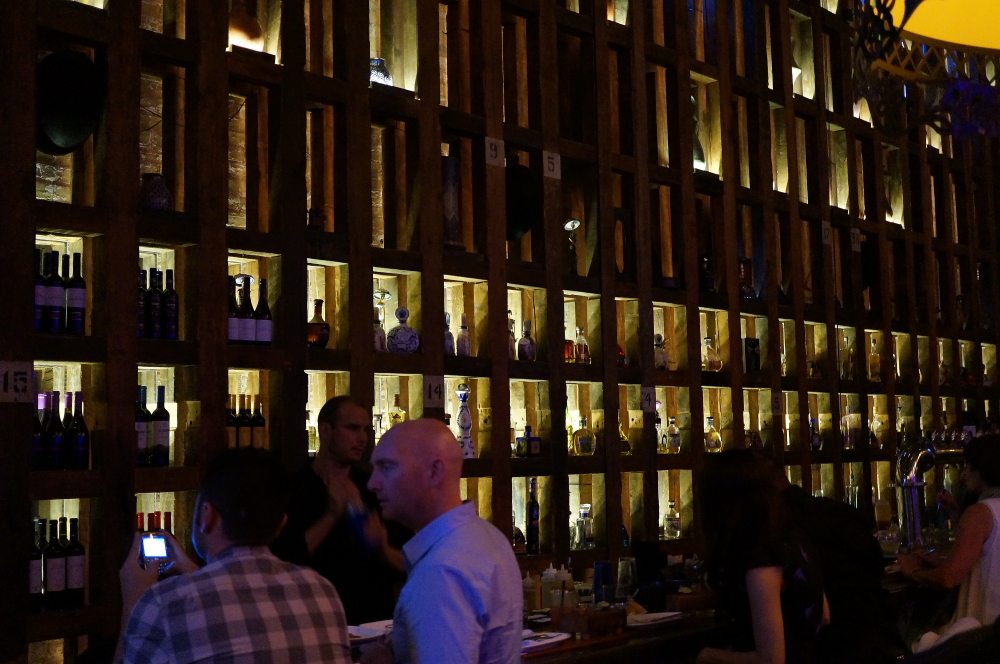 The drink menu at El Catrin offers an overwhelming number of Mexican inspired cocktails- from Margaritas, Mezcalteles, Cocteles (assumably, other cocktails), Beer Cocktails, and flights of 3 1/2 ounce pours of liquor.   There are also about 8 Mexican and International beers on draft, 5 bottles (all Mexican), and a few tasty non-alcoholic imported juices like Tamarind, Horchata (rice/almond), Watermelon and Hibiscus.  Oh yah, and of course, Mexican Coke.   Definitely in the mood for more than just a pop or juice, we sampled the following selection of El Catrin's boozy Mexican delights.
Mayan (Milagro Reposado, Patron Citronage, Tamarind, Citrus, Tajin Rim, $11)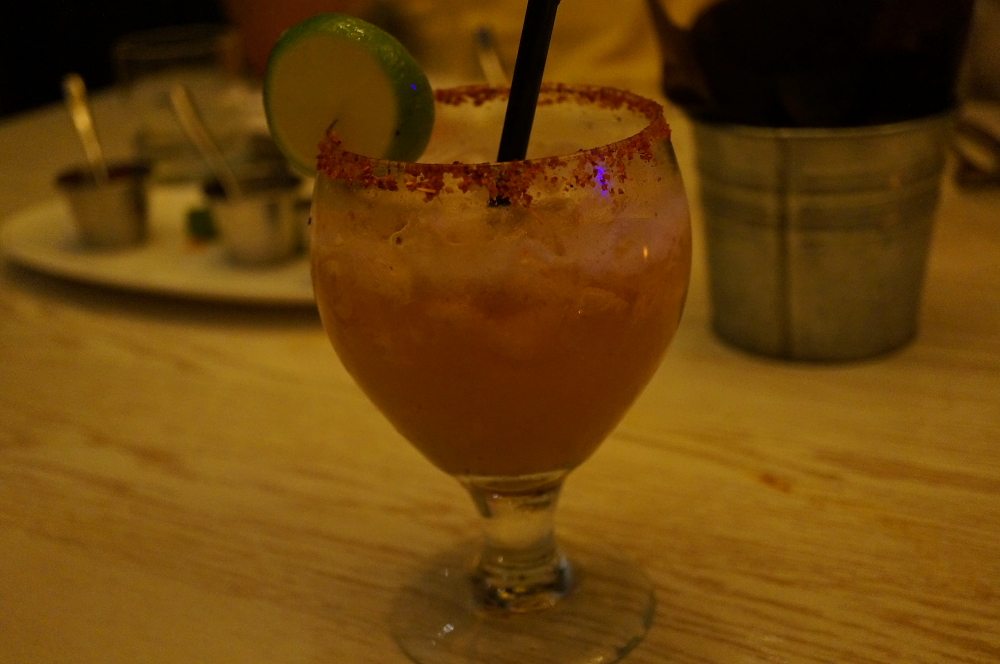 Fuego Sandia-Watermelon Fire (Tromba Blanco, St. Germaine, Aqua Sandia, Lemon, Tajin Rim, $10)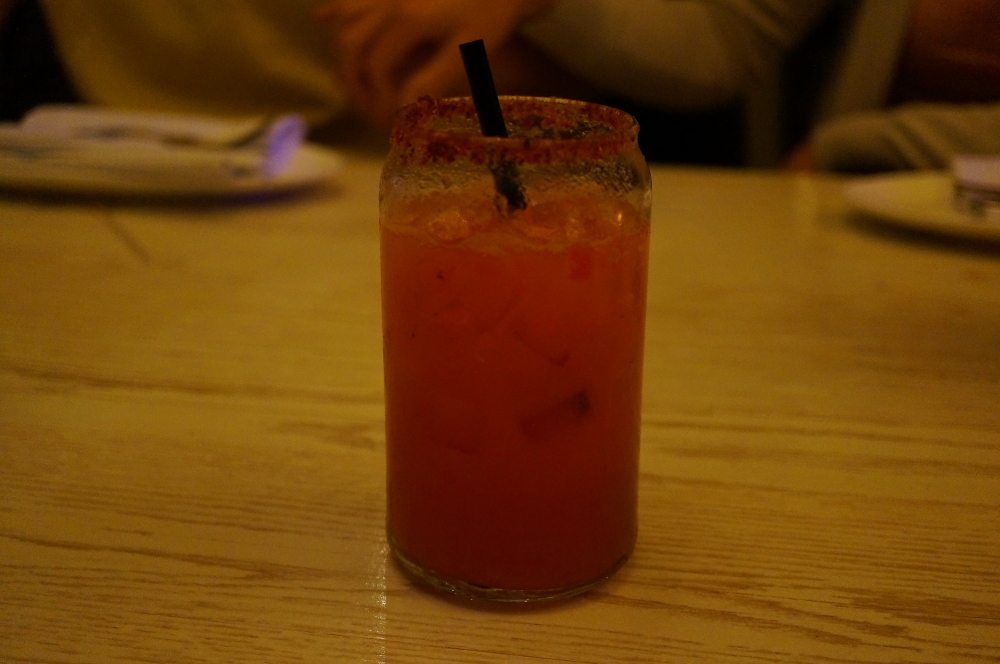 Pepino Diablo- Cucumber Devil (Milagro Blanco, Cucumber, Serrano Peppers, Agave, Citrus, Tajin Rim, $10)
Mayahuel- Goddess of Alcohol (Milagro Reposado, Jagermiester, Agave, Lemon, Ginger Beer, $12)
La Paloma Brava- The Angry Bird (Milagro Reposado, Agave, Grapefruit, Citrus, Soda, $10)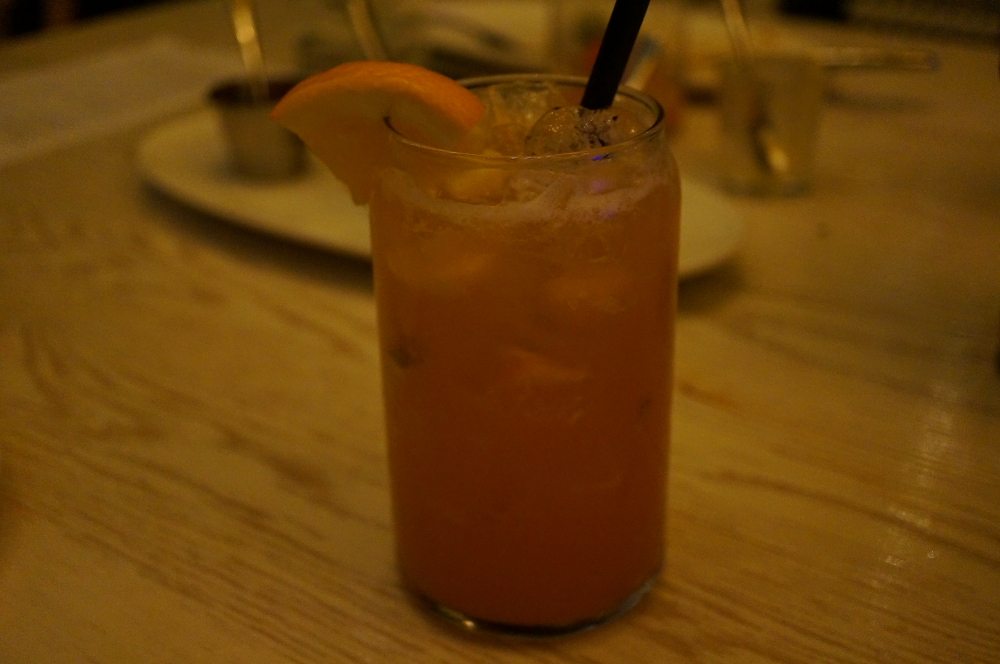 Hibisco Rosa- Hibiscus Rose (Milagro Blanco, Patron Citronage, Hibiscus Syrup, Rosewater, Citrus, $10)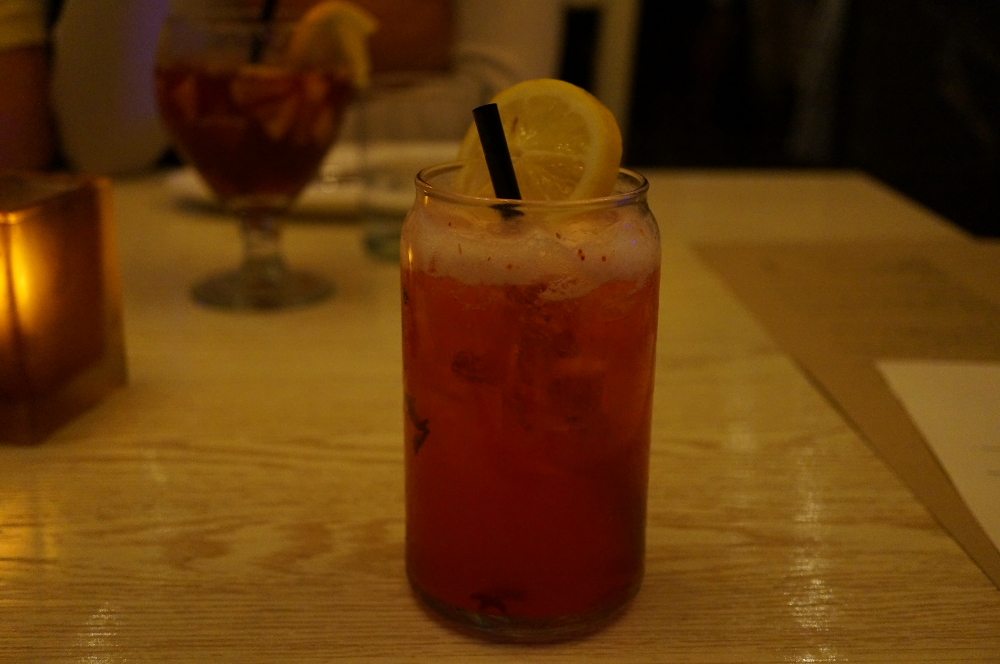 Aqua de Coco-Coconut Water (Patron Café, Amarula, Coconut Water, Lemon, $11)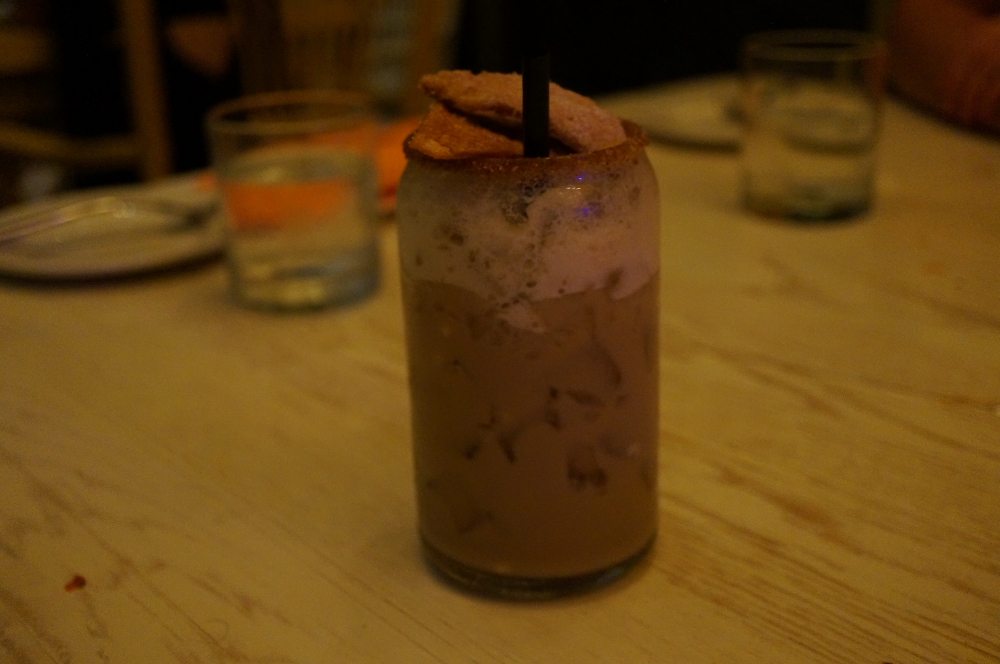 Sangria de la Casa House Sangria (Red Wine, Brandy, Fruit, $9)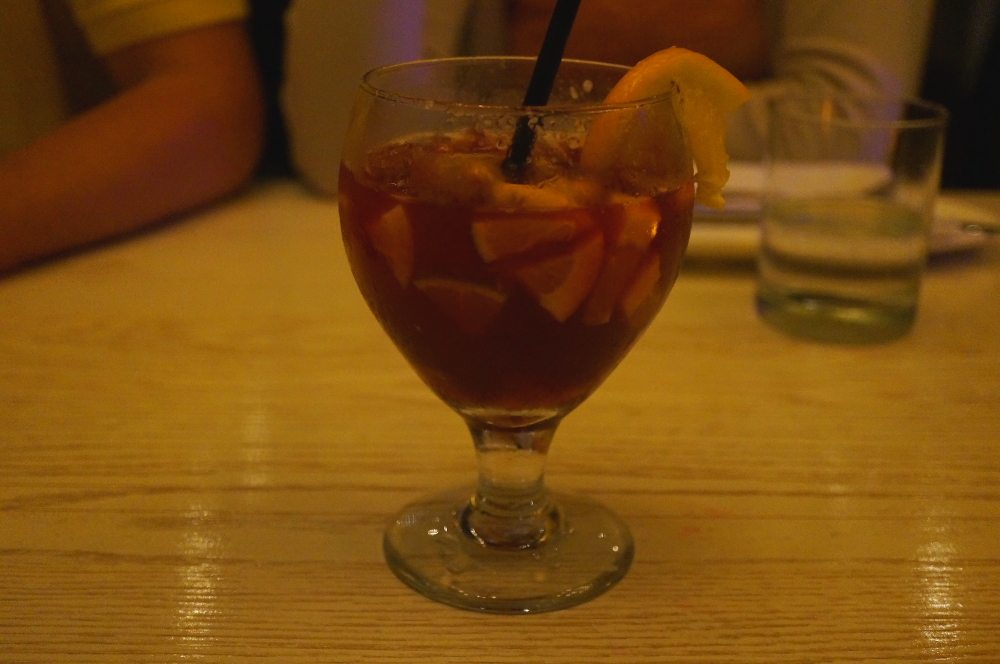 In general, I think we all found the drinks on the sweeter side but still quite drinkable and tasty. Even the "Goddess of Alcohol" which was described as the "strongest" drink on the menu had a good level of sugar going on.  The sangria was by far the most dry of the bunch, with a good hit of brandy in the mix.  Personally, however, I thought the best cocktails were the Cucumber Devil and the Mayan, which were refreshing and well-balanced with a nice kick of heat.  My least favourite of the bunch was Watermelon Fire because the watermelon was almost syrupy and artificial tasting. I also wouldn't want to finish an entire Aqua de Coco since I'm not a fan of creamy booze drinks at all. Having said that, there were so many tempting options on the menu, I'm sure with a little more sampling (g-d help me), I'd find even more boozy favourites.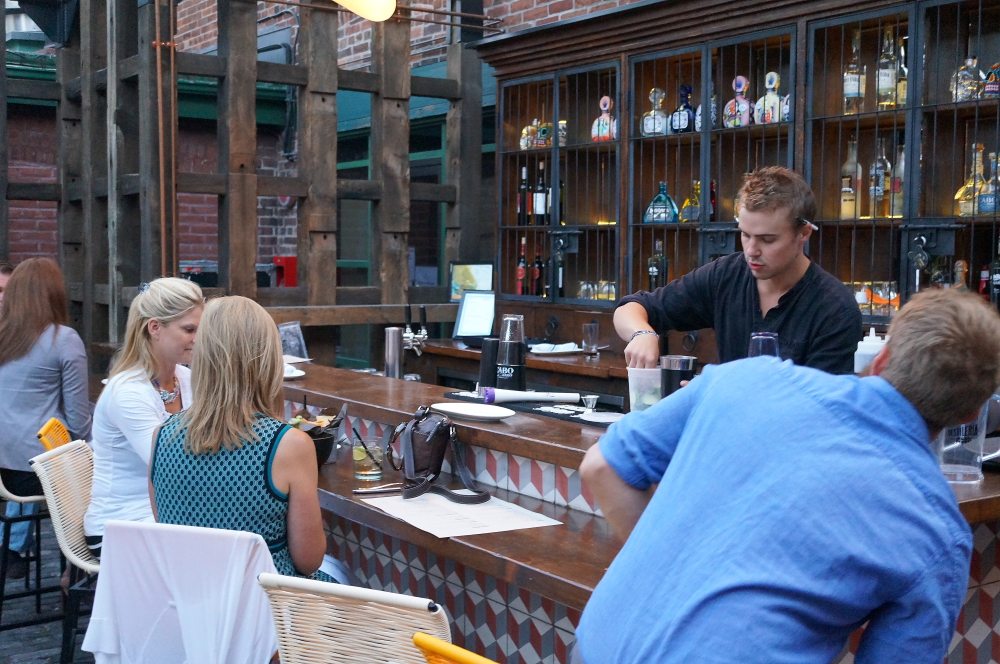 The food at El Catrin has been imagined and executed by Olivier LeCalvez, a French-trained, Cordon Bleu Mexico culinary instructor who was recruited straight from Mexico for the opening.  His approach seems to be to combine traditional preparations with local flavours and playful presentations.  In comparison to most of the new tapas style restaurants in the city, El Catrin touts a beast of a menu (emphasized by the literal size of the menu itself). Thankfully, to somewhat help with the navigation, the offerings are broken down into sections: Botanas, Cubetas (Shrimp), Burritos, Tostadas, Tortas, Ceviches, Tacos, Especialidades (Specials), Parillada (grilled items) and dessert. They also have special menus for children (Young Amigos), and patrons who want to eat gluten free.  After much deliberation, we decided to opt for:
Guacamole En La Mesa: Avocado, Tomato, Red Onion, Cilantro, Serrano Chili ($9)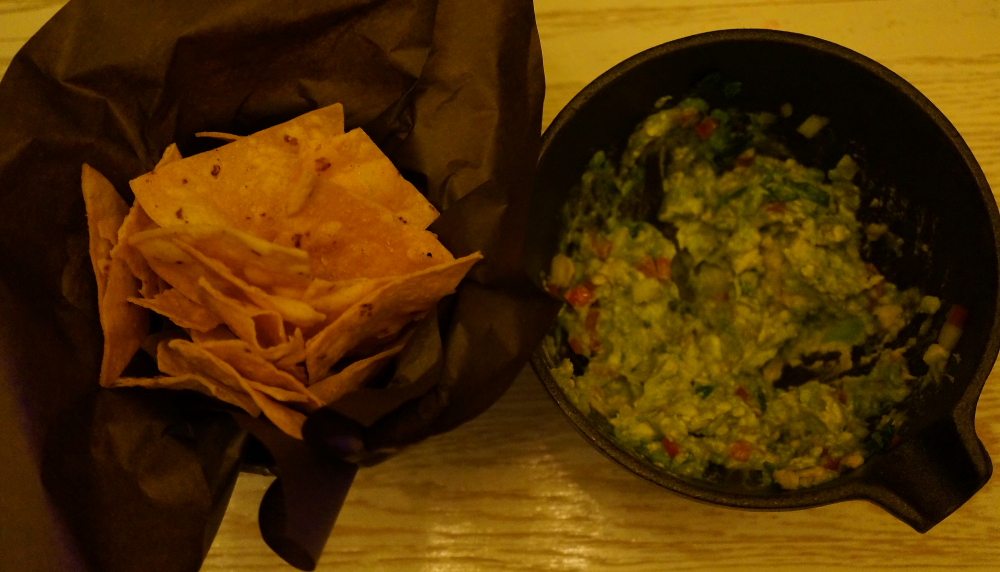 Made table-side, I thought the guac was a solid first course.  Maybe a bit expensive for the quantity (we literally each got a few chips worth and then had to violently scrape the bowl), but a well seasoned, balanced guacamole.
Ensalada de Esquites: Steamed Corn, Cilantro, El Catrin Aioli, Chili Piquin Powder, Quesillo Cheese ($8 for 3)
This basically reminded me of a deconstructed street corn. It was much easier to eat than gnawing on a cob and getting white crèma on your face, but not quite as good. I definitely enjoyed it (because I can't imagine not enjoying fresh corn), but I did find it to be a bit too salty to want to eat much more than the shot glass-worth.
Sopes: Corn Tortilla Stuffed with Black Bean Puree, Pulled Chicken, Salsa Verde, Lettuce and Queso Fresco ($12 for 2)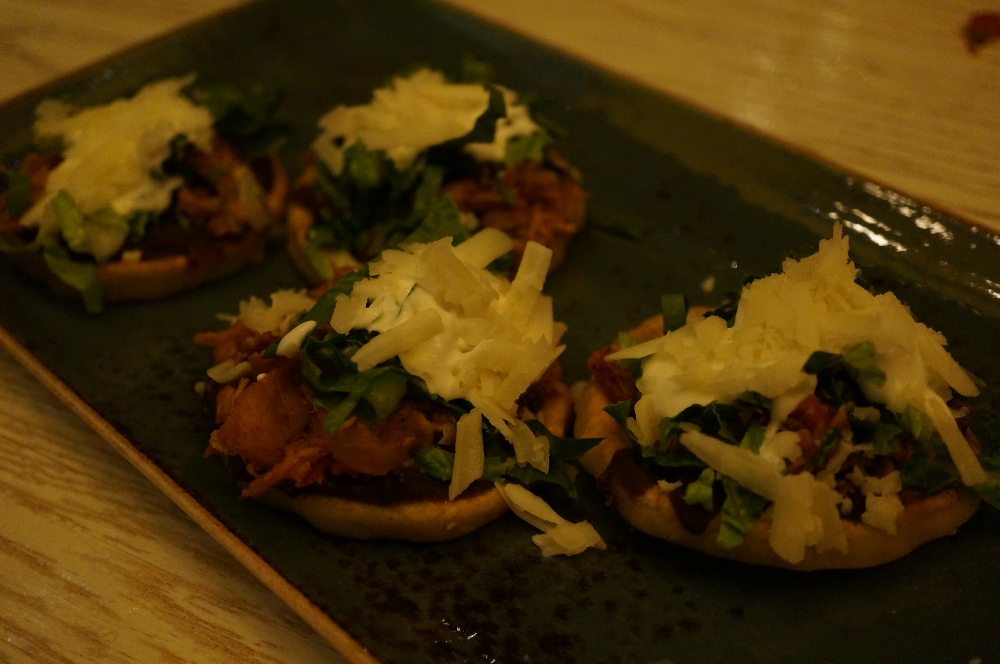 I wasn't going to even order this but I was so glad our server talked me into it as it turned out to be my favourite dish of the night. The sopes had this cushion-like texture and a mild sweet flavour, that when combined with the moist chicken, earthy beans, fresh salsa, and salty cheese, was perfectly in balance. So while I found the portion a little on the small side for the price, I would without question order it again.
Ceviche de Atun: Fresh Tuna, Lime, Olive Oil, Watermelon, Chive and Habanero Mignonette ($10)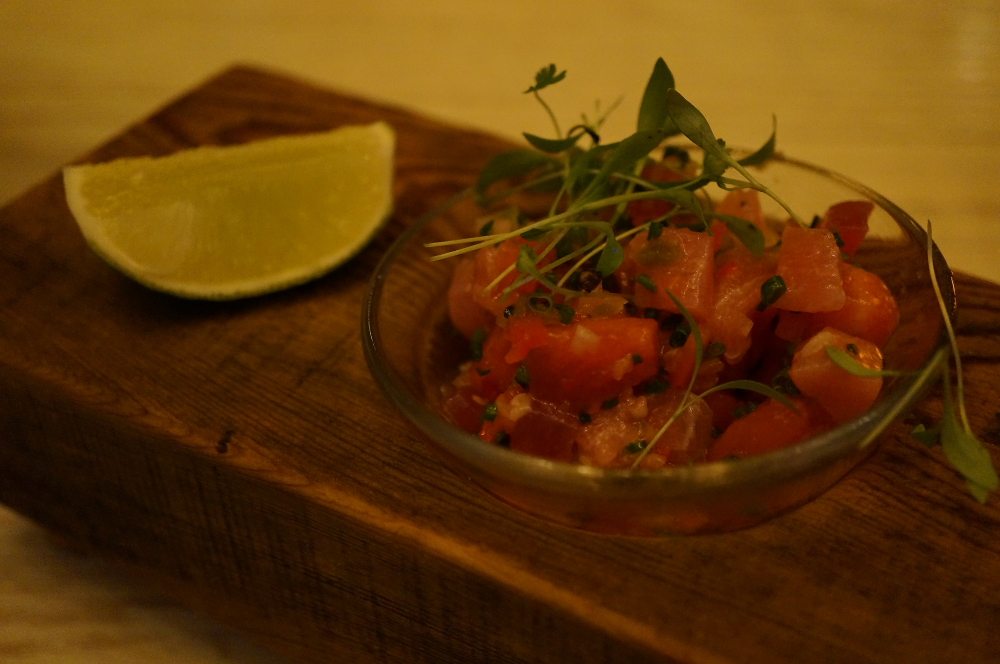 Good but not something I would order again. For $10, there was very little tuna in the dish, and the habanero mignonette was so spicy I couldn't appreciate the delicate flavours of the melon and mild fish. The combination definitely has great potential, but the exact composition could use adjustment.
Tacos Baja: Crispy Fried Haddock, Red Slaw, Chipotle Dip, Salsa Roja, Flour Tortilla ($15 for 3)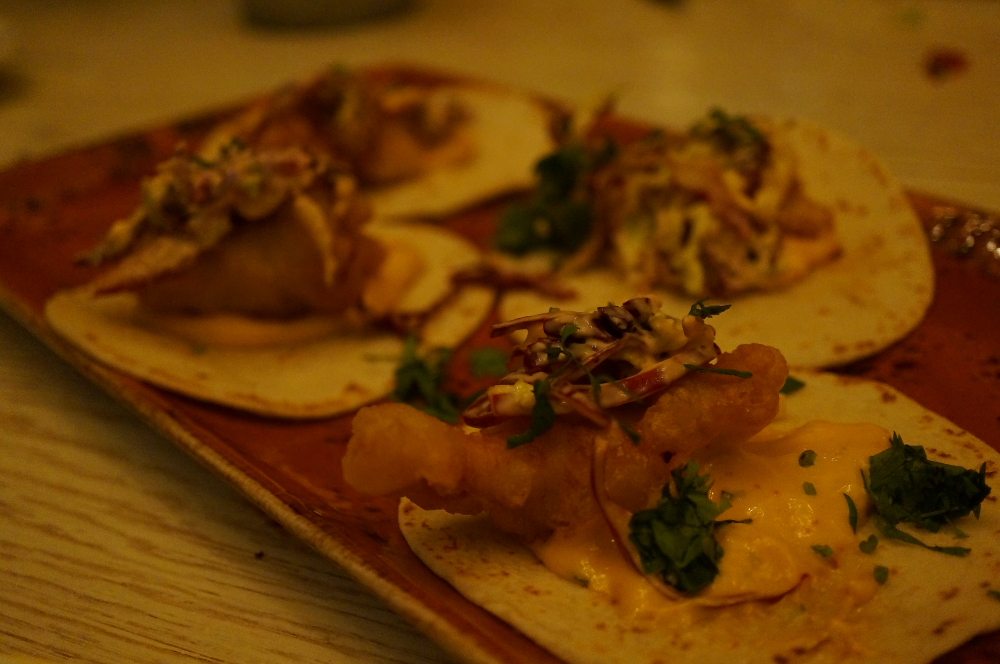 A big time favourite at the table. The fish was light and moist with a blissfully crispy batter. The chipotle dip, albeit a bit excessive in ratio with the rest of the ingredients, was admittedly ridiculously addictive. I could eat a platter of these without thinking about it.
Gringas: Flour Quesadilla with Pastor Pork, Pineapple, Cilantro, Sliced Onion and Mild Gouda Cheese ($9)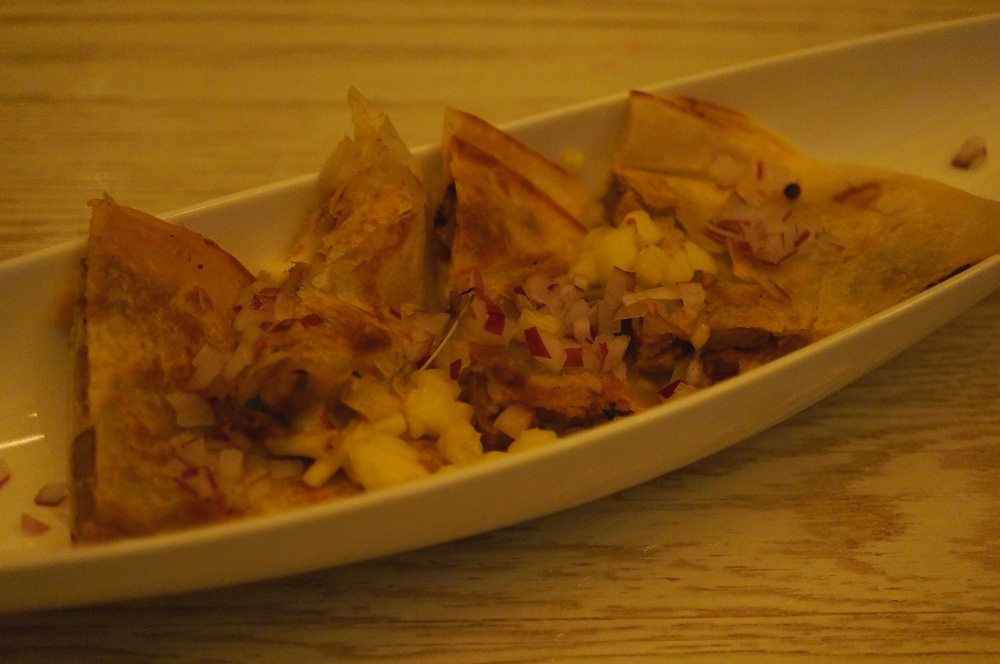 Tasty, but safe. Unlike most commercial flour tortillas, this one was as light as a crepe. I only wished that there was a little more filling packed in and maybe a bit more caramelization on the outside- something to yield some textural contrast because the dish was a bit one note- mild in flavour and relatively soft in texture.
Costilla Corta En Mole Negro: Beef Short Rib Braised 24 Hours with Black Mole Sauce, Sweet Potato Puree, Sauteed Sugar Snap Peas ($14)
This was a recommendation of our servers, and I was really glad we went for it. The short rib was impossibly tender and meaty, with very little residual fat to omit. I also loved the pairing of the complex and slightly bitter mole sauce with the light and fragrant sweet potato.
Cemita de Pibil Torta: Axiote Braised Pulled Pork, Pickled Red Onion, Chihuahua Cheese, Habanero Glaze ($12)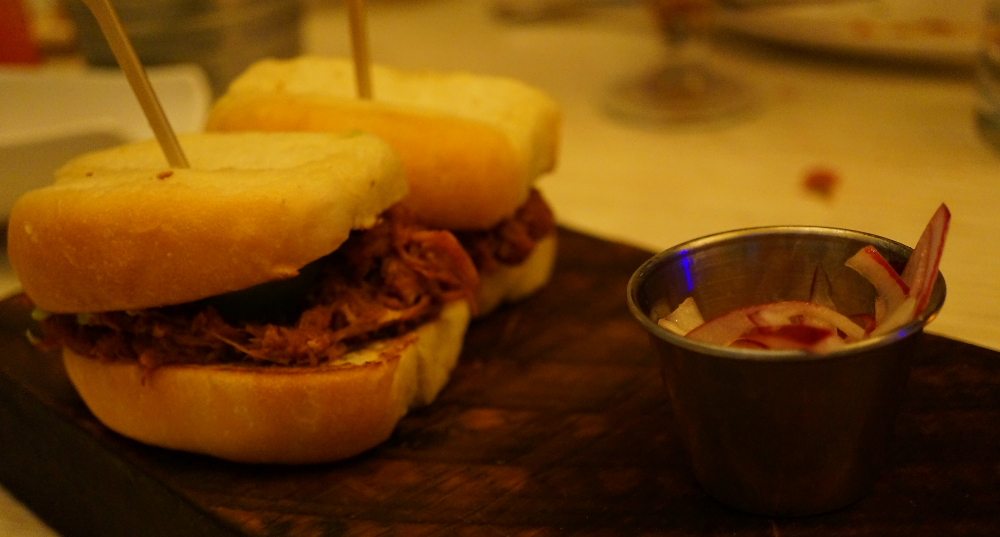 We all took a bite and instantly agreed- it reminded us of Fidel Gastros famous Stg. Slather Sammy. The pork was tender, with a good balance of sweet, heat and acid, and I adored the cushiony white bun. A must re-order.
Dessert Sampler for Two: Ancho Chili Crème Brulee with Caramelized Tortilla Chips, Churros with Cajeta, Chocolate and Strawberry Sauce, Tres Leche Cake & Salted Caramel Corn ($16)
The tres leches was tender and moist, while the churros were crispy and light, though perhaps a little too heavily crusted with cinnamon sugar (hey, there's gotta be some reason for double dipping it into the sweet cajeta!). The winner for me was definitely the crème brulee, which had a thick layer of deeply caramelized sugar and a good level of heat to balance the sugar and creamy fat. The only slight disappointment was the caramel corn, which while likely more of a garnish than an integral part of the plate, was a little stale and dry.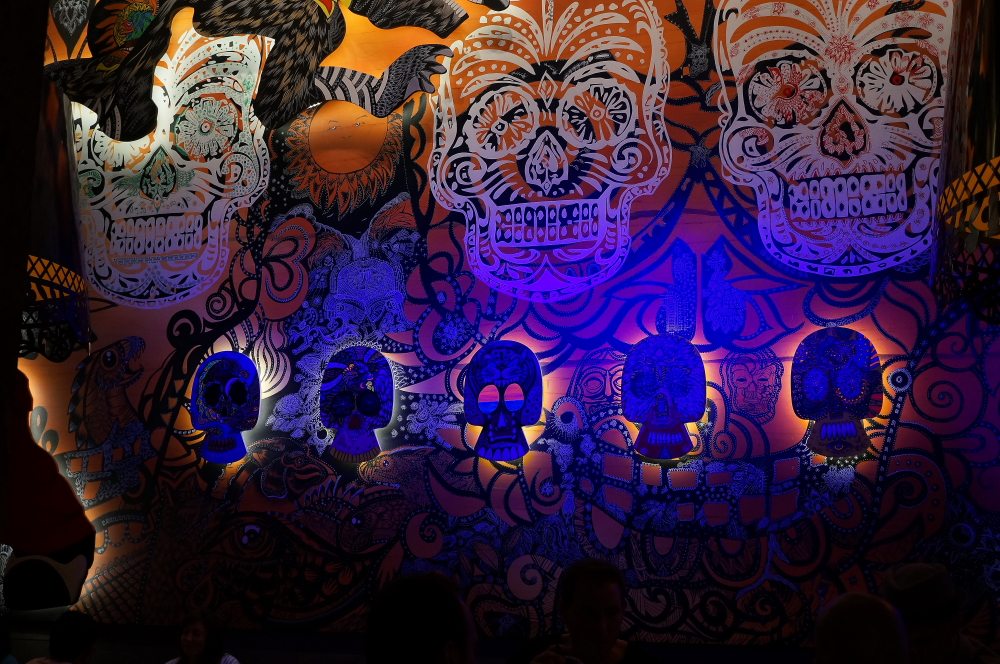 So for 9 dishes and 10 cocktails, the bill came to around $310 including tax and tip. Considering what we ate and drank, I don't think we did too badly. The service was on par with other "hipster" joints in the city, the drinks (albeit a bit sweet) were playful and enjoyable, the décor was remarkable and noteworthy, and the food was fresh, tasty and perfect for sharing with friends. El Catrin has definitely made my short list for a birthday get-together later this year (where perhaps we can take over the full private dining room all to ourselves!) It also might be worth checking out their brunch menu, since the Distillery is particularly pleasant on a weekend during the day. So thanks El Catrin for making me look like I know my stuff for recommending the place to friends, and of course, for a great night out. I'll be sure to come back for a platter of sopes and a Mayan Margarita by the open fire before the weather kills our patio fun. Cheers!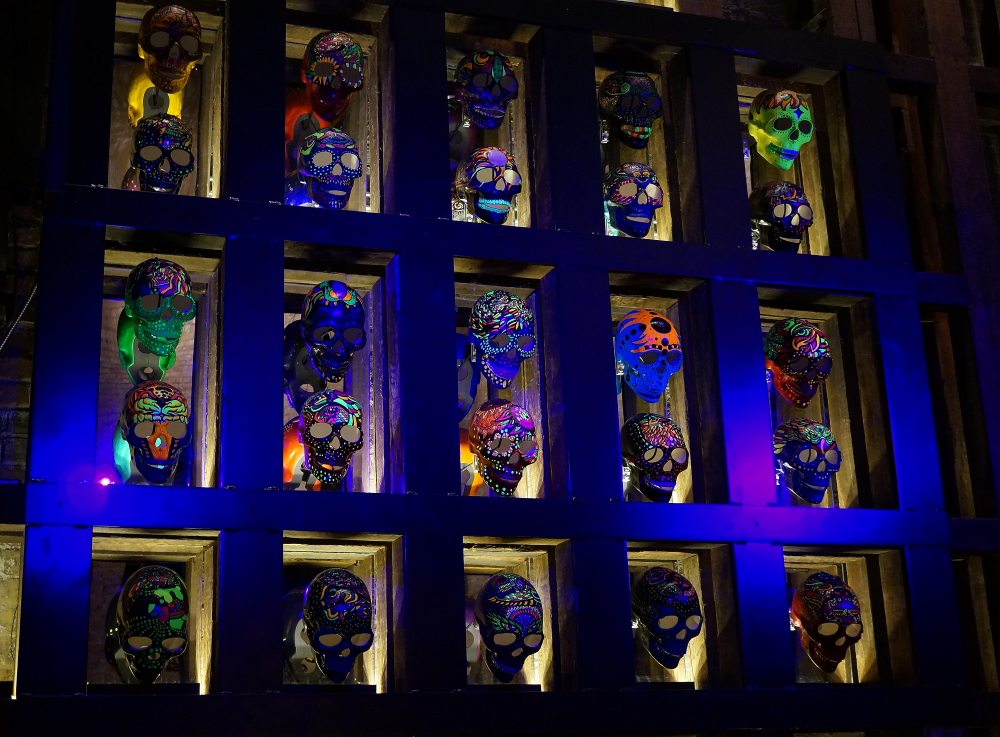 Now, here is my little disclaimer note for EC- Usually, I try not to officially review a restaurant until they're at least a month in, so please to use this post more as a guide than a critique. Havign said that, these guys got their stuff down pretty damn well, so honestly, I say just go and enjoy it.
Now, here is my little disclaimer note for BC- Usually, I try not to officially review a restaurant until they're at least a month in, so please to use this post more as a guide than a critique. But on second thought, these guys got their stuff down well, pretty good, so just go and enjoy it. – See more at: https://www.abbeyskitchen.com/blog/big-crow-toronto-restaurant-review/#sthash.gipp2rED.dpuf
Now, here is my little disclaimer note for BC- Usually, I try not to officially review a restaurant until they're at least a month in, so please to use this post more as a guide than a critique. But on second thought, these guys got their stuff down well, pretty good, so just go and enjoy it. – See more at: https://www.abbeyskitchen.com/blog/big-crow-toronto-restaurant-review/#sthash.gipp2rED.dpuf
Updated on May 8th, 2019