It was a crazy hard week in my little bitty household. Most of our nights were spent either out separately working, or I was at home alone while he attended to family commitments. As a result, dinner time was definitely not the highlight of the day.  You know what I'm talking about- those nights when you're spouse isn't home and rather that whipping something fabulous up for yourself you'd rather just bank that extra would-be cooking time into more work hours. Those nights tend not to be the most gourmet, but you "make do" with whatever is around (aka. bread, cheese, maybe some cereal. Oh, and I plowed through a whole box of popcorn alone this week. Oy vey.) So after subsisting on an unglamorous diet of scraps this week and working 12 hour consistent work days, I was really looking forward to something hearty and satisfying for date night.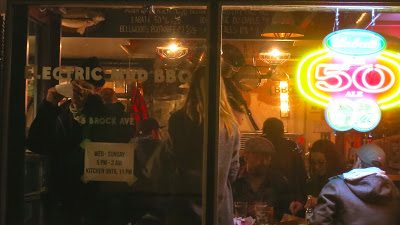 While I didn't have a reservation for Friday evening dinner, I did have a super gastro-plan. I basically started crafting this plan last Saturday after the very quiet opening of Electric Mud BBQ, a sexy new BBQ joint named after a Muddy Waters record and opening in the old Stampede Bison Grill beyond the Parkdale liquor moratorium.  Owned and operated by Colin Tooke (Chef de Cuisine) and Ian McGrenaghan (front of house Manager), the masterminds of the outrageously popular, Grand Electric, meant that I really had to run there (aka. take a $20 cab ride) before the foodie buzz went viral. So I anxiously watched the tweets, the blog posts, the chatter on Chowhound, and the critic reviews, hoping if I acted fast enough (like as in, 6 days after opening), that I might be able to snag a seat without a wait. Silly, naive me.
Not even a week into opening, and the place was jam-packed. Not surprising once you consider the place can house a maximum of 30 diners, many of which will have to find their seat at the bar. We arrived literally as early as work-hours permitted (6:30 PM) to be estimated a 30-45 minute wait time. Not bad. Twenty-one minutes later, we were in the door, and escorted only two or three steps to our seats at the bar.  Yes, just a few tables and just a few steps- for a dine-in restaurant, the place is very small. To say there's not a lot of elbow room is a grave understatement as I recall a few occasions when the sleeves of my bulky jacket nearly made it into my neighbour's bowl of ribs.  Sorry, man!
Which brings me to my next point- why I was wearing said jacket. Well, as you know, we're still below zero in the evenings during March, and with such a tiny space and the nearby door opening and closing literally every 2 minutes, the temperature inside was intermittently just as cold.  I personally despise eating in my coat, especially when space is already limited, so it wasn't a very comfortable experience.  The boisterous music may be another source of discomfort for some, though I personally appreciate that it works for EMB.  Emanating from a sexy record player behind the bar, the rock music fulfils it's likely purpose- encouraging patrons to eat, eat, eat and then get out.  In this situation, I wasn't turned off. The food emerged so quickly here (we were in and out in under an hour) that deep conversations with my partner weren't my priority regardless of noise.  But while the eating-driven conjugal silence was golden, the volume did make hearing menu descriptions from our server somewhat of a challenge. Ha, I still don't know how the soft serve ice cream was served, despite having asked (and been told) twice.
Aside from noise-inflicted communication challenges, all of the servers and food runners seemed genuinely interested in how we were enjoying everything. Our main server (aka. bartender) was particularly friendly and approachable. Unfortunately, attending to neverending cocktail and beer orders in addition to looking after us meant there were a few simple service gaffs. Now, I know this is not fine dining, and I'm certainly not a restaurant princess, so at a place like EMQ, I would expect that to have to re-fill my water glass for myself (which I did).  But the reality was that at one point we had 3 main dishes squished between the two of us at the bar, a pile of about 4 other dirty dishes, an empty cocktail glass, and honey and BBQ sauce all over my cloth napkin because I had no where else to rest my cutlery. Try wiping your hands clean with a sticky towel. It's a recipe for sticky disaster.  In an already squished place, in an already semi-uncomfortable state (jacket on, music blaring), I would have appreciated my piled up dishes to be promptly removed, as well as some small side plates for sharing.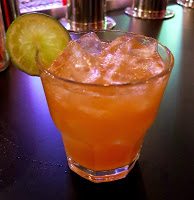 Clydesdale
But in all honestly, I didn't come to EMQ to be pampered, I came to eat and drink, and on that front, the West-end's dynamic duo nailed it. The cocktail list at EMQ is small, but generally very approachable and agreeable.  No wine, of course (because who drinks wine with ribs?), but there's also a unique line up of 14 draft, bottled and canned beers. We opted for the Clydesdale (Bourbon, Grapefruit, Lime, Agave) and the Porch Crawler (Thai Basil Gin, Watermelon Lemonade, Simple Syrup).  The former was the winning dish, tasting a lot like a bourbon sour with lots of bright citrus notes. The latter, while still very easy to drink with a thankfully reserved level of sweetness (despite it's sugar-heavy description), could have used a little more acidity to make me down it and order a second.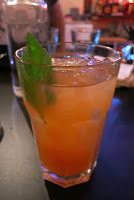 Porch Crawler
Like the cocktails, I could have truly been happy with anything on their food menu. The descriptions are minimal, but I'd say from my sampling experience, you're likely safe to order anything, and will leave smiling.  The old-school menu board is divided into main dishes, side dishes and desserts, with an additional paper menu filled with additional menu options.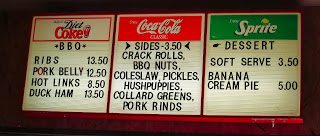 While it wasn't easy to make the call, with a little help from our server, we decided on the following:
 Crack Rolls
If this is what crack tastes like, I officially have a problem.  The butter (aka. the "active ingredient" in this EMB drug) is made from the drippings in the smoker. Sounds great right? Well, it's not great, it's hand-trembling, ramekin-licking, I-want-to-swear-right-now- ****ing amazing. The rolls, themselves were ethereal- moist, fluffy and light inside, with a slightly sweet golden crust on top. But that butter… ohhhh, I don't care what dirty things I have to do (or more realistically, how long in line I have to wait), just get me more of that butter.
Hush Puppies
Okay, back to drug-free reality here. Another solid dish, so good actually that despite burning my mouth after my first bite, I continued to nosh away. Clearly the urgency of my drug-like butter addiction is leaking into my other eating episodes. Biting into one of these puppies yielded a booming crunch and a remarkably fluffy interior. Unlike most hush puppies I've tried which have a consistency closer to baked-dough, this filling was almost closer to a mashed potato.  To be honest, it might have been! I don't know and had I asked, I might not have heard the answer! But I wonder because despite it's intense moisture, I didn't detect any uncooked flour flavour or gumminess. What I did detect was a mild hint of sweetness and supple pop from the corn, a carb-heavy bite complemented and brightened up nicely by the tangy scallion mayo dressing below.
Coleslaw
 Thanks EMQ for actually doing slaw right. So often slaw is underdressed or underseasoned, and those not-so-sexy sulfurous qualities are forced to dominate the dish. Not at EMQ. With a perfect combination of mayonnaise and additional acid, this slaw had big flavours to cut the fat of all the rich meat. I also loved the sprinkling of sesame on top, which brought a delicate crunch and touch of aromatic sophistication to an otherwise simple dish.
While a lot of BBQ spots serve up ribs drenched in super sweet store-bought sauce, EMB's versions are perfectly balanced and unique. Marrying the flavours of the South with the East, one order gets you three massive meaty bones dressed with just enough hoisin-based sauce and sprinkled with deliciously crunchy peanuts. These ribs are not your typical fat sugar salt concoction, but rather contain enough acid, and umami-flavour to deliver an overall well-rounded bite.
Fried Chicken
Another fresh-from-the-fryer-tongue-burner. Another bodily-signal ignored. An order got us 4 pieces of unapologetically crunchy chicken just bursting with (hot) juices inside. We were instructed very judiciously to douse that chicken in honey and hot sauce, and we readily obliged.  The chicken was seasoned beautifully, and unlike many Toronto versions which feature layers upon layers of deep-fried batter that crumbles after the first bite, EMQ's version felt surprisingly light and clung nicely to the chicken until we neared the end.                                               
Pork Belly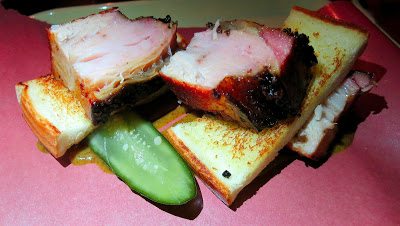 A massive portion of pork crusted heavily with a szechuan peppercorn based rub, and seared until wickedly crispy. I appreciated the heat of the crust, the toasted bread, the grainy mustard and the tangy pickle to help temper the fat, but I still found the pork portion a bit too much. Don't get me wrong, this pork was divine.  I was particularly impressed that a slab of fat that thick had been rendered in its entirety to a meltingly sumptuous texture. However, I still was unsure how anyone (or even any two people) could soldier through three of these pieces without a tummy ache.  Regardless, it was an indulgent and tasty plate, but perhaps not something you'd want in addition to fried chicken, hush puppies, crack butter, mayo-based coleslaw and ribs.
Banana Cream Pie
Especially if you want to dessert. With only two items to choose from (well, unless you count bourbon as a dessert option), deciding on dessert was at least a bit simpler than our main course. Basically, I asked what the soft serve ice cream was, couldn't hear the answer, and so by default, went with pie. Auditory process of elimination. Genius. Unlike the pork portion mentioned earlier, the dessert was offered in a dainty little mason jar with two teeny tea spoons to share.  Very simply composed, a single spoonful uncovered a graham cracker crust, caramelized bananas, and lots of fresh whipped cream. In theme with the meal, the dessert wasn't overly sweet, but comprised of at least 50% cream, it was still very rich. Simple and good, but in hindsight, any belly room should have been devoted to another round of crack rolls. Or just the butter. Yep, I'm at the shameless point of just eating plain butter. So wrong, but so right.
Now before I close up, let me leave you with the disclaimer that this is not a normal Abbey's Kitchen "review" since the place has only been open for a week, and it is WELL expected that there will be issues, particularly with service. Having said that, you can definitely use this as a good guide for your visit and once EMB has settled into their digs, I will try to return for a more official visit.
So for 4 sides, 4 mains, 3 cocktails and 1 dessert, the bill came to just under $90 including tax and tip. What?! I can't remember the last time I typed out a number like that, and after last weekend's blow out at Splendido, I can say it's a welcome change. While EMB wasn't the most comfortable venue for a meal, the comforting food made me somewhat forget where I was. Heck, I could have been eating in a nearby Queen St alley way but if I were eating that butter, and paying those prices, I'd still go home with a smile. Maybe at least that way, we could avoid the monstrous wait, which you should know, is likely just going to get worse. When we arrived after being called back at about 7 PM, we overheard the hostess tell a party of 3 that it was up to a 2 1/2 hour wait. Yikes. Having said that, if you don't mind drinking a lot at a nearby bar and then eating in tight (potentially chilly) quarters, then do yourself a favour and wait it out. A big thank you to the EMB team for delivering just the kind of stick to your ribs meal I needed to kick off a food-filled weekend.  With an addiction to indulge and a summer patio to hopefully soon check out, you can expect to see me again soon.
Updated on December 13th, 2015