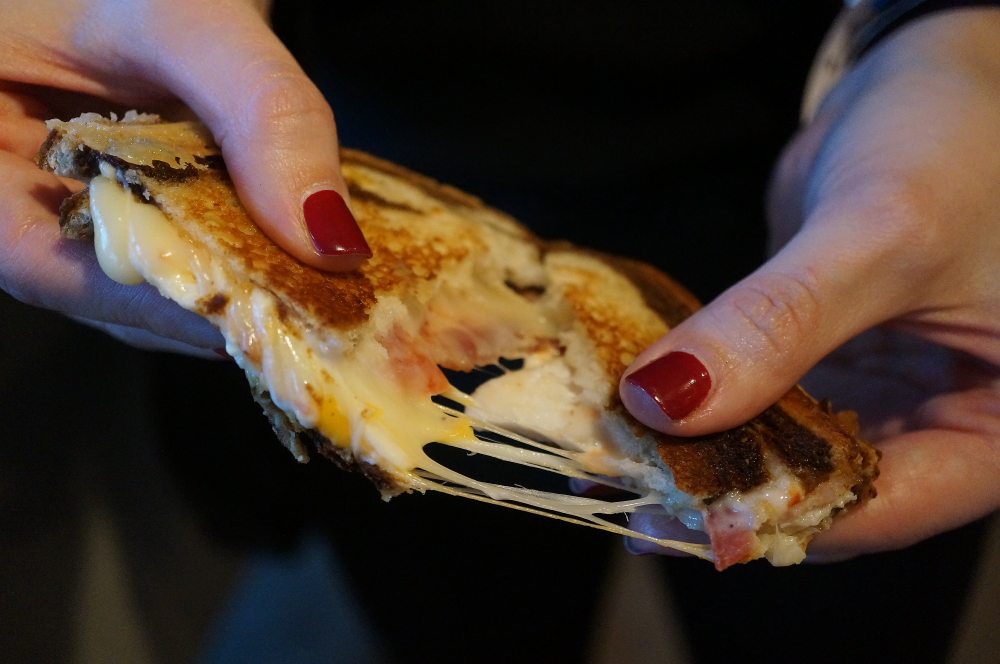 Uhh.. where to start. Okay, so, normally when I am invited to cover a food event as media, my itinerary looks like this: I stuff myself, I take photos, and I go home and write about the event.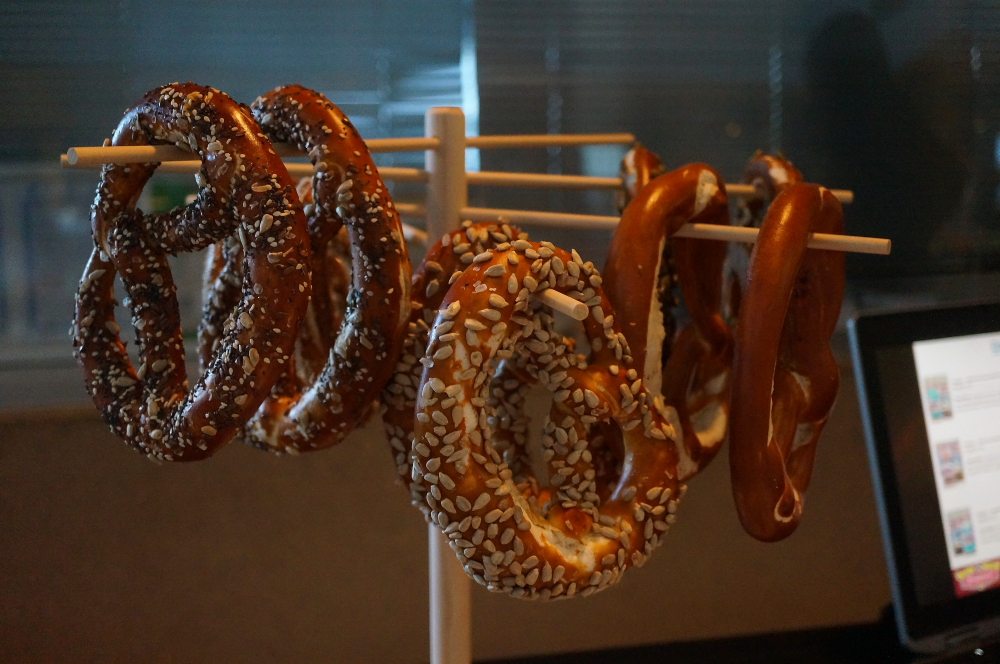 Dimpilmeier's Pretzels, one of the Grilled Cheese Fest sponsors
This is the general agreement that food media personnel and outlets have with PR companies and event organizers.  We get in free, skip the lines or get in early, receive free food and booze, and are sometimes even paid, all in exchange for coverage on our media outlet.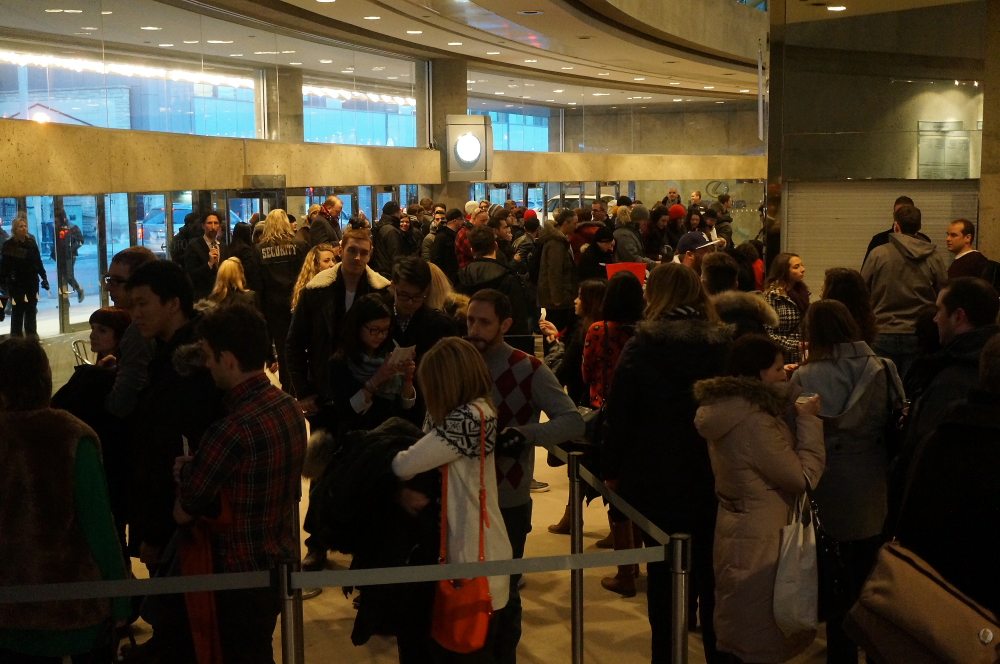 The crowds filtering in while I was going out
But when I got home from the now infamous Toronto Grilled Cheese Fest on Friday evening around 6:30 PM (just shortly after they started to let the public in), I was left unsure how or if I should uphold my end of the bargain.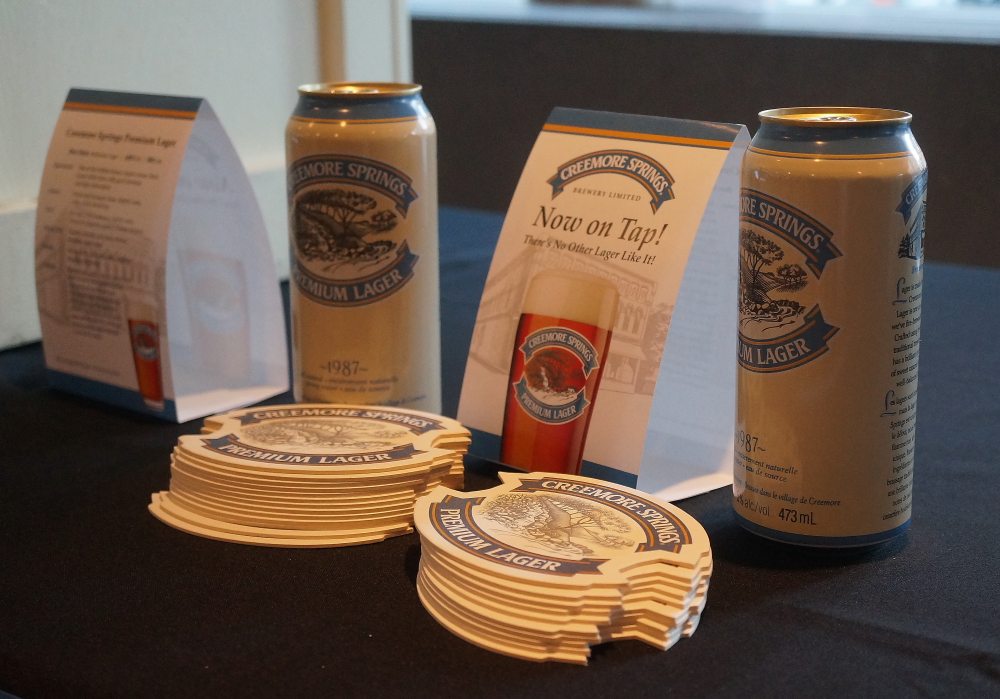 Creemore Premium Lager, one of the 3 beer sponsors guests were given a sample ticket for
A brief chat with a few of my colleagues and I learned that they were as torn as I, leaving many thinking they wouldn't blog at all. Sigh.. #BloggerProblems.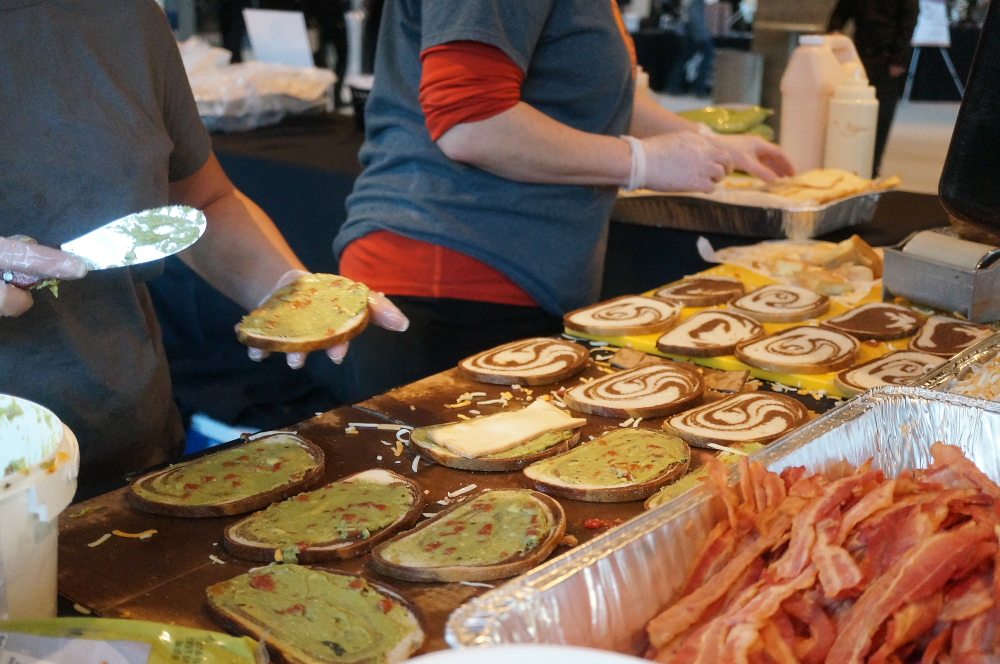 So I spent most of the weekend reflecting on the experience I personally had at the event, (which was pleasant, considering I was in with only a handful of media, had no line ups, I didn't have to wait outside or even pay $40 for grilled cheese), and then juxtaposing that with the likely experience of the average ticket holder (as evidenced by the controversial social media).  Obviously these things do not equate even slightly as they normally would.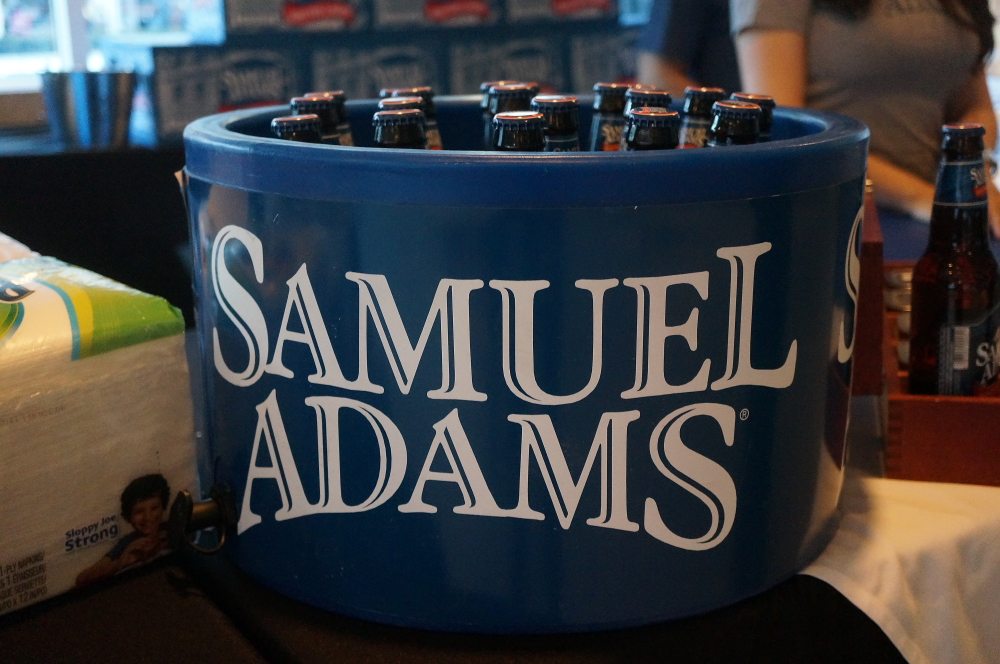 One of the event beer sponsors, Sam Adams
And of course,  as an event planner myself, I can always appreciate the many challenges that come with spearheading one of these major endeavours. The ticket sales, the line-ups, the minor panic attacks each time a food vendor blows a fuse (heck, I even witnessed an electrical fire go down while having to prance about a stage with a smile on my face). This is not an easy gig. In the end, however, in my experience, when the doors open, and the guests are eating, drinking, mingling and smiling, you know it was all worth your while. But alas, if Friday night was any indicator, that's not how these things always work out.  So I may be an event planner, but I'm also an event goer, and the ticket holder's experience always comes first.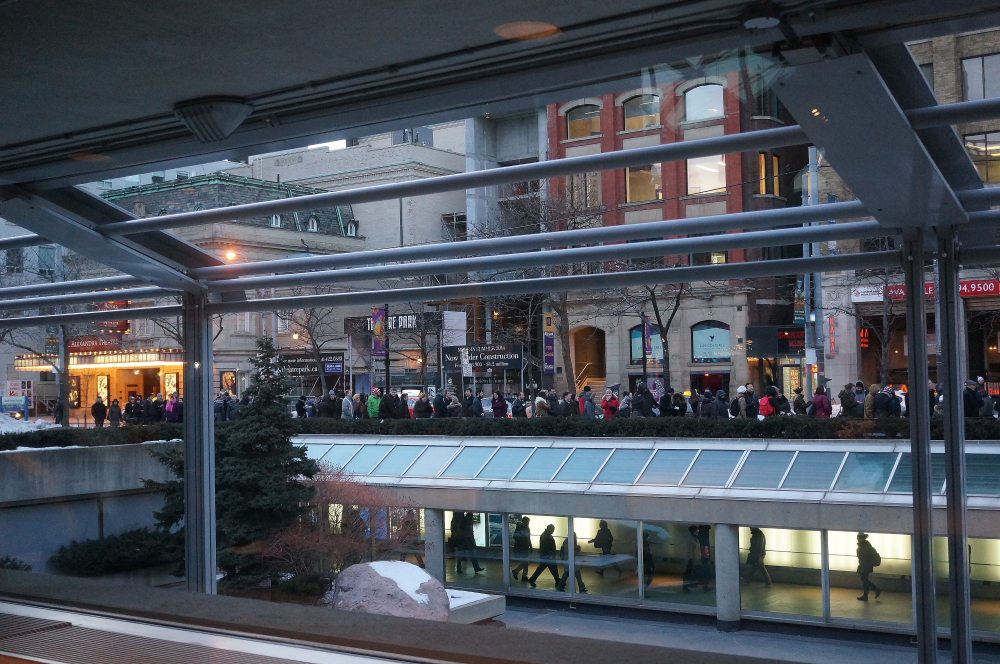 The line supposedly wrapped around 3 sides of the Roy Thompson Hall
So how do I cover this event? Well, I could ignore the blatant event issues and write an ingenuine glowing review of an event that left hundreds (maybe thousands?) out in the cold without their promised unlimited sammies. Or, I could completely defame the event or event planners by analyzing to great detail the many disgruntled tweets, late night press and controversial facebook statements. But instead, I have decided to take the classic Abbey stance and celebrate the prevailing victors of Grilled Cheese Fest…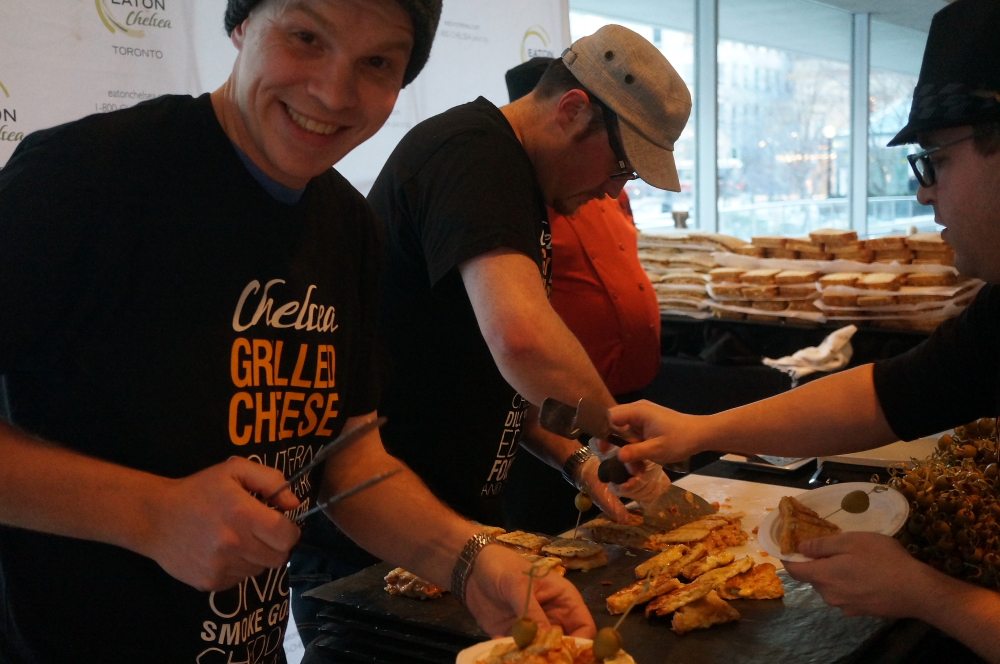 Yes, I am talking about the hardworking, passionate chefs and vendors who really made this event come to life, because they deserve all the positive press they can get.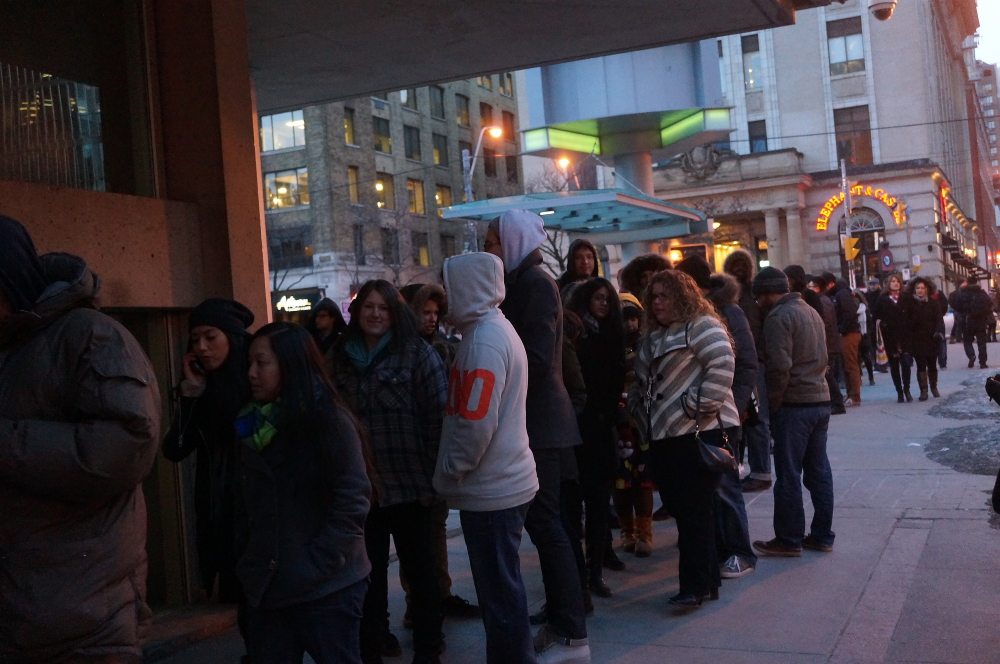 PART of the line up (unfortunately, a small part)
Check out the drool-worthy comfort food creations that our city's top grilled cheese, soup and beer purveyors had dreamed up for that cold February night.
Cheesewerks:  Beijing
Asiago, Chinese BBQ Pork, Slivered Green Onions, Hoisin Grilled on Herb & Onion Sourdough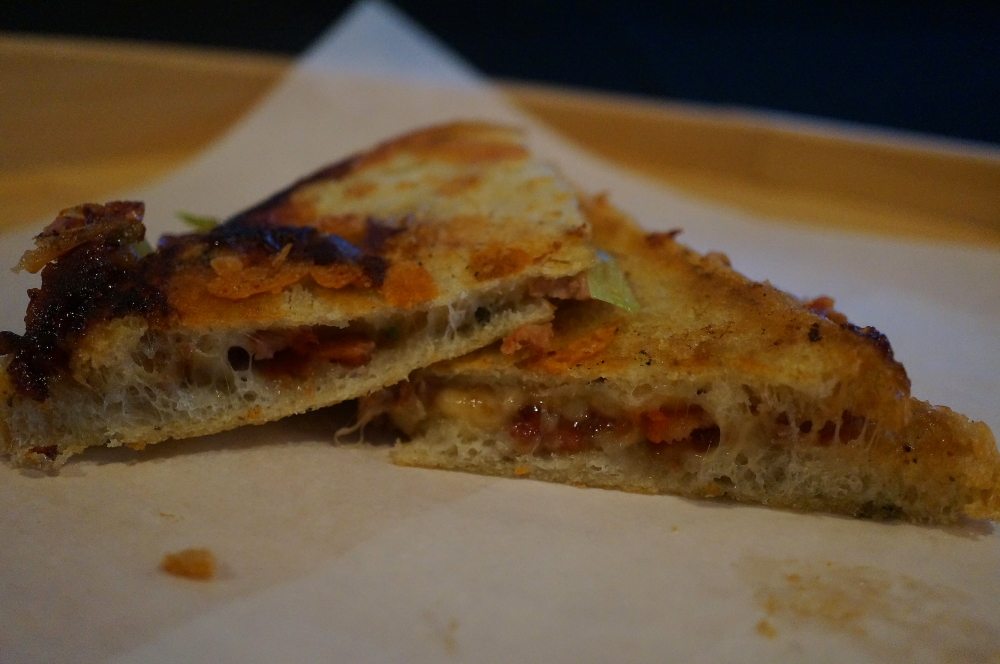 I fell in love with this GC when Cheesewerks and I shot our webisode. The combination of sweet hoisin with the savoury pork and cheese really makes it addictive.
Cheesewerks:  Zurich
Gunn's Hill 5 Brothers Gouda, Swiss, Honey Roasted Figs & Green Apple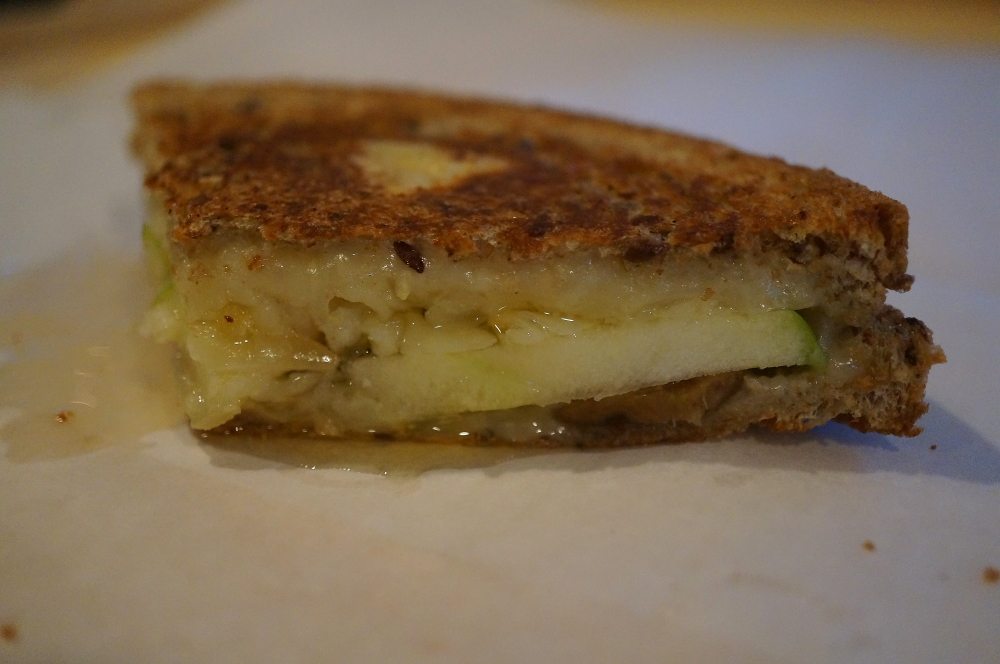 This GC was SO my style and was absolutely divine. I loved the combination of the swet figs and the tangy crunch of the apples.
It should also be noted that in response to so many ticket holders not even being let into the event, or finally making it in to have to battle long lines & sold out booths, Cheesewerks jumped in to save the day offering free grilled cheese to patrons all weekend long once they showed their expired ticket. Kudos for their kindness.
MELT Grilled Cheese: Tattooed Chicken
Samuel Adams Oka-Style Cheese, Chicken, Bacon, Herbed Tomato, and Garlic Mayo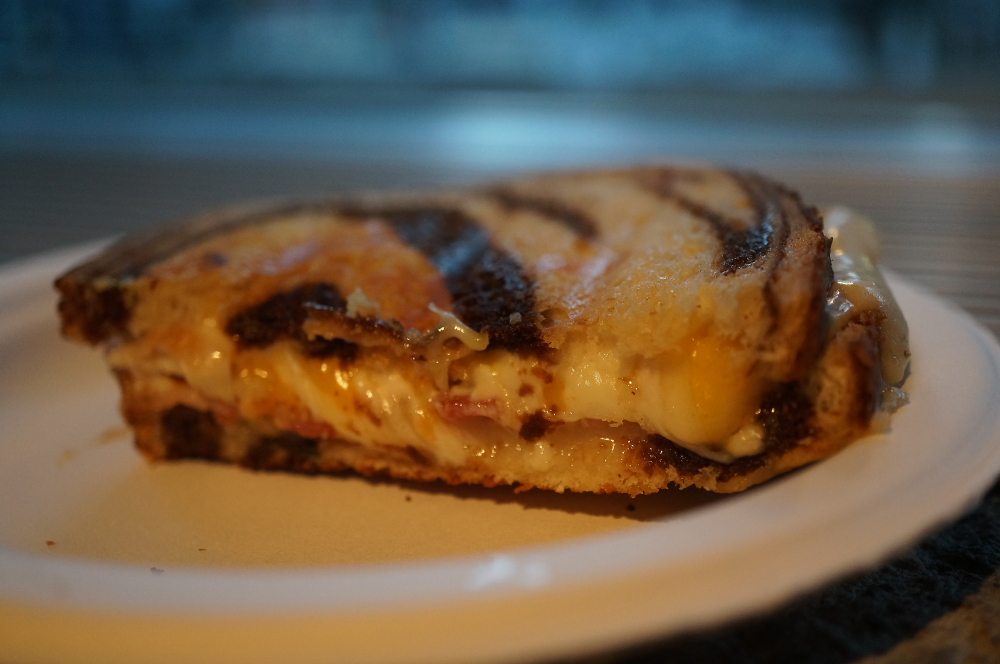 The addition of the Sam Adams beer was a huge hit on this chicken GC.
MELT Grilled Cheese: Bacon Avocado
Cheddar, Monterey Jack Cheese, Bacon, Avocado, Spinach, Red Onions, Tomato and Garlic Mayo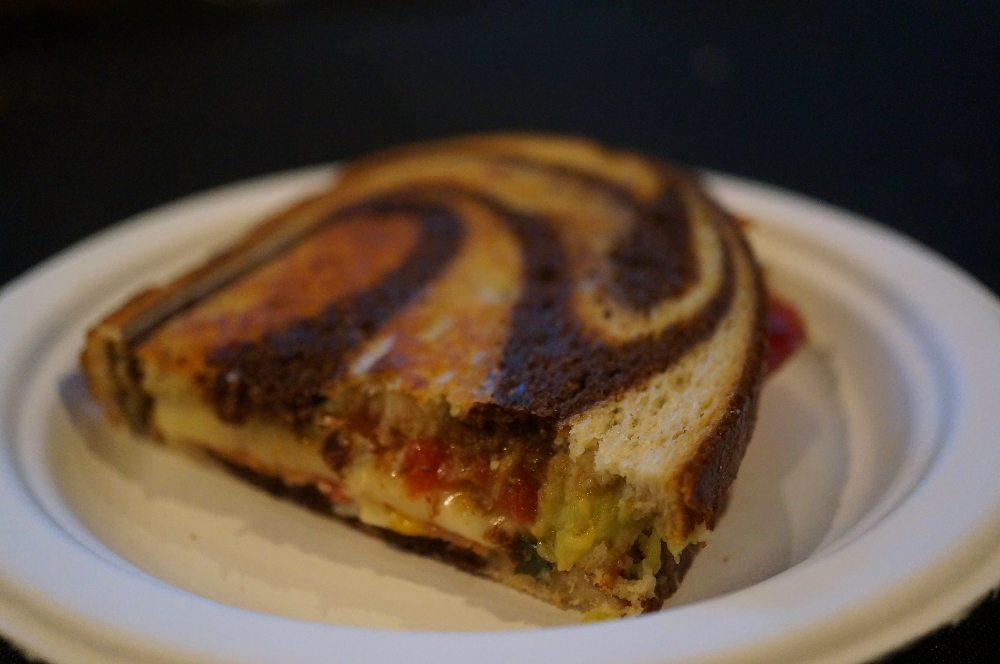 That delicious avocado added a solid creamy factor. Mmm.. avocado on anything makes me smile.
Gorilla Cheese Food Truck: The Lumberjack
Cheddar, Bacon, Sliced Granny Smith Apples, Maple Syrup on White Bread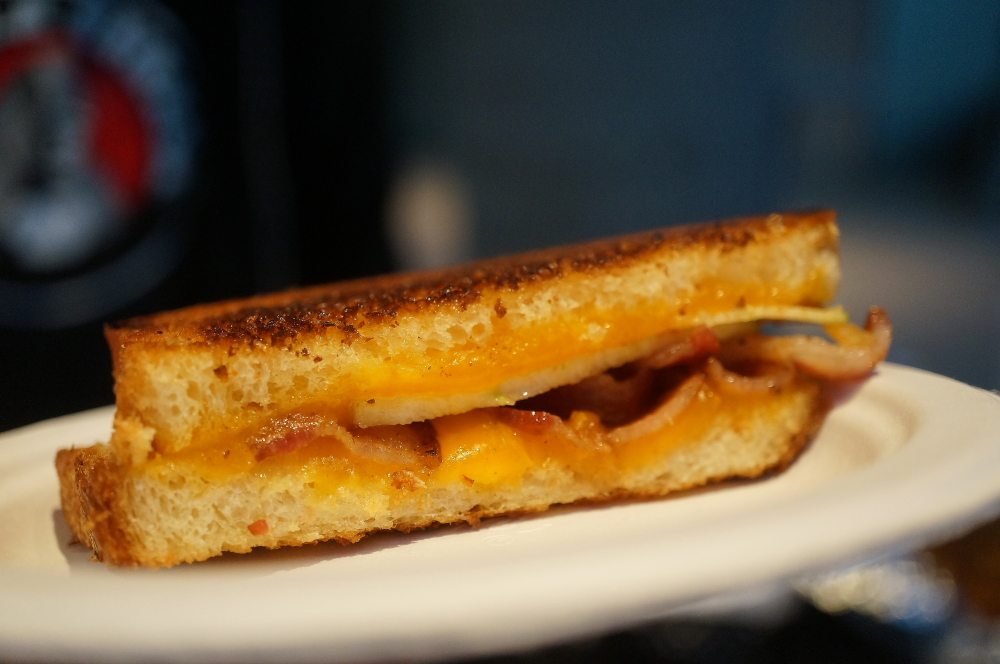 This is my go-to GC on Gorilla Cheese's truck and today it didn't disappoint. I love the combination of salty bacon, tangy apples and sweet aromatic maple. Like the Cheesewerks Zurich, this is my kind of GC.
Gorilla Cheese Food Truck: Zesty Mordant
Cheddar, Jalapeno & Zesto Doritos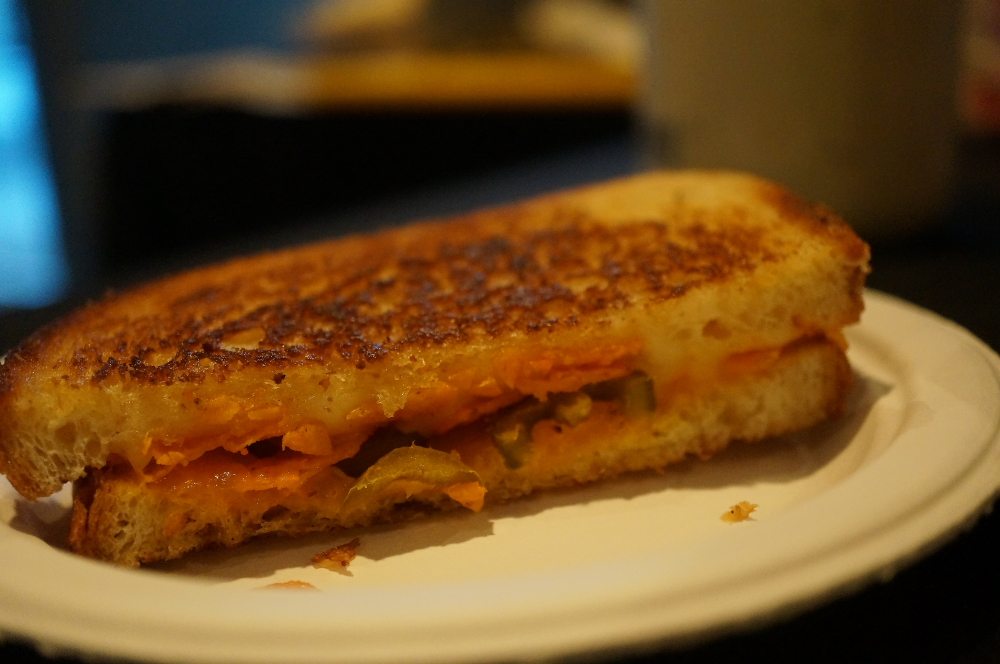 Lordy, these folk know how to make GC. Super spicy but definitely something you want to keep eating, because the heat cut through the rich cheese.
Cut the Cheese: General Kim
Kimchi, Sweet Soy Pork, Lotus Chips, Cilantro, Fontina Cheese on Light Rye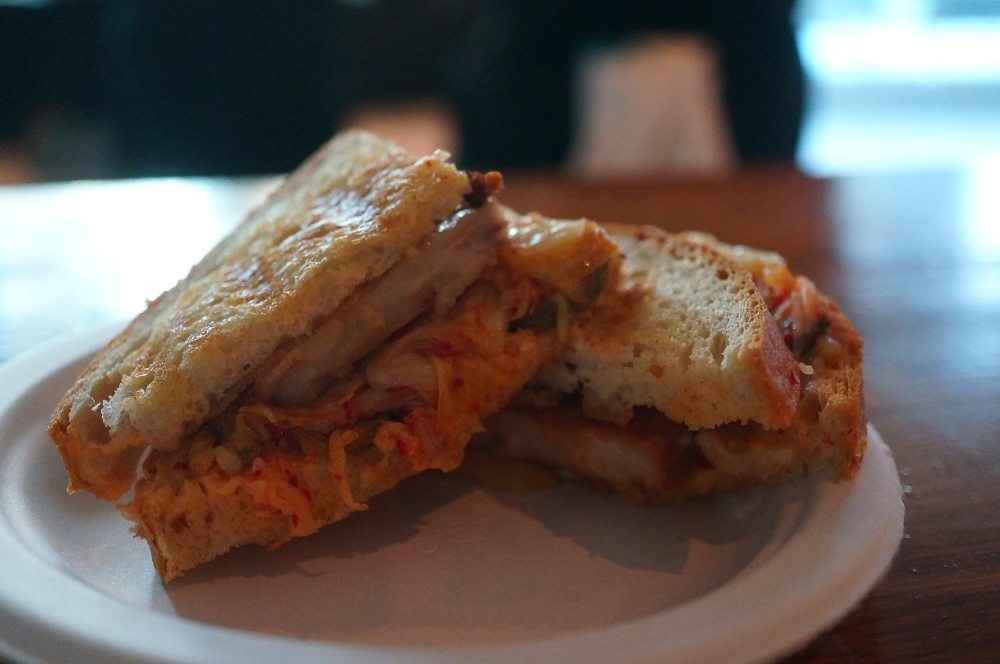 One of the best of the night. So often GC is rich on rich on rich, but here, the tangy salty kimchi and the refreshing cilantro really helped balance the buttery bread and fatty cheese.
Crème Fraiche Market: Crème Fraiche Market GC
St. John's Bakery Organic Bread, 2 Year Cheddar from Ontario Dairy Thornloe, Ontario Caramelized Onion Chutney, Organic Butter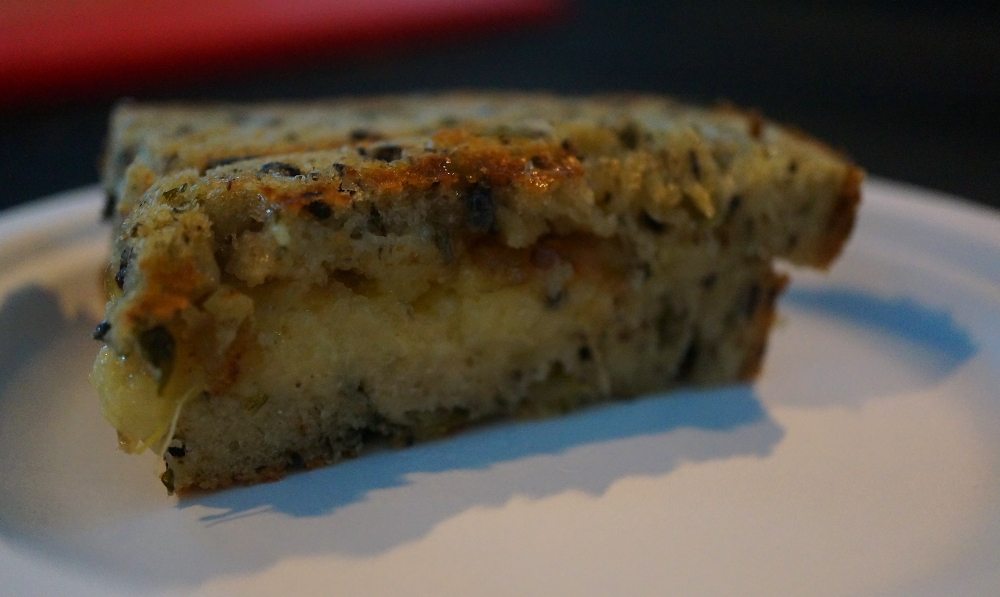 A solid good GC. I especially liked that organic olive bread.
Construction Site: The Sheeva
4 Cheese Mac n' Cheese with Margarine, Egg Loaf, Panko Bread Crumbs, Parmesan Cheese, Aged Cheddar, Jalapeno Havarti, and Edam Cheese
Two comfort classics in one, how could it be bad?
Leslieville Cheese Market: The Hawaiian Steak
Rye Bread, Spam, Swiss Cheese, Coleslaw, Green Onions, Hungarian Smoked Paprika Spread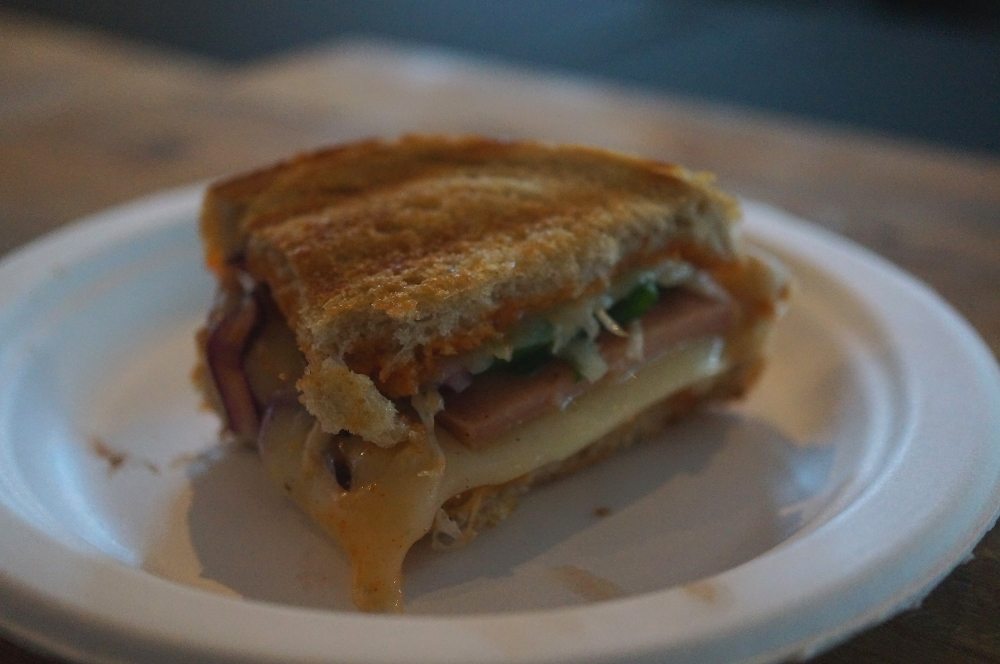 A surprisingly tasty combination of the meaty and salty spam with the crunchy and refreshing slaw.
Leslieville Cheese Market: Wafella
Gluten-Free Waffles, Coconut Gouda, Nutella
Just say Nutella, and it will be a winner. Case closed.
Artisano Bakery Café: Rustic Cheese & Bacon
Aged White & Yellow Ontario Cheddars, Parmigiano, Romano, and Asiago on Calabrese Bread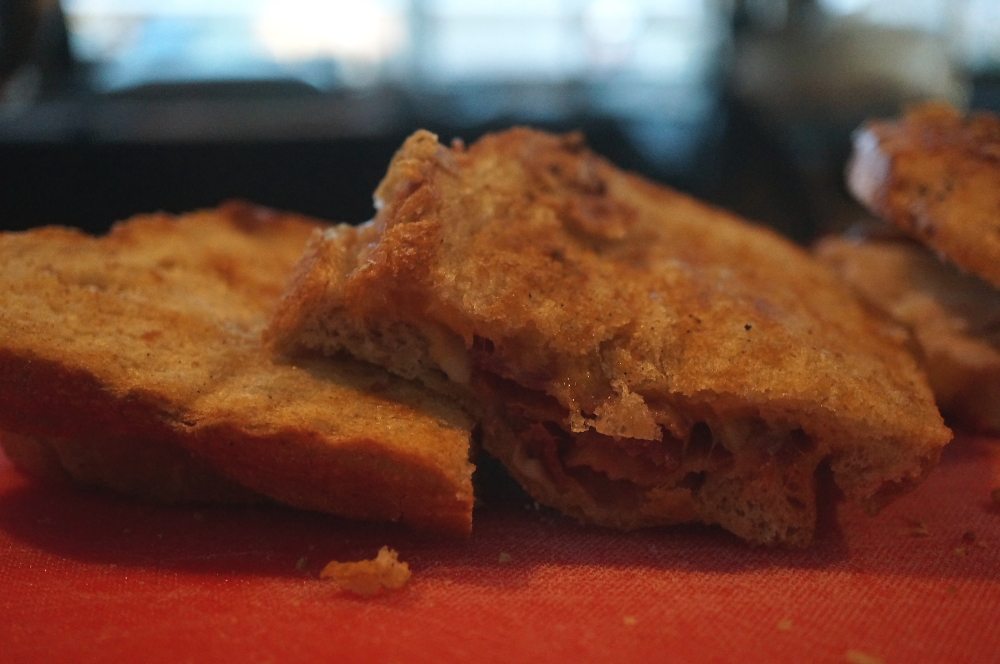 One of my favourites of the night, mainly because that calabrese bread was top notch. I will be checking them out for my bakery needs soon.
Artisano Bakery Café: Turkey Bacon and Provolone
Turkey Breast, Bacon, Provolone, Garlic Parmigiano, Cheese Focaccia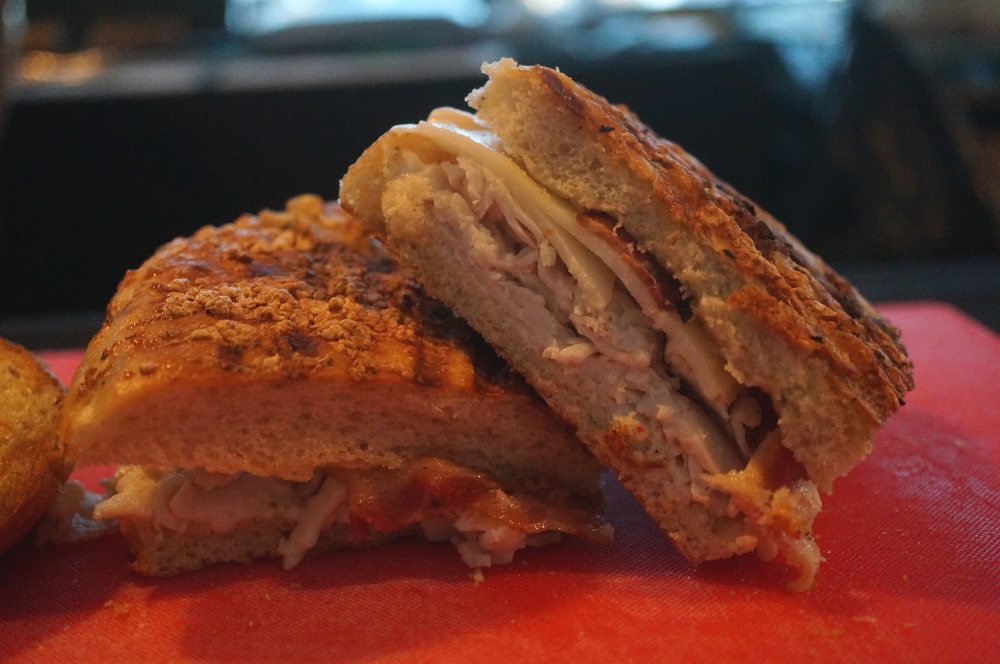 OMG. This one was even better than the former because that focaccia was impossibly fluffy inside and blessedly crisp on the exterior. I-NEED-THIS-BREAD.
SLAB Burgers: American Dijonaise
Extra Old Cheddar, Chopped Quebec Curds, Dijon Mustard, Caramelized Onion and House Artisan Bun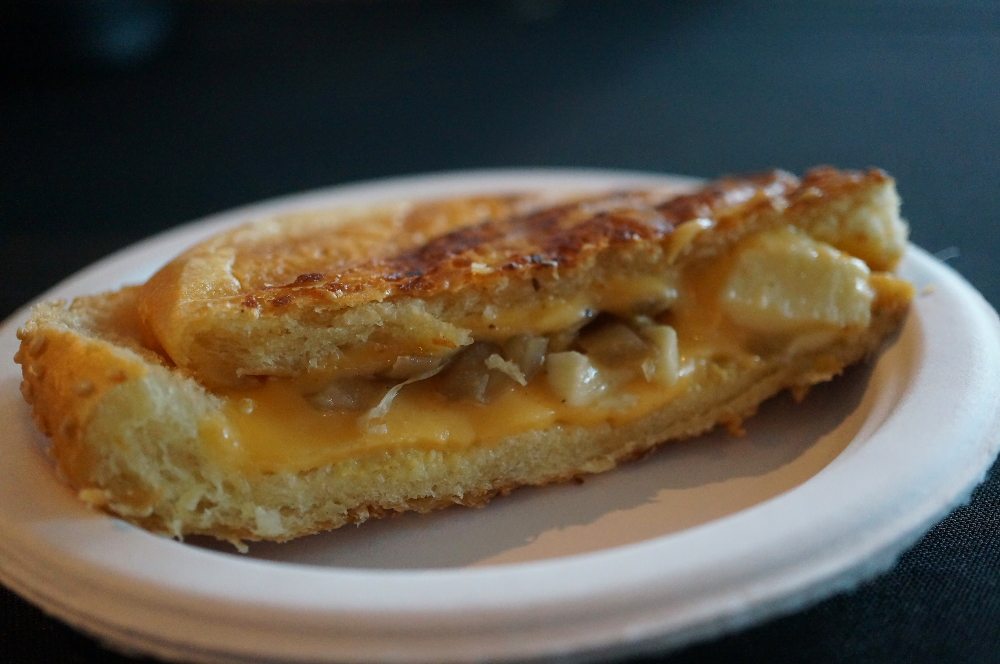 I'll call this one the GC for adult palates where the healthy smear of Dijon definitely helped cut through the richness of the cheese.
Market Garden: A-B-C-D-E-F-G
Asiago, Boursin, Cheddar, Dill Pickle, Edam, Fontina, and Gouda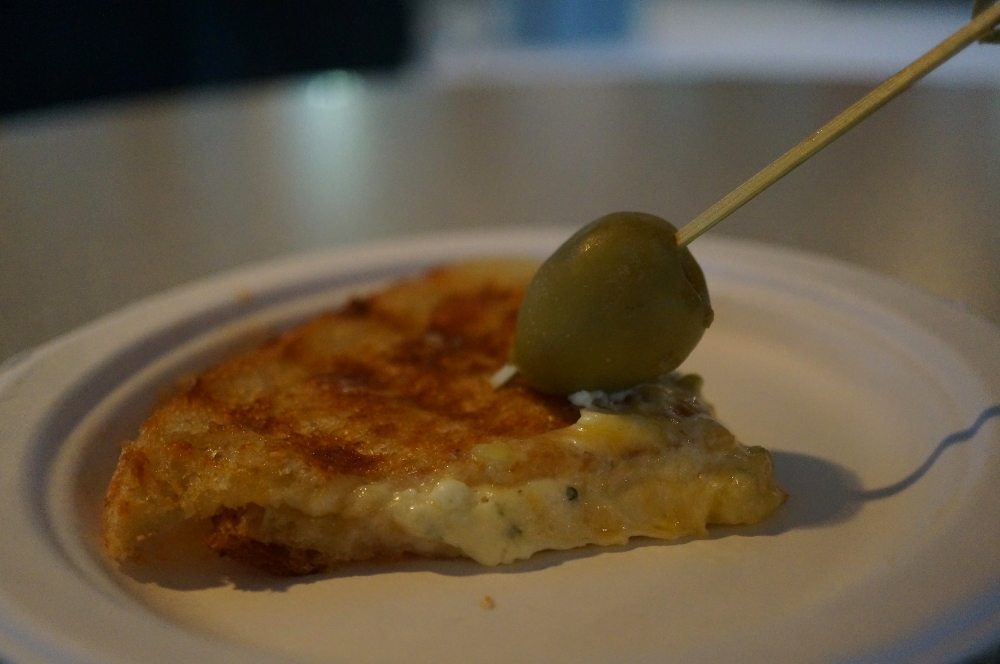 Wow, super creamy concoction going on there with a blissfully crispy crust.
Market Garden: Mumbai Me a Sandwich
Tandoori Chicken, Jack Cheese, Jalapeno Havarti, Onion, Tomato, Raita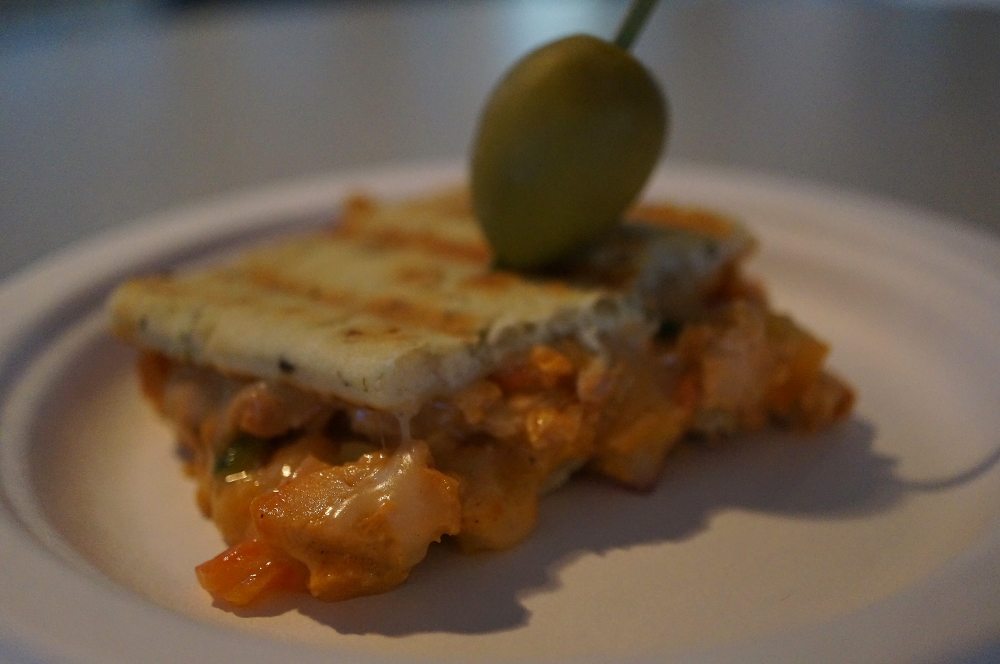 Another creamy sammy from the addition of the cooling raita spread that counteracted the aromatic Indian chicken.
Beaver Café: Cold Beet & Fennel Soup
Beets, Fennel and Apples
Sweet and light amidst all of the creamy, cheesy offerings.
Zoup!: Chicken Pot Pie Soup
Creamy Chicken Soup with Mixed Vegetables and Garnished with Pie Dough
One of my favourites of the night- I loved the addition of the crunchy pie pieces on top of the comforting base.
Zoup!: Tomato Basil
Tomatoes Simmered with Onions and Carrots with Brown sugar and Cayenne Pepper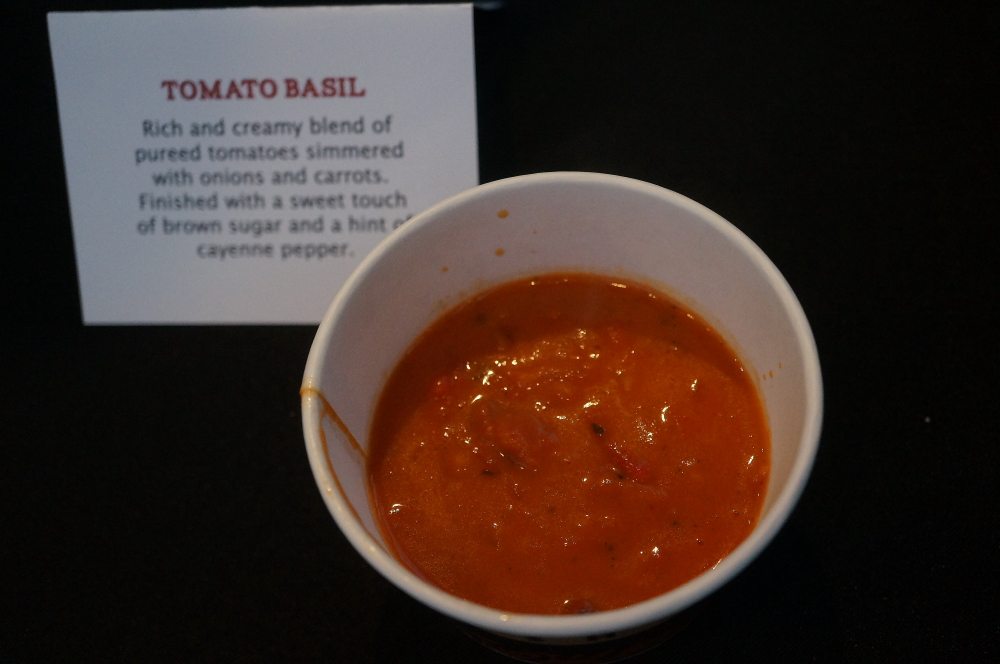 My other favourite of the day because it was reminiscent of how I make my tomato soup- the sugar is super key to balancing out acidity.
Soup Nutsy: Cream of Shitake Mushrooms
Shitake, Cream, Herbs and Seasoning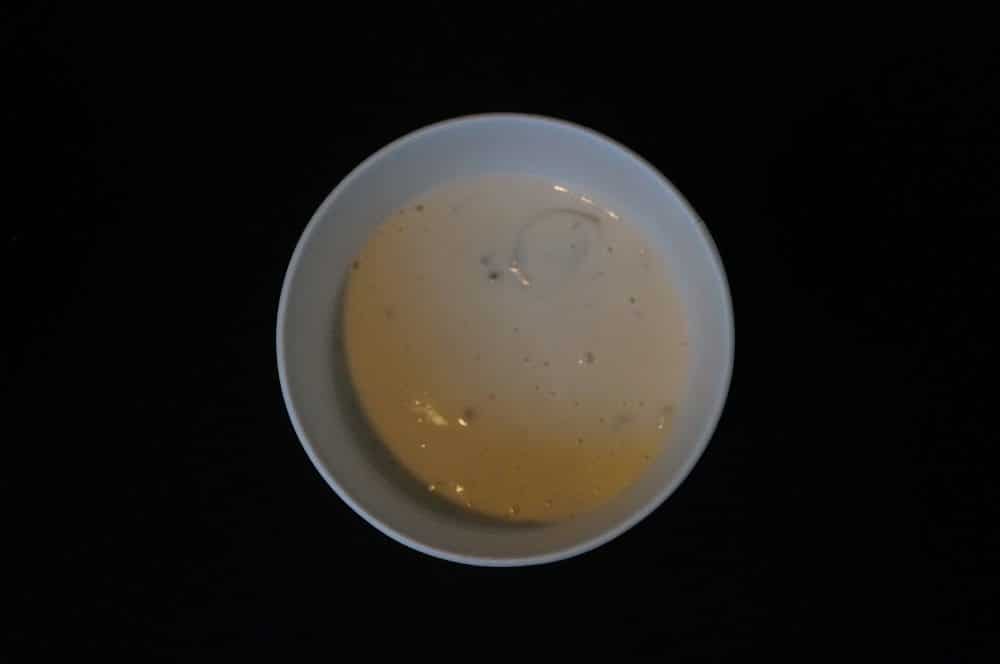 Luscious, creamy and earthy. Yum.
Soup Nutsy: Sherried Lobster Bisque
Lobster in Rich Cream Broth with Delicate Seasoning and Sherry Wine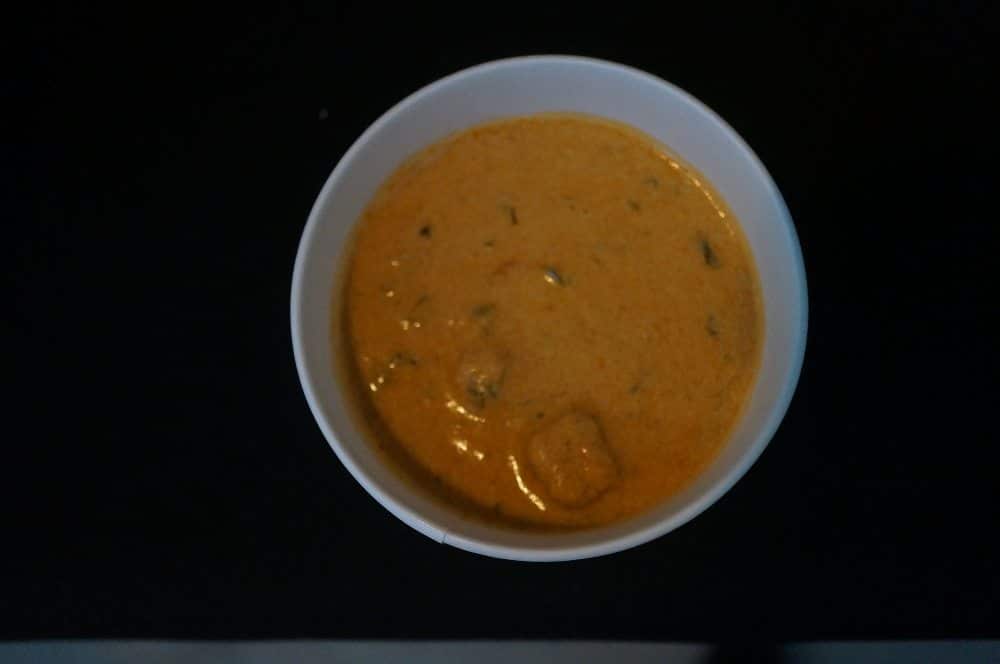 Loved the addition of the sweet sherry to compliment the luxurious lobster.
Soup Nutsy: West African Senegalese Peanut Chicken
Chicken with Peanut Chicken Broth and Piquant Chili Peppers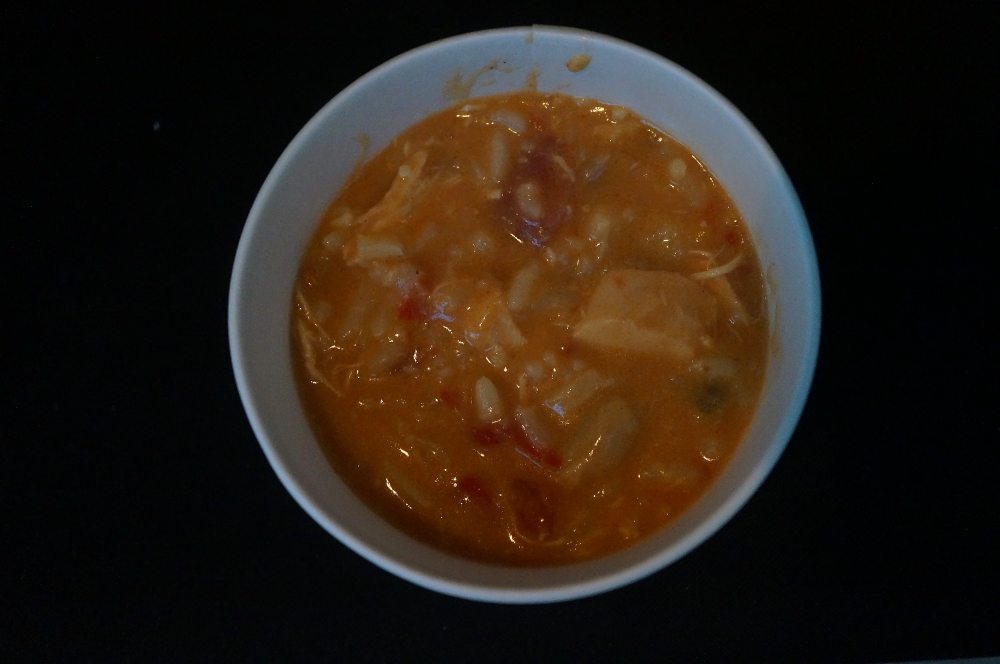 I definitely enjoyed the nutty undertones of the spicy broth. This one was probably my favourite of the 3 Soup Nutsy offerings.
Soups & Such: Tomato, Feta and Basil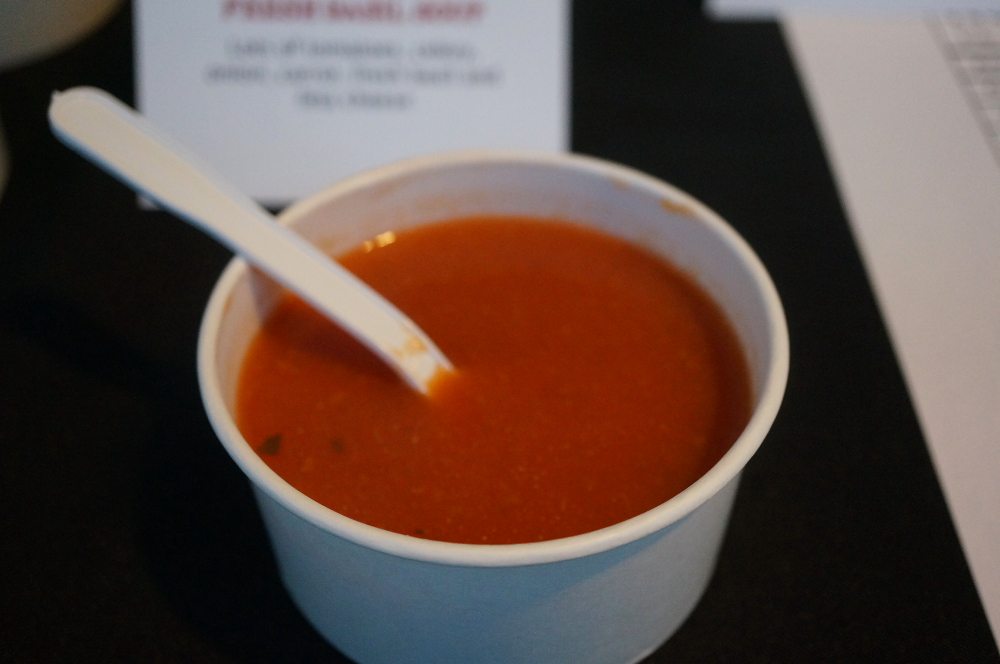 A simple, light, and refreshing tomato soup.
Soups & Such: Lentil Soup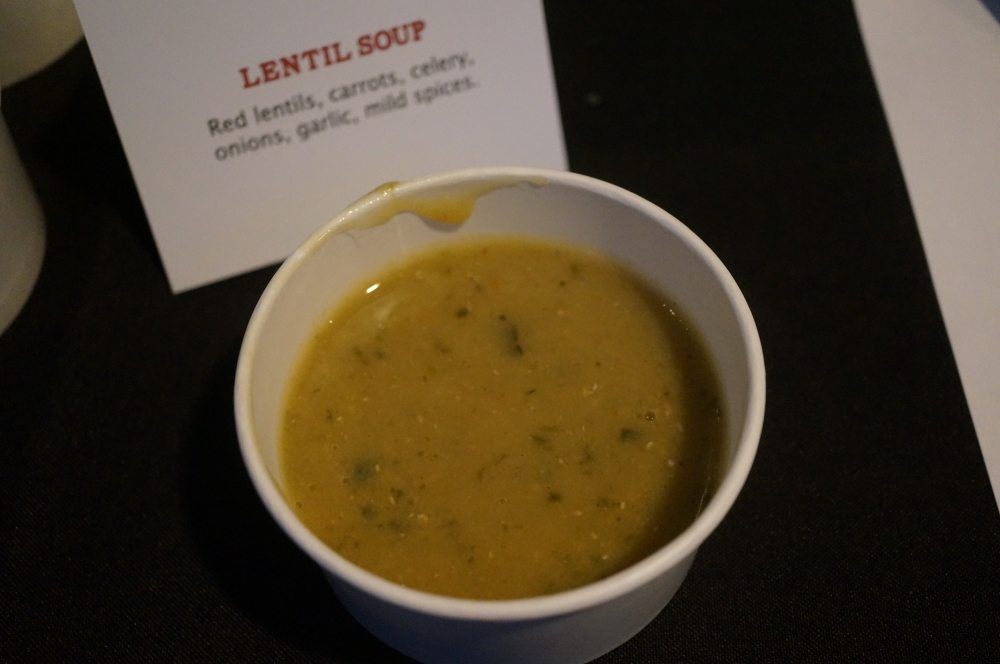 Thick, but not stodgy, with a nice earthy legume flavour.
Leslieville Cheese Market: Cream of Fennel and Saffron Soup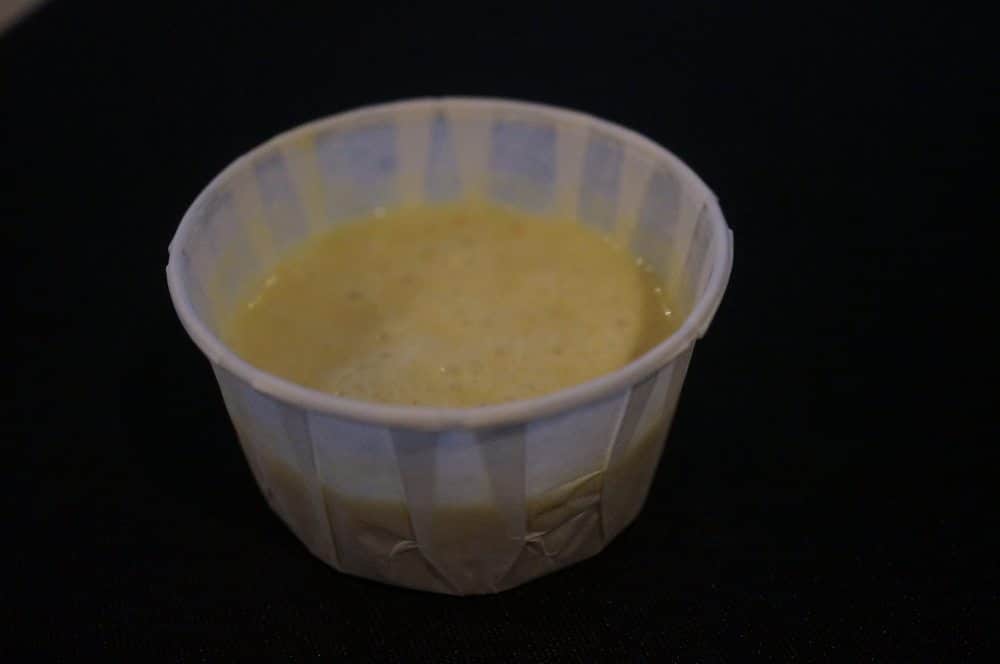 Sweet, aromatic and creamy.
Cheesewerks: Beer & Cheddar Soup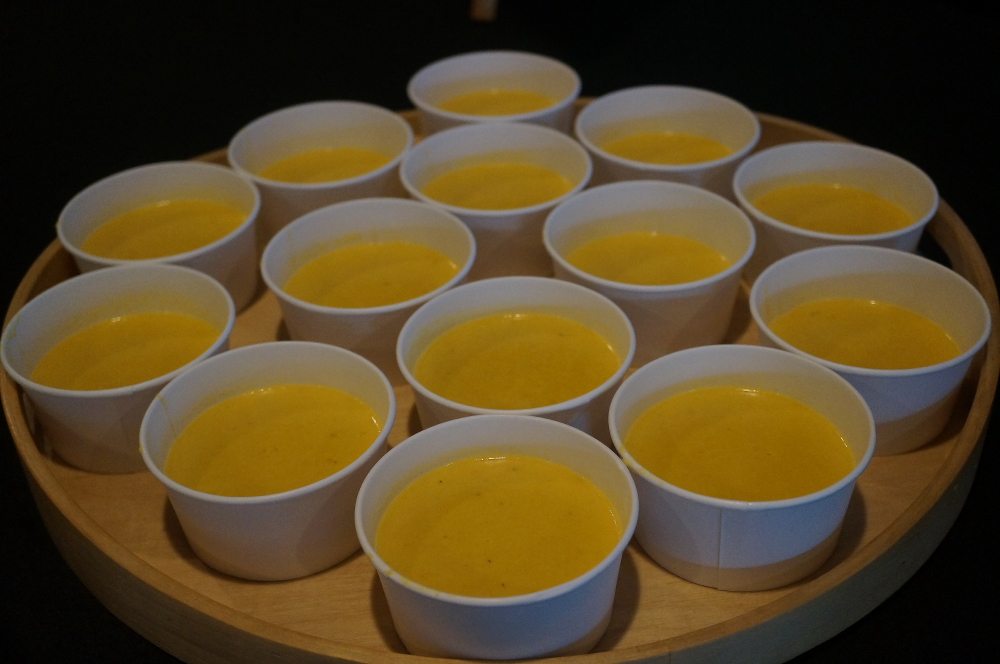 Mmm.. loved the hoppiness of the beer with the smoky cheese flavour.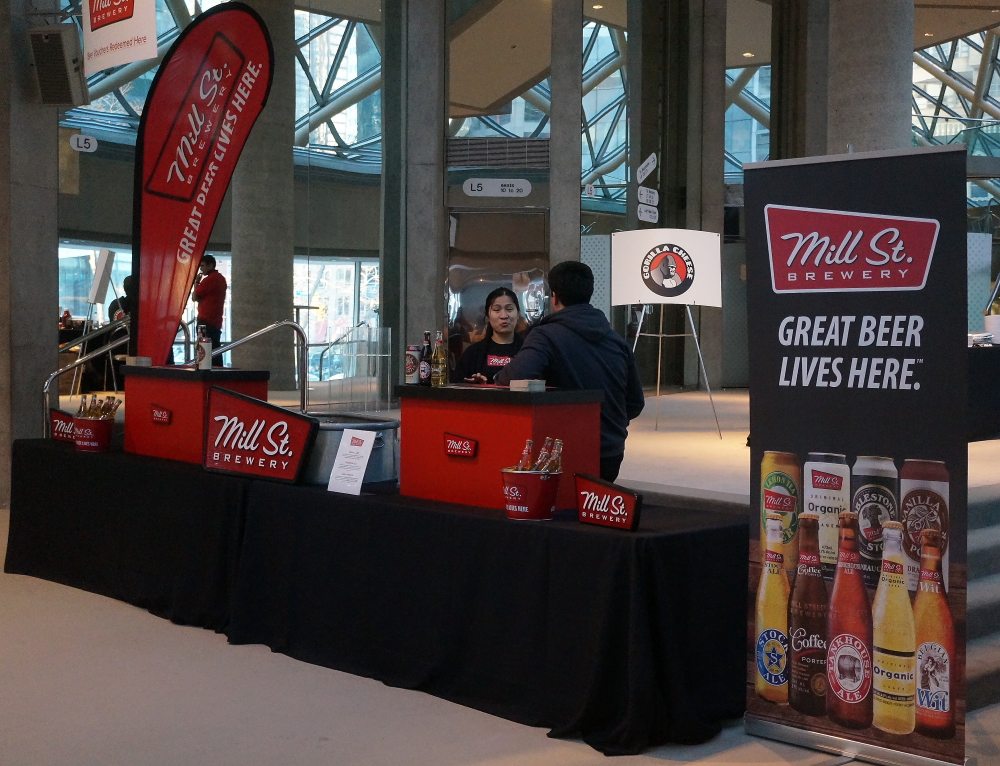 Mill St Brewery ready to revitalize the cold masses
Congrats to the fantastic line up of food and drink vendors who put on valiant smiles and worked their asses off to satisfy the ravenous (and likely pretty pissed) crowds as best as their little griddles would let them. I would definitely recommend checking out each and every one of these delicious restaurants, eateries and establishments next time you're looking for to get your comfort food fix.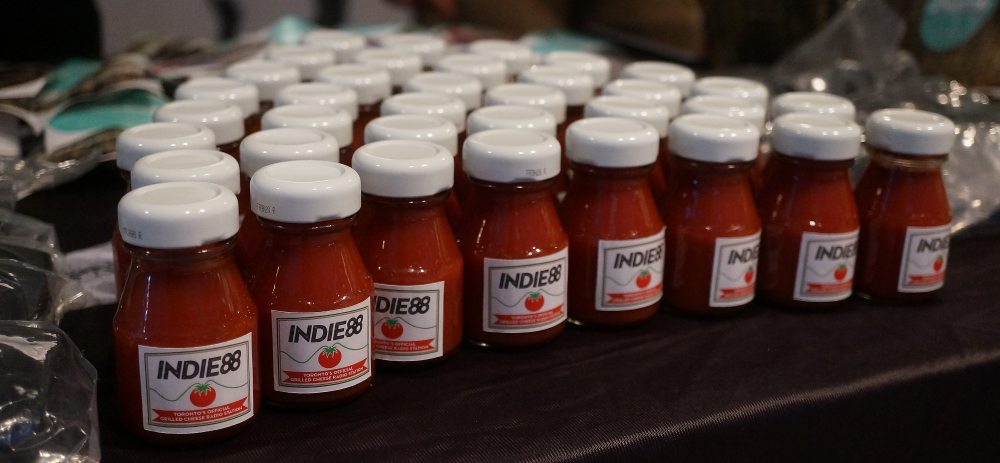 Indie 88's Offered a Plinko Style Game for Event Goers
Disclaimer: My entry, food and drink at this event was complimentary, however, as always, all opinions are my own.
Updated on May 8th, 2019