For any of my long-time readers, you're surely well acquainted with my food event series, Abbey's Kitchen Stadium (or AKS, for cute shortsies). I started AKS last year as a four-part event series- 3 smaller competitions and a championship finale at the Delicious Food Show. My goal from day one was really to showcase Toronto's incredible culinary talent, and to give the hardworking chefs of the city some well-deserved recognition for their creativity and skill. As a member of the media- I've eaten it all- the good, the bad and the ugly. So AKS is really my way of giving my readers, followers and fans an opportunity to sample from the tastiest joints I've visited.

So let's rewind back to the moment I stepped down from the big Food Network stage in October of last year. I felt excited, exhilarated and a wee-bit exhausted (well earned after a years-worth of work). But, you all can bet there was no slowing down this girl- I was already pumped to get up and at it again.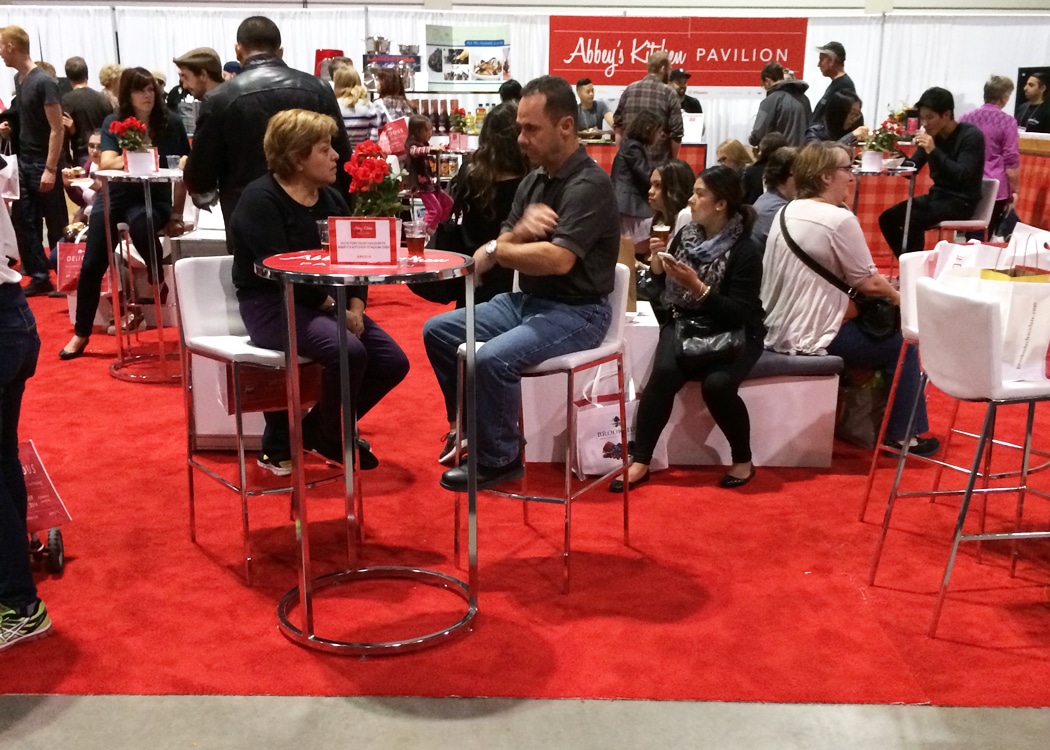 Well, this year, I had a bunch of other things on the go that made the thought of a repeat 4-part series a bit overwhelming. I've been writing for other outlets, doing daytime TV segments, judging foodie events, doing cooking demos at large events, working as a brand ambassador, hosting events for other brands and my blog was busier than ever. AKS was a full-time job last year, and 2014 brought on about 5 other full time jobs. But that didn't mean I wanted to sacrifice any quality- if I was going to bring back AKS, I was going to take everything I learned from year one and pack it all into something bigger, better, and more exciting. Introducing AKS 2.0 – the 2014 DFS edition.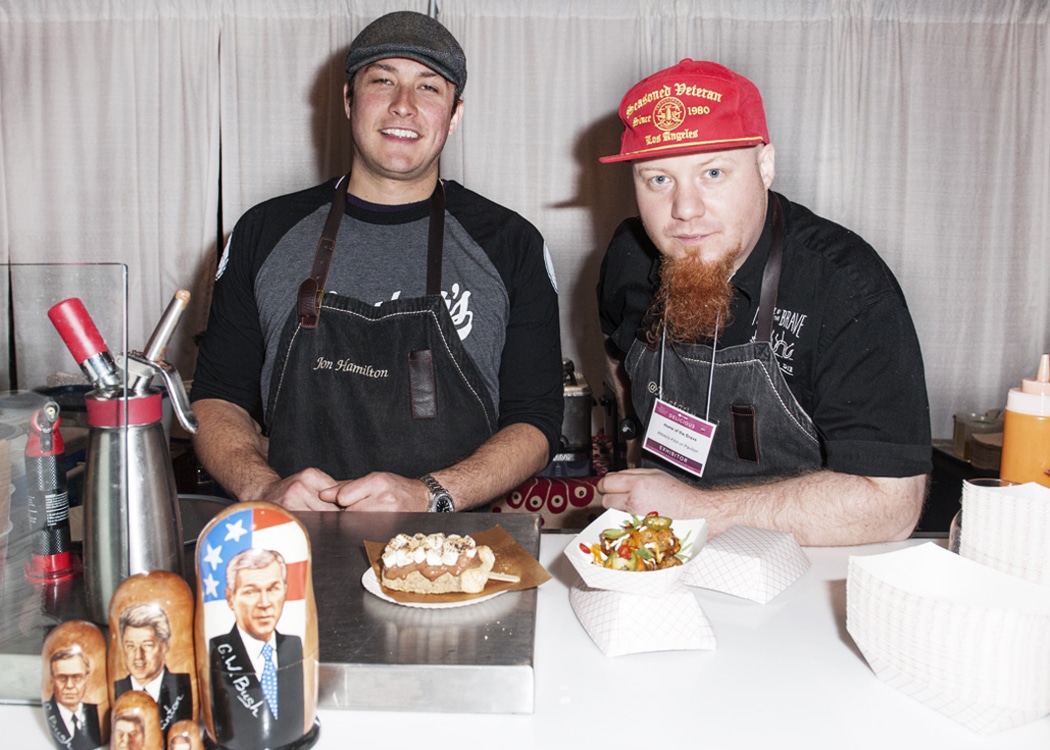 This year, I skipped the three prequalifying competitions and harnessed all of the excitement into one-epic-event at the 2014 Delicious Food Show on Oct. 19th. Rather than just jumping right into the on stage competition, I also hosted an Abbey's Kitchen Stadium pavilion at this year's show as the official "pre-qualifier" for the competition. Inside were 8 of Toronto's top chefs- my personally curated picks from some of my go to restaurants in the city- each equipped with a pantry of ingredients to prepare two $5 dishes each. The chefs had to put their culinary prowess to the test and incorporate a few of the following items each into their dishes: Canola Growers Oil, Cacao Barry Chocolate, Italpasta, Lagostina Cookware, PEI Mussels, Vitamix, and Sharwoods Sauces, Samuel Adams Beer and Fresita Sparkling Wine.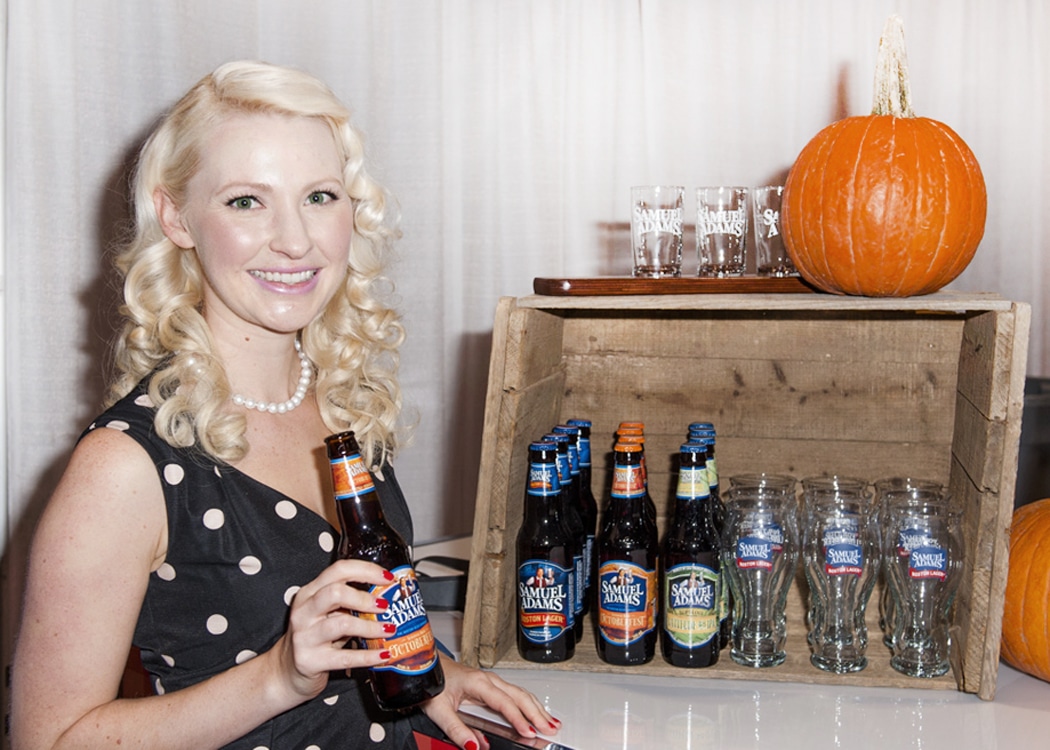 All weekend long, the Samuel Adams, Fresita and Strauss water was flowing, while guests nibbled and noshed their way through the competitors' fare. Once content, everyone was invited to vote for their favourite dish,which would ultimately determine the four on-stage competitors. If you missed my DFS overview, check out what the chefs were serving up all weekend long.
Nick Liu of Dailo
Pork and Shrimp Wonton with Green Curry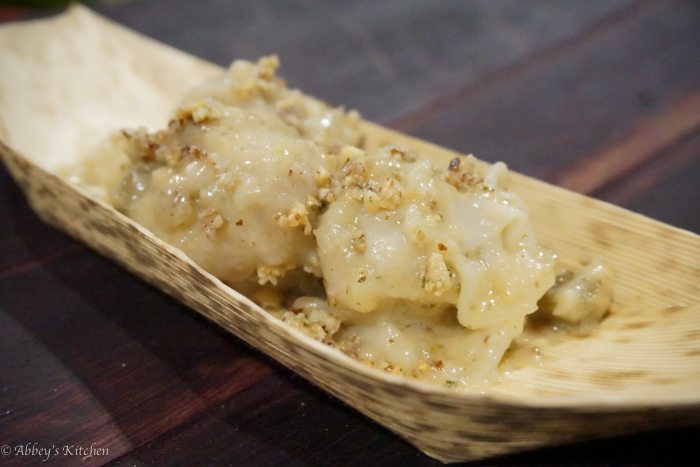 Nick Liu of Dailo
Sesame Balls with Strawberries and Fresita Glaze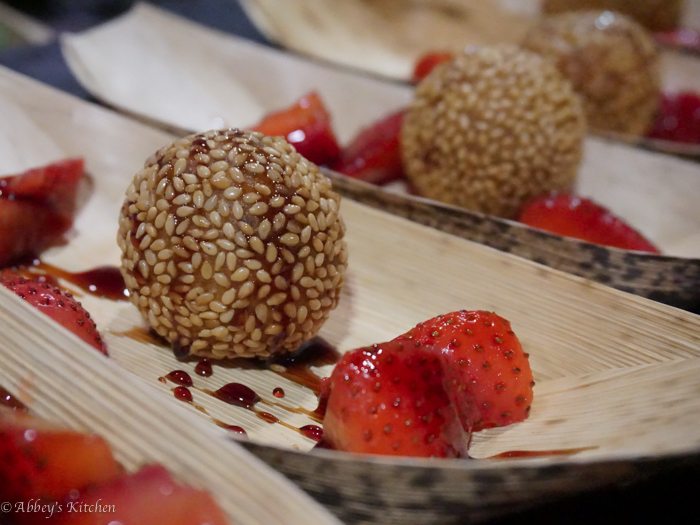 Foie Gras Parfait with Strawberries and Walnuts
Victor Barry of Splendido
Salted Caramel Chocolate Tart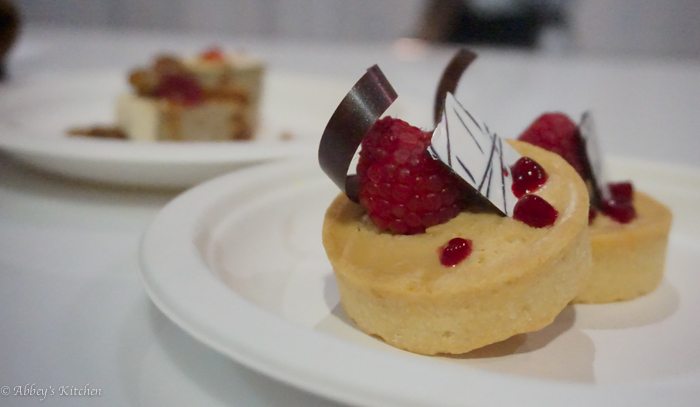 Nate Middleton (Tasty) and Jonathan Hamilton of Home of the Brave
Smoked Cajun Wings, Pickled Chilis, Buttermilk Ranch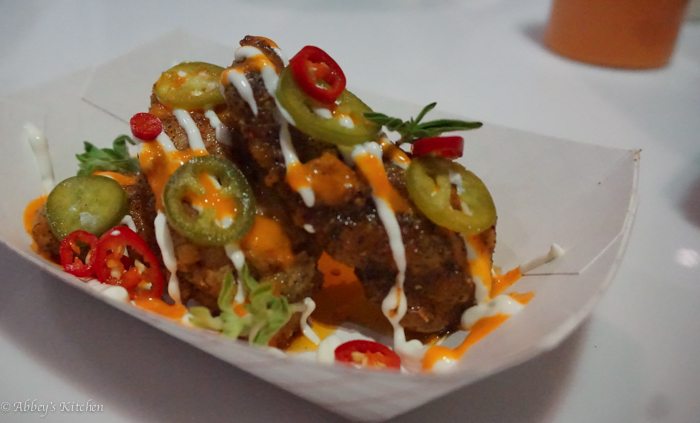 Nate Middleton (Tasty) and Jonathan Hamilton of Home of the Brave
Chocolate Camp Fire S'mores Ice Cream Bar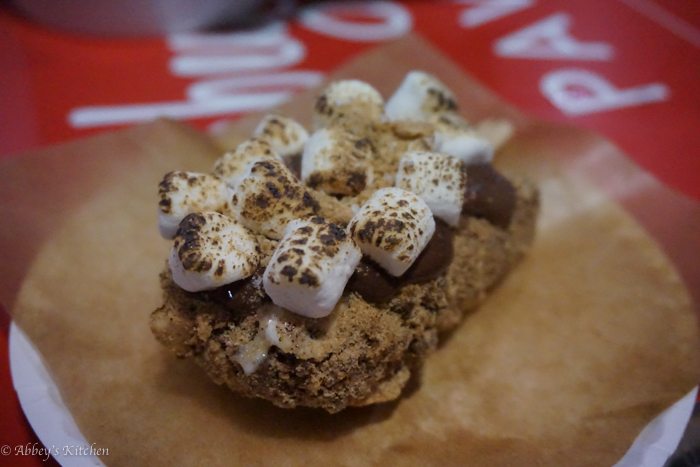 Matty Matheson of Parts & Labour
Samuel Adams and Molasses Bread Pudding with Crème Fraiche and Butterscotch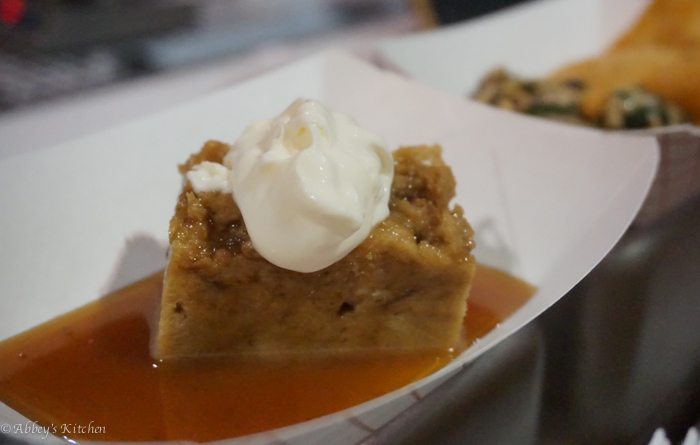 Matty Matheson of Parts & Labour
Mussels and Duck Heart Escabeche with Chimichurri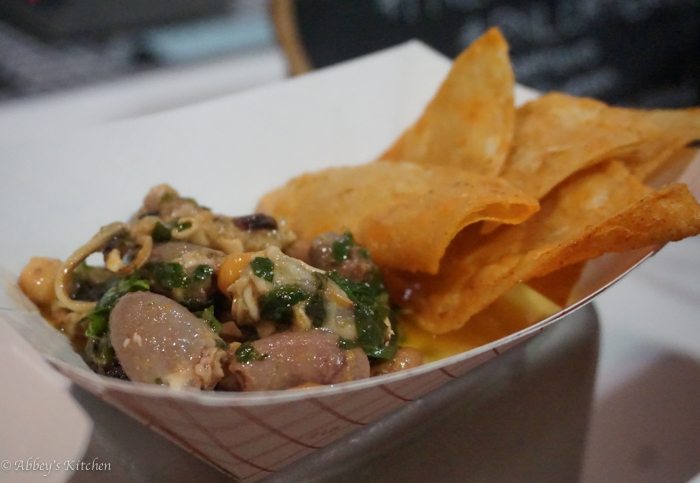 Ariel Coplan of Thoroughbred Food and Drink
Wild Berry Foie Gras Pop Tart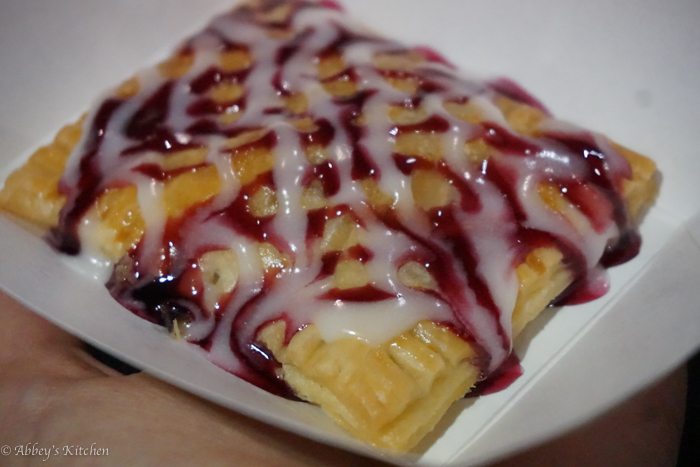 Ariel Coplan of Thoroughbred Food and Drink
Mussel Po Boy with Comeback Sauce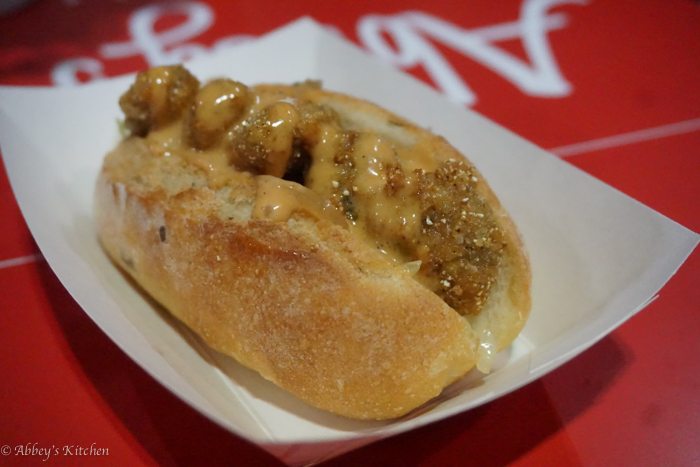 Ontario Pear & Cranberry Cheesecake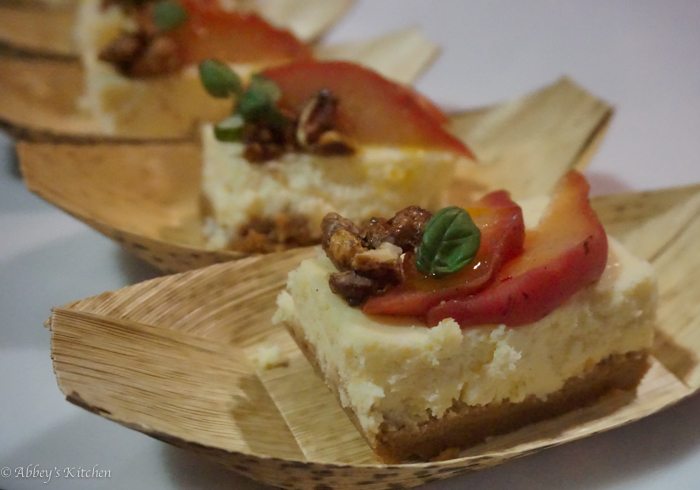 Vittorio Colacitti or The Good Son
Pasta Fagioli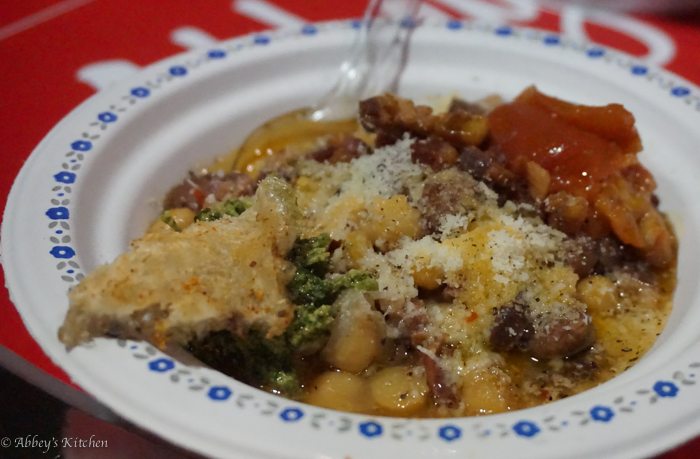 Thai Curry Pork Belly, Coconut Milk Crepe, Cashew and Pickled Vegetable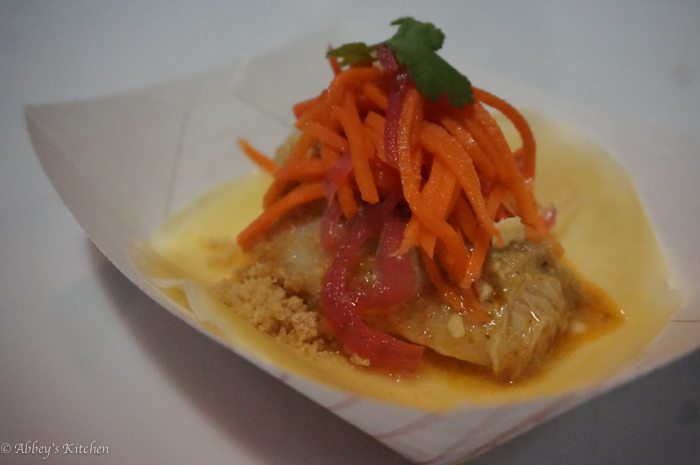 Robbie Hojilla of Hudson Kitchen
Mango Slush with Spiced Samuel Adams Syrup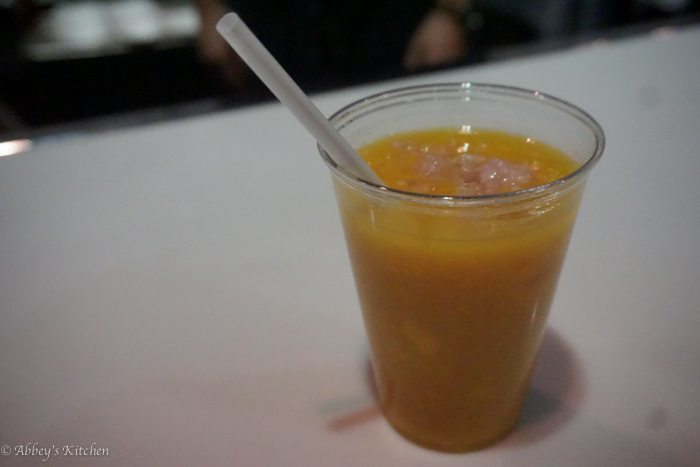 Basilio Pesce of Porzia
Tiella Barese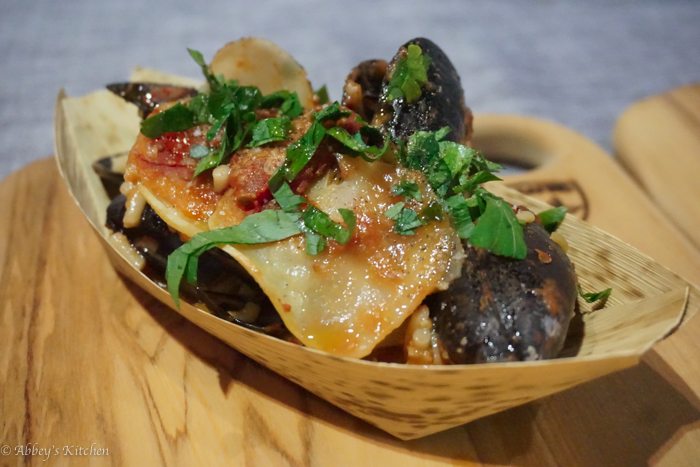 Basilio Pesce of Porzia
Fresita Budino with Pistachio Cake and Fennel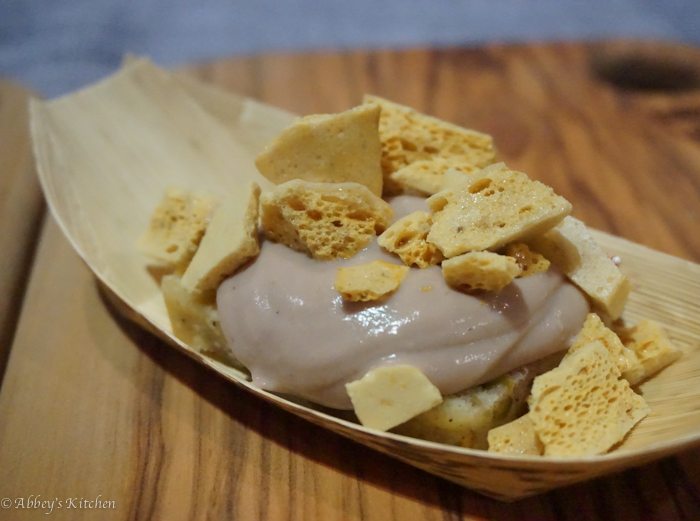 It was a touch race, but in the end, the four People's Choice dishes were: Home of the Brave's wings, Hudson Kitchen's Pork Belly Crepe, The Good Son's Fagioli, and Thoroughbred's Po Boy.
Abbey's Kitchen Stadium Showdown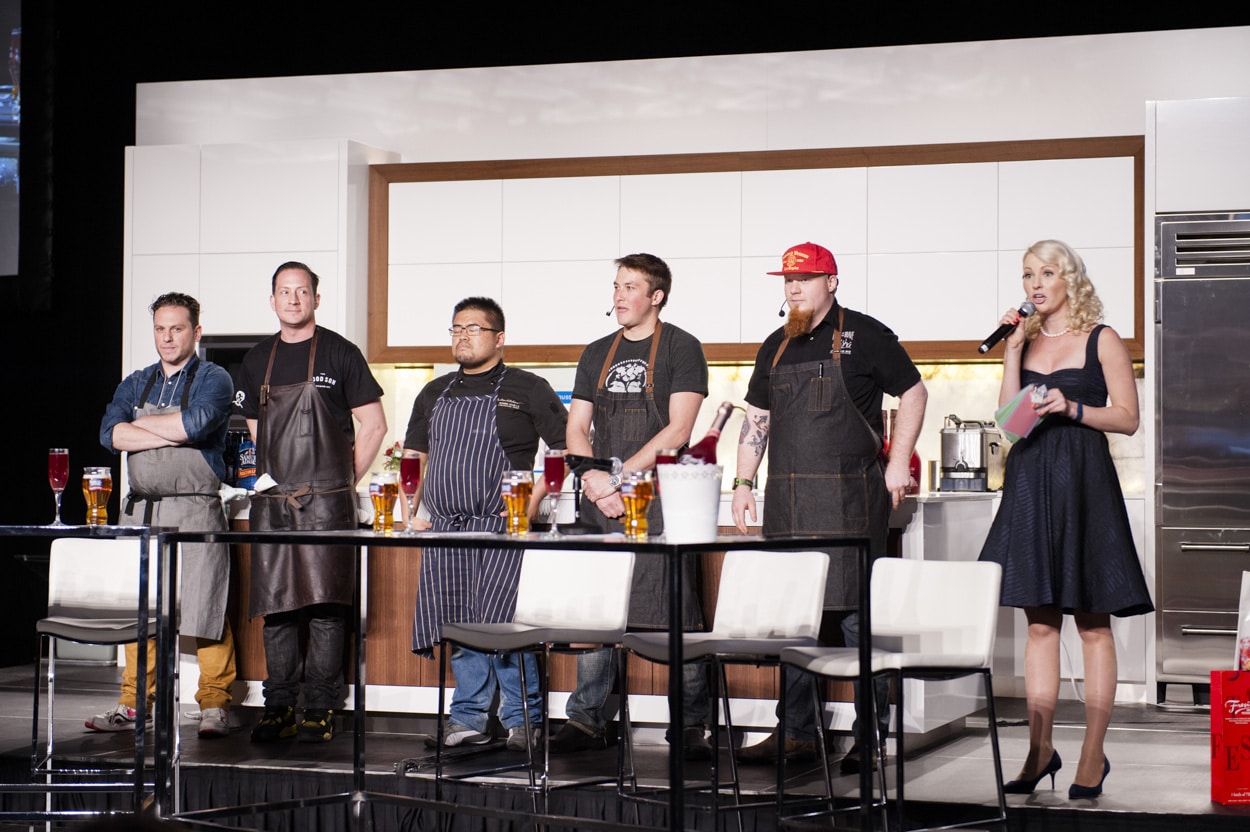 So our four finalist chefs spent all Saturday night prepping for their presentation before a packed room of foodie fans and a panel of esteemed judges.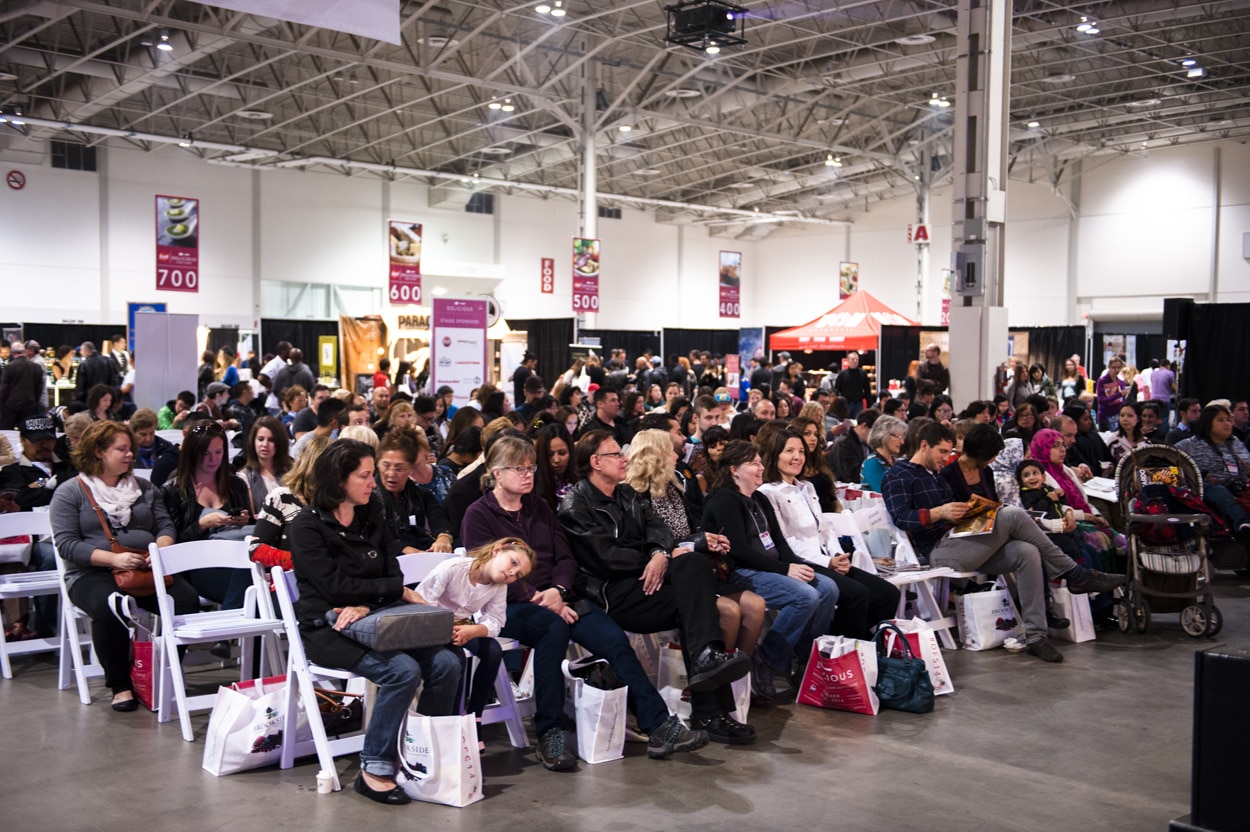 One by one, the four chefs hopped on stage to demonstrate their crowd-pleasing dish as guests sprinted back and forth between the stage and the pavilion to get a taste of what the boys were serving up.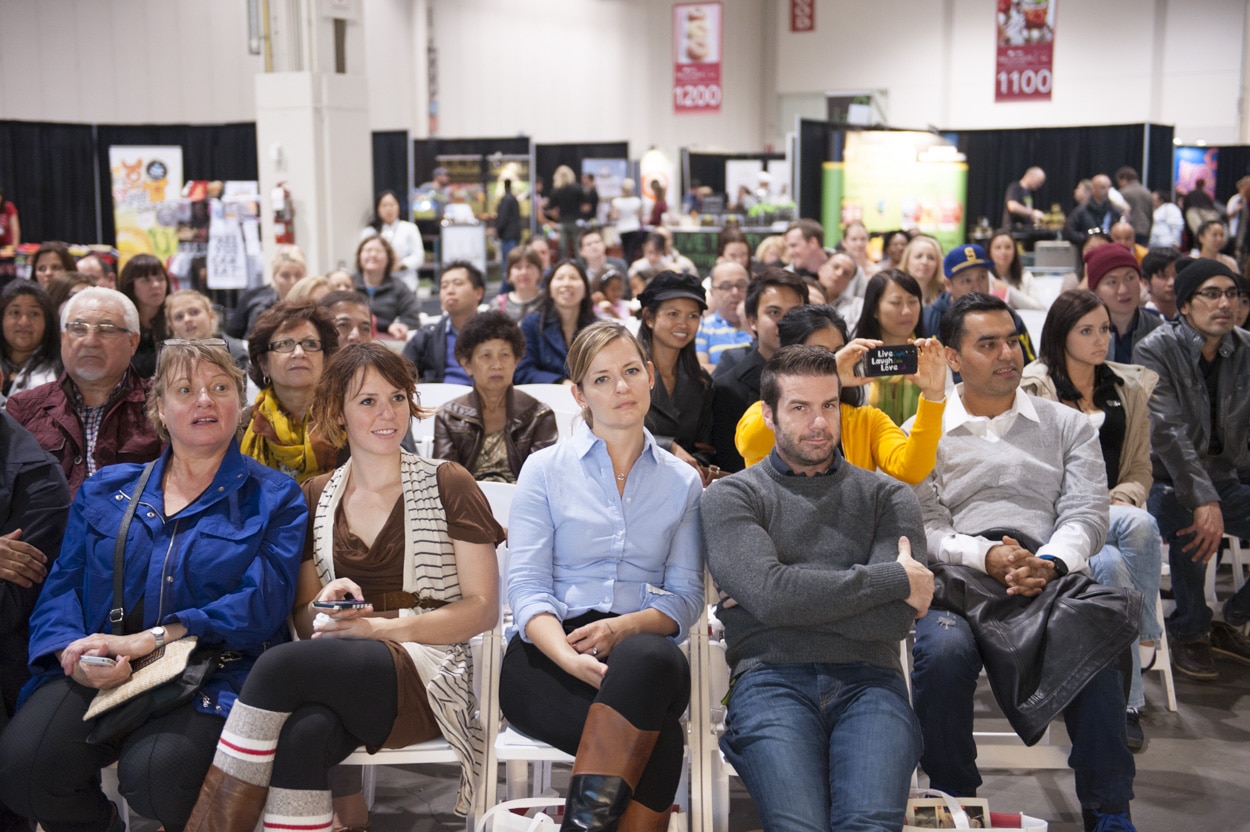 That's my mom and sister in the front row there! Such huge fans.
There was some fun foodie trivia, incredible prize giveaways, hilarious judging commentary, and so much more. I also learned a new sexy food word- melty – thanks to chef Robbie, so expect to see that busted out in my upcoming reviews.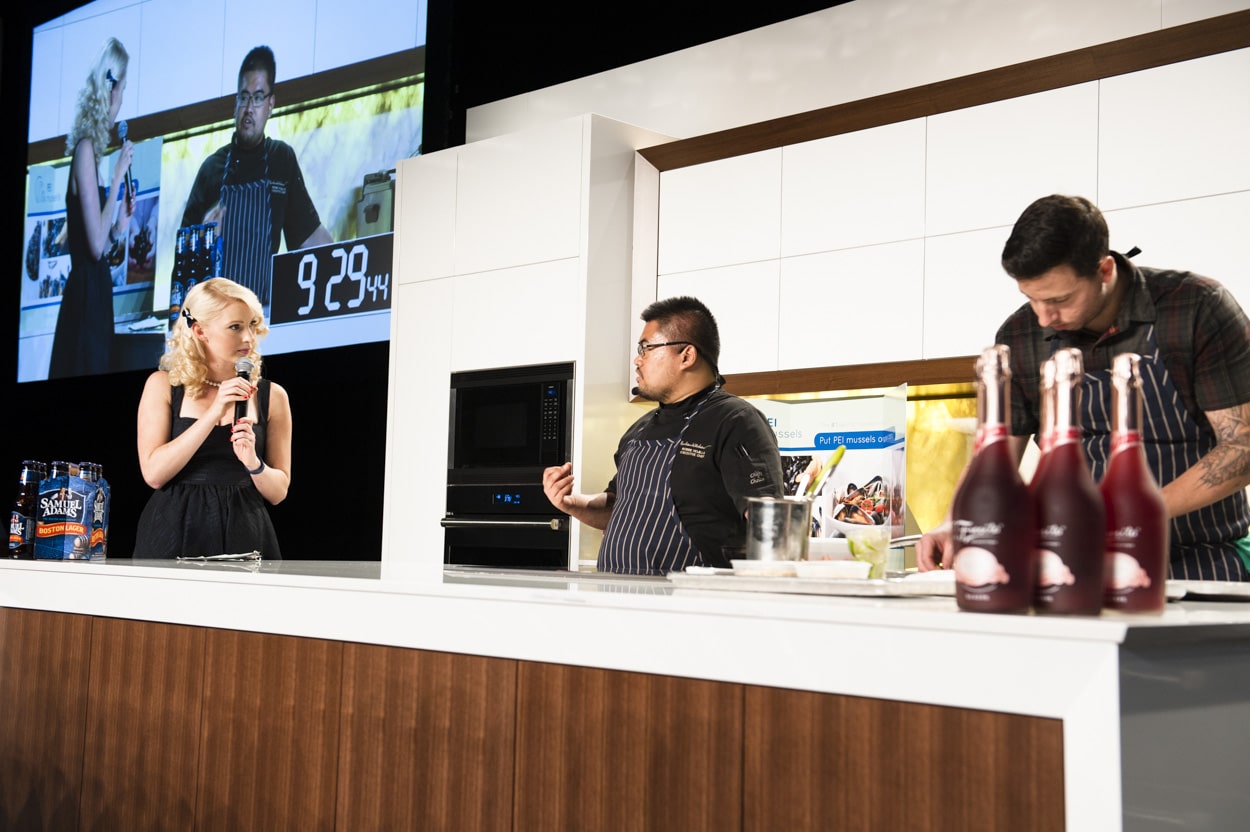 After all four demonstrations, it was serious business for the judges on stage. We had Roger Mooking (Celebrity Chef, Food Network & Cooking Channel), James Cunningham (Comedian and Host, Food Network & Cooking Channel), Kevin Brauch (Host, Food Network & Cooking Channel), Brad Smith (Breakfast Television, Bachelor Canada), Leslie Merklinger (Director of Original Lifestyle Content, Shaw Media) and Robert McCullough (Publisher, Random House Appetite) ready to determine the winner of this year's event.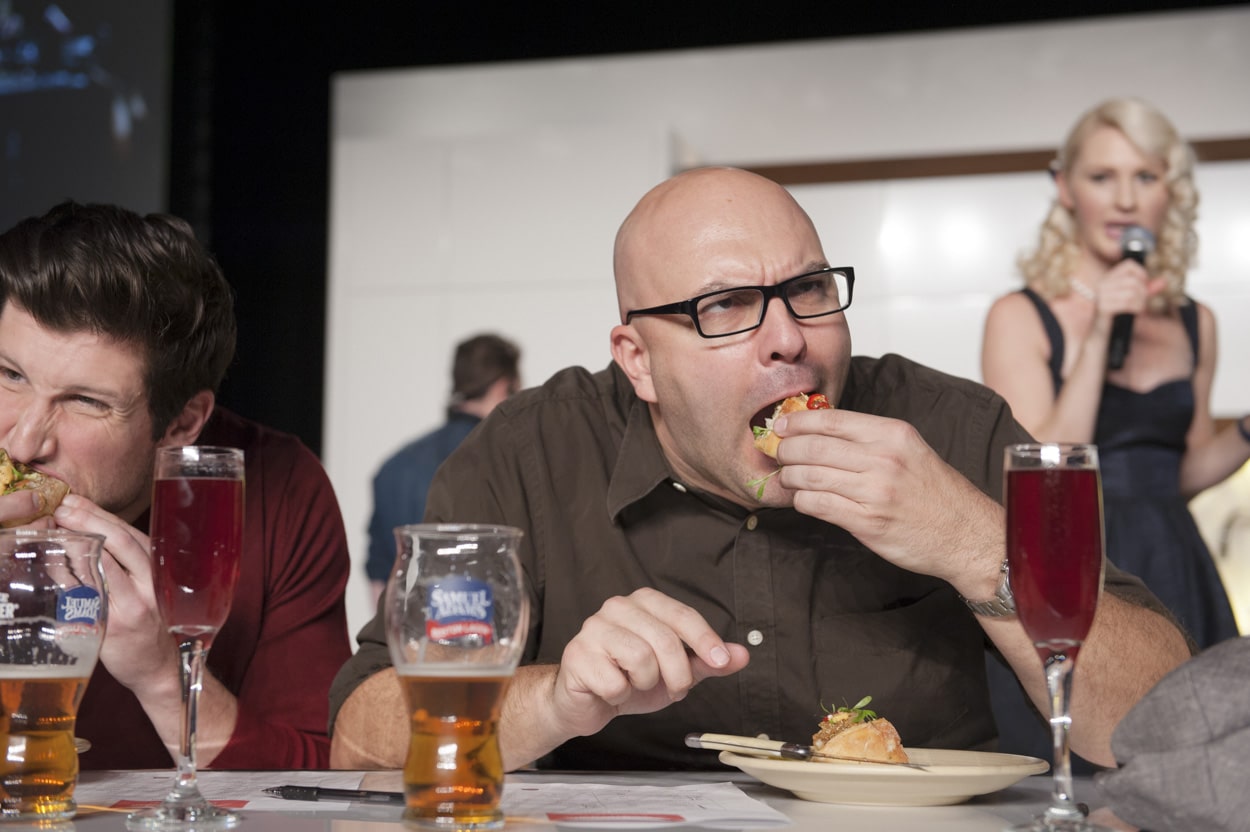 With all of the giggles and silly jokes going on (we can thanks James for getting us started on that), it was amazing that any decisions ever got made. But alas, they ate, they drank, they deliberated (well, in between laughs at least), and in the end the winner was chosen.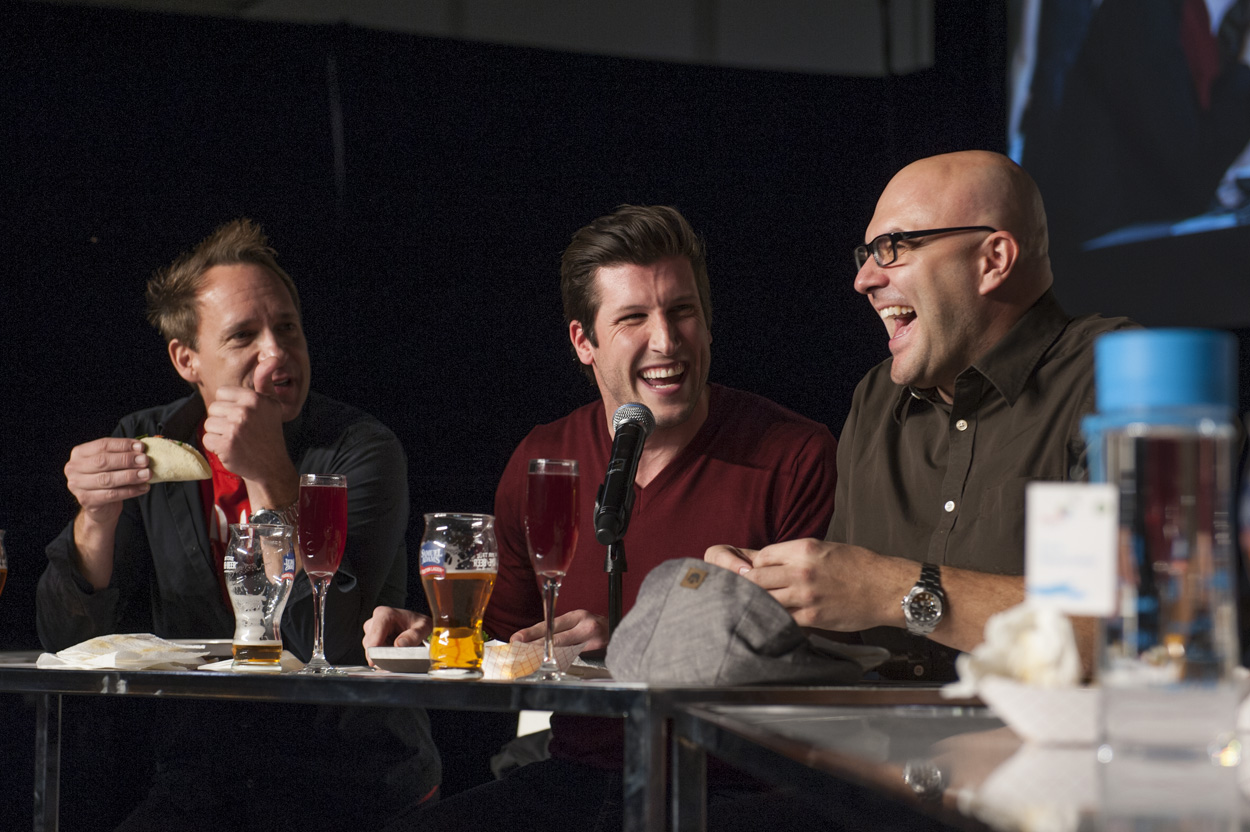 A huge congratulations to Robbie Hojilla from Hudson Kitchen who went home with a premium Lagostina cookware set and sponsor prize pack, and bragging rights as the champion of Abbey's Kitchen Stadium!
While this year's AKS came equipped with its own set of challenges and lessons learned, I walked off of that stage with a little wiggle in my hips, a huge smile on my face and a confusion cognition to the tune of "Let's Drink!" and "I'm ready to pass the hell out!" #StoryOfMyLife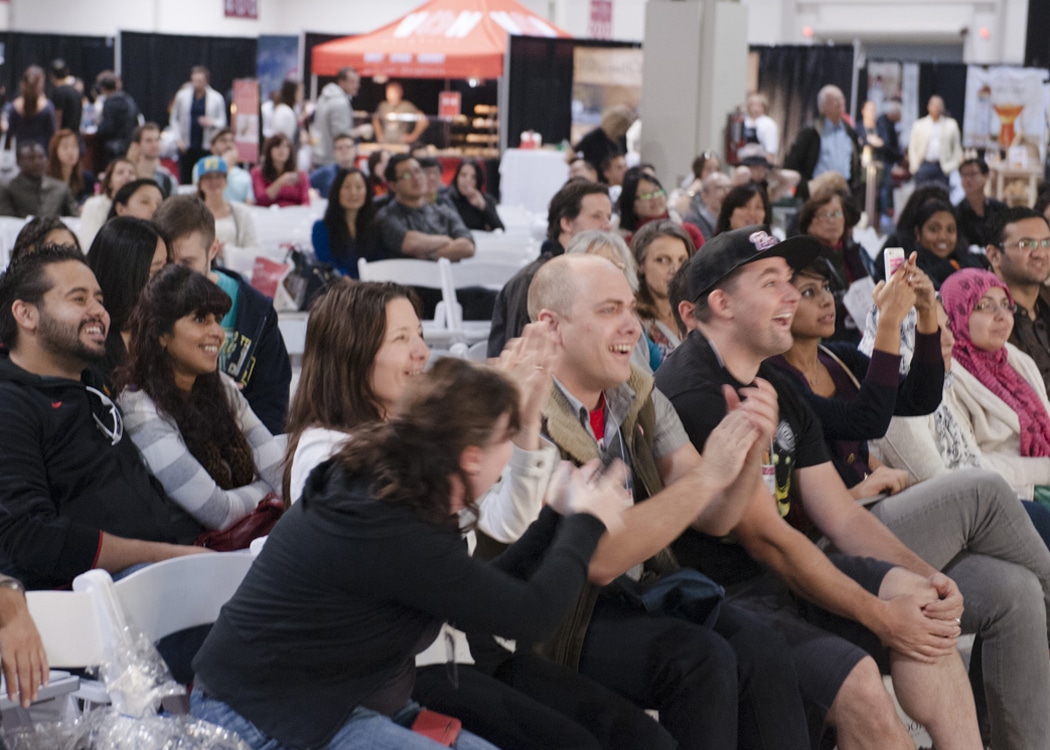 Thank you to all of the chefs for their hard work and enthusiasm, the DFS for hosting this wickedly fun activation and pavilion, all of my sponsors for making this happen, and most importantly, Marian, Aleeza and the rest of the team at Branding and Buzzing.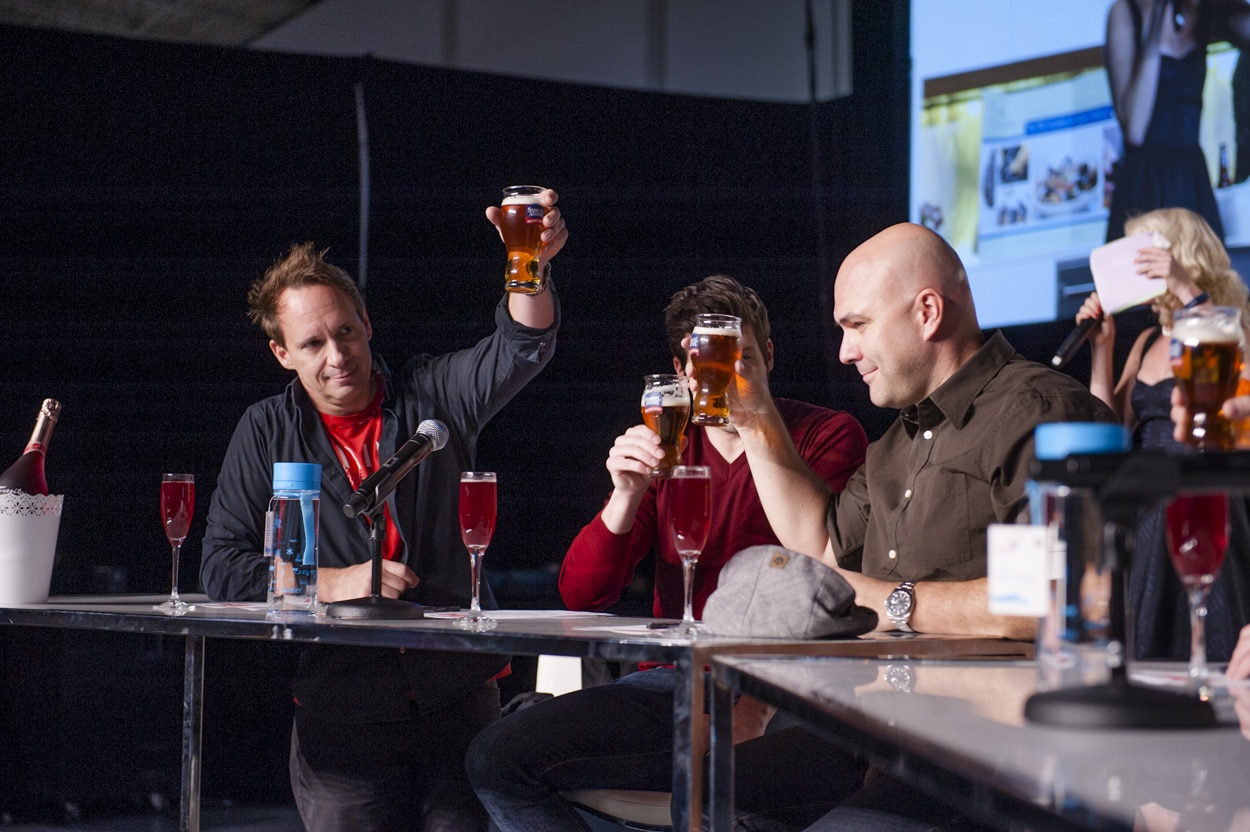 Cheers to you for seeing this all through and saving me from the midnight calls, anxiety attacks, sleepless nights and $250/hour in therapy post-show. If anyone knows how to execute a bad ass event, let me tell you- it's Branding and Buzzing.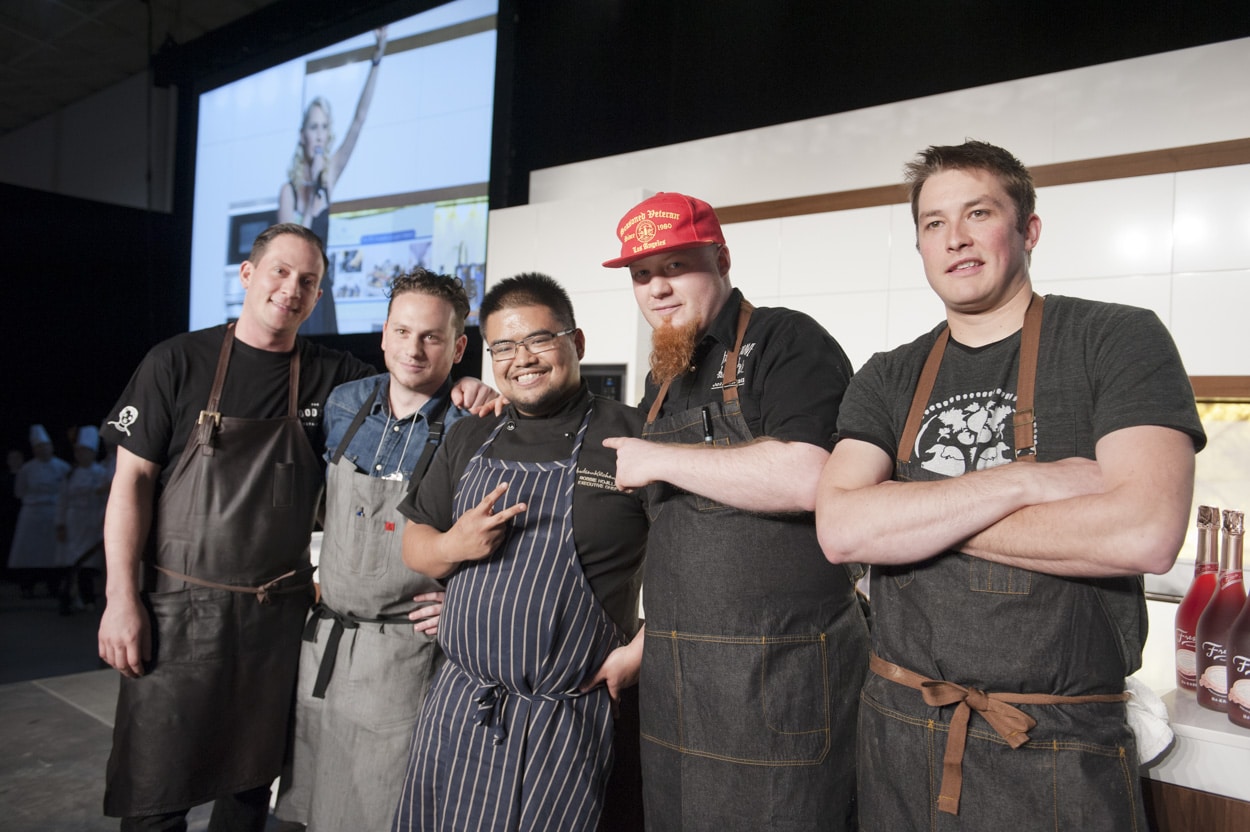 For updates and alerts on upcoming Abbey's Kitchen food events and news, please subscribe to my weekly newsletter below and of course, follow me on twitter! You'll have to just wait and see what I come up with next!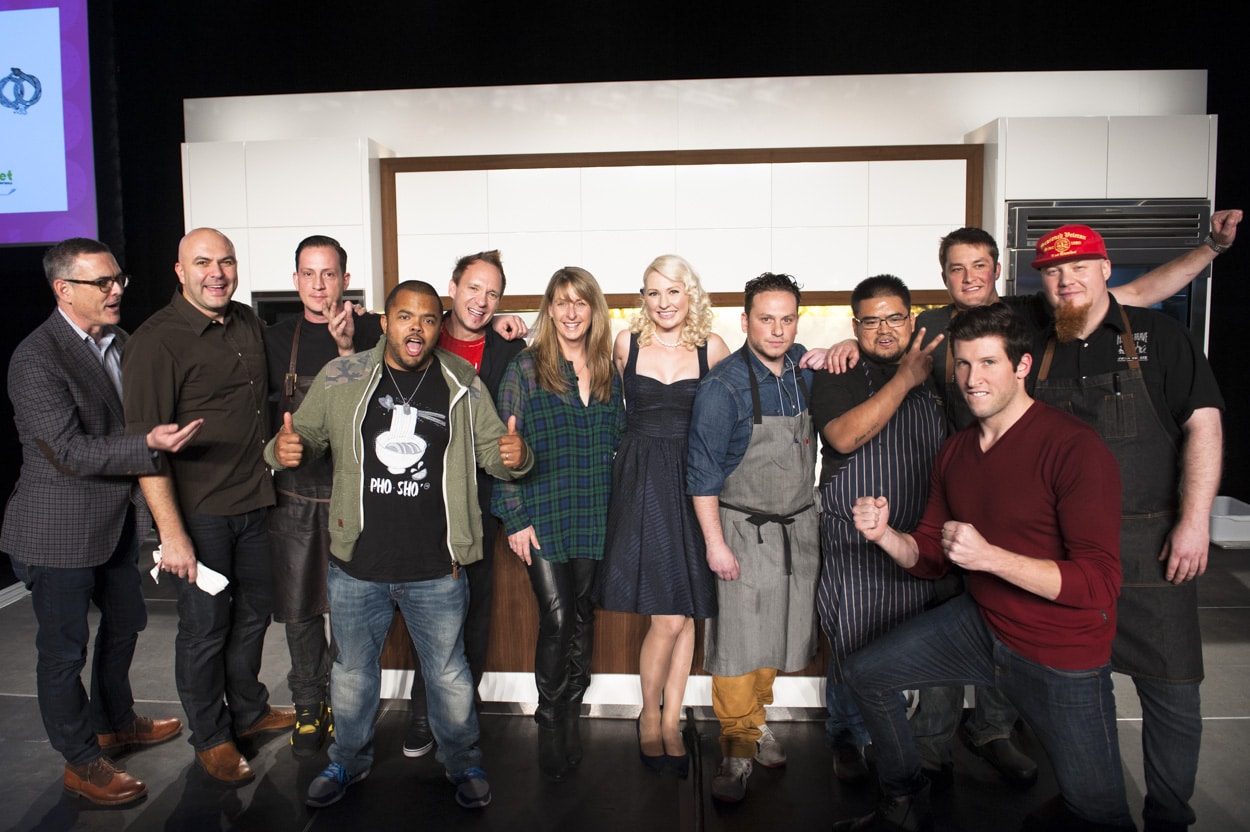 Photo credit for all photos other than the chef's food (which I snapped in between bites): Mauricio Calero courtesy of Samuel Adams
Updated on May 12th, 2020