The unofficial end of summer has seen many-a drawn faces, as we realized the hot and sunny weather would soon be replaced with the crisp, cool air of fall. Many of us used this time to make a final visit to the cottage or sandy beach, or fire up the grill for backyard BBQ once more. For me, my send off involved devouring some delicious burgers in lieu of the upcoming Le Burger Week. What could possible be a better way to say sayonara to summer than chowing down on one of the season's most celebrated nosh?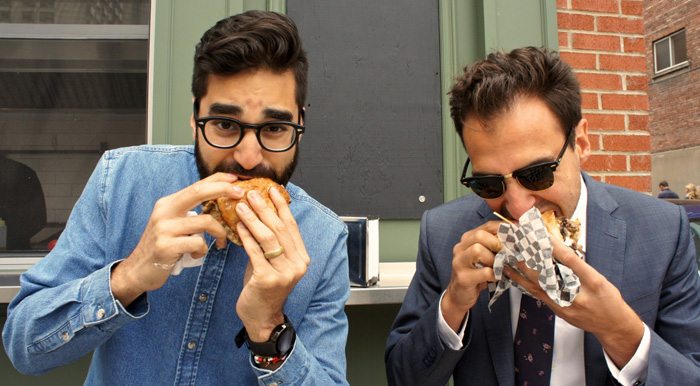 Photo from Le Burger Week
Le Burger Week founders, Na'eem Adam and Thierry Rassam, are beyond the basic burger lovers. They are obsessed. They each have their favourites and have had some friendly (and not so friendly) debates to decide which burger is truly the best, but they couldn't settle on who was right. So came the creation of Le Burger Week, which extended the debate to the public to devour and decide who should be named best burger!
The event is in its 3rd year, and spans across 6 cities including Montreal, Toronto, and Winnipeg. The focus is to shine a beautiful burger light on small businesses that Adam and Rassam feel will benefit from the added attention. They also want to bring people together through highlighting one of their favourite foods. But let's be honest – everyone loves a good burger.
During my preview of Le Burger Week, I had the opportunity to slap on my stretchy pants and chow down on a few of the burgers being featured for this special week. Check out some of the bites you may come across on your adventures.
C's Burger (Tomatillo, Fig Chutney, Brie, Arugula, Sundried Tomato, Pickled Onions)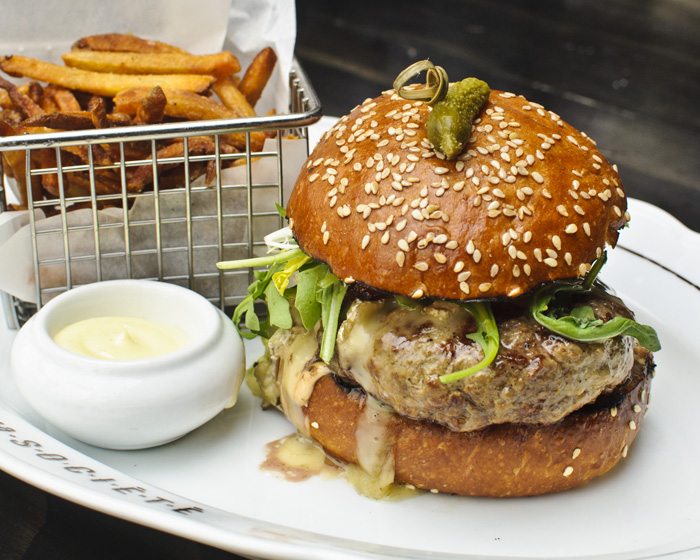 Brie and bacon makes everything better in my books! Before even delving into this beast of a burger, the sight of the thick beef patty with melted cheese running down the side made my mouth water. Taking my first bite, I was presented with a juicy and perfectly seasoned patty, heightened with the balance of sweet and salty notes and the bright tang of the pickled onion.
Caplansky's Deli
Reuben Burger (Smoked Meat, Swiss Cheese, Russian Dressing, Sauerkraut)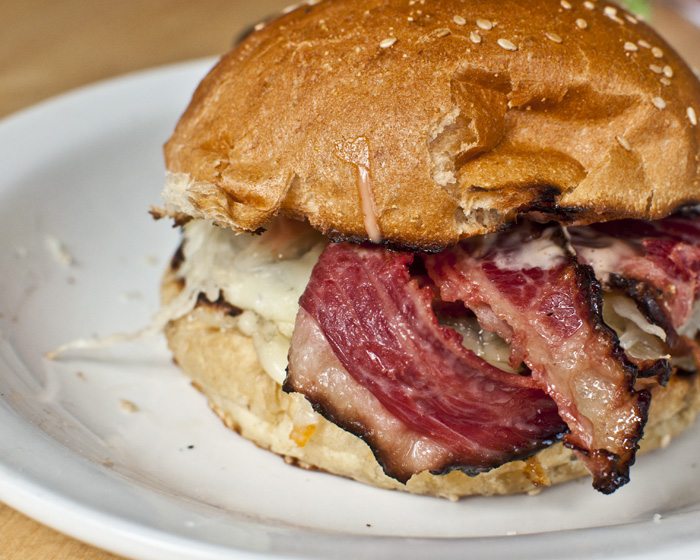 For all those deli lovers out there, if you're going to try one burger, it has to be this one. The patty consists of a mixture of beef and Caplansky's signature smoked meat and is topped with a heaping helping of sauerkraut, just enough dressing for a bit of sweetness, and even more smoked meat to satisfy those meat lovers.
Toma Burger Addiction
The Truffle Cheeseburger (Truffle Mayo, Caramelized Onions, Lettuce, Tomato, Pickles, Cheddar)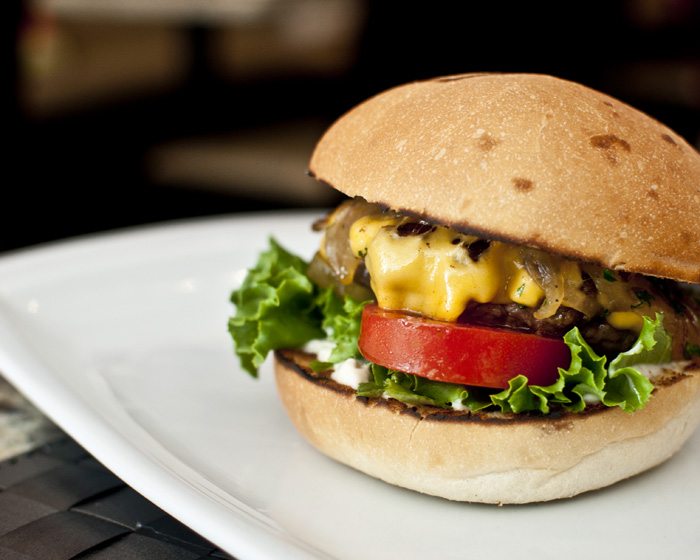 This burger was truly picture perfect, and was a take on the classic with a few upgrades. The truffle mayo was light, but played off the decadence of the tender meat patty. The beautifully caramelized onions were melt-in-your-mouth and had just the right amount of sweetness. If you're looking for a traditional take on a burger than I highly recommend TOMA. You won't be disappointed.
The Beverley Hotel
Le Bev Burger  (Wafu Sauce, Cheese Sauce, Tomato, Lettuce, Pickles)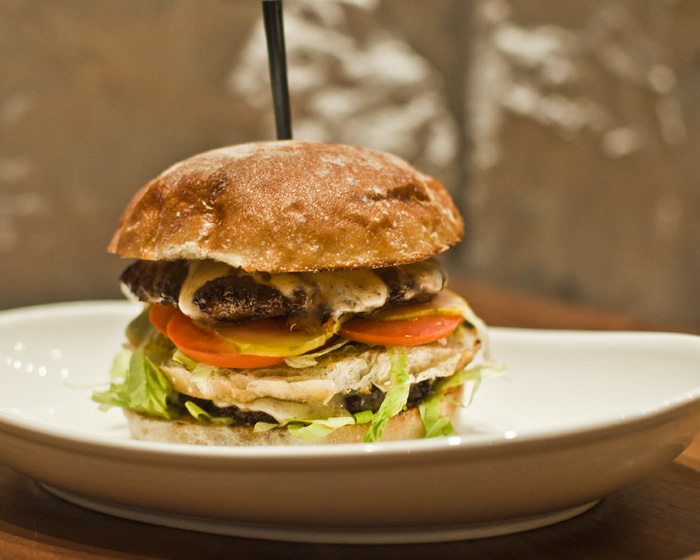 We're all familiar with the infamous Big Mac, and The Beverley has taken the king of all sandwiches to a whole new level. With the use of Wafu Sauce diners have a flavour experience that puts Micky D's secret sauce to shame. The sweet, salty, and spicy notes paired perfectly with the cheesy goodness, and slightly sour pickles that lay inside. So good!
After all that eating my burger cravings have definitely been satisfied (at least for a while). But who am I kidding- there is no such thing as enough good burgers. For all those worried about their waistlines after a full week of being more than a little gluttonous, Le Burger Week will be awarding the top burger eater in each city with a gym pass to their "Burger Bootcamp" in Montreal. This will allow the burger lovers to burn some of the extra calories that were devoured during the week. Sounds worth it to me.
Photo from Le Burger Week
Le Burger Week is on from September 1st – September 7th and features 180 different burgers throughout Canada. Check out their website here to see the contenders, read more about the event, and vote for your favourite.
Disclaimer: The preceding food was complimentary, however, as always, all opinions are genuine.
Contribution by AK Taster Savannah Onofrey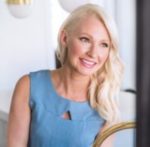 Abbey Sharp is a Registered Dietitian, an avid food writer and blogger, a cookbook author and the founder of Abbey's Kitchen Inc.