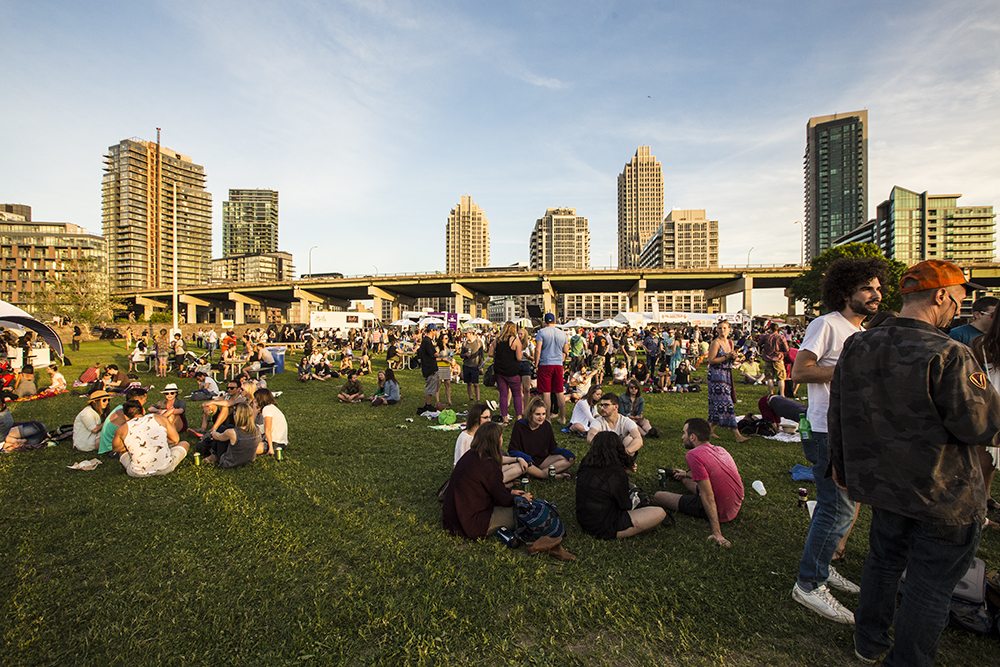 After the massive success of 2013's one day indie-fest, Field Trip, Toronto music label Arts & Crafts went big and stayed home. Given last year's offering, there's no way I would! Back at the city's historic Garrison at Fort York, 2nd annual event was offering too much goodness to fit into a single sun cycle. Over two days, Field Trip 2014 mustered a bill of 25 local and international music acts over two stages, including New York alt rockers Interpol, Scottish synthpop trio CHVRCHES, recently reformed Guelph hometown heroes Constantines and Canadian indie royalty Broken Social Scene.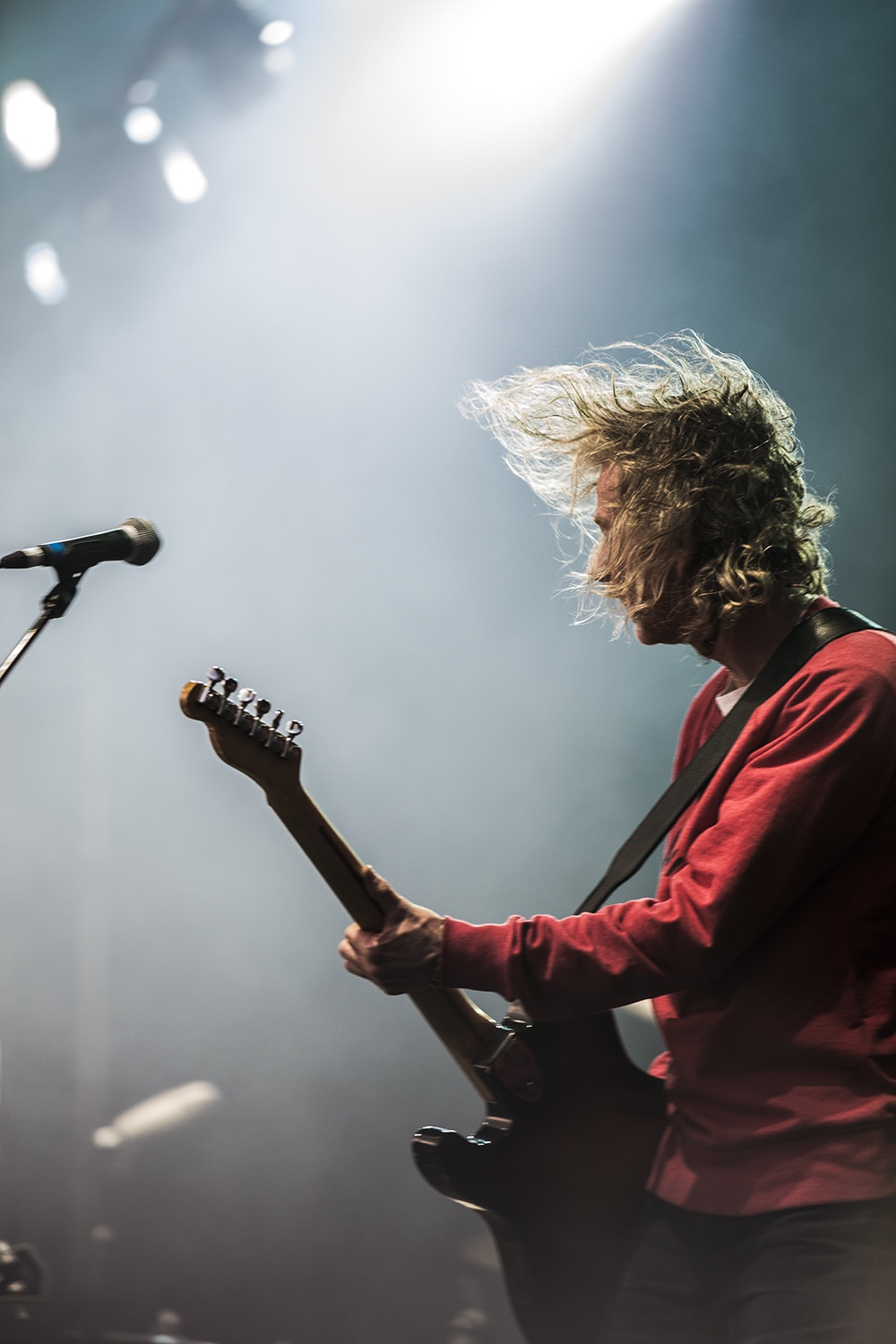 Entry would set you back $75 for a day pass, or $125 for the whole weekend, and run from a leisurely 1:30 pm right till 11 at night.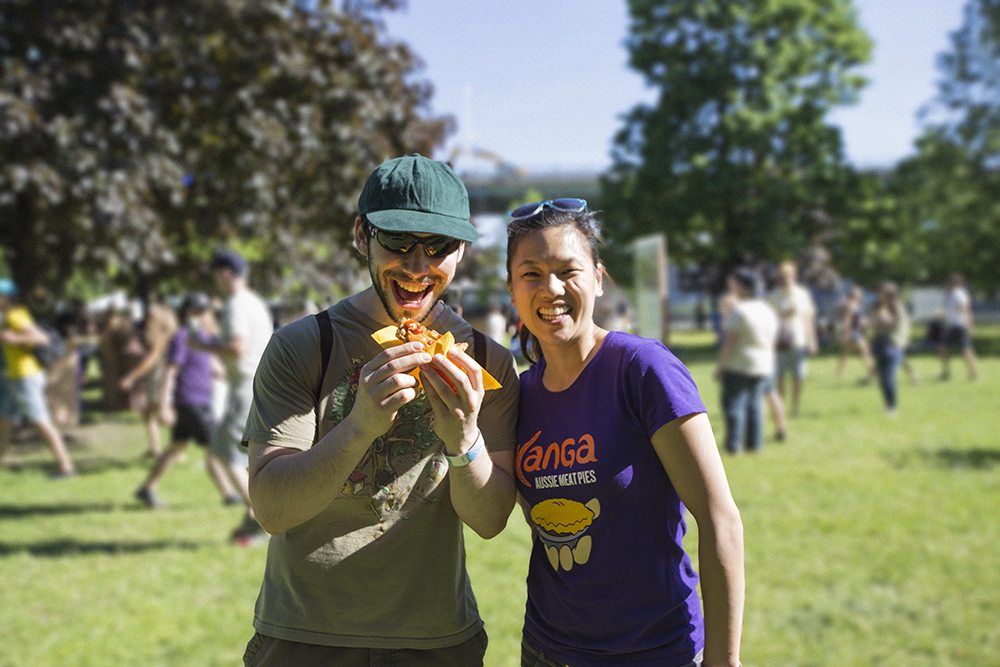 But forget being bored between musical sets, there was so much great stuff to do! The Mess Hall hosted a bunch of food and cocktail challenges, from blind ice pop taste tests to a kids only watermelon eating contest. I was partial to the field of hoola hoops tempting anyone willing to give their hips a swing, while The Drake General store was stocked for those feeling premature nostalgia. And for the hipster parents with kiddies on board, the bouncy castles, jumbo tic tac toe and some bands performing kid-tunes on the bunny stage ensured everyone was entertained.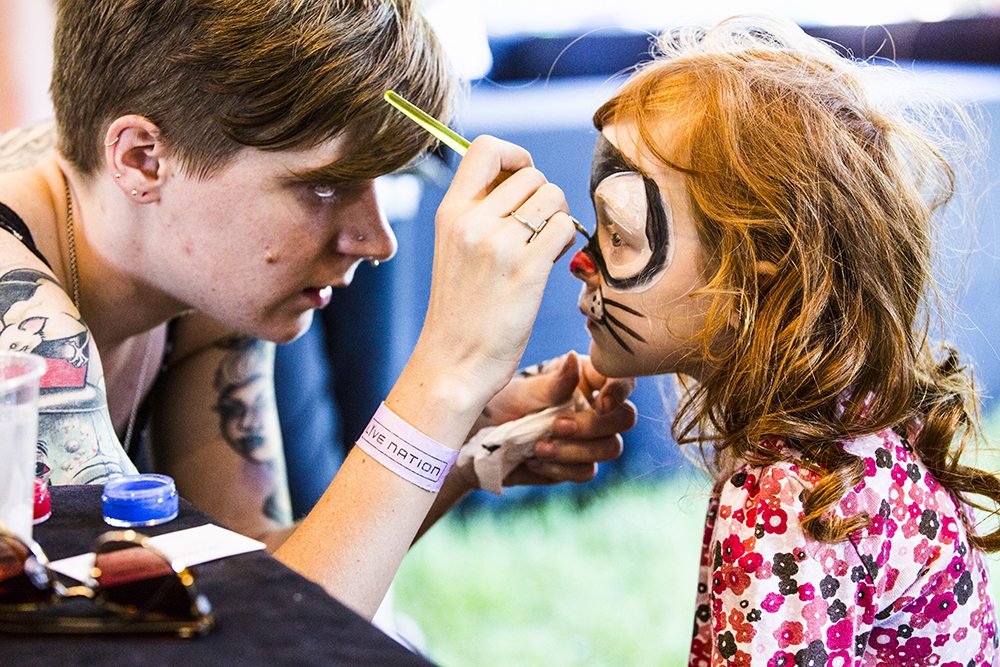 Obviously, something for everyone, but my quest could be summed up in 5 words: Food trucks and pop-ups. With over 20 vendors offering a combination of gourmet eats and comfort treats scattered across the Garrison, I had my hands and plates full trying to taste around as much as possible. Being a cash only event (with handy ATMs on site) meant the lines were tiny and the choice was huge. Wait, why tell when I can show? Here's a #foodporn snapshot of the yumminess on hand.
Kanga Pies: Kiwi Classic ($8)
One of my friends, a homesick Kiwi bloke, made a bee line straight for Kanga's. I'm already a fan, so I knew what he was in for. Grabbing a Kiwi Classic he took a few bites of minced beef and melted cheddar, wiped a tear then grinned from ear to ear. "Bloody choice" he blurted, before chowing down the rest.
The Feisty Jack: The Bollywich ($8)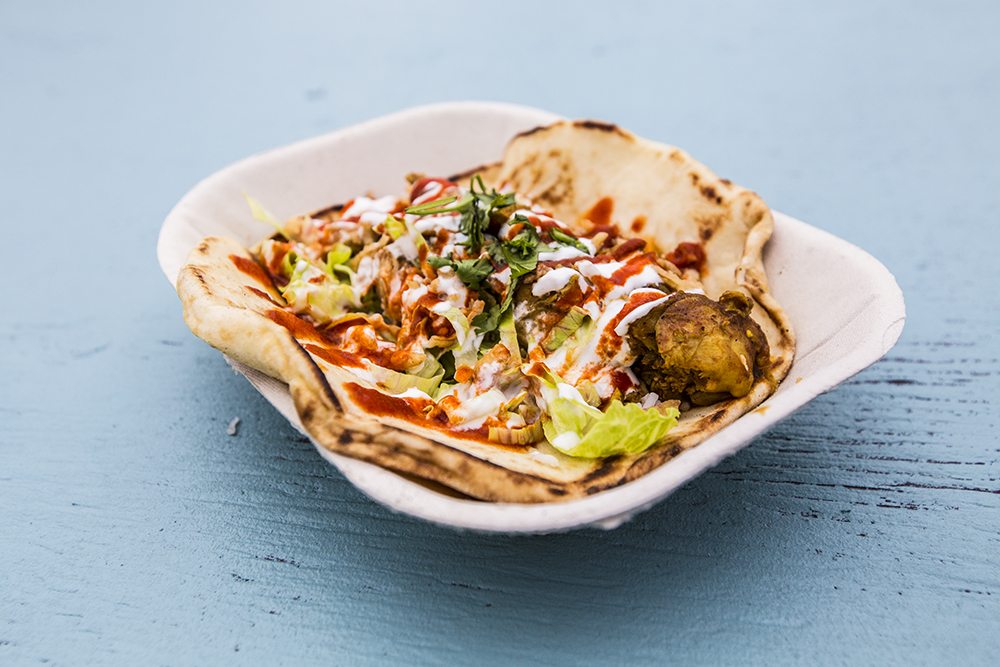 Feisty indeed. This thick, soft naan wrap was crammed full of tender chicken masala chunks with a memorably lingering spice. The chilli sauce and cucumber raita mixed perfectly to tie it all together.  Hugely filling, the only thing missing was a big pint of beer.
Summer Time Lemonade: Tornado – Lemon, Lime and Orange ($6)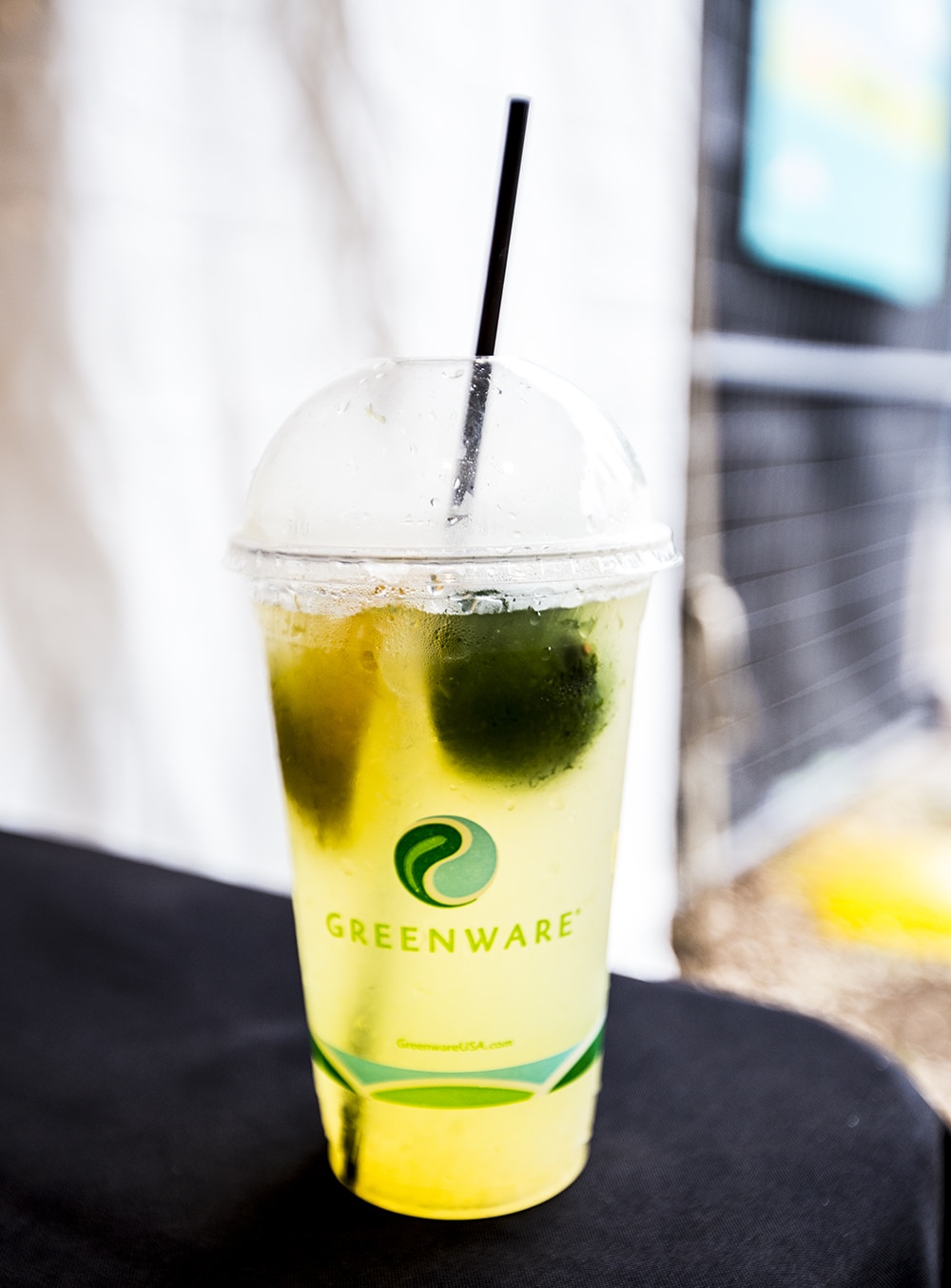 Deciding between this and the Cherry Lemonade, I decided to stick with the citrus. With a massive 24oz size, my cool was well kept.
Hot Bunzz – Seoul City Bison Short Rib and a side of Hot Chipzz ($5, $2)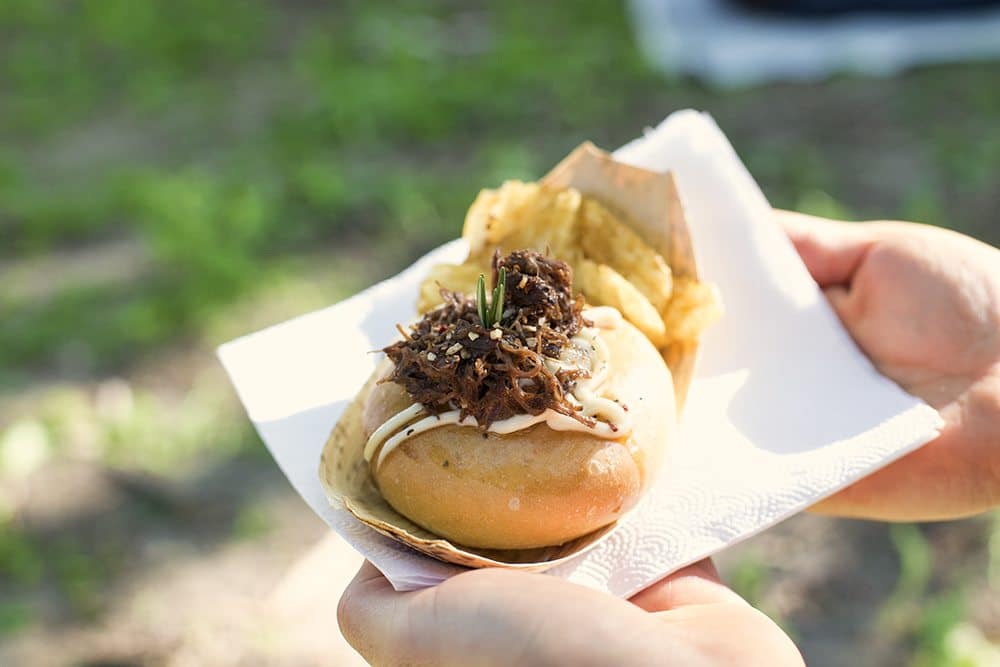 Ever a favourite, I couldn't resist grabbing a bun on the run. With a scrummy sweet/savoury mix of bulgogi braised bison and caramelized Asian pear puree, topped with a sprig of rosemary and a touch of mayo, it's no wonder I've eaten my weight in these bunzz.
Pimenton Spanish and Mediterranean Fine Food: Chicken Paella ($8)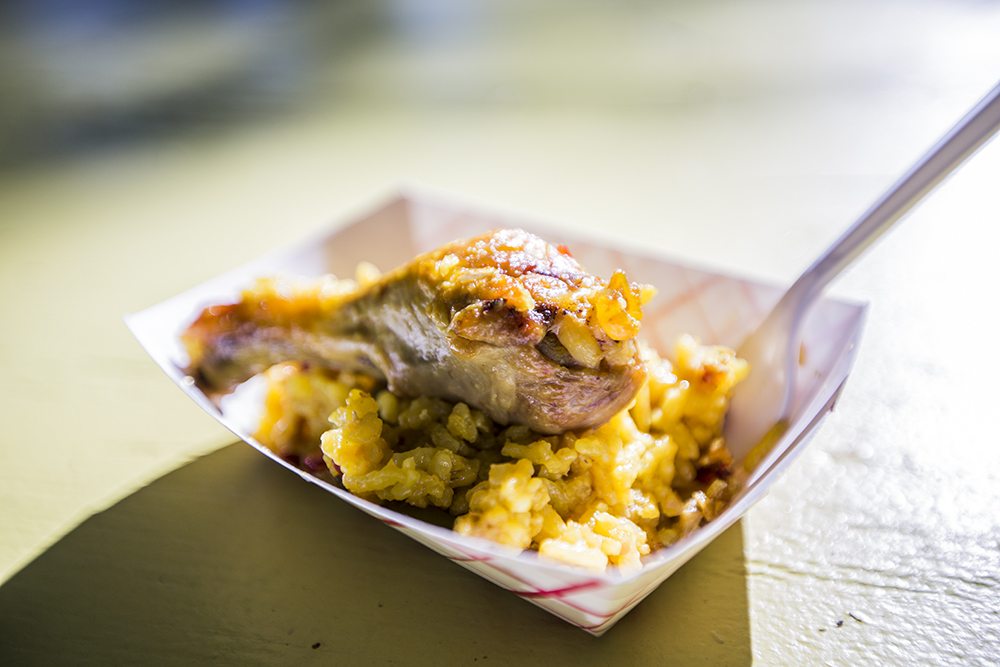 A bed of moist Paella, crammed full of locally sourced veges. The chicken was tender, free range and mucho gusto.
Penny Lou Lou Sweets and Treats: Penny & Leonard ($8)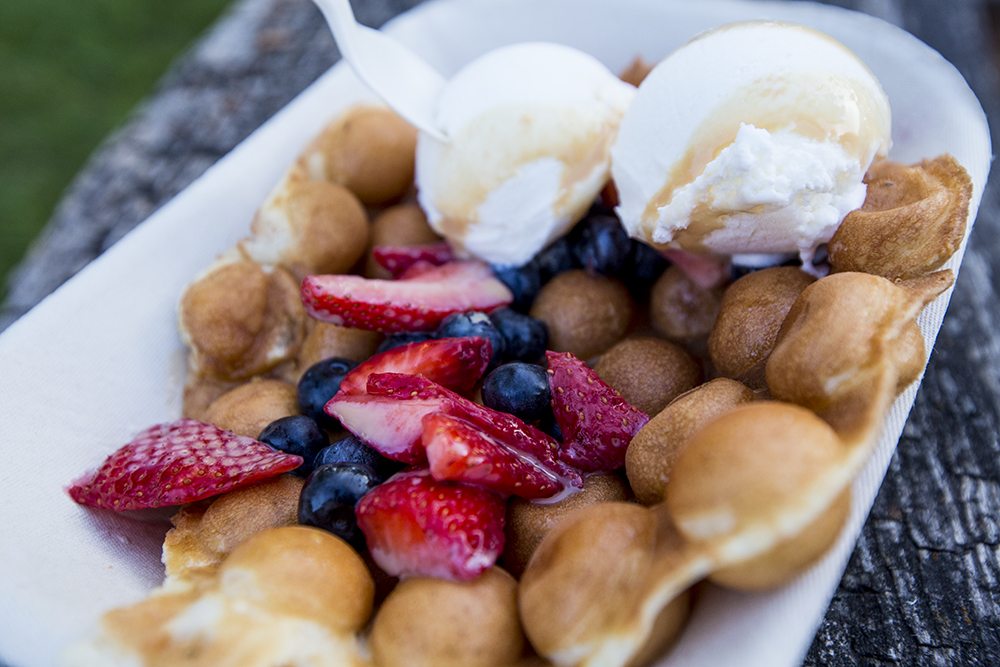 Fresh on the Festival scene, these adorable Hong Kong style desserts are destined for big things. Crispy Bubble Cakes with a soft, chewy center, topped with berries, ice cream and a sinfully good citrus caramel sauce.
The Saucy Pierogi: Honey Garlic Chicken with Krout Slaw ($6)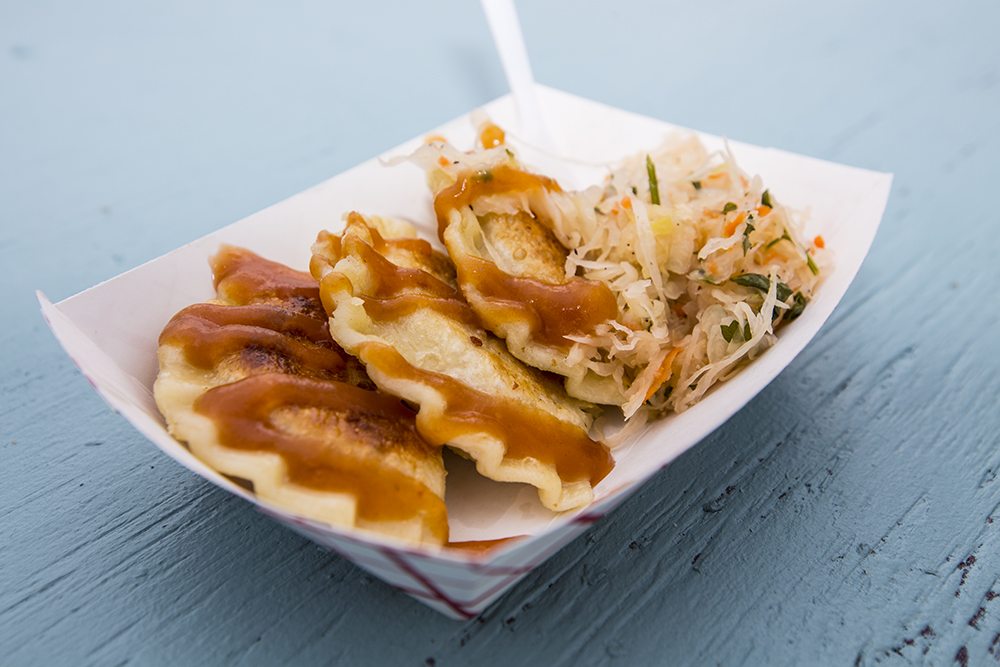 Looks like someone's Polish grandmother learned a few new tricks. These guys whipped up a plate of honey garlic chicken pierogis heaped with their own krout slaw, a flavour I've never had from them before! The fluffy mashed spud filling meshed perfectly with the sauerkraut slaw, while a drizzle of zingy honey garlic sauce tied it all together.
Boreal Gelato: Salted Caramel Gelato ($4)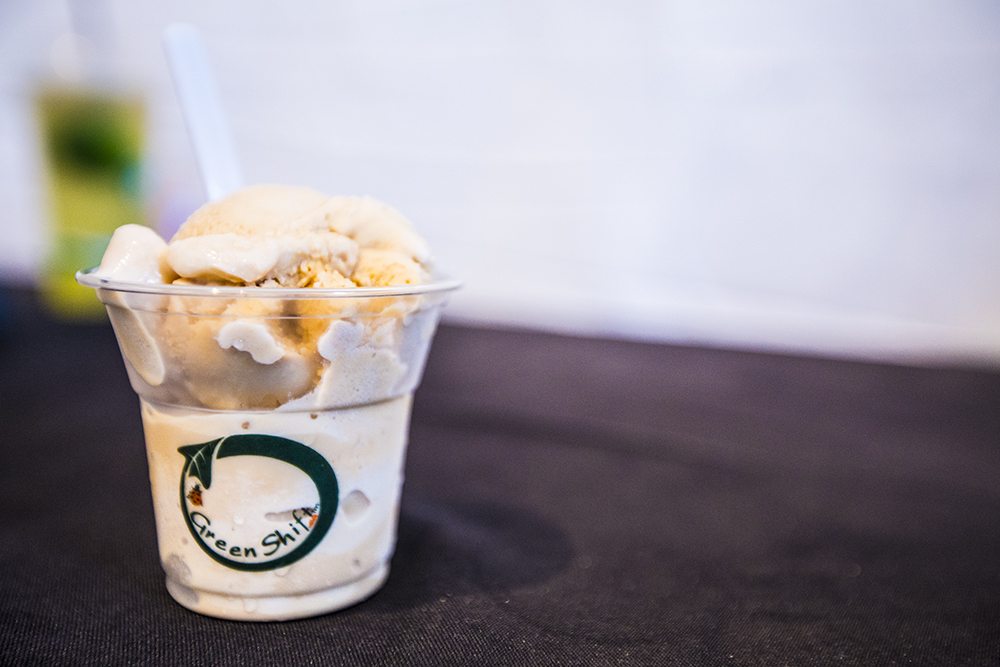 A steady line of concert-goers flocked here all day. After last year I wasn't gonna miss my chance to grab another scoop. Salty and sweet, cool and smooth.
The Good Press: Beets, Acai & Lime Juice ($6)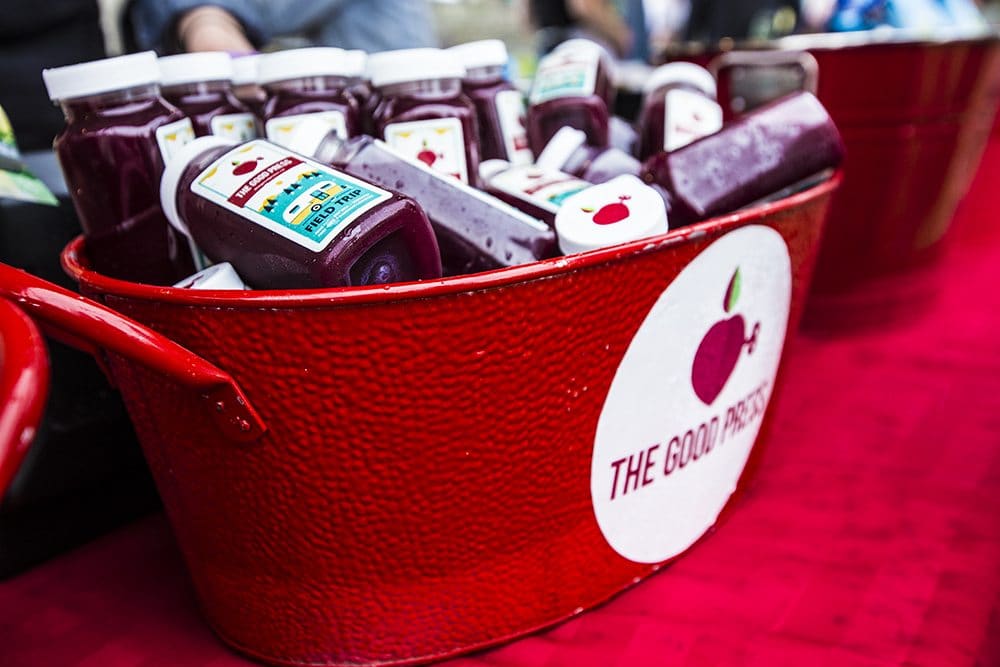 After a belly full of savoury bites, a bottle of fresh, organic cold pressed juice couldn't be beat. Good Press had my back.
Buster's Sea Cove: Key Lime Pie ($7)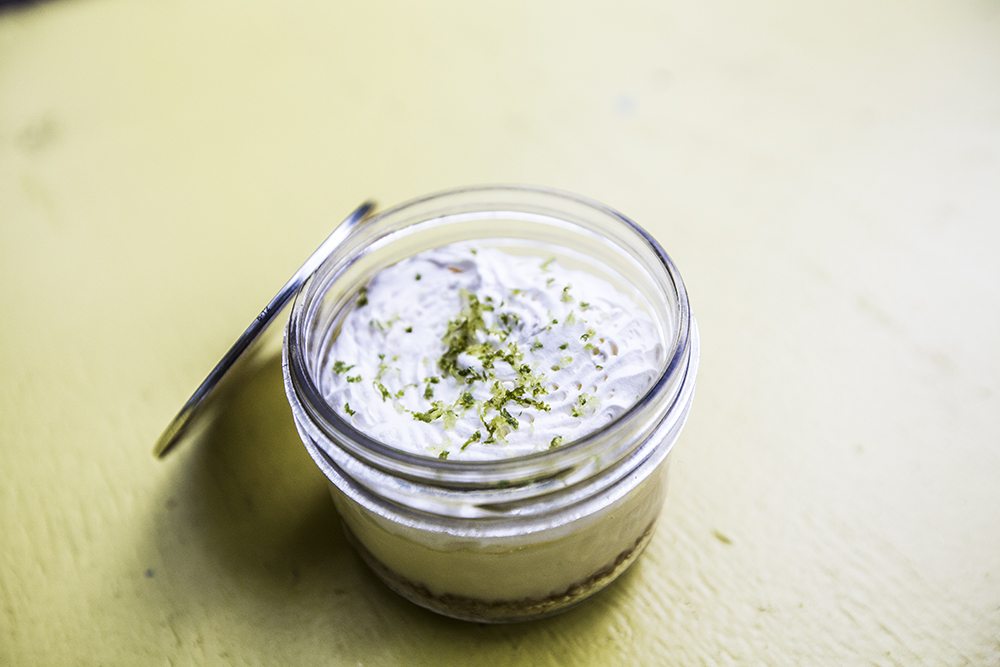 Presented in a cute mason jar in case you had the will power to save some for later (obv not this girl). The buttery biscuit base was firm, but with a crumbly mouth feel. The lime was sweet and tart without a hint of harshness and the light-as-a-cloud whipped cream welcomed it well onto my tongue. I actually was filmed on Eat St eating this pie and it never disappoints.
Somersby Apple Cider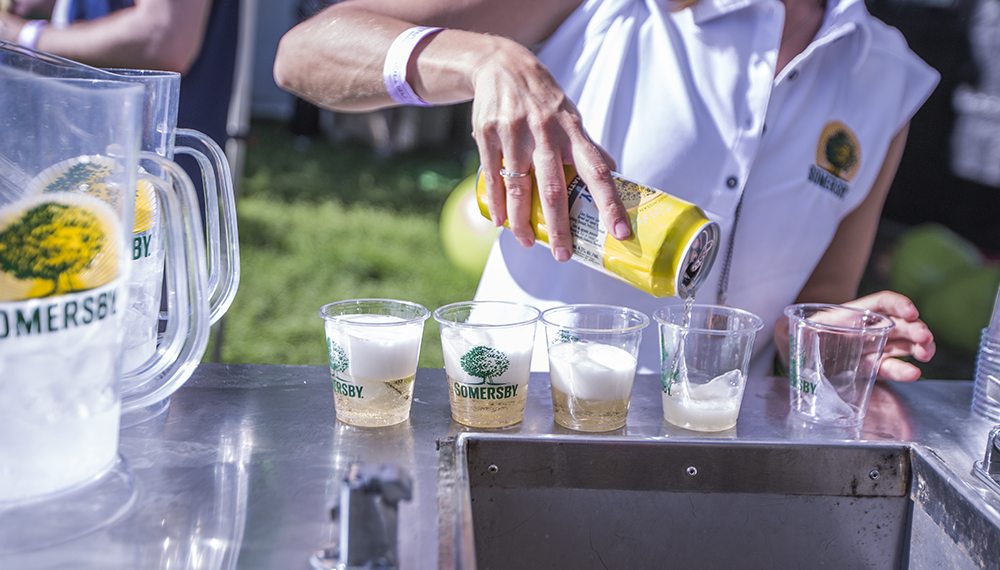 What would a hot summer's day be without something bubbly to wash it down?
Augie's Gourmet Ice Pops: Strawberry & Rhubarb ($3)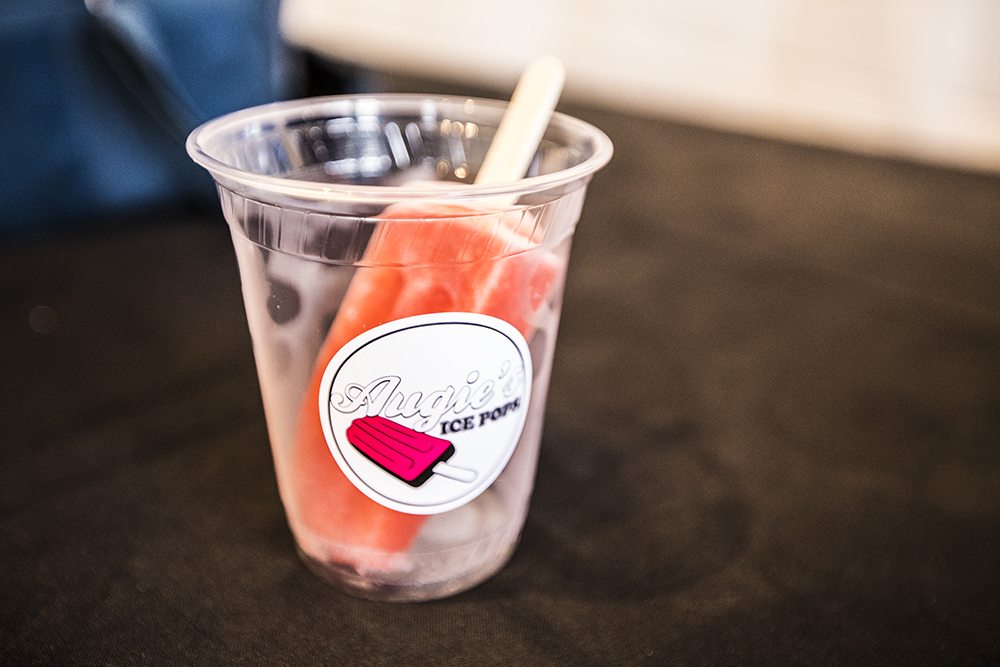 An icy sweet treat for the hot summer heat that can't be beat. Did that rhyme? Just call me Vanilla Ice (oh dear, please don't).
Food Dudes: Mac & Cheese Balls ($7)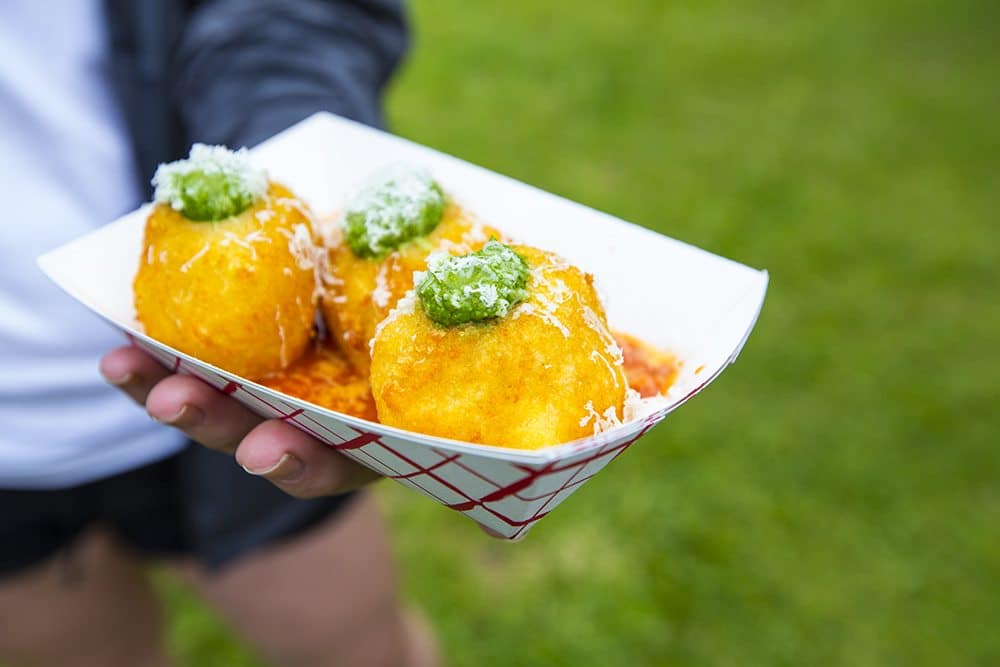 It was nearly impossible to get anywhere around the venue without seeing someone chowing down on a plate of these. A crunchy fried coating topped with basil puree, sitting in a bed of spicy marzano sauce. Biting into one was a gorgeously gooey experience. A great way to fill the tiny space left in my stomach.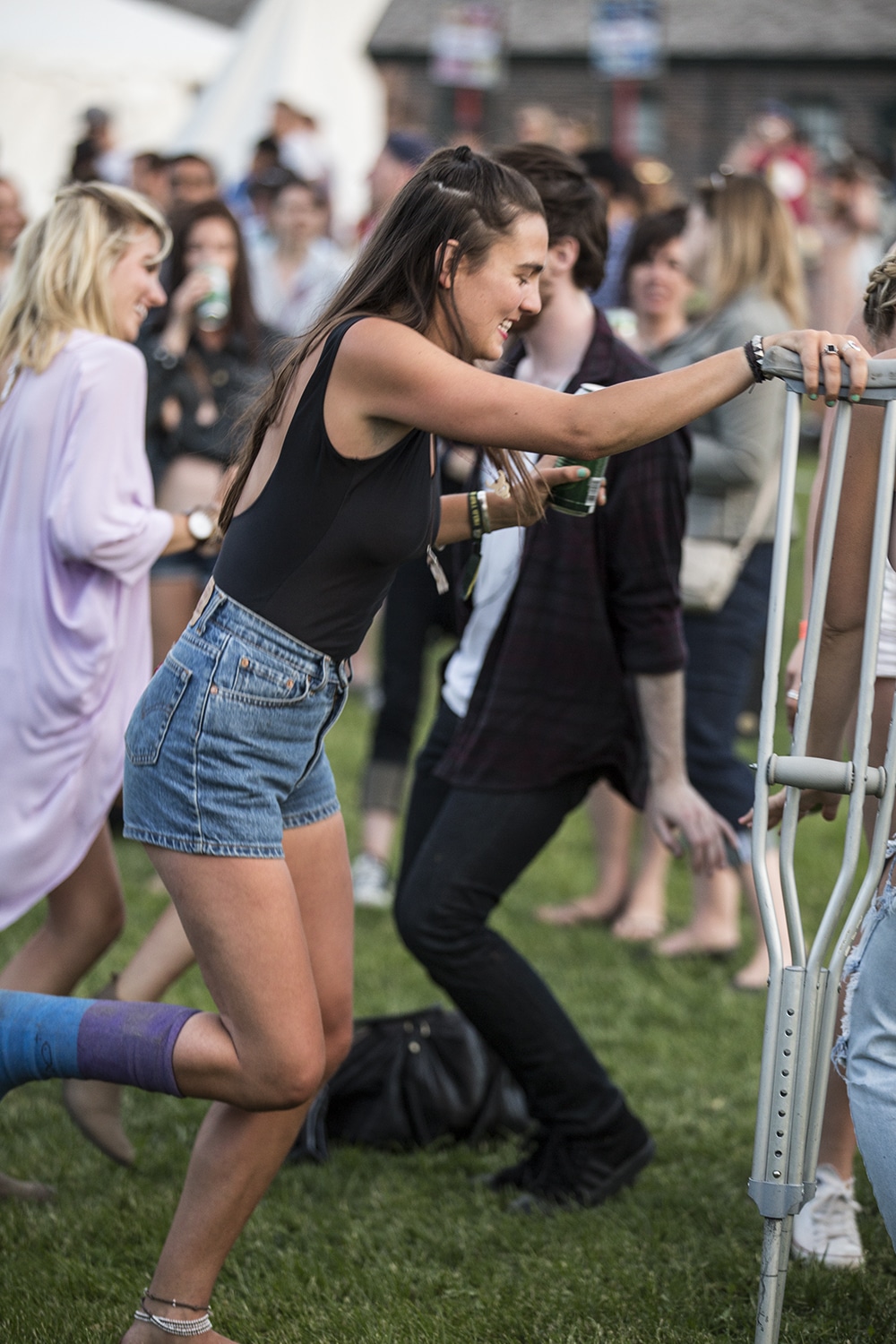 Do what you love, right? Well after two days of lovely gluttony I was done. Like any good day out, it had to end at some point. It was time to pack away the sunscreen, sunnies and sandles and wish Fort York a good night. For the second year in a row, Field Trip put on a feast for the ears, eyes and (most importantly) stomachs of lucky ticket-holders. Between old food truck faves and a few new faces, you would've been hard pressed to walk away empty bellied. Congrats go to everyone involved in bringing together so much goodness in one place. To get more info on Field Trip, you can check them out here, or say hi via Facebook or Twitter. See you there in '15.
Disclaimer: The event was complimentary, however, as always, all opinions are genuine.
Contribution by AK Taster: Leon Weinstein and Maya Setton
Updated on April 2nd, 2016