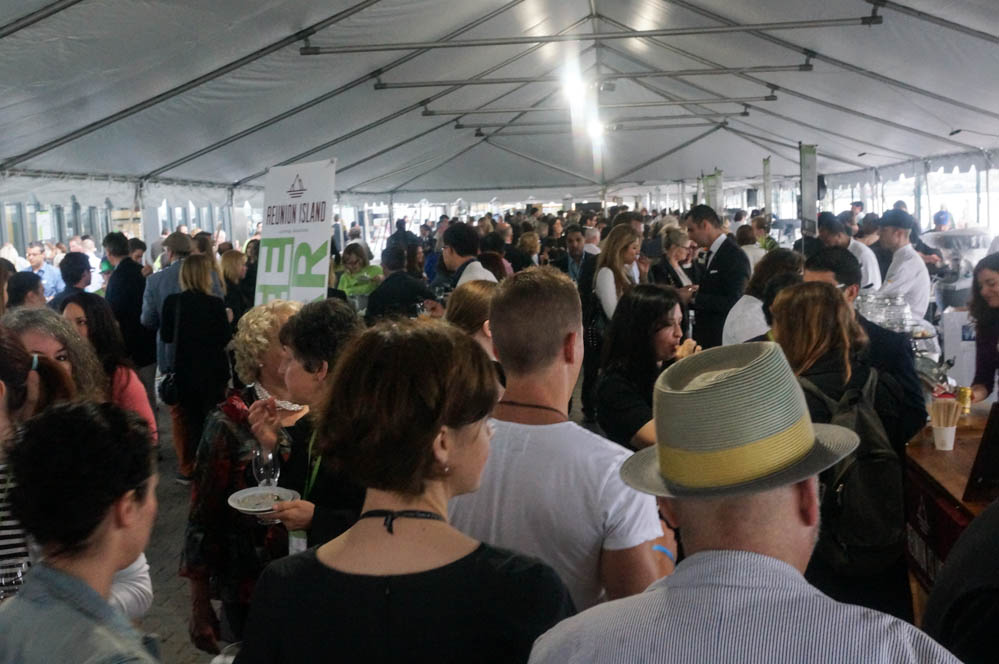 On Sunday June 8th, Toronto's foodie elite gathered at the Corus Entertainment building (25 Dockside Dr.) for Second Harvest's 24th annual culinary fundraiser, Toronto Taste.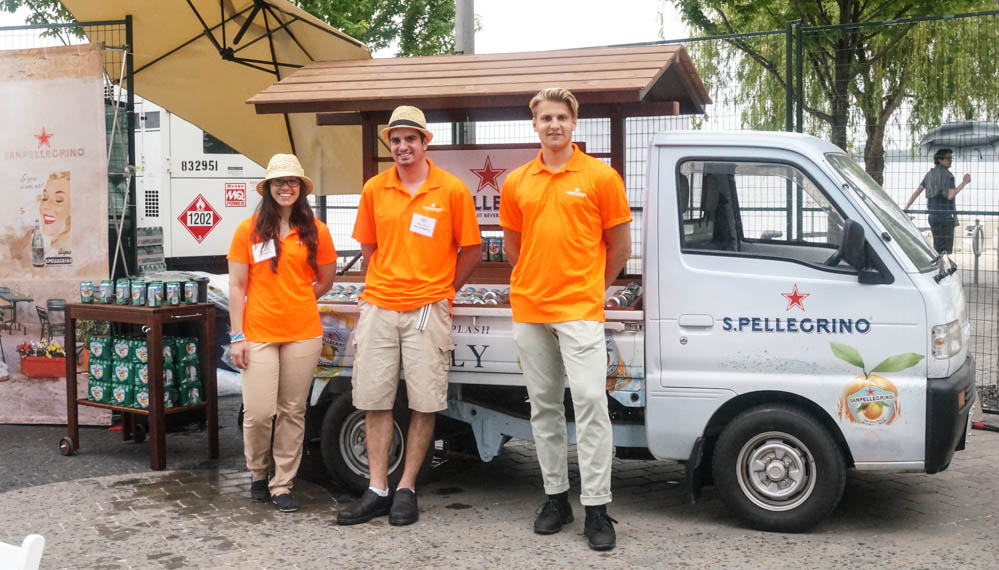 San Pellegrino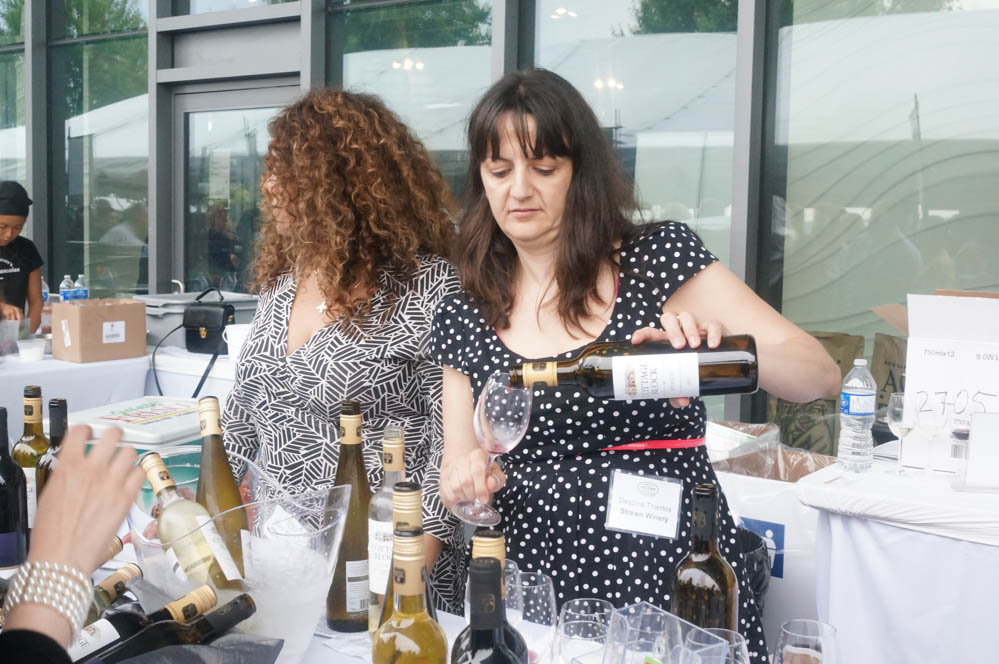 Strewn Winery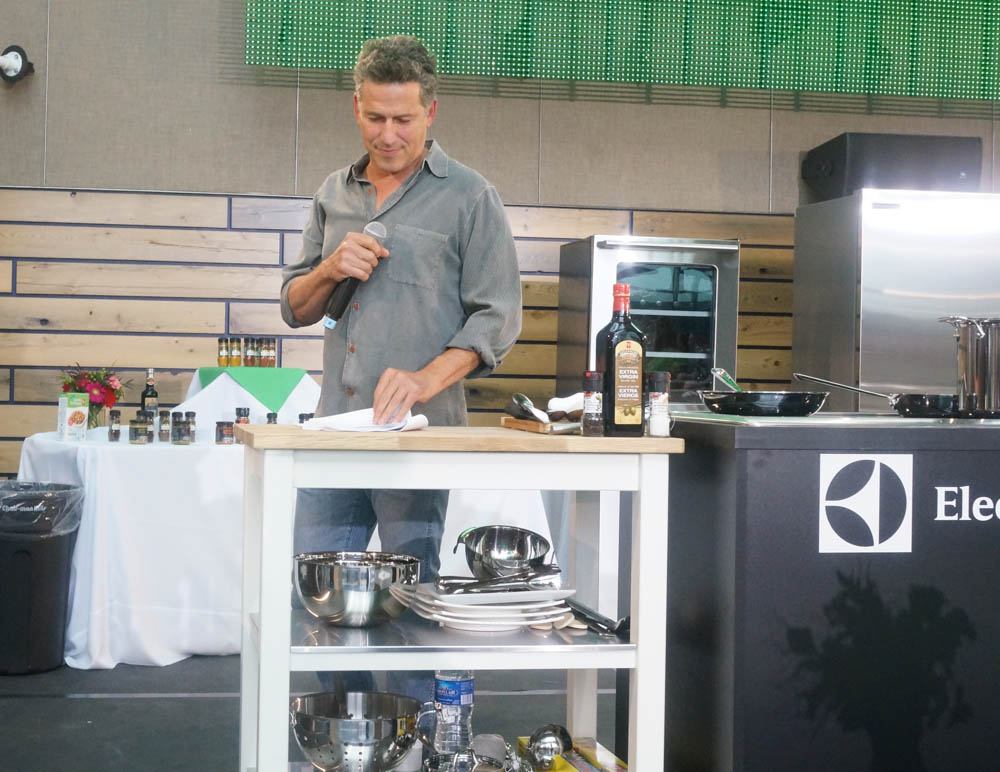 Host Bob Blumer
Since its inception in 1985, Second Harvest has become the largest food rescue charity in Canada, recovering excess food that would otherwise go to waste and delivering it to more than 200 social service agencies in the city. Presented by The Daniels Corporation, Toronto Taste is the organization's biggest annual event, and has raised countless dollars to feed people in need across the GTA.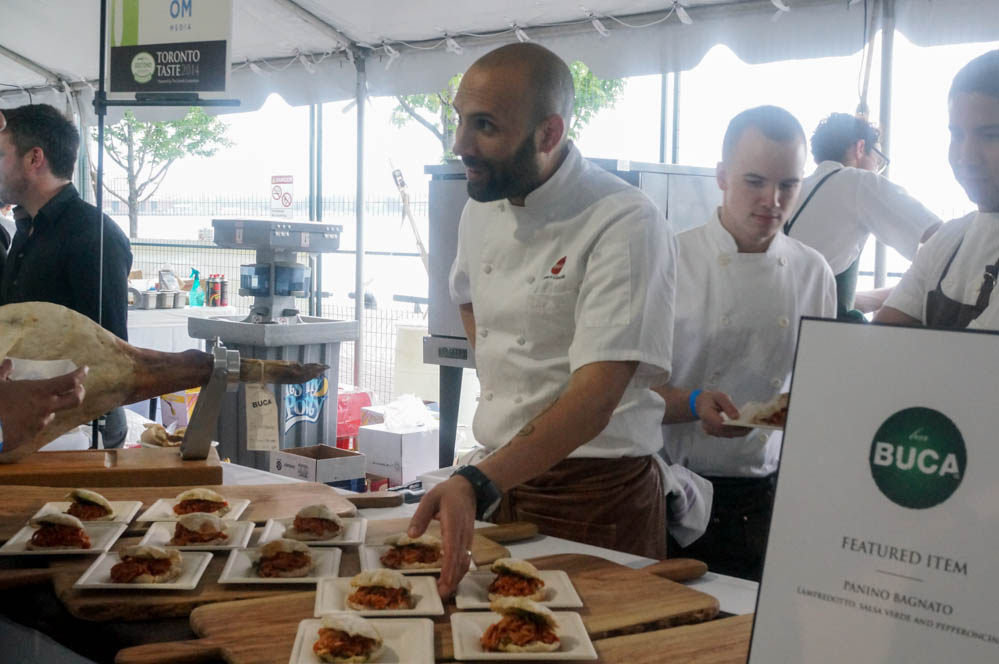 Chef Rob Gentile
In a city obsessed with food events, Toronto Taste is consistently cited as one of the absolute best and marks the kick off to a summer of culinary celebrations.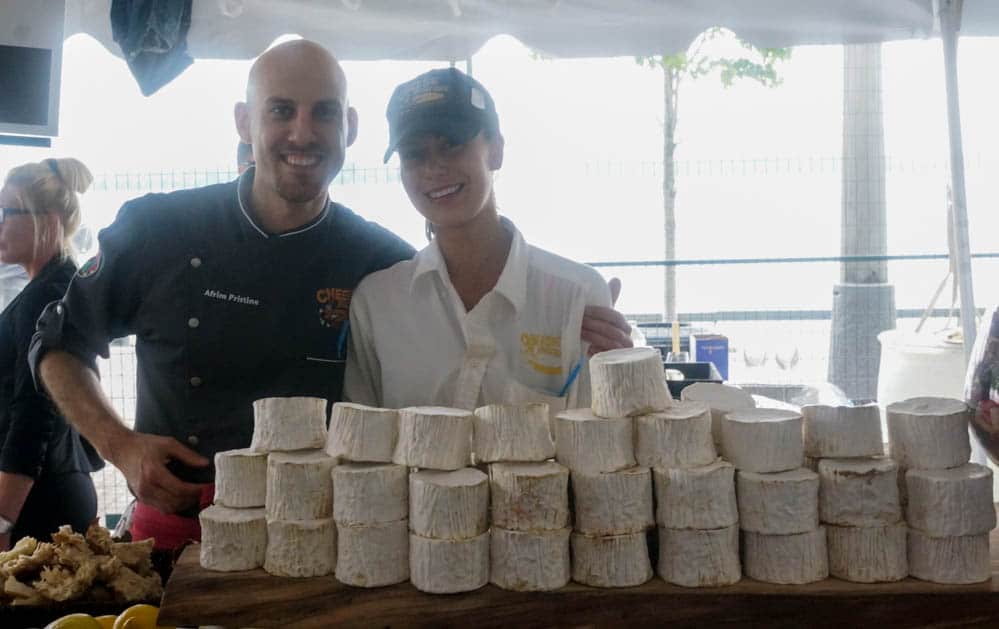 The Cheese Boutique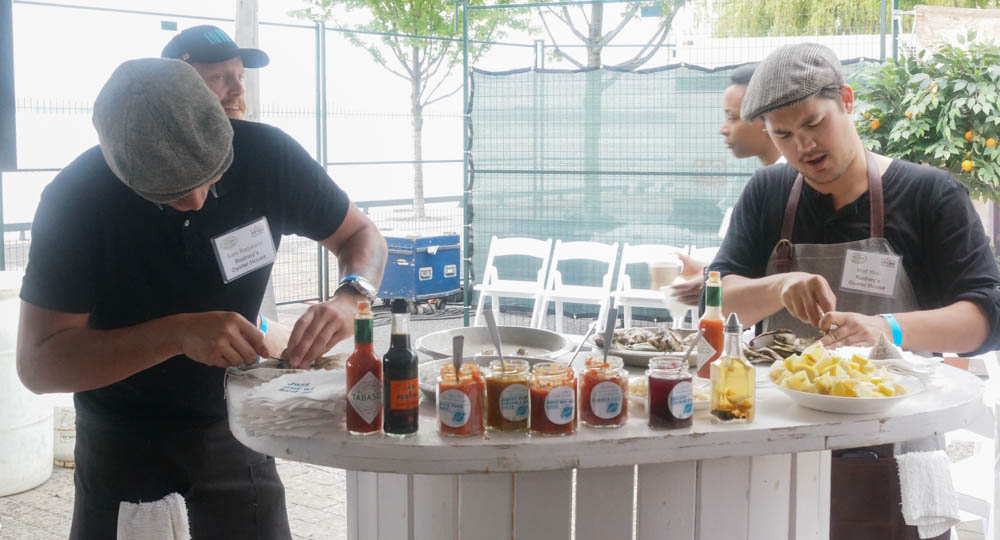 Rodney's Oyster House givin' it
For $250, ticket holders gained access to 70 of the city's top restaurant and beverage purveyors, as well as exciting entertainment like the Taste black box culinary competition.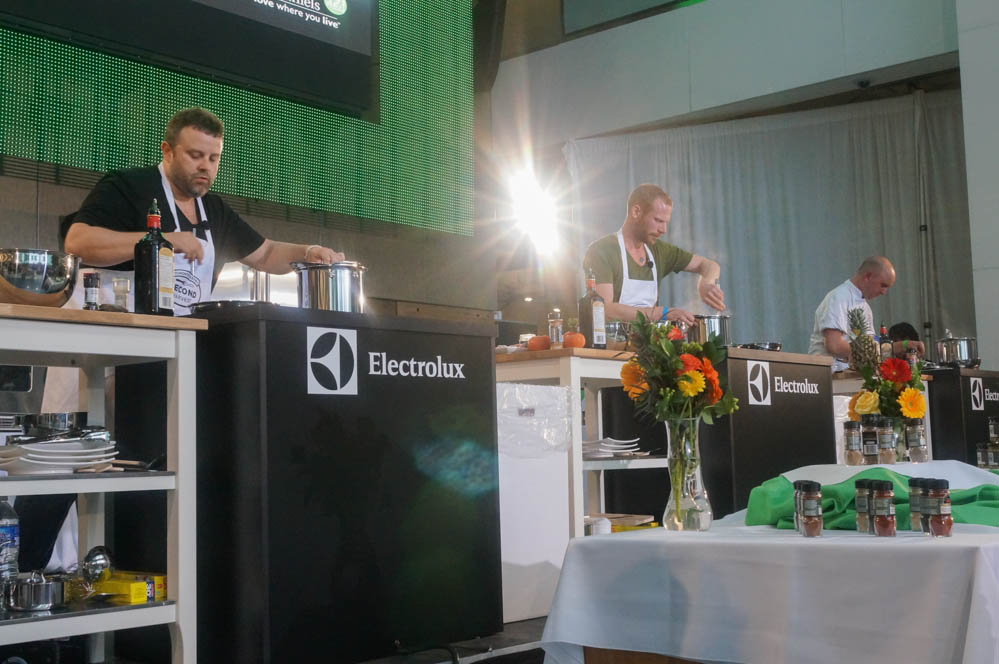 Matt, Alex, and Eric
As a new feature to this year's event, three of Toronto's top chefs, Matt Kantor (The Secret Pickle), Alex Molitz (Farmhouse Tavern) and Eric Wood (The Beverley Hotel) battled it out in a black box culinary competition.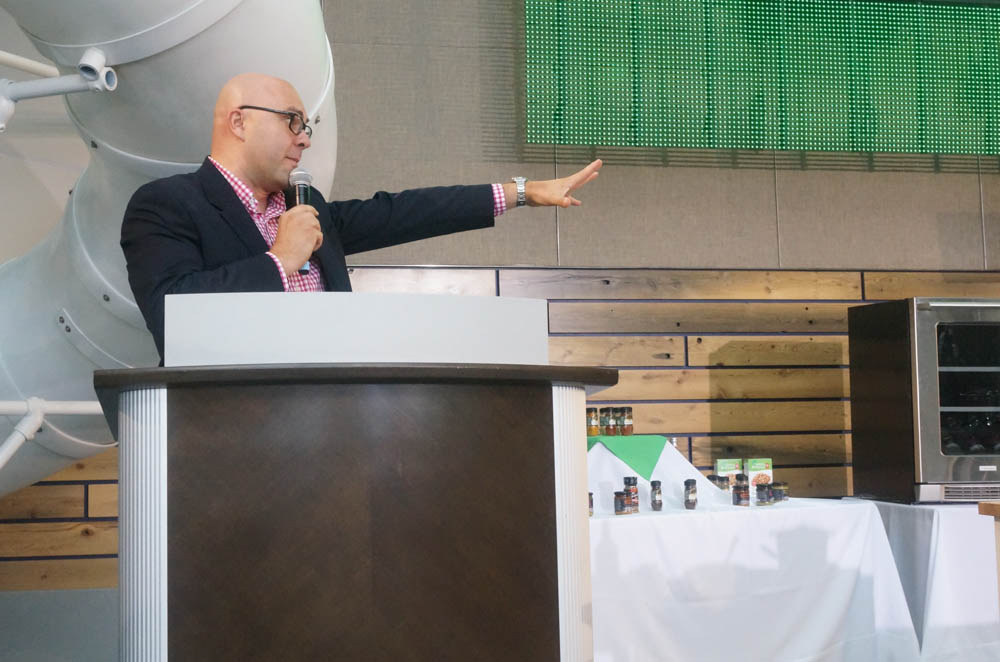 Co host James Cunningham
With the hilarious co-hosts James Cunningham and Bob Blumer counting down the nail-biting challenge, the chefs were put to the test with rabbit, tomato, bacon, spices and walnut pesto as their secret ingredients. Sounds like one hell of a shopping list to me! In the end, Chef Eric Wood of the Beverley Hotel came out on top- looks like his experience from Chopped really paid off!
Matt, Alex, and Eric
Guests also had the opportunity to test their luck in an exclusive luxury-item raffle draw, and auction with prizes such as rare Rothchild fine wines, a round-trip Westjet flight to anywhere in North America, a private dinner by celebrity chef Roger Mooking, and Electrolux kitchen appliances.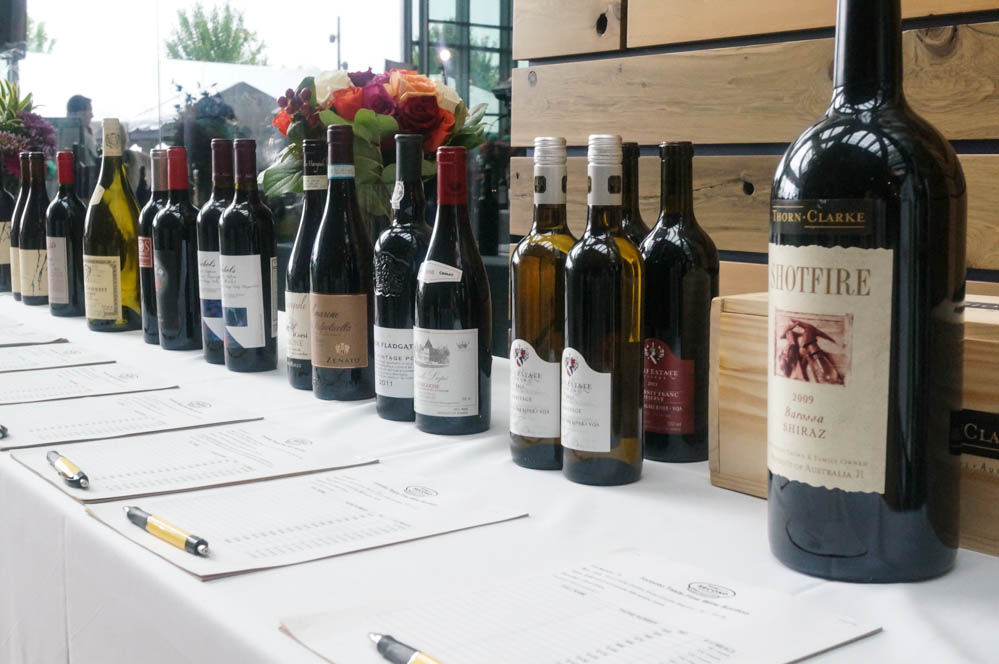 Wine Auction goodies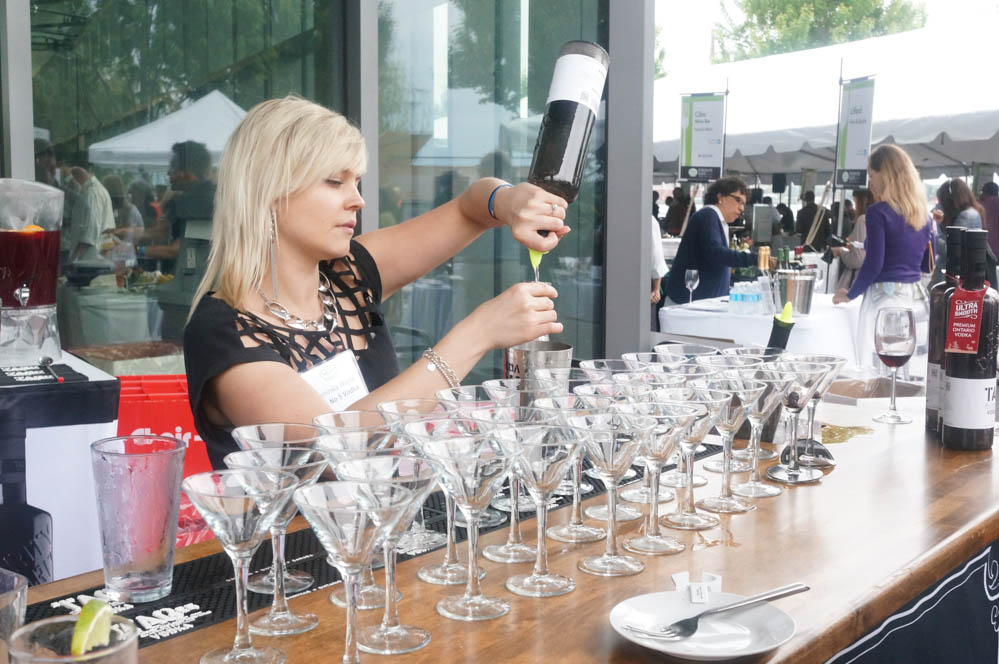 Tag No 5 Vodka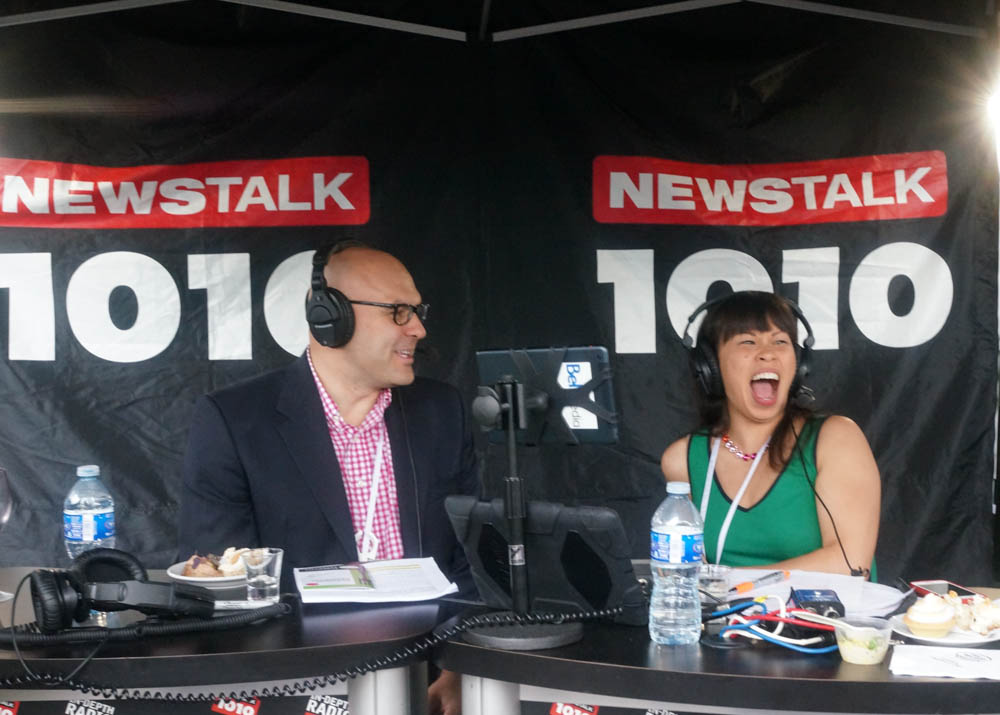 Dressed in Summer's finest, attendees mingled through the labyrinth of vendors, juggling their wine glass with their cocktail style tasting plates, while snapping snap shots of each expertly crafted dish. At one point I was quadruple-fisting my drinks, which takes mad skill I might add, but that didn't stop me from eating my way through the crowds.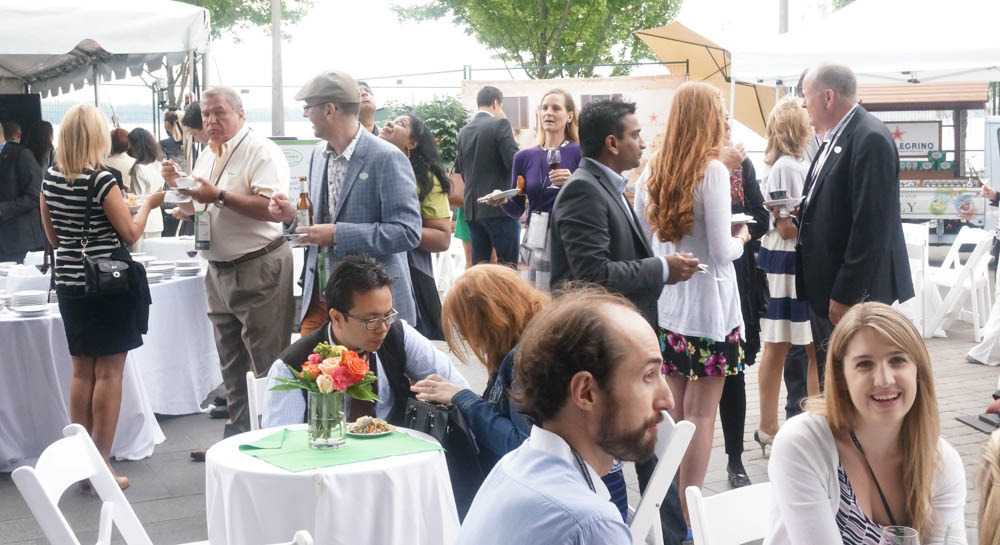 A lovely late -Spring night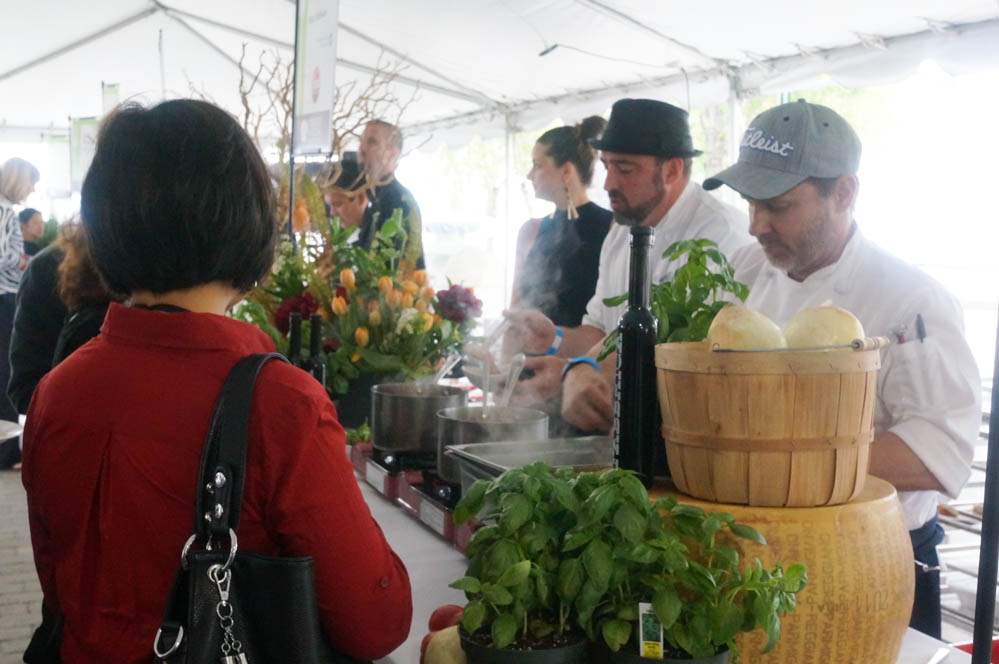 The McEwan Group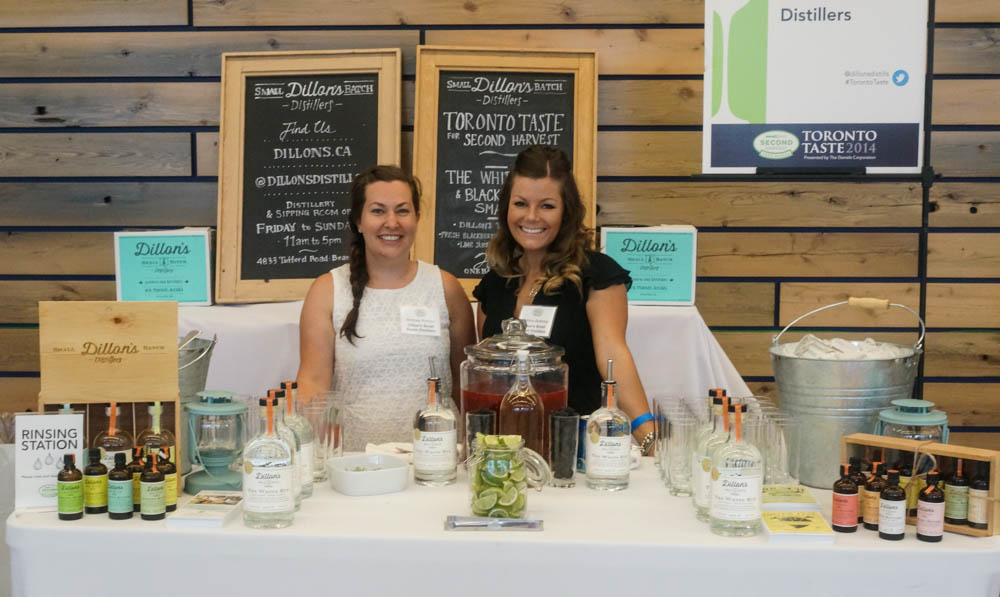 Dillons Distillers beauties
Here's a look at the tasty sips and bites the talented chefs put out this year.
Henry of Pelham
Rose Brut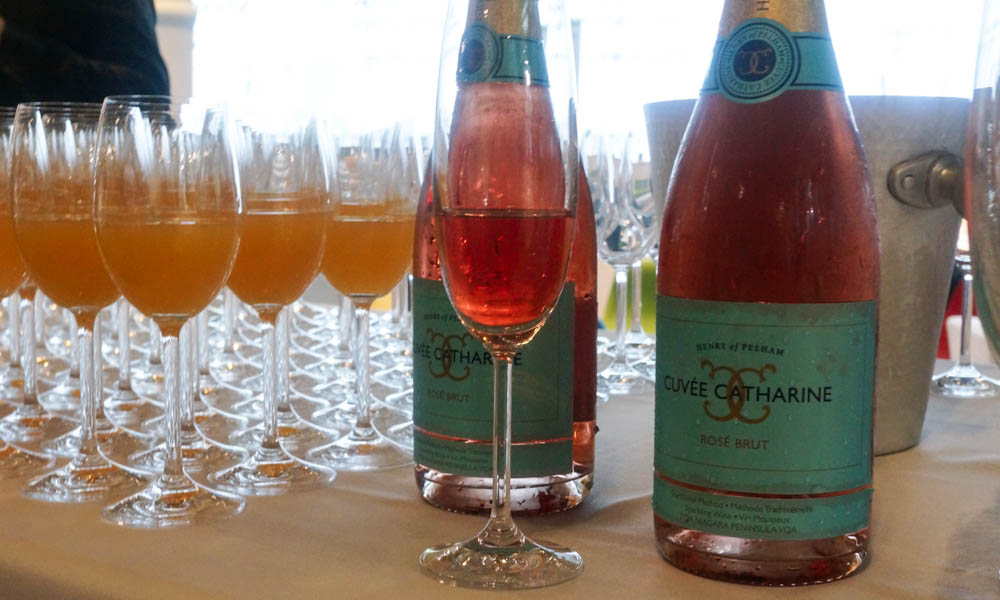 Scaramouche
Gnocchi with Asparagus, Leeks, Honey Mushroom with Parmesan Fondue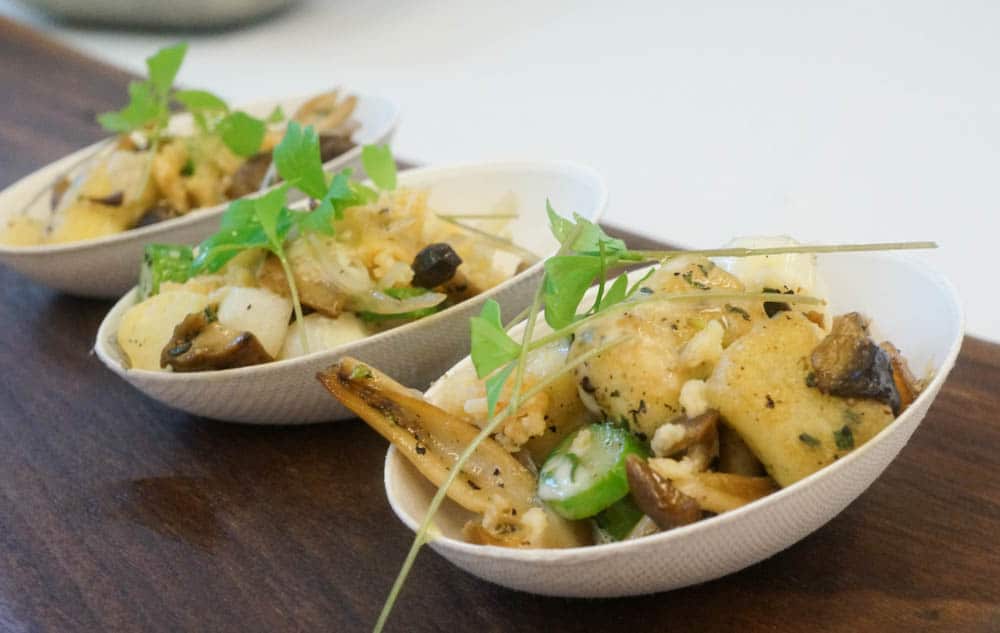 Sotto Sotto Ristorante
Barley Risotto, Porcini, Butternut Squash with Barolo Braised Short Rib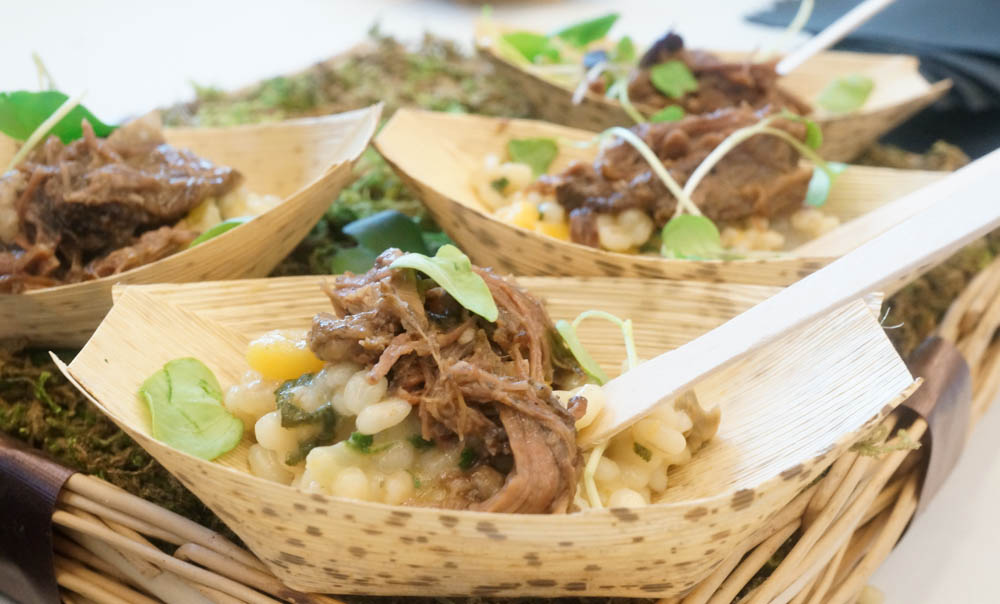 Harvest Kitchen
Scallop Ceviche with Queso Fresco on Cactus Fries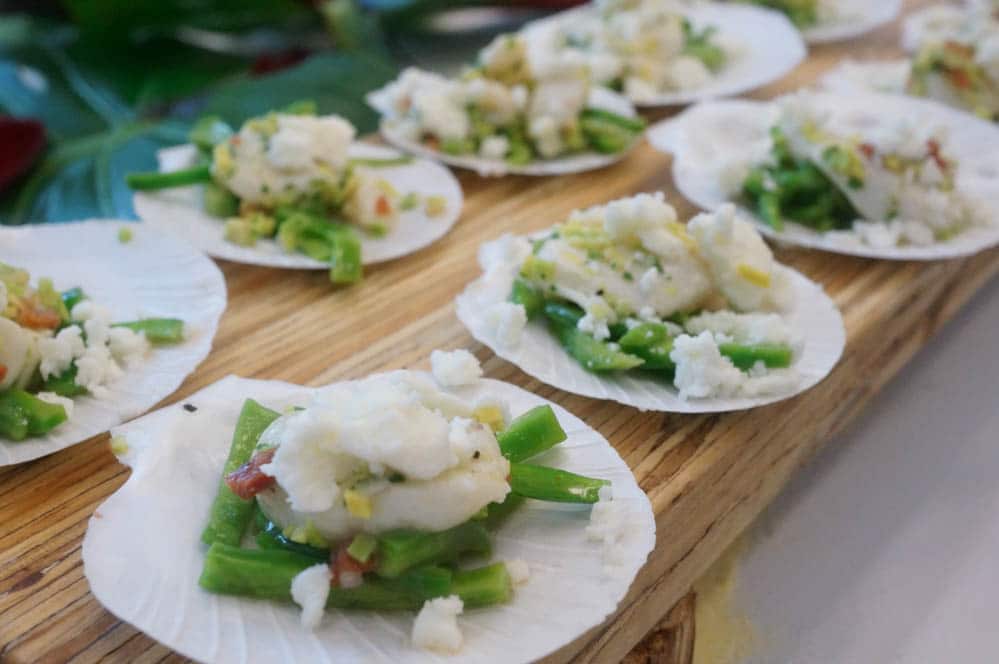 Crush Wine Bar
Chicken Foie Gras Parfait, Celery Root Rhubarb Compote on Ace Bakery Pumpkin Seed Bread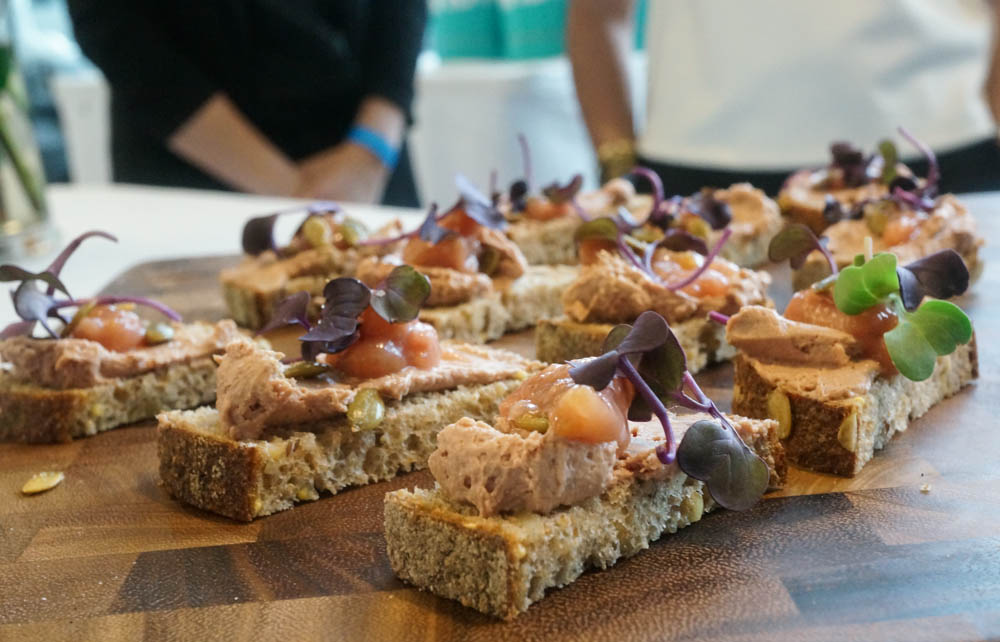 Los Colibris
Rajas Poblanos
Enoteca Sociale
Gnocchi Pomadora with Smoked Ricotta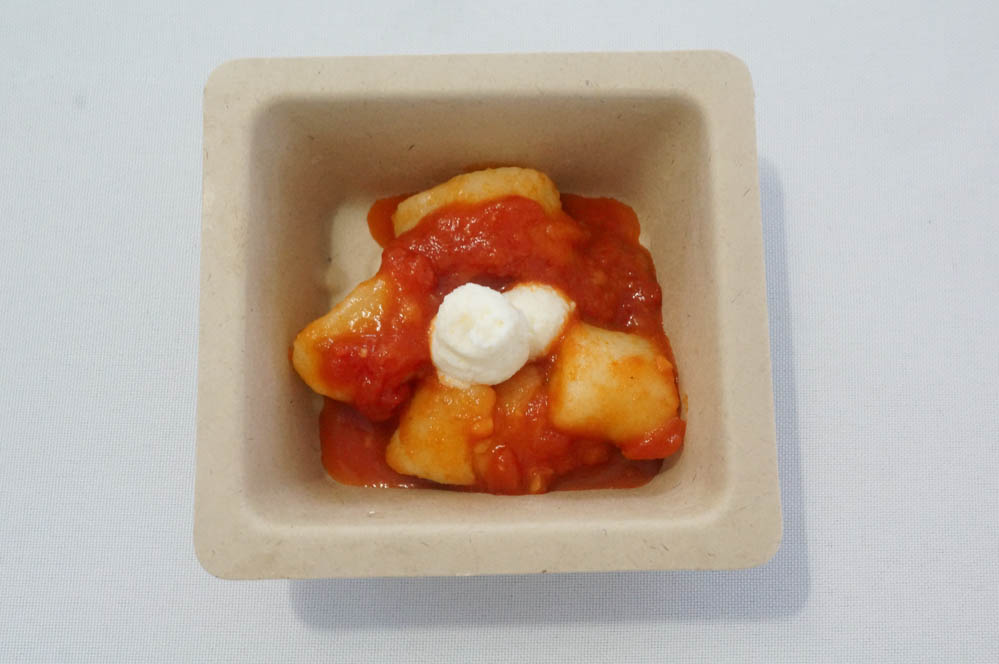 Ace Bakery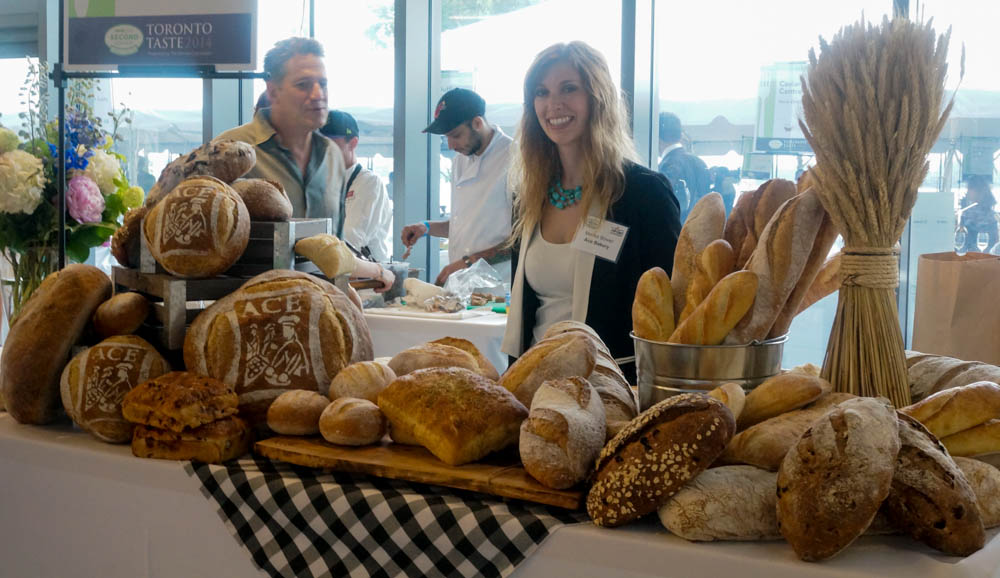 Sandi's Tropical Foods
Fruit Spread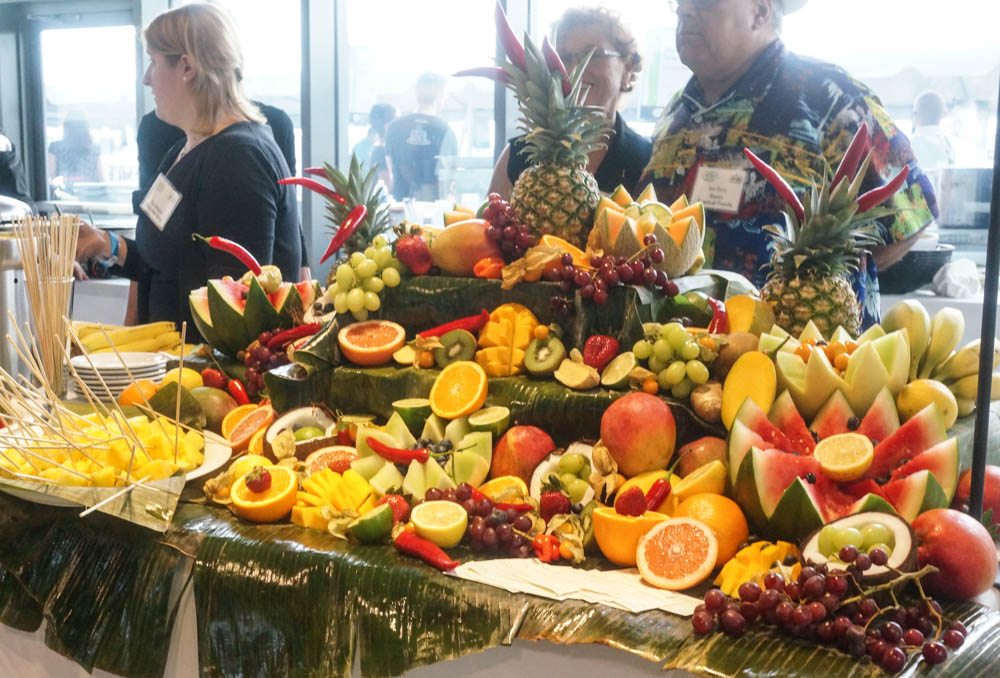 The Belgian Chocolate Shop
Fondue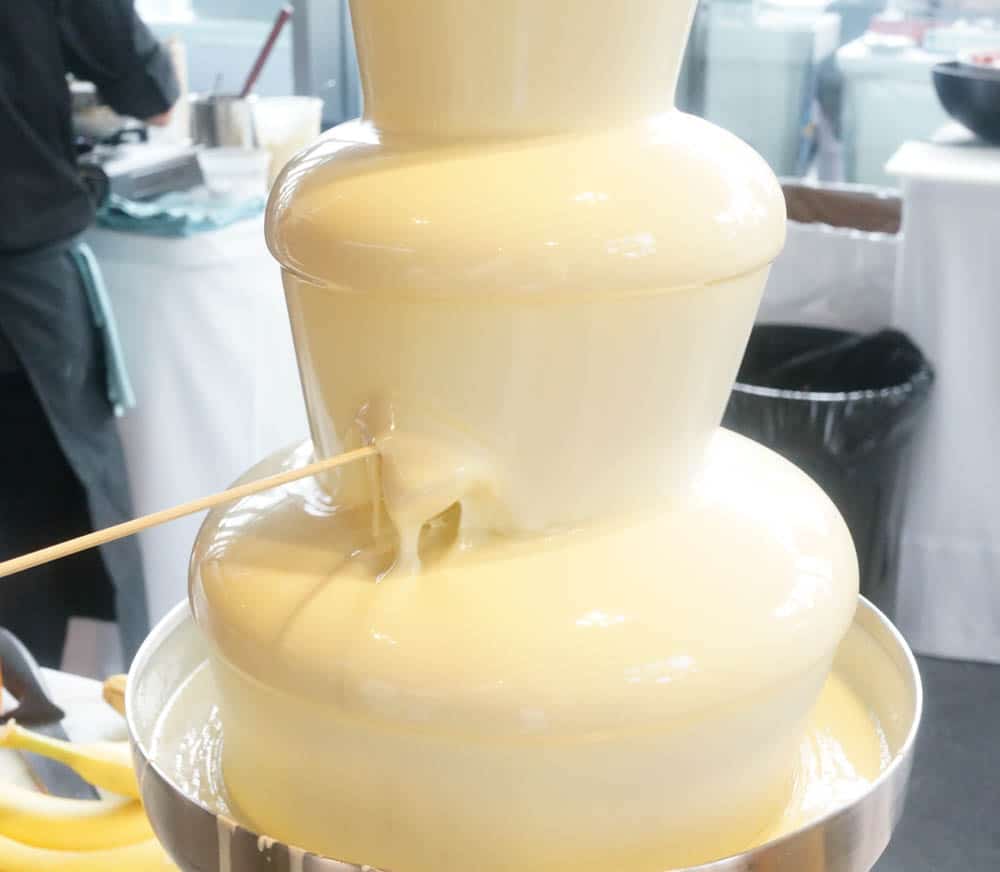 Pizzeria Libretto
Montanara Mini Deep Fried Pizzas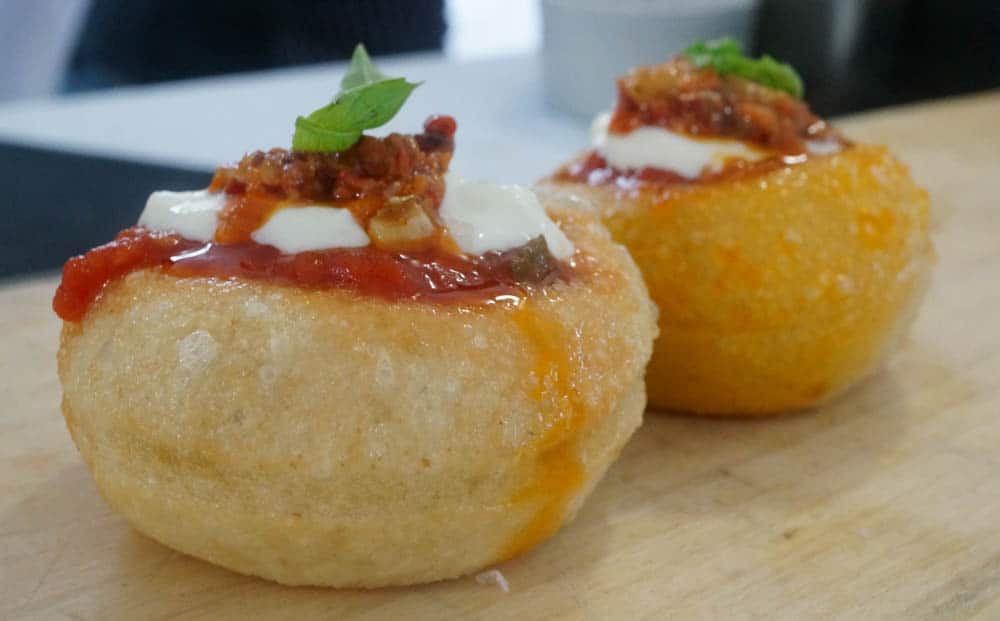 Ici Bistro
Goat Cheese Beurreck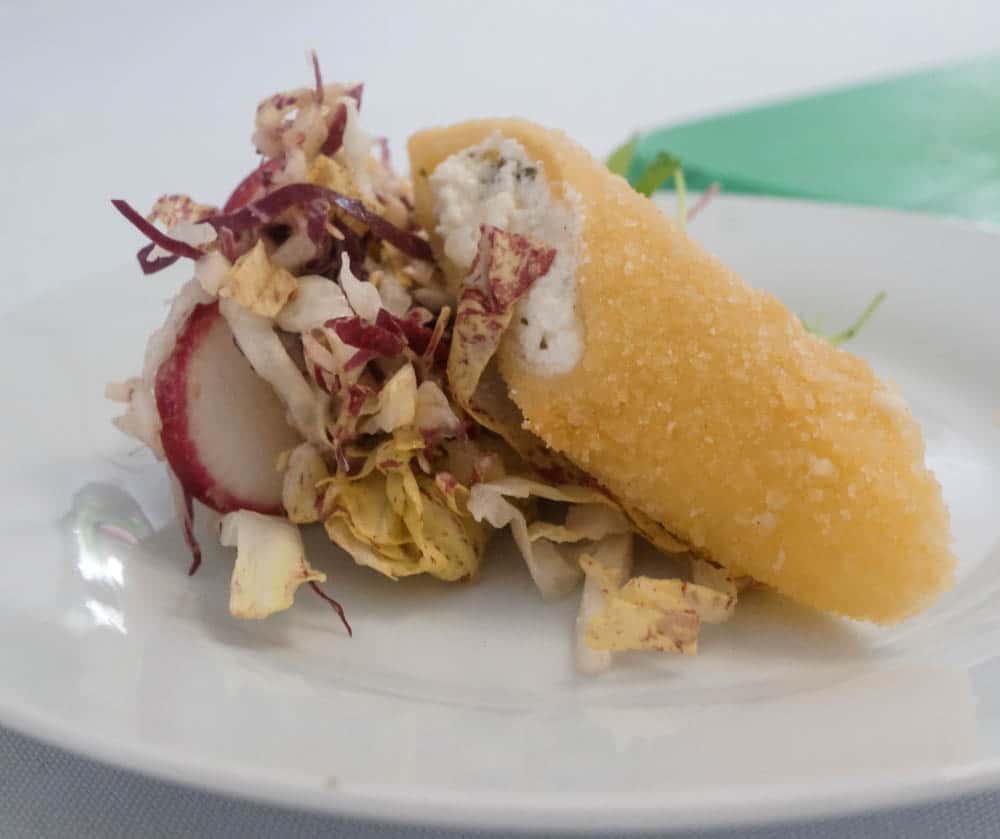 Creekside Estate Winery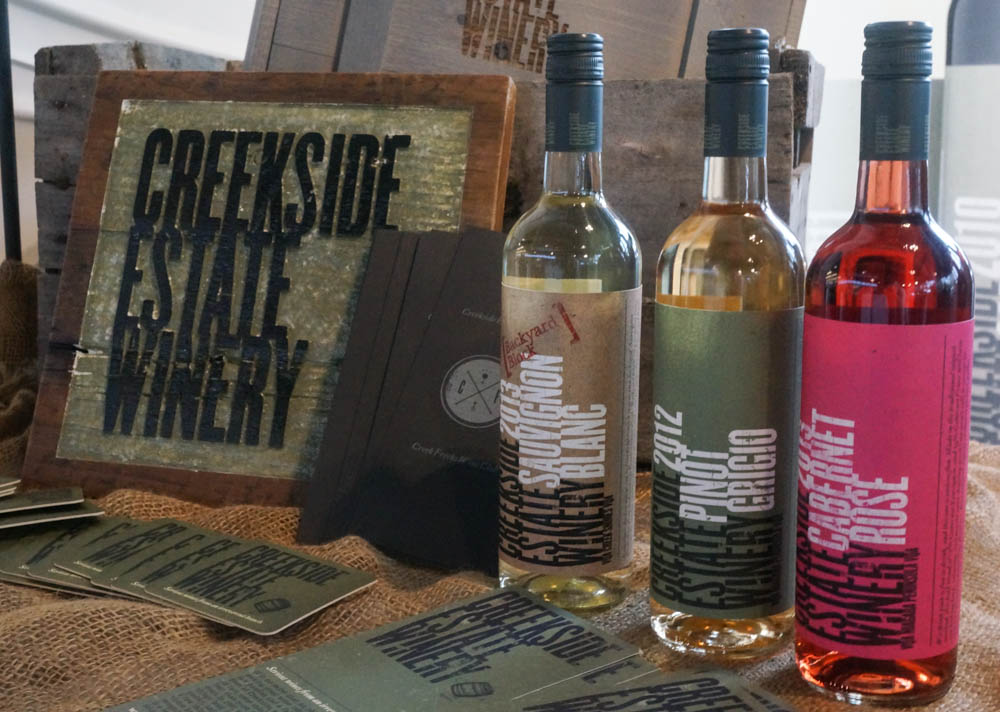 The Chase
Gazpacho with Octopus, Snow Crab and Mussels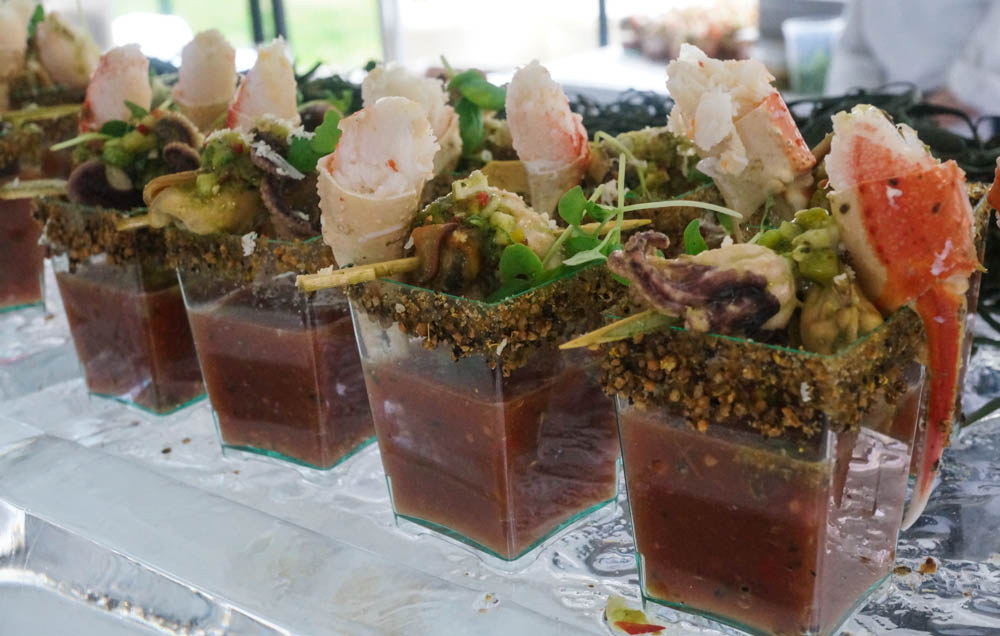 Tundra
Maple Trout Pastrami, Pickled Ramps, Mustard Cream Cheese, Edible Soil, Beets, and Ramp Butter on House-made Mini Bagels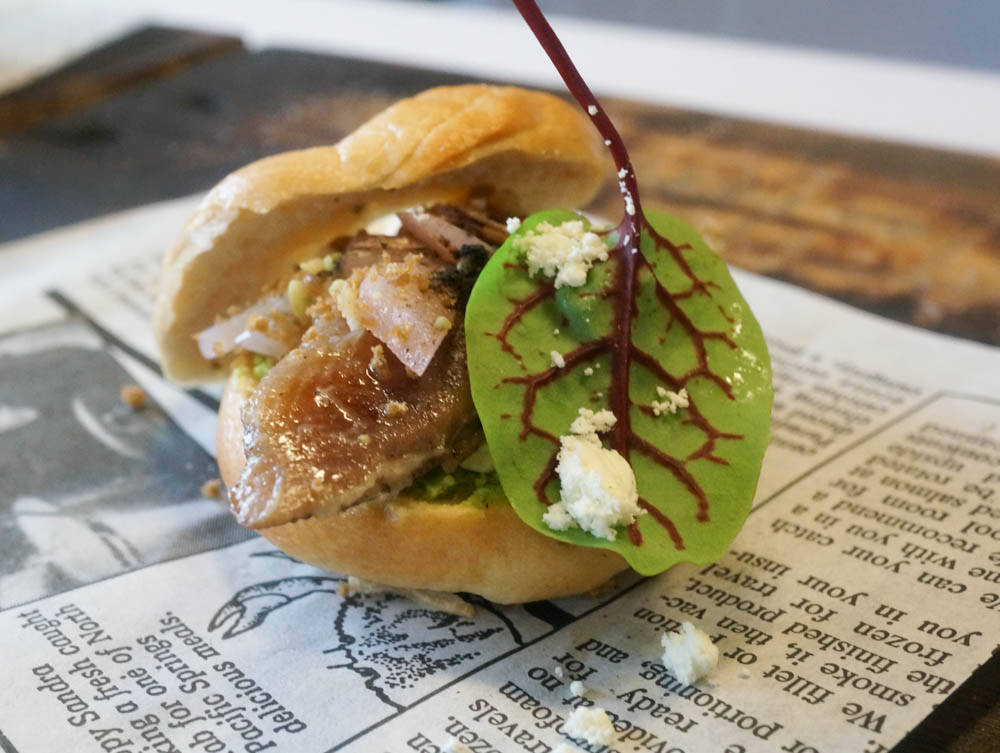 Pauline's Pastries
Chocolate Raspberry Mousse Tart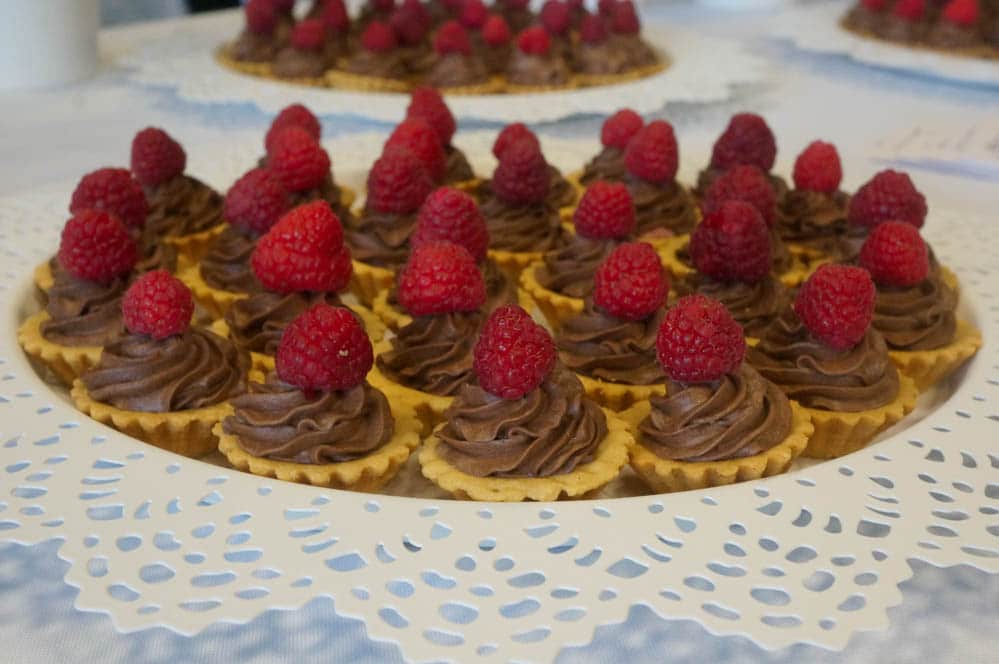 Woodlot
Smoked Scamorza Yukon Gold Croquettes with Birch Mustard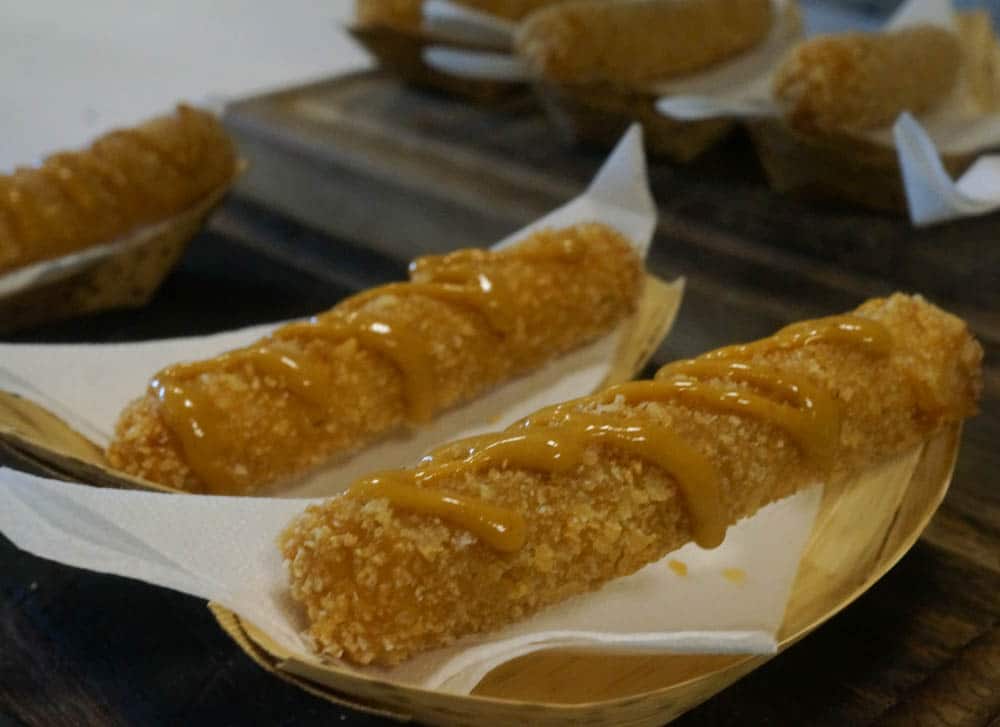 Cantine Bar & Grill
Caesar "Hot Dogs"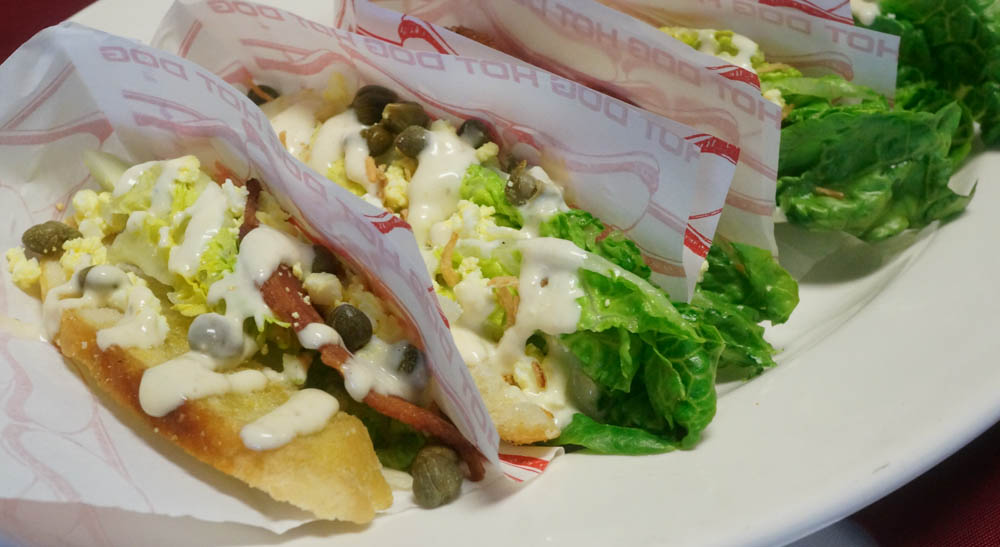 David's Tea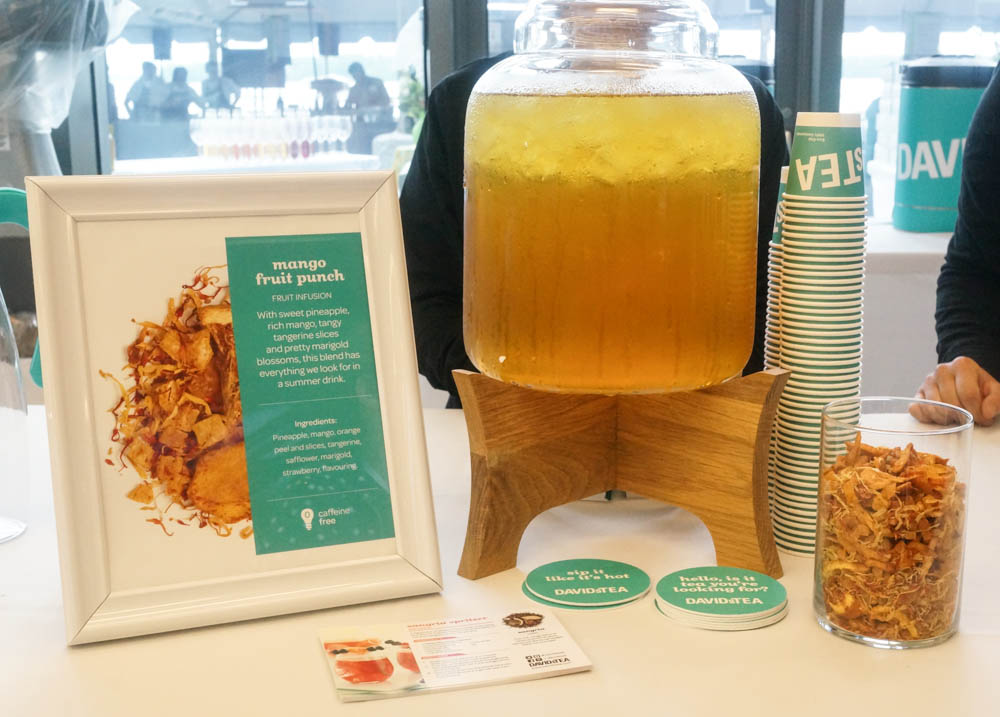 Fred's Bread
Grilled Cheese with Aged Cheddar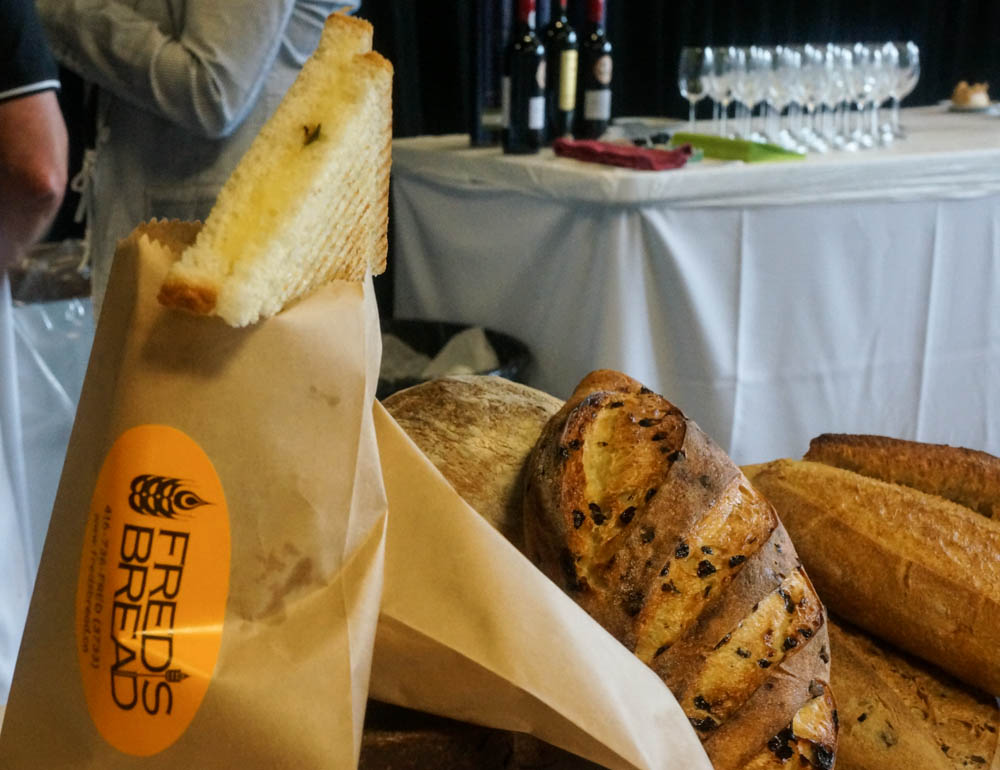 Bohmer
Smoked Trout with Kale and Heirloom Carrot Slaw and Maple Soy Vinaigrette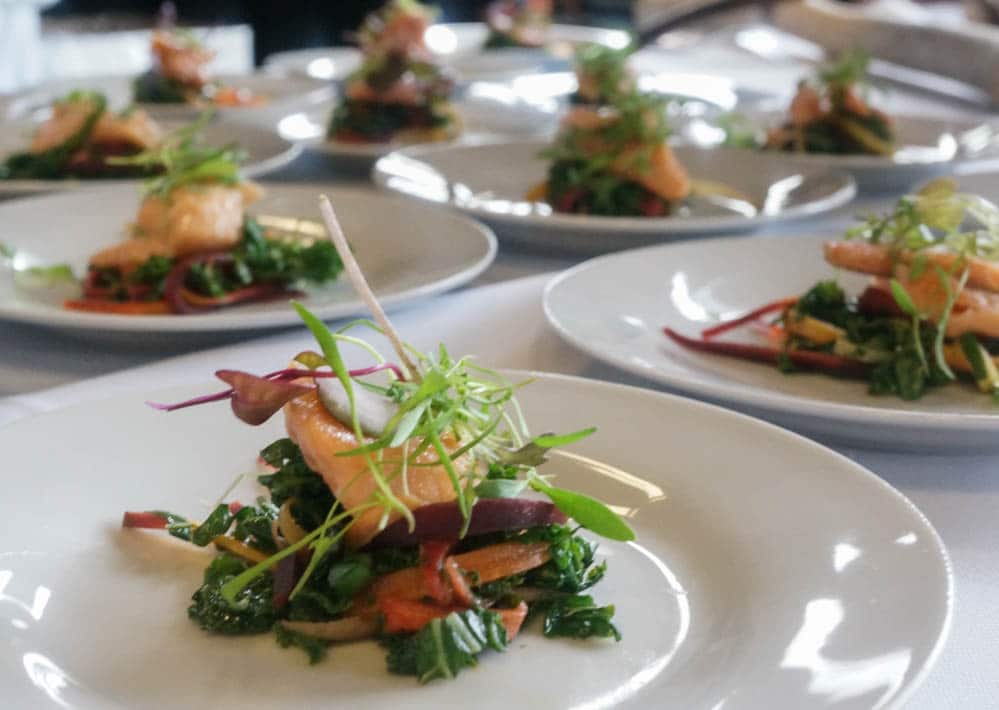 Presidents Choice Black Label Collection
Spanish Grilled Octopus, Cannellini Bean Puree with Artichoke, Tomato and Olive Salad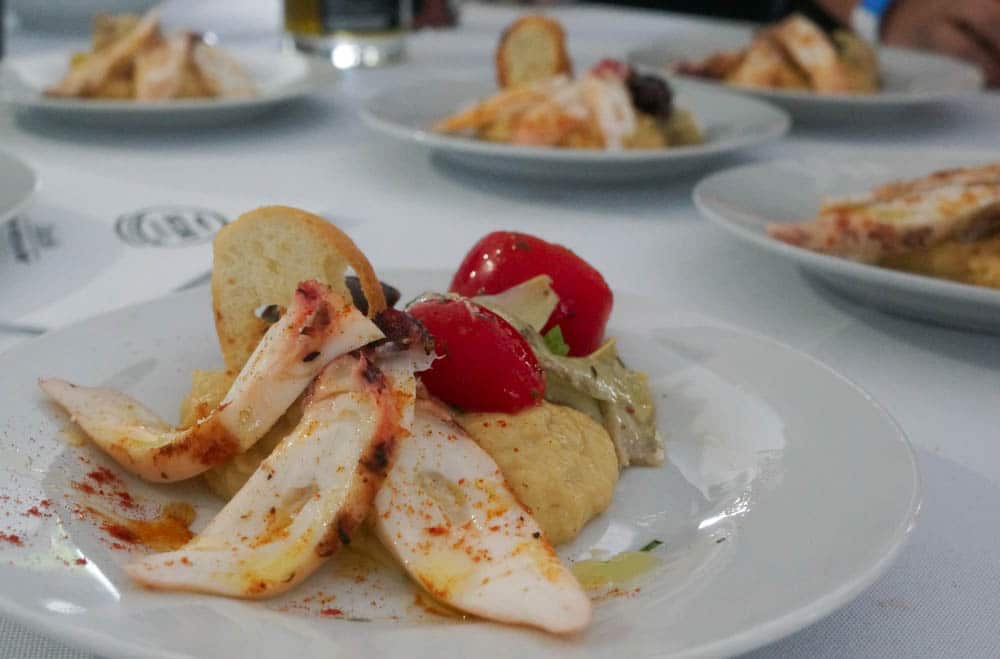 Drake 150
Chicken Fried Oyster Slider on Brioche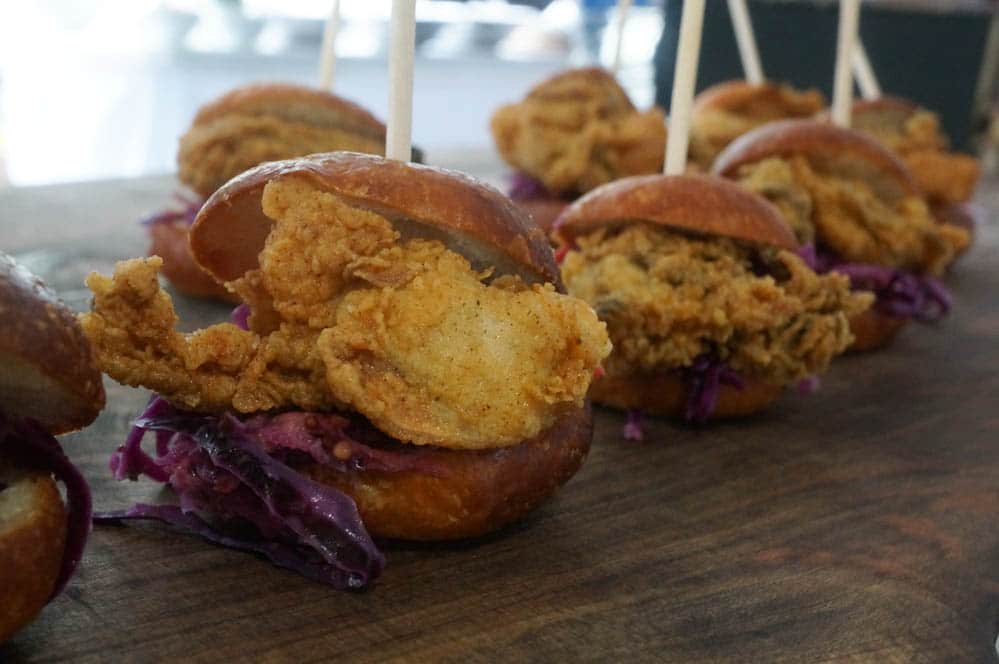 Ruth's Chris Steak House
Filet of Steak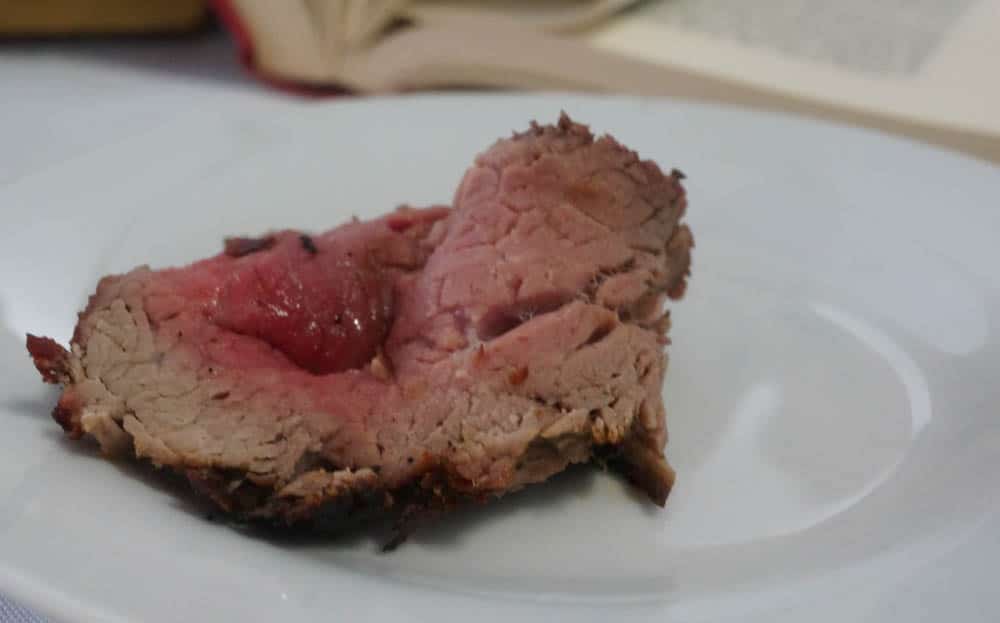 Cobs Bread & Food Benders
Smoked Salmon and Goat Cheese Roulade on Pumpernickel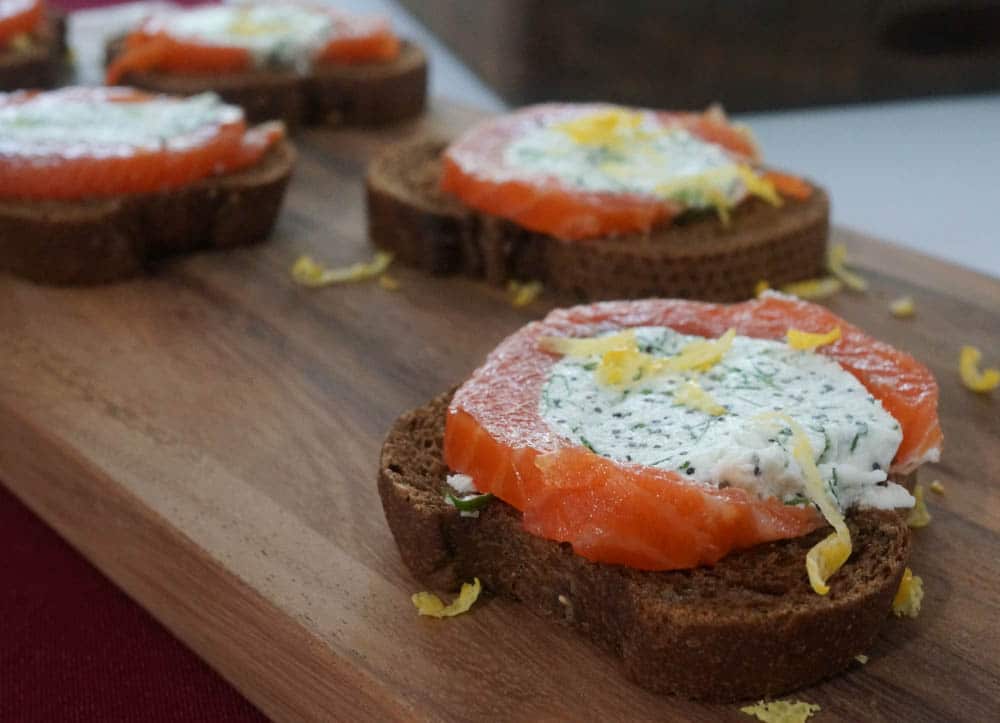 Frank Restaurant
Shrimp Po Boy, Green Papaya Slaw and Herb Remoulade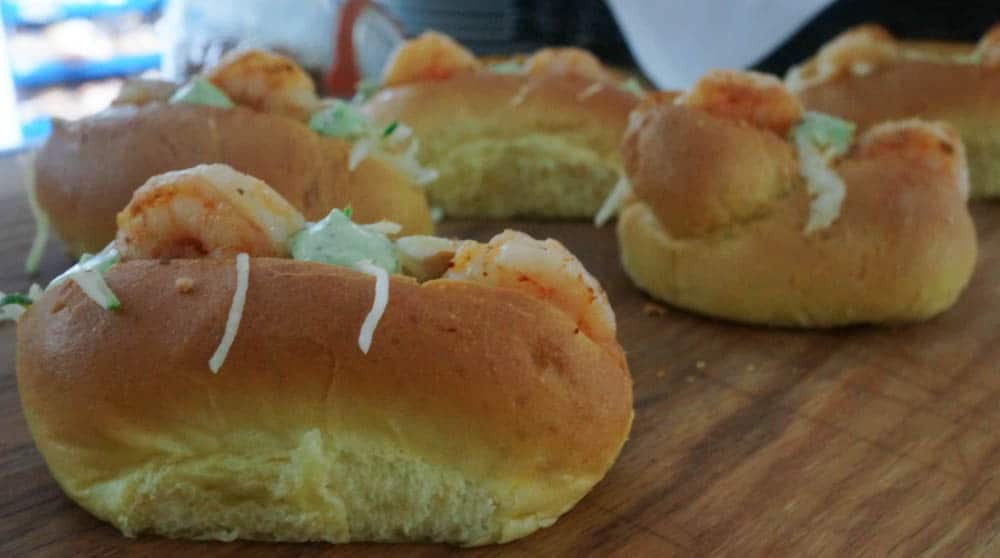 McEwan Group
Ricotta Ravioli, Veal Meatball, Fabbrica Sauce and Grana Padano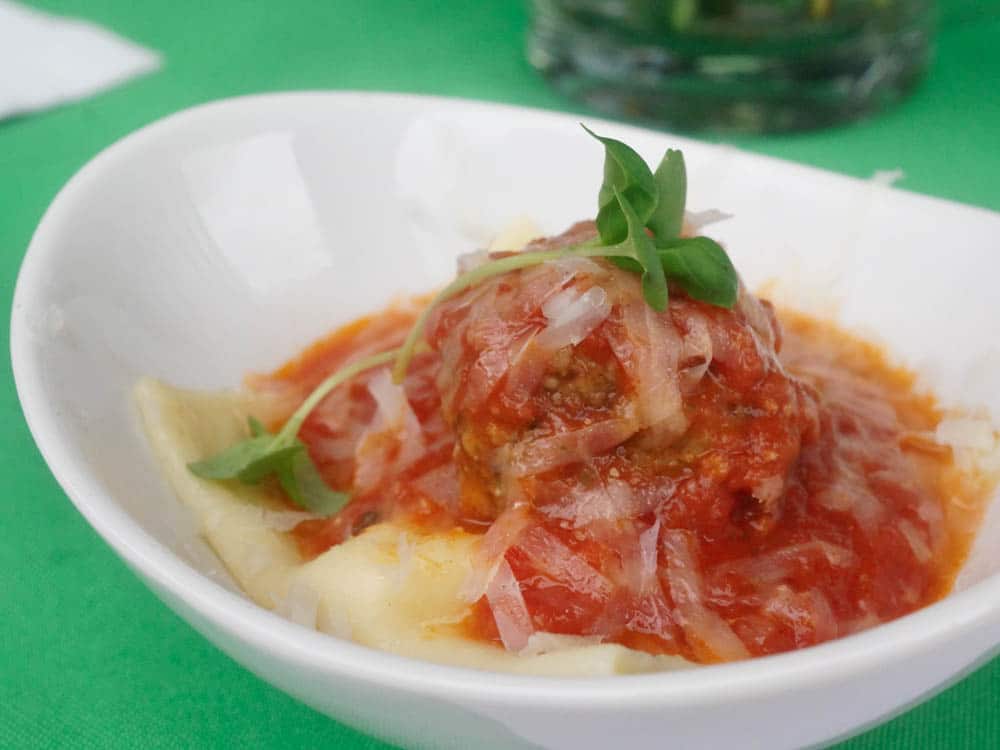 Café Belong
St Lawrence Salad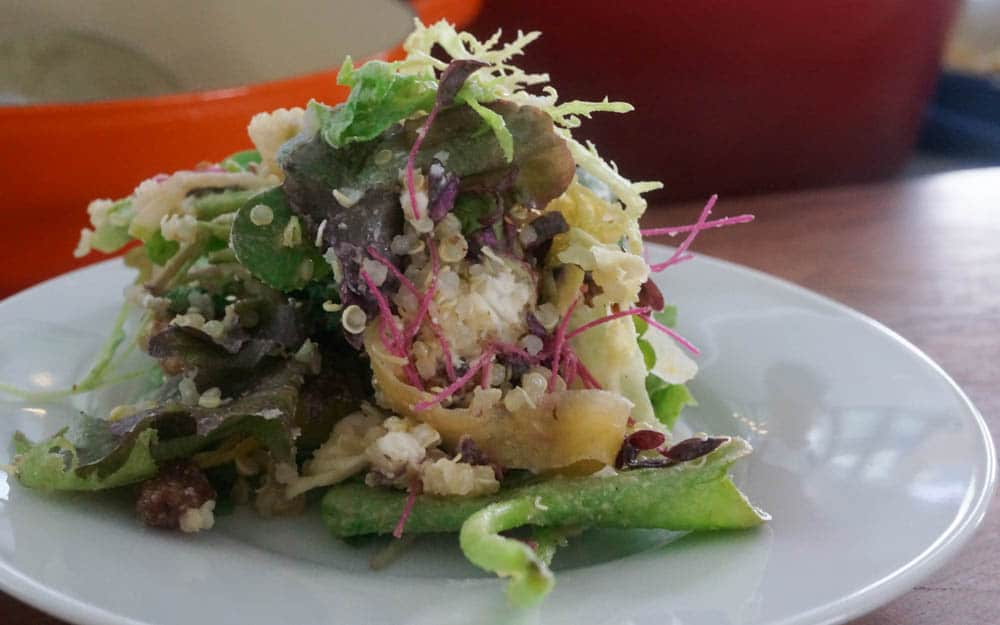 Globe Bistro
Spruce Tip Ice Cream, Niagara Peach Puree, Ontario Pecan Praline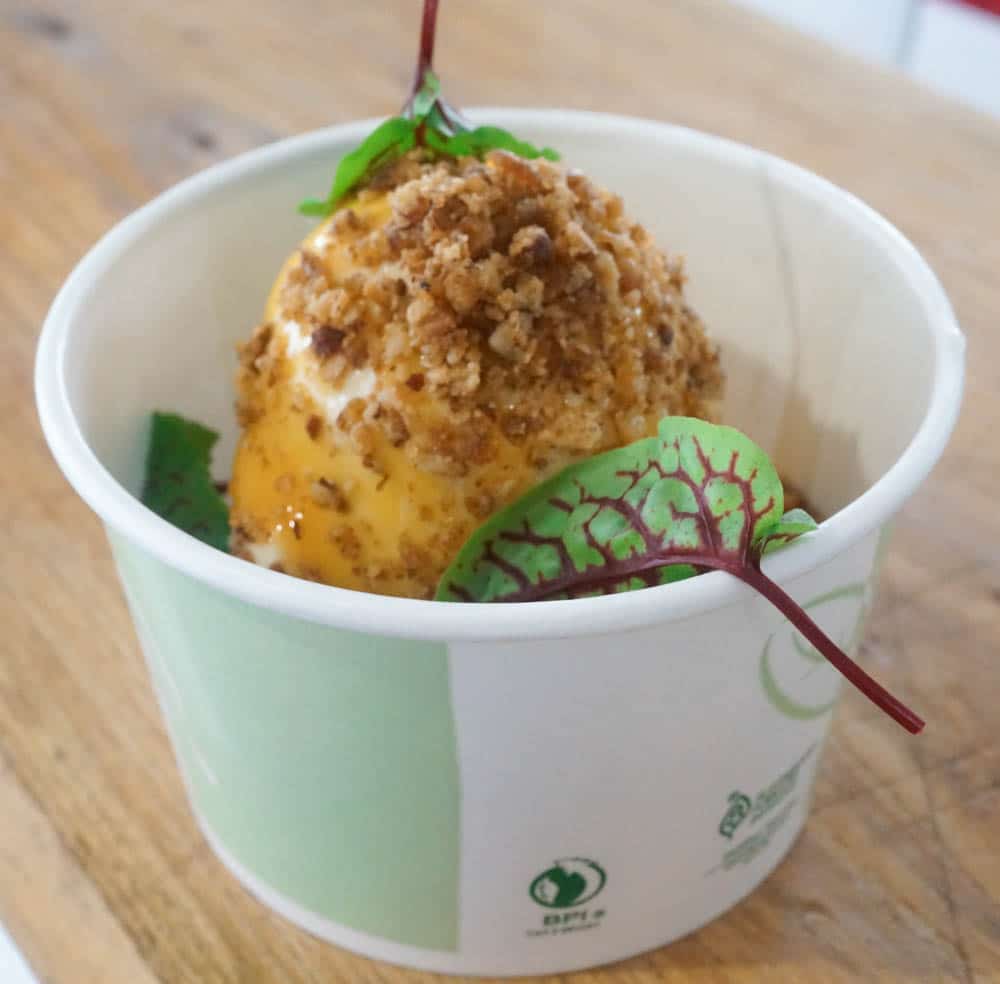 Salt Wine Bar
Spanish Sardine with Spanish Leek, Fennel Escabeche on Crostini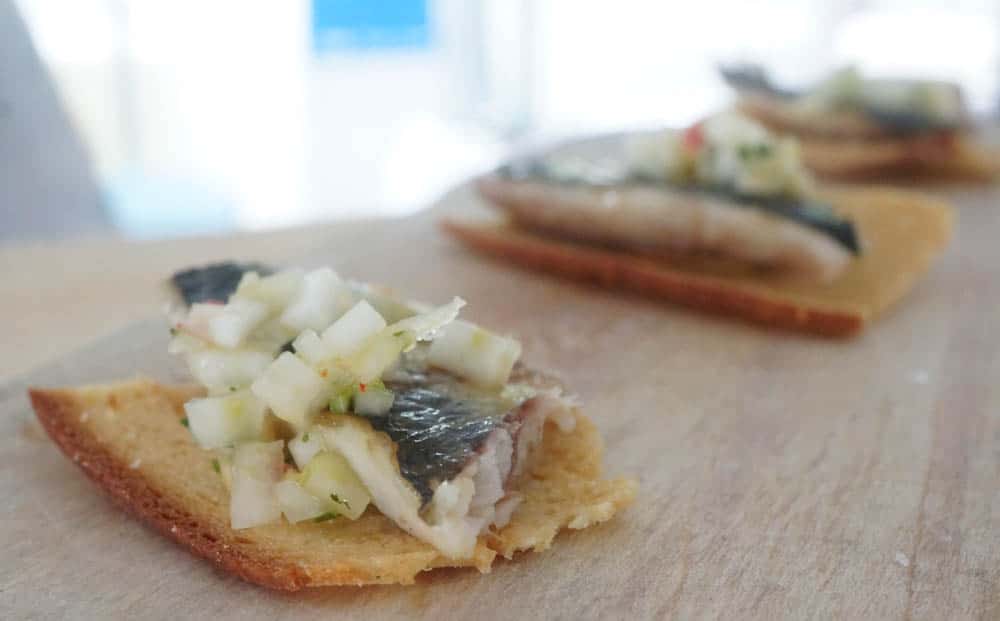 Chiado
Salted Cod Croquette with Tomato Confit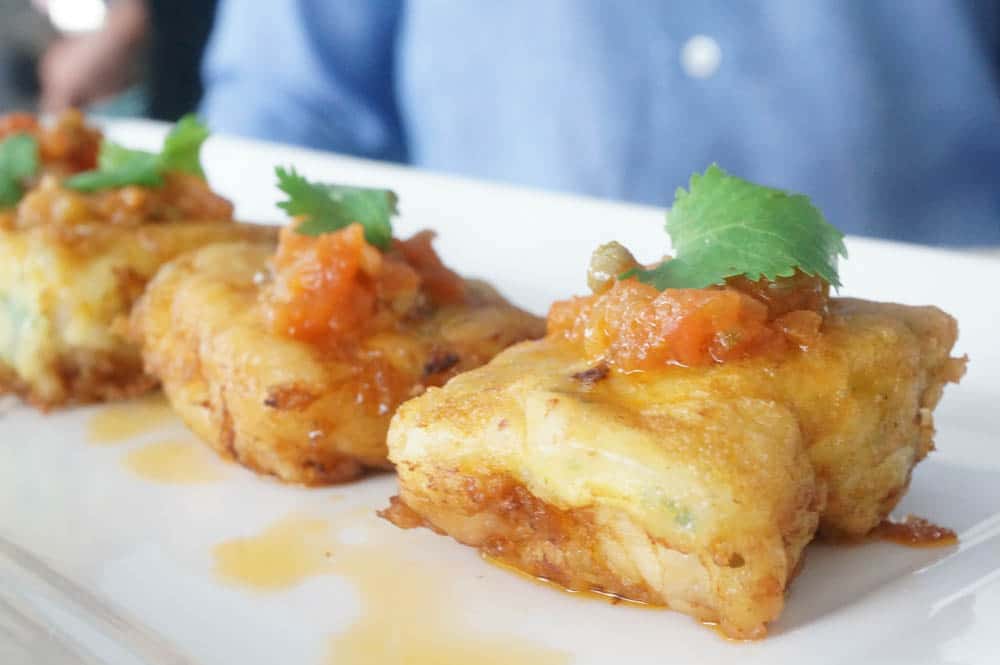 Rodney's Oyster House
Oysters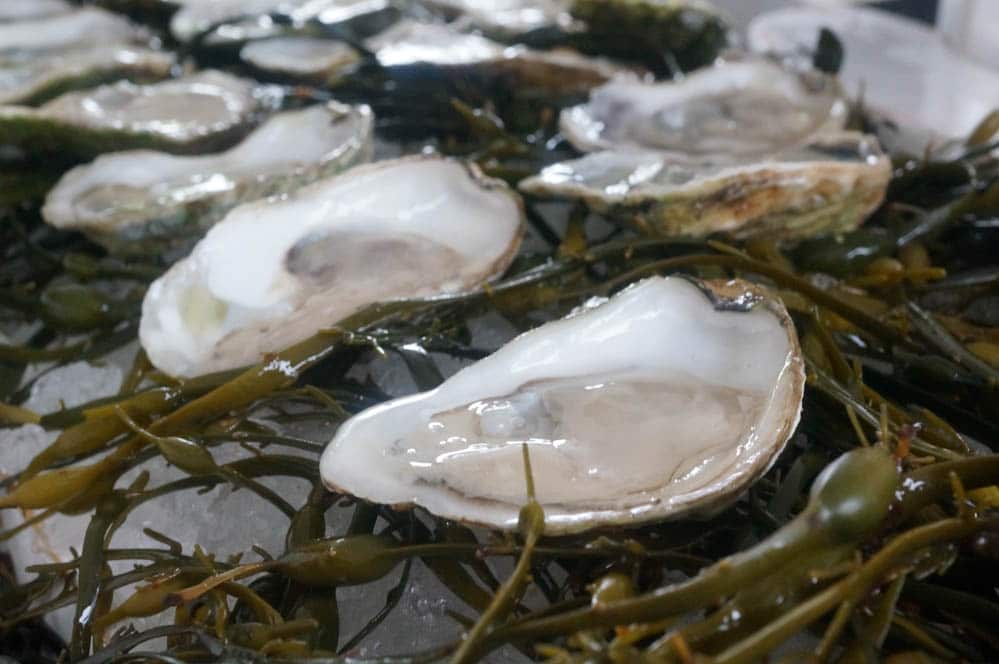 Rodney's Oyster House
Louisiana Grilled Shrimp on Grits with Andouille Sausage and Pickled Green Tomatoes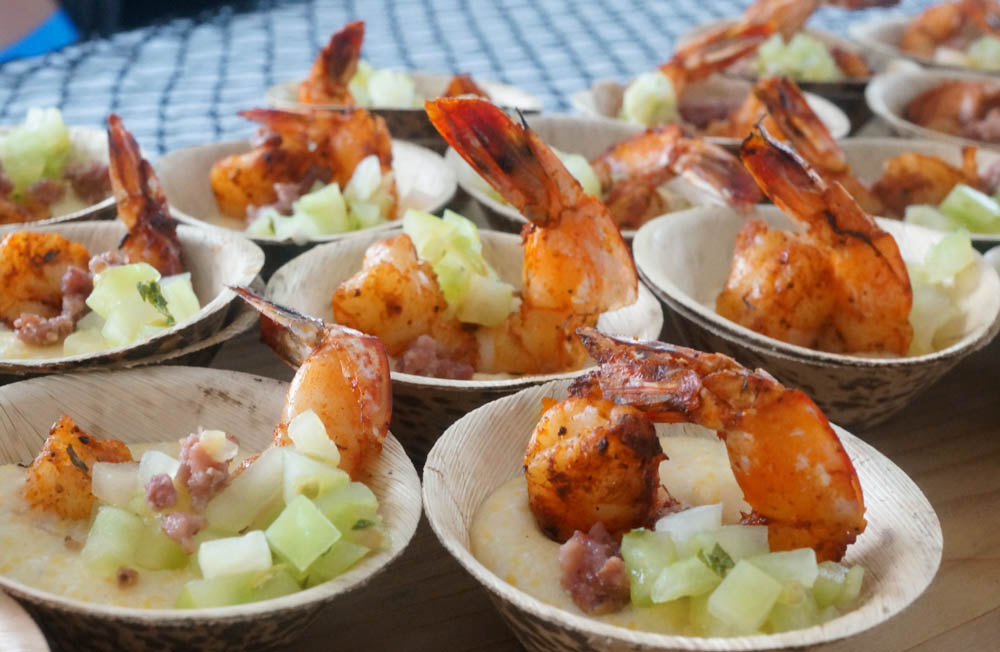 Paintbox
Assorted Spud-Nuts (Potato Doughnuts)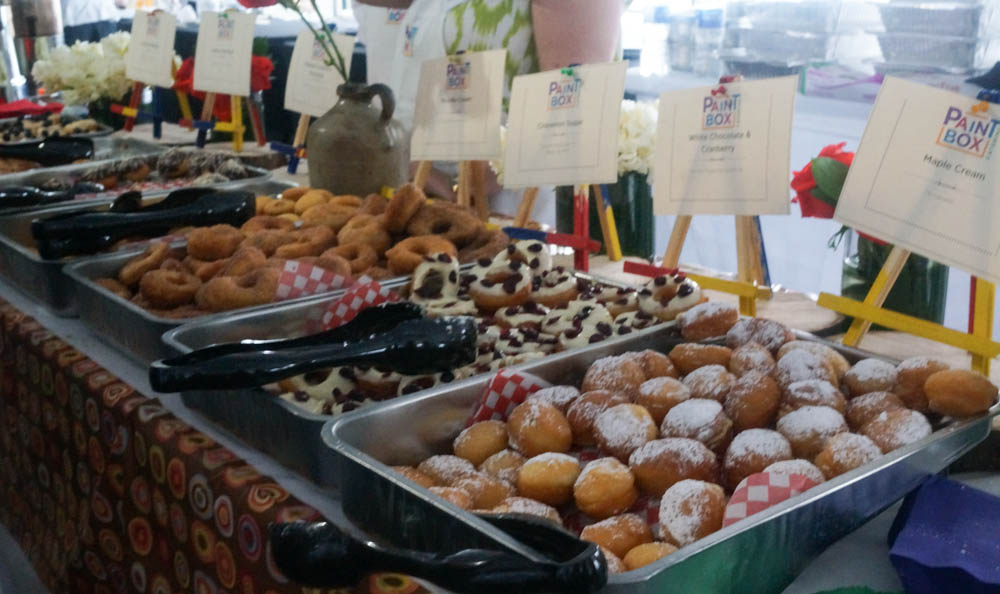 Halibut Ceviche with Grapefruit Soda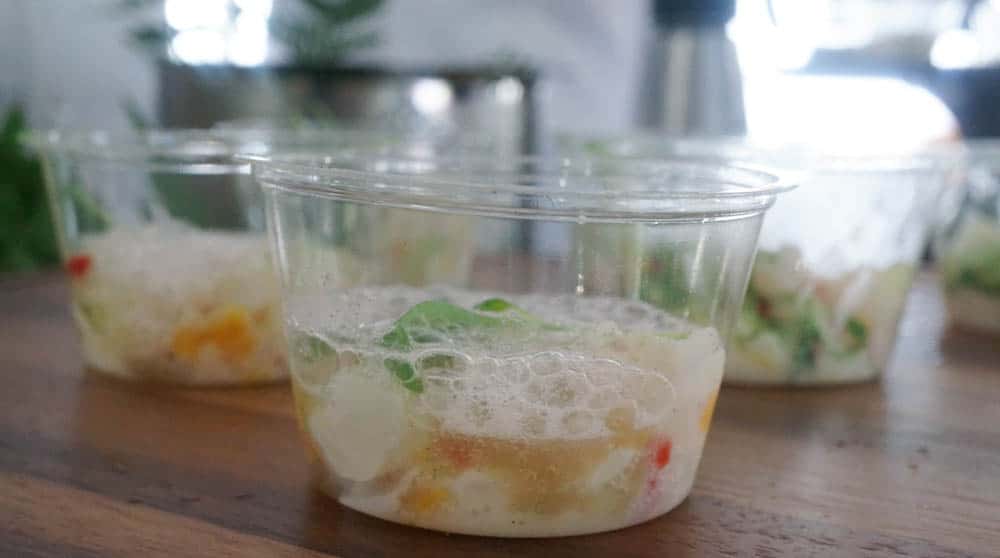 Paintbox
White Chocolate Cranberry Spud-Nuts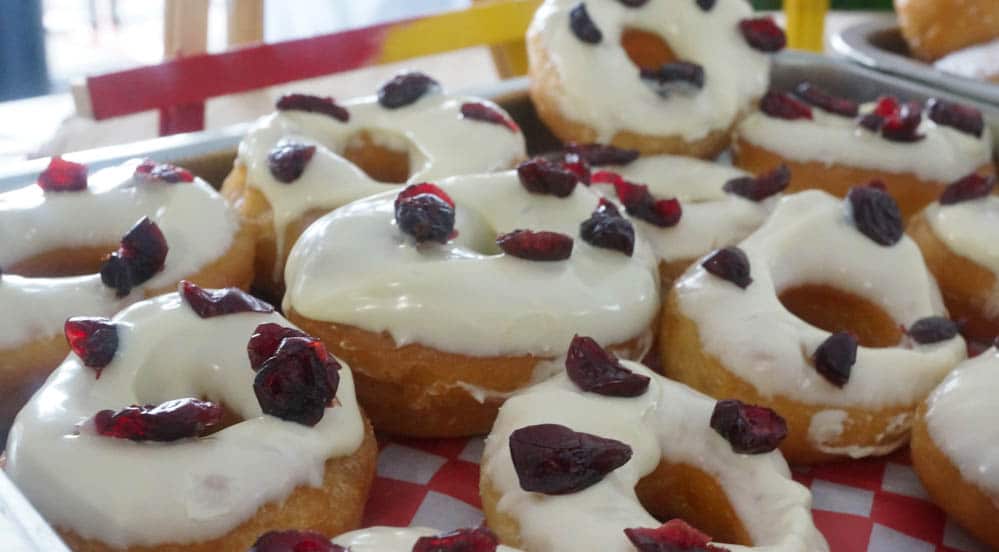 Le Select Bistro
Smoked White Fish Mousse with Grain-ola and Kohlrabi-Kraut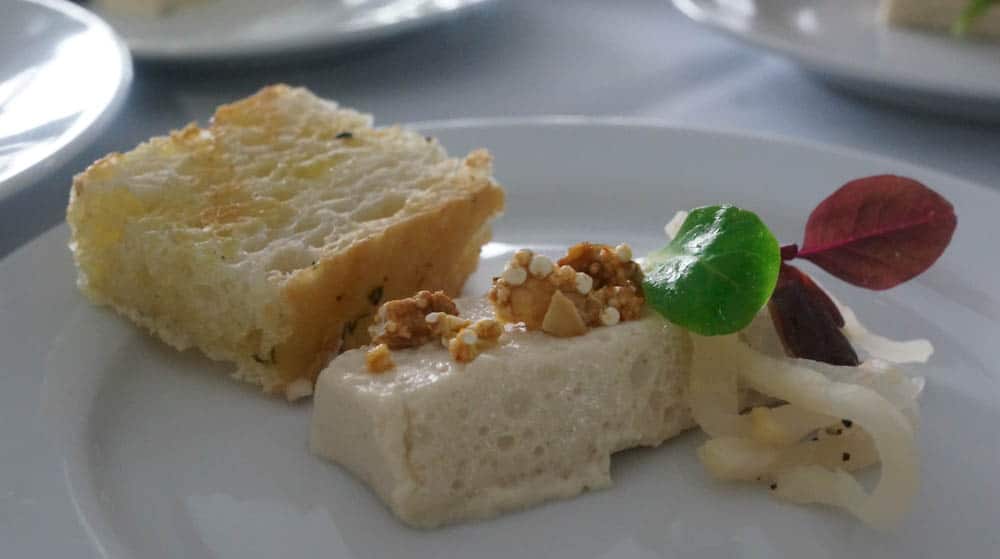 Carbon Bar
Pulled Pork Tostada, Mexican Slaw and Pineapple Salsa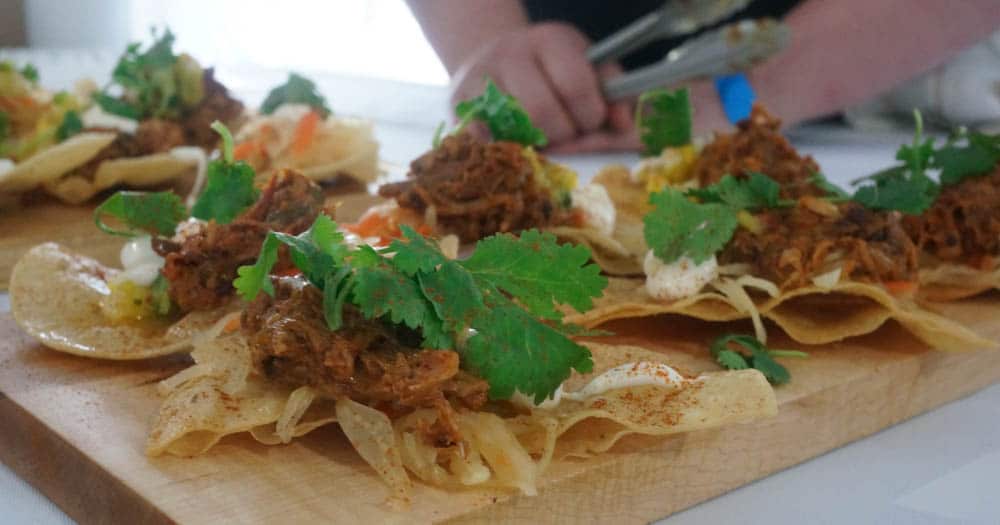 Cibo Wine Bar
Orecchiette with Lamb Ragu
Mildred's Temple Kitchen
Duck Pastrami on Rye Waffle, Rhubarb Gastrique and Sour Cream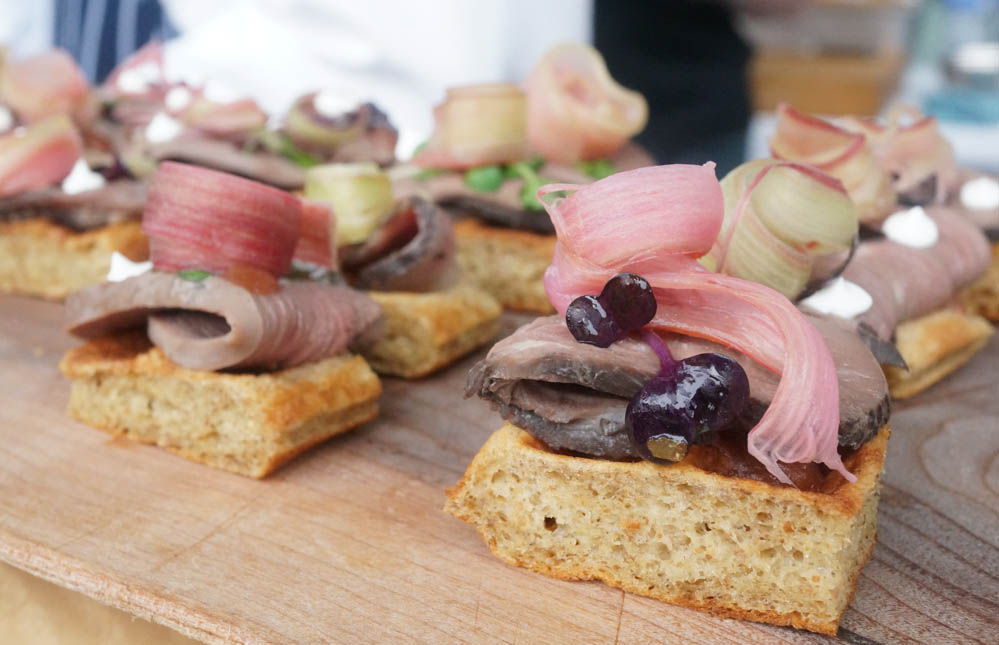 Caviar Centre Inc.
Spanish Herring on Bellini with Crème Fraiche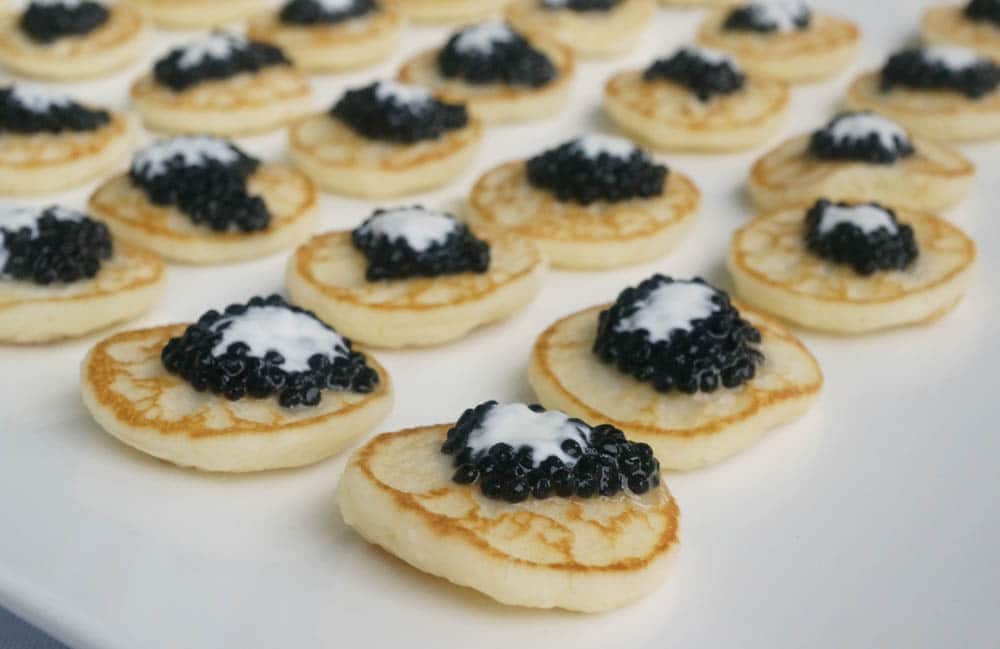 Pauline's Pastries
Maple Shortbread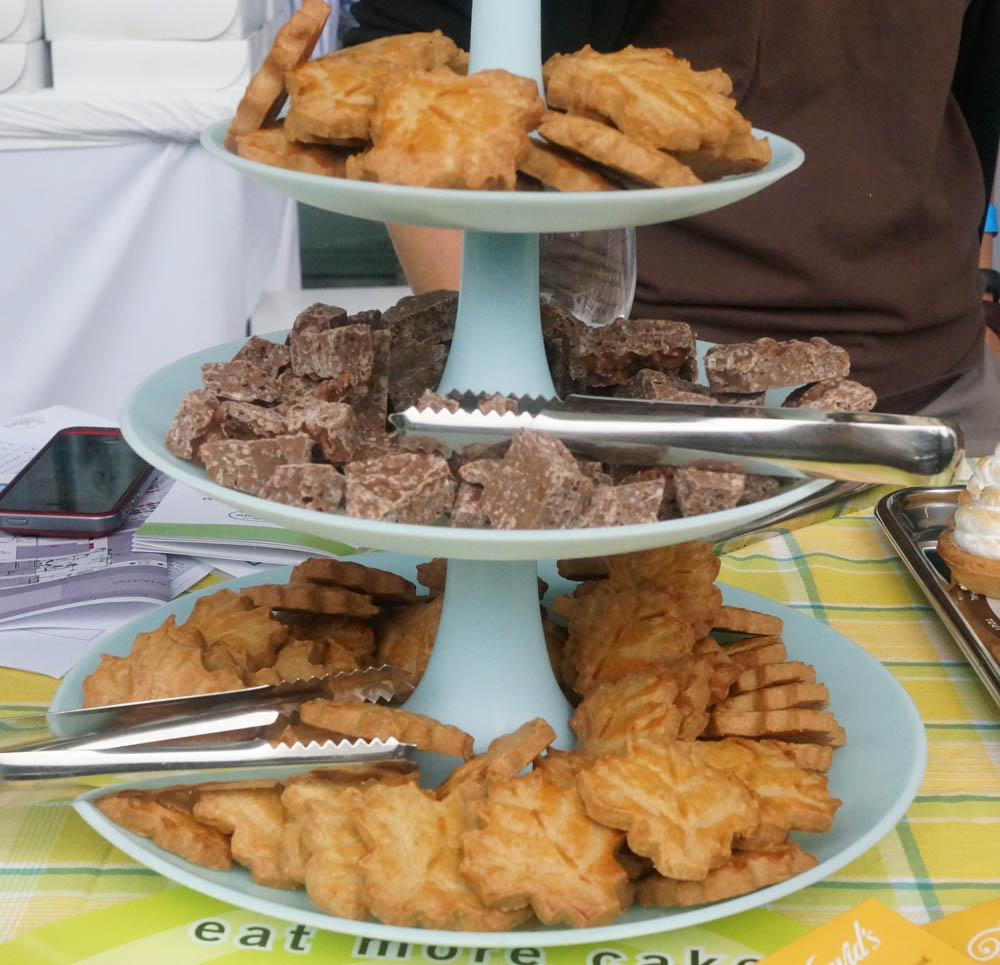 Pauline's Pastries
Maple Meringue Tarts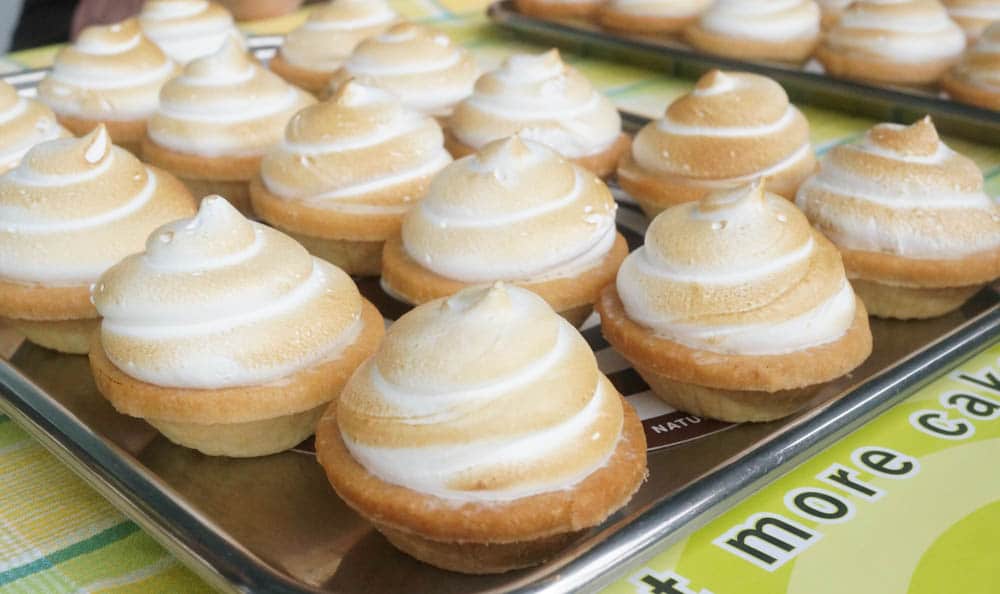 Volos
Flourless Chocolate Cake with Yuzu Chantilly Creamy and Orange Mint Compote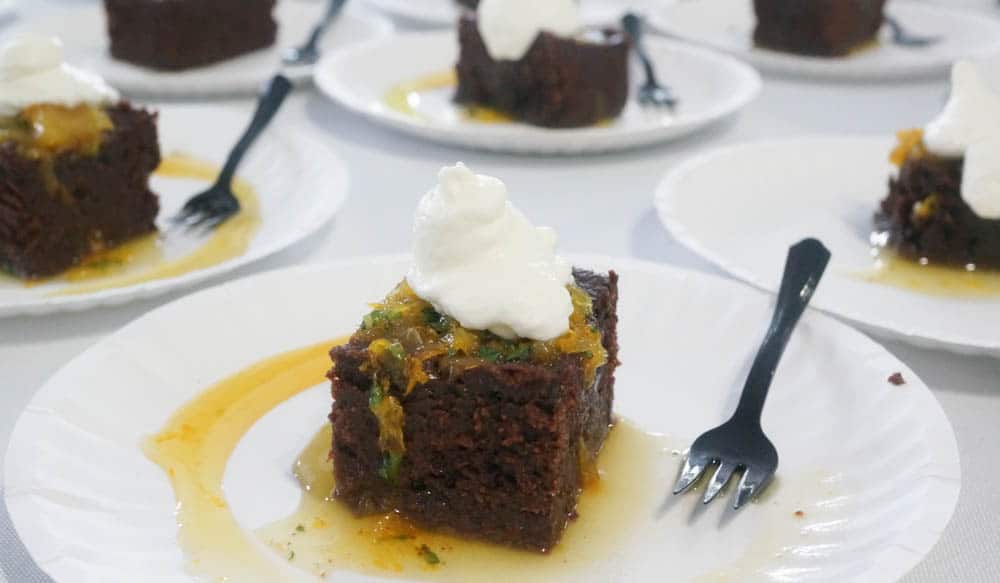 Squid with Tomato Watermelon Salad and Pickled Watermelon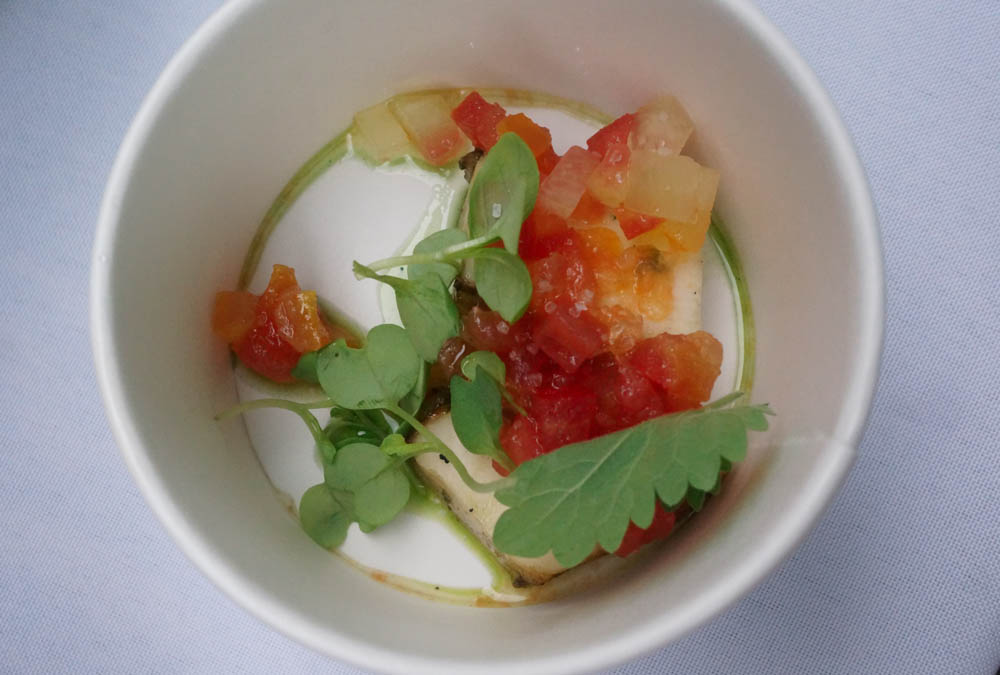 Café Boulud
Crispy Duck Egg, Jambon Paris, Asparagus, Mustard Dressing
Pangaea Restaurant
Lamb Brains en Papillote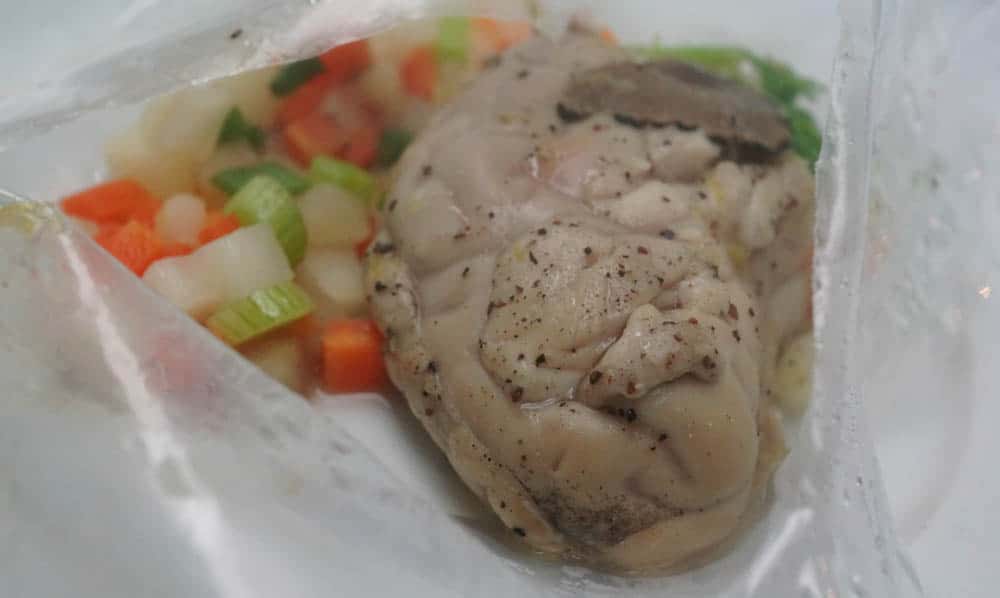 Richmond Station
Duck Liver Pate on Brioche with Apple All-Spice Chutney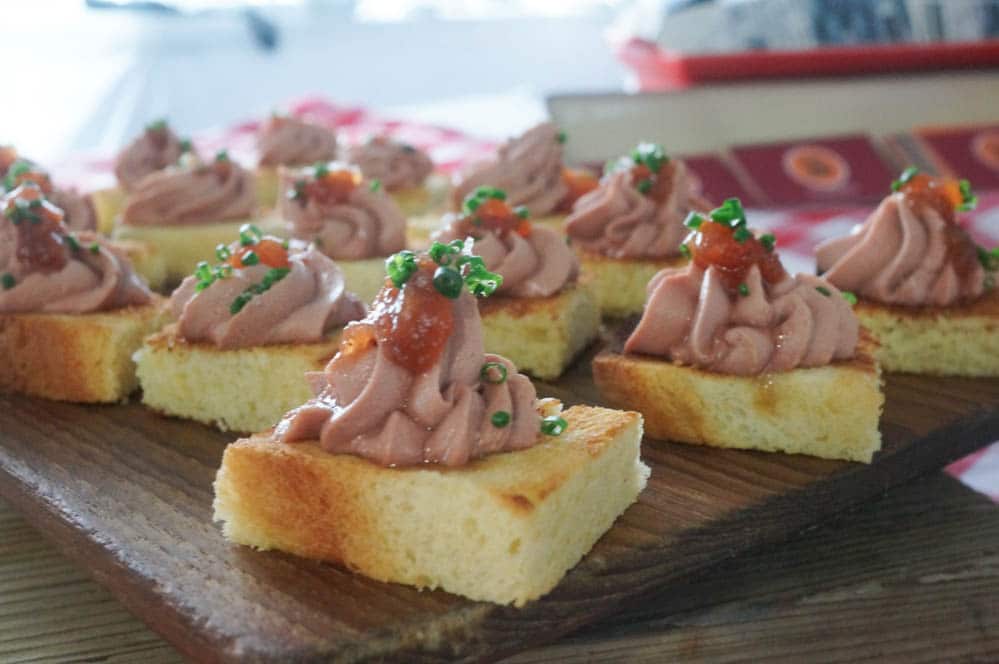 Grano
Cavatelli Pugliesi with Ricotta and Pecorino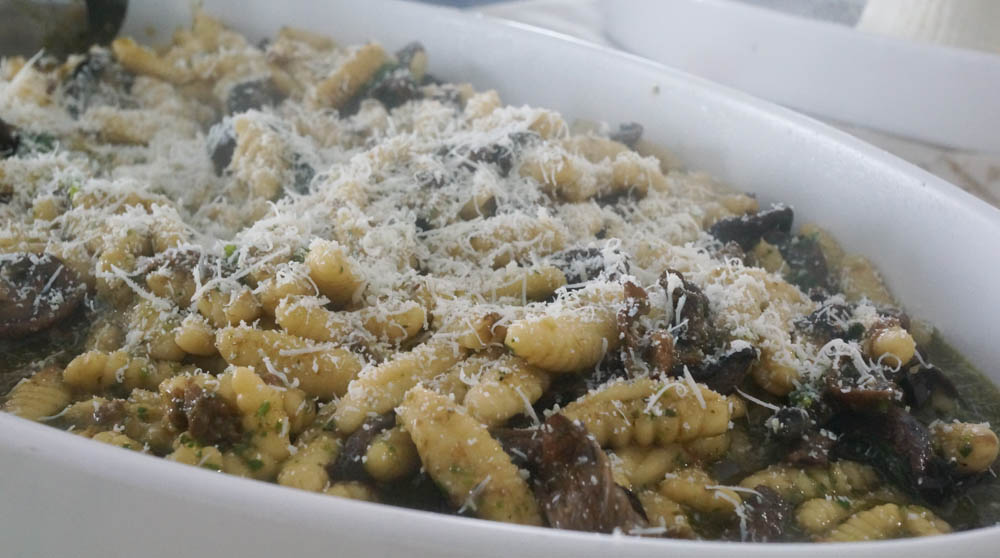 The Saint
Beef Salami with Pickled Shallots and Mustard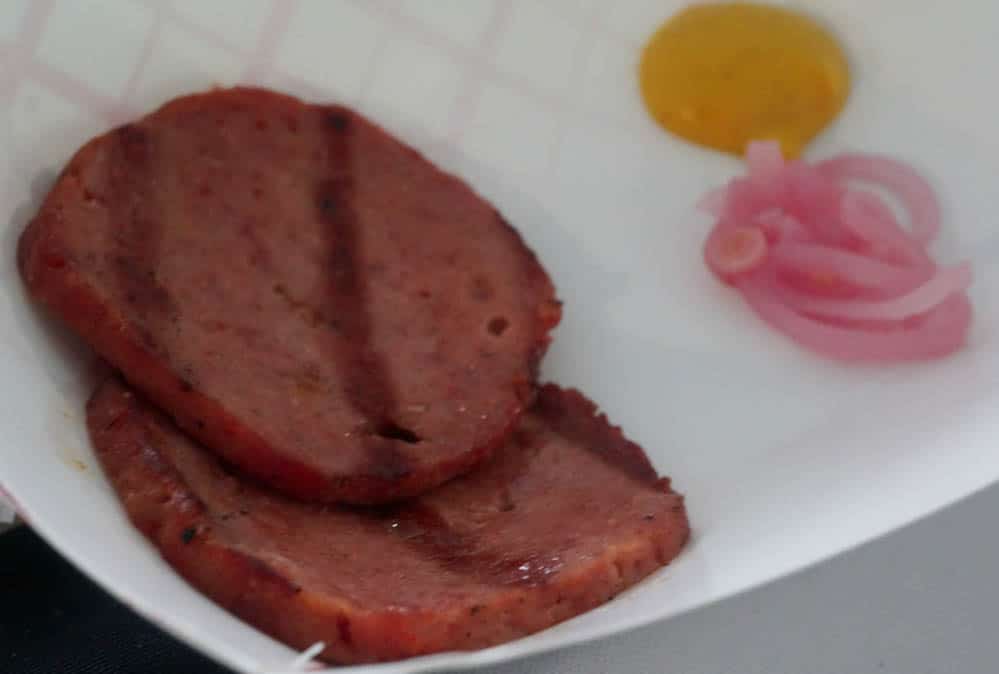 Panini Bagnato with Lampredotto, Salsa Verde and Pepperoncini
Petite Thuet
Asian Pilled Buffalo Brisket with Beef Tongue on Beignet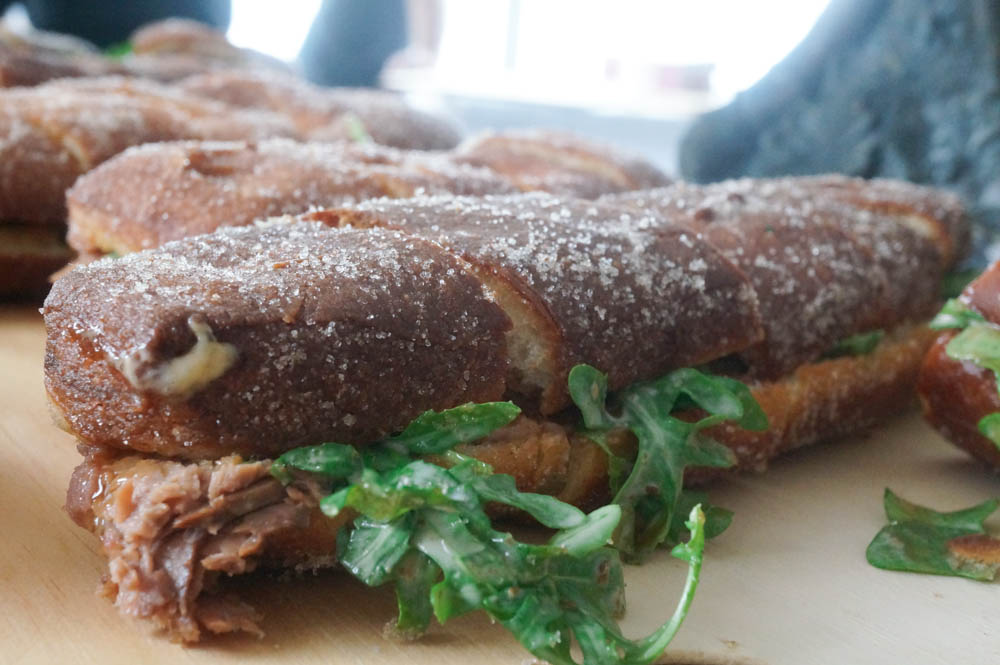 Petite Thuet
Head Chees with Housemade Grainy Mustard on Alsatian Pretzel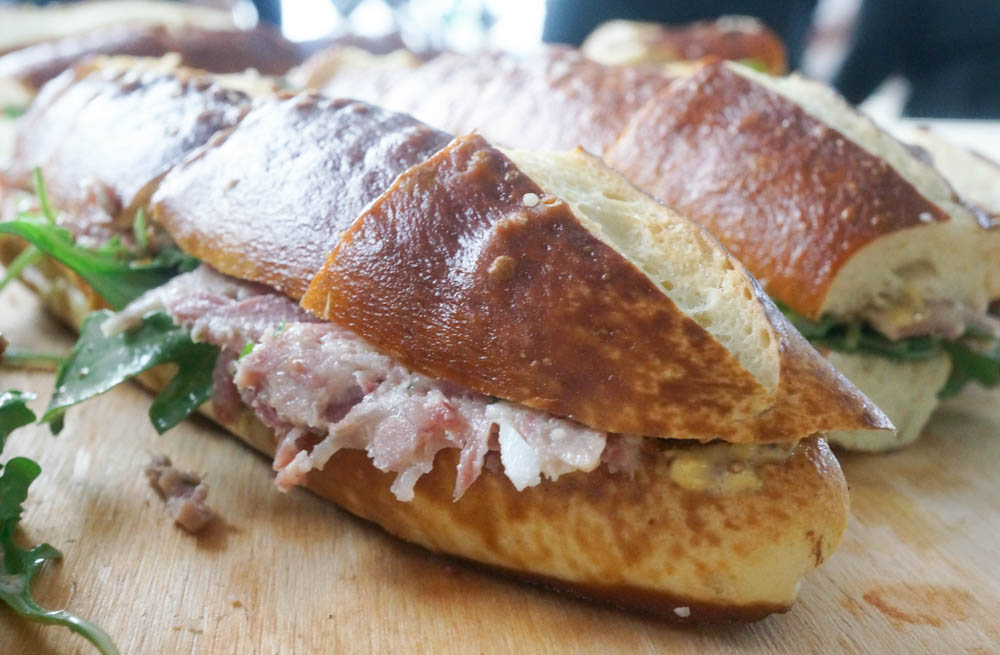 George Brown School
Chilled Asparagus Crab Soup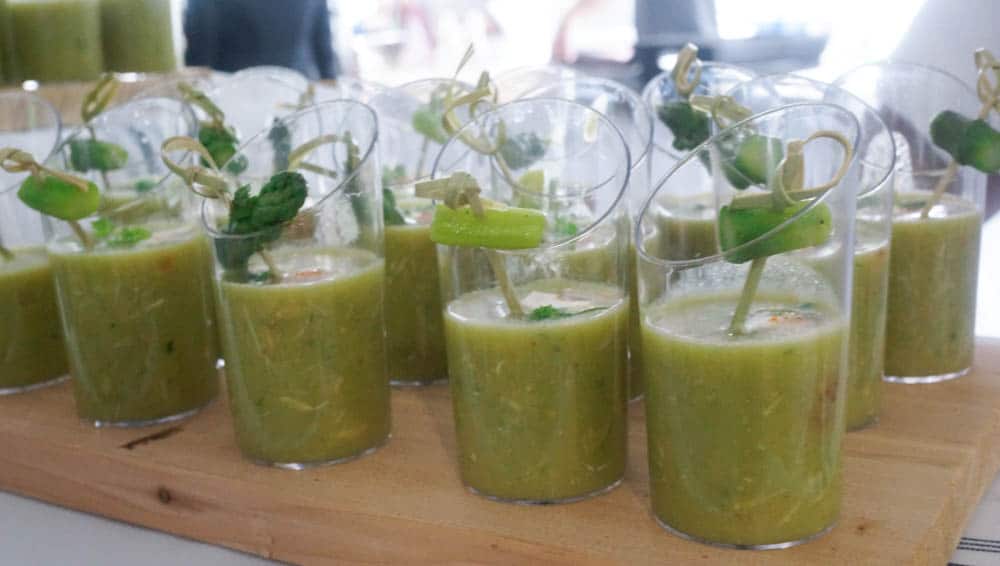 Linda Modern Thai
Thai Banana Roti with Chicken Satay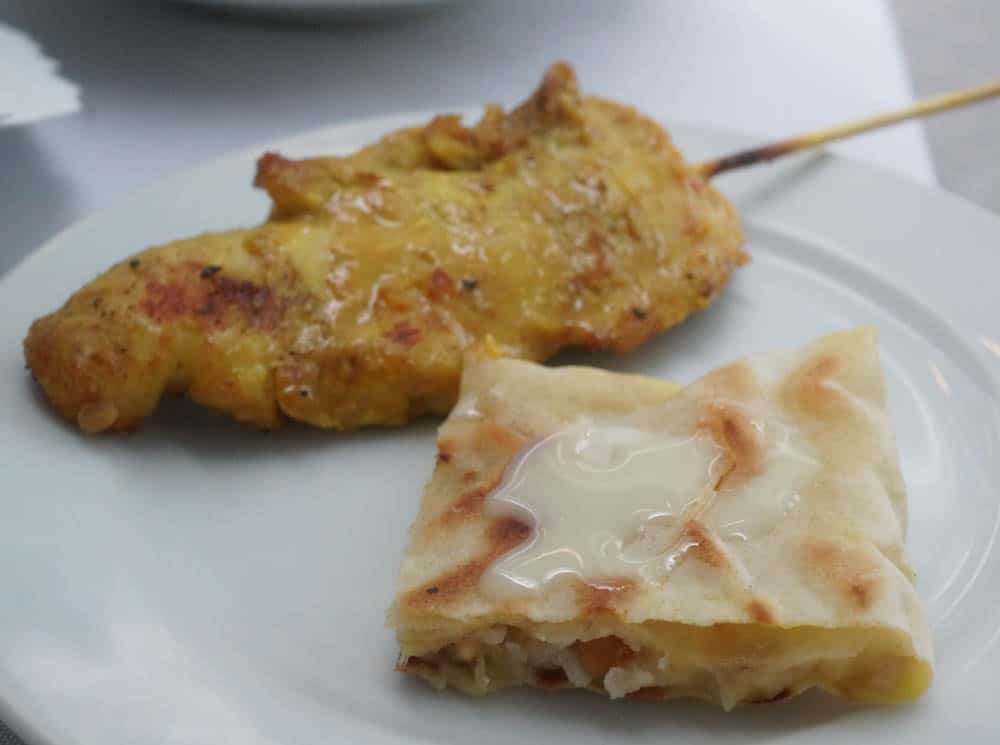 Gelato Fresco
Assorted Gelato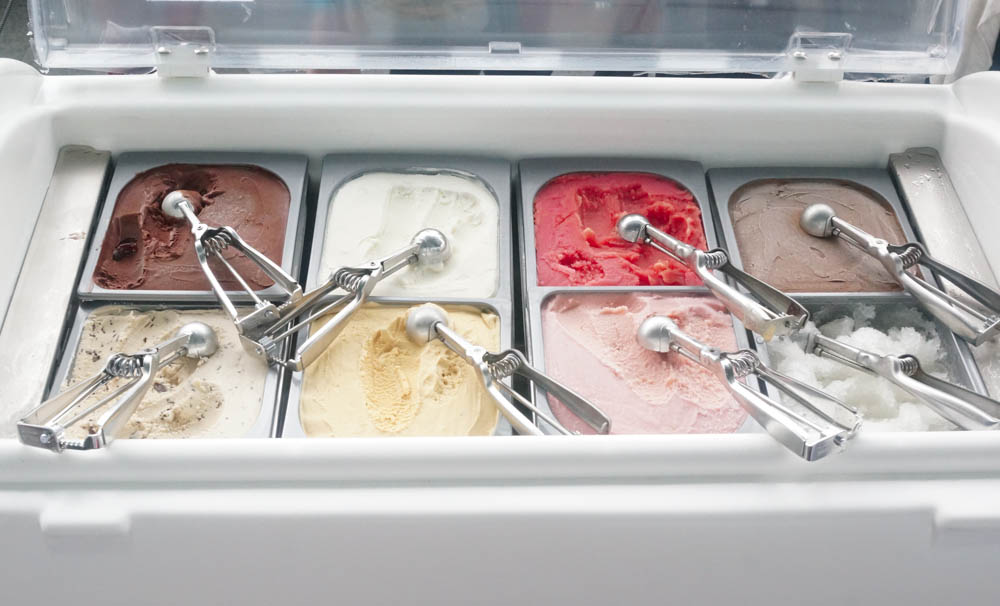 Dillons Distillers
Gin Cocktail
Cheese Boutique
Parmesan with Balsamic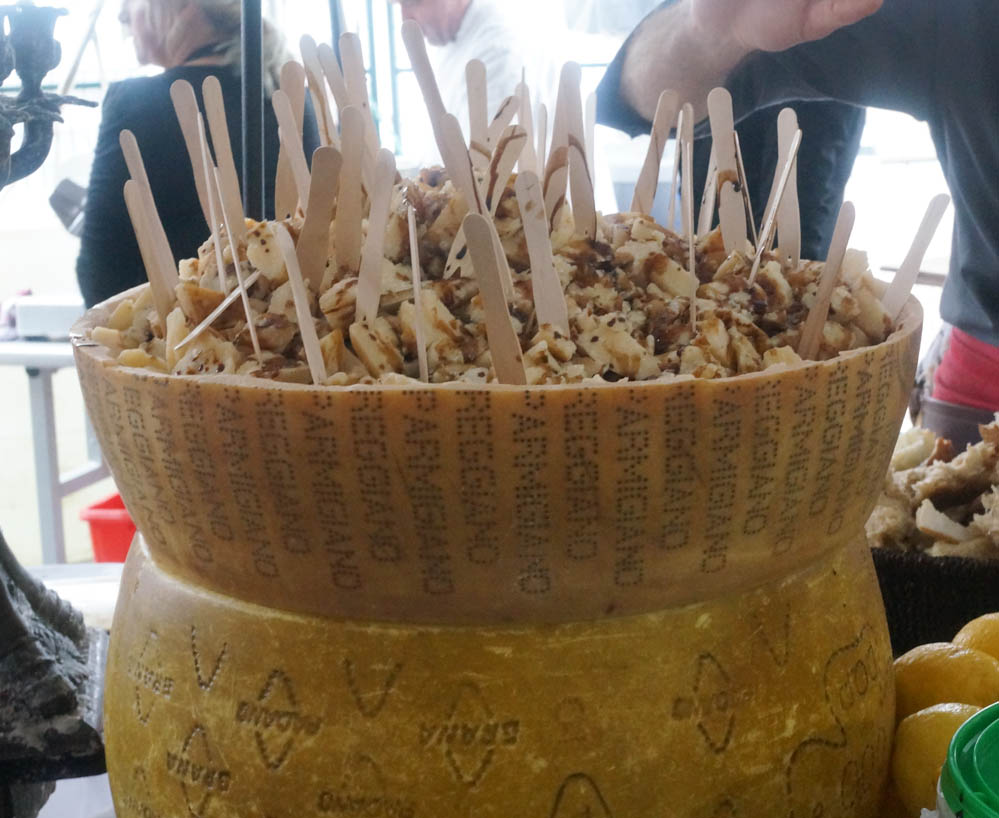 Gelato Fresco
Salted Caramel Coconut Gelato
Taste to Go by Madeleines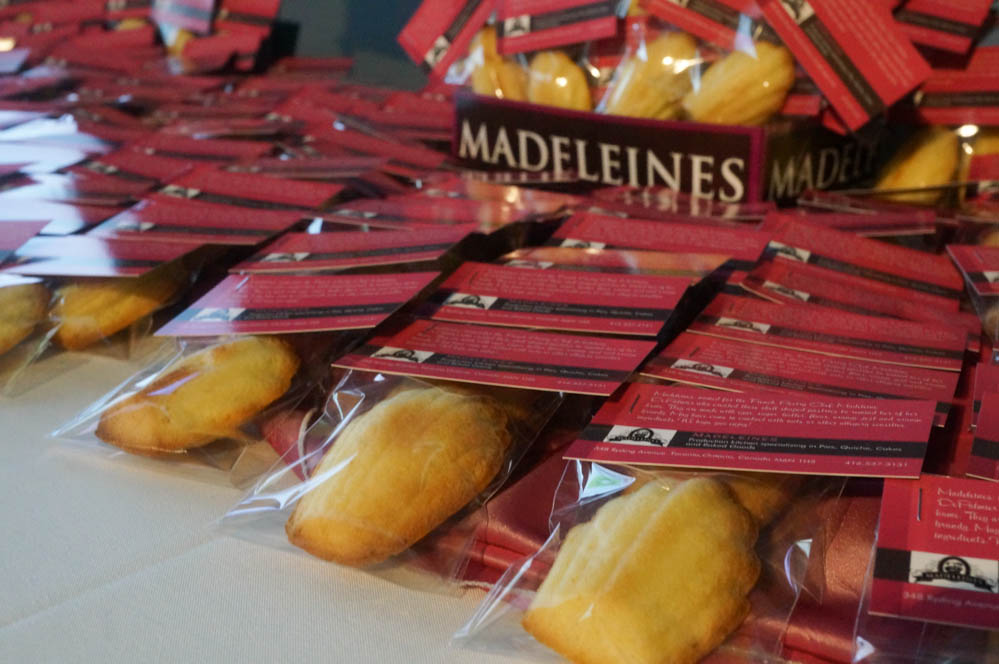 Taste to Go by Sullivan & Bleeker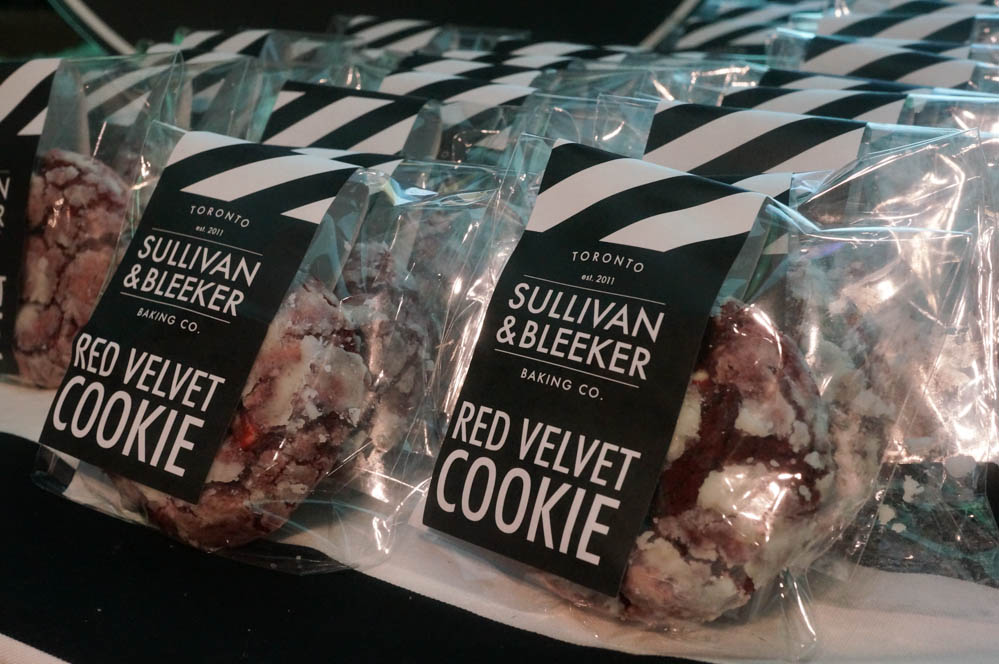 Taste to Go by PC Black Label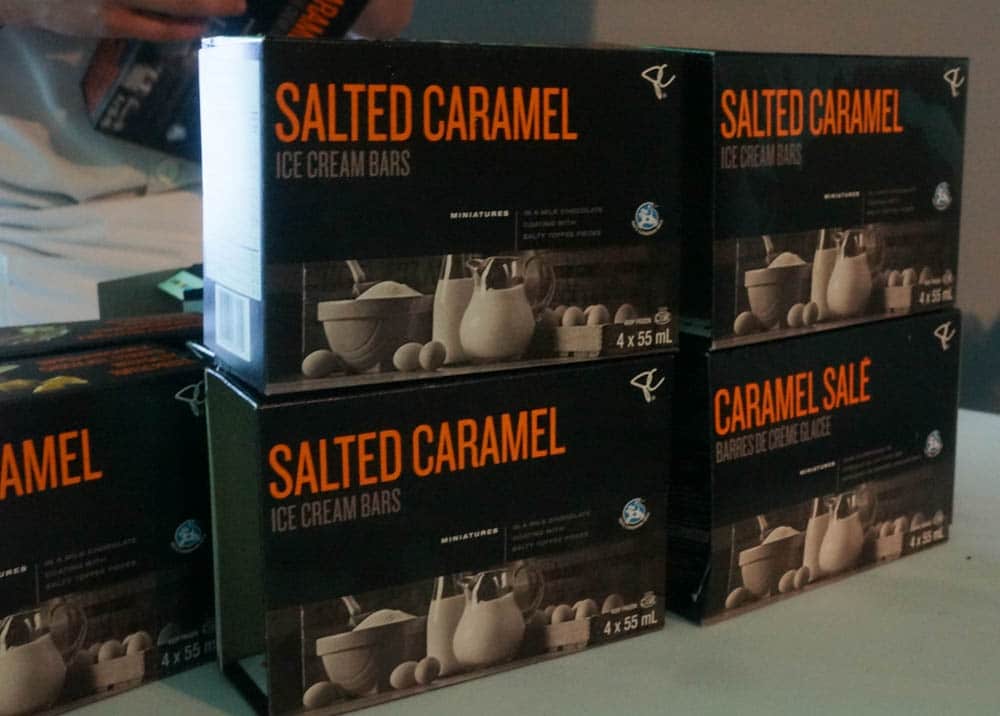 Taste to Go by Roelands Plant Farms Inc.
My favourite bites of the day is definitely a tough call to make, but my top five bites (in no particular order) included: Buca's Panini Bagnato, Scaramouche's Gnocchi, Thuet's Buffalo Brisket on Beignet, Globe Bistro's Peach Sundae, and Carbon Bar's Pulled Pork Tostada.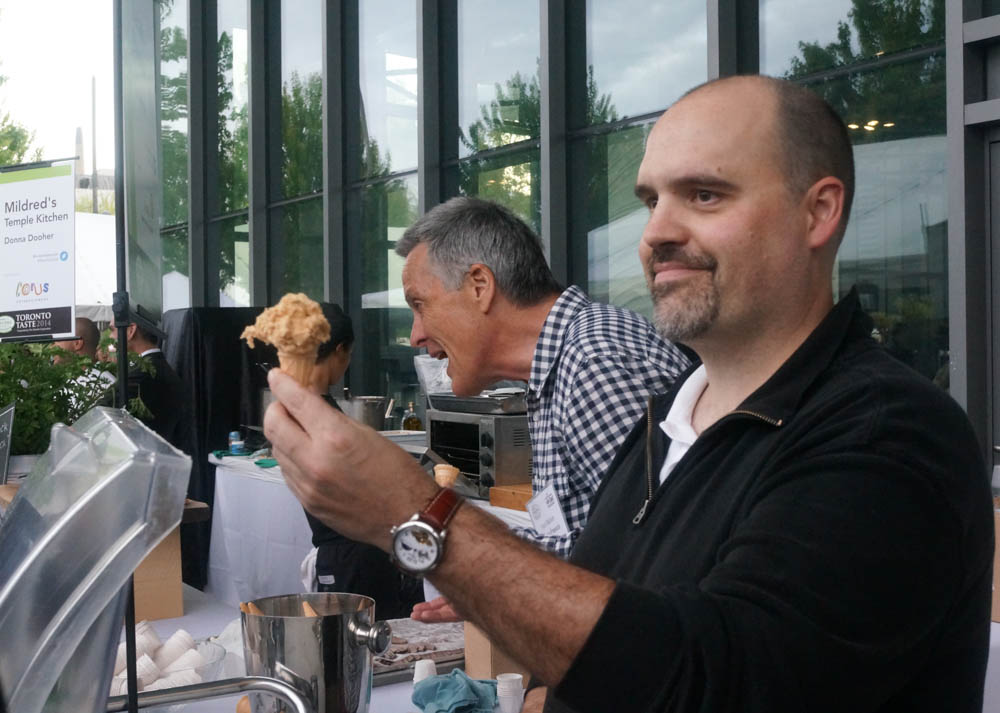 Gelato Fresco serving gelato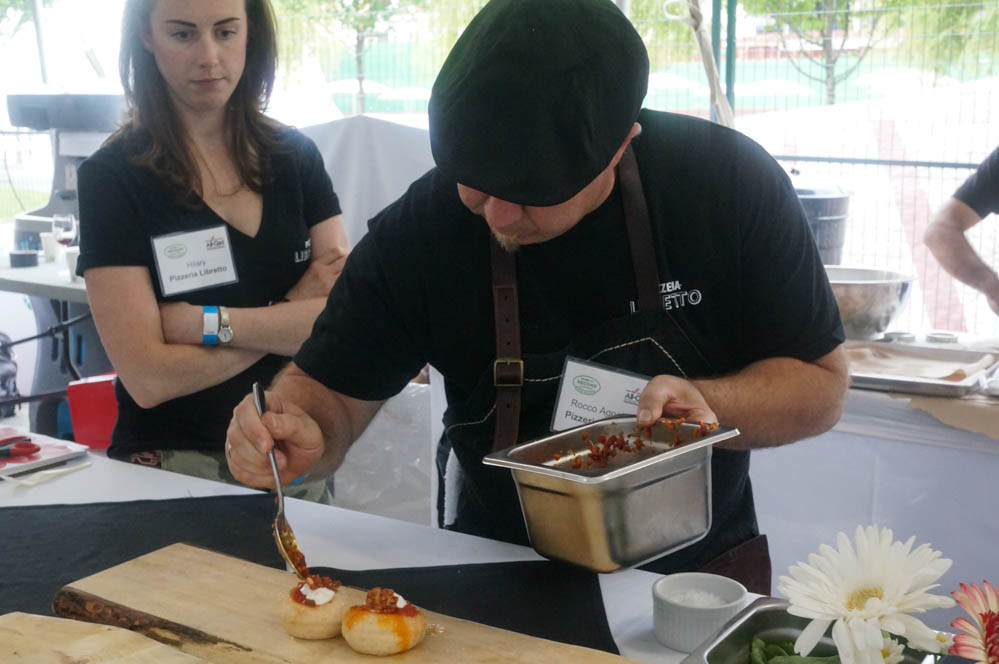 Rocco Agostino

Not only did guests leave with full bellies and hopefully a few auction prizes, but they also took in the satisfaction of knowing that each ticket price would help feed 500 Toronto adults, children and seniors. In the end, the event raised $690,000 for Second Harvest's upcoming year, which will provide 1,300,000 meals to people in need across the GTA. You know what I always say about charity food events. Nothing tastes better than beef salami with a side of do-good.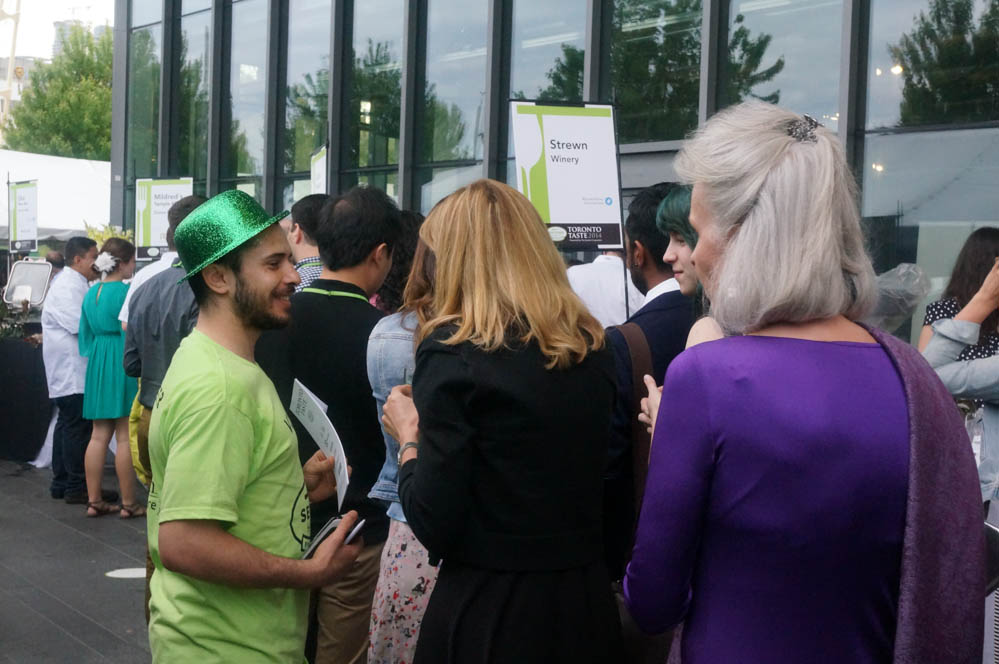 Line ups for ice cream
For those of you who haven't yet found yourselves satiated from Toronto Taste, don't worry, you've got another chance to support Second Harvest's valiant efforts with another Taste in town. While it may seem confusing at first, Taste, the reputable international food show in 20 cities across the globe, is presenting an inaugural North American edition as Taste of Toronto July 24-27 and will also help support Second Harvest. For more information on Toronto Taste check out their website here, and for more info on Taste of Toronto, check out their website here.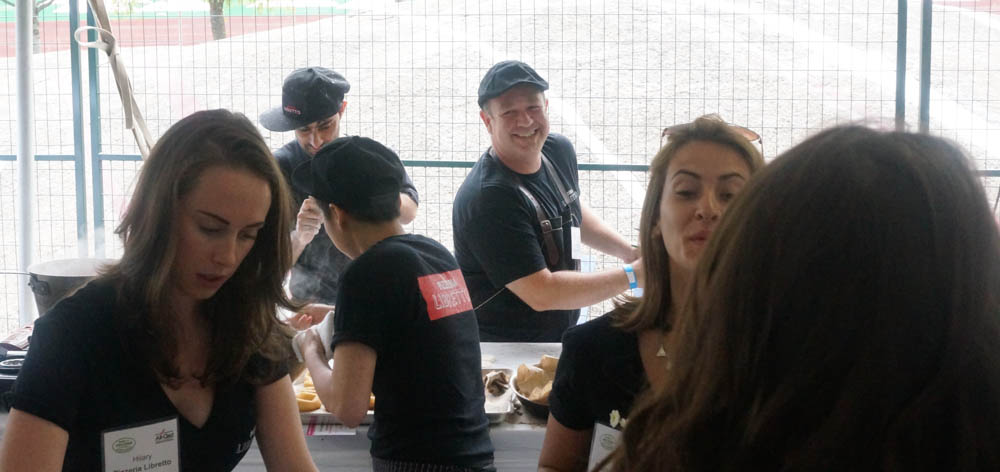 Rocco from Pizzeria Libretto
Disclaimer: Access to Taste was complimentary as coverage for The Toronto Standard where a version of this post was previously shared, however, all opinions are genuine.
Updated on May 8th, 2019