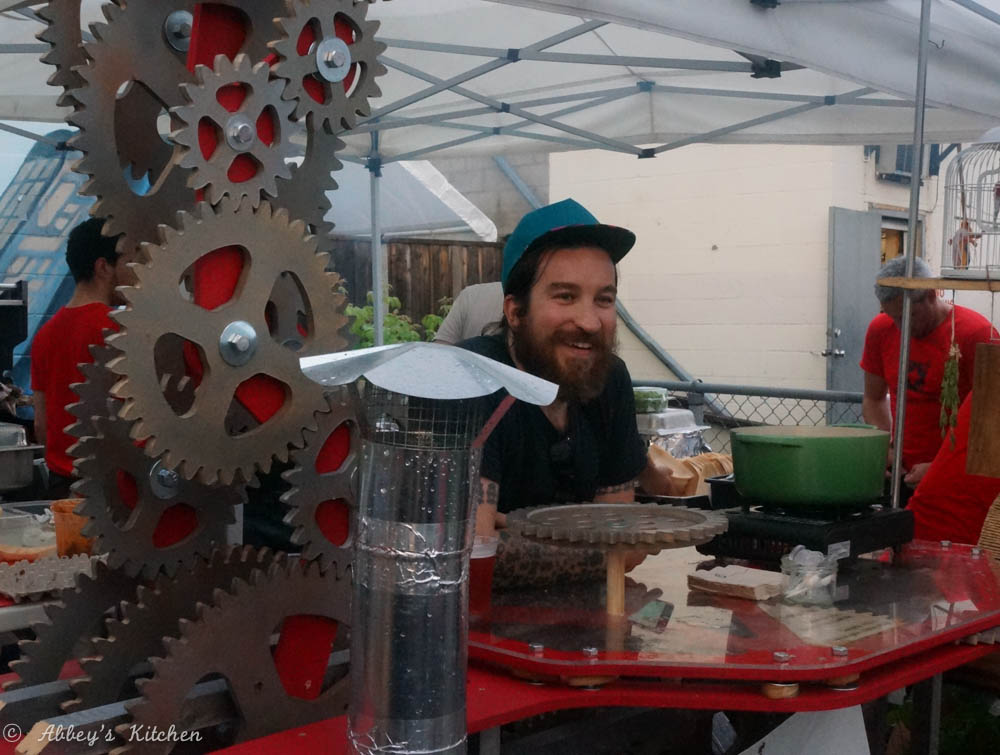 Years ago when I was a dietetic student, I was introduced to the innovative and generous efforts of The Stop Community Food Centre when my entire graduating class road the subway to Davenport to their head quarters.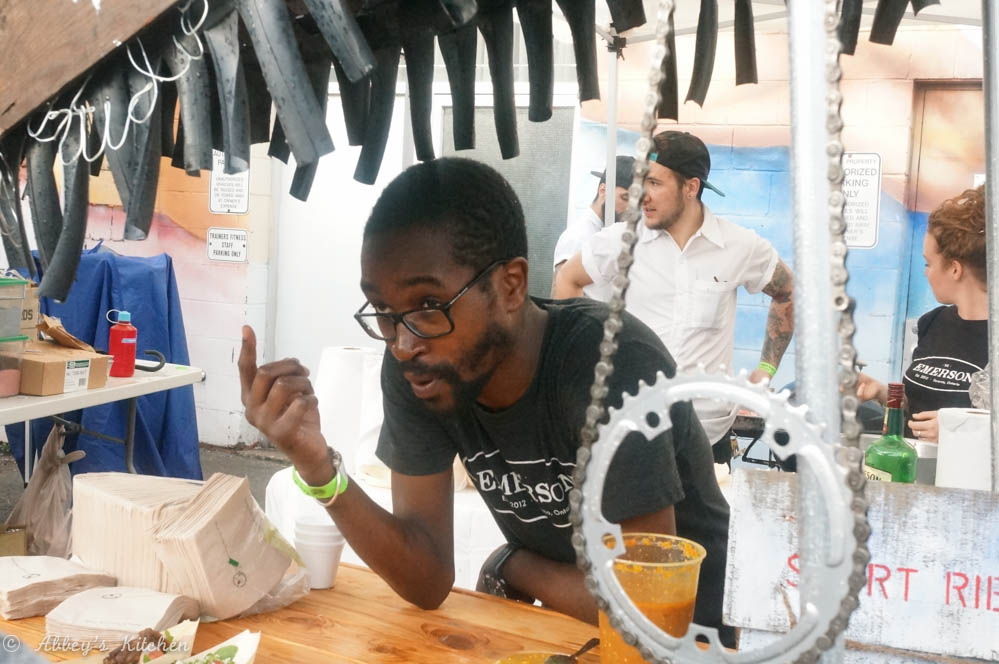 We toured the community kitchens and classrooms, met some of the students who benefited from the program, and learned about their unique approach to promoting food security in the city.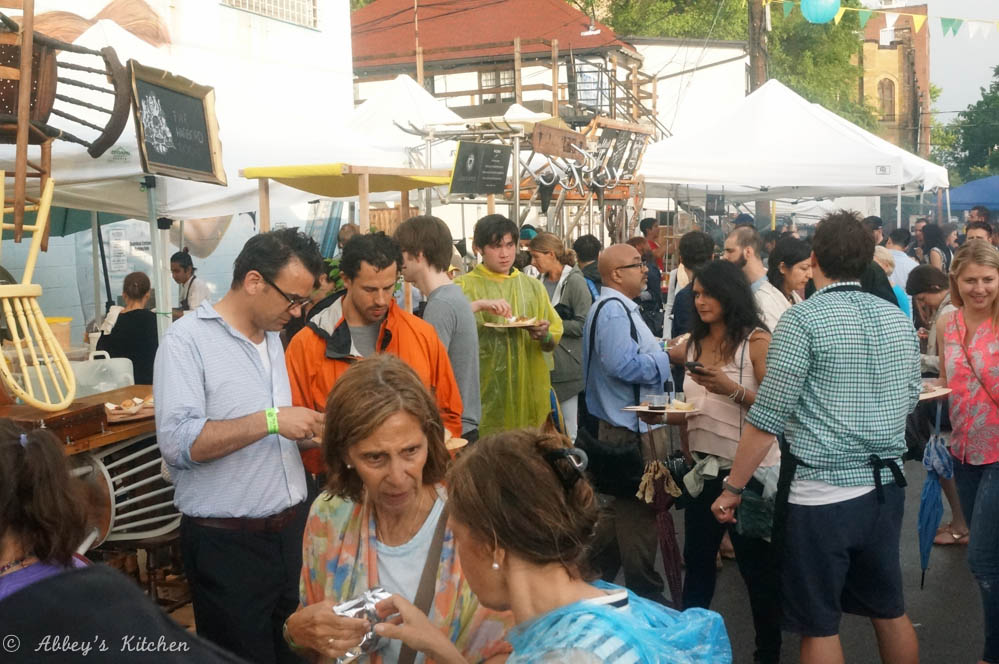 From food banks, to community cooking classes, to food advocacy efforts and more, the Stop's programs help increase access to healthy food in a manner that maintains dignity, builds health and community, and challenges notions of inequality.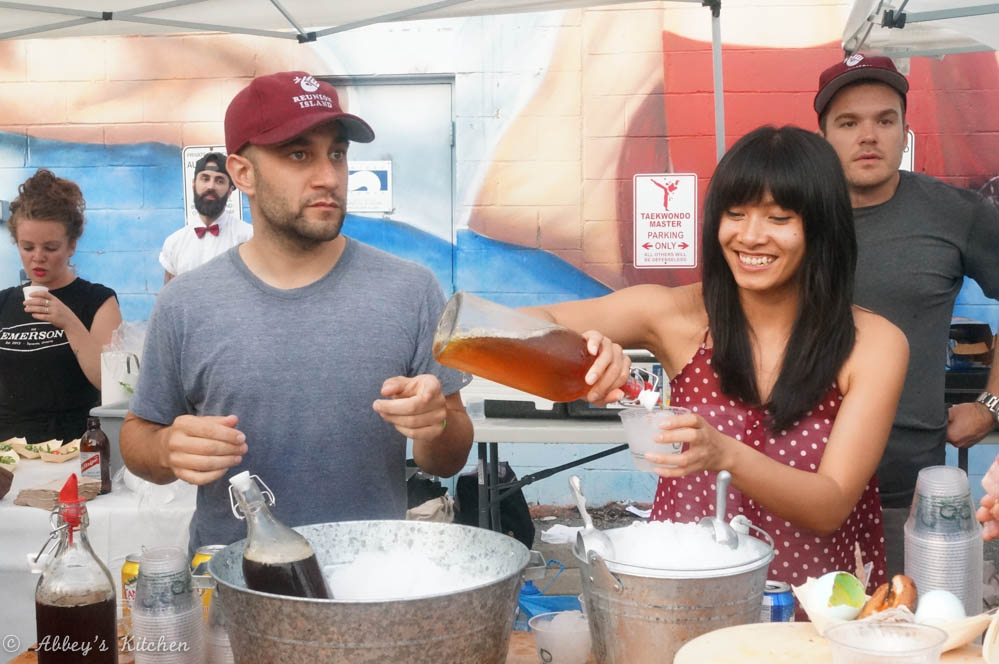 I am all for supporting food initiatives like this, in whatever form they may be- I believe karma is always looking to repay good deeds done. Thankfully, the return is instantaneous and enormous when you support The Stop through their highly anticipated Night Market food events.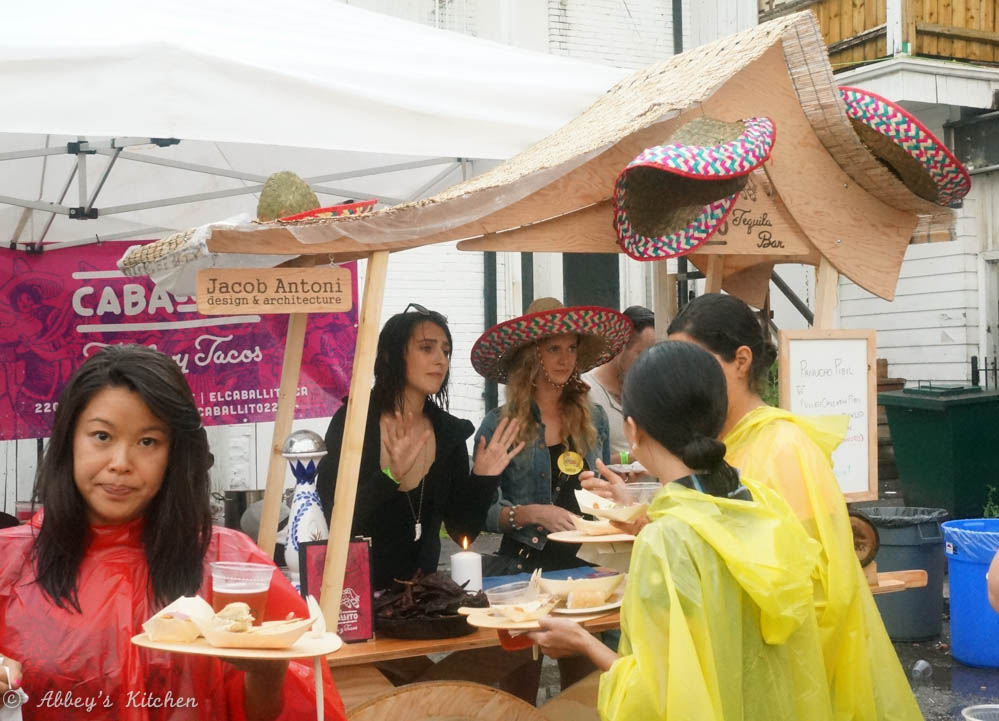 For two days each summer, The Stop puts on one heck of a wicked event, bringing together 60 of the city's top chefs and 30 unique food carts for an all-you-can-eat-and-drink extravaganza. Last year was my first NM event, and the experience literally blew my mind. The tickets sold out within minutes, leaving an absolute frenzy in the twittersphere, and just over 1000 lucky people with golden tickets.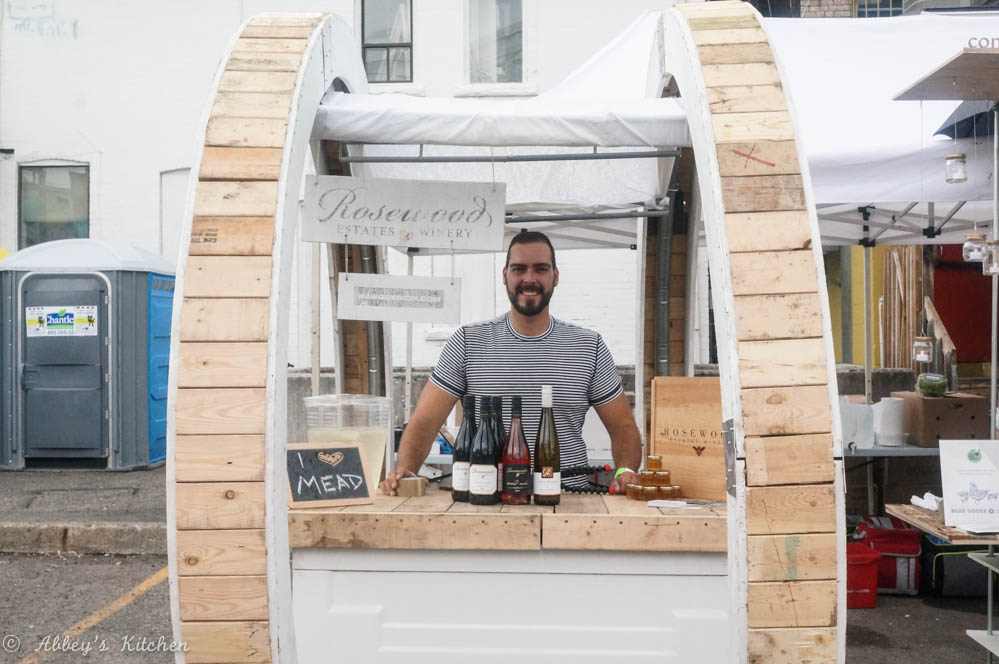 This year was no different as thousands of foodies found themselves tethered to their computer screens on May 1st desperate to get at least one of the $65 tickets. I myself was a no-show for two meetings as I refreshed and refreshed my browser. Actually, I had 2 computers, 2 iPads and my cell phone running in an effort to land those coveted spots.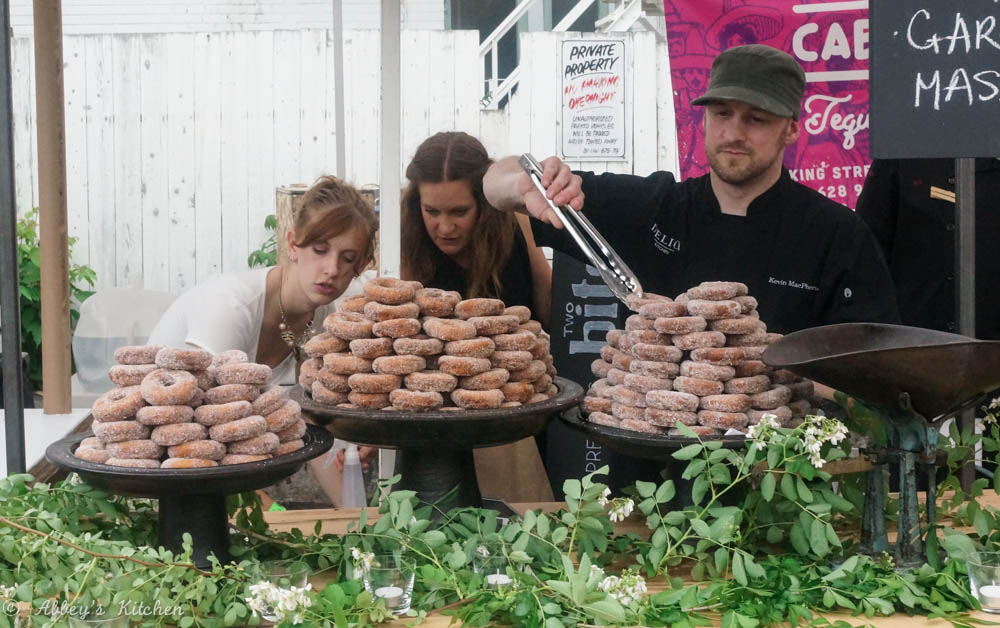 Thankfully, my efforts paid off and I ended up on a back-to-back NM bender, making appearances on both the June 17th and 18th events. Let's just say I spent the hours in between editing photos and at the gym. And let's also just say it was totally absolutely worth it.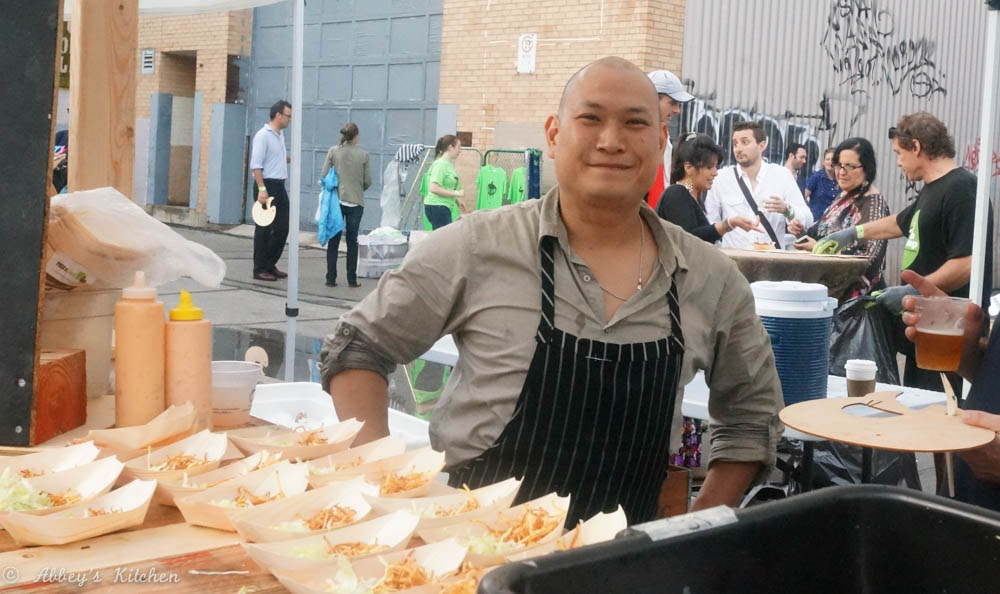 Held at the iconic Honest Ed's parking lot, The Stop's NM is also a feast for the eyes. Illuminated by a collection of twinkling strung lights, the chefs and drink vendors are set up
at one of a kind hand-made food carts, each designed by local design teams like Jay Ess Elle, HOK Inc., Boko, and DAS Bees.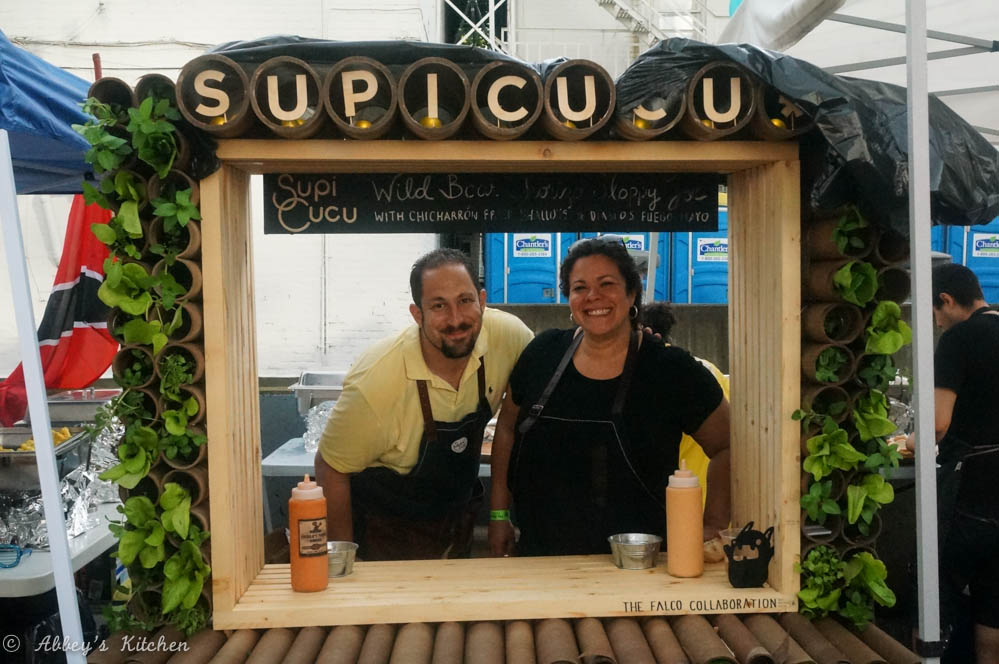 My favourites included Tori's Bakeshop's whimsical cart, Lindsey Bakes' colourful pinata booth, and SupiCucu's organic "re-used" looking digs.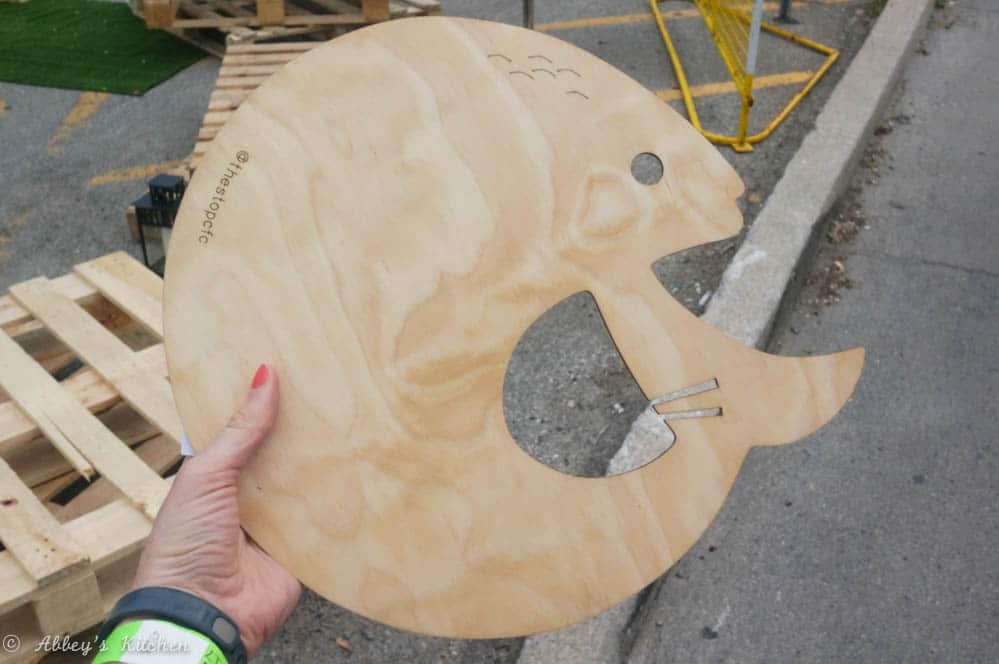 Speaking of organic and re-usable, this year, the Night Market also decided to go green, providing attendees with a sustainable-produced reusable plate to reduce the waste within the event. There was even a place to nestle your cup and a hole for the fork to rest too!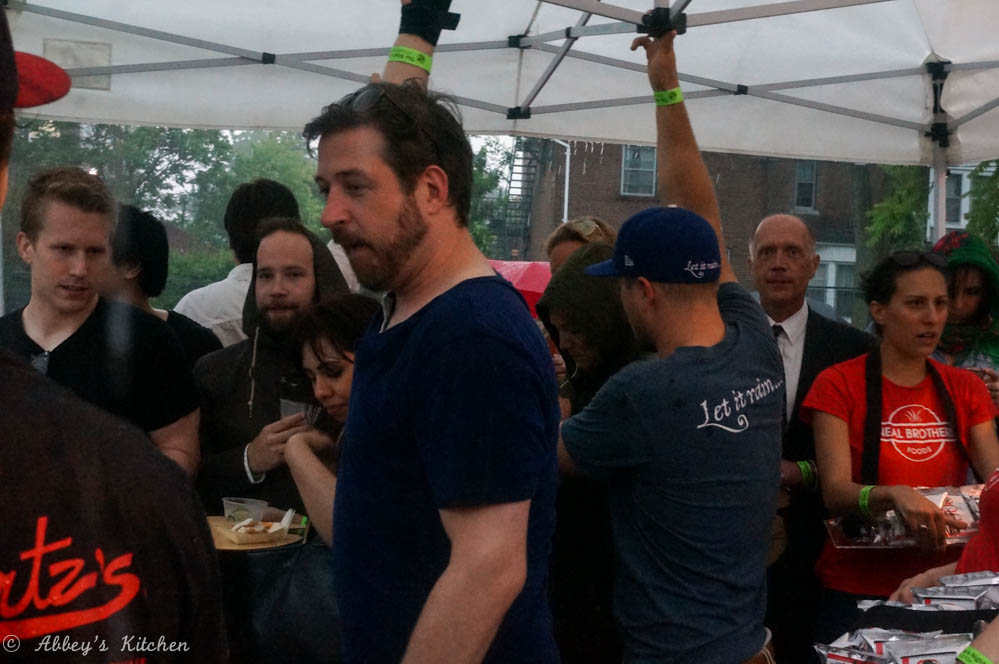 About 15 minutes before the regular admission began, I was inside during media hour, when the sky clouded over and it started to come down in buckets. Then the wind picked up, and a few tents got completely blown over. I'm not going to lie- I was a little bit nervous about all of the deep friers just waiting to be knocked over. Alas, no time to worry about that. We all rushed to find shelter under the closest booth but no tent was able to save us from the storm. We-were-soaked.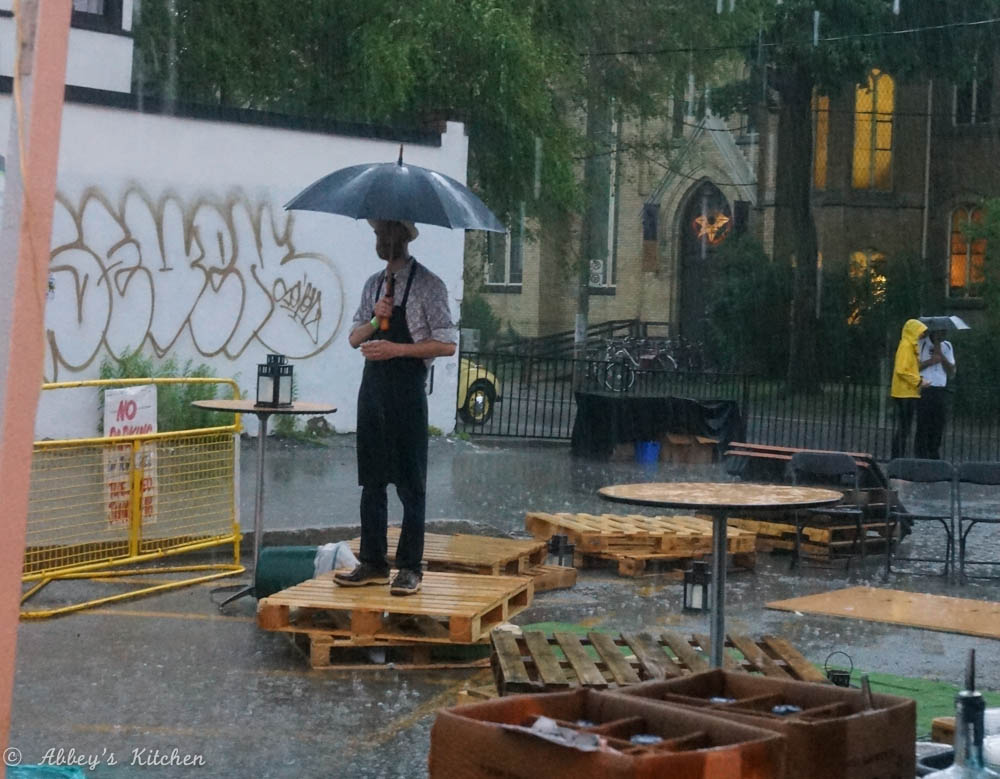 But even cold and wet, I was having a blast, laughing up a storm with the chefs and drinking bottomless cups of Tromba tequila. We also joked about all the half-eaten and abandoned plates of food we saw get absolutely covered in several inches of rain. Apparently every chef at the Night Market had decided to make soup! Chicken wing soup. Sandwich soup. Mac n' cheese ball soup. It was Soup Stock all over again!
But after a stormy 40 minutes, the sky started to clear, the crowds started to descend and we could enjoy the rest of the evening soup-free (that is, aside from the intension soupy options).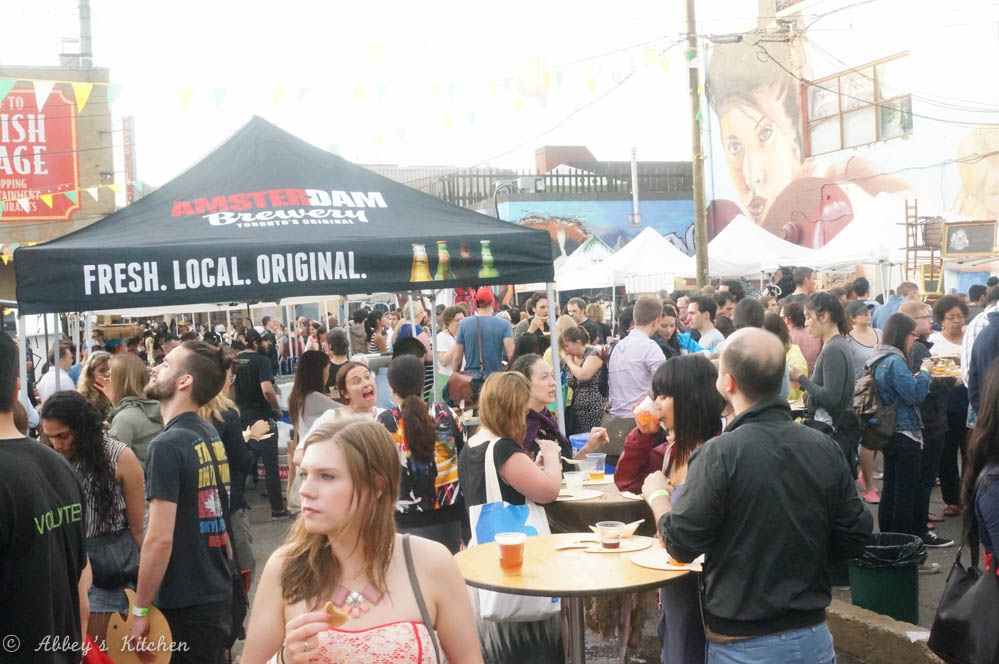 Acknowledging that y'all reading this can likely only handle so much #foodporn at a time, I am sharing the love with two posts to cover my two nights of fun. Welcome to day one (Tuesday June 17th) of the eating adventure.
Abokichi
Udon Fries with Abokichi Okazu Sauce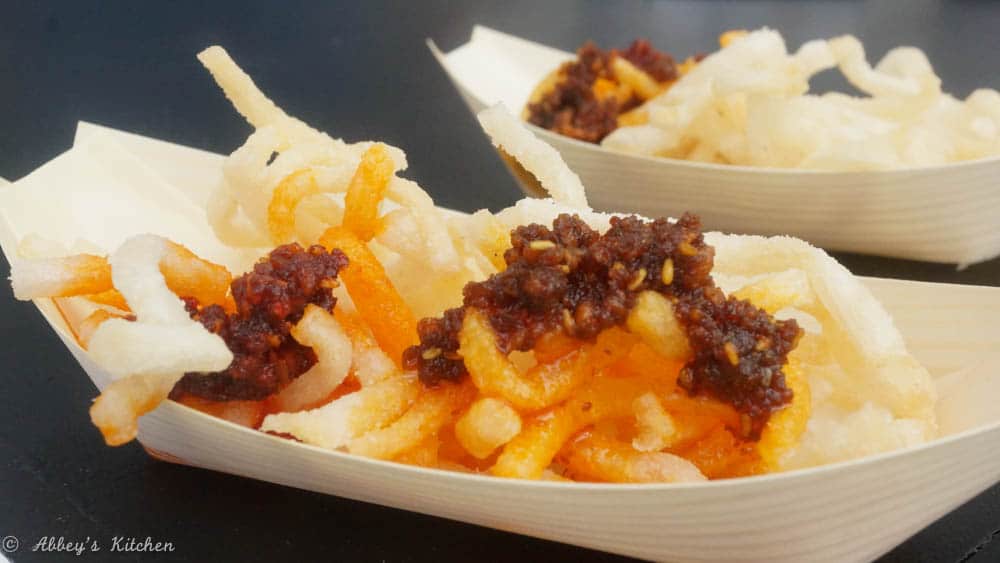 Barque
Smoked Lamb Ribs with Pomegranates and Cucumber Potato Salad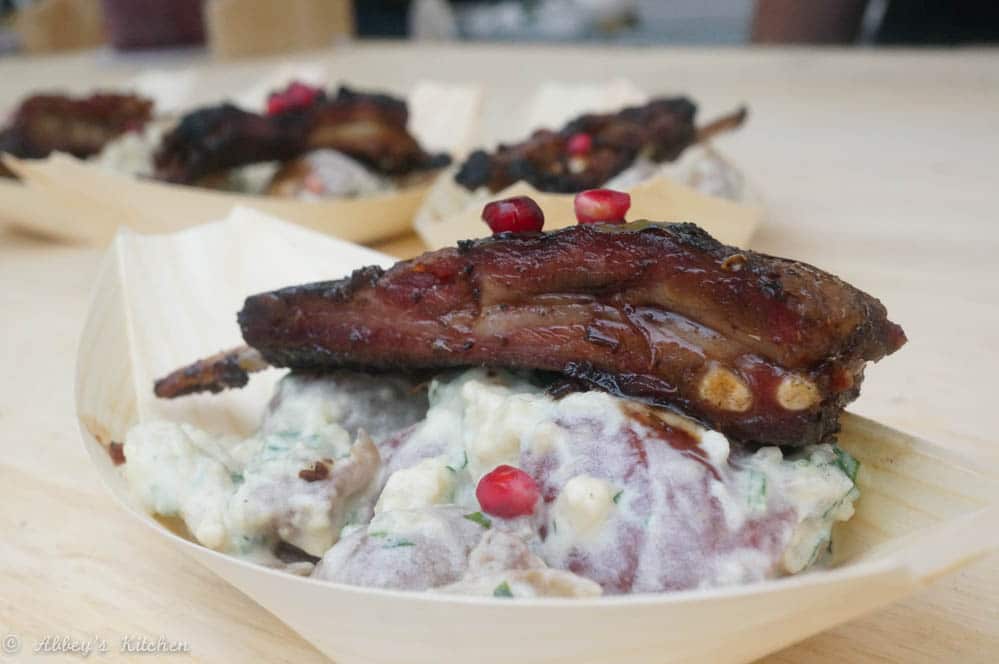 Blue Goose Pure Foods
Braised Beef with Spring Vegetables, Gnocchi, and Black Garlic Broth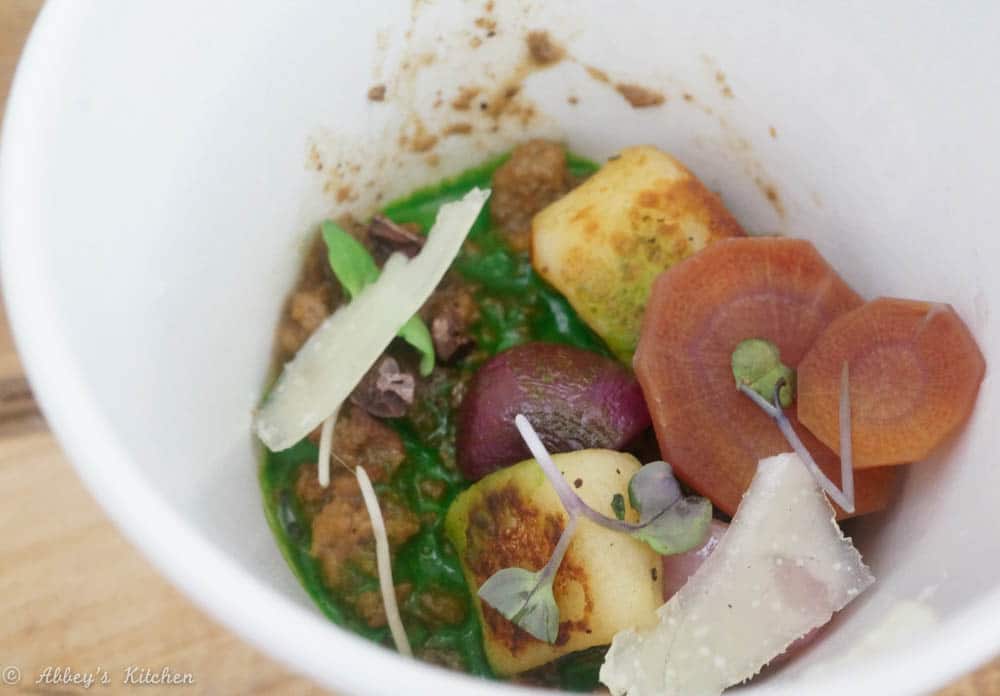 Carmen
Deep Fried Fish Tacos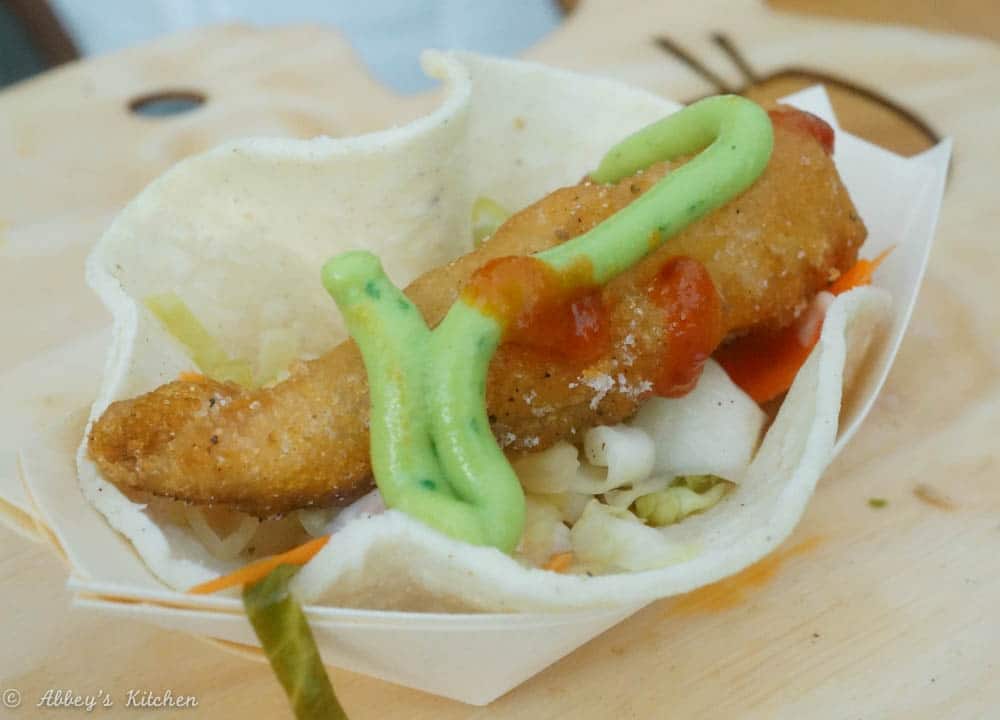 Chantecler
Fried Chicken Wings with Numbing Sichuan Pepper Salt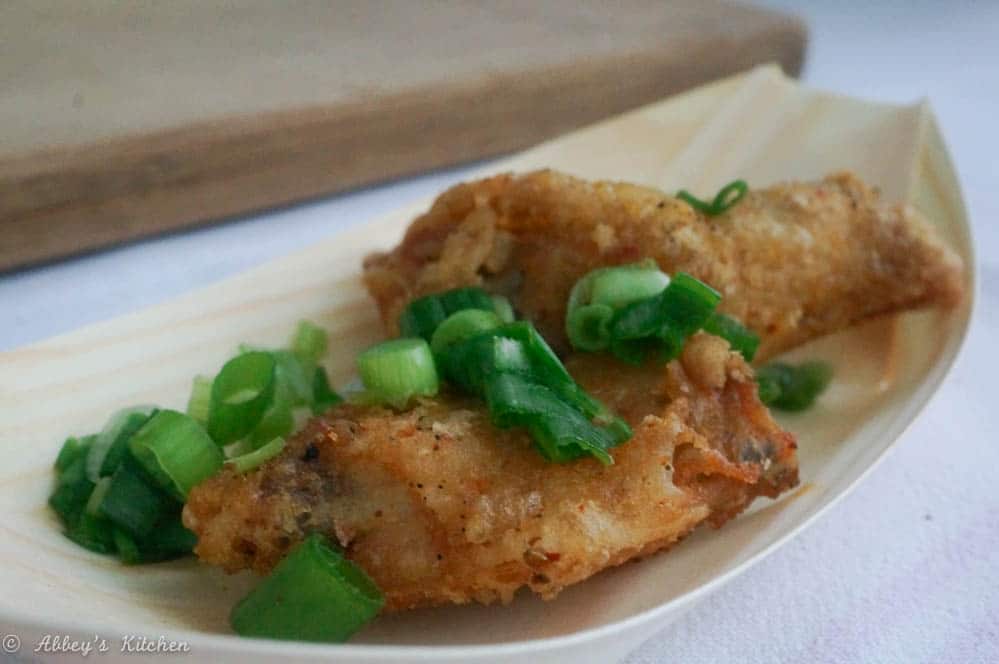 Dock Ellis
Wonton Nachos, Chorizo, Salsa, Cheese Sauce, Jalapenos and Crema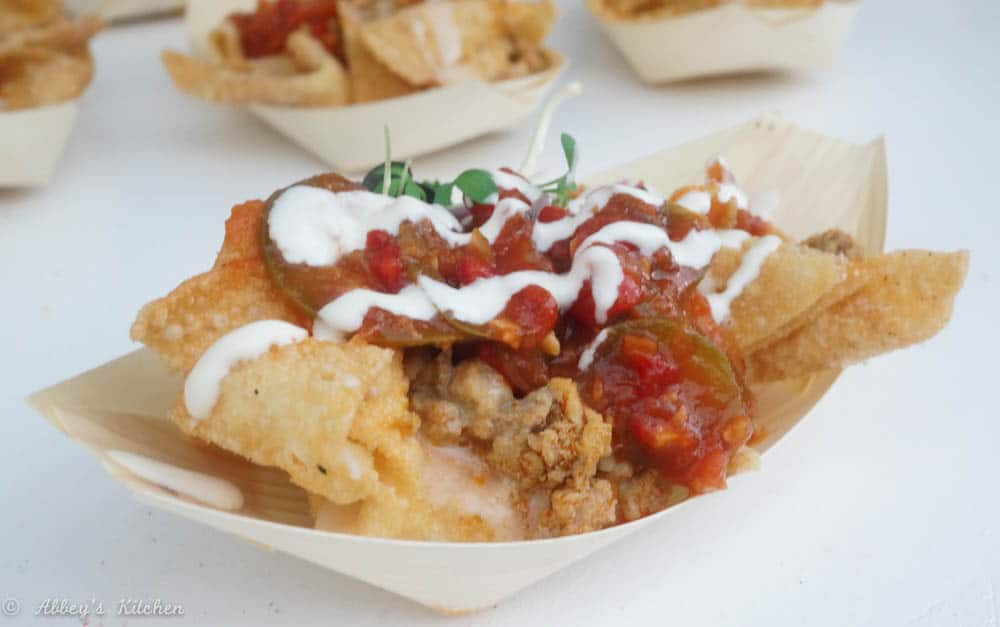 Arpege Egg: Coddled Yolk, Chorizo, Whipped Goats Cheese Mash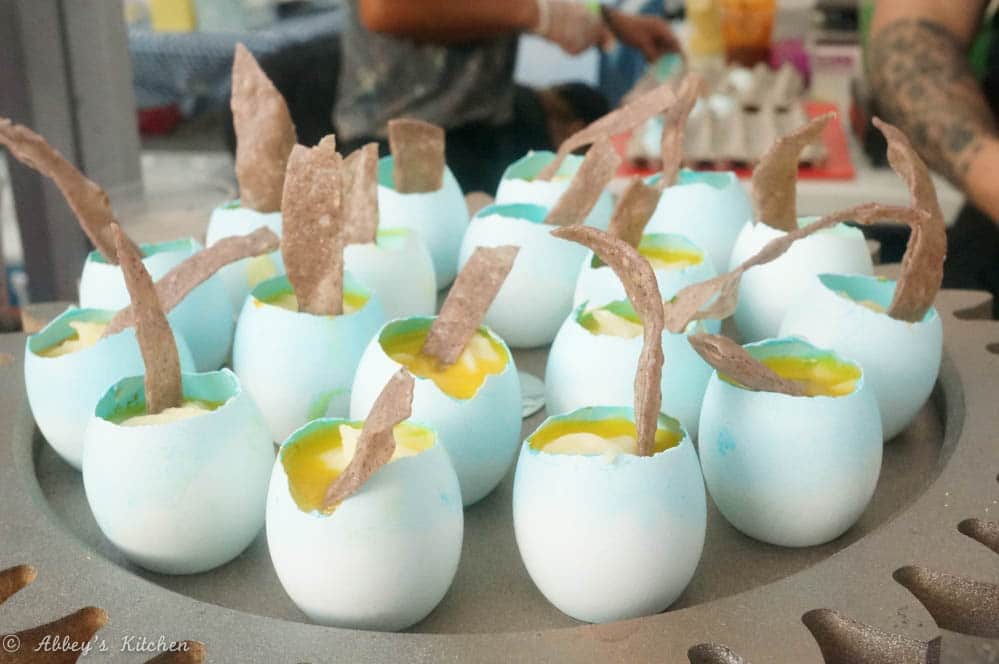 El Cabalito
Chicken Taco with Pickled Shallots and Refried Beans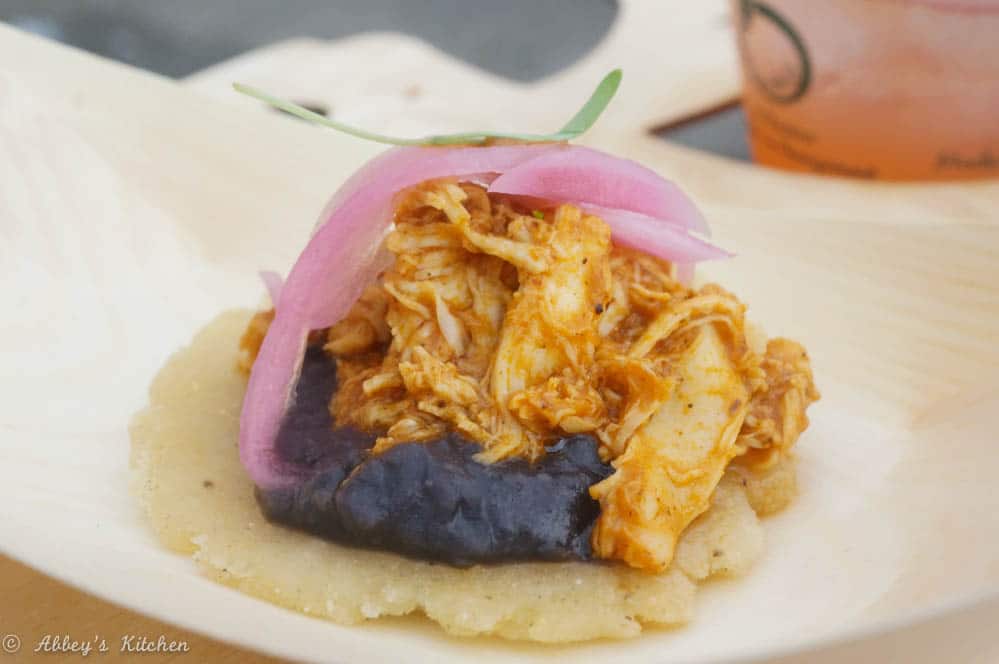 Fonda Lola
Grilled Chicken and Raw Mole Sauce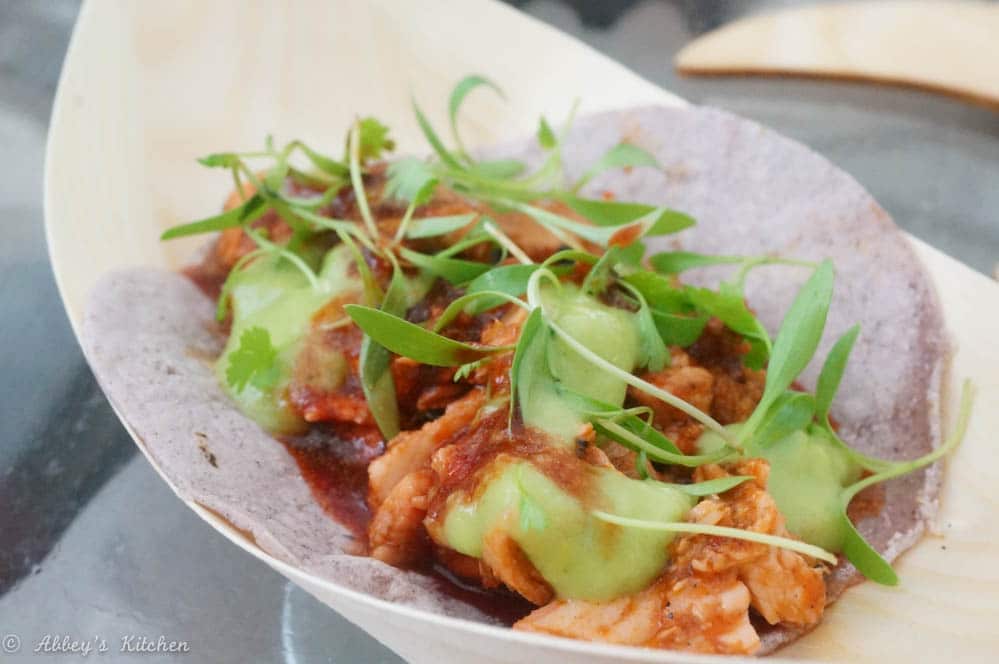 Fidel Gastro
Sriracha Buffalo Wings with Neal Brothers Chips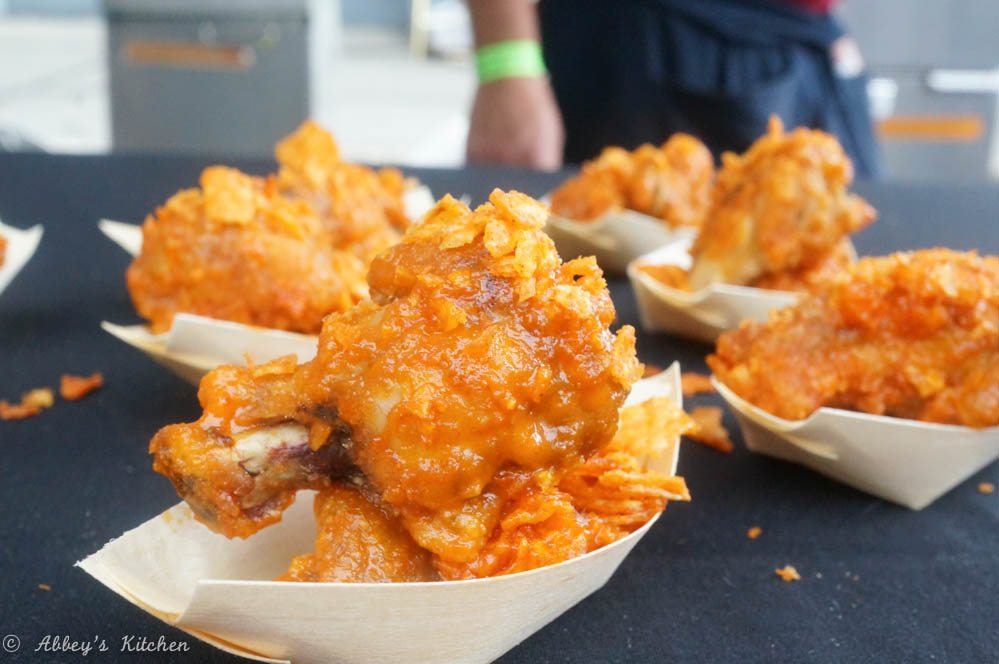 Dillon's
Rhubarb Gin Cocktail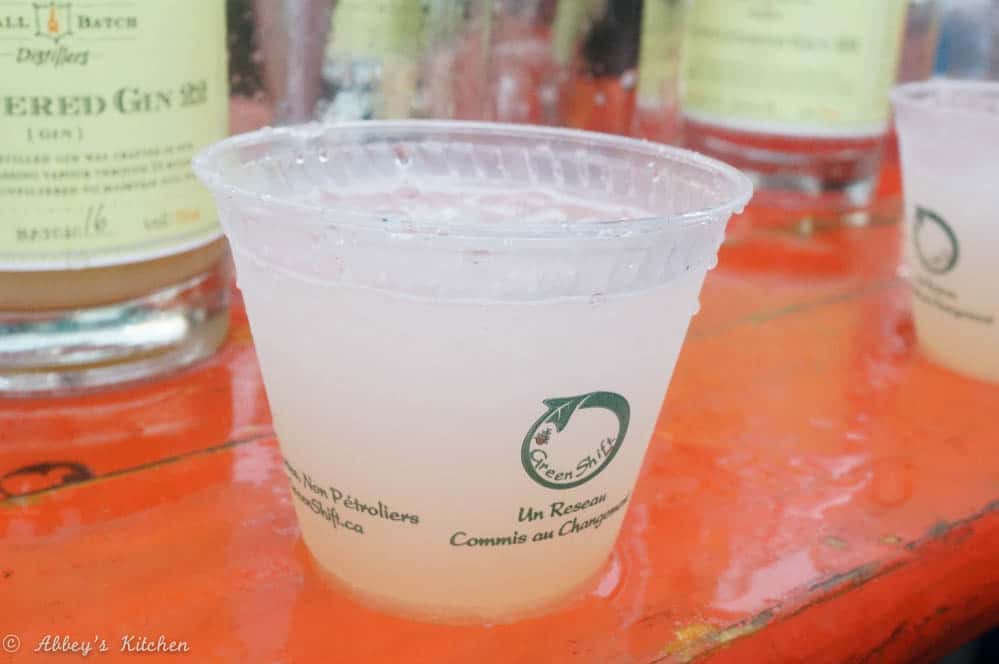 Delica Kitchen
Heart of Darkness Smoked Chicken Chili with Mini Cornbread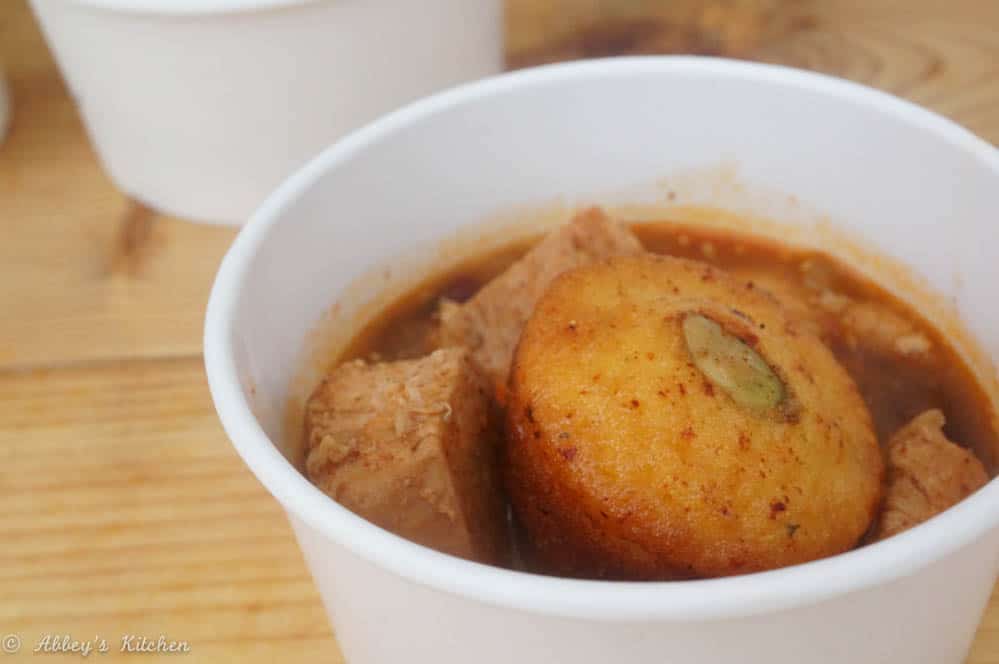 Grasslands
Loaded Baked Potato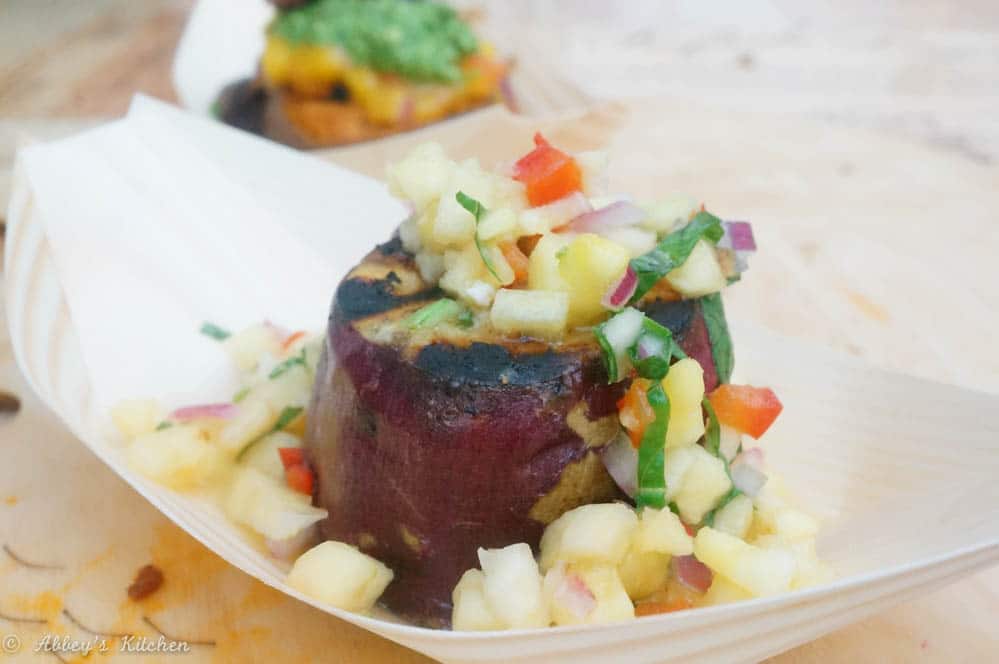 GwaiLo
Big Mac Bao: Ground Beef, Special Sauce, Sesame Steamed Bun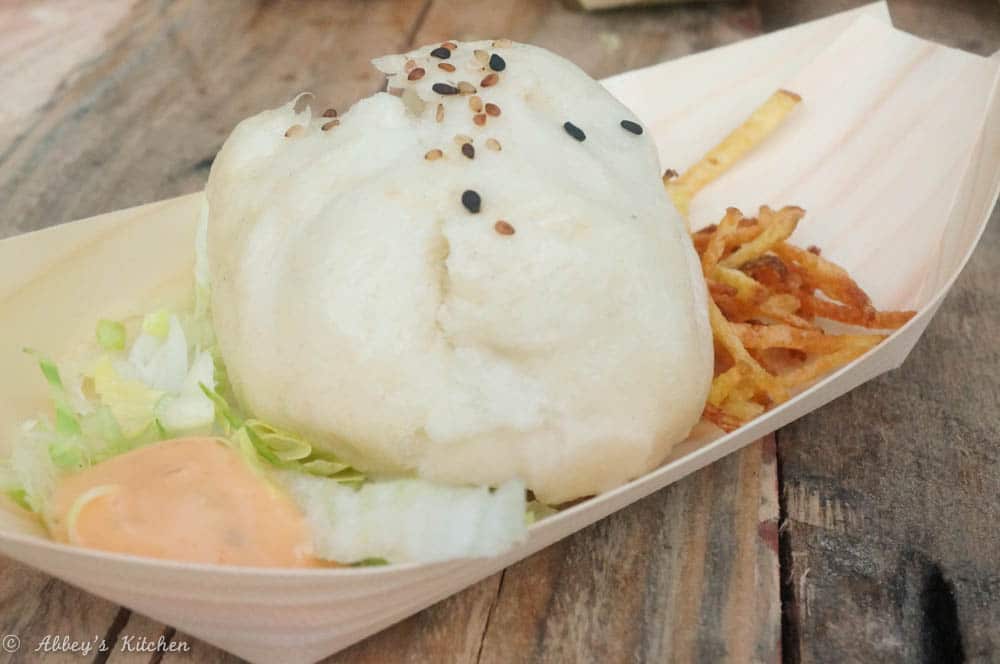 Lindsey Bakes
Sugar Cookies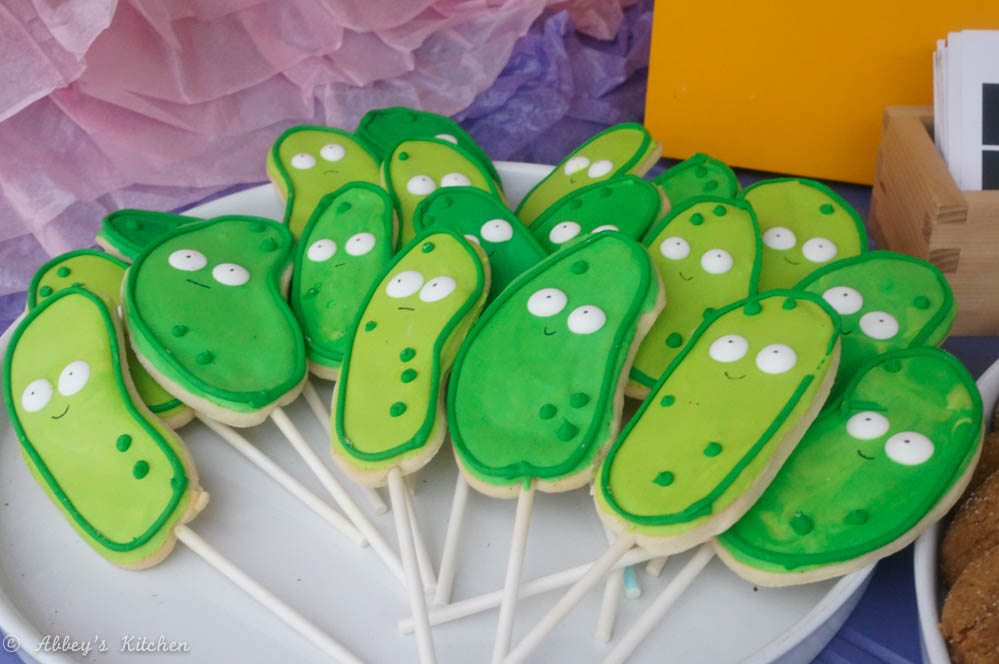 Geraldine
Cured Trout with Watermelon Salad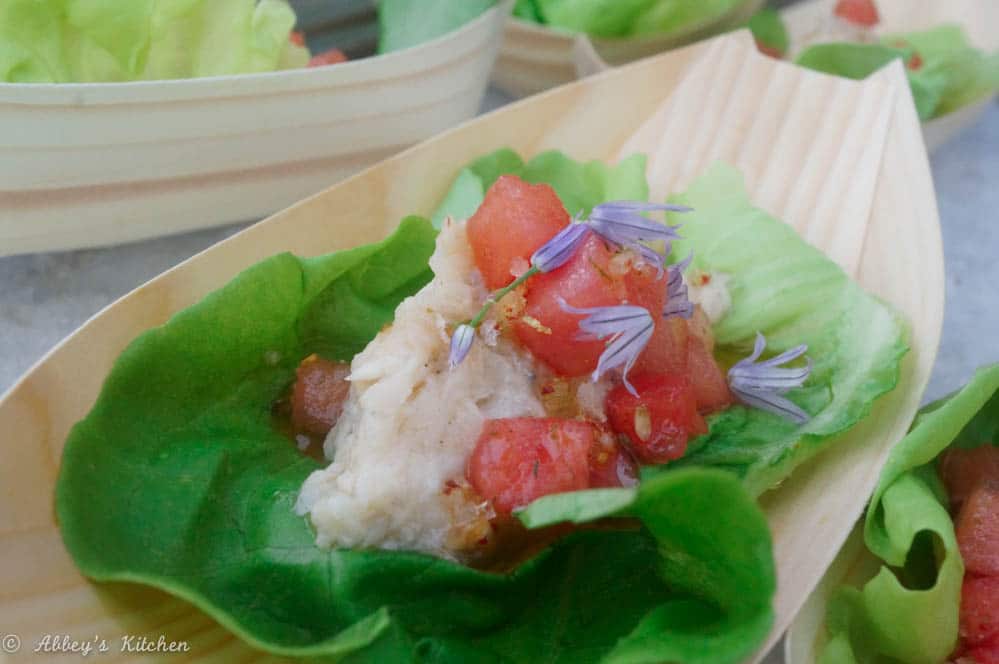 Capirinha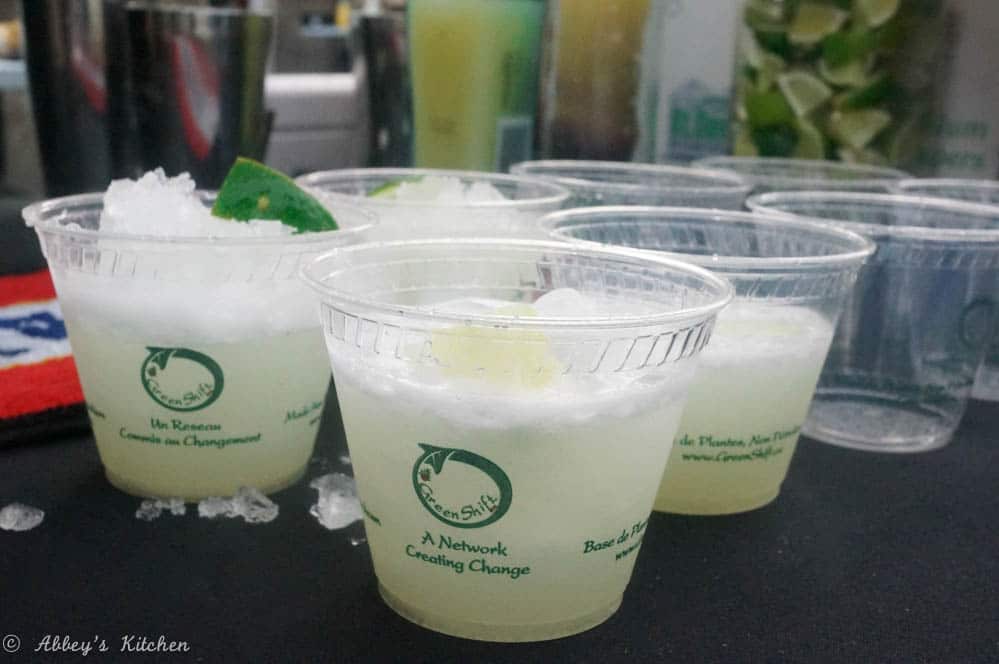 Mad Maple
Yogurt Popsicles with Rhubarb and Crumble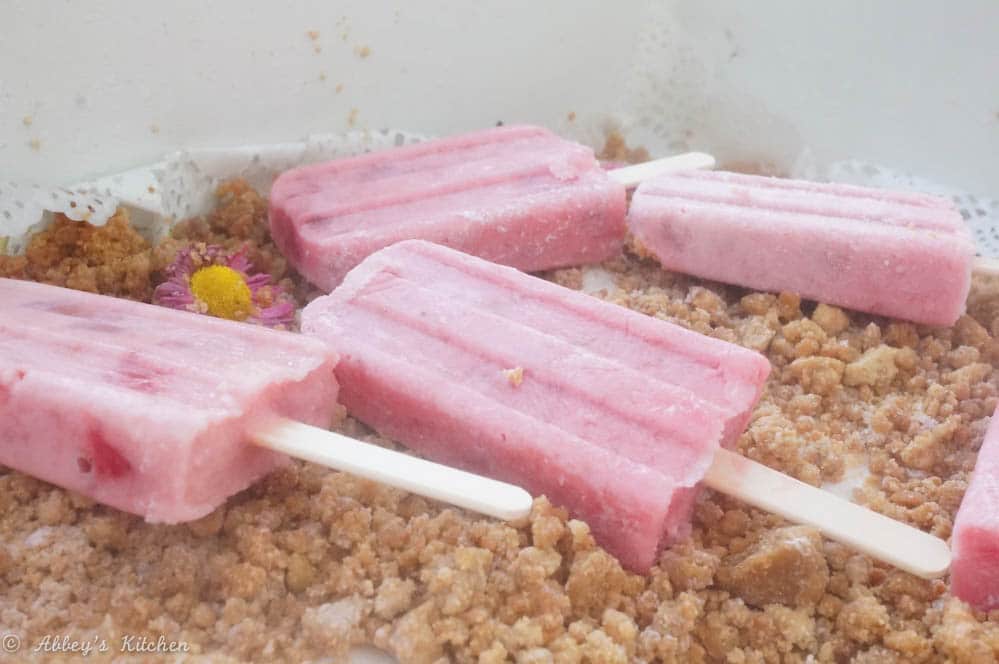 Oyster Boy
PEI Oysters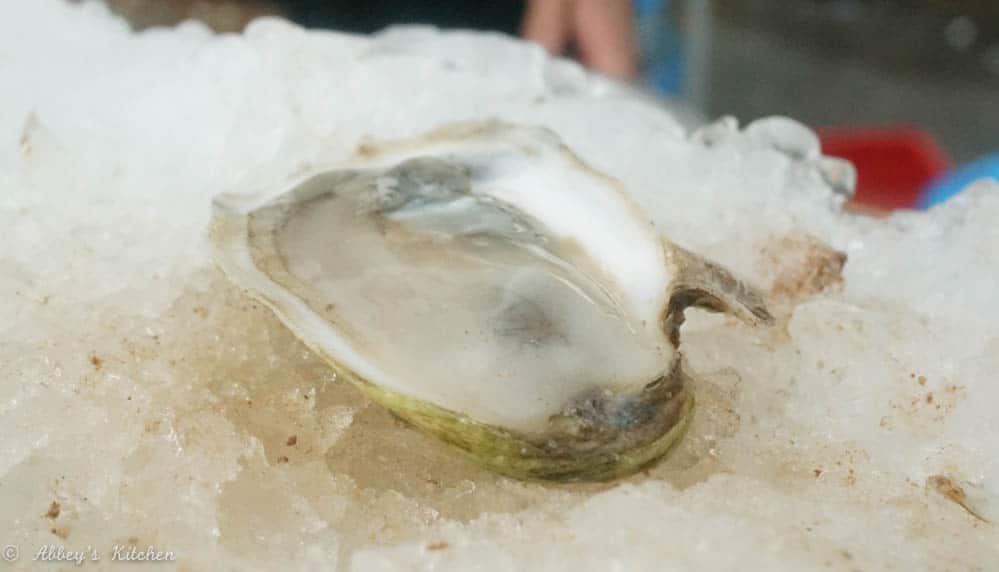 Paulette's Donuts
Maple Sugar Doughnuts
Pizzeria Libretto
Montanara Fried Pizza with Tomato and Stracciatella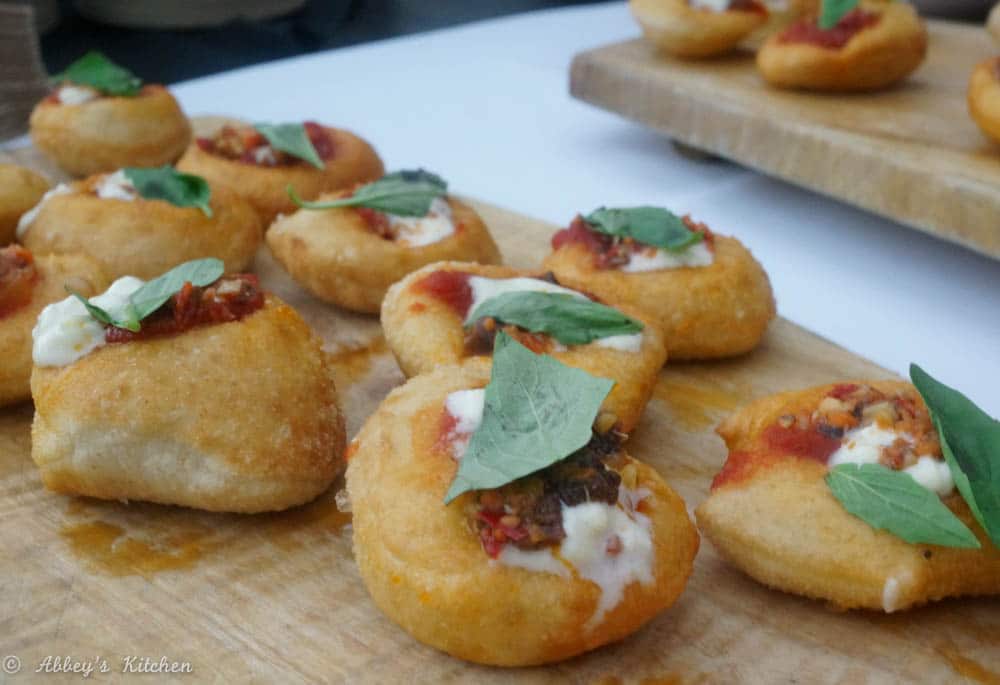 Rose & Sons
Hoagies
Splendido
Grilled Octopus, Potato and Bacon Salad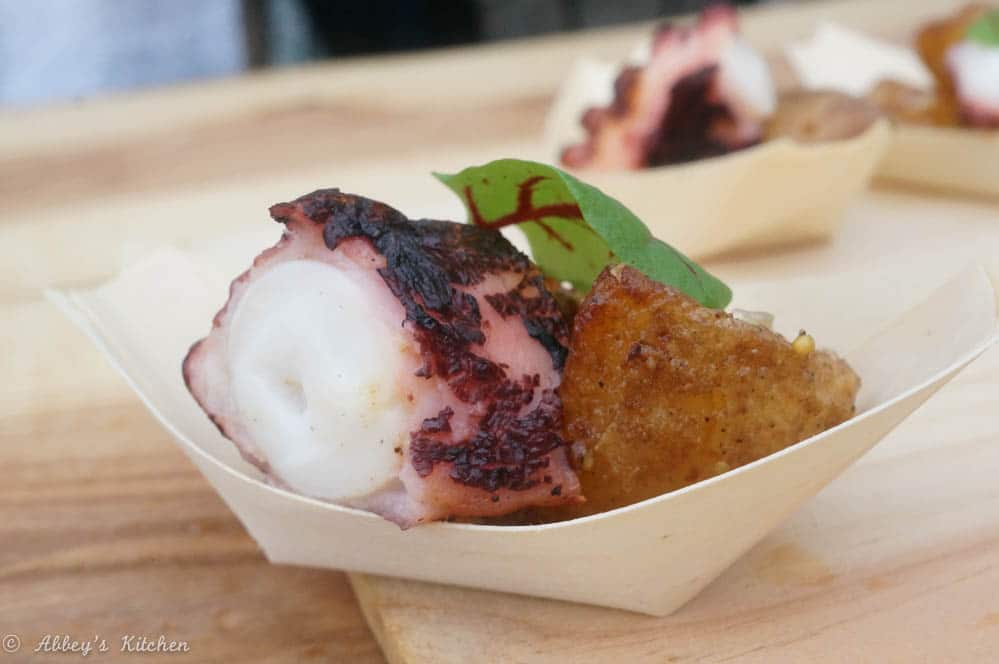 SupiCucu
Wild Boar Sloppy Joes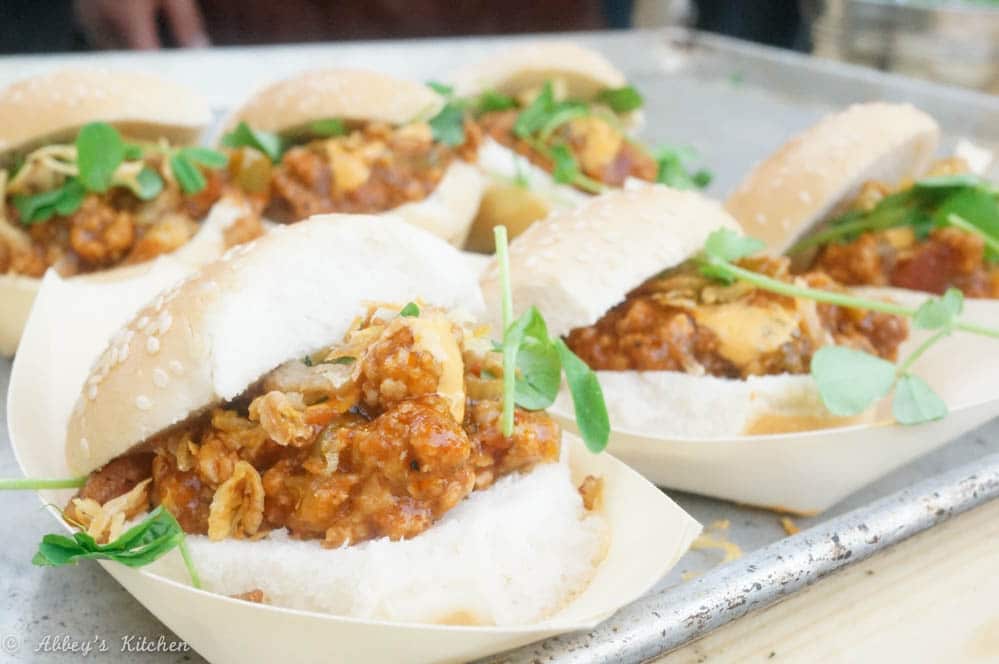 The Galette Girls
Butternut Squash Galette
Reunion Island Coffee
Sweet Hibiscus Iced Tea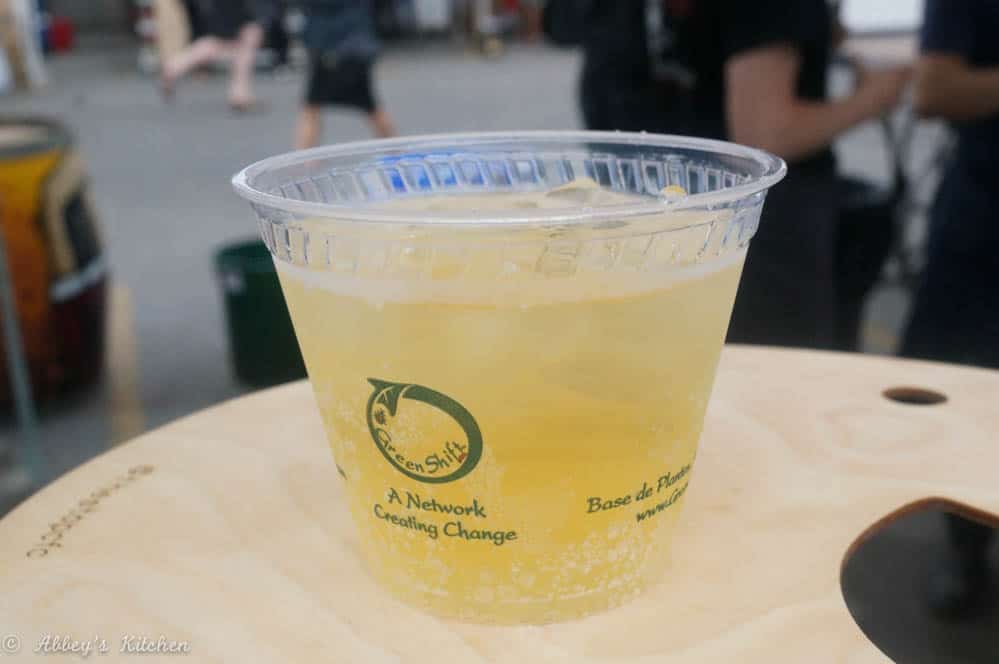 The Emerson
Braised Short Rib Wrapped in Ribeye Steak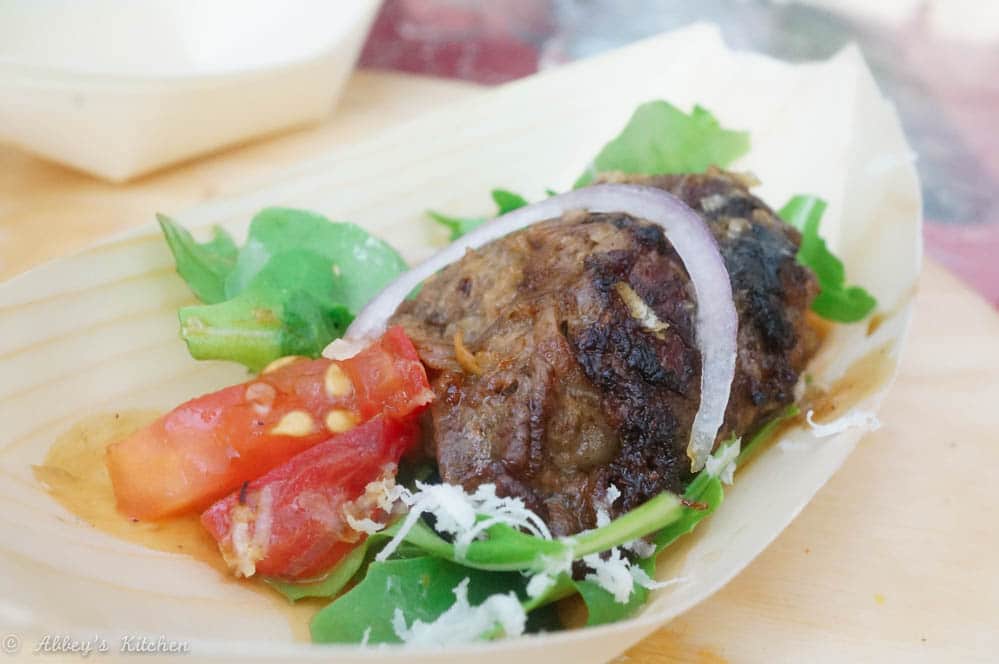 The Harbord Room
Jerked Braised Goat Leg with Slaw, and Charred Corn Biscuit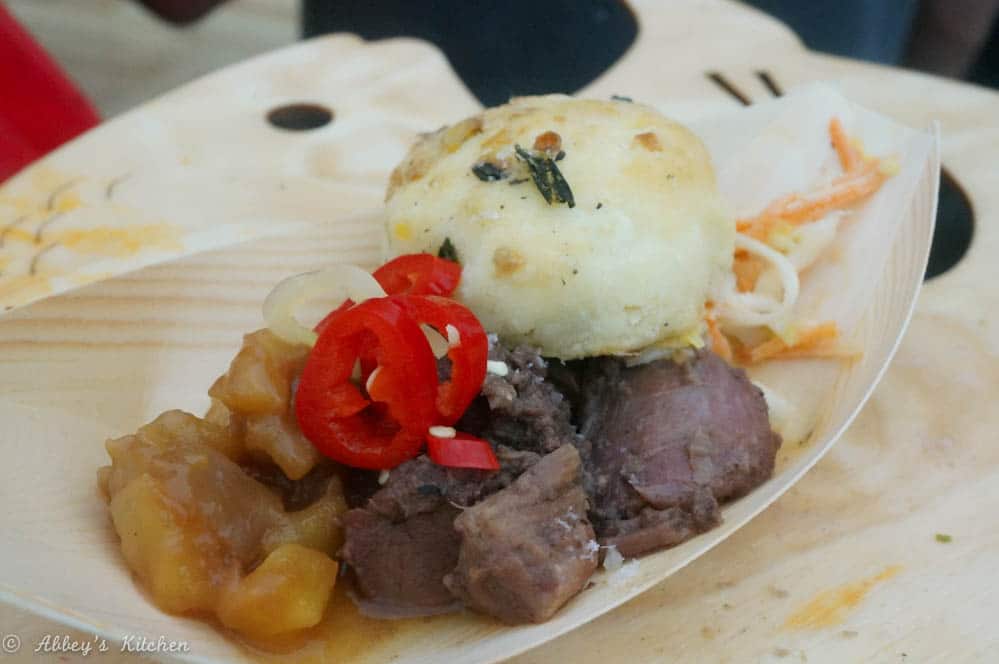 The Stop CFC
Trini Bake n' Trout: Pan-Fried Fish Cake, Veggie Slaw, Lemon Mayo, Scotch Bonnet Sauce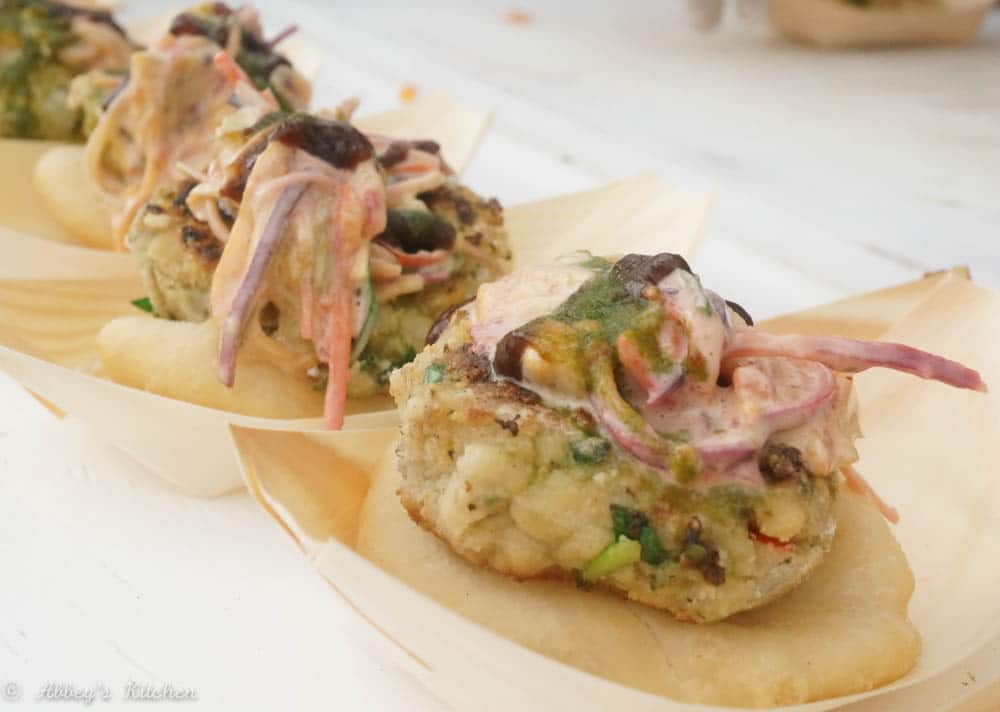 The Gabardine
Trinidadian Doubles with Roasted Pepper Sauce, Tamarind Chutney and Cucumber Salad
The Passenger
Fish Croquette with Dill Tartar and Watermelon Radish Salad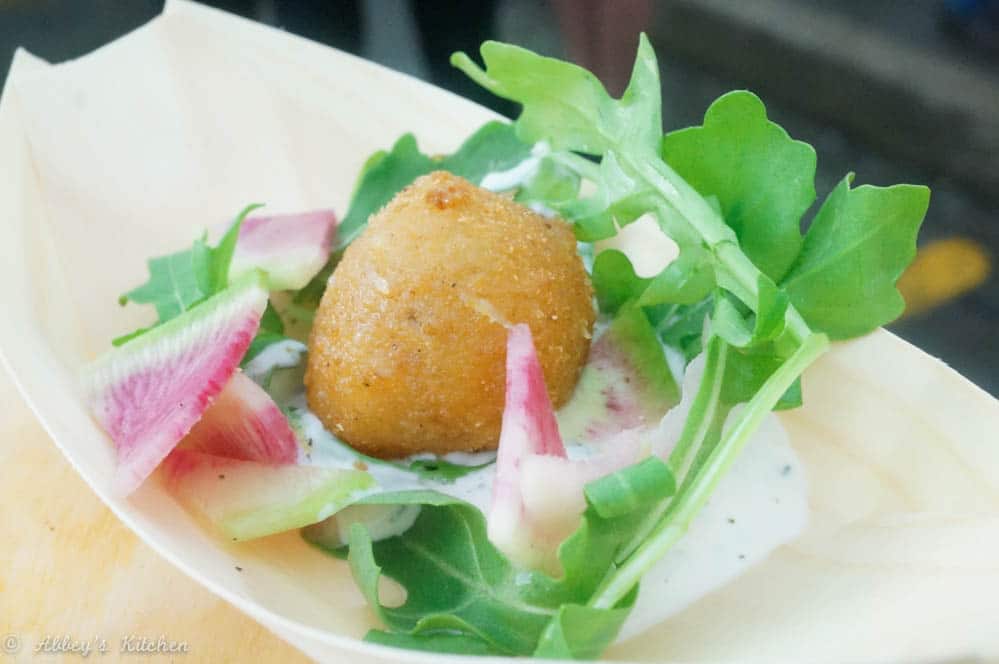 Tromba Tequila
Strawberry, Lime, Basil, Pepper and Tromba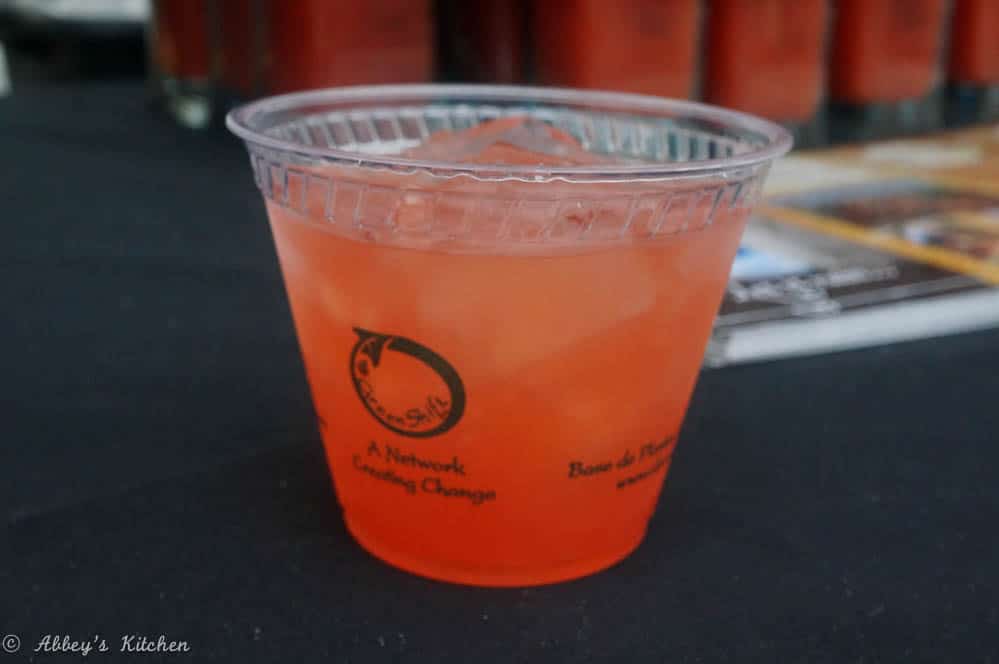 Tori's Bakeshop
Organic Cherry Cotton Candy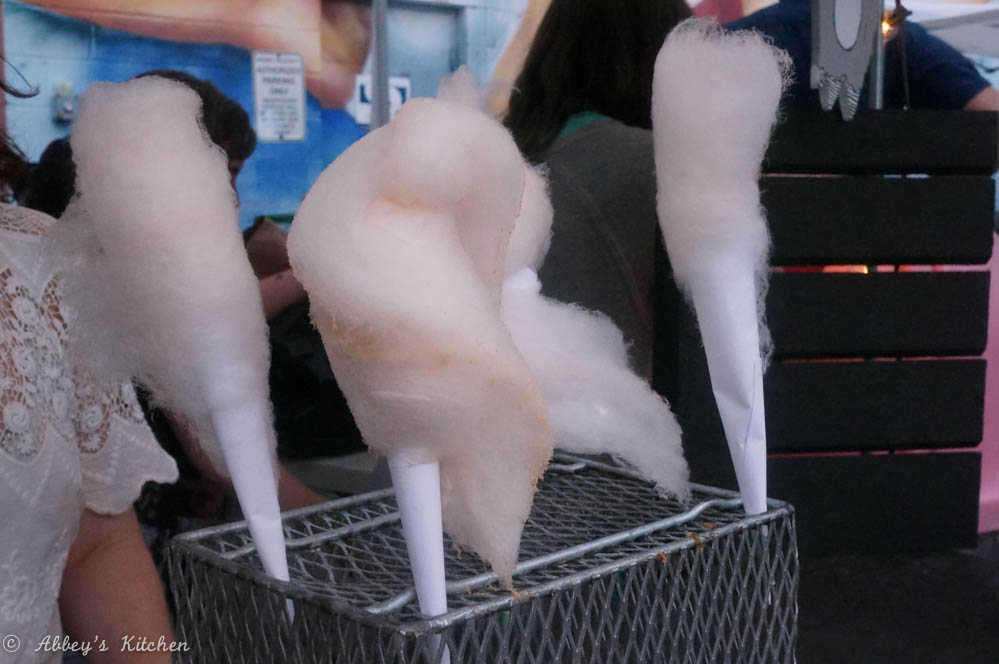 Union
Steak Tartare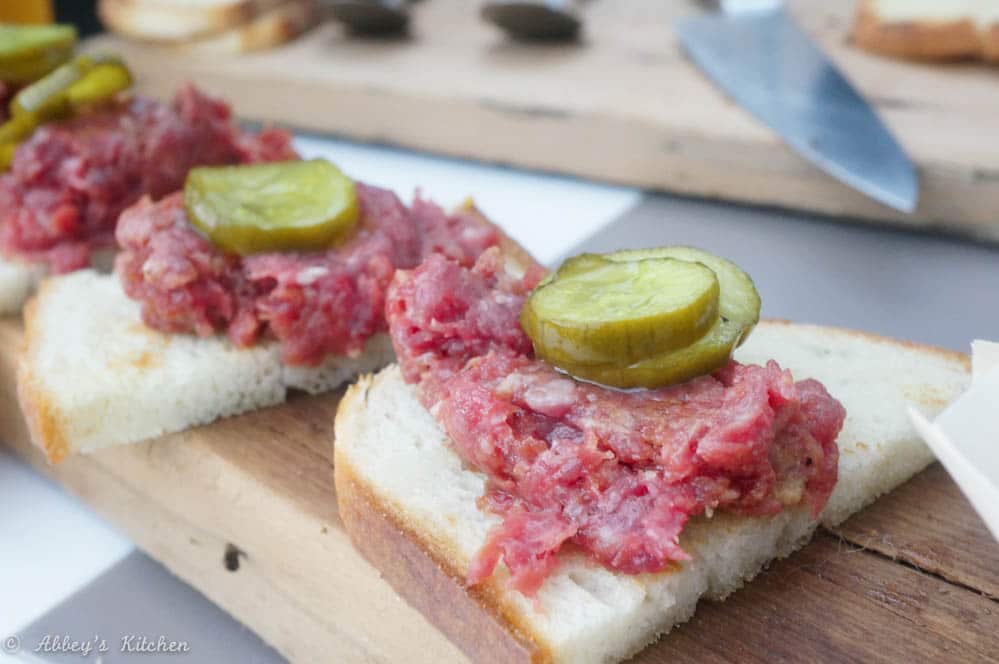 Valdez
Chorizo, Salsa and Cabbage Slaw on Toasted Bun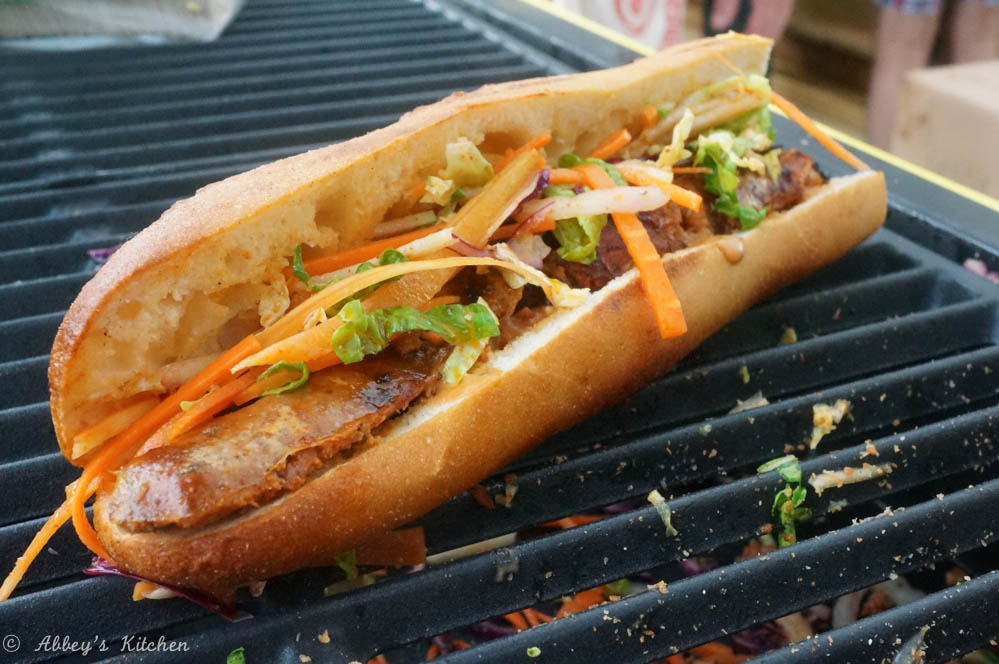 Woodlot
Yukon Gold, Leek, and Smoked Scamorza Pogos with Birch Mustard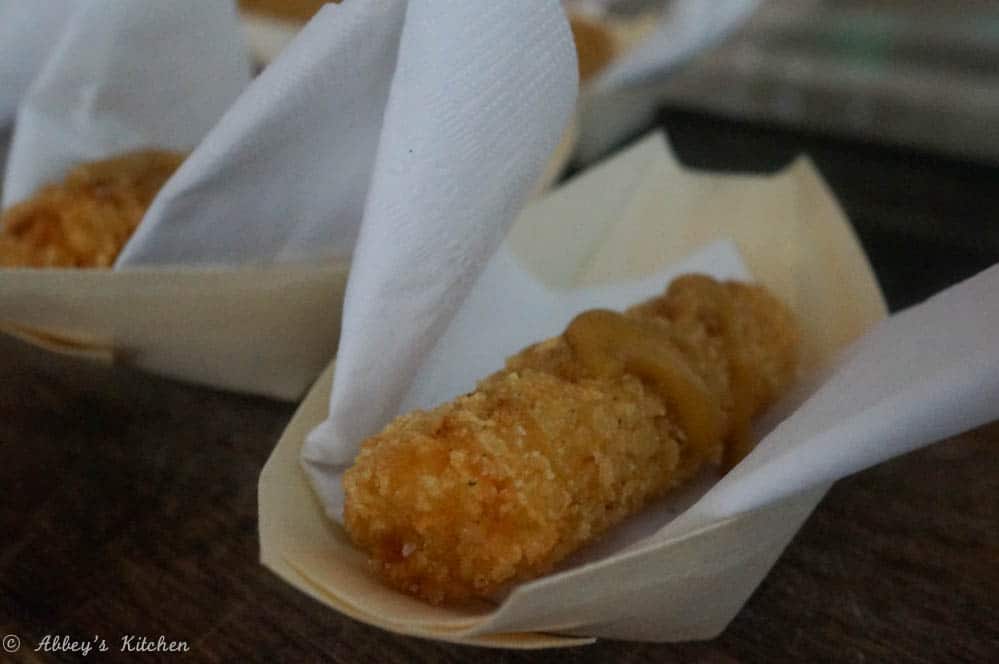 White Brick Kitchen
Deep Fried Mac n' Cheese with Tomato Jam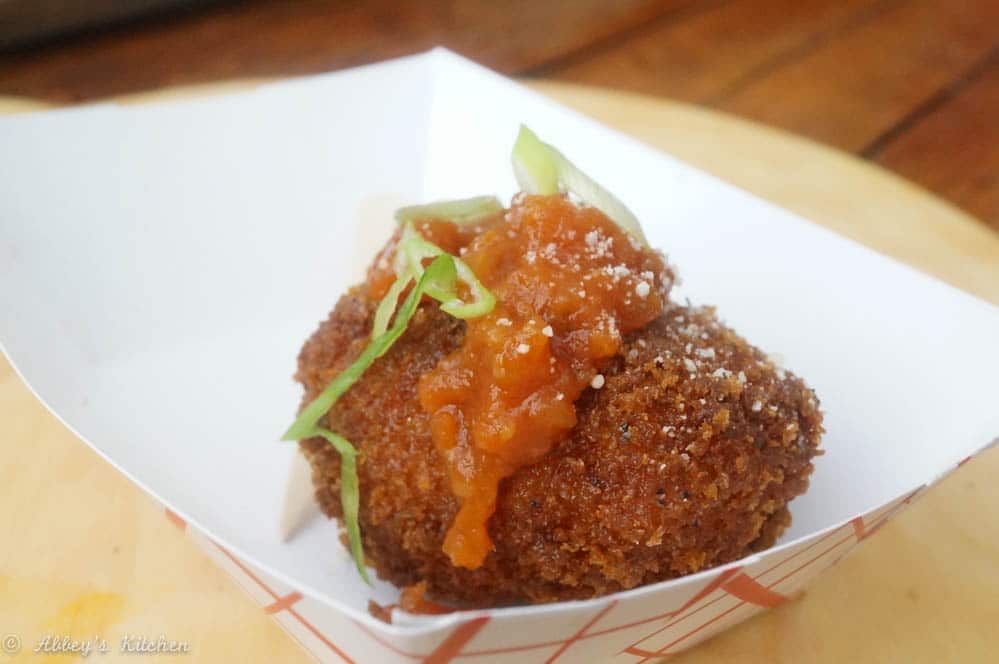 While literally everything I tasted was incredible, my top five bites of the night (in no particular order) were: SupiCucu's Wild Boar Sloppy Joe (with the addictive Diablos Fuego's hot sauce!); Chantecler's Sichuan Chicken Wings (that numbing sensation is seriously addictive); GwaiLo' Big Mac Bao (I'm obsessed with bao and these were incredible); Barque's Pomegranate Ribs (incredibly sticky and sweet) and White Brick Kitchen's Deep Fried Mac n' Cheese (how could this be bad?).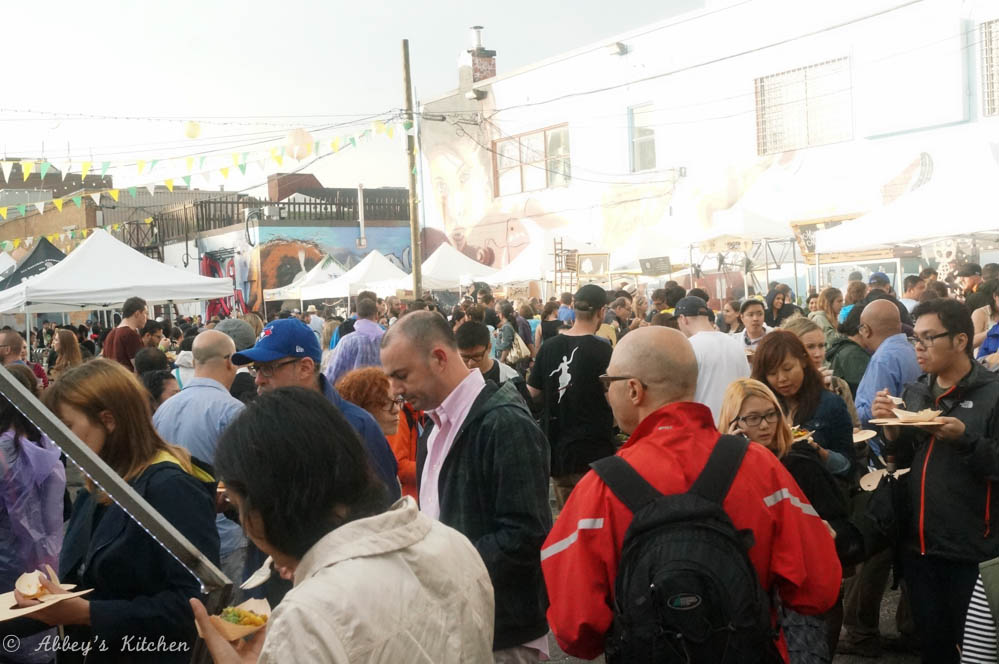 In conclusion, once again, the Stop Night Market did not disappoint. While I find a nice spread of good food deeply satisfying in its own right, there is something deeply satisfying about eating for a good cause.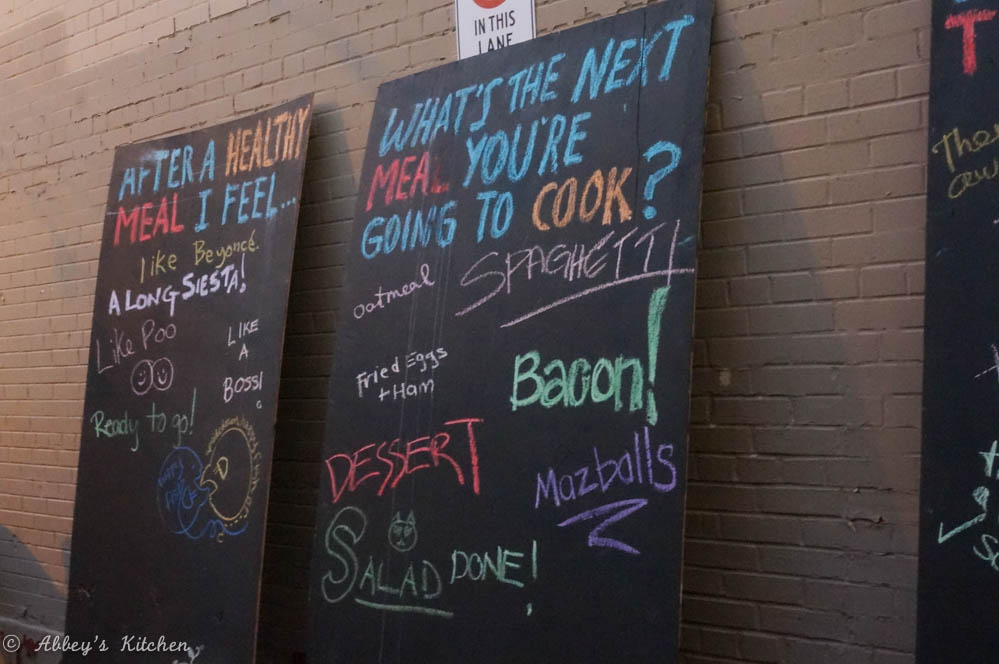 The Stop Community Food Centre consistently delivers Torontonians with one of the best opportunities to make a difference in our local health landscape. And man, does doing good ever taste great.
Couldn't land one of this year's golden tickets? Not to worry, I'll be sure to give you all a heads up before the event next year so keep a close eye on my twitter for the ticket sale countdown. Until then, keep an eye out for Part 2 of my #foodporn frenzy, and check out The Stop's website for more information on upcoming initiatives and events. Also check out this adorable video- created with the hope of sharing the message of #GoodFoodForAll !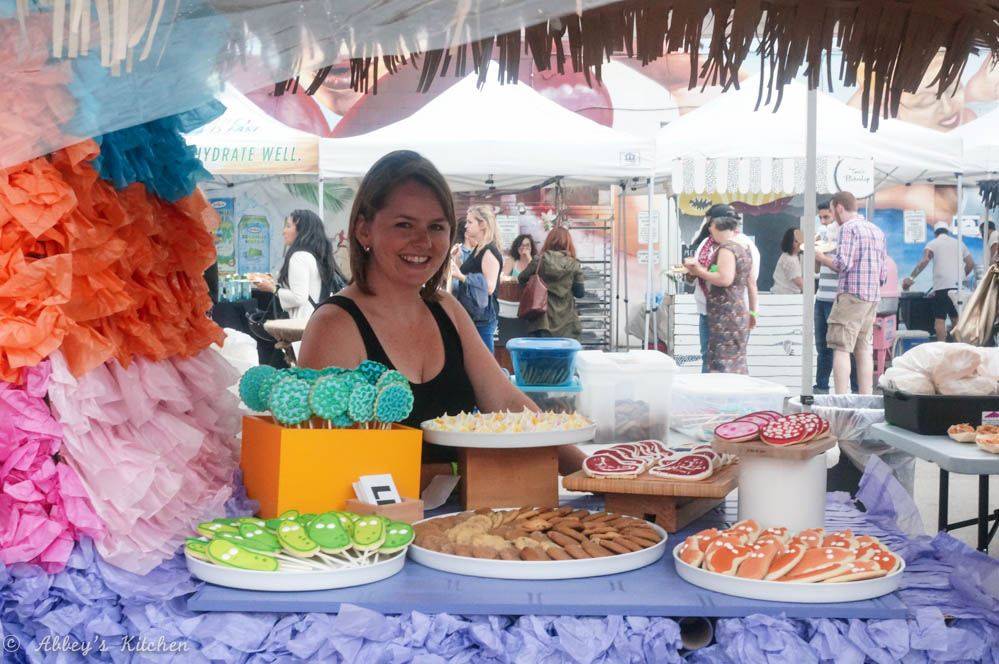 Lindsey Bakes
What was your favourite vendor and food cart for Night One at Night Market?
Updated on August 12th, 2019