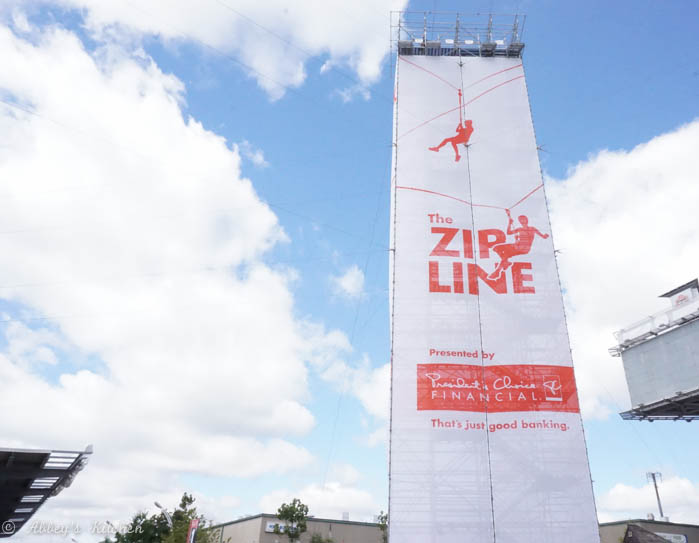 Of all my childhood food memories, going to the Toronto Exhibition is one of the most vivid. When we were little, my grandma, G-d bless her, would pile all of the cousins onto the Go Train for a trip to The CNE. It was something I looked forward to all Summer long, even though it meant that Summer was coming to a close.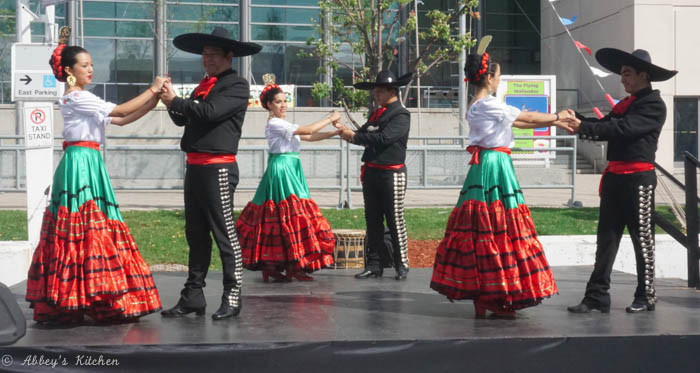 If I close my eyes, I can nearly taste the Tiny Toms donuts, the ice cream sandwiches on a stick, the funnel cake, and of course, the grilled corn.  Well, the CNE is back from August 15-September 1st with a perfect balance of nostalgic staples and new exciting elements for visitors of any age.
Planning a day at the Ex? Check the 9 Most Outrageous Eats and my Top 5 Attractions to be sure to hit. You can also check out my coverage from last year here and here.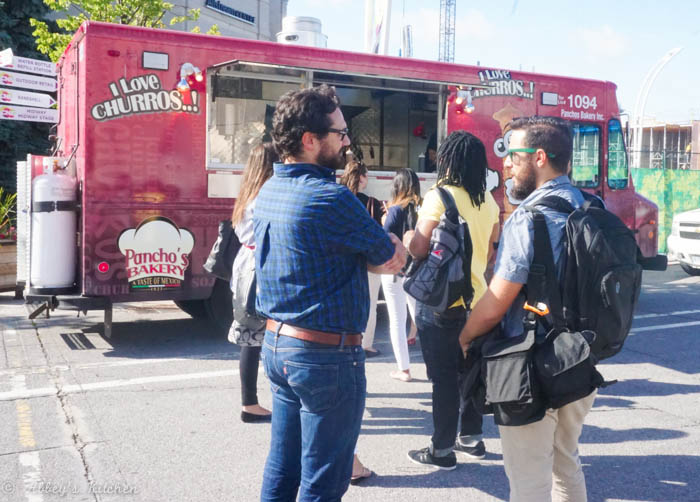 First up is obviously the food because this is likely the first reason why you're reading my blog. And rest assured that the vendors are taking extra precautions this year to ensure that no one falls ill from any of the tasty food. Take a peak at the goodies you can expect to try.
Fran's Restaurant
Spicy Peanut Sriracha Rolls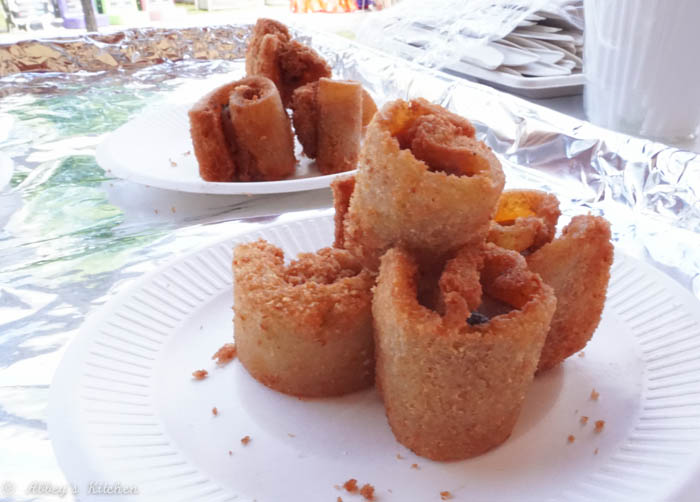 Yep- it's peanut butter with spicy sriracha in a sweet and savoury crisp pastry. Such addictive little bites, I bet you can't eat just one!
Fran's Restaurant
Brownie Cheesecake Milkshake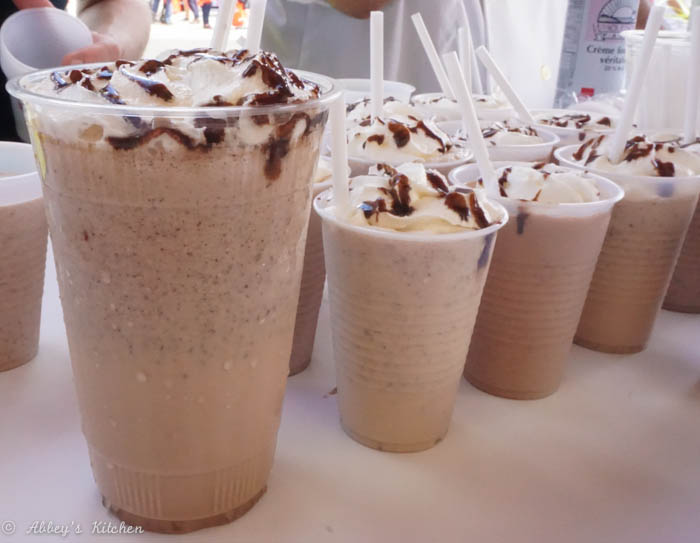 Oh boy- this was crazy addictive. Super sweet, a little tangy, and crazy rich and thick. Take a lactase pill- you'll thank me later.
Frank's Restaurant
Thanksgiving Waffles with Cranberry Stuffing, Roast Turkey, Mashed Potatoes, and Gravy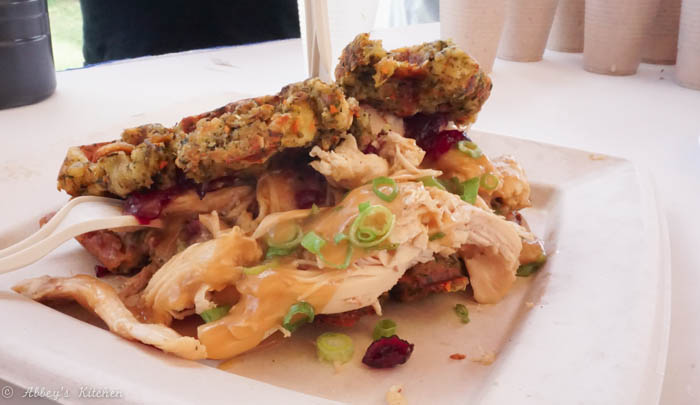 Yep- it tasted exactly like T-Giving supper. I loved the stuffing-based waffle with the savoury gravy and sweet cranberry sauce. Yum.
Coco's Fried Chicken
Cocoa-Infused Fried Chicken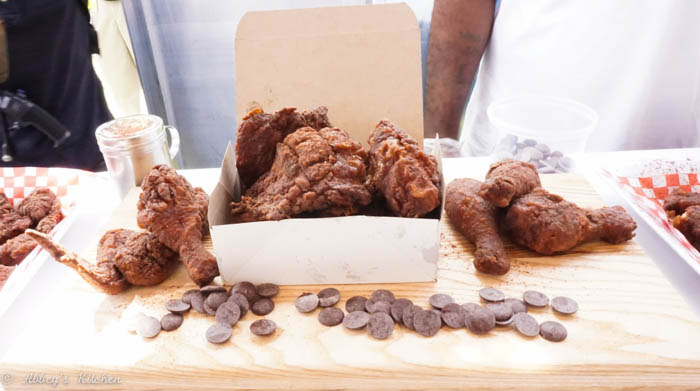 Apparently really popular in L.A., this super crispy chicken had been given a chocolate bath in the marinade, coating and the seasoning. It was then served with a side of chocolate ketchup for dipping, because you know- the chocolate chicken wasn't enough!
Eative
Liquid Nitrogen Sorbet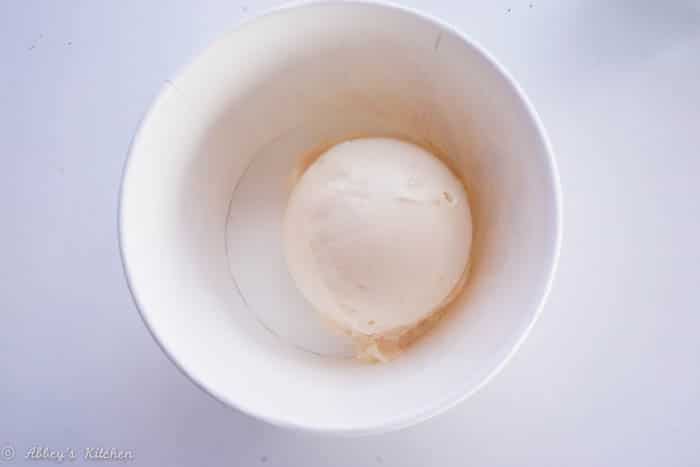 Available in flavours like Passion Fruit & Guava, Tangerine & Orange, Cranberry & Youngberry and Pineapple & Mango, this sorbet is light and smooth. This will be perfect for a hot day at the Ex!
Hula Girl Espresso
Butter Coffee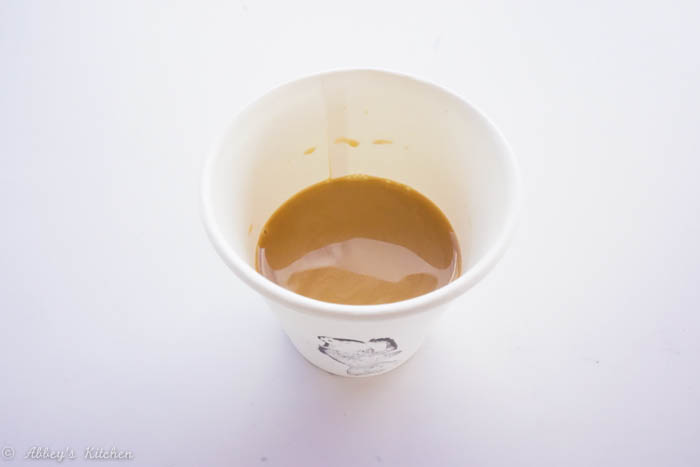 The guys at Hula were trying to convince me of the health properties of adding butter to the coffee, and while I'm not sure I'm going to agree with that, I can attest it's pretty damn good. It's like a little heavy cream, but richer. Hey, it's the Ex- this is probably the healthiest thing you will eat.
Hula Girl Espresso
Crowbar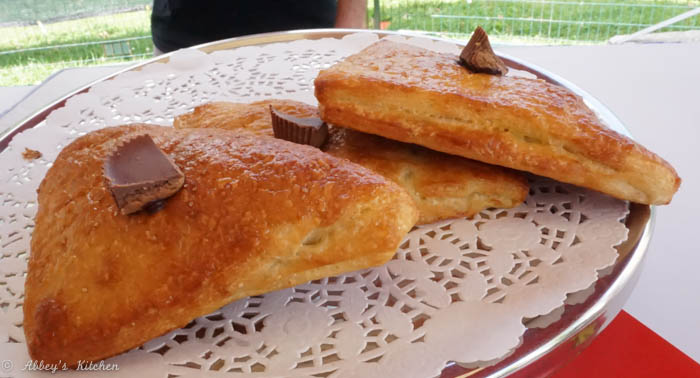 Available in candy bar flavours like Mars, Kit Kat, Reeses PB Cup and Caramilk, this is essentially a chocolate bar baked into a super flaky croissant. I'm sure the French will be mortified, but honestly, I was totally on board.
Fat East Taco
S'more Bao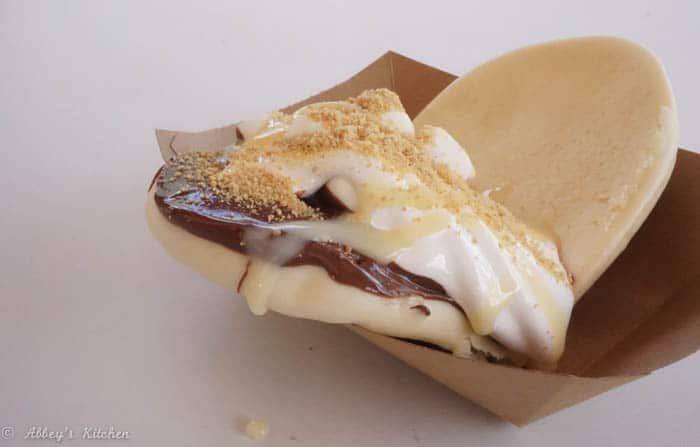 Love love loved this idea!  Imagine a pillowy bao bun stuffed with Nutella, marshmallow fluff, more marshmallows, graham crackers and a drizzle of sweetened condensed milk. I am such a bao lover, and maybe even an equal enthusiast of Nutella, so this was a dish made for me.
Coffee Zone
Elvis' Grilled Cheese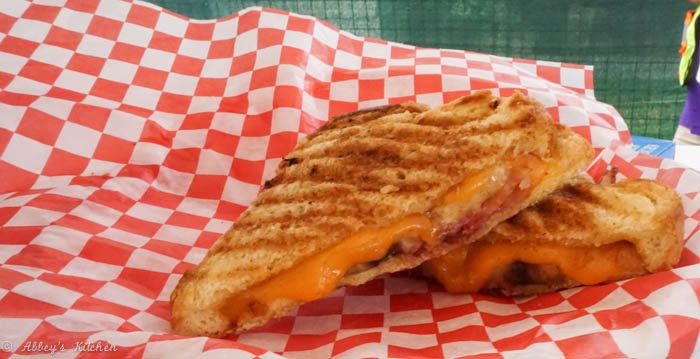 Imagine a wicked gooey grilled cheese but packed with my favourite food combination- peanut butter, bacon and banana. I love you Elvis.
Once you've stuffed yourself silly at the Food Building, you're probably either going to want to pass out or see some more fun stuff! Take a peak at the top 5 attractions you should check out at this year's event!
5. Northern Comfort Saloon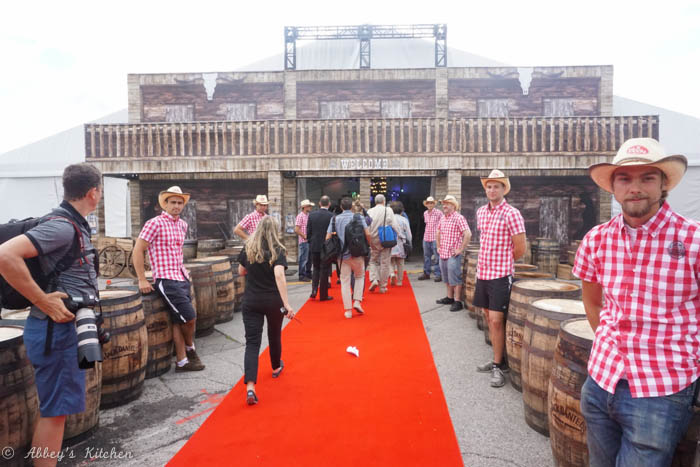 This new entertainment experience is the Wild West meets New Country where we all got to partake in line-dancing, lasso country rock musician Marshall Dane, and take a ride on the mechanical bull. Yee-haw!
4. CanStruction of Mayoral Candidates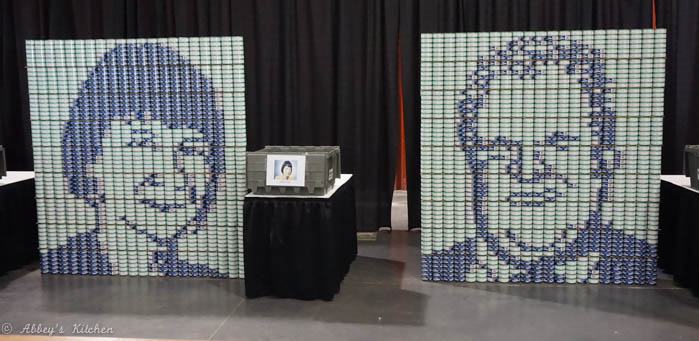 For y'all closely following the mayoral race, you've got to stop by this cheeky CanStruction of the Mayoral Candidates. Yes, there is a portrait of Rob Fort using 10,000 cans of food. You can also bring cans of food to show your electoral support in front of each display and all of the donations will go to the local food bank!
3. The Flying Wallendas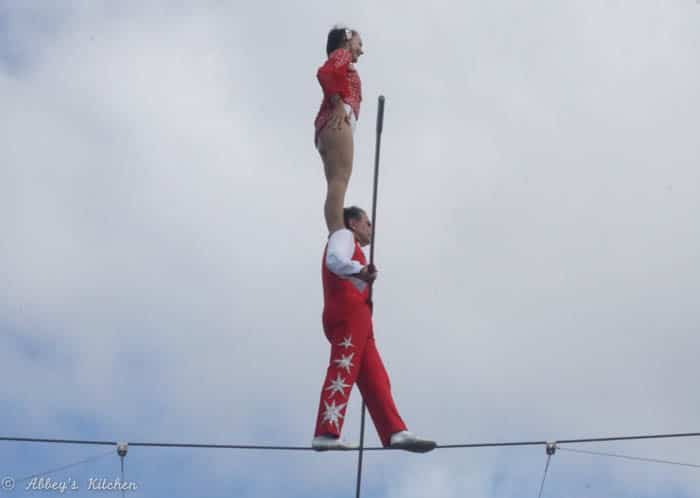 Watch in awe as the Flying Wallendas amaze the audience with their heart-racing acrobatics.  I watched the Wallendas at last year's preview event and have been dreaming about their remarkable performance every since. Don't miss this breath-taking act!
2. Celebrity Stage for Cooking Demos
The Celebrity Stage will host live demonstrations from celebrity lifestyle experts like Jeanne Beker and top chefs Michael Smith, Christian Pritchard and me! On August 26th, at both 2 pm and 5 pm, I will be presenting a cooking demo on stage and I'd love to see you all in the audience! I'll be whipping up a whole roasted Liberterre chicken, and using the meat to prepare healthy Chicken and Black Bean Tostadas with Avocado Crema and Pineapple Slaw, as well as a Chicken and Quinoa Asian Cold Rolls for lunch.
1. Food Truck Frenzy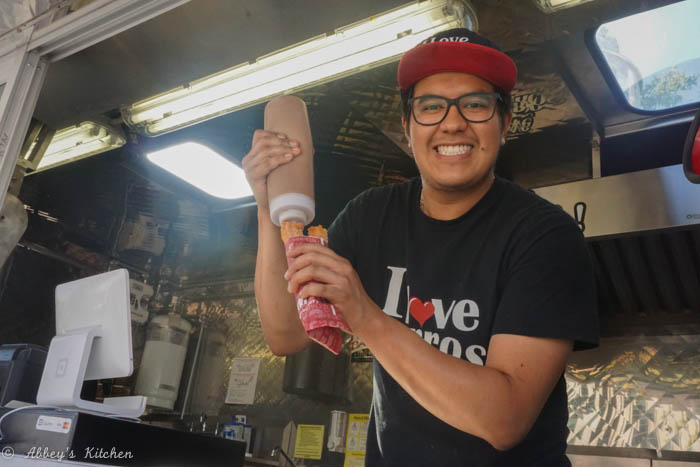 You know, because maybe now you'll need a snack. End your trip with a stop at the food truck rally where you'll find some of my favourite trucks like Fidel Gasros, Food Dudes, Hogtown Smoke, Frankie's Fettucine, Blue Donkey, Busters Sea Cove and more!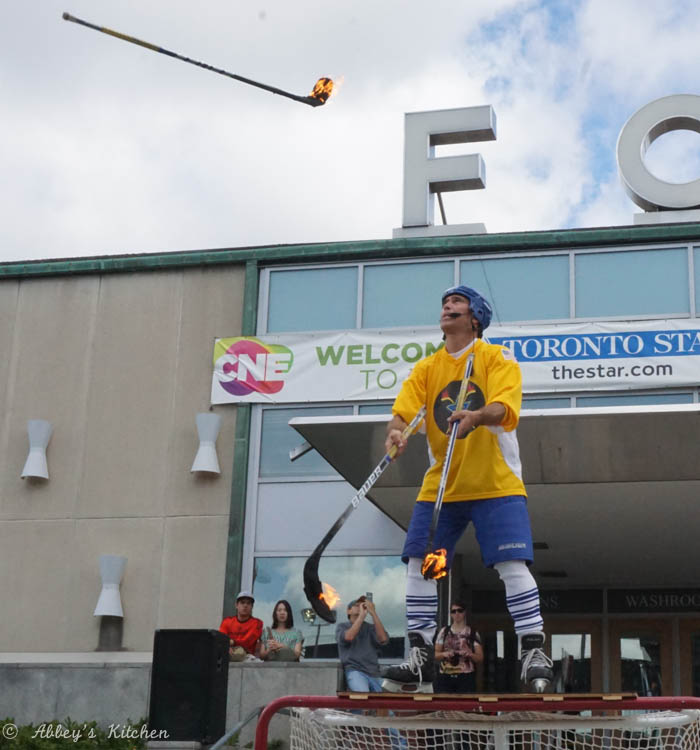 Clearly, there's a lot to be excited for at this year's Ex- especially for Abbey's Kitchen! I hope to see you all at this year's Toronto CNE for some delicious eats, fun and memories. Check out their website for more information and as all of us Torontonian would say- Let's go to the Ex!
Disclaimer: The preceding food was complimentary, however, as always, all opinions are genuine.
Updated on April 2nd, 2016