Love sushi? Well, the next time you're digging into your third order of AYCE spicy tuna rolls, you might want to stop and think twice…(Read on to find out why!) On April 27th I attended the
Vancouver Aquarium's
Ocean Wise 10th Anniversary Seafood Symposium, this year entitled From Fisheries to Foodies. This amazing and inspiring event brought to light the devastating outcomes of overfishing and the importance eating sustainably for future generations to come. Yes, even for a sushi lover like me, it will be important to make changes in my seafood consumption to ensure the health of our beautiful oceans for generations to come.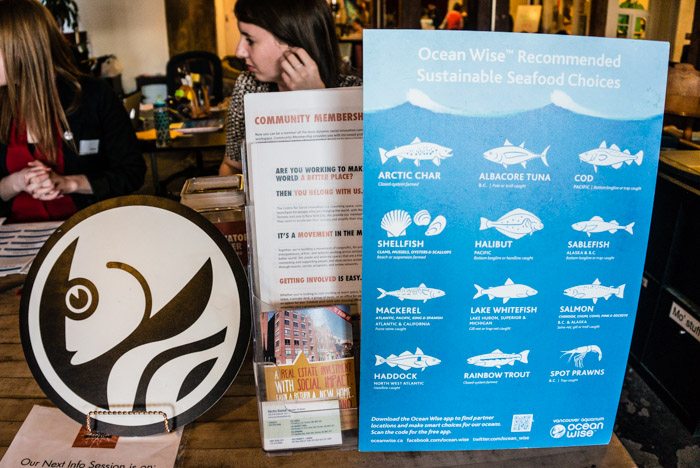 So what exactly is the Vancouver Aquarium's Ocean Wise Conservation Program? Well, ten years ago to the date,  the Vancouver Aquarium Marine Science Centre established it Ocean Wise conservations program (which is now Canada's most recognized sustainable seafood program- YAY)! This program works directly with restaurants, markets, food services, fishers and suppliers to make sure that they have the most up-to-date and relevant scientific information regarding sustainable seafood that can help them make ocean-friendly buying decisions.  The Ocean Wise programs encourages their partners display the Ocean Wise symbol (see below), making it easier for customers to choose ocean-friendly seafood options.  Check out the Ocean Wise website here to see the perks you will receive by joining up to become and Ocean Wise partner.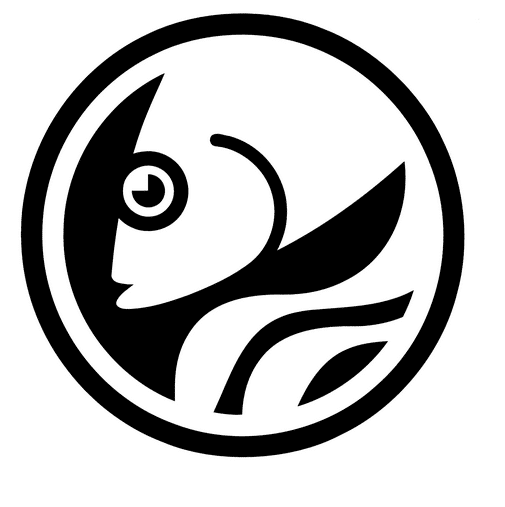 The Ocean Wise program boasts a handy Ocean Wise iPhone app that will alert you  of where to get Ocean Wise certified seafood in your community. Oh and did you know…Ocean Wise works with over 600 partners across Canada from coast to coast! Man, I am so happy to be a part of this!
To be considered Ocean Wise species, fish and seafood options must meet the following criteria:
1.Abundant and resilient to fishing pressure;
2.Managed as part of a comprehensive plan based on current research;
3.Harvested in ways that limit bycatch of other, possibility endangered species, and;
4.Harvested in ways that limit damage to ocean habitats.
Check out Ocean Wise's great infographic below depicting the Top Ten Ocean Wise Options for 2015!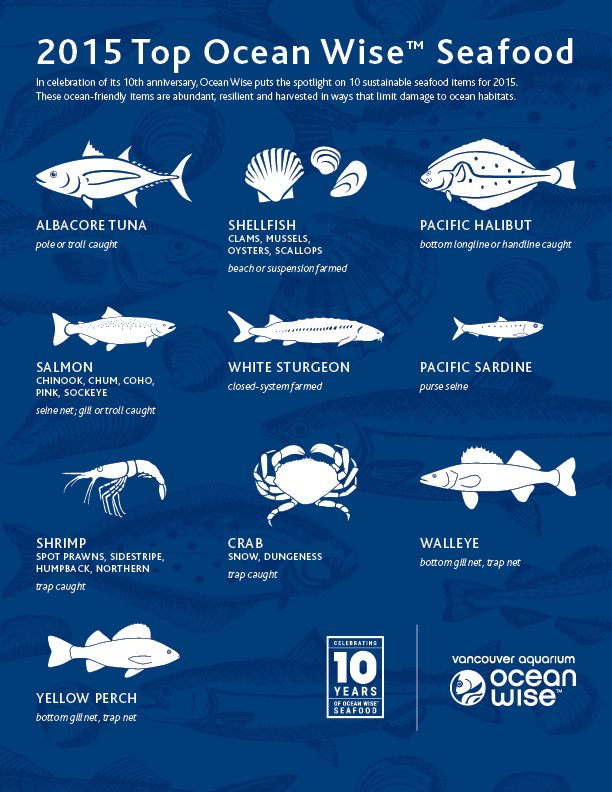 OMG… Ocean Wise even has an amazingly cool poster giving sushi lovers like me a list Recommended Sushi Choices! Thank G-D because I was really questioning whether or not I would be able to give up sushi all together!
To celebrate the 10 year anniversary of the establishment of this program, the 10th Anniversary Seafood Symposium and other events took place across the country to discuss industry best practices and the science behind managed fisheries.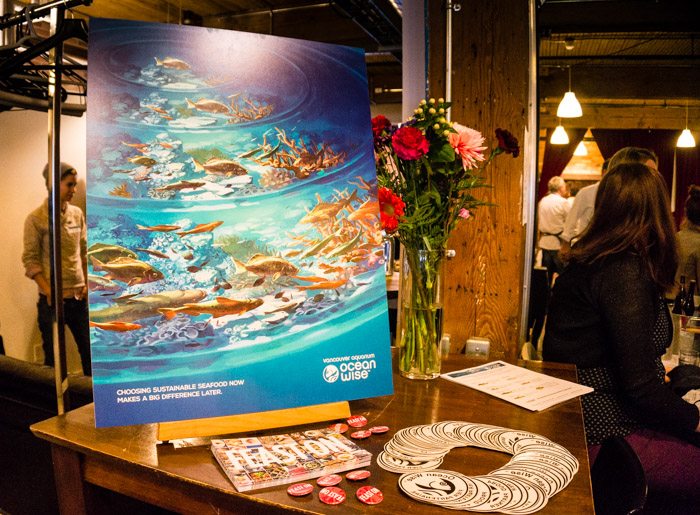 The Seafood Symposium that took place at the Vancouver Aquarium was broadcast in Toronto at the Centre for Social Innovation, where attendees were able to listen to some pretty amazing lectures given by the top scientists in marine science. Oh and did I mention the amazing bites (made only with Ocean Wise sustainable seafood) and bevys that I had the pleasure of eating at this amazing event?…Yummmmmm. Check out these stunning seafood creations and perfectly paired beverages that were generously provided by some amazing local Ocean Wise partners!
Ocean Wise Eats
Drink
Beau's Beer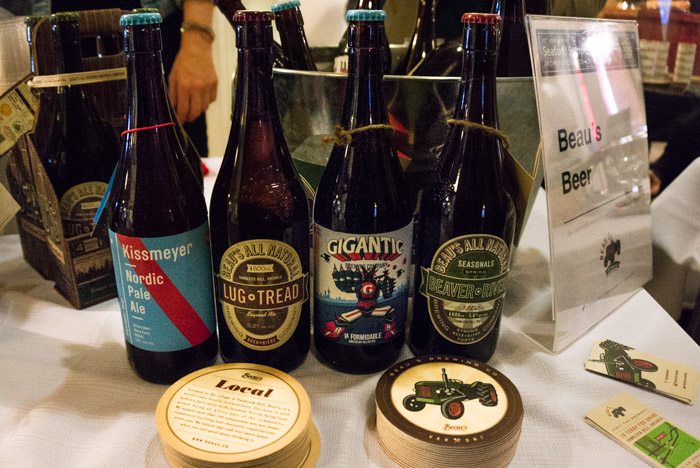 Beau's Brewing Co. provided 4 delectable beers that were the perfect accompaniment to all of the seafood bites. My favourite beer was the Kissmeyer Nordic Pale Ale with a beautiful fruit-and-herb bouquet. This beer had a lovely hop presence, pleasant dryness, with a wonderful crisp finish!
Chateau des Charmes Wine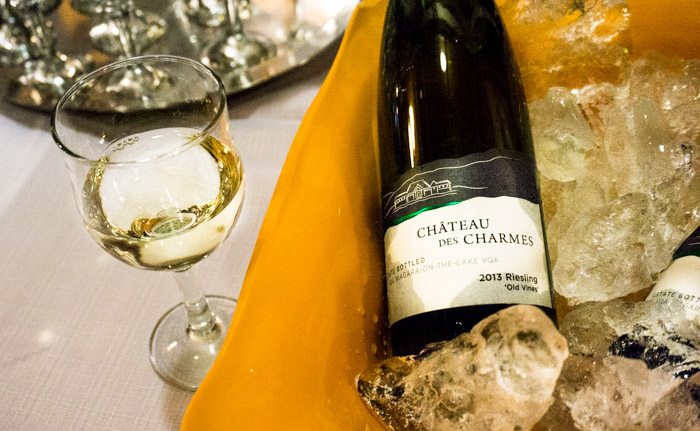 Southbrook Wine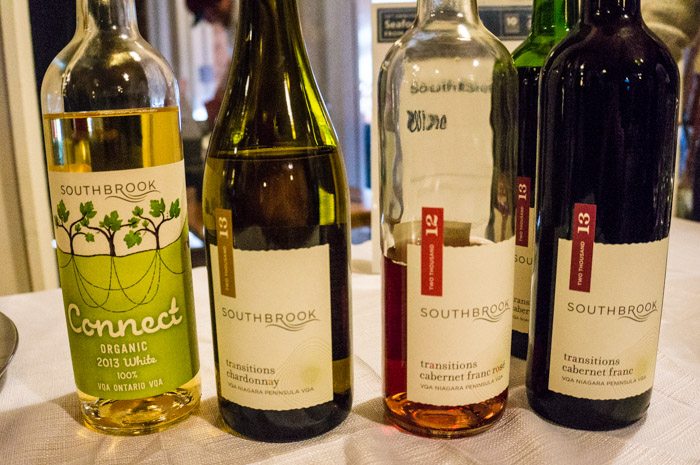 Southbrook Winery is an organic winery based in the Niagara region of Ontario. They create the most delish organic wines and value the importance of organic and biodynamic viticulture! Cheers to that!
Walter All-Natural Craft Caesar
Umm this was the best Caesar I had in my life. This All-Natural Craft Caesar Mix really made a world of difference! I will never drink a Caesar without Walter again! Kudos to you guys for paying homage to the bartender who invented this drink.
Food:
Oyster Bar
Shiny Sea Oysters from New London PEI
Shucker Paddy/The Ceili Cottage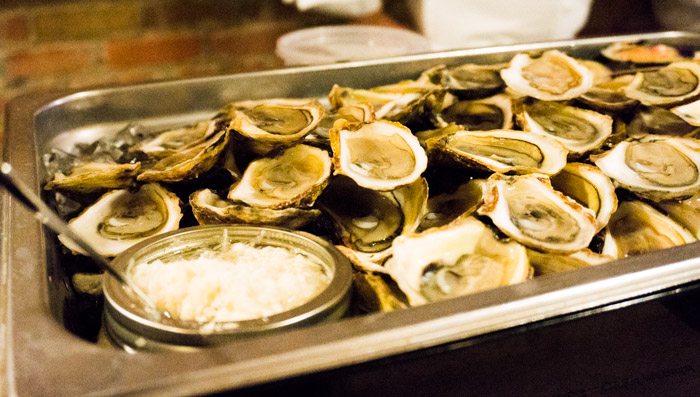 Ocean Wise oysters served with vodka horseradish – yes, you heard me right.
Albacore Tuna Conserva & Belle River Rock Crab
Squid Ink Rice Cracker, Saffron Aiolo, Pickled Breakfast Radish
Epic Fairmont Royal York Toronto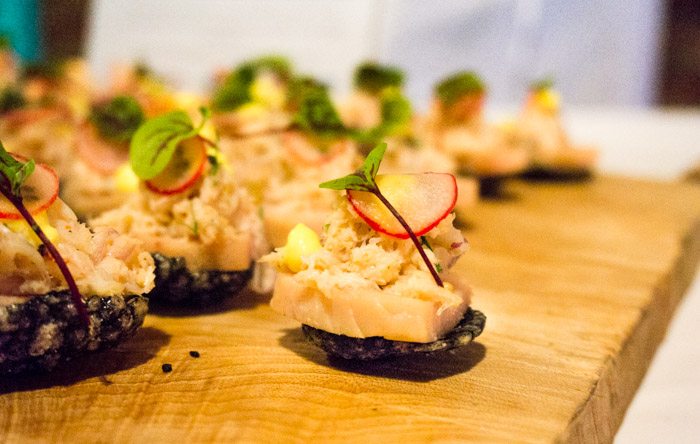 This was one of the best bites of the night! The crisp of the squid ink rice cracker made the perfect holder for the beautiful seafood that topped it! AND it was so pretty and cute to eat.
Lightly Smoked Sturgeon & its Caviar
Buttermilk Mini Pancakes, Lemon Aioli, Sweet Pickled Shallot
Café Belong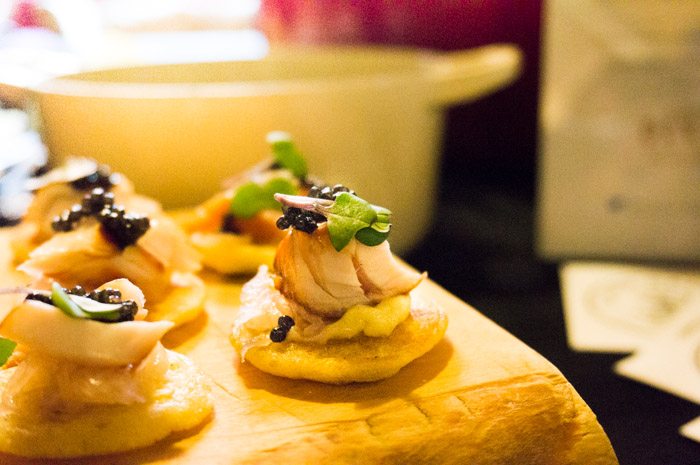 Ocean Wise Humble Squid Salad
Café Belong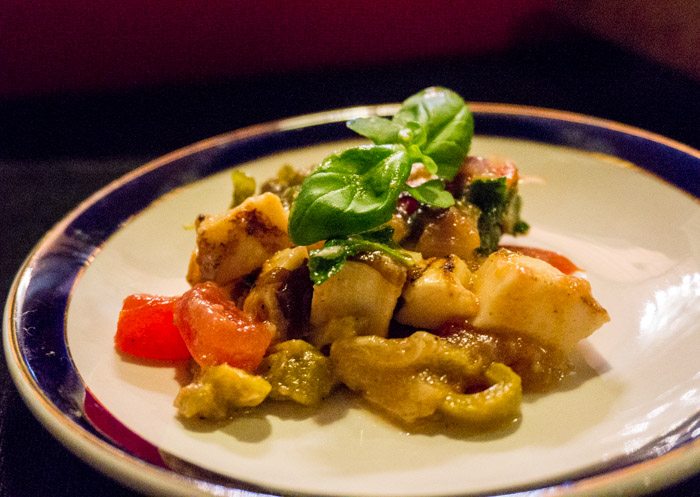 Great Lakes Fish
Smoked Trout, Crème Fraiche, Pickled Caviar, Yukon Gold Potato Roti
Hooked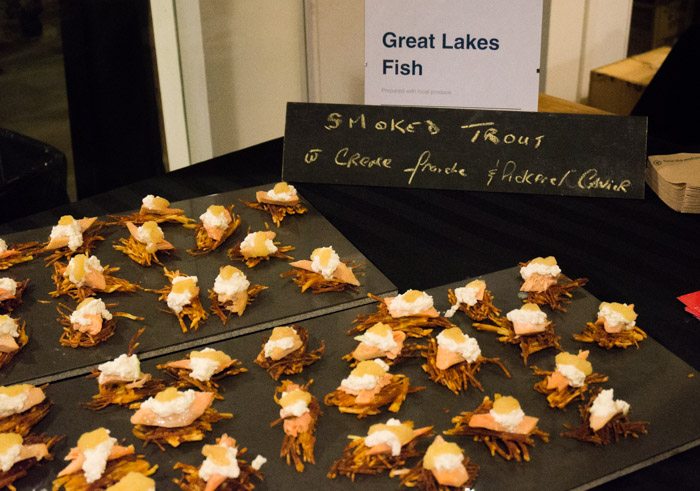 Keta Salmon
Poached in Carrot Juice, Extra Virgin Olive Oil, Pickled Carrots
Scout Canning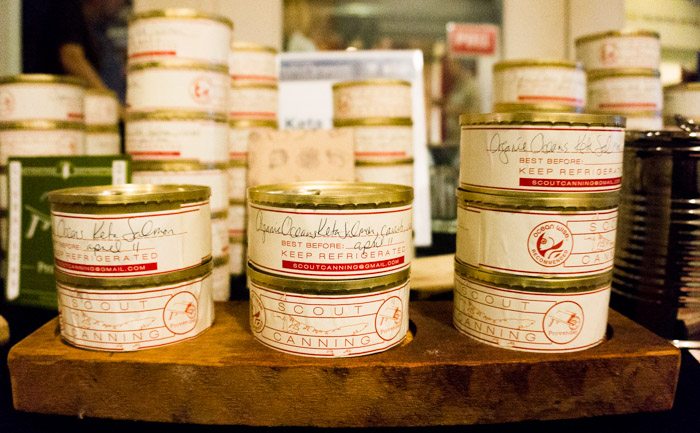 Scout Canning is doing some pretty amazing things in the world of canning – honestly check out Chef Charlotte Langley's stuff!
I had an amazing time eating, drinking, and of course learning all about the issues surrounding overfishing. I will continue to support this amazing initiative for years to come and you definitely should too- just check for the Ocean Wise symbol when shopping for your yummy seafood products in stores and when eating out)! I can't wait to see how Ocean Wise will grow in Canada to ensure a healthy and abundant ocean now and in the future! Thank you to everyone who participated in putting on this great event.  For more information on the Vancouver Aquarium's Ocean Wise program or to become more involved with the program, visit their website here!
Contribution by AK Tasters: Christina Bieniek and Joy Carino  
Disclaimer: The preceding meal was complimentary, however, as always, all opinions are genuine.
Updated on May 8th, 2019