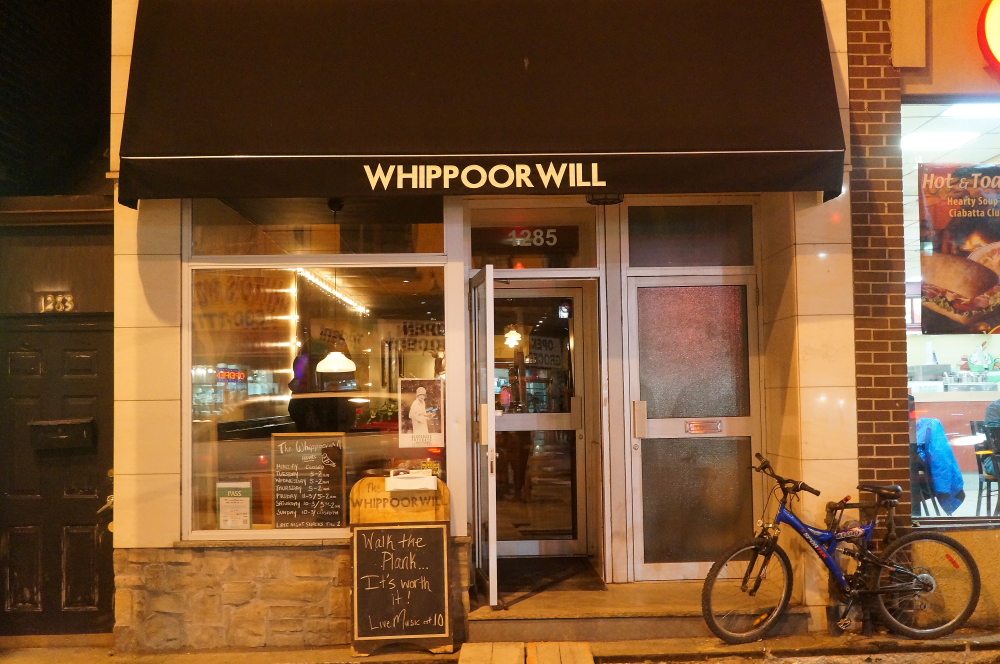 The Whippoorwill has been on my go to list since Shawn Creamer (of The Dakota) and Tyler Cunningham (formerly of Mildred's Temple Kitchen) transformed the old Bloordale Pantry last December (uh.. I know, I'm overdue) and opened up shop. Soon after, I started reading a wave of positive reviews on the place, so I was anxious to make the trek out west to check it out myself.  As fate would have it, the fabulous ladies at Fat Girl Food Squad sent me an email invite to check out the new Fall Menu last week so I could finally get my chance! Yay- food bloggers to the rescue!
The first thing I noticed upon walking into the space was the retro black and white checkered floors and the bright red booths and stools. You know how I feel about red 😉 Keeping with the eclectic vibe, the walls are decorated with hunting paraphernalia, and an unusual collection of artwork ranging from super old sepia portraits to a painting of the Dale restaurant (the original tenant of the space).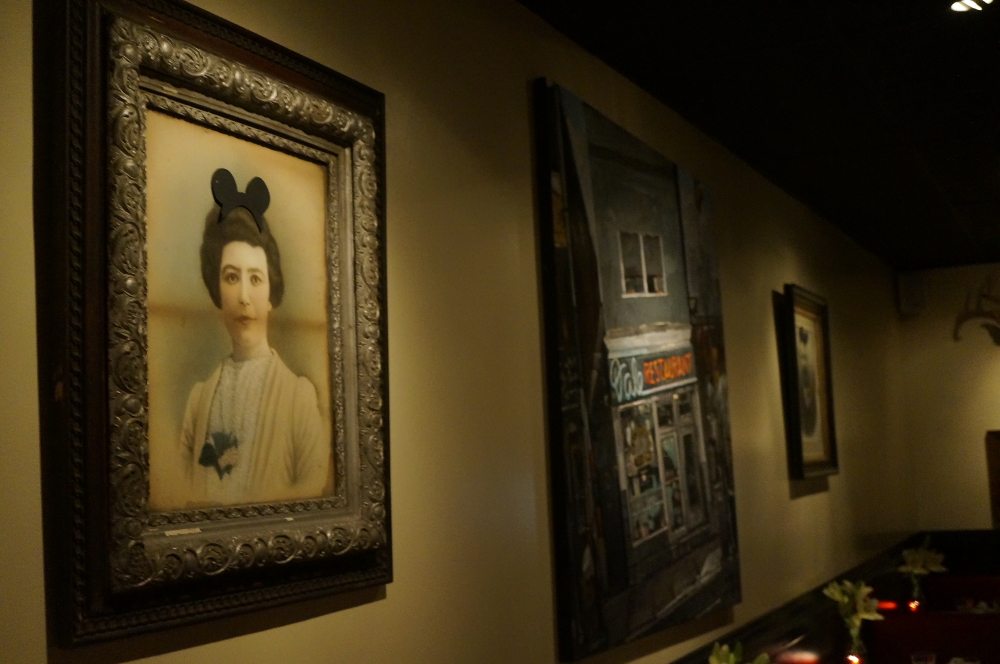 Anchoring the cottage cozy chic room was the slightly rusted Detroit tire shop sign they had seamlessly converted into their fully stocked bar and an old radio they had converted into a beer tap! Man, I would have been so much more enthusiastic about visiting my grandparents had they thought of doing that to their antiques!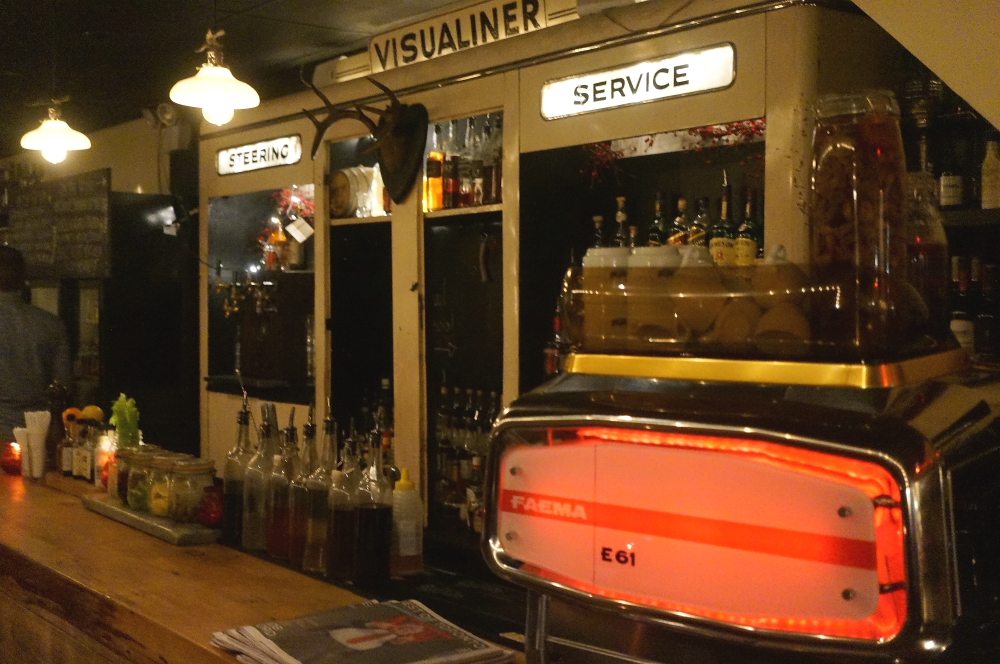 Speaking of bar, the Whippoorwill's booze menu is creative, cheeky and really fun, with cocktails ranging in price from $10-18. They also offer a solid list of international wines by the glass ($8-15), half litre ($22-40), and bottle ($31-65).  The night of the tasting, bar manager, Japhet Bower, poured us a nice sample size flight of their most popular drinks. Here's a little peak at what we were sipping.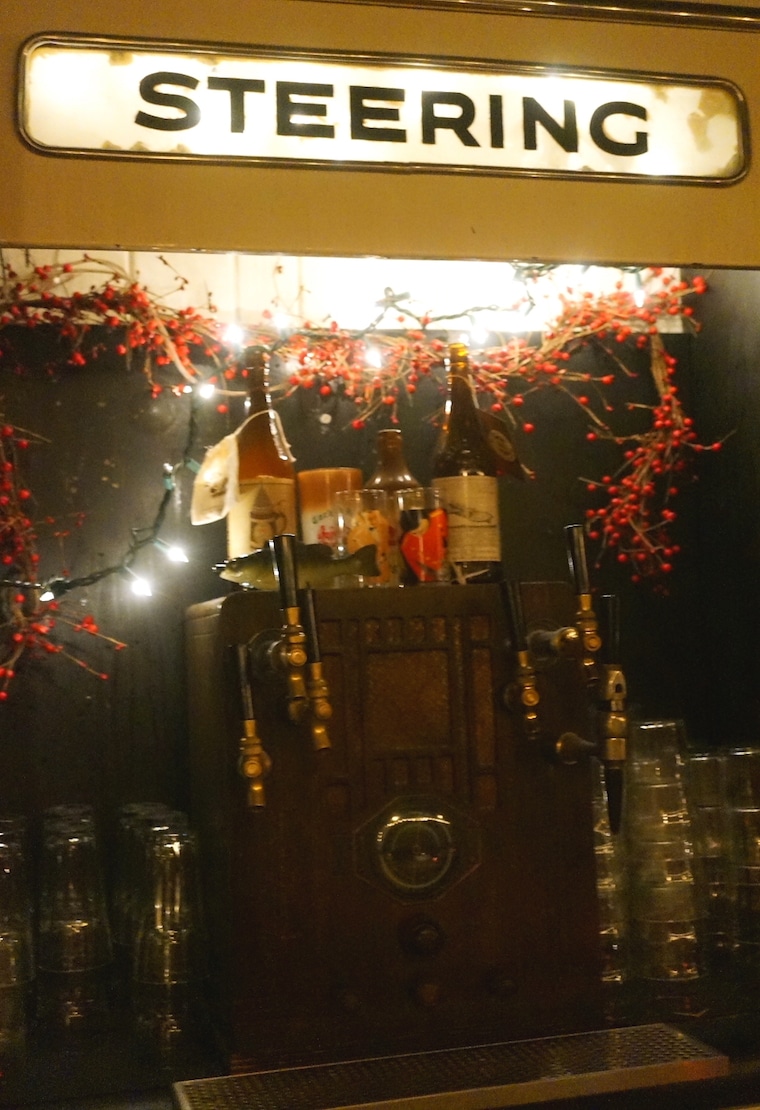 Blogger Love: Brown Butter Syrup, Cava, Aromatic Bitters (Off Menu Item)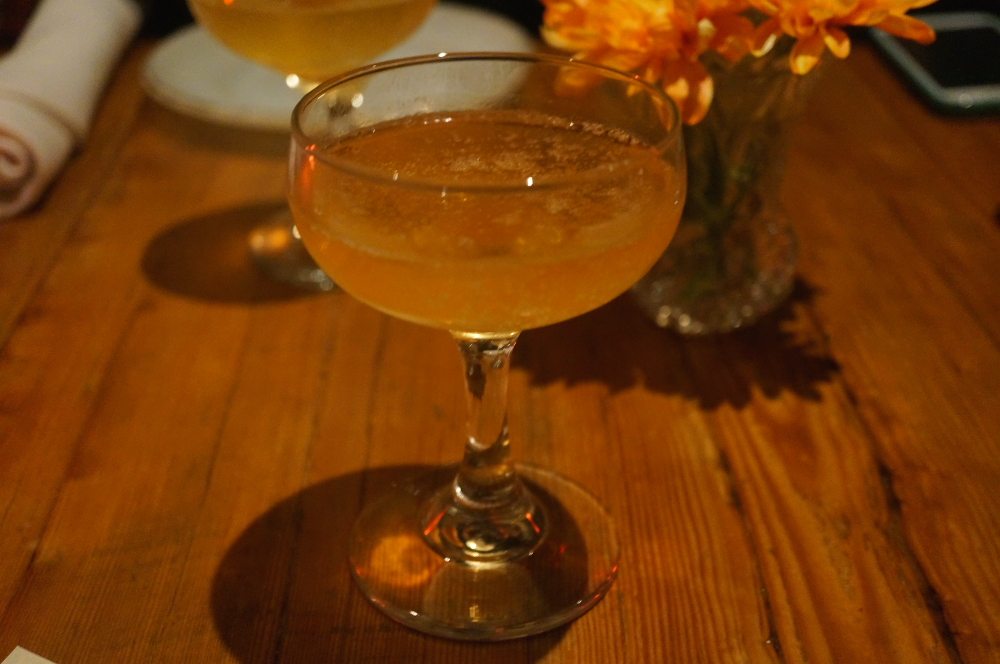 Loved the rice toasty note of the brown butter with the effervescence of the cava.
Diablo Verde: Tromba Blanco Tequila, Green Chartreuse, Lemon, Poblano Syrup, Maldon, Scrappy's Grapefruit Bitters ($12)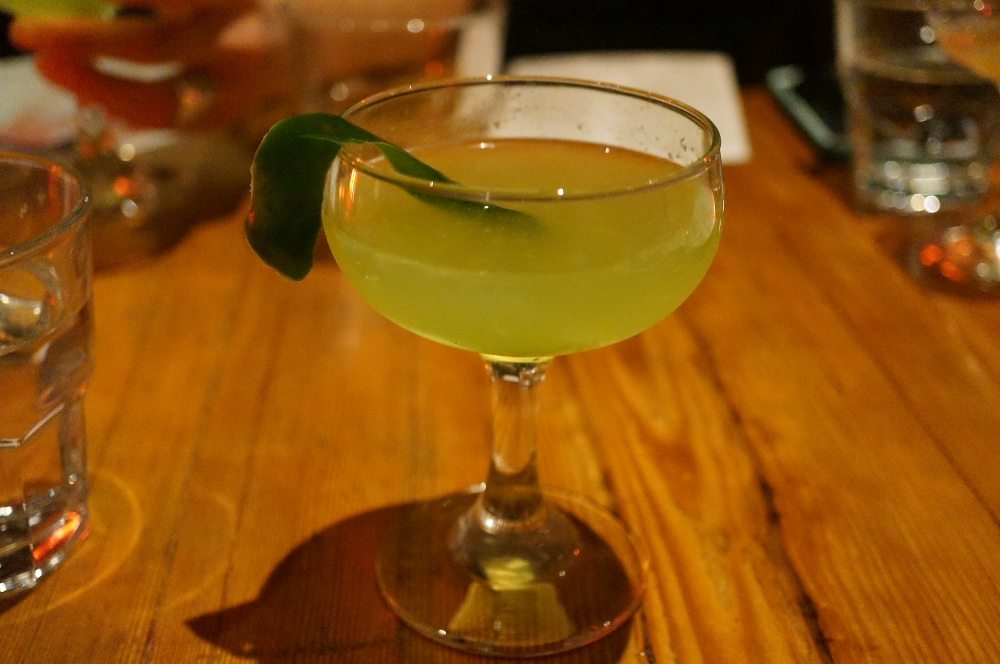 Great balance of heat, salt, bitter, sour and sweet- this is why I love tequila cocktails.
This Little Piggy: Napolean Cortel Brandy, Grand Marnier, Briottet Chestnut, Sage, Lemon, Scrappy's Celery Bitters ($12)
My favourite of the night- I really enjoyed the aromatic autumn herbs and chestnut with the festive brandy and grand marnier.
Lemmy: Alberta Premium Dark Horse Rye, Murphy's Irish Stout Reduction, Maple, Agave, Lemon, Sailor Jerry's Spiced Rum Foam, Scrappy's Celery Bitters ($12)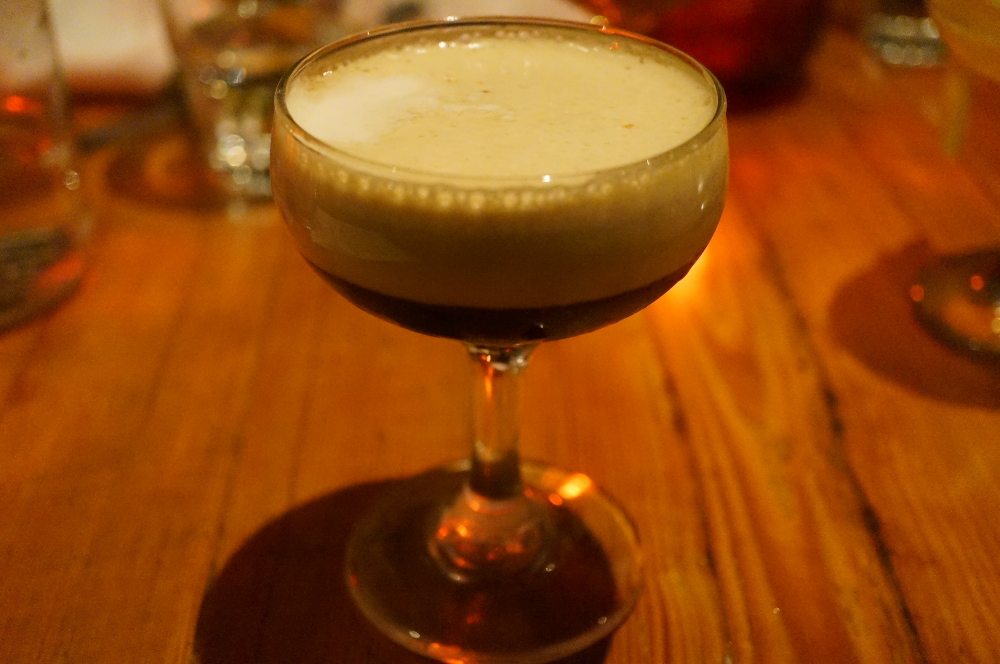 This tasted a bit like a grown up root beer float. Ridiculously delicious.
Complimenting the libations, Executive Chef, Tyler Cunningham's fall dinner menu screams sophisticated comfort fare, pretty much everything I look for when I go out. Here's an overview of what you can expect to taste at the Whippoorwill this season.
Winter Spiced Beet Salad with Walnut Pesto, Muscatel Vinaigrette and Thorneloe Stilton ($12)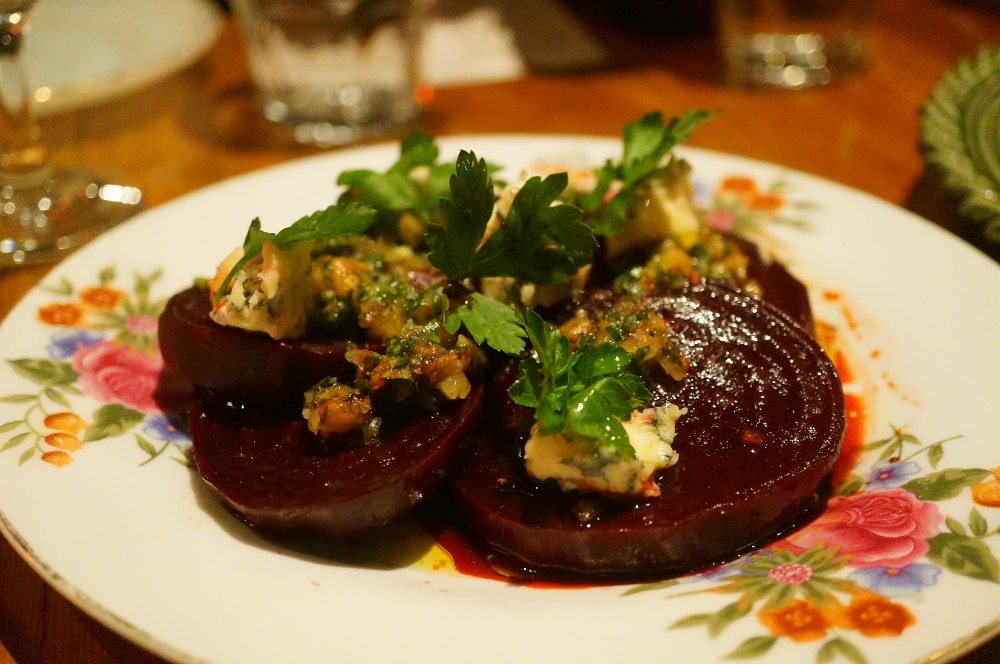 Fabulous balance of sweet beets and pungent cheese.
Rosemary Cured Coho with Creamed Horseradish, Puffed Quinoa, Salted Cucumber and Mustard Oil ($13)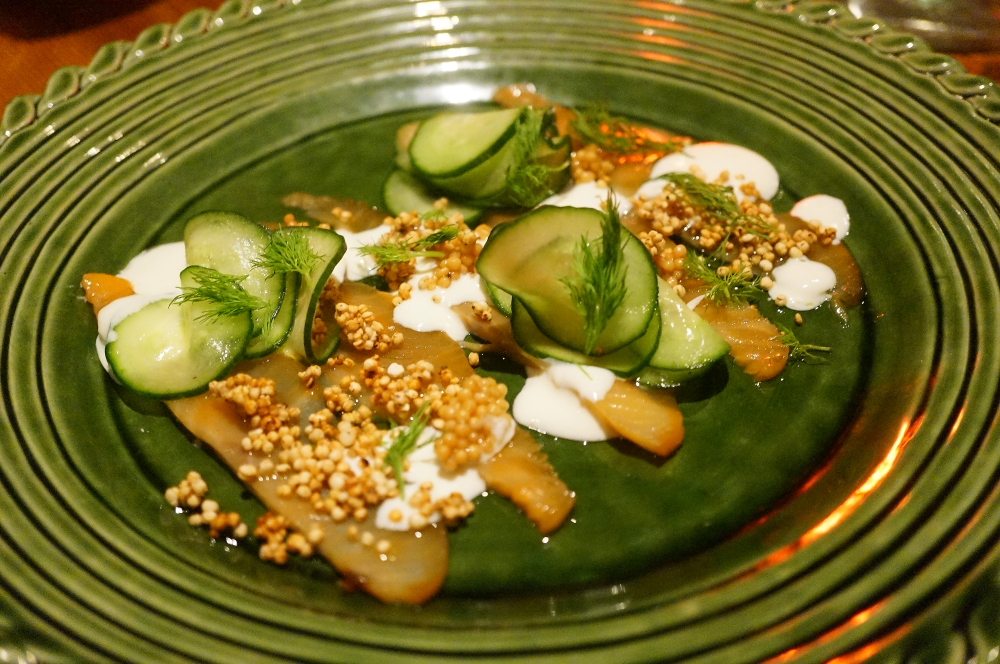 Loved the contrast of the delicate fish with the crunchy quinoa.
Beef Carpaccio with Shaved Mushrooms, Chives and Tahini ($13.50)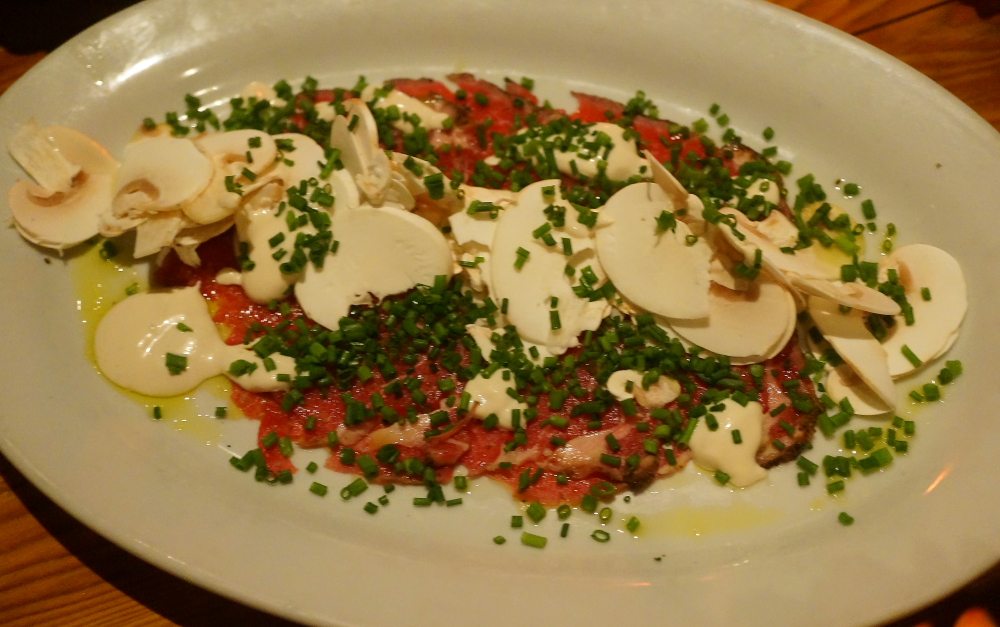 Tahini is not something you see often with beef, but it really worked out well!
Roasted Cauliflower with Cumin, Sultana Raisins, Caramelized Onion, Almonds and Parsley ($12)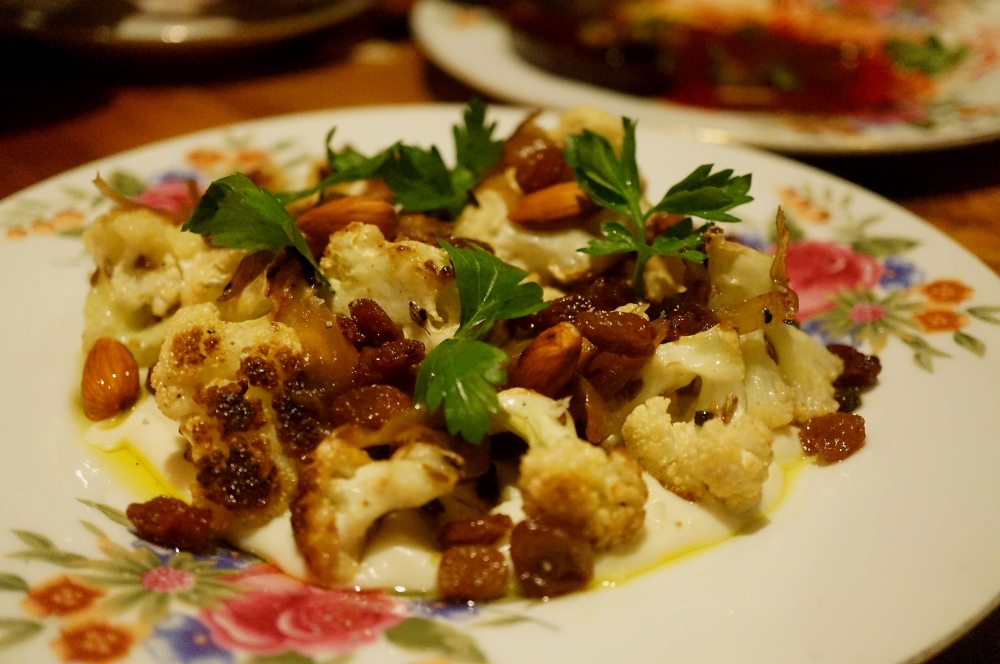 I love when chefs turn the most boring veg (cauliflower) into a drool-worthy dish. Even picky kids would love this!
Potato Gnocchi with Braised Beef Cheek, and Brown Butter Powder ($13)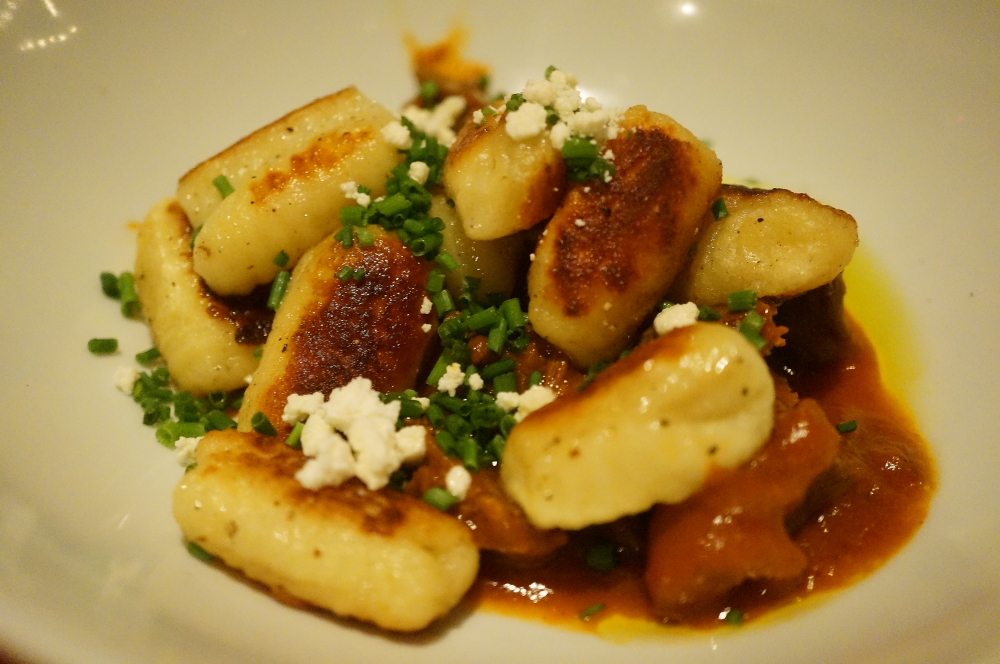 Fluffy on the inside, and crispy on the outside. Delightful!
Braised Duck Leg with Sweet and Sour Cipolline, Swiss Chard, and Pot Roast Carrots ($21)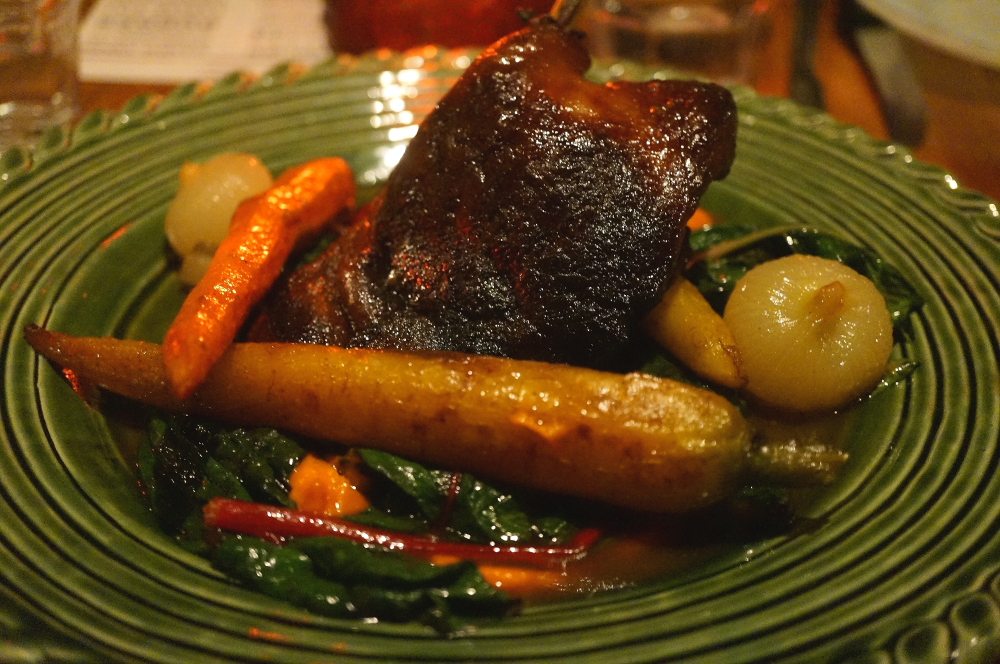 Super succulent duck with a wickedly crispy skin. This is my kind of dish for fall dining.
Korean Ribs with King Mushrooms, Scallion and Sesame Seeds ($22)
A great sharable dish (just be prepared for sticky fingers!)
Great Lakes Pickerel with Roasted Squash, Pine Nut Crumble, Cerignola Olive, and Spiced Squash Sugo ($23)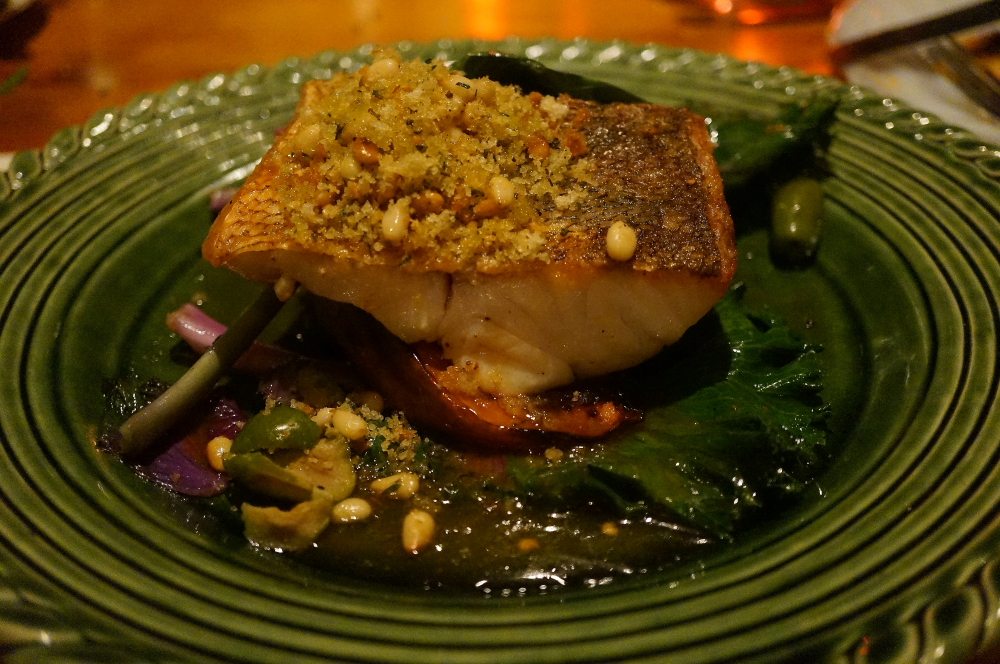 Perfectly cooked fish with a fabulous crispy skin and an addictive golden crunch on top.
Butterscotch Pudding with Salted Caramel ($8)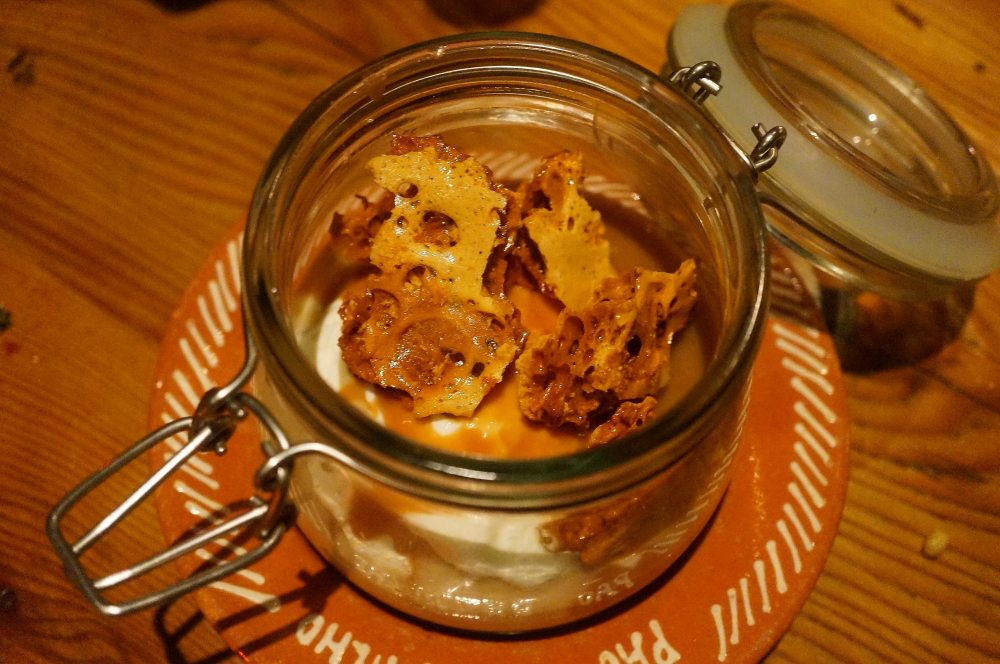 Wow-wow. A very generous serving of silky smooth pudding with crunchy sponge toffee on top. We scraped the jar.
Apple Crumble with Spiced Rolled Oats and Tamarind Ripple Ice Cream ($8)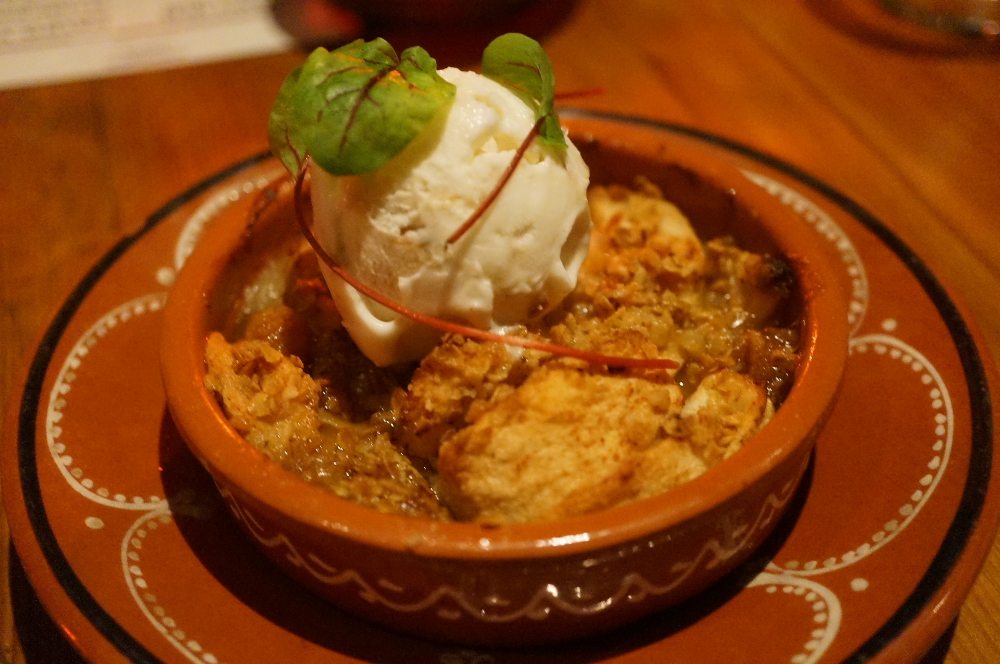 Total comfort food. Reminds me of my childhood.
Ice Box Cake with Cocoa, Graham Cracker, Toasted Hazelnut and Preserved Blackberry ($8)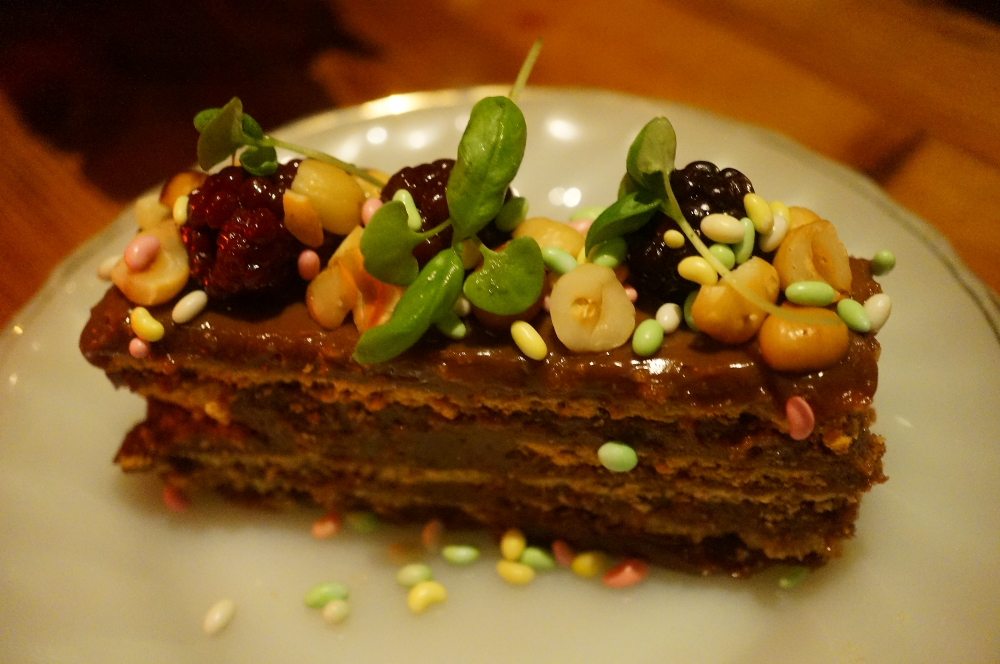 This was the winning dessert. The combination of rich hazelnut, deep chocolate, sweet graham crackers and juicy berries was worth fighting over at the table.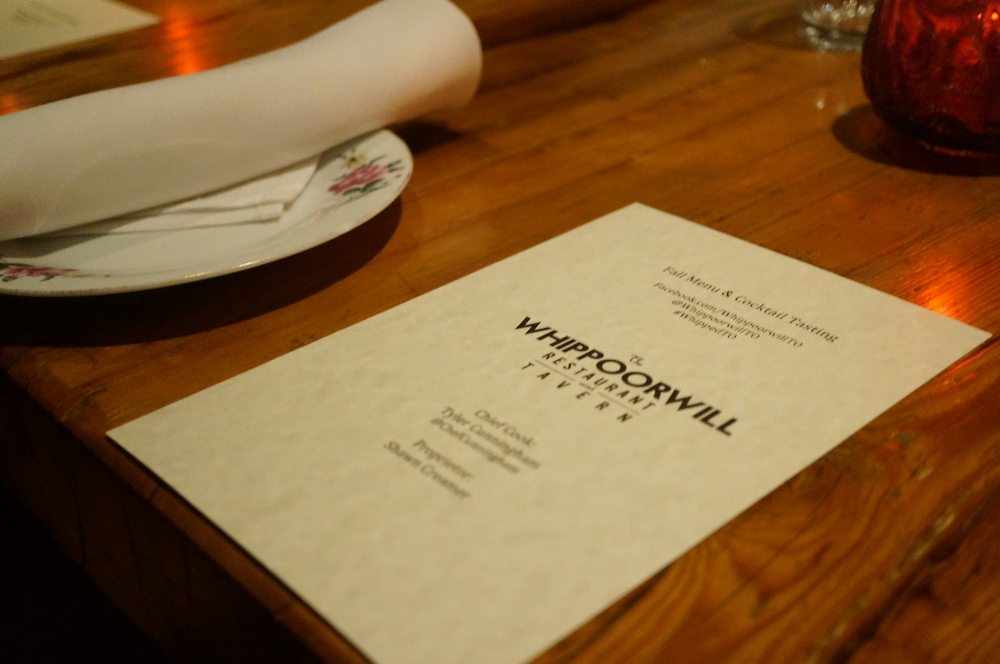 Thanks Fat Girl Food Squad for having me out to finally experience this west-end gem, I am so glad I made it out! The Whippoorwill is located at 1285 Bloor St W (at Lansdowne) and open Tuesday-Sunday for dinner, happy hour, cocktails, and weekend brunch (which, to them includes Friday, too! Woo!). So run, don't walk to the west end for a taste of cozy comfort fare this fall. I am already looking forward to a return visit myself!