You know those foods that you always forget about until you eat it again and then BAM! you fall in love and the cycle repeats itself over and over again? Well that's me with couscous. I mean, it's just couscous right? Just a bowl full of bland microscopic grains sitting there all beige and boring, no? No. There is something so incredibly satisfying about thetexture of couscous. It's a little bit chewy, and a little bit sandy, but it massages your tongue just ever so gently. I know you know what I mean now that you're hearing me talk about it. But what about the flavour? Well, if you go with the whole wheat variety, which I do recommend, it's at least got a mild nuttiness, but otherwise, it screams for add-ins.  So, this week I whipped up a curry which is always a gorgeous way to employ the couscous grain.  I was using the sweet, aromatic spice, Garam Masala in my curry so I thought it would make an appropriate flavour base for the couscous too.  I added some sweet plump raisins for sweetness, a handful of pistachios for crunch, a little sliced mint to cool down the curry, and a boat load of sauteed zucchini to boost the veggies and stretch the starch.  This makes a massive portion, so pack up the leftovers, toss with a can of chickpeas, and the next day, you've got a healthy well balanced lunch!
This is what I did:
Garam Masala Zucchini Mint Couscous with Pistachios and Raisins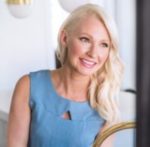 Abbey Sharp is a Registered Dietitian, an avid food writer and blogger, a cookbook author and the founder of Abbey's Kitchen Inc.