So this one has been a long time coming but I finally made it out to Grand Electric, one of the most talked about (and busiest) restaurants of 2012.  I guess one of the reasons I haven't been so quick to venture out is that a) they don't take reservations (we both really hate this in general, mainly because we like to know when we are eating and not have to wait), bringing me to b) the wait has been as long as 2 hours for some (for tacos? I'm sorry, but when you really think about it, it becomes one of those crazy social phenomenons that no one can really explain), and c) it's just about as far as you can go west from us down Queen and I have a dining companion who gets cranky every time our dinner shlep is longer than a 10 min cab ride (in traffic).  Well, this Friday I said F it to all of my dining concerns, and headed out to 1330 Queen St W. I planned it as best as I could in an attempt to have us seated at our normal dining time (8 PM).  I thought we could both probably use the exercise ahead of time, so I suggested we walked there.  It took us about 1 1/2 hours (which included a quick bathroom break for moi at a Mickey D's and a little window shopping along Queen), and we got there at 7:15 to put our name down.  It's not a hard place to spot.. just look for the massive crowd of young people standing outside and the hostess  taking names and party numbers.  We were told to come back at 8 PM (yah! A master planner I am!) so we had a quick drink over at the Rhino like everyone else.  When 8 PM rolled along, we checked in with the host, requested a seat inside (it was starting to get pretty chilly and windy) and were promptly seated at the bar (which I really like, actually, because we're really into cocktails right  now).Service was excellent and friendly.  Even though it's so loud in there you can hardly hear yourself think, our male server was gracious enough to explain what everything was and make suggestions on how to order.  Water glasses were always refilled and we were checked up on regularly.  My only issues in general were that while the menu was designed for sharing and munching, when dishes arrived, there were no side plates or anything to even eat over.  So, for example, we would get a platter of short ribs and I would have to messily pick one up, sauce dribbling down my hands and eat it over the bare counter.  I mean, I'm down if you're down, but thank g-d this wasn't a first date.  Secondly, the timing was a big less than ideal.  We were told that there aren't any specific "courses" to the menu, so dishes would emerge when they were ready, but it would have been nice to at least have a bit of pacing involved.  For us, it went like guac/chips [break] corn [break] everything else at once. So, not only was it hard to fit all in our "section" of the bar table, but by the time I was able to get to the tacos, they were cold and a little soggy. Not ideal. Anyways, onto the food and drink.  So I guess GE is big on bourbon, which is awesome and exciting for us because that's probably one of our favourites right now. We opted for a Bourbonade, a Mojito and what the bartender was suggested was the BEST bourbon they had (it's name was something like Old Paps … something…something…)  served straight up on the rocks.
As food we had (and shared):
Guacamole and Chips
Really good guacamole. I had read some very early reviews of GE suggesting that it was underseasoned, but I didn't find that at all (and I am a stickler for underseasoning).  The chips were fresh and plentiful, and I even enjoyed the pico de galo (which I often find very bland).
Street Corn
This was the best dish of the night, I think.  Who knew grilled corn could be so sexy?   The corn was perfectly cooked on the grill, emerging with just the right amount of smoke and caramelization.  It was then slathered (and generously so) in a lime mayo, dusted in Mexican spices, and crowned with a mountain of Asiago cheese.  It was tangy, sweet, spicy, salty and so satisfyingly juicy, we both finished our little halves and declared we could eat it all night long.
Miami Ribs
This was a lovely platter of short ribs that were cooked to melt in your mouth perfection, and tossed in a tamarind honey sauce.  I am a huge short rib fan, but I have had a lot of ribs that are less then stellar, and taste more like jerky then tender juicy goodness.  I think I have become a huge tamarind fan, and this was a really good use of that sweet and fruity flavour.
Chorizo Fundido
So this was a kind of "make your own" taco dish, served with a package of warm corn tortillas and a hot pot of chorizo, oaxaca cheese (kind of like a cheese string), potato, raw egg yolk and topped with fried potato chips.  I liked the mild flavour of the cheese, but found that the chorizo, in contrast, could have used a bit more heat. The best part was definitely the crunchy potato chips, which did offer that much needed counterbalance with all of the soft and kind of mushy textures going on. Thank g-d for the small portion on this one (and the fact that I had someone to share it with) because I am not sure I could  handle all of those rich flavours myself.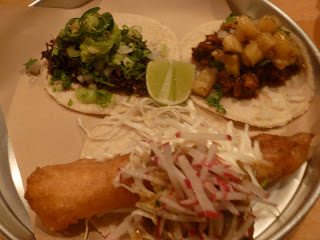 Baja Fish Taco
A generous portion of moist, flaky white fish, topped with a crunchy creamy slaw.  It was a little bland at first but after a spritz of lime and some of that red hot sauce, it was perfect.  My second favourite of the three tacos.
Beef Cheek Taco
This one was good too, but the flavours weren't as balanced or exciting as the others.  The meat was very tender and had a rich, slightly bitter note to it.  Quite nice against the brightness of the green hot sauce.
Pork Belly Taco
Definitely our favourite of the bunch.  The pork (not surprisingly) was tender and juicy with a mild hit of sweetness in the sauce.  All of that fat was nicely cut by the pineapple salsa on top, so there wasn't any need for added condiments on this one.  Perfect just as is.
Hibiscus Popsicle
This had an interesting floral flavour with a pleasantly mild sweetness, but I found that it was lacking a bit of acidity, and that the texture was a little too icy and crystalized for my preference.
Key Lime Pie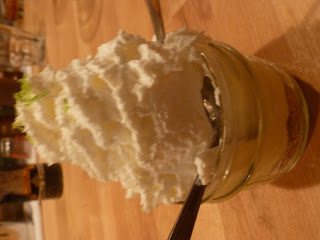 I love the presentation on this, a perfect little dessert in a jar.  This one had a stunning bright tart flavour, mellowed out by a mound of whipping cream on top.  A perfect summer dessert.
So, I can see how they are able to turn so many tables so quickly, since we were in and out within 40 minutes!  Not my usual preference for dinner, but I didn't seem to mind given the fast-paced, loud-music atmosphere.  For all of the above food and the 3 cocktails, our bill came to $117 including tax and tip- wickedly good considering the quality and the fact that 16$ of those dollars were from a single shot of that premium bourbon.  Will we return? We most certainly will, though I fear it may not be until next summer when the patio is open again and the lines do not have to return to being 2 hours .   How long have you waited to get into GE?
Updated on May 8th, 2019