Check out this amazing healthy and hearty Lentil Salad with Sweet Potato, Granola & Honey Vinaigrette sponsored by Dorset Cereals.
I'm a dietitian, so it's pretty much my job to come up with ways to get people to eat salad. And no, it doesn't have to mean force feeding, bribing, or putting it on top of pizza (though, that works pretty well sometimes, too).  I truly love all salads. Green salad, fruit salad, bean and lentil salad, grain based salad. You name it, I want it in my mouth.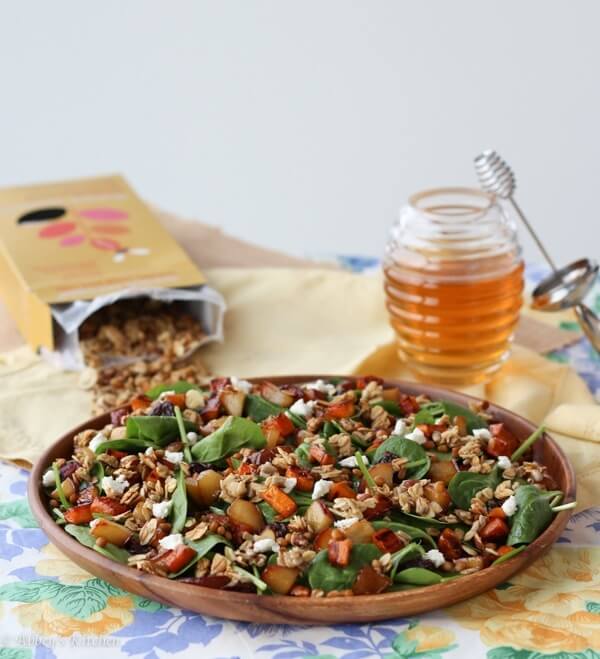 A great salad shouldn't be characterized as "diet food". Actually, I prefer not to think of any kind of foods as diet-y, low calorie, or even low fat, because those terms tend to carry negative connotations. A great salad should be exciting, colourful, and deliver an amazing balance of crunch, chew, and tender bits. They should have lots of fibre and protein, and yes, even some healthy fats, too. A feel-good healthy salad needs to be hearty enough that will keep you satiated all through the day, but light enough that you still feel energized.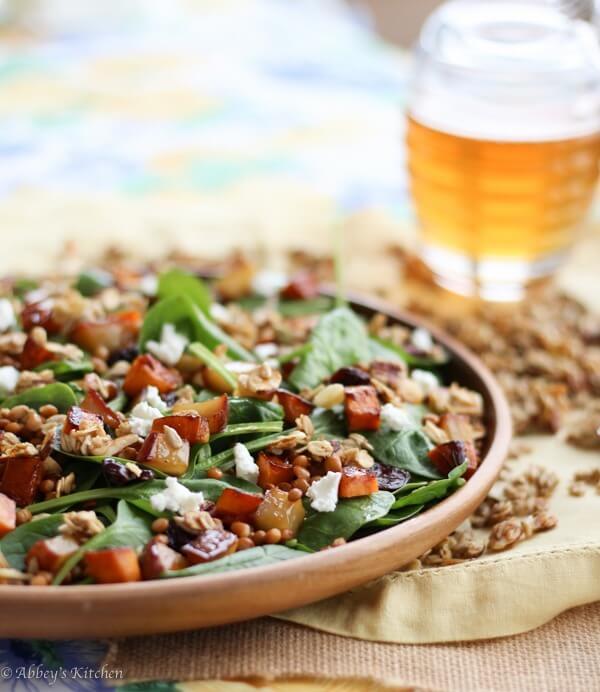 Case in point- this Granola, Sweet Potato & Lentil Salad with Honey Vinaigrette. I don't know if you've heard, but the UN announced that 2016 was the year of the pulse, which means I've been busting out lentil and bean recipes right, left and centre. This salad starts with tender spinach greens, brings in some protein with canned lentils, layers in fibre rich caramelized pear and sweet potato, and adds amazing texture with dried cherries, goats cheese and granola.
Granola Meet Lentil Salad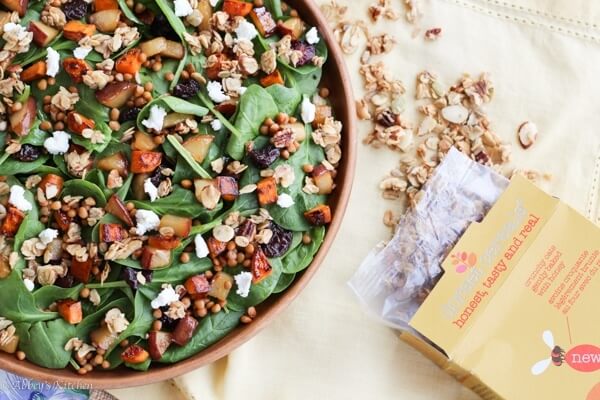 Yes, you read that right. I'm putting my favourite breakfast granola on lentil salad, proving that it's not just for topping yogurt or milk. My go-to morning, noon and night is Dorset Cereals Honey Granola because it's got 3 grams of fibre, 8 grams of protein and is jam-packed with hearty whole grains, nuts, and seeds.
I've seen granola make an appearance in savoury dishes across Europe in my travels, so I thought I would bring the concept a little closer to home. Dorset Granola, meet lentil salad. Salad, meet Dorset Granola. I think you're going to get along just fine.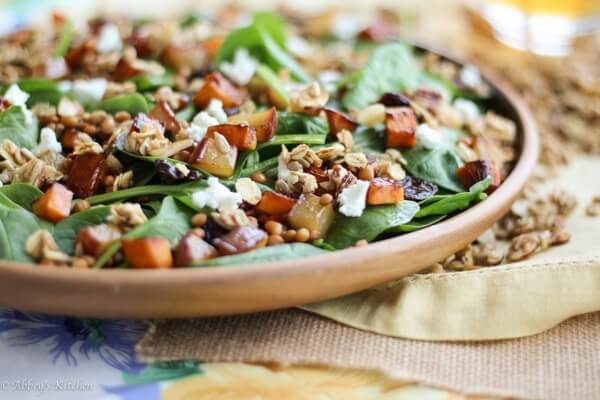 The result? Well, let's just say, no one was complaining they were eating rabbit food with this bountiful lentil salad. This healthy lentil salad would be absolutely perfect for an upcoming Easter or Mother's Day brunch because it can easily be made ahead, satisfies meat-eaters and vegetarians, alike, and looks absolutely stunning on a buffet line. And trust me, everyone will take notice of your granola game and compliment you on your ingenuity. You're welcome.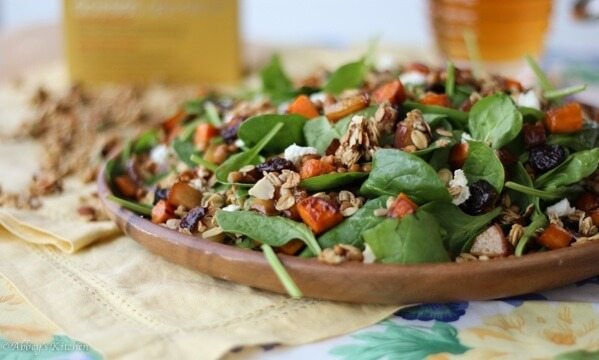 If you have some fun recipe ideas of your own using Dorset Cereals, you can enter to win an amazing gift basket of Dorset products and a Scandinave Spa Gift Card! Simply follow Dorset Cereals on Pinterest, create a Dorset recipe board, pin your Dorset recipes to the board and hashtag #DailyDorset in the board description and comment, your boards URL on Dorset Cereals Canada Recipe Board. To get all of the important details, check out their website here.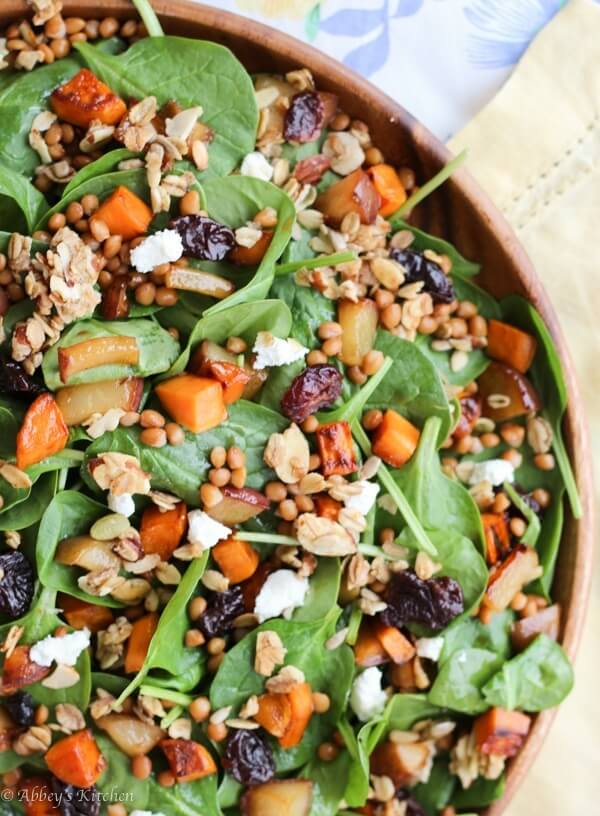 What are some of your family's go-to meal salads? Have you ever made lentil salad with granola? Leave me a message below and share your favourite combinations!

Lentil Salad with Sweet Potato, Granola & Honey Vinaigrette
This recipe features crunchy delicious honey granola in my favourite lentil salad with sweet potatoes! Yum!
Ingredients
Salad
1

tbsp

olive oil

1

sweet potato

peeled and diced into 1/4" cubes

1

pear

diced into 1/4" cubes

1

tbsp

honey

5

oz

baby spinach leaves

1

cup

canned lentils

drained and rinsed

1/4

cup

dried cherries

2

tbsp

chevre

crumbled

1/3

cup

Dorset Cereals Honey Granola
Instructions
Preheat the olive oil in a large nonstick skillet over medium high heat. Add in the sweet potato and cook until lightly caramelized on all sides, about 3 minutes. Add 2 tablespoons of water, cover the pan and cook for an additional 3 minutes.

Let the water evaporate, then add in the pear and honey and cook uncovered until the honey coats the potato and the pear, and both yield a golden brown colour on all sides. Set aside to cool.

In a bowl or a platter, lay down the spinach leaves, top with the lentils, pear, sweet potatoes, cherries, chevre and Dorset Cereals Honey Granola.

In a jar or bowl, mix together the honey, vinegar, oil, mustard and season with salt and pepper, to taste. Serve the salad at room temperature and the dressing alongside the salad.
Nutrition Facts
Lentil Salad with Sweet Potato, Granola & Honey Vinaigrette
Amount Per Serving
Calories 350
* Percent Daily Values are based on a 2000 calorie diet.
Updated on January 9th, 2018