When I was a kid, my dream was to become a chef. A pastry chef, actually, because I read a book called "Jake Bakes a Cake" and decided that food was for me. In contrast, apparently when Toronto's actual top chef talent were kids, they all wanted to be Heroes & Villains like Superman, Bat Man, the Joker and more.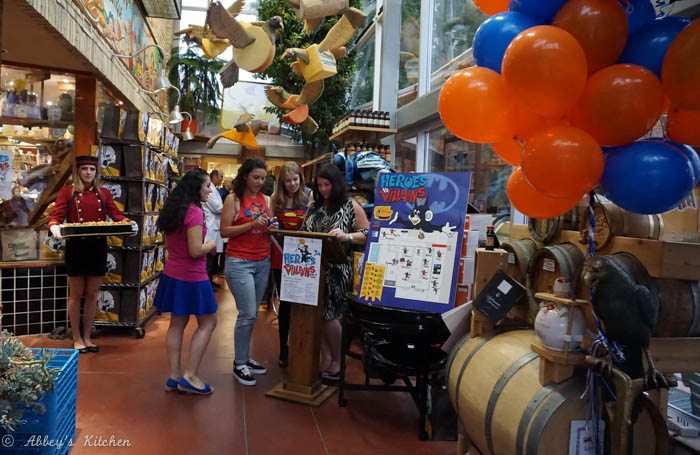 Well, on August 14th, every chef's dream became a reality, and everyone else was clearly on board.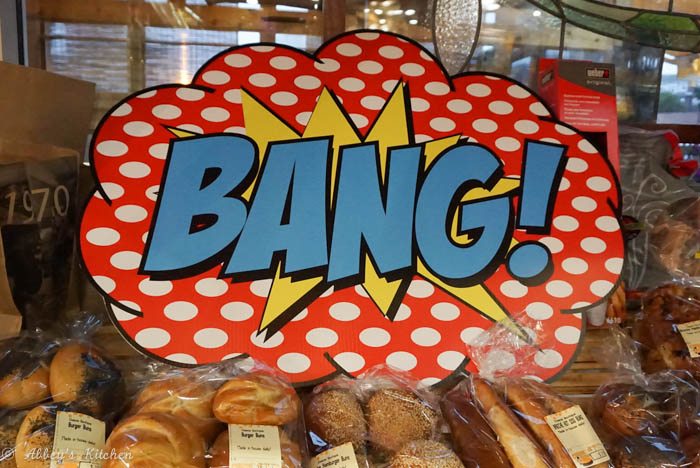 Organized by the oh-so animated Afrim (aka Batman) and Agim (aka. Kingpin) Pristine, owners of the foodie-revered Cheese Boutique, "Heroes vs. Villains" brought together 11 of Toronto's top chefs to role play their favourite childhood characters and showcase their unique culinary super powers.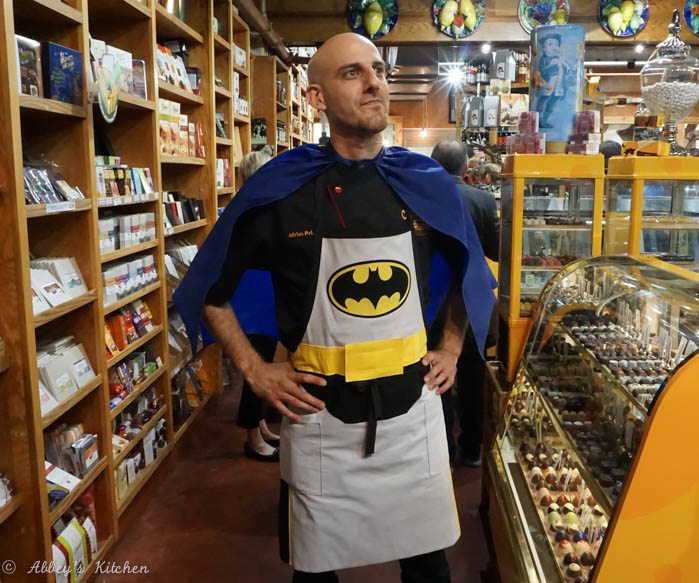 Hosted at the Toronto boutique, each of the chefs were assigned a unique comic food identity based on their true personas.
Unlike in the make-believe narratives of comic books of yore, in Afrim's world, the Heroes and the Villains work together to piece together a cohesive well- balanced meal.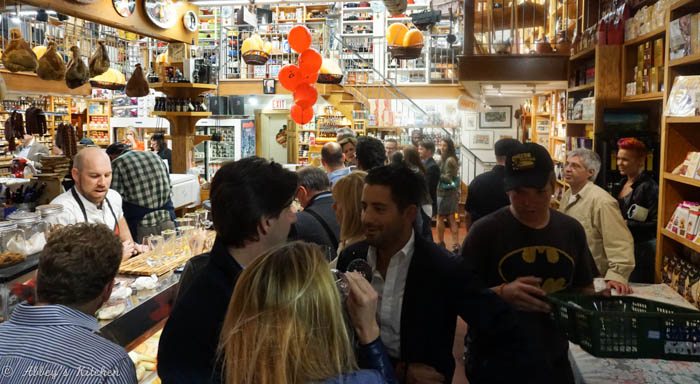 This is even unusual for most pop-up events where each chef tends to do their own thing, and you hope you don't end up with too much pork or not enough veg in the mix, so I was really impressed with the collaboration.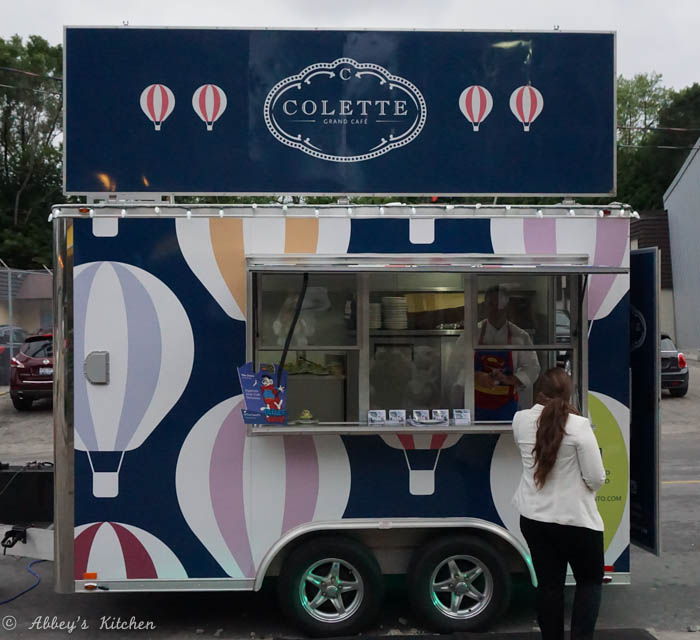 For $175, guests got to mingle through the maze-like boutique, sampling each of the chef's blockbuster eats, while sipping on Stratus Wines and Samuel Adams beer.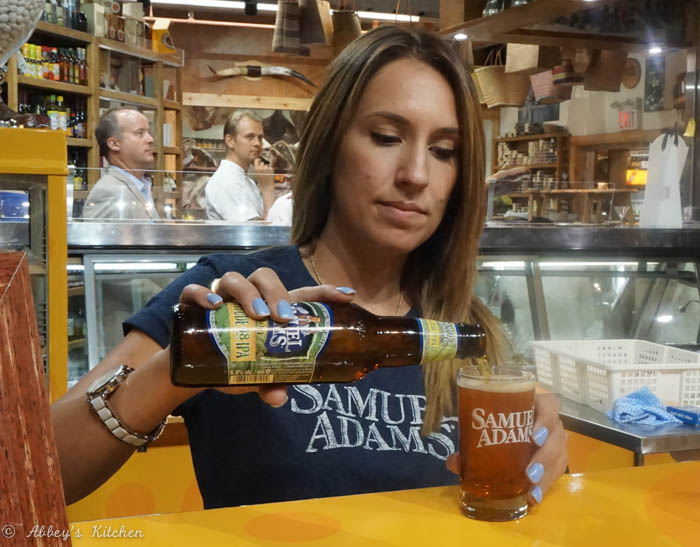 Take a peak at what each super chef offered for the #HeroesVsVillains battle.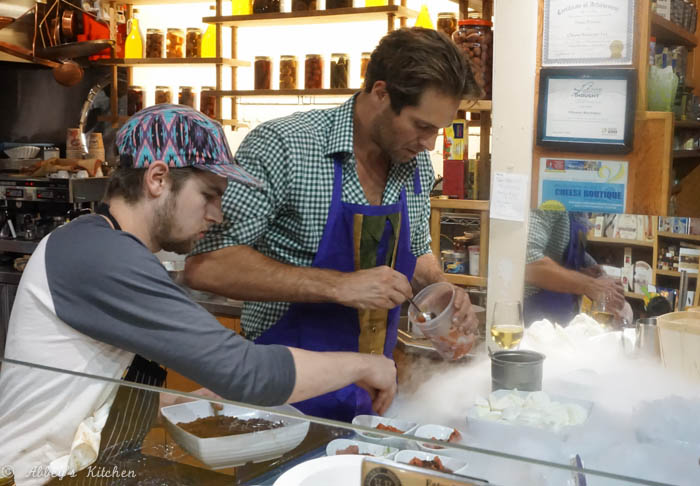 Michael Steh of The Chase (aka. Superman)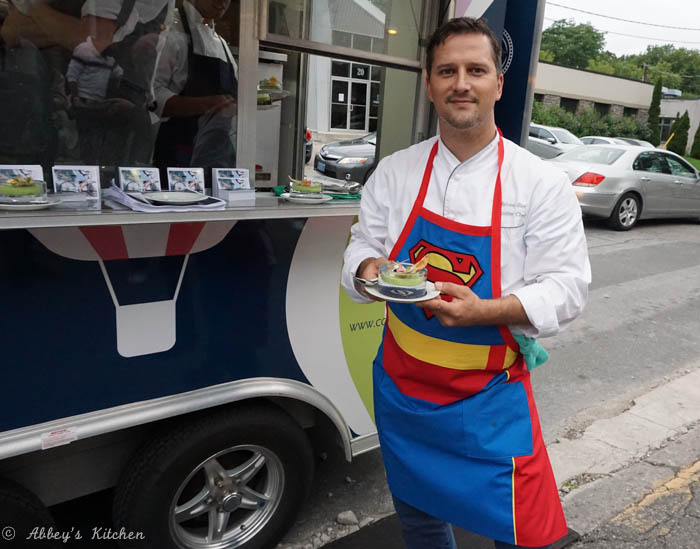 Kryptonite Snow Crab Vichyssoise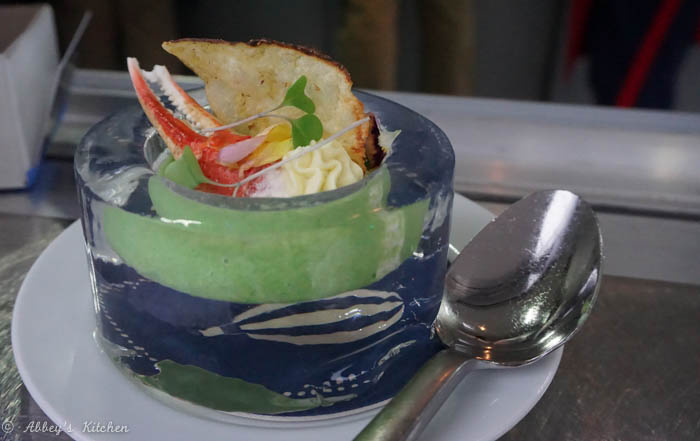 Served in a sexy ice bowl, I loved the sweet crab with the refreshing vichyssoise. It was too bad it was so cold that night but still a very enjoyable dish.
Jonathan Goodyear of Royal Canadian Yacht Club (aka. Wolverine)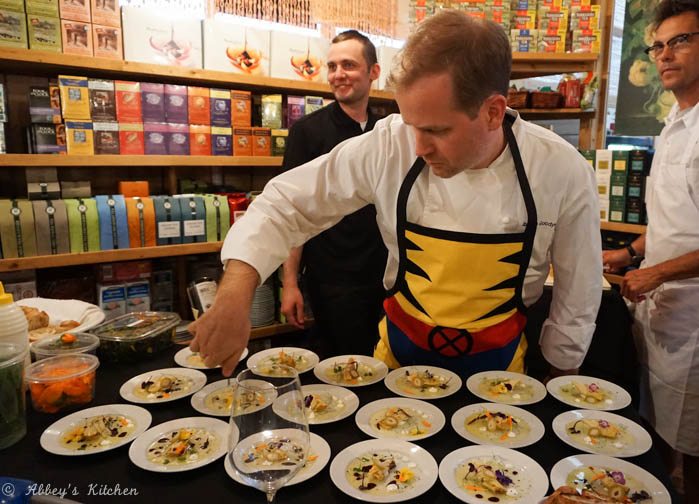 Marinated Summer Artichokes with Goat Yogurt and 100 yr Old Balsamic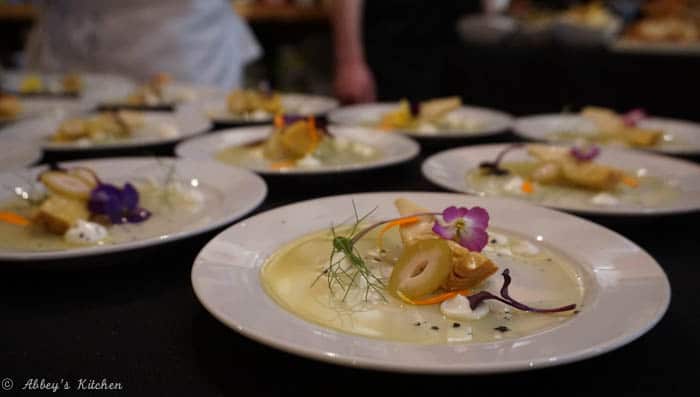 A simple and beautifully composed first dish. The tender sweet artichokes with the mildly tangy yogurt and the deeply sweet balsamic made for a stunning one-bite.
Rob Gentile of Buca (aka Ironman)
Live Gaspe Scallops with Caviar and Prosecco Shooter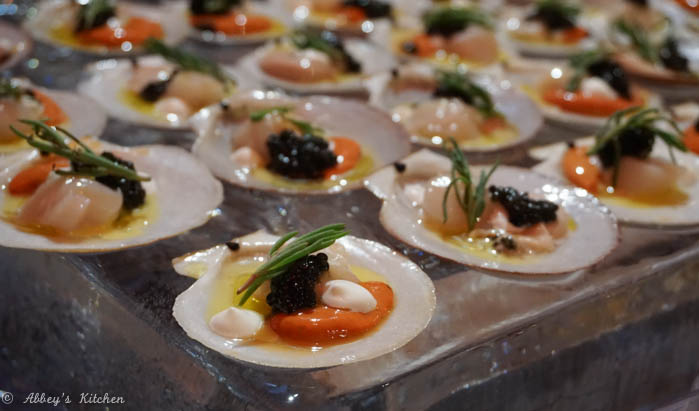 I loved the delicate sweetness of the scallops and the acidity of the prosecco with the bright salty pop of the caviar.
Grant Van Gameran of Bar Isabel (aka. Captain America)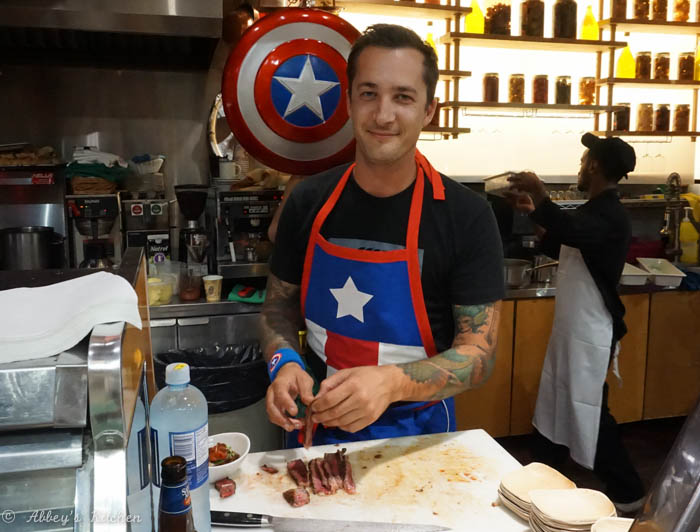 Pinxto of Ribeye (60 day age) with American Blue Cheese, Mushroom and Boquerone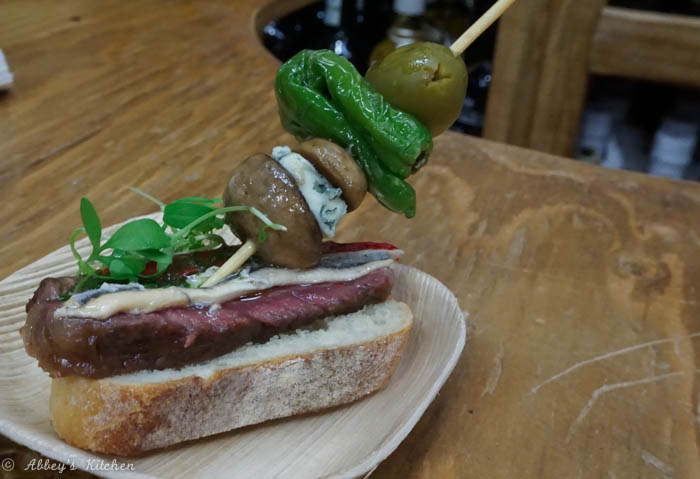 The satisfying balance of rich beef, tangy cheese and salty boquerone and olives got me really excited for my upcoming trip to Spain.
John Horne of Canoe (aka. Spiderman)
Montreal Spiced Fried Crickets with Fennel Web and Radioactive Soup

I will admit, I was a little apprehensive about the crickets, but you know I'll try everything at least once. Well, it turns out, I would probably eat crickets again (especially if they were spiced up like yummy meat and served in a sweet smooth soup.) The presentation here was key. Once you broke through the fennel candy web and let the candy and critters fall to their doom, John came in with the sweet soup and you mixed it all up to get a range of flavours and textures. Loved it.
Geoff Hopgood of Hopgood's Foodliner (aka. Magneto)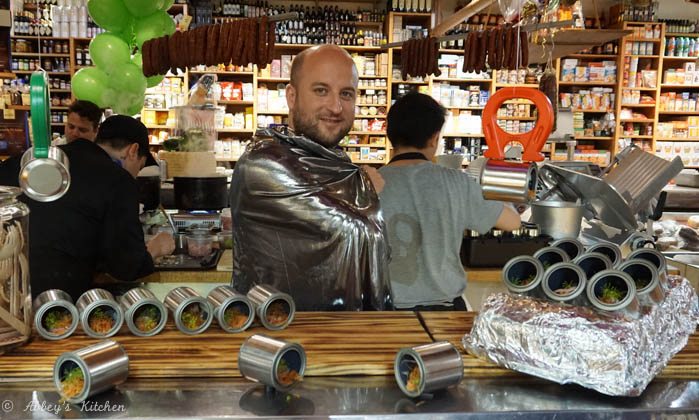 Cured Arctic Char with Horseradish and Dillweed Crème Fraiche
Another favourite of the night. The combination of the herbaceous cream with the crispy potato straws definitely reminded me a bit like dill pickle chips- which is pretty much the best thing ever.
Cory Vitello of The Harbord Room (aka. The Joker)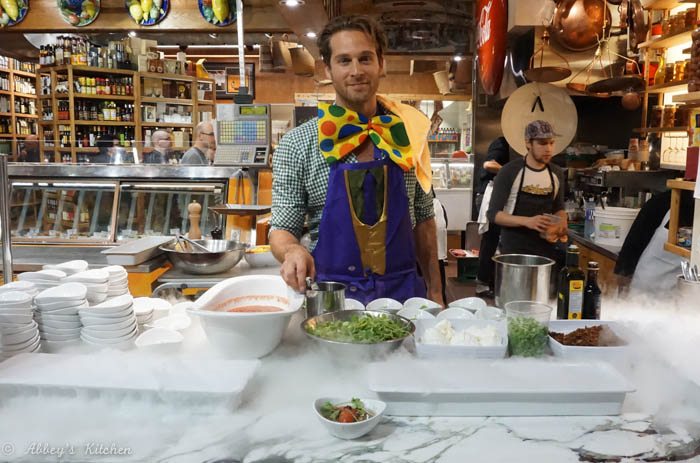 Bufalo Mozzarella with Crushed Heirloom Tomatoes and White Balsamic Sorbet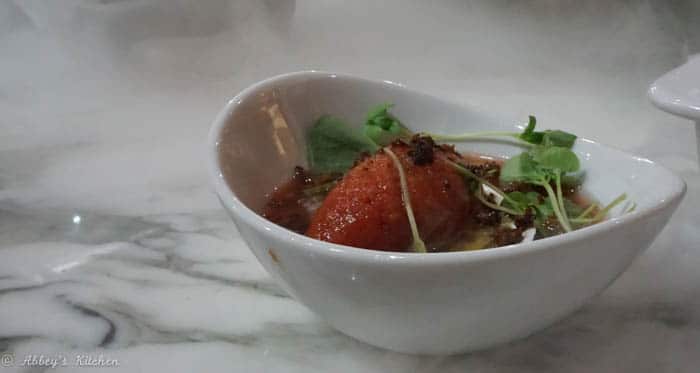 One of my favourite dishes of the day. The creamy cheese really shone with the acidic bright tomatoes and the refreshingly sweet sorbet. A perfect late Summer dish.
Tom Wade of Farmhouse Tavern (aka. The Flash)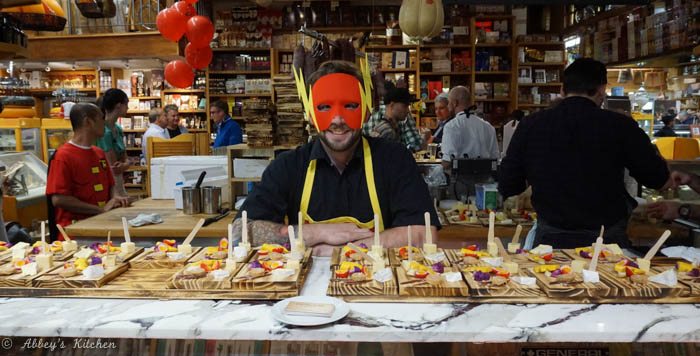 Farmhouse Ploughman Platter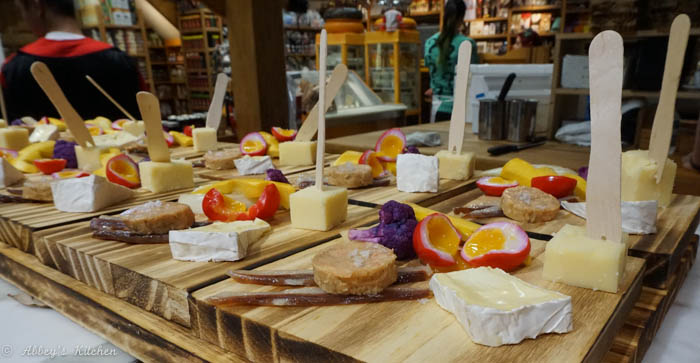 Such a great selection of cheese, duck prosciutto, foie gras and pickled veg- I particularly loved the pickled lightning bolt zucchini.
Victor Barry of Splendido (aka. The Hulk)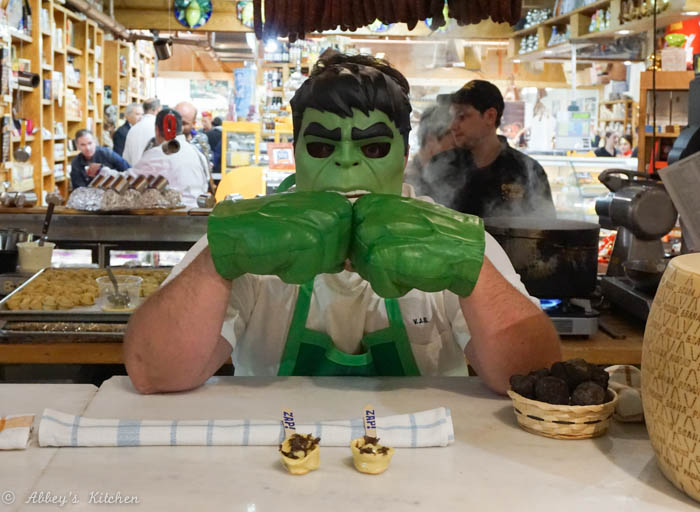 Australian Black Truffle & Ricotta Tortellini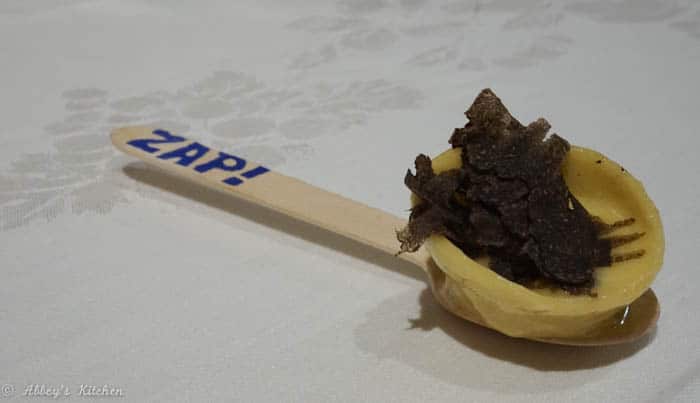 Wow- such a generous shaving of truffles topping the tender flavourful tortellini. I could easily eat a whole bowl of these.
Craig Harding of Campagnolo (aka. Green Goblin)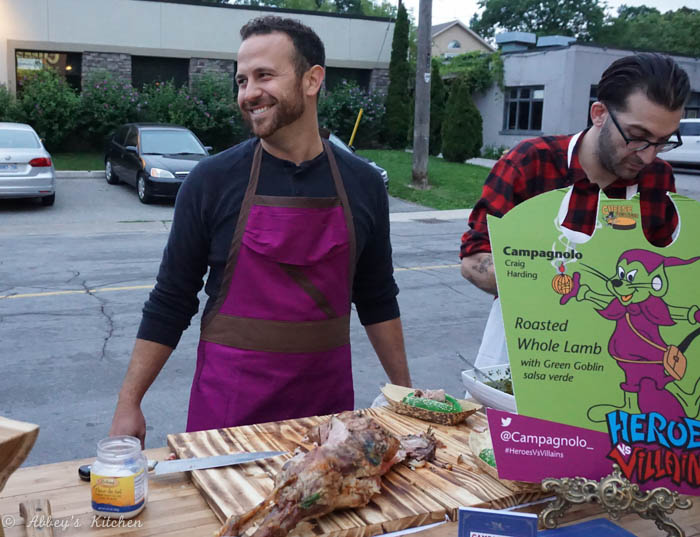 Roasted Whole Lamb with Green Goblin Salsa Verde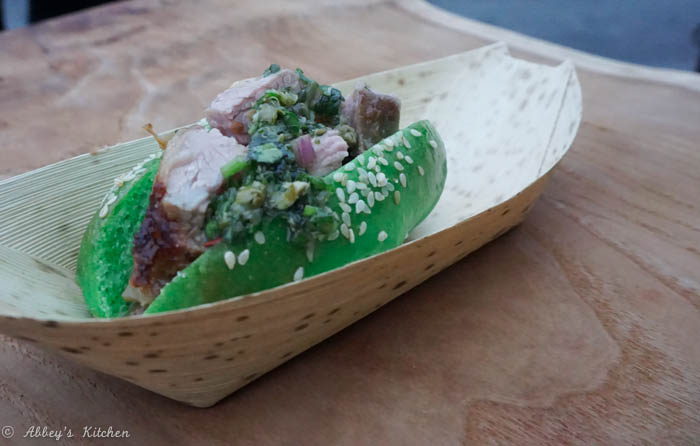 Loved the green milk buns with the sweet roasted lamb and the salty briny salsa verde on top.
Nadege Nourian of Nadege Patisserie (aka. Cat Woman)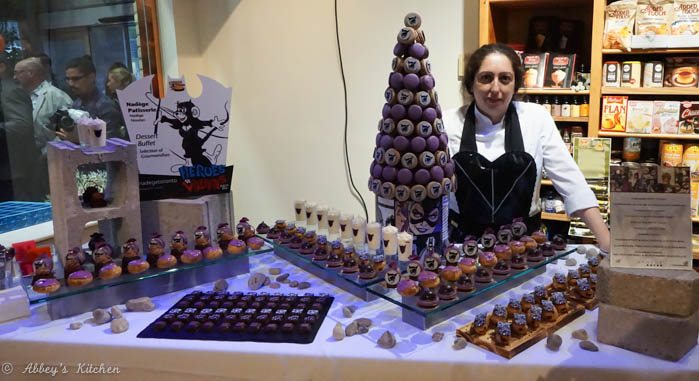 Dessert Buffet

Okay so I definitely sampled more than I care to admit but everything was just so fantastically good. From the Tarragon, Olive Oil & Chocolate Verrine (so luxuriously smooth), the Cassis P'tit Choux (one of my favourites), the Rich Chocolate & Pecan Brownie, the sexy Cat Woman Chocolate Eclaire and that Salted Caramel Macaron- I could have just parked myself there and been happy all night. If I had to go back for seconds (okay, more like fifths), it would be for another P'tit Choux. Heaven.
Hot & Cold Coffee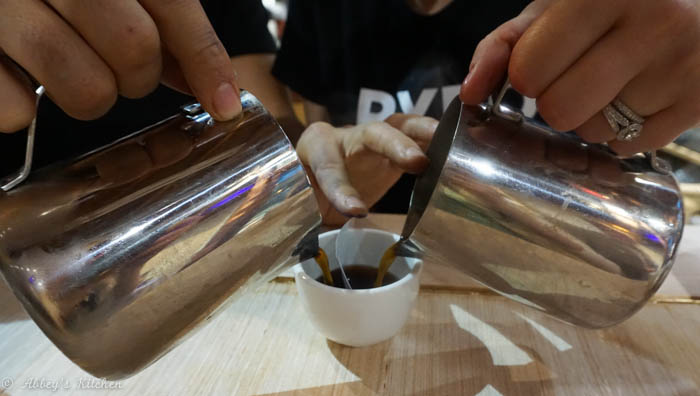 Yep, there was hot and cold coffee separated in one cup a la Heston Blumenthal (you can read about the same dish idea on my review of the Fat Duck).
Salted Caramel and Banana Gelato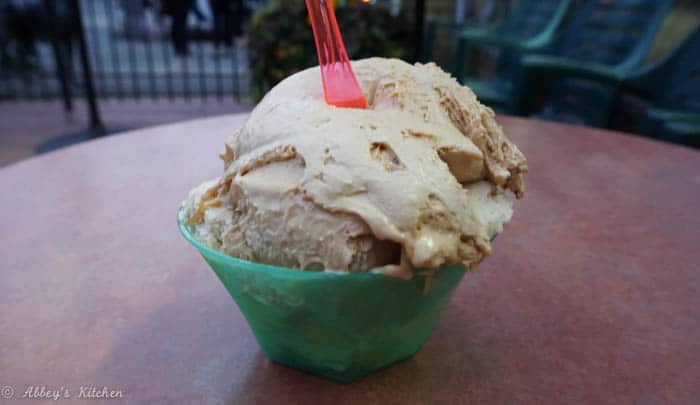 They gave me a boat-load (literally) but man, was it ever good- I was instantly brought back to my trip to Italy.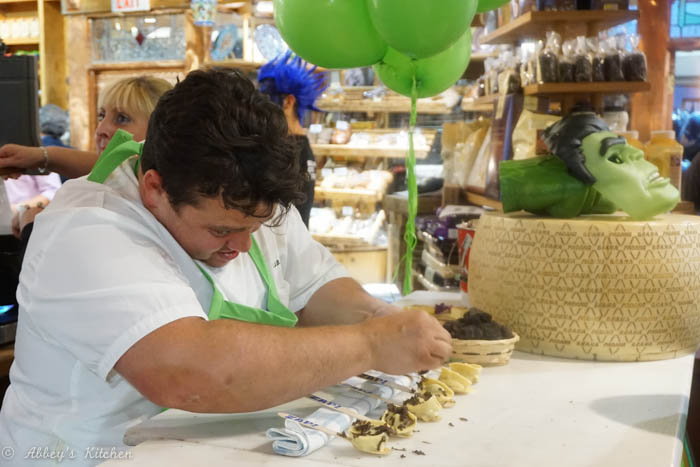 When I got back I peaked into my loot bag to find lots of yummy goodies from the shop- I can't wait to get into these this week!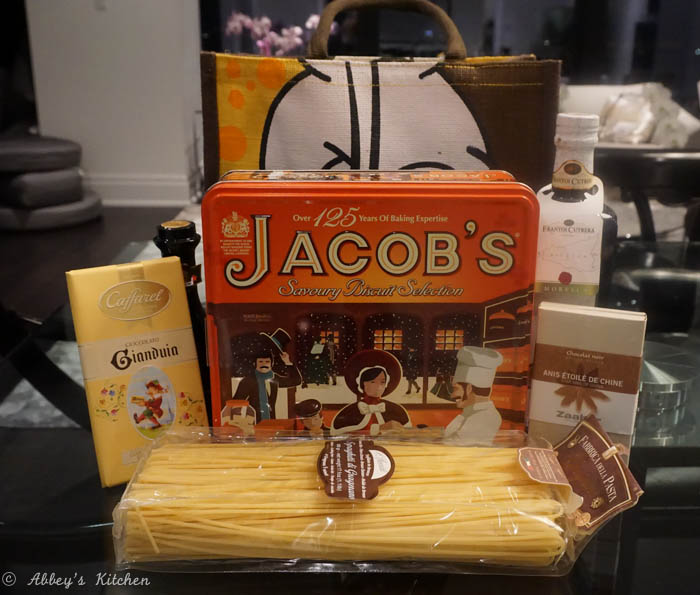 #HeroesVsVillains may have been a one-time event, but let's hope with such fantastic response, we'll see these characters out to play again.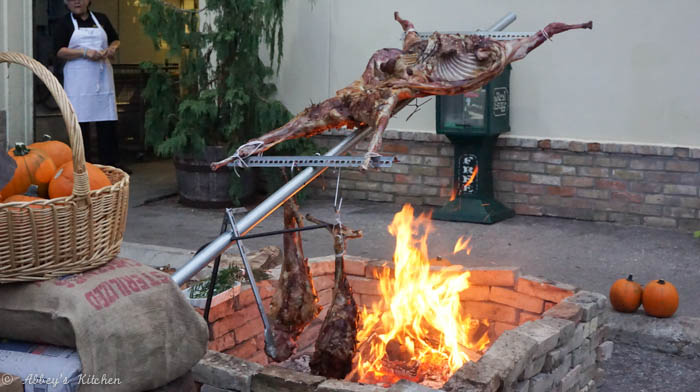 The event was well organized, the food was (obviously) climactic and everyone seemed to be having a fantastic time.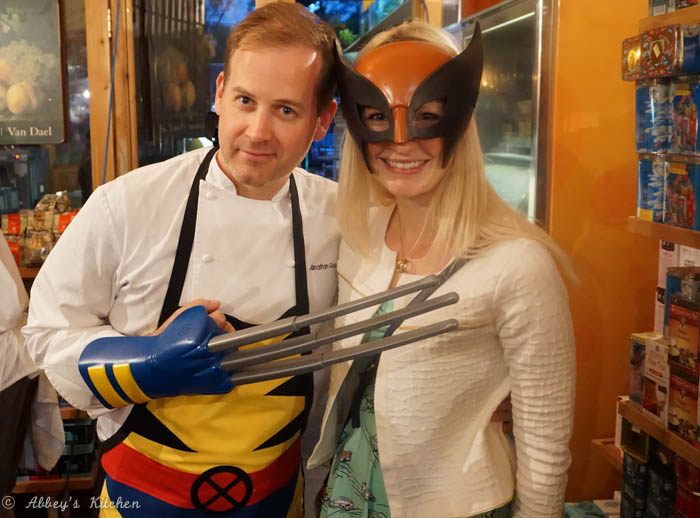 I should also mention that the Cheese Boutique is like a wonderland for foodies.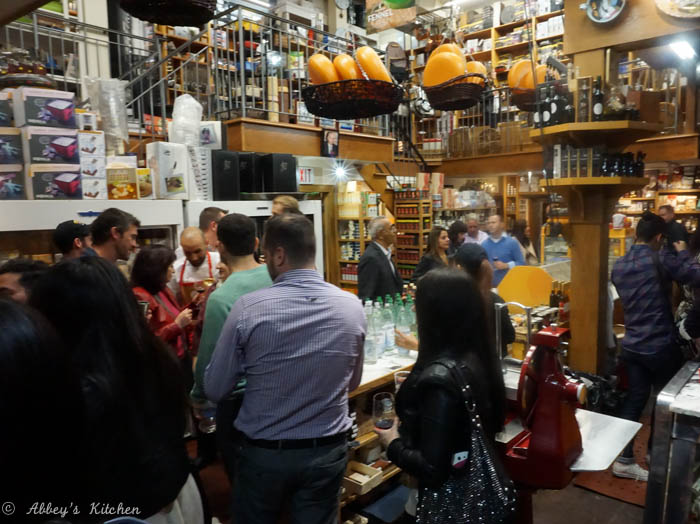 I was tempted to hide in a nook and hope Afrim didn't find me so I could live there over night. I can't believe I haven't been to this Toronto gem.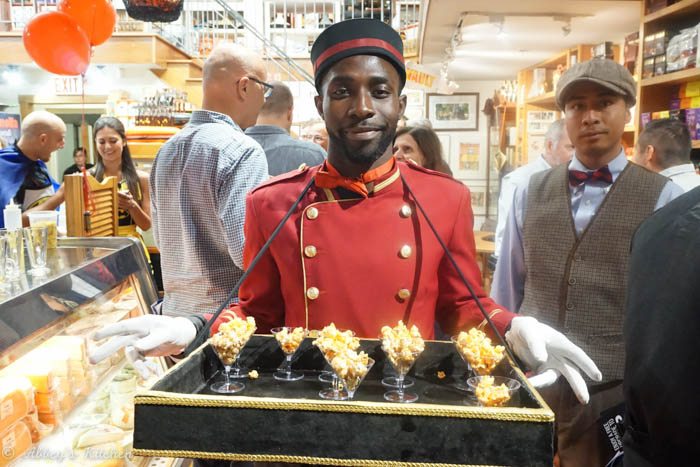 If you'd like to keep an eye on upcoming events by Afrim at the Cheese Boutique, check out his website and follow Afrim on twitter. I can't wait to see what magic he has up his sleeve next.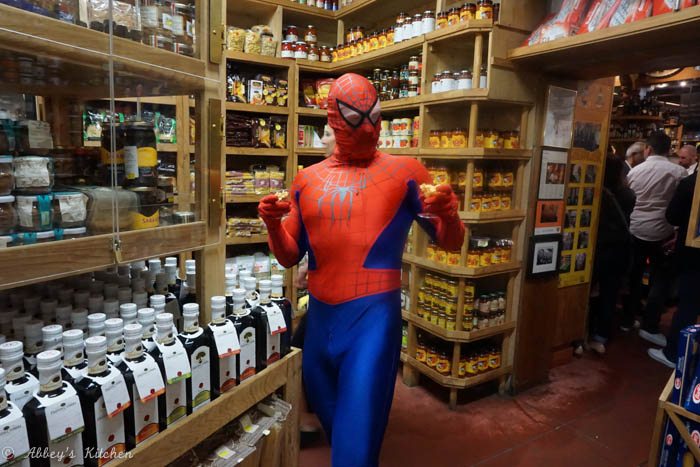 Disclaimer: The preceding post was complimentary, however, as always, all opinions are genuine.
Updated on May 8th, 2019