Day 3 in Israel:
Today we did a little exploring through the Negev Tzedek area of Tel Aviv, a beautiful boutique neighbourhood with a lot of lovely shops, galleries and restaurants. We stopped in for a light lunch at 1887, an Italian restaurant on Pines street (which just for your interest, is pronounced "penis").  We weren't too hungry at that time, and knew that we had some cocktails and snacks awaiting us on the beach at the hotel so we ordered relatively light.
Antipasto
Chicken Coop Salad
Dinner was at Catit, a continental style restaurant owned by Chef Meir Adoni.  From my research, I read that this was one of the top Israel spots, so I was really looking forward to seeing how it compared to some of my other top meals around the world.  My review in short? Holy *$!#. Even though we were exhausted from our day (and lack of sleep and persistent jet lag), knew we had an early morning ahead and were told that the tasting would take 3-4 hours, we were damn glad we went ahead with it.
Service was friendly, and patient. There was a lot of ingredients in every dish and I was adement that I knew them all, so the server took his time exposing each one so that I could scribble them down.  They also were kind enough to try to expedite the meal as much as possible at our request (even though that meant quick drinking of the wine-pairings on our part).  To start we began with a Kir Royal and Mint Julep cocktail, both of which were excellent. .Here is a review of this feeding adventure:
Bread Selection: Anise, Raisin, and Coriander with grey salt, whipped butter and paprika aioli
Heavenly. We knew we had a lot of food ahead and had to pace ourselves responsibly. So we each had half a slice of each, smeared it in condiments and savoured every determined chew. It was tough, but we had to ask the server to take the basket away or we knew we wouldn't even get to the 2nd course.
Salad with cracked wheat, celery, onion and parsley topped with yogurt, olive oil and lemon and served with a savoury shortbread
A delicious first bite. I loved the tart creaminess of the yogurt mixed with the toothsome bite of the wheat. The cookie was particularly pleasant as it left an unusual crackle sensation in my mouth.
Root vegetable salad with lamb pancetta and chestnuts, topped with a maple foam, thyme biscotti and apple cream
Unreal. The root vegetables were cut into a fine brunoise and offered a lovely textural counterpoint to the silky maple foam. All of those comforting sweet autumn flavours were further enhanced by the caramel like apple cream, and the biscotti provided the much needed crunch element. We both scraped the egg shell clean.
Ceviche tuna dusted in nori seaweed served with a pickled ginger cream, horseradish granita, yuzu aioli, cucumber ribbons, yogurt foam, radish tapioca pearls, green plum and horseradish honey jelly
Talk about a burst of flavour. Every element was identifiable on its own and enhanced one another. The pungency of the ginger, radish and horseradish were tempered by the aioli, cucumber and yogurt, and every imaginable texture was represented on the plate. There was popping (pearls), crunching (nori), melting (jelly), crystalizing (granita), foaming (yogurt), creaming (ginger) and everything in between. Genius.
Indian Summer Salad: Cauliflower poached in brown butter, pumpkin saffron marmalade, celery, crispy toasted quinoa and sunflower seeds, fried okra, curry and honey aioli
One of my favourite dishes of the night, chef Adoni proves that cauliflower does not need to be boring (or smothered in cheese sauce).  The florets were sweet, nutty and caramelized, the marmalade was aromatic and bright, the aioli offered that mild heat and sweet element, the celery was toothsome, the okra caramelized and crispy and the quinoa was everything else- nutty, crunchy, savoury and a perfect binding element to the dish.
Mushroom linguine with beure blanc, seared scallop, smoked egg yolk and parmesan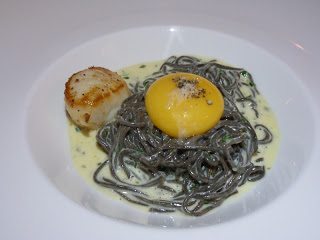 Another stunning dish. The pasta had a subtle earthiness and pleasant texture, that was a nice counterbalance to the intensely rich and eggy sauce. The scallop was perfectly cooked and despite the bed of moisture, retained it's crispy exterior.
Mango, celery and green bean salad with coconut milk and peanut mousse and thai red chilli
A wonderful palate cleanser. It tasted exactly like pad thai (sans carbs) in one very concentrated bite.
Lamb sirloin dusted in charred onions, cabbage roll gratin stuffed with lamb pancetta, parsley and bulgar topped with parmesan, foam of potato, crispy bulgar and black garlic clove
The lamb was perfectly cooked and deliciously tender, and the onions lent an unusual smokey sweetness. The potato foam was fluffy and sweet and contrasted beautifully against the crispy bulgar.
Bar (yello bass) baked in mousseline with zucchini scales with olive oil and thyme, goat cheese foam, yuzu aioli, black powder risotto (blackened with charred vegetables), green buttery with parsley and thyme, and tuile of black cabbage
Another winner of a dish. The black risotto was immensely interesting, creamy and perfectly cooked with a unique smokey and slightly sweet flavour. The foam was a delicious tangy contrast with the herbacious flavours, and the tuile provided a delicious crunch against the texture of the risotto.
Lime and Lavender Panna Cotta with crispy rice, lime sorbet and lime marshmallow
While I normally do not like panna cotta, this one took on a completely different persona.  The panna cotta was simply a creamy custard base, that was contrasted with a bit of crispy rice, and a sharp tangy liquid nitrogen sorbet that disappeared on the tongue.  While I can't claim to have tasted very much lavender in the dish, I wasn't upset about it as I much prefer the bright flavour of lime.  The marshmallow was the only disappointment, as it didn't have the fluffy texture that I was anticipating.
"Earth": White chocolate foam snow, tonka bean crumble, dark chocolate and cardamom cream, the black stone (white chocolate blackened with zinc), mushroom top (porcini mushroom powder mixed with dark chocolate), celery root with vanilla sugar (mushroom stem)
Despite being someone who generally dislikes chocolate, I found this to be a remarkably enjoyable dessert. The tonka was earthy, mildly bitter, and had a delicious cookie texture, especially when eaten with the delicate white chocolate ice foam.  The black stone had a ganache-like texture, and the mushroom, actually tasted like mushroom.  The dish as a whole was a unique experience and a real celebration of the balance between sweet and savoury flavours.
Fresh apricots poached in spices and herbs, meringue, sour cream cardamom anglaise, geranium granita, honey sponge toffee, honey jelly, granola and basil
Another beautiful and fresh summer dessert. The apricots sweetness were further enhanced by the layering of honey throughout the dish, while their tender texture was enhanced by the violently crunchy toffee, the more subtle crisp crushing sensation from the meringue and the variety of  textures in the granola. The anglaise brought a tart element to help balance all of the sugar, while the unusual geranium granita provided a remarkably unique floral note. As a whole, it was a stunning summer dessert.
So for 2 cocktails, sparkling water, 2 tasting menus, 1 wine pairings, the bill was about $320 including tax and tip. Not cheap, no, but we have spent that much per person on dinners that were not nearly as delicious or inventive. Catit proved to be one of the best meals we've had ever, and will surely be a place we will return to again.
Updated on February 18th, 2016