It's been only over a year since I had my first Rock Lobster Co. lobster roll at the Toronto Underground Market. It was buttery, sweet and overflowing with succulent shellfish. Right from the get-go, Rock Lobster's owner, Matty Pettit had developed a concept to draw line ups around the venue.  So maybe it was no surprise that soon after, he managed to open two restaurants (see
here
and
here
) of the same name and write a seafood cookbook due next fall.  Adding one more to the family this December, Matty has decided to divert the ship towards the prairies with a little country western spot called Boots & Bourbon Saloon.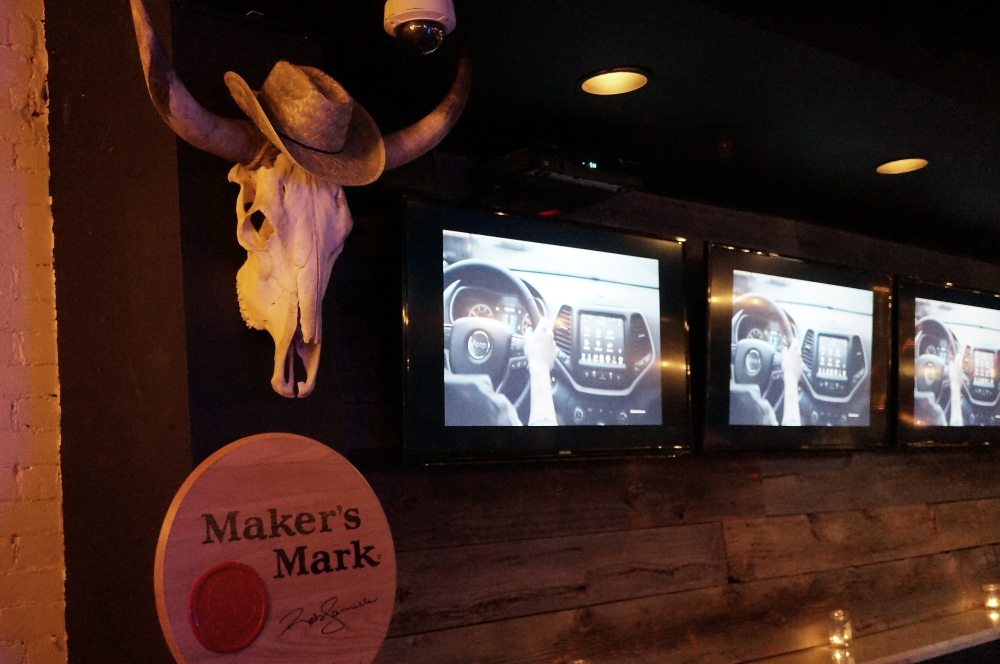 BB is a collaboration project between Matty and his fellow co-owners Matt Colter, Nav Sagha and Mike Homewood (of the ledgendary Kee of the Bala). The newest addition to the growing Leslieville dining scene promises the neighbourhood free line-dancing lessons, country karaoke, live music, Monday night football, cowboy eats and of course, a mechanical bull.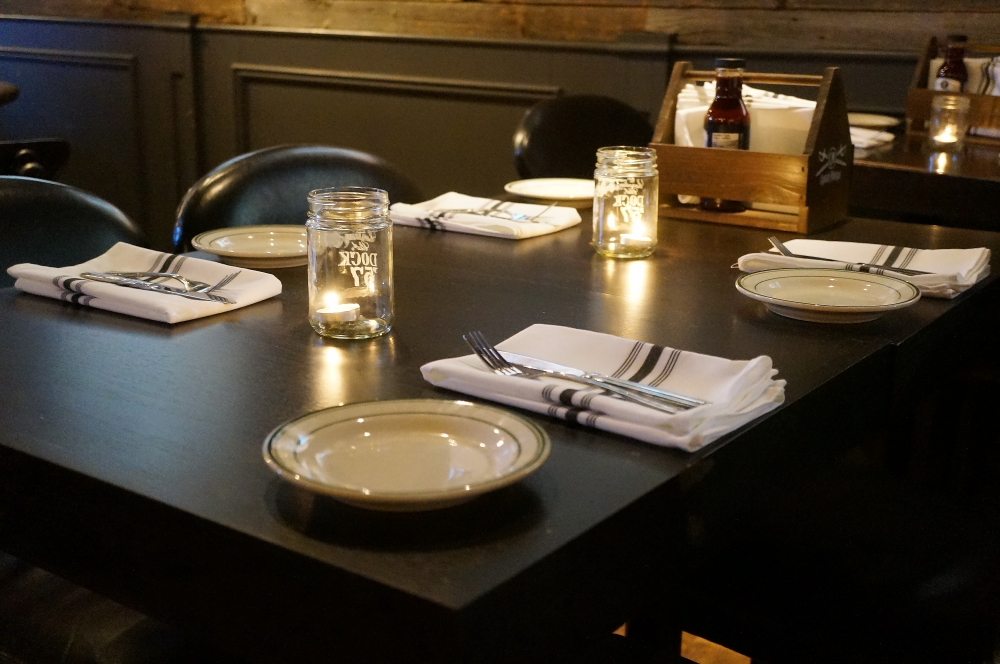 The idea was born out of Matty's sheer love for country culture, and after attending a country music concert with his business partner, Matt Colter, they both thought, "well, where do all these folks go afterwards to party?" Before, there was no appropriate answer but now, we all do.
And it was obviously a clever move considering another western-themed space (Kickin' Horse Saloon) opened up in the clubbing district on the exact same night. "The more country, the better!" Matty responded, elaborating that he sees their demographic as being quite different simply because of their locations. That is, east end families and middle-age couples vs. young 20-something looking for an alternative to the traditional club.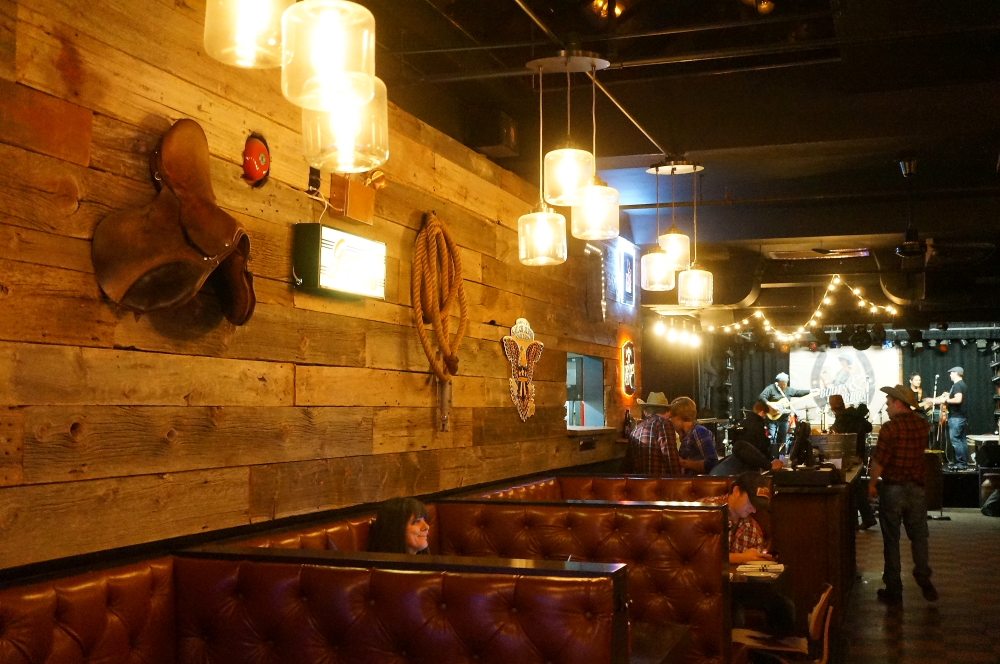 Speaking of location, the former Riverside Public House on Queen St E. has been transformed into a saloon to fit 350.  The distressed barn-wood walls are adorned with horse skulls, hunting horns and saddles, leading the way to a stunning rodeo mural Matty's father designed and painted.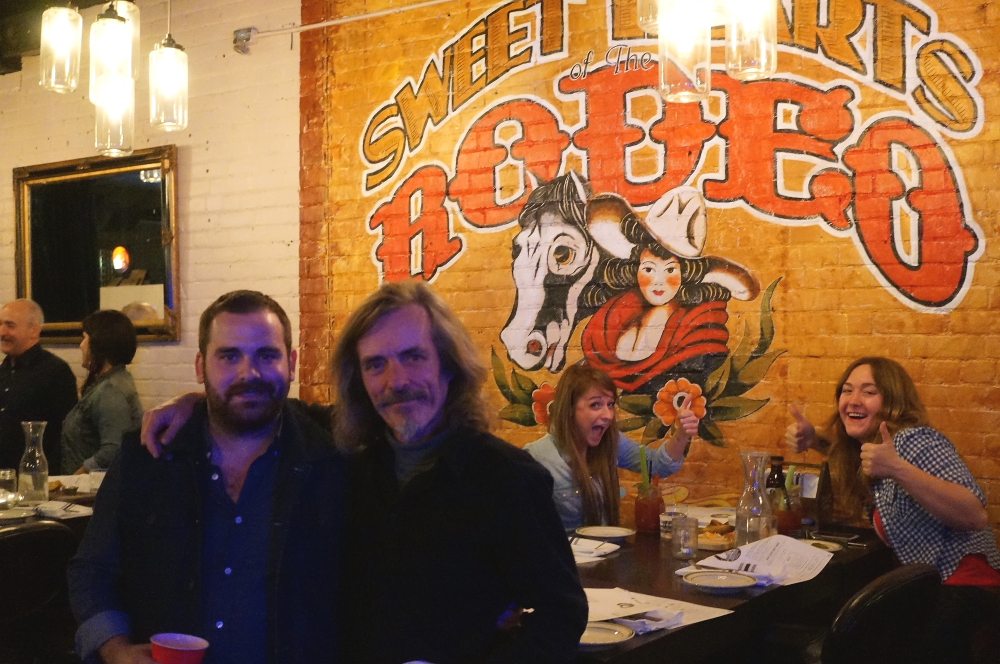 Matty and his father (and a couple awesome photobombers)
The front of the house is home to a full rectangular bar stocked with all the best bourbons and beers, with ample high top style seating to watch the game playing on the screens.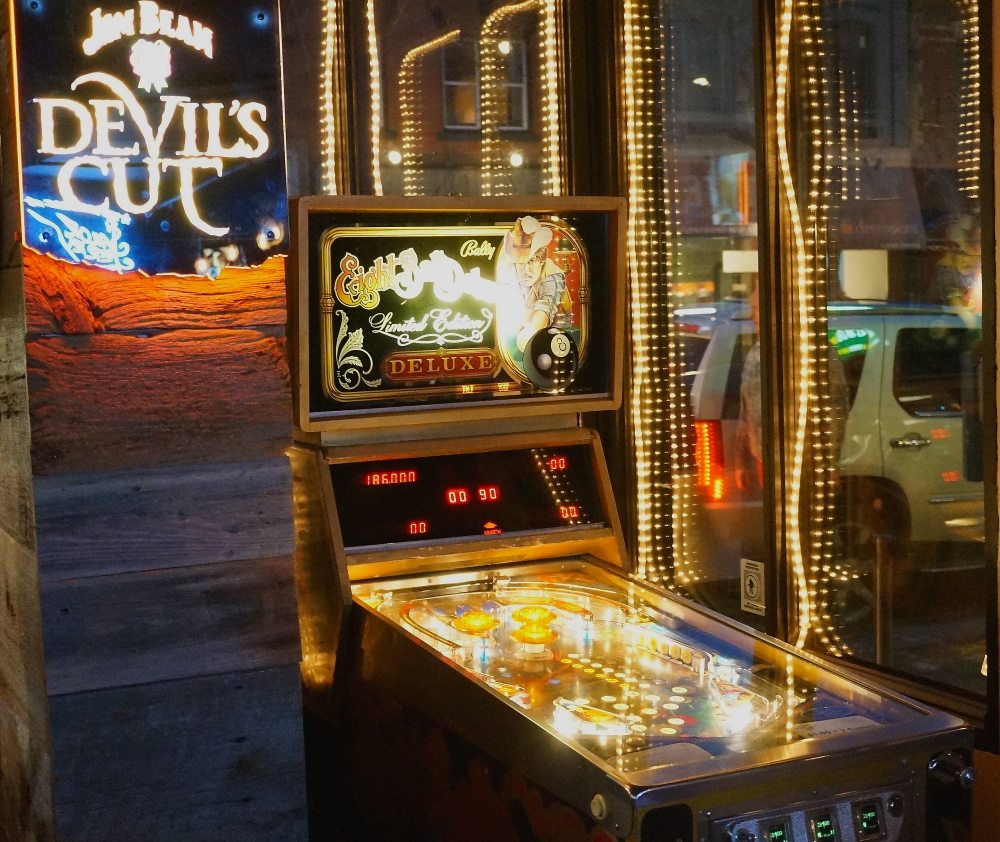 The bulk of the dining room is outfitted with comfy cushioned booths, sturdy four-tops and a good view of the stage and "dancehall" at the back. It's back here that you'll find the mechanical bull open for brave (or drunk) rides every night. I also loved the cut out window for the kitchen to pass out dishes, taking me straight back to my camp days in the mess hall.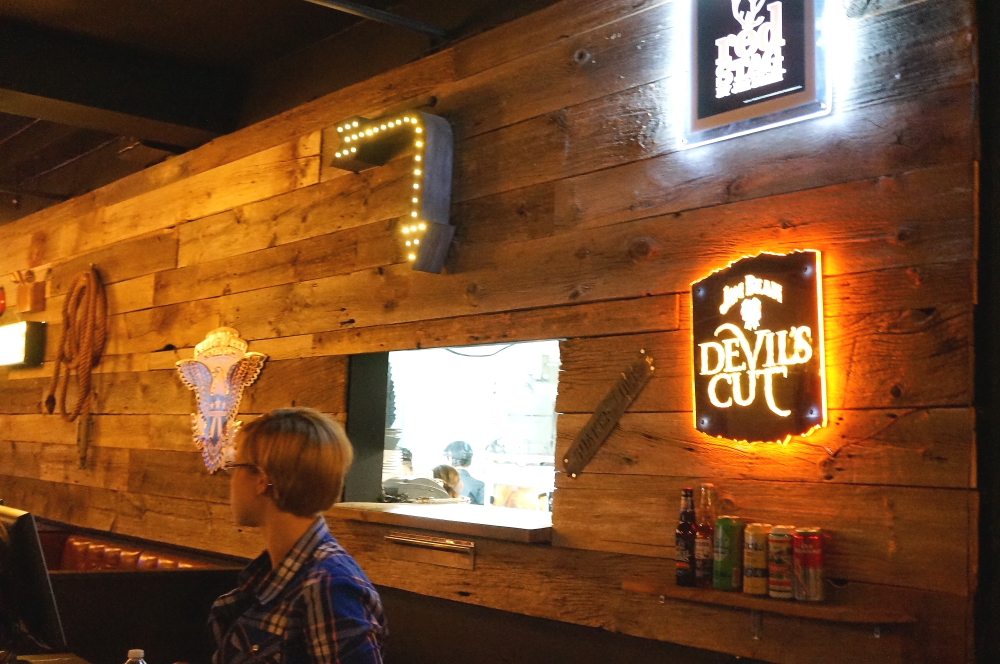 Even the staff are dressed the part with the obligatory hat, boots, jeans and flannel plaid shirt.  This could so easily fall into the world of distasteful Halloween costume (if you know what I mean), but Matty's assured it stays PG and authentic.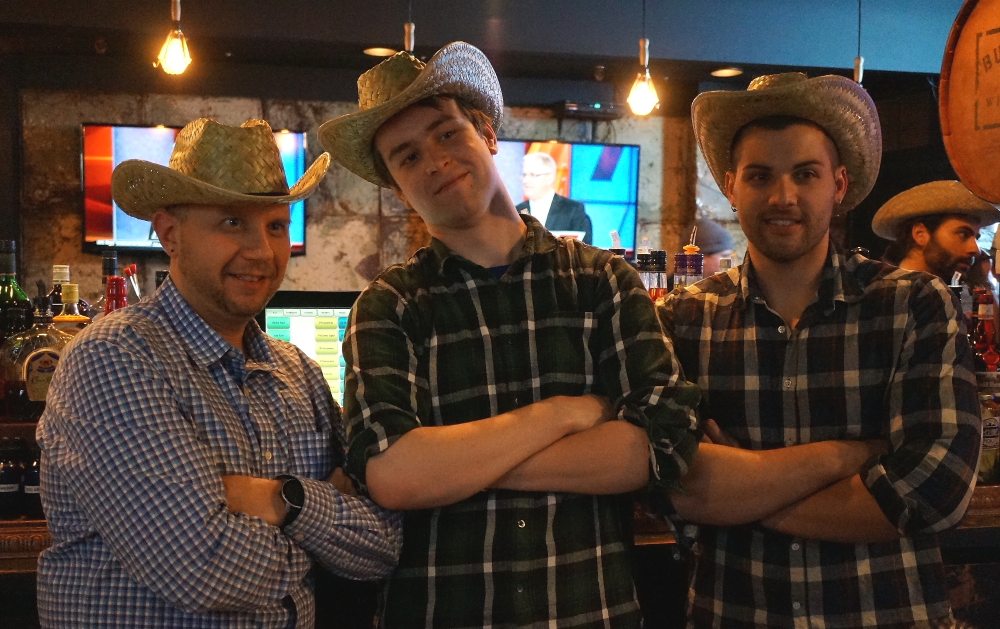 Which is important for what Matty expects will be a weeknight family crowd, with an older group filing in for the live music and country line dance lessons later in the week. And whether it's live or weeknight iPod tunes, expect to hear more about heartaches, Jesus and trucks, then bitches, bling, and the hood.  The aim is to make the place as authentic as possible, which means, out with the Jay Z and Kesha, and in with the Tim McGraw and Brent Kissel (the live performer for their opening night).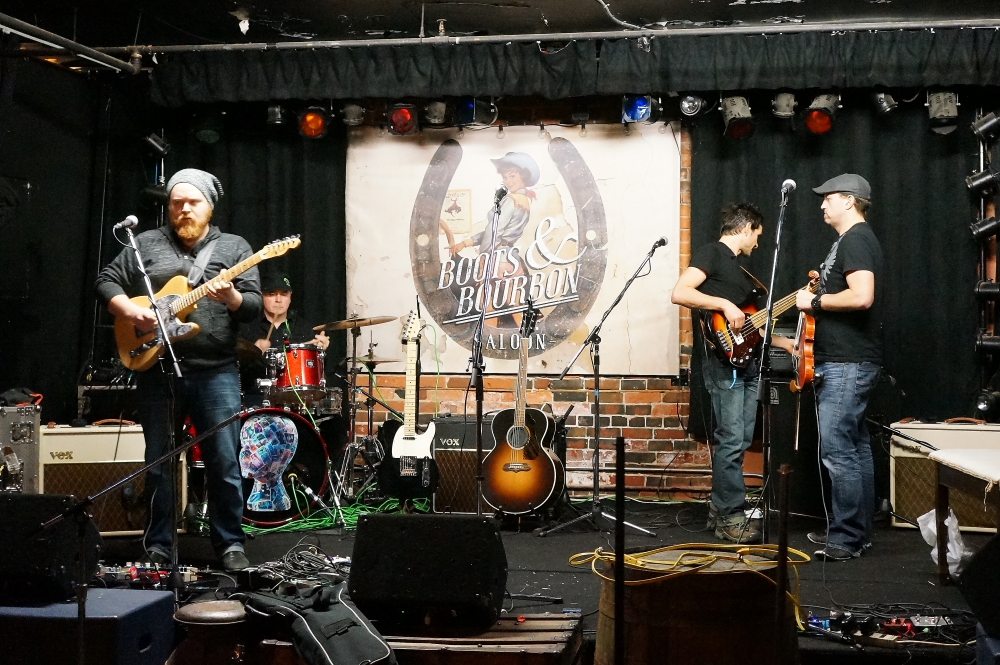 But BB isn't just a music or entertainment hall, the incredible food and drink program ensures its credibility as more than a gimmick. Matty has brought out his top mixologists, Robin Wynne and Adrian Stein, to curate a creative cocktail menu that suits the country theme. While reading the playful descriptions takes me back to my highschool days living in Peterborough and cottage parties in the Kawarthas, tasting the drinks reminds me I've come a long way since Colt 45 and coolers. And thank goodness for that! Take a peak at some of the cheeky country cocktails you can find at the bar.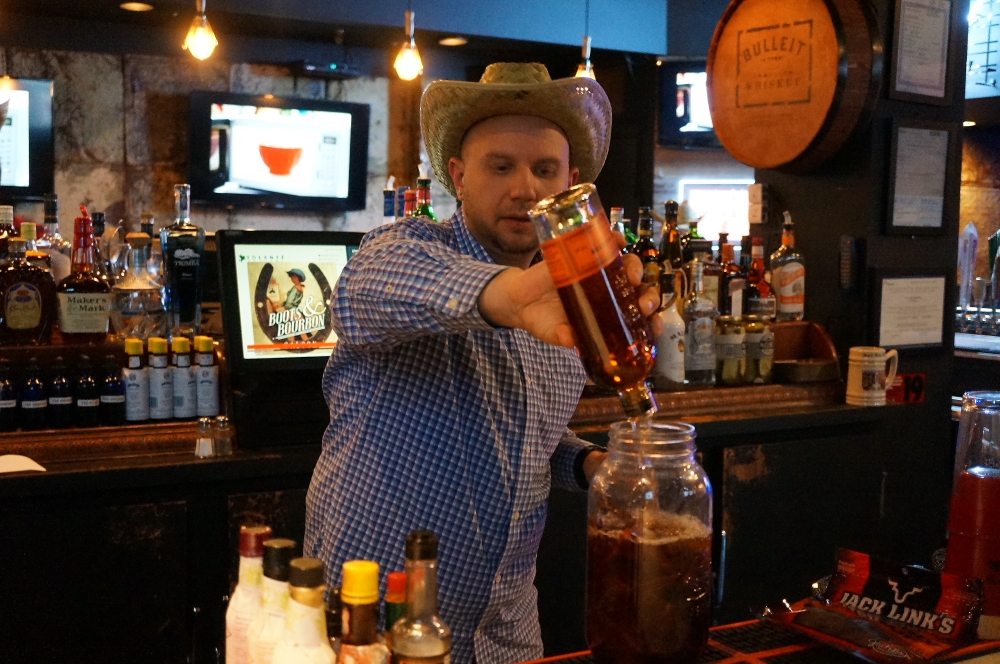 The General Lee ($10)
Beef Jerky Infused Bulleit Bourbon, Chipotle and Smoked Hickory Bitters, Liquid Mesquite, Tabasco, Clamato, Worchestershire, Pepperette and Pickle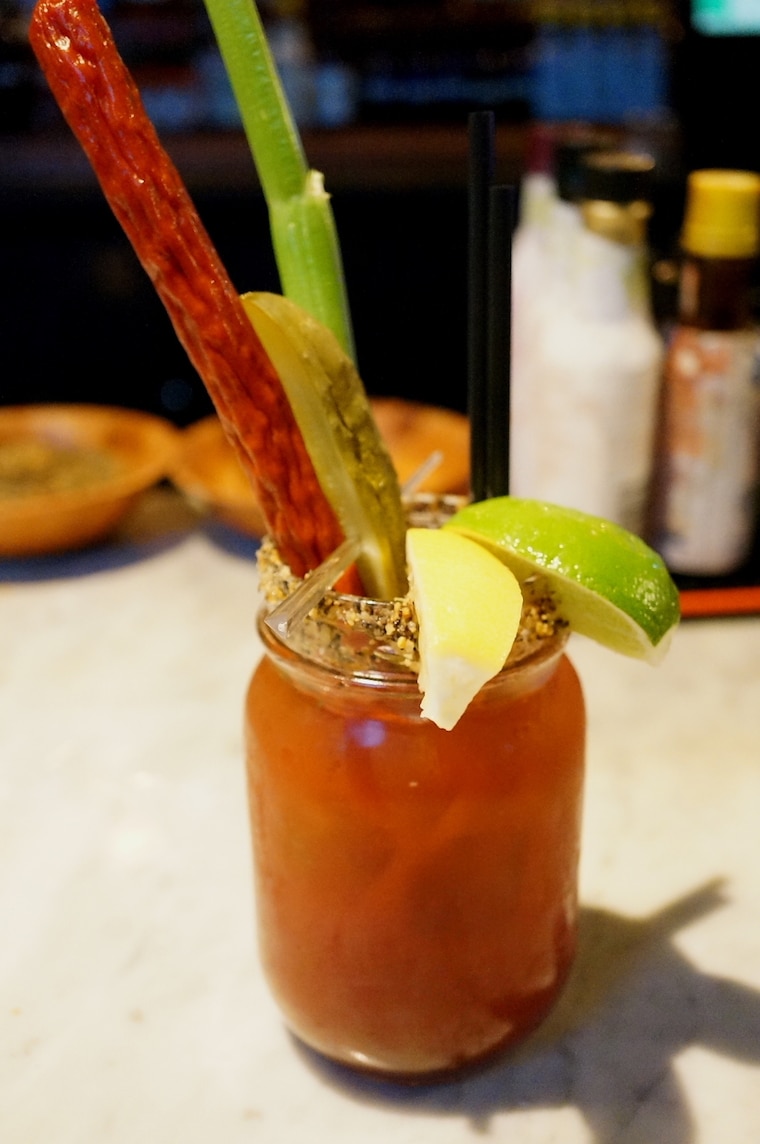 Love the "snack" on the side with the pepperette and the smokiness the jerky adds to the bourbon.
Smokey & The Bandit ($10)
Crown Royal Black, Smoked Lemon Juice, Peppercorn Cedar Syrup, Aromatic Bitters, Egg White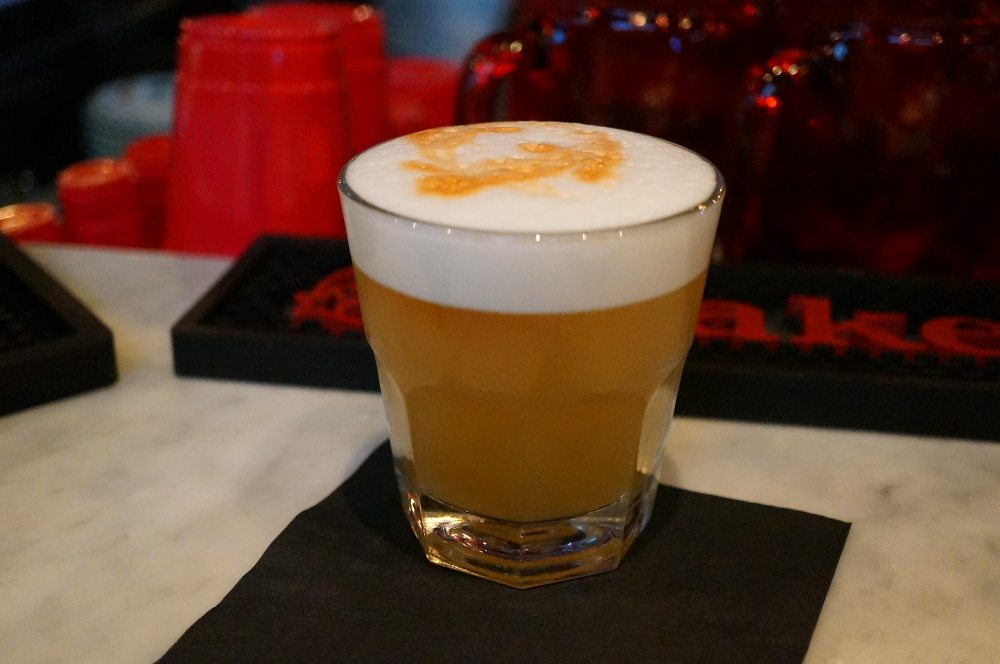 My favourite cocktail of the night. Great balance of sweet, heat and sour.
The Desert Pete ($10)
Tromba Tequila,  Jalapeno Agave Syrup, Pineapple Juice, Orange Bitters, Mint, Lemonade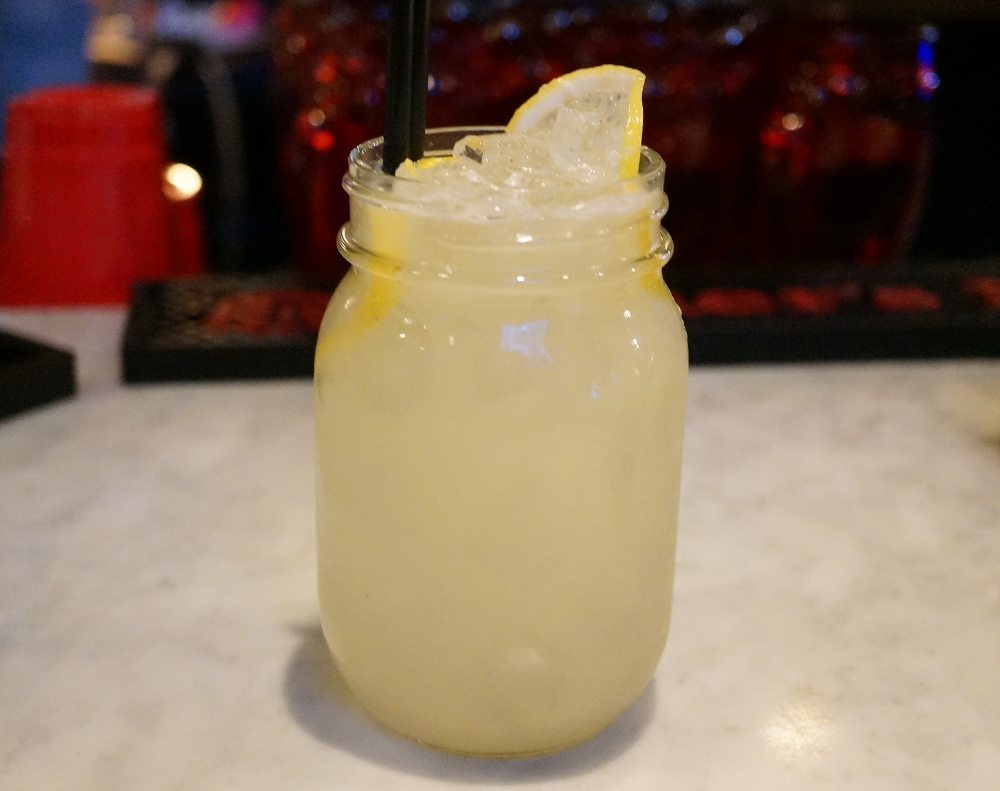 Named after Tromba's brand ambassador, Pete!
The Stampeder ($12)
Crown Royal, Maple Bitters, Molson Stock Ale, Ginger Ale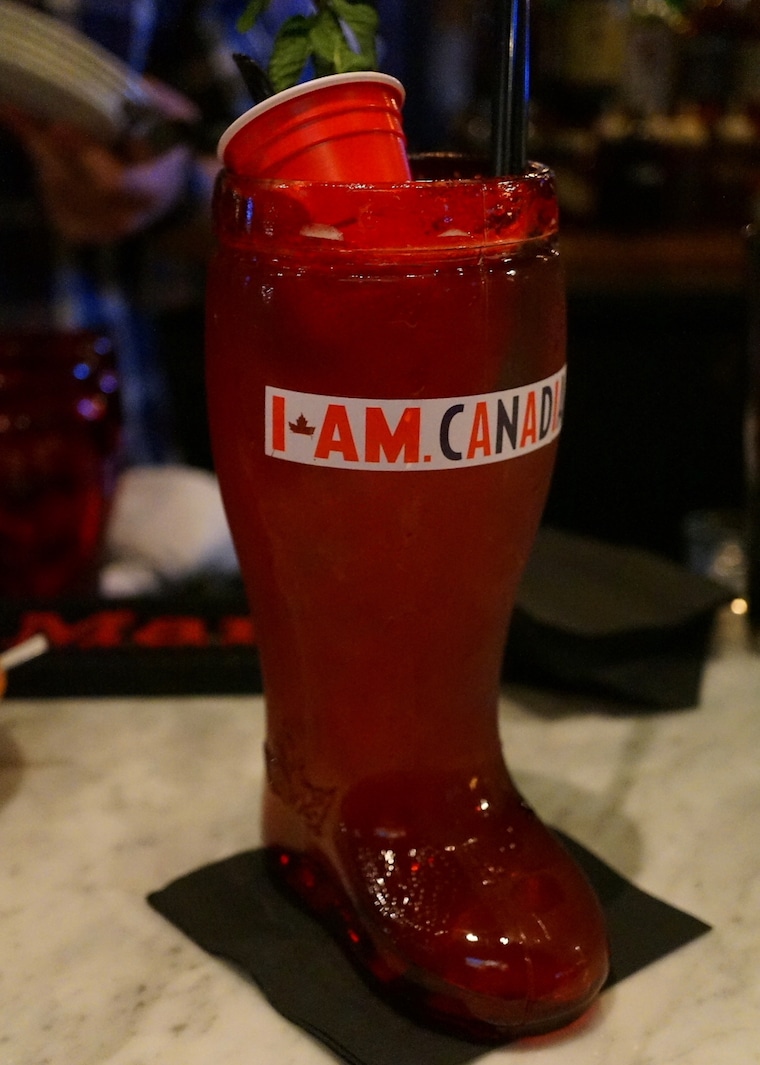 Their signature cocktail, this one was served with a little shot of Crown Royal to add a bit of a kick to the ale.
Red Flip Cup Punch ($10)
Gordon's Gin, Cassis, Liqueur, Plum, Lemon Juice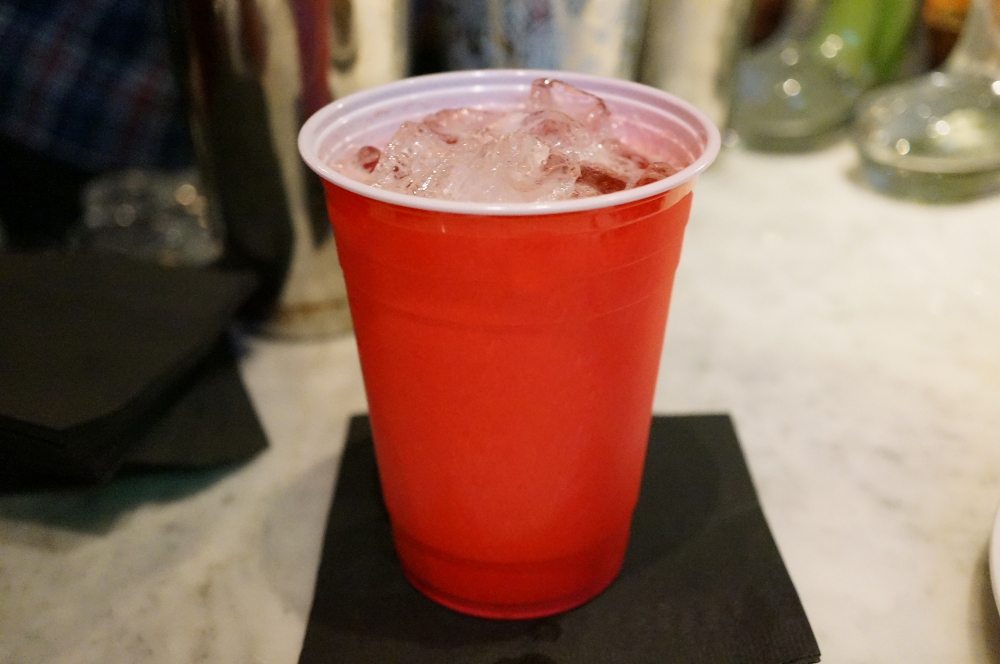 And once you get close to the bottom, you've got the red cup ready for a drinking game!
For those more interested in the "authentic" country booze of choice, there are eight classic beers on tap (think Canadian, Rickard's White, Coors Light and MGD for $7), a handful of bottles (namely, Sam Adams at $6.25), and the country man's favourite, beers by the can such as Old Milwaukee and Coors Banquet ($6.25). While they're currently offering a white, red and sparkling glass at $8 each, Matty tells me they'll soon be taking that to the tap too with wine sold on draft. Awesome.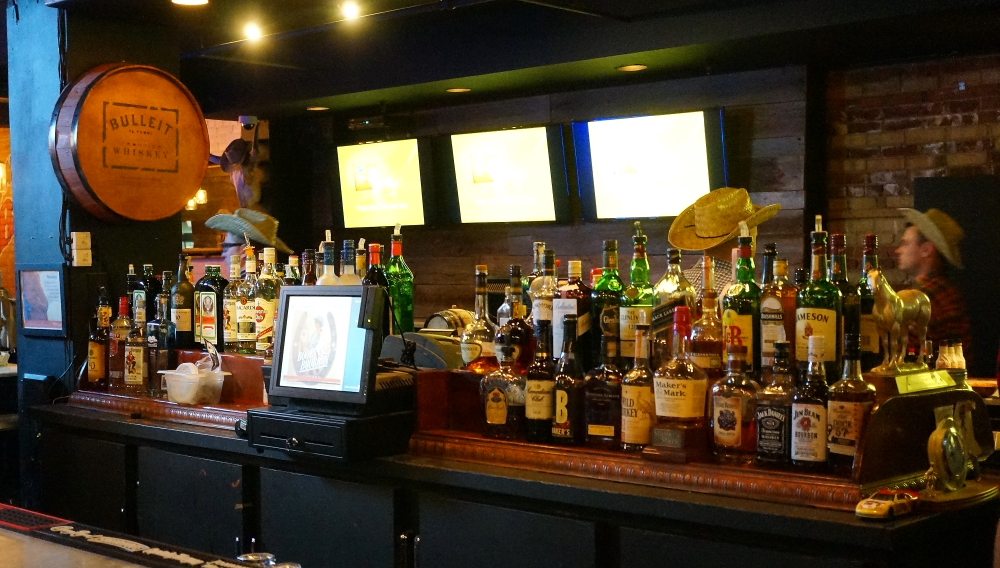 And while I surely could have made a meal out of the drink garnishes and the cheeky cocktail wieners at the bar, Matty's food is too hard to refuse. If you've been to Rock Lobster, you know that he does playful food really, really well. And while the menu is definitely more meat-centric than his previous ventures, you can still see his east coast style shine through with a good amount of seafood options too. He will also be having a Tuesday night AYCE Snow Crab fest with unlimited shellfish on deck. Here's a look at what you can expect to eat at BB.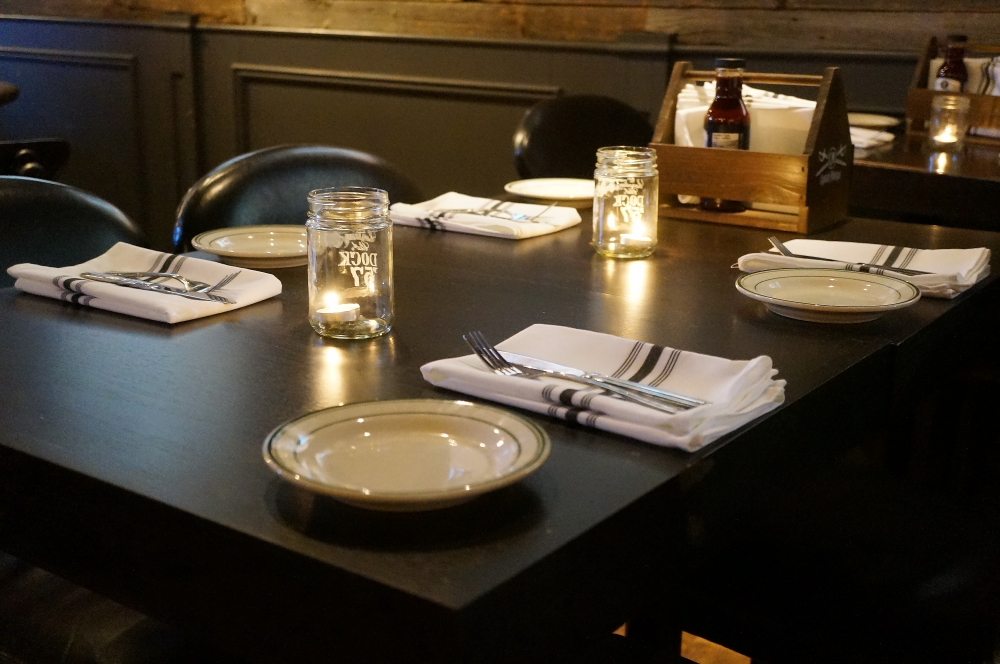 Fried Beer Cheese ($8)
Goat Cheese, Cheddar, Sam Adams Boston Lager, Button Mushrooms, Panko Bread Crumbs, Shaved Grana Padano, Zesty Tomato Sauce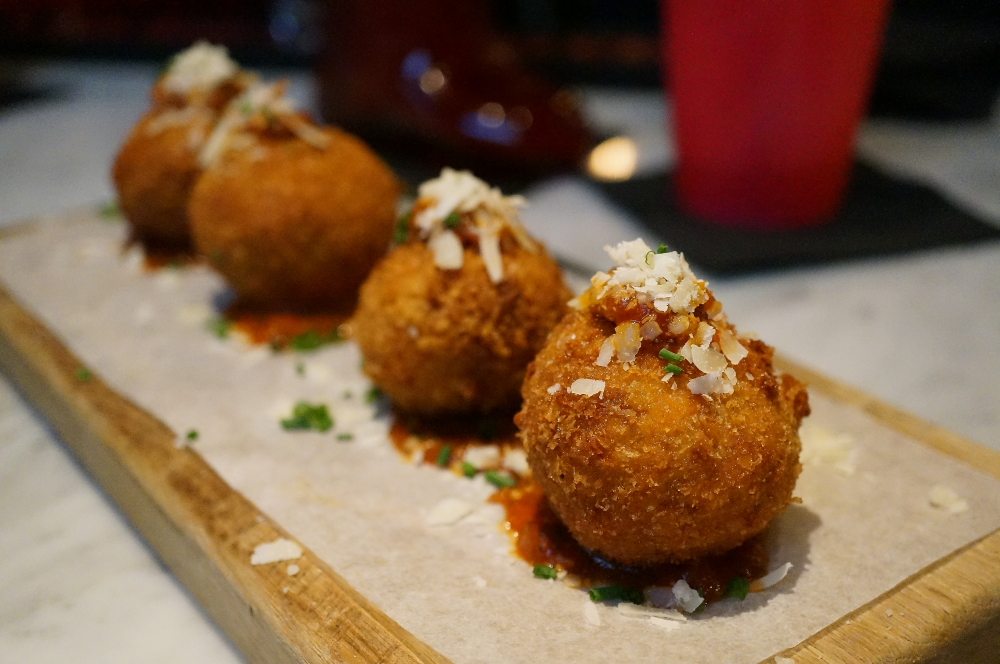 Like arancini, but with more cheese instead of rice, which means it's obviously better.
Buffalo Shrimps in a Can ($13)
Deep Fried Tiger Shrimps, Buffalo Hot Sauce, Blue Cheese Crumble, Carrots, Celery, Blue Cheese Sauce and Fries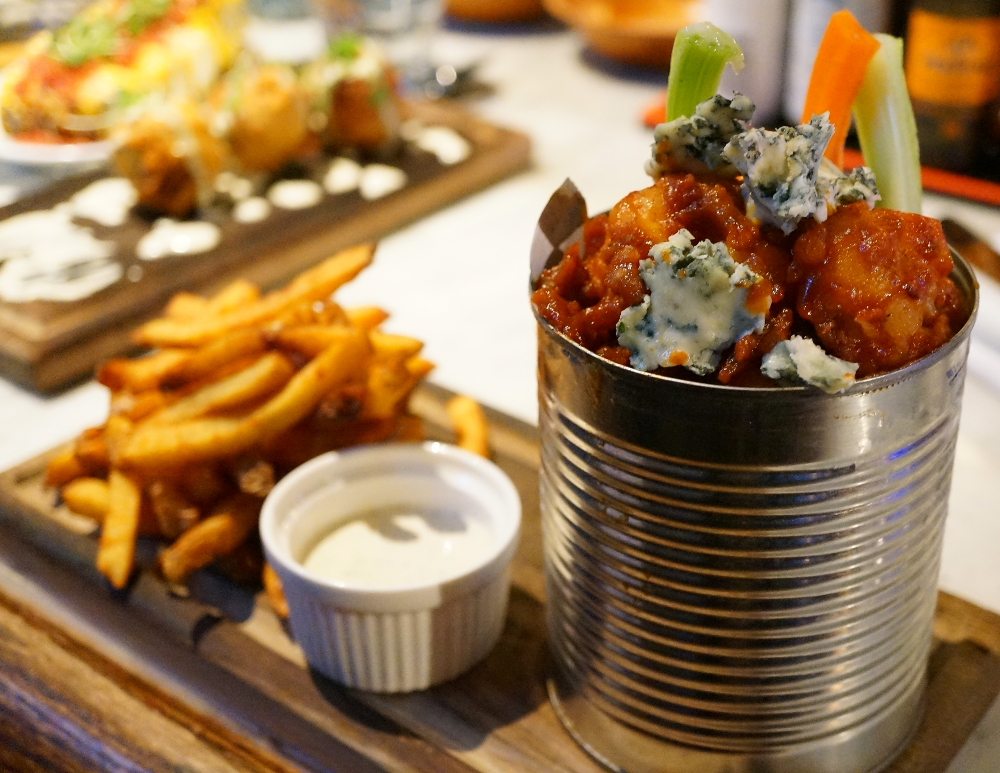 Better than buffalo wings- no bones and more stinky cheese! Love.
Boots & Bourbon Bacon Bombs ($8)
Ground Pork, Smoked Bacon, Coors Banquet Beer Battered, Buttermilk Ranch Sauce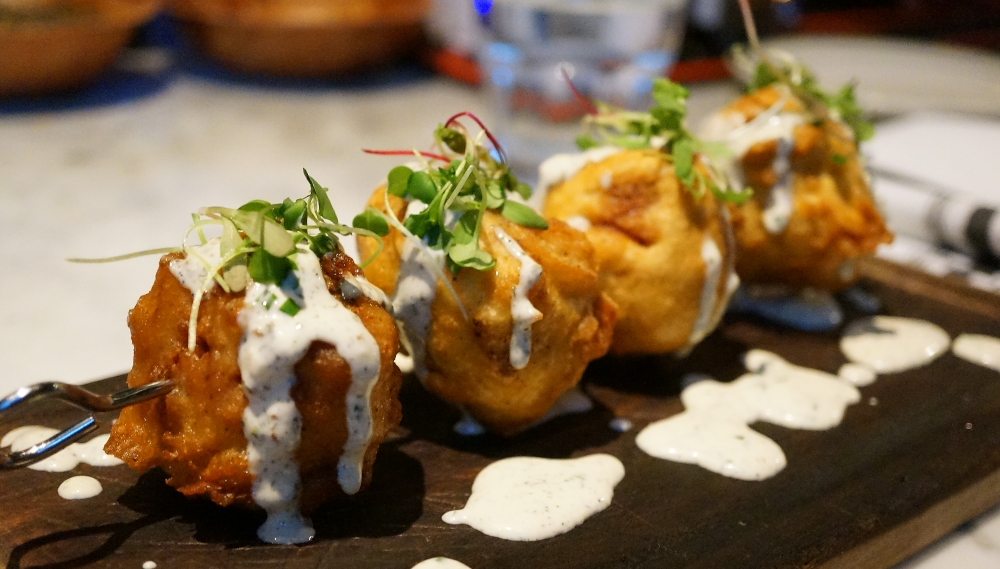 Pretty much as you'd expect- awesome.
Deep Fried Spicy McClure's Pickles ($7)
Spicy Pickles, Beer Batter, Homemade Buttermilk Ranch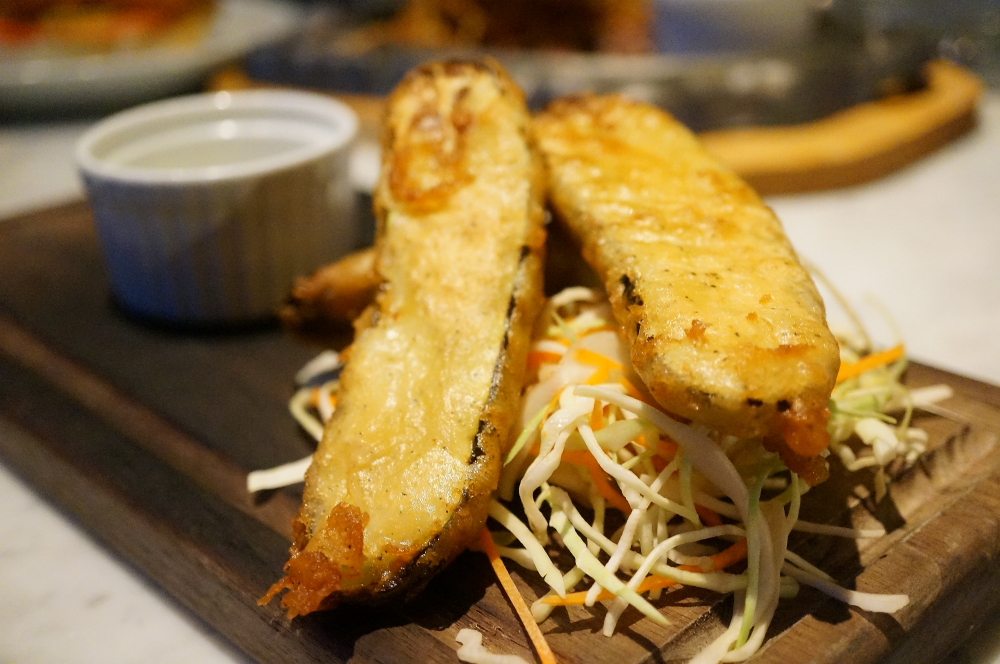 You cannot go wrong with deep fried pickles.
The Screaming Crab ($14)
Canadian Atlantic Snow Crab, Tiger Shrimp, Butter, Jerk, Cilantro, Lime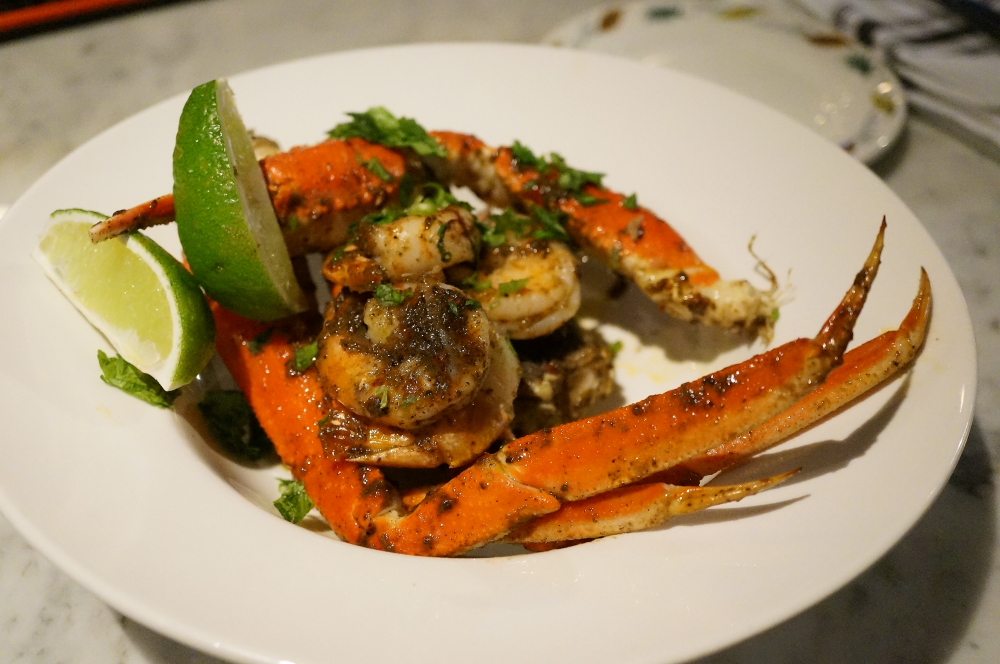 The Wedge Salad ($9)
Iceberg, Smoked Bacon, Avocado, Blue Cheese, Homemade Buttermilk Ranch, Fried Onion Strings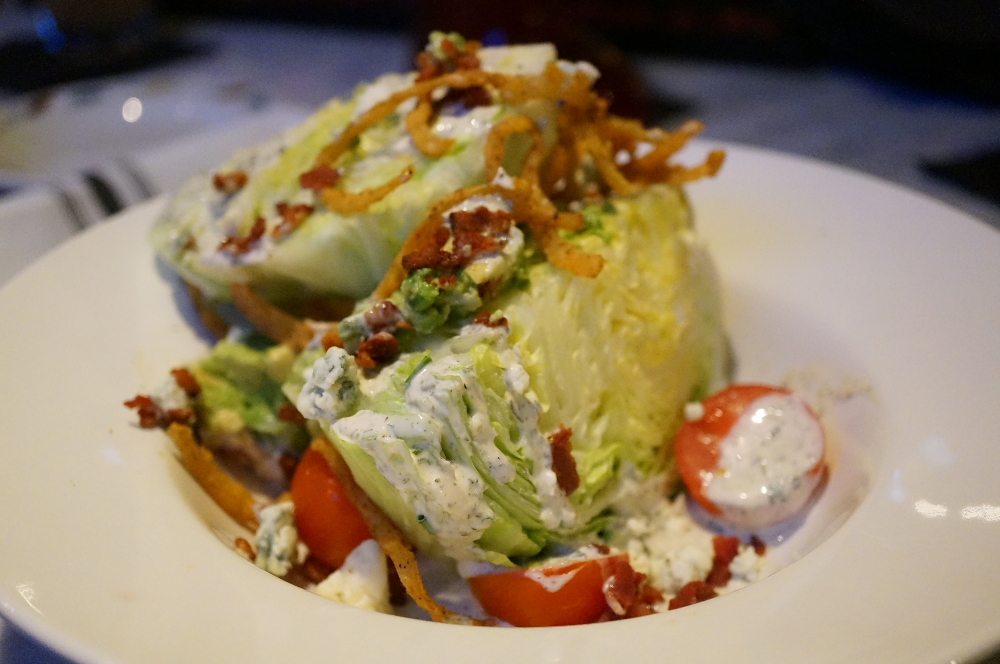 Love the throwback and update of the classic.
Old School Taco Salad ($13)
Deep Fried Taco Shell, Shredded Lettuce, Diced Tomatoes, Diced Cucumbers, Ground beef, Tex Mex Seasoning, Spicy Mayo, Fried Onion Strings, Lime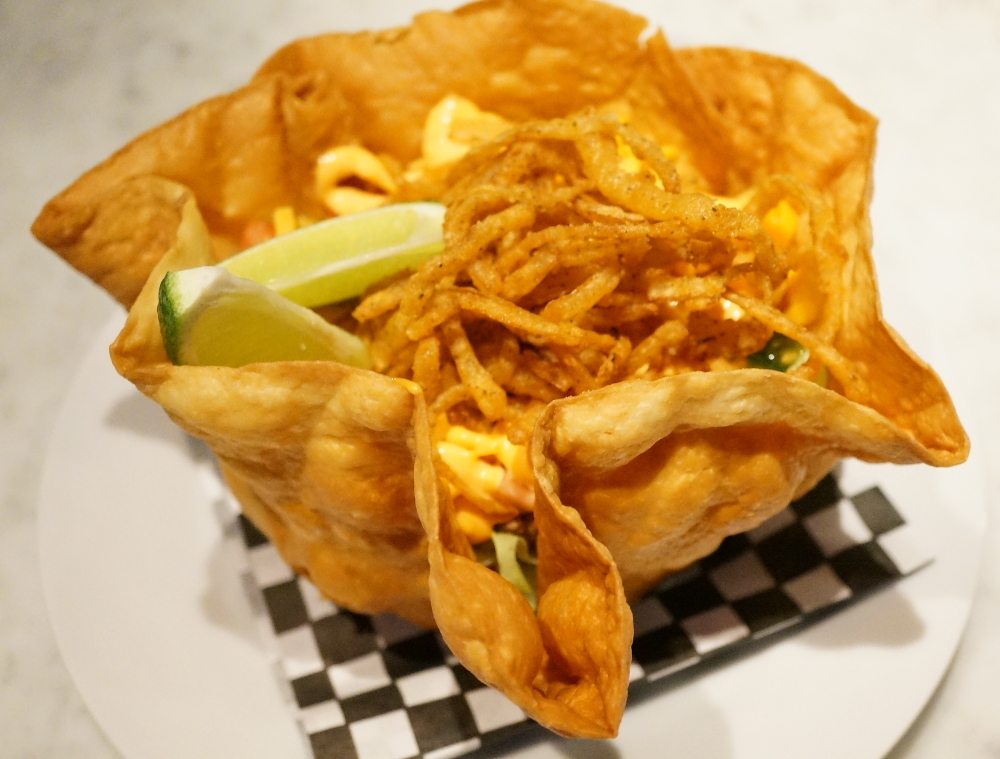 Flank Steak ($15)
Flank Steak, Hickory Stix, Fried Egg, Chives, Bulleit Bourbon BBQ Sauce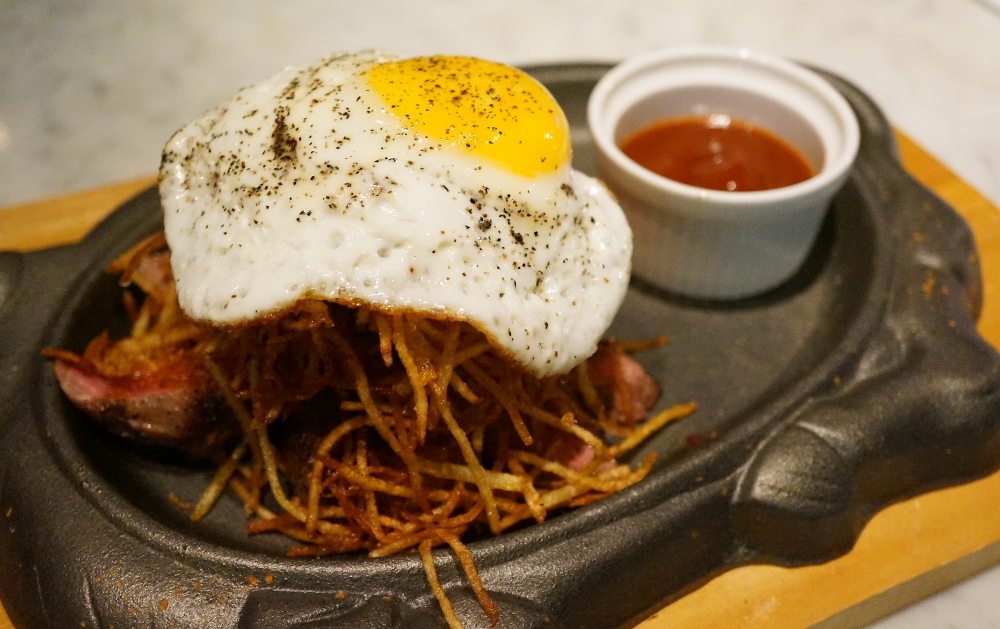 Loved the housemade hickory sticks with the perfectly cooked steak and the runny egg.
Finger Licking Good Fried Chicken ($14 for 4 pieces)
White & Dark Meat, Buttermilk, Cornflake Batter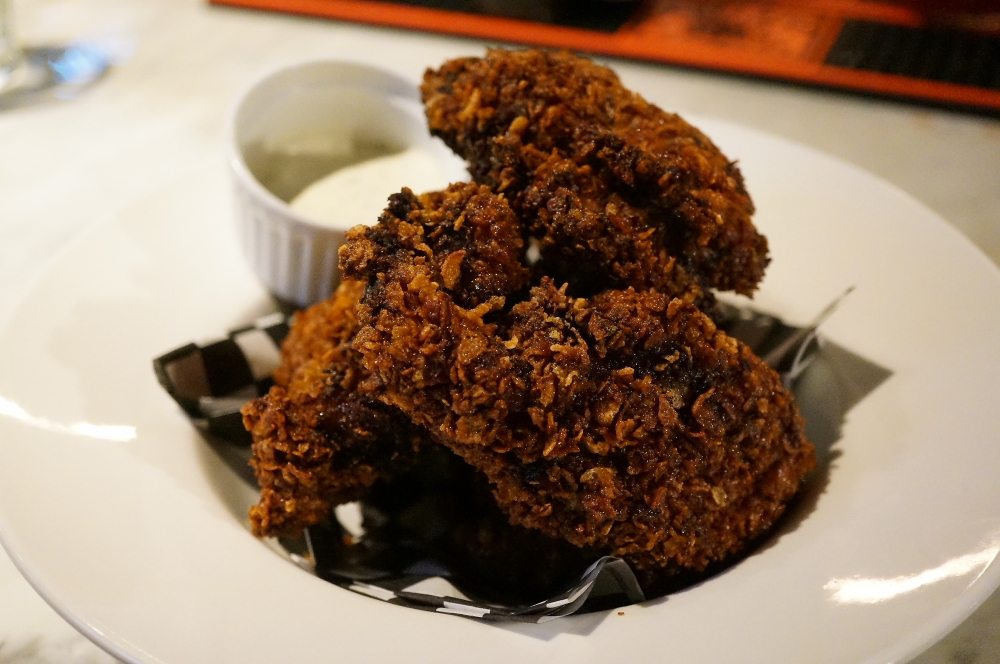 Wickedly crunchy chicken with incredibly juicy center. Yum.
Buffalo Shrimp Po Boy ($13 with one side)
Shredded Lettuce, Tomato, Spicy Mayo, Pickles
Solid po boy.
Texas Toast & Maple Syrup Brown Beans ($6)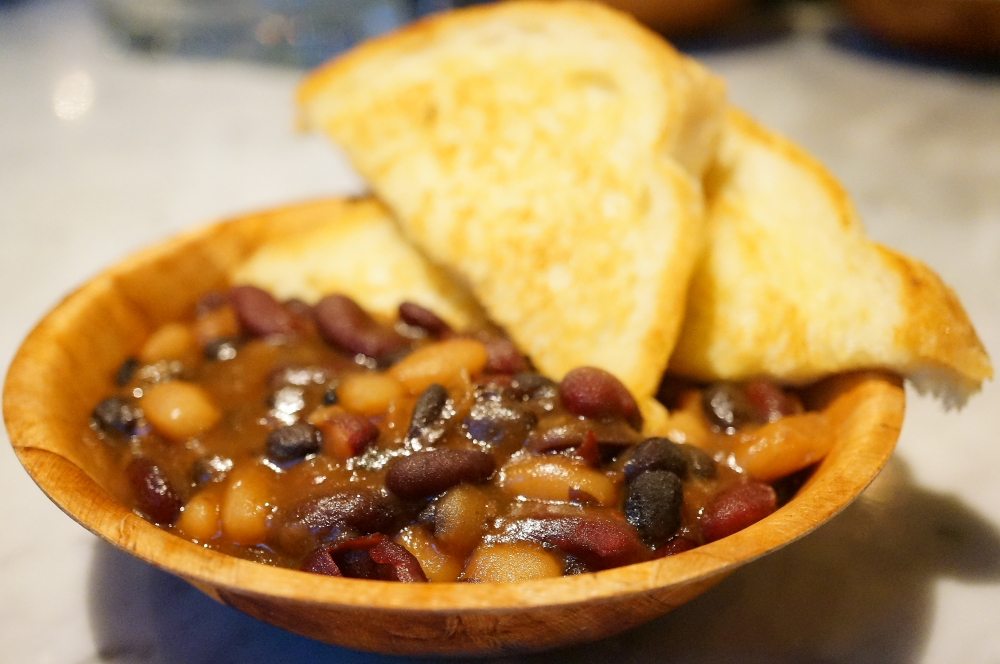 Total comfort food.
Spicy Lobster Po Boy ($13 with one side)
Shredded Lettuce, Tomato, Spicy Mayo, Pickles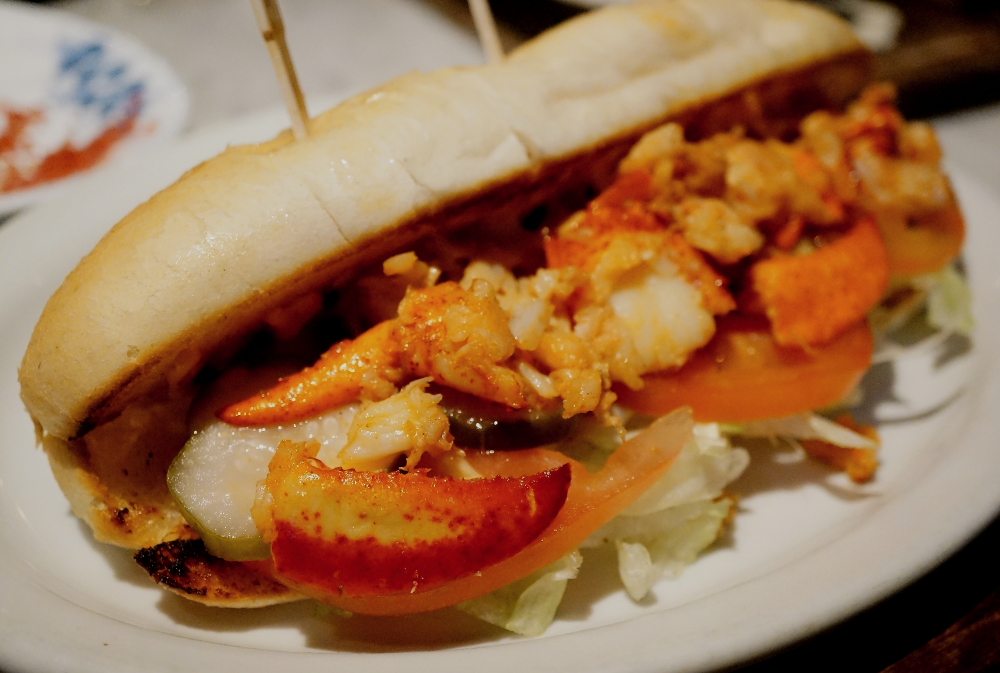 Loved the heat with the sweet lobster.
Cajun Fries ($6)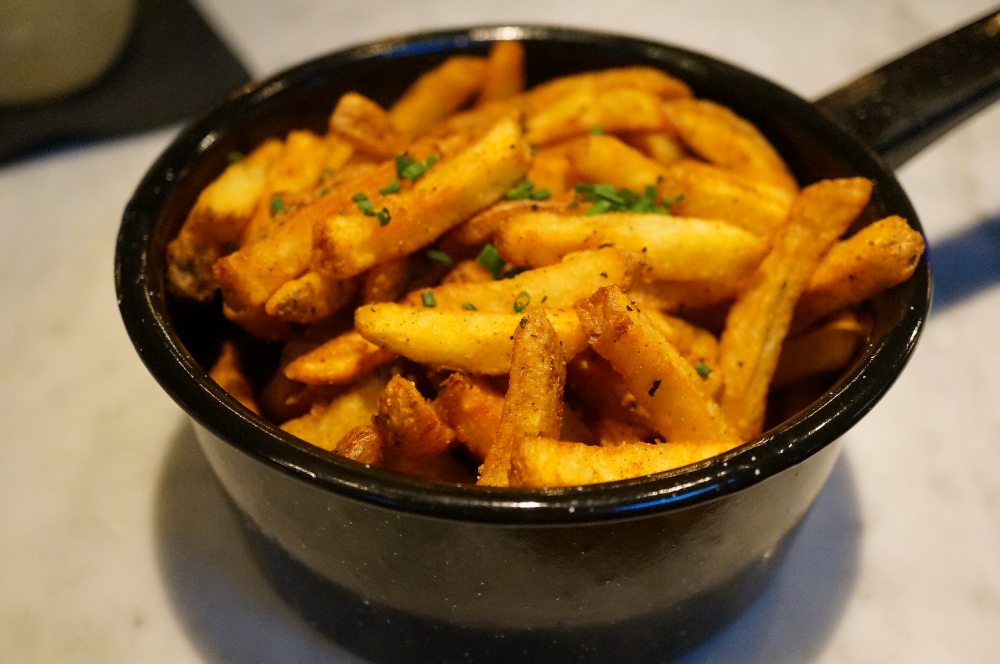 Crispy and perfectly seasoned.
Potato Salad ($6)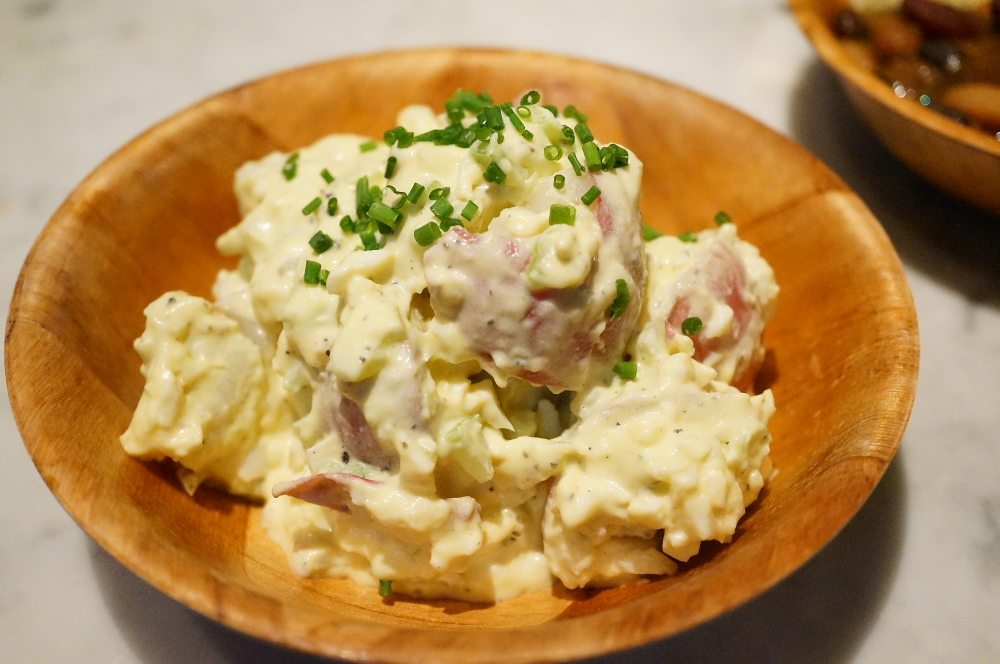 Creamed Spinach ($6)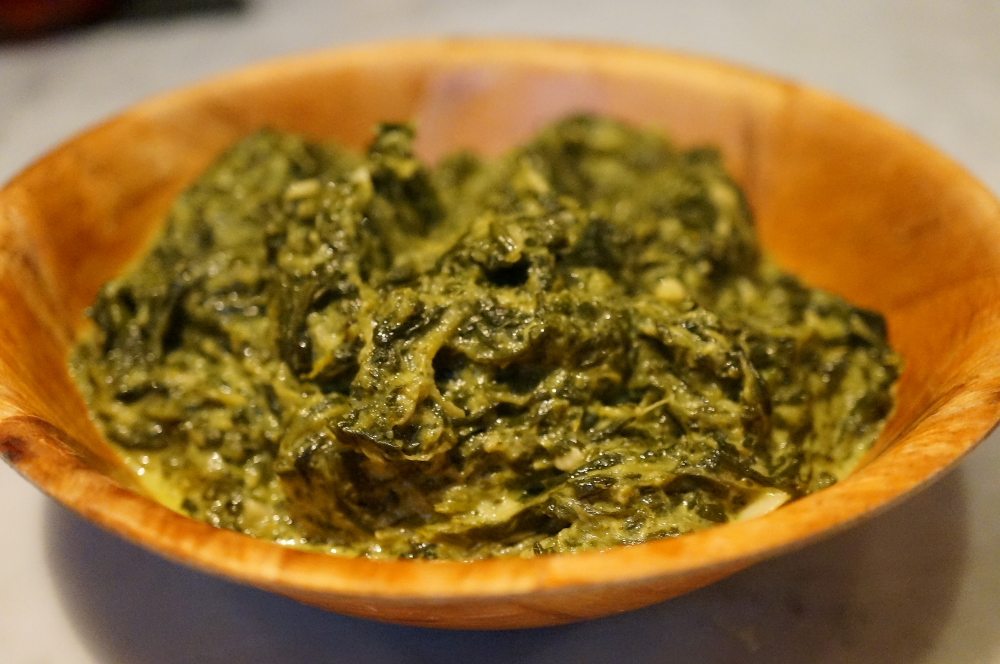 Spicy Coleslaw ($6)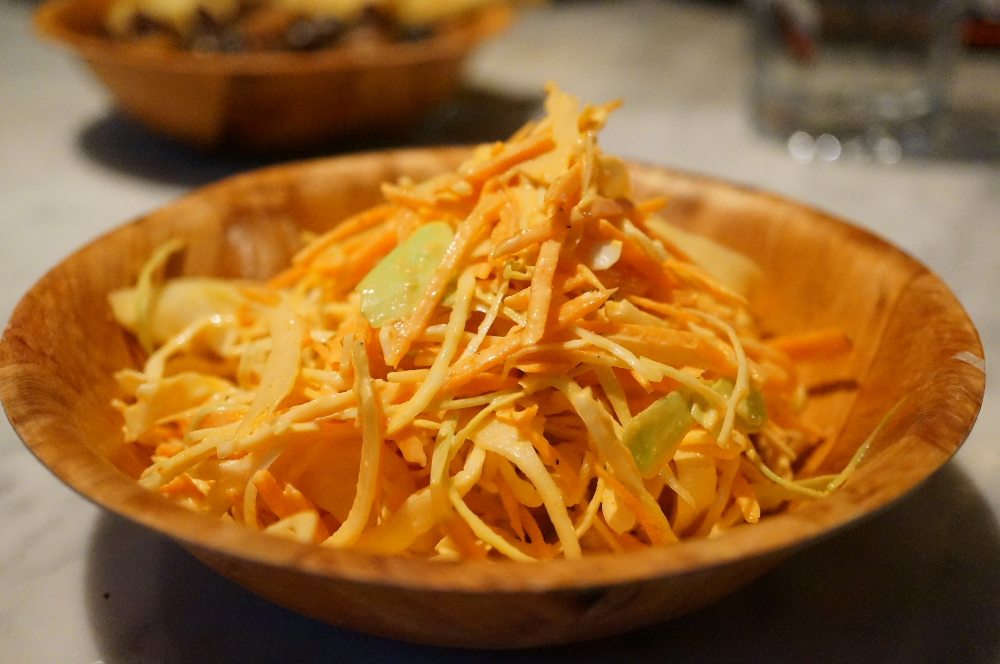 Corn on the Cob ($6)
Crushed Ketchup Chips
 Inspired by Matty's creations at AKS.
Mississippi Mud Cake
Chocolate Cake, Burnt Marshmallow and Brown Sugar Bourbon Sauce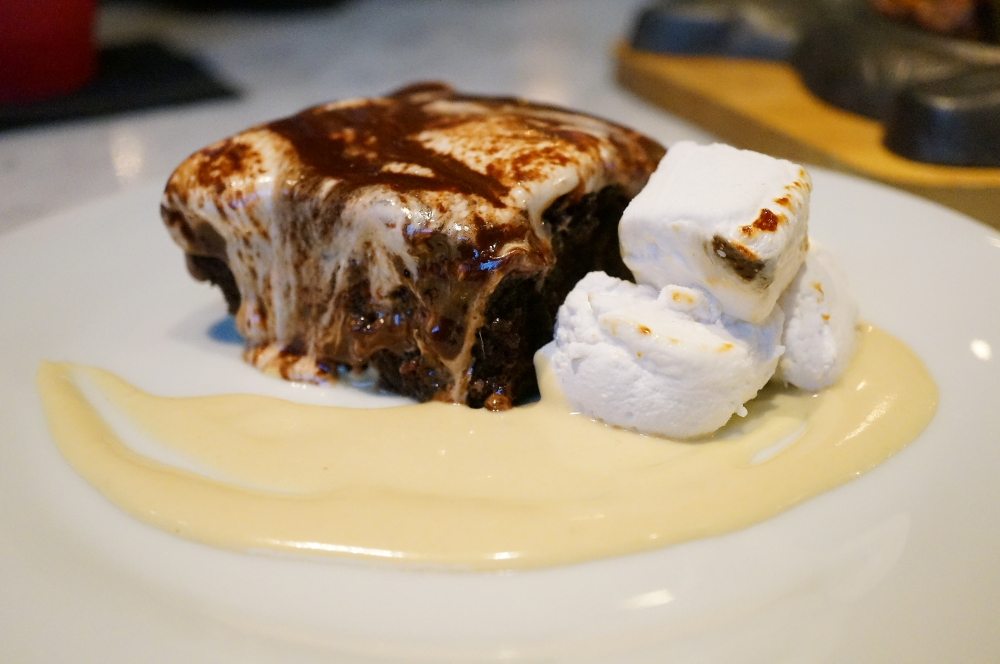 Created by pastry chef, Ashley from Smashcake- this dessert was totally addictive.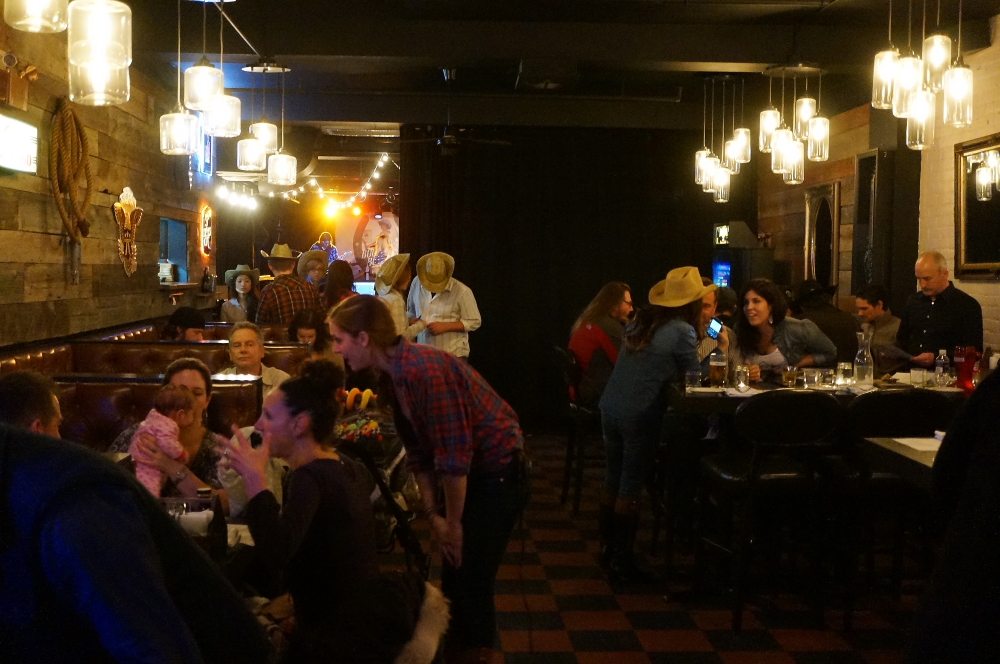 Boots and Bourbon Saloon is now open to the public, with dinner service daily after 5 pm, lunch served Thursday-Sunday, and a country brunch buffet every Saturday and Sunday.  By the time I left (which was super early to get to another event), the place was packed, the music was blaring and I was wishing I could stay all night. Planning a birthday, bachelorette party or just looking for a fun night out? Boots & Bourbon would fit the bill perfectly as the all-star total package. Great food, stellar drinks, and a whole lot of "yee haw!" So get your cowboy boots, y'all, Boots & Bourbon is definitely Toronto's new favourite spot to hang out.
Updated on May 8th, 2019