Toronto loves its brunch. We are a city that works hard, parties hard, and brunch hard too.  So when I heard that Patria would be starting  brunch service, I was chomping at the bit to get a reso.
When you think of a typical hangover brunch, most of us think eggs, greasy bacon, fluffy pancakes, massive Caesars and bottomless coffee.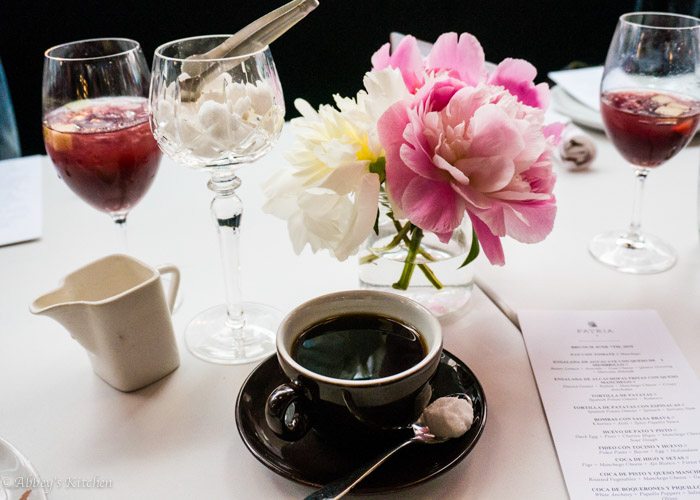 But what about Spanish tapas? Well, having eaten my way through Spain, I can attest that like Torontonians, the Spanish love themselves a Friday night on the town, and they definitely need a solid meal the next day. So taking a tip from our friends to the East, everyone's go to King West hot spot, Patria, is now serving up Toronto's favourite mid-morning meal.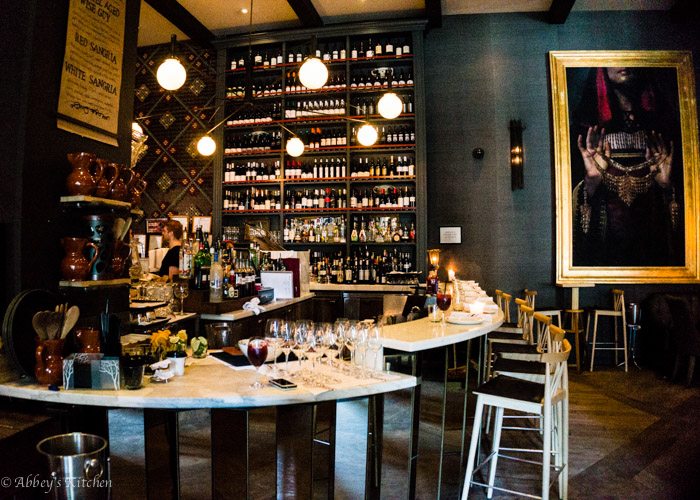 Open since 2012, Executive Chef, Stuart Cameron and Chef De Cuisine, Janet Hoediono, of Patria have been pumping out authentic Spanish paella and hand-made tapas seven nights a week, it only seemed natural to extend their hours once a week.
Say goodbye to Caesars and mimosas and hello to a refreshing glass of Spanish Sangria, a perfect way to ease into your day.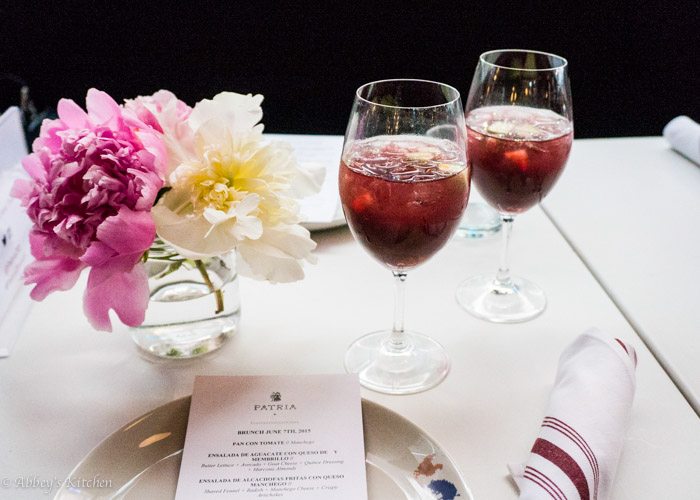 I like to alternate between booze and coffee, my two all time favourite drugs.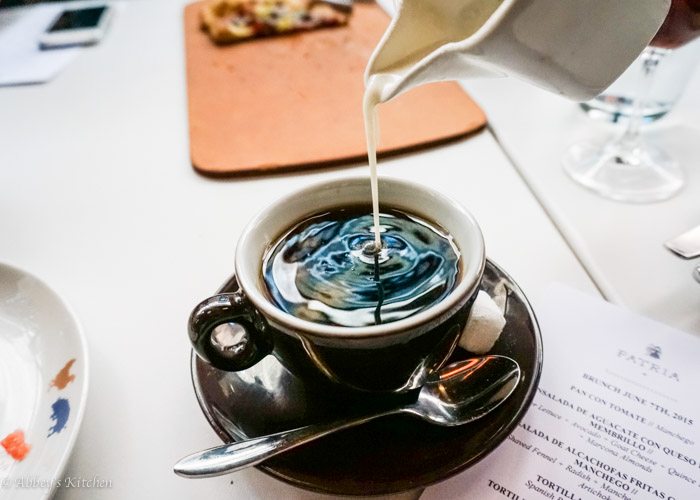 Forget the Lumberjack special, the Spanish enjoy a variety of high quality breads, flavourful egg dishes and cured meats with their morning meal. Take a look at what you can expect!
Patria Brunch Eats
Pan Con Tomate
Tomatoes and Manchego Cheese Toasts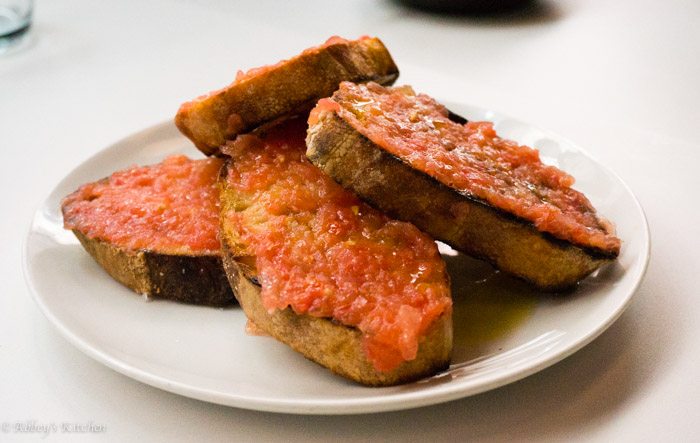 Ensalada De Alcachofas Fritas Con Queso Manchego
Shaved Fennel Salad with Radish, Manchego Cheese, and Crispy Artichokes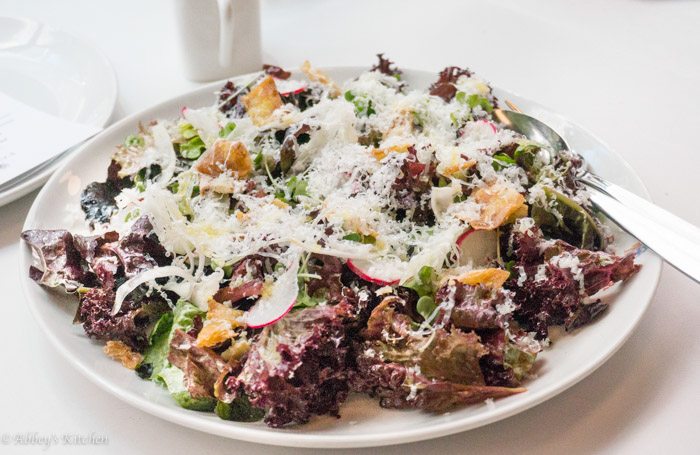 Ensalada De Aguacate Con Queso De Y Membrillo
Butter Lettuce with Avocado, Goat Cheese, Quince Dressing, and Marcona Almonds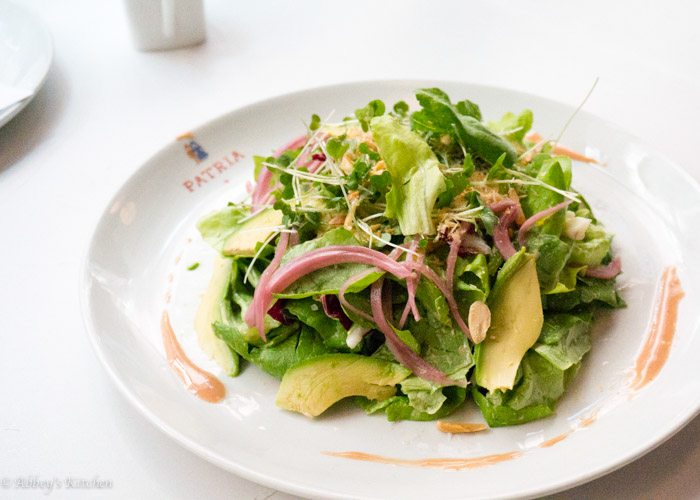 Bombas Con Salsa Brava
Chorizo and Aioli and Spicy Piquillo Sauce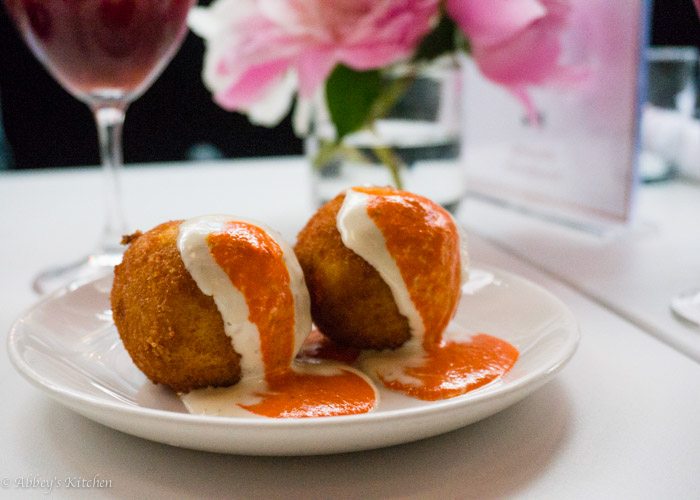 Coca De Higo Y Setas
Flatbread Pizza with Roasted Vegetables, Manchego Cheese, and Guindilla Sauce
Coca De Boquerones Y Piquillo
Flatbread Pizza with White Anchovy, Piquillo Peppers, Salsa Verde and Green Olives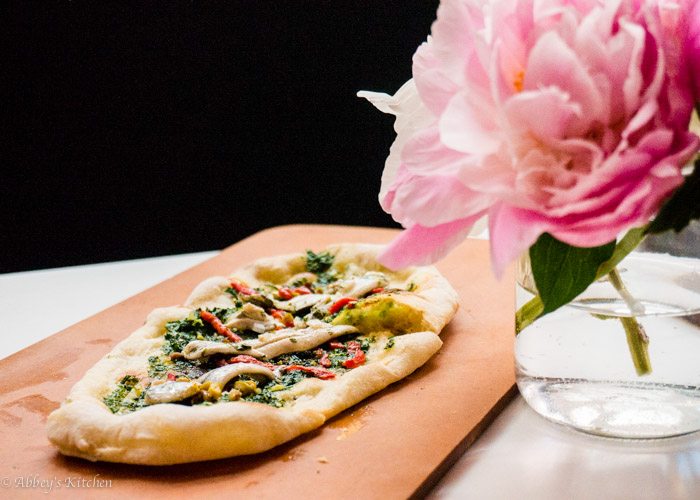 Coca de Higo Y Setas
Flatbread Pizza with Figs, Manchego Cheese, Ajo Blanco, and Forest Mushrooms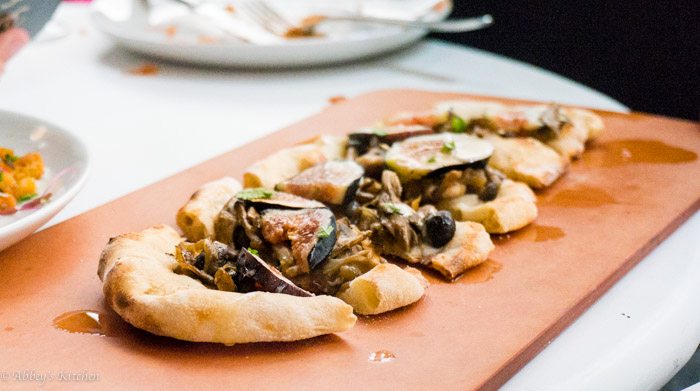 Tortilla de Patatas
Spanish Potato Omelet with Romesco Sauce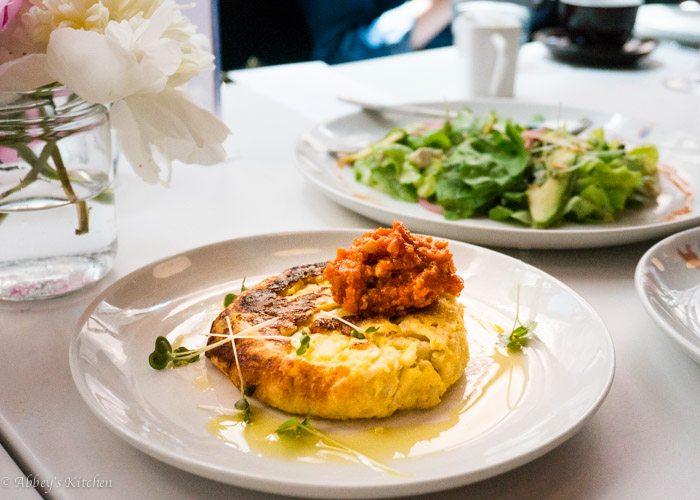 Tortilla De Patatas Con Espinacas
Spanish Potato Omelet with Spinach, Topped with Serrano Ham and Romesco Sauce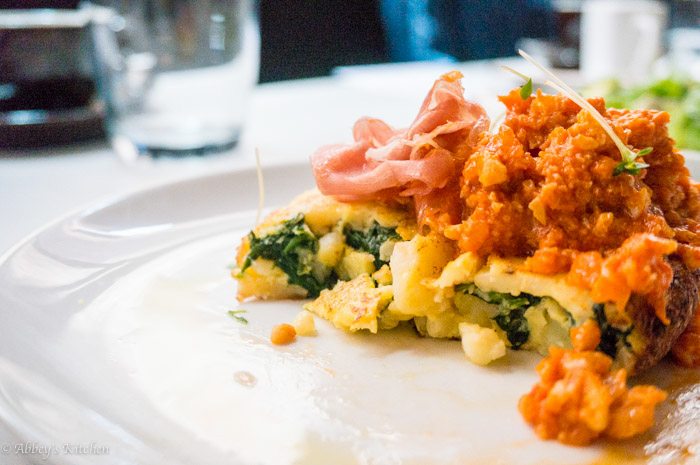 Fideo Con Tocino Y Huevo
Fideo Pasta, Spanish Bacon, Egg, and Hollandaise
Huevo De Pato Y Pisto
Duck Egg, Pisto, Chorizo Migas, Manchego Cheese on Toasted Sour Dough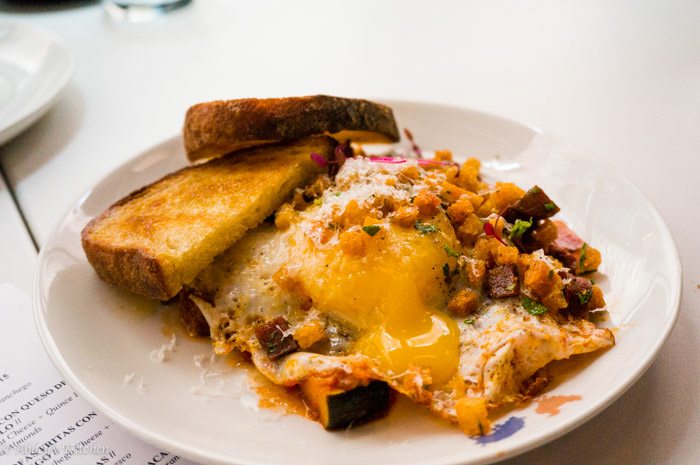 Torrijas Con Miel
Spanish Sweet Toast with Cinnamon Sugar, and Orange Blossom Honey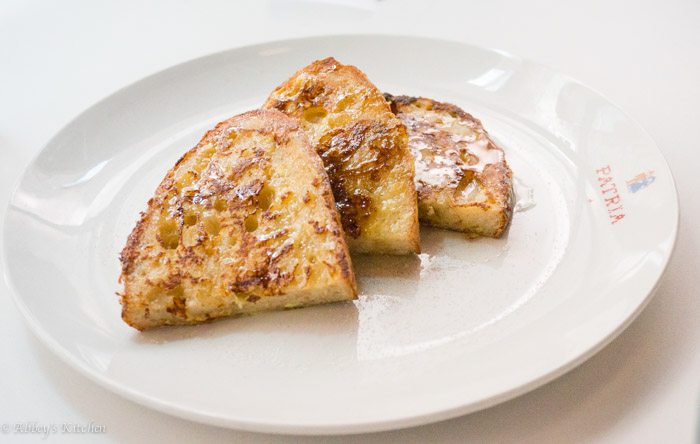 Churros Con Dolce De Leche
Spanish Doughnuts with Cinnamon Sugar and Dulce De Leche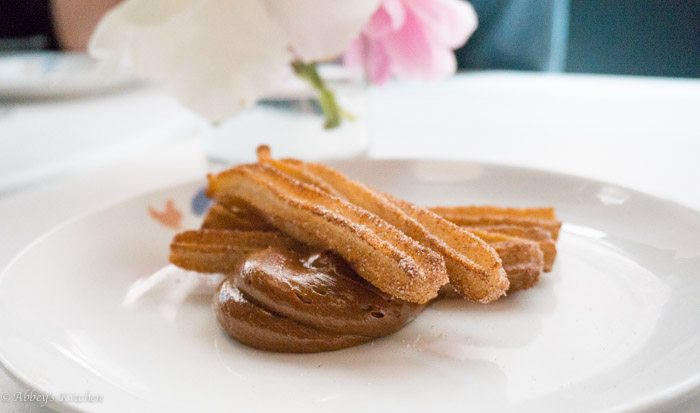 Ah any meal with churros is a good meal in my books (and trust me, I cured many a-hangover in San Sebastian with churros alone). If you're looking to switch up your usual greasy spoon brunch routine with something more boldly flavoured, refreshing and that won't leave you feeling the need for a cleanse right after, be sure to visit Patria and have your fill of a delicious Spanish style Sunday brunch. Bonus points for sipping Sangria on their stunning outdoor patio!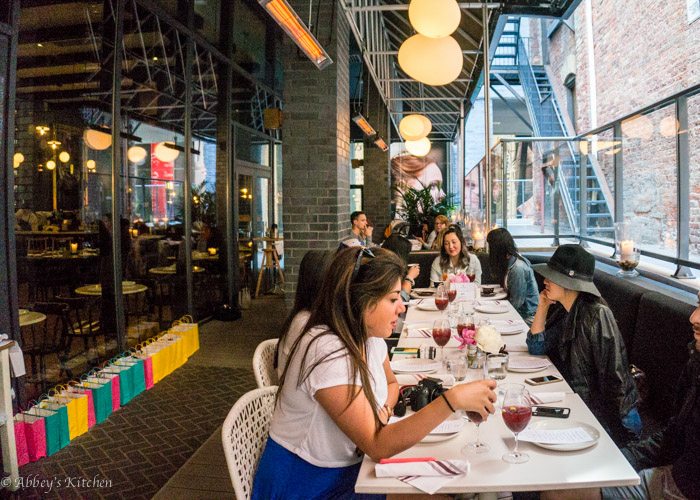 Patria is located at 478 King Street West, near Spadina Avenue and they are open for Sunday Brunch from 10:30-2:30, and for dinner Monday thru Sunday from 5:30 onwards. For reservations, head on over to their website: patriatoronto.com!
Contribution by AK Taster Joy Carino
Disclaimer: The preceding meal was complimentary, however, as always, all opinions are genuine.
Updated on May 8th, 2019