Located in the heart of Toronto's bustling West Queen West Parkdale neighbourhood,
Porzia
is welcoming Spring with a delicious new menu.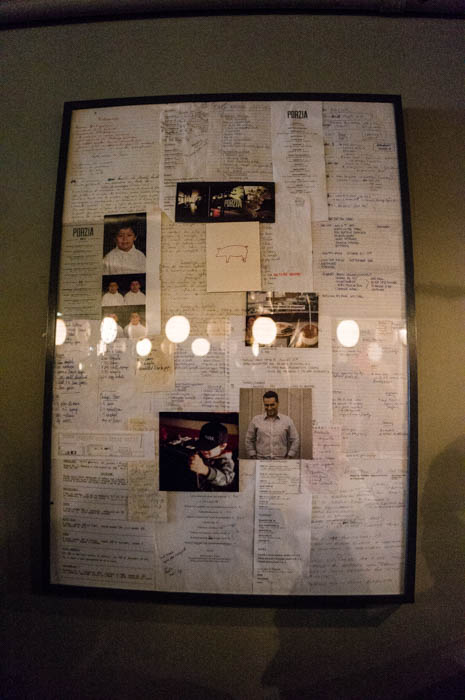 A restaurant inspired by rustic Italian fare, Porzia Parkdale believes in building memories around food and eating. Chef Basilio Pesce and his crew like to keep it simple – they have a true passion for feeding people really well.  The menu is focused around locally, ethically grown and raised ingredients and aim to reflect the beauty of the season. They also like to keep things interesting for their staff and guests – so if you like to eat and drink while being entertained, you will definitely love it here!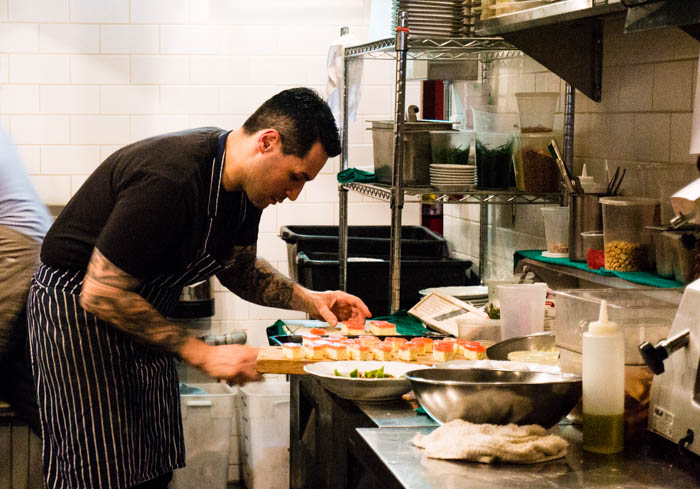 The evening began with some great drinks and a relaxing a fun vibe that was set by the smooth sounds of DJs Olen Only & Jay Strut.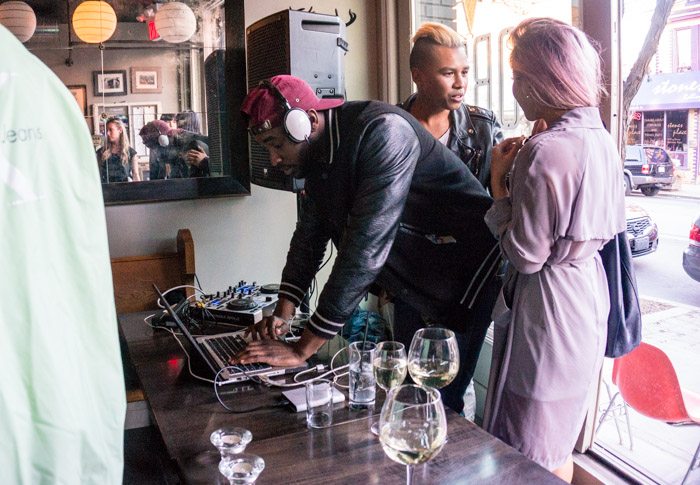 Porzia's catalogo alcol – yes saying drink menu in Italian sounds sexier than it does in English – was a highlight of the evening as the new spring additions to the drink menu were sprouting up! Let's take a look at some of the refreshing cocktails, wines and beers being added to Porzia's catalogo alcol this spring!
Porzia Eats
Yellow Brick Road
White Rye, Rosewood Honey, Dandelion & Burdock, White Wine Vinegar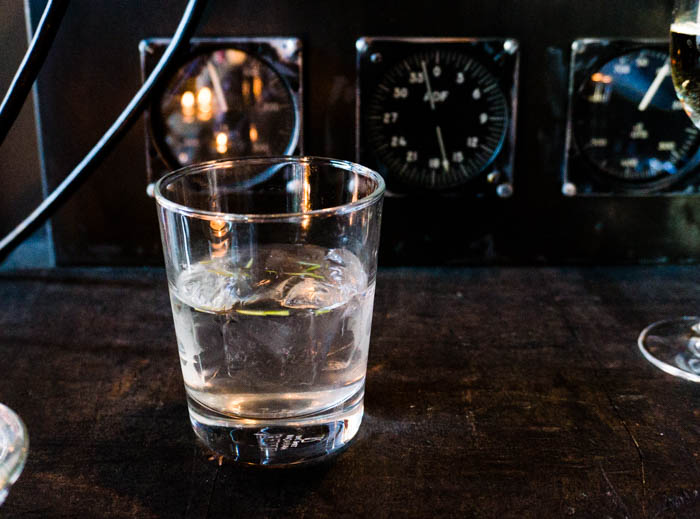 Leisure Sweet
Tromba Blanco, Chamomile, Lime & Myrtle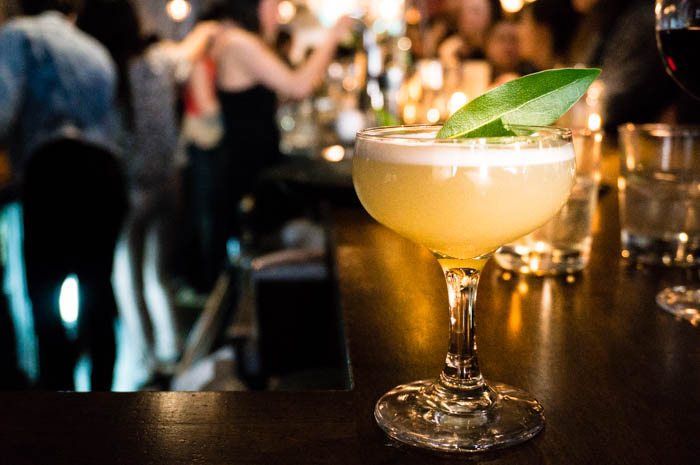 Junction Brewery Brakeman Session Ale, Toronto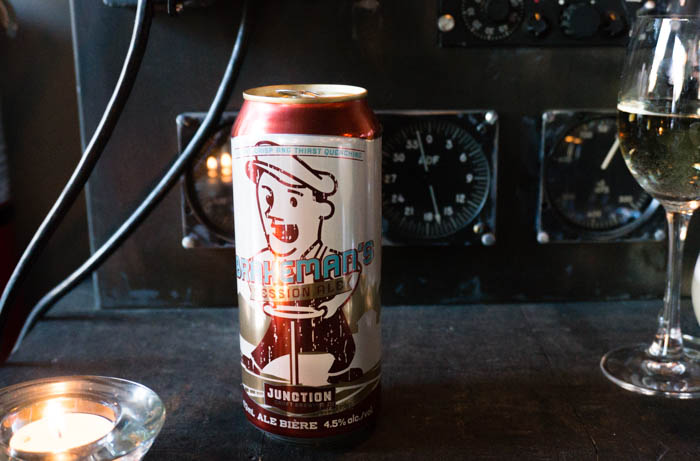 This beer was bright and crisp to quench any hungry foodie's thirst.
There were four wines being launched on the drink menu for spring including: Rosewood Estates Sussreserve Reisling '13 (Niagara), Rocca Delle Macie Moonlite Chardonnay '13 (Tuscany), Rosewood Estates Select Pinot Noir '12 (Niagara), and Rocca Della MacieVernaiolo '13 (Toscanna). All four were refreshing with their delightful notes of spring fruit, and paired beautifully with all of Basilio's seasonal eats.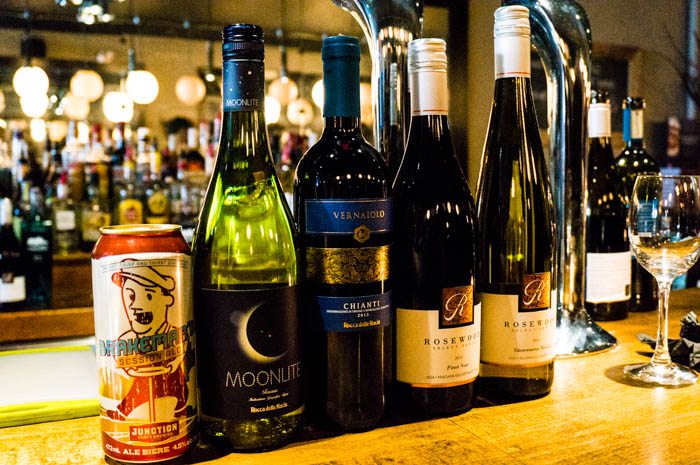 All of the drinks complimented each other and the food perfectly!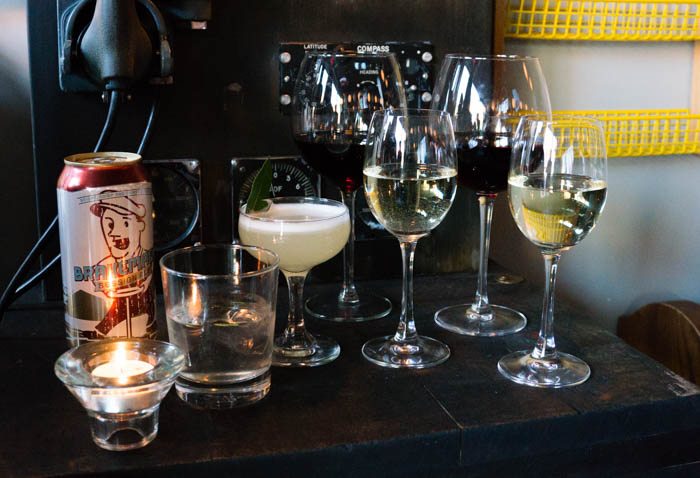 Speaking of eats, all of the featured dishes were light and refreshing for Spring, yet were deeply satisfying with every bite.
First, let's take a look at the antipasti!
Fromaggi e Salumi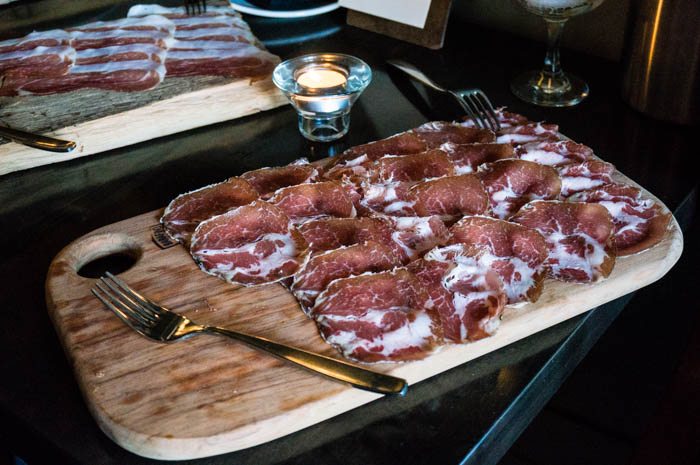 Crostini (3 Types)
Bone Marrow & Snails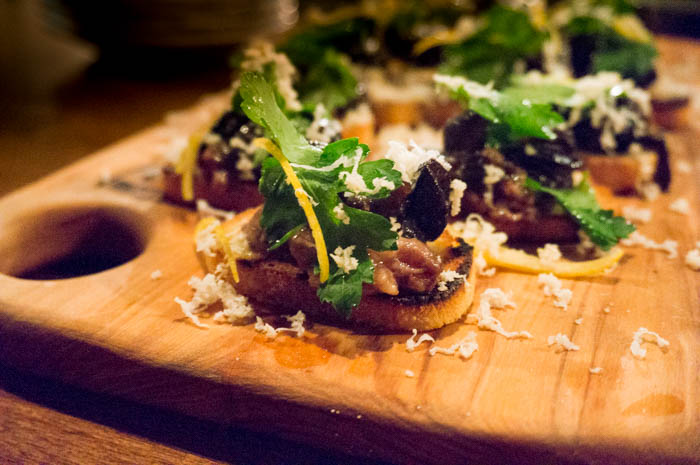 Cotechino & Rapini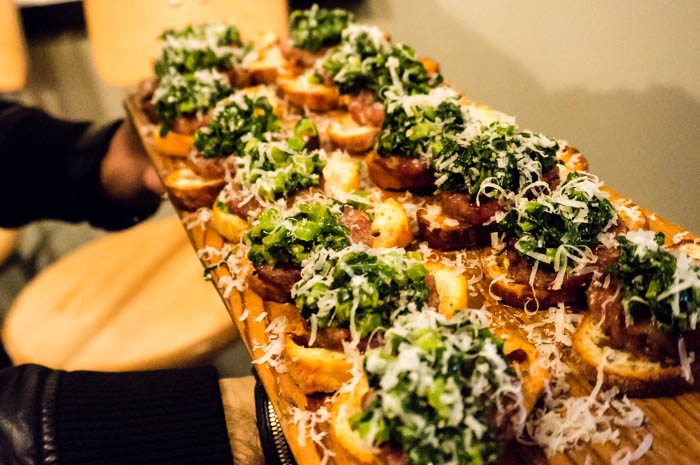 Ricotta & Bomba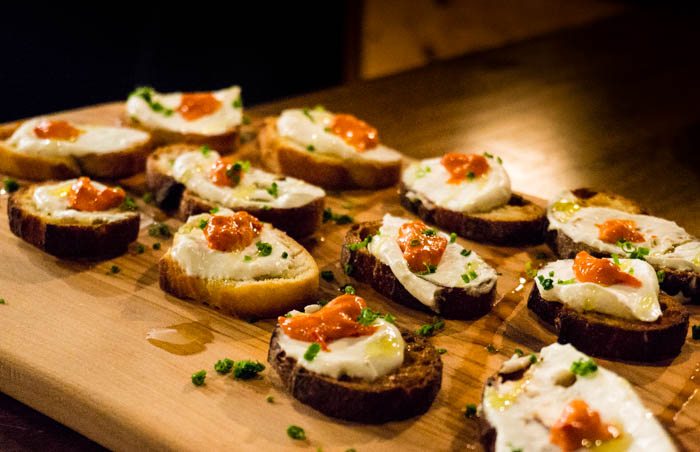 Honestly, the crostini were all fantastic. I could have kept eating these little babies all night! But it's best not to completely spoil your appetite on bread without seeing what Chef would put out next.
Olive Oil Halibut and Fiddle Head Aioli
Hen of the Wood Mushrooms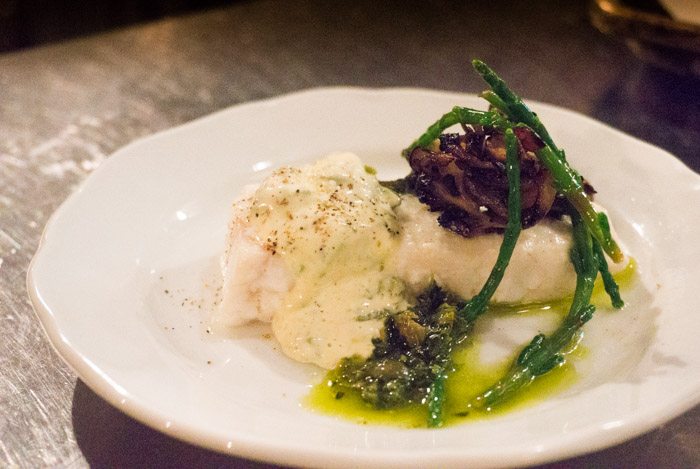 Side Stipe Prawn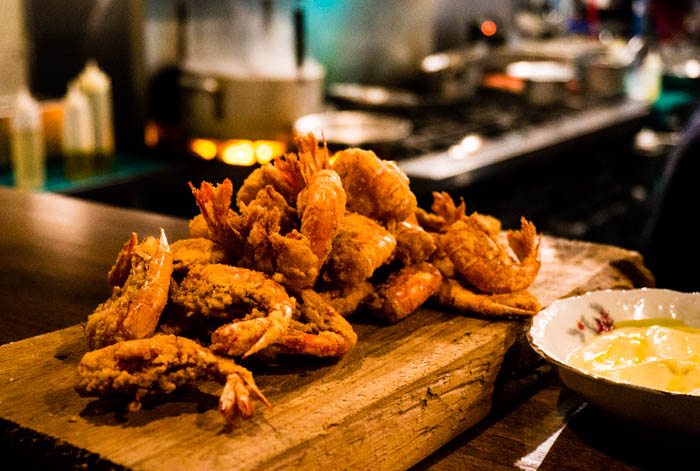 Stinging Nettle Tortellini with Smoked Mackerel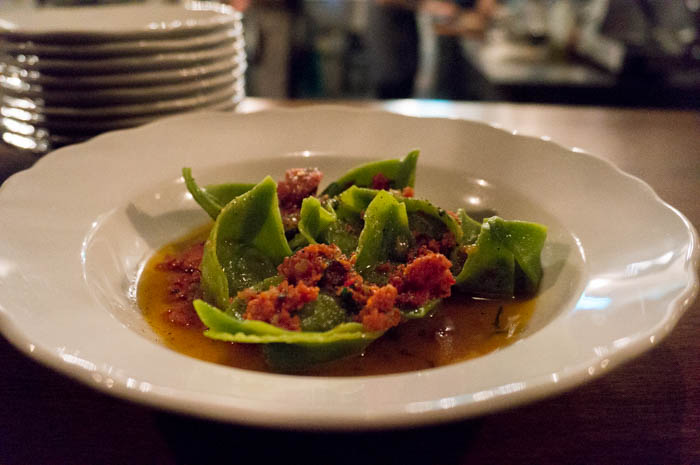 Grilled Octopus with Semolina, Apple & Peanut
This was hands down my favourite dish of the night. The octopus was cooked perfectly and paired beautifully with the bright apple and rich peanut.
Chicken Liver Agnolotti
Just when I thought I had the best meal ever, it was made even better when the kitchen crew brought out DESSERT!
Ricotta Cheesecake with Rhubarb
Yoghurt Panna Cotta with Oatmeal and Berries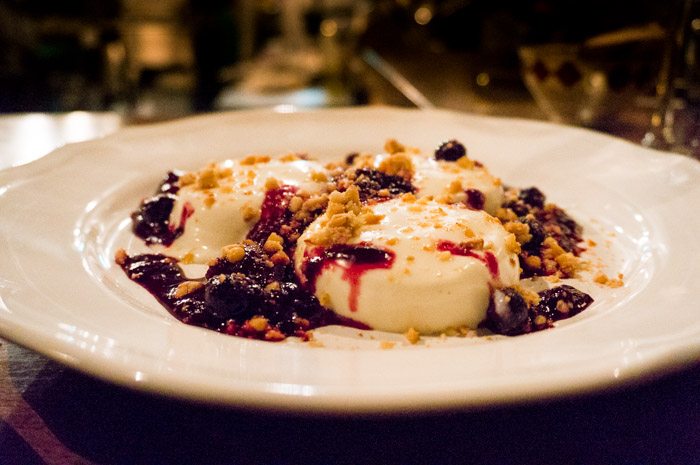 Both desserts were light and airy, but packed with delicious spring flavours (rhubarb, pistachios, berries- oh my!).
If you haven't already visited and fallen in love with Porzia's rustic Italian fare, you will not want to miss out on their latest Spring spread. Buon Appetito!  Porzia is located at 1314 Queen St. W. For more information or to make reservations, check out their website here!
Disclaimer: The preceding event was complimentary, however, as always, all opinions are genuine. 
Contribution by AK Tasters: Christina Bieniek and Adrienne Palis
Updated on May 8th, 2019