Many of you long time Abbey's Kitchen followers are well aware of Toronto's Indian restaurant, Pukka and my full-blown obsession with their food (you can read our experiences here and here, and that their Butter Chicken was on of mine top dishes of 2014). Here in AK headquarters, we've been following the workings of owners, Derek Valleau and Harsh Chawla, since Pukka's inception a year ago and have watched them take this city by storm with their modern Indian cuisine. Insider's tip: make reservations a good week in advance, this place books up pretty quick.
On a busy night you'll see Derek and Harsh acting as wonderful hosts, ensuring that everyone in the room is well fed and well taken care of. With both locals and downtowners paying a visit to the intimate eatery, it is no surprise the two are considering a second outpost soon.
Along with offering flavourful food and incredibly welcoming service, their skilled sommelier, Peter Boyd takes the experience to a whole other level. While beer is usually regarded as the typical refreshment with Indian cuisine, Peter enjoys the unique challenge of pairing the fare with his International list of wine.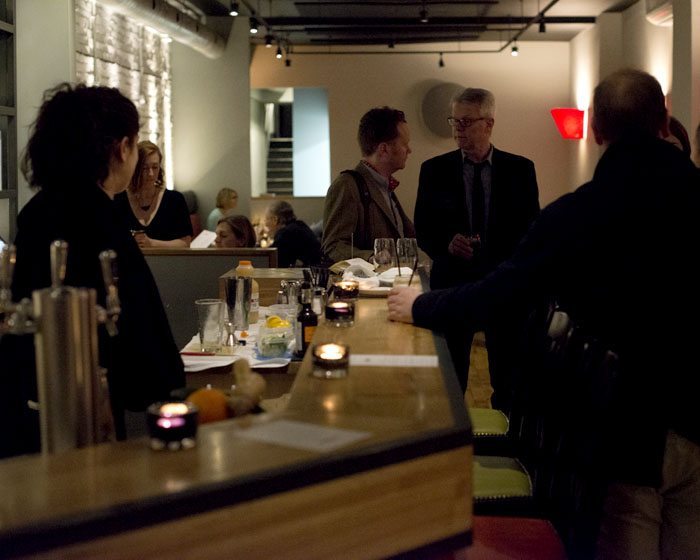 During a special evening at Pukka, food media gathered to sample some of their new dishes along with some of our old favourites.
Pukka Food
String Chaat – String Vegetables, Sprouts, Rice Crisps, Pomegranate, Mango, Cutney, and Yoghurt
A pronounced freshness was present with each bite of this salad. I especially loved the sweet bursts of pomegranate seeds, and the subtle tartness from the yoghurt.
Gunpowder Prawns
I was a bit disappointed that I had to share this dish, as I could have eaten all of these in 5 minutes flat. Each prawn possessed a subtle hit of heat that played off the sweet, tender shrimp perfectly.
Tandoori Chicken Tikki with Herb Infused and Tamarind Chutney
The beautiful colour of this dish translated into some pretty wicked flavour. Tender chicken covered in a spicy marinade, and contrasted by the sweet fruity chutney. Yum.
Boatman's Fish and Prawn Curry – Tamarind, Mustard Seeds, and Coconut Broth
Pukka's curries are unique in that they offer a host of hearty flavours in surprisingly light fare and this well balanced seafood curry was no exception.
Seared Spice Duck Breast with Pickled Lime, Tamarind, and Port Sauce
I remember during my last visit to Pukka this classic was one of my favourites, so I was happy to see it arrive on the table again. The tender duck had an addictive savoury crust, which was complimented by the sweet and citrus-forward reduction.
Lamb Lollipops with Turmeric, Mint and Coriander Curry
The smoky, herbal crust of this tender lamb made this dish one of my favourites of the night. Underneath laid a bright luscious sauce that offered a sweet, fruity flavour from the coriander.
After another enjoyed evening at Pukka, I left with a smile on my face, and a belly stuffed with flavourful fare that definitely kept me warm that cold evening. If you are eager to check out Pukka, I recommend that you book a table as they are almost, if not always, busy. The Indian eatery is also participating in this year's Winterlicious (which runs January 30th – February 12th), and is offering a 3-course pre-fixed dinner menu for $25.
Pukka is located at 778 St. Clair West, and is open 7 days a week from 5pm till close. For more information check out their website here.
Contribution by AK Taster Savannah Onofrey
Disclaimer: The preceding meal was complimentary, however, as always, all opinions are genuine.
Updated on April 2nd, 2016