Daniel Boulud is one of the world's culinary greats when it comes to modern French cuisine and his restaurant, Cafe Boulud has a world class name. With 7 restaurants in New York City alone, and another 9 in top cities internationally, his name is synonymous with incredible dining experiences.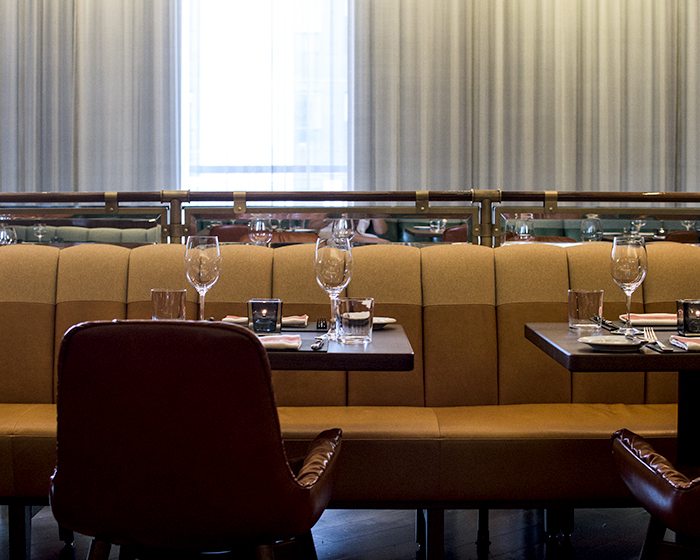 The Four Seasons Hotel has played host to Cafe Boulud since 2012, but during the summer the restaurant temporarily closed its doors to update their look and menu. I've had the opportunity to dine at Cafe Boulud before the renovations took place, so I was quite amazed by the marked transformation.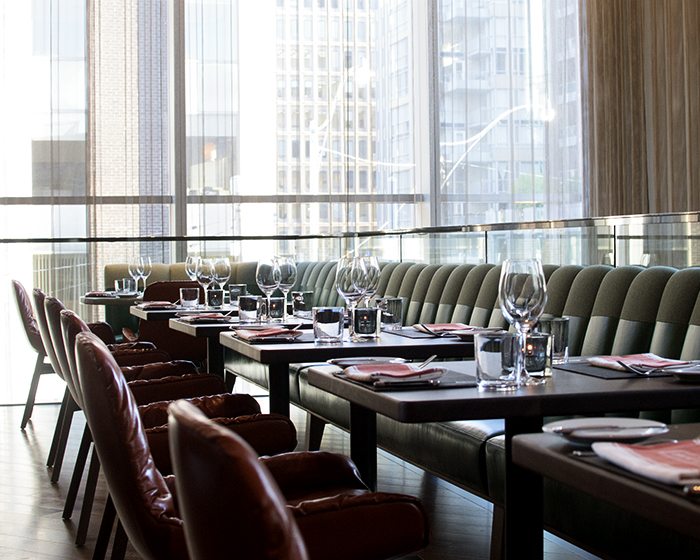 The previous Cafe Boulud was designed to reflect a more contemporary and classic restaurant atmosphere, with added elements that gave the space an extra punch of Hollywood glam. Three years later, and the atmosphere exudes design qualities the early 60s, almost making you feel like you've stepped into an episode of Mad Men. The rich tones of burnt orange and hunter green, contrasted with gold light fixtures and cheeky modern art all come together to create an atmosphere fit for Don Draper.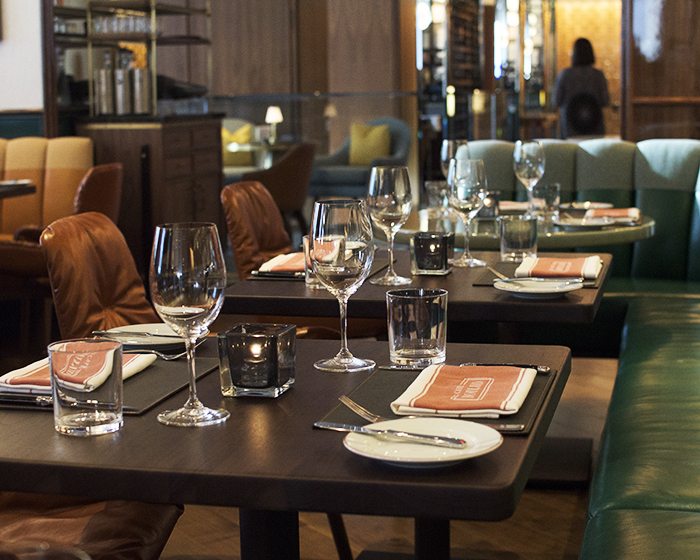 Though Chef Daniel's culinary style has earned him many Michelin Stars, the new Cafe Boulud offers diners a more casual and laid back atmosphere. The menu is inspired by the flavours and dishes of Chef Daniel's family meals in his hometown of Lyon – so expect French brasserie comfort food with a refined edge. And although that French inspiration is quite evident, dishes have a unique Global twist and a strong nod to good quality local Canadian ingredients. French technique global flavour profiles Canadian ingredients = a perfect Toronto restaurant.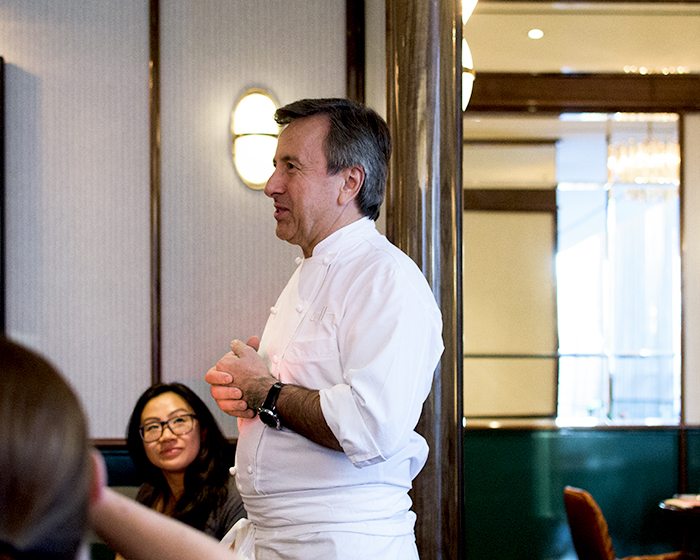 During a special preview, I had the opportunity to sit down and enjoy some of the new dishes. I even had the luck of meeting Daniel Boulud himself, which was definitely a moment I will never forget.
Below are some of the delicious dishes that made me feel like I was temporarily living in Lyon.
Meal at Cafe Boulud
Kale Grillé & Romained
Kale, Romaine, Carrots, Cumin, Black Olives, Golden Rasins, and Spiced Yoghurt Dressing
Beignets de Calamari
Beer Battered and Pickled Hot Pepper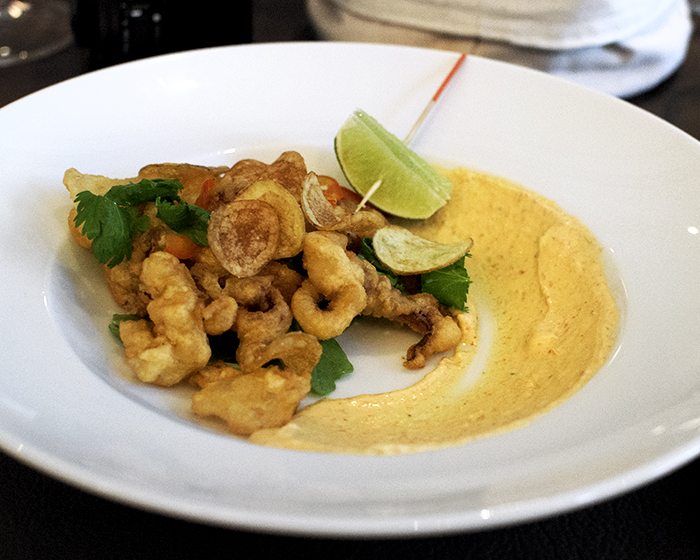 Quenelle de Brochet
Lyon Style Northern Pike Quenelle with Cognac Lobster Sauce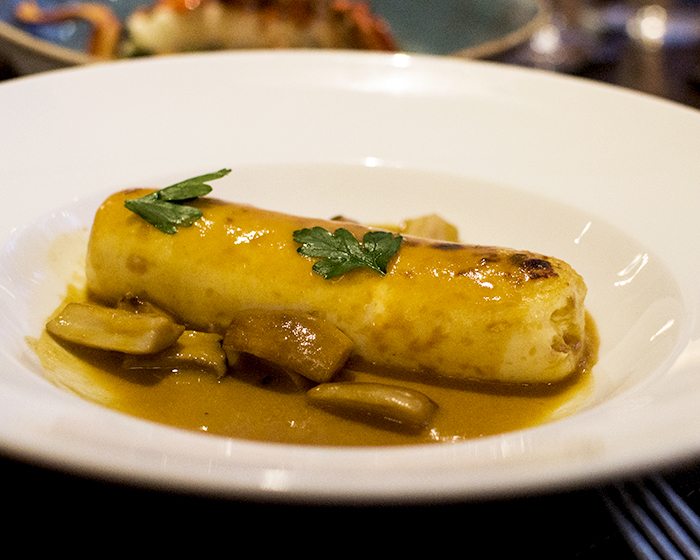 Blanquette au Vert
Veal Stew with Herds and Green Vegetables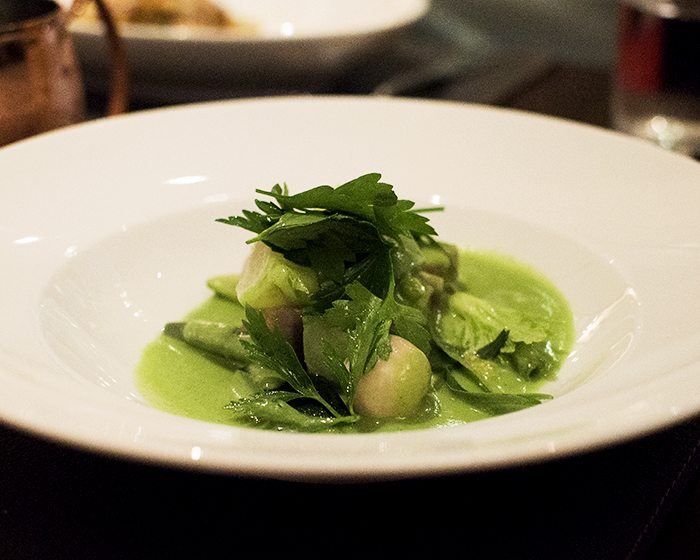 Flétan Grenobloise
Pacific Halibut, Cauliflower, Capers, Parsley-Lemon Butter
Poulet à la Broche
Chicken Rotisserie Potatoes and Pepper Greens Salad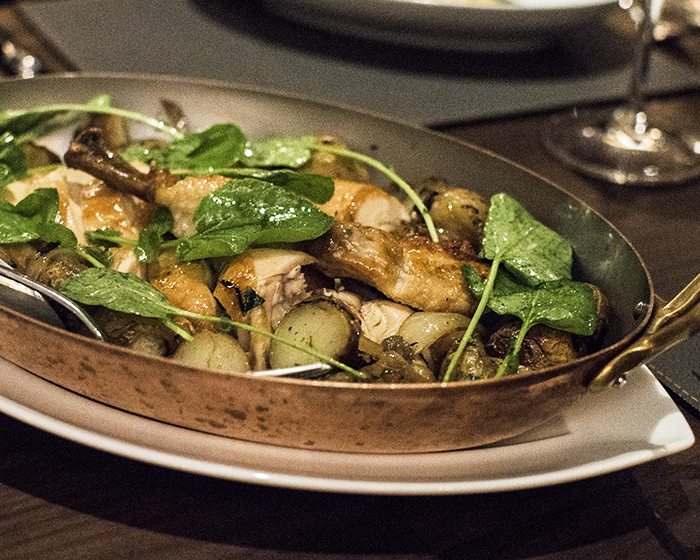 Homard Aux Choux
Grilled Lobster, Bok Choy Cabbage, and Ginger Beurre Blanc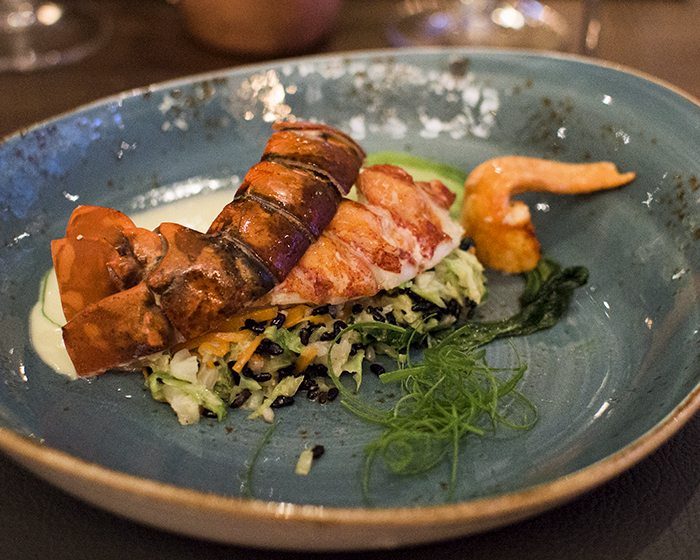 Profiteroles
Vanilla Ice Cream, Dark Chocolate Sauce, and Candied Pecan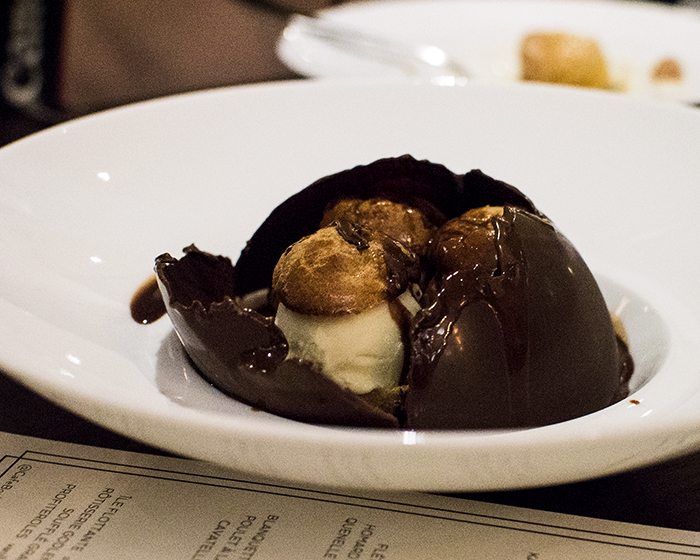 My first experience at the new Café Boulud definitely left a good first impression. The food was delicious with a perfect balance of tradition and innovation- a combination that will always keep the diner excited for more.
Café Boulud is open for Breakfast (7:00am – 11:00am), Lunch (12:00pm – 3:00pm), and Dinner (6:00pm – 10:30pm), and serves Brunch on Sundays (11:00am – 3:00pm). To make reservations or to find out more about the new casual chic Café Boulud, check out the website here.
Contribution by AK Taster Savannah Onofrey
Disclaimer: The preceding meal was complimentary however as always all opinions are genuine.
Updated on May 8th, 2019