Before heading to the Montreal airport I planned for an early (5:30) dinner somewhere casual and reliably quick. I chose L'Express because I had heard it was a Montreal classic, and I could get in and out without worry. The room is classically French, with checkered floors and a glossy bar. Soon upon being seated, we were brought a basket of simple french bread, a large bottle of cornichons, and a little pot of Dijon.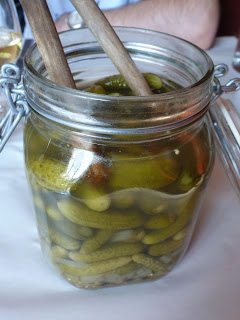 This is my kind of eating. Service was very friendly, casual, and timely, which was particularly important for us we had a flight to catch. With regards to food, we tried:
Fiddlehead and greens in mustard vinaigrette with a warm, fried cheddar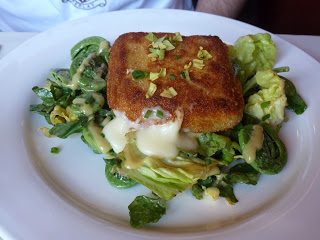 Simple and delicious. I particularly really liked the combination of cheddar and spicy mustard.
Bone Marrow with crisps, coarse sel and topped with Brussels sprout leaves
It's probably not the best beginners bone marrow dish, as it was very simply done with little attention to "dolling" it up and disguising what some may see as an unusual texture or appearance, but I thought it was delicious. I love the manual process of digging for my treasure, smearing it onto a piece of super crispy toast and sprinkling it at my discretion with salt.
Arctic Char with an eggplant puree and barley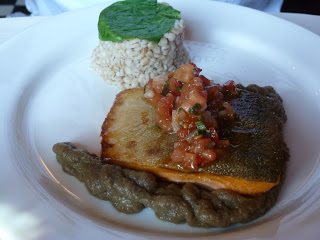 The fish was seasoned and cooked perfectly, and I liked the rich meatiness of the puree, but we both thought the barley could have used a little help. It was a bit too "earthy", and we both agreed that the dish needed a acidic, sweet or spicy element to contrast the other flavours.
Croque Monsieur and frites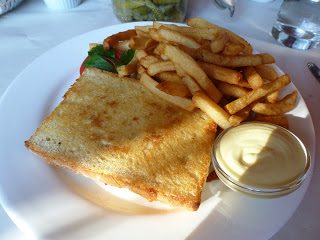 This was not exactly what I was expecting, but then I have never been to France and so I guess I'm not yet versed on an authentic Croque Monsieur.  This version was a couple ounces of ham, and a bit of Gruyere cheese, sandwiched between two slices of thin buttered bread. Despite the deli meat and cheese (which I found to be a bit skimpy in portion, in my opinion), I actually found the whole thing a little bit bland, so I added a touch of the Dijon mayo they provided to spruce it up a bit. The frites were probably the best part. Light and crispy and perfectly salty.
Lemon sorbet and mini palmier cookie

Maple Syrup Pie with Vanilla Ice Cream
This was really delicious. A beautiful flaky crust with a perfect level of sweetness held in what would become an avalanche of sticky sweet gooey maple filling. This tart reminded me a bit of my beloved butter tart at Flaky Tart in Toronto, though the filling in this one was a bit more loose, but delicious none the less.  Personally, I like my pies warm (and this was not), but that is a minor criticism.
So for 1 large bottle of sparkling, 1 glass of wine, 1 Caesar (which was mediocre at best… I think they forgot the Worcestershire, or their Clamato was pretty just bland), 2 apps, 2 mains, 2 desserts and 2 cappuccinos (which were fine), the bill came to $140 including tax and tip. This is pretty affordable considering all we ate (and the fact that bone marrow was on the  bill). If you're expecting to be wowed with spectacular plating and unique pairings, this is not the place to go. But if you're at the point where you're a little exhausted by hyped up restaurants, and just want premium ingredients served simply in their most traditional form, then L'Express would be an appropriate Montreal spot.