If you're traveling to Spain, you absolutely cannot dream of skipping out on the Pintxos scene. You can get paella in plenty of trendy restaurants, you can make gazpacho so easily at home, but it's tough to find places doing pintxos right.
So what the heck are pintxos?
Well, as I learned on my travels, pintxos are more about a way of eating than any particular food. It's really just hand-held bar food, eaten in between cheap beers while standing up in a hopping bar-filled street. But there is a history to it all. Apparently, the Spanish are traditionally matriarchal, and several decades ago, women controlled the finances. Men brought home the cash, and women gave them a small allowance to enjoy themselves at the bar each week. Back then, bars didn't serve any food because the owners knew than the men's wives didn't give them enough money to actually pay for a full meal. Bars and restaurants only made money on the weekends when the whole family would go out for dinner together. But I guess somewhere, some barkeep had the idea to put out a spread of very cheap little bites on the counter of the bar in the hopes that if they were inexpensive enough, the men could afford a tiny bite with their drink. Naturally, they used all their cheapest and least perishable items- olives, anchovies, pickled peppers – and the original pintxos (called the Gilda) was born.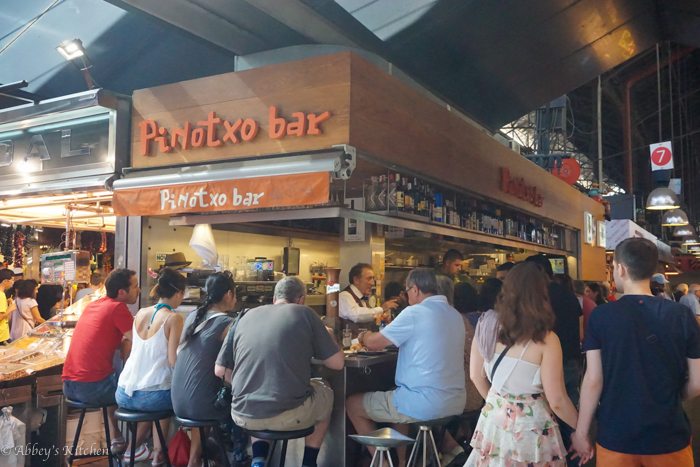 Today, pintxos pretty much follow that same tradition, utilizing cheap ingredients that can sit well unrefrigerated for a while. The key is that they're almost always 1-2 bites maximum, most use a slice of baguette as the "plate", they are often as cheap as 1 € each, and they common ingredients like: mayo, olives, anchovies, pickled vegetables, potatoes, shrimp, and egg.
While I was in Spain, I tried to eat in pintxos bars whenever I could for lunch and in between the heavy stretches of Michelin meals. Here is a little round up of what I tried and what I thought. You will see that each dish I sampled has been given a score out of 5 stars (*) to help you plan out where to go. A little word to the wise- just because it's busy, doesn't mean it's good. I learned this quite often the hard way. A lot of the time, the busy places may just have cheaper pintxos or beer, so they're heavily populated with the young 20-somethings just looking to drink.
BARCELONA
Pinotxo Bar in Boqueria Market Carrer la Rambla, 89, 08002 Barcelona, Spain
This is supposedly the best Pintxos bar in the famous market, but admittedly, we both found everything we ate almost too salty to enjoy (with the exception of the prawns which we peeled, so we could discard the salt). I would characterize these more as tapas than pintxos but now we're getting more technical.
Beef Cheek Stew *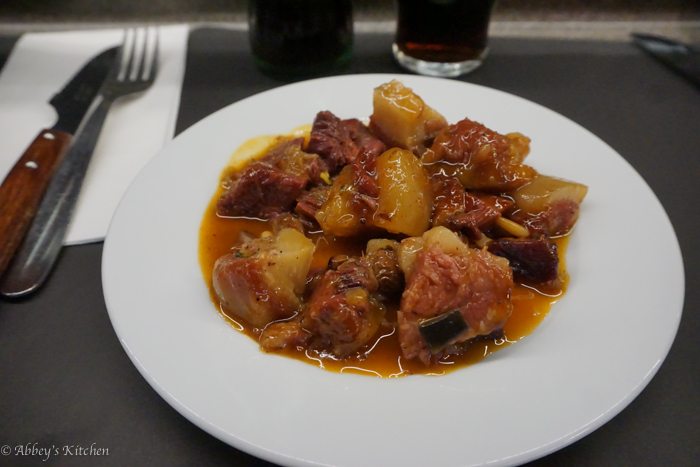 Mixed Mushrooms with Pork and Beef *
Chickpeas with Pork **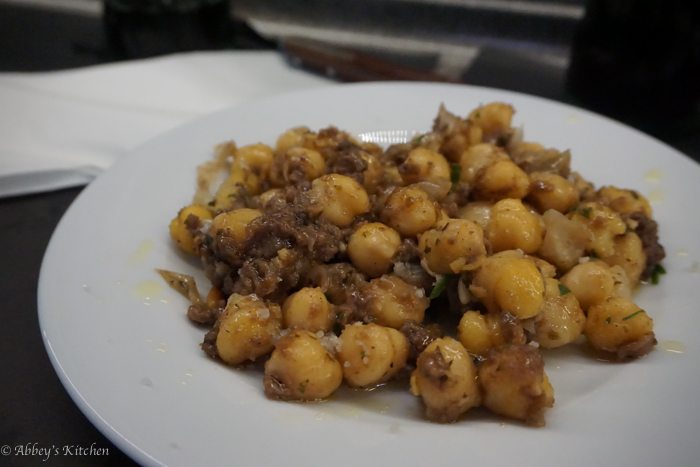 Grilled Prawns ***
Cali 1.81 Valencia, 181, 08011 Barcelona, Spain
A cute modern tapas bar with unique playful offerings in the L'Eixample area.
Potatoes Bravas ****
Pickled Eggplant **
Macaroni, White Chocolate and Sobrasada ****
Oxtail Cannelloni ***
SAN SEBASTIAN
Atari Gastroteka Calle Mayor 18, 20013 Donosti / San Sebastian, Guipúzcoa, Spain
This is one of the more "upscale" pintxos bars in the old city that does more unique and experimental fare. It's a bit more expensive than most of the bars on the strip but in my opinion, it's worth it for the food. Plus, they have Nordes Gin, which has quickly become my favourite gin.
Beef Cheek with Mashed Potatoes ****
Imberco Ham Croquettes ****
Feta Cheese and Mustard on Bread ***
Salad with Cheese, Walnuts, Pesto and Sundried Tomatoes *****
Fried Calamari **
Rice with Vegetables and Sesame ***
Basque Bread Pudding *****
Taberna Gandarias 31 de Agosto Kalea, 23, 20004 Donostia, Gipuzkoa, Spain
Here you'll find some very friendly folk who work their buts off to serve up tasty food. It was clearly a very popular spot as the bar was absolutely packed and lots of people were eating (and not just drinking cheap beers).
Crab Tartlette ****
Mushrooms and Imberico Ham on Bread *
Fried Stuffed Piquillo Pepper ****
Bar Etxaniz – Calle de Fermín Calbetón, 24, 20003 San Sebastián, Gipuzkoa, Spain
A fun atmosphere with very friendly staff, and a young drinking crowd but the food isn't as great as some of the other local spots.
Shrimp on Toast **
Ham, Brie and Sundried Tomato on Bread ***
Quince Jelly and Brie on Bread ***
Chorizo Wrapped in Bacon on Bread **
Casa Urola Fermin Calbeton Kalea, 20, Donostia, Gipuzkoa, Spain
A happening bar and restaurant in the old town with fantastic food and very affordable wine.
Gilda (Anchovies, Pickled Peppers and Olives with Olive Oil) ***
Scallop with Almonds *****
Octopus Brochette *****
Green Beans with White Fish & Olives ****
Bar Martinez Calle del Treinta y Uno de Agosto, 13, 20003 San Sebastián, Gipuzkoa, Spain
The food here is above average but not the best I had in the old city but the nice thing is there is usually a little space to sit down for when you need a standing-break.
Cheese & Ham Tortilla ***
Fried Balls of Artichoke Hearts and Cheese ****
Zucchini-Covered Crab on Bread ***
Bernardina Calle Vitoria-Gasteiz 6, 20018 San Sebastian – Donostia, Spain
A clean and modern wine bar with a handful of tables for sitting outside- a nice spot if you want to get away from the busy old town scene.
Potato Salad ***
Tempura Vegetables with Piquillo Pepper Sauce ****
Tortilla with Chorizo ****
Bergarta Calle del General Artetxe, 8, 20002 San Sebastián, Gipuzkoa, Spain
Also outside of the old town, this little gem boasted some of the prettiest and most interesting looking pintxos on the bar. The one bite I had (we were on a bike tour so I couldn't stay long) was one of the most flavourful and fresh I had all trip. I would definitely want to come back to this one.
Date, Tomato & Eggplant with Caramelized Shallots*****
A Fuego Negro Calle 31 de Agosto, 31, 20003 San Sebastián, Gipuzkoa, Spain
This is considered one of the "hip" bars in the old town, serving more unusual modernist takes of traditional pintxos. They also apparently do a full tasting menu for 50 €.
Green Beans, Potato Ajoblanco & Salted Tuna ****
Idiazabal Rice with Alioli Ice Cream ****
LOGRONO (LA RIOJA)
Meson del Abuelo Calle del Laurel, 12, 26001 Logroño, La Rioja, Spain
This place was pretty busy and large, but the fried items were soggy, cold and flavourless- don't bother.
Zucchini & Ham on Bread*
Fried Artichokes and Crispy Ham on Bread*
Bar Angel Calle del Laurel, 12, 26001 Logroño, La Rioja, Spain
Bar Angel only serves these delicious griddled mushrooms that explode into garlicy juice. A must.
Mushrooms & Shrimp on Bread ****
Bar Donostia Calle del Laurel, 13, 26001 Logroño, La Rioja, Spain
The servers here speak English and are super fun and cheerful. Don't miss these delicious sweet-savoury toasts with goats cheese on top. Yum.
Goats Cheese & Tomato Jam on Toast with Crushed Nuts *****
Goat Cheese & Apple Jelly on Toast with Walnuts *****
Quail Egg with Chorizo & Rioja Pepper ***
Artichokes with Spanish Ham ***
Juan Y Pinchame Calle del Laurel, 9, 26001 Logroño, La Rioja, Spain
This tropical cavern only serves one thing, but they will be one of the most delicious bites you have in the city.
Grilled Langostine and Pineapple *****
La Taberna del Tio Blas, Calle del Laurel, 1, 26001 Logroño, La Rioja, Spain
A large spot with a generously sized TV for sports-watching. Warning- if there is an important game on, the guests can get rowdy (in a totally safe way, of course).
Chorizo with Fried Egg ***
Chorizo on Toast **
La Tavina, Calle del Laurel, 2, 26001 Logroño, La Rioja
A clean, bright, modern looking wine bar with some less traditional and more unique pintxos on display.
Salmorejo (Cream of Tomato, Garlic and Oil) ***
Meat and Mushroom Pie ****
Bar Lorenzo Travesía de Laurel, 4, 26001 Logroño, La Rioja
A big hang out with a younger crowd looking for an inexpensive tasty bite and beer. You can also order the skewer meat on a bun- delish any way.
Pork Skewer *****
Have you hit up the pinxtos scene in Spain? Have any tips or leads on great (or not so great) spots? Please leave them in the comment section so I will know where to check out when I return!
Updated on April 6th, 2016