With summer in (almost) full swing (we like to be optimistic), salads become a main stay on our brunch, lunch and dinner spreads. And we're not just talking about boring lettuce and bottled dressing. We're talking amazing healthy summer salads. They key is to get creative with the season's finest fresh flavours, colours and textures and ensure a combination of hunger-crushing protein and fibre. Look for ingredients like beans, grilled chicken breast, quinoa and farro to add delicious contrast to your produce and also keep you fulfilled all day long. I'm always coming up with tasty summer salads- one of my personal favourites being my Asian Grilled Corn Salad with Coconut Milk Dressing and Peanuts!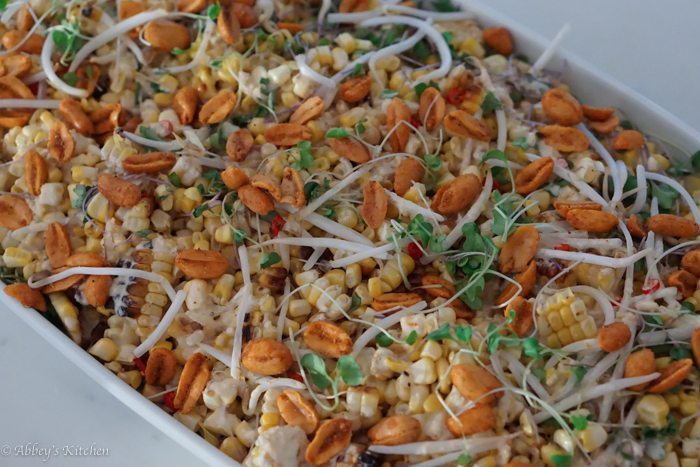 Fresh, simple, nutritious and pretty enough to serve—here are our top 10 summer salads that you and your family are going to love!
Best Healthy Summer Salads
Homegrown & Healthy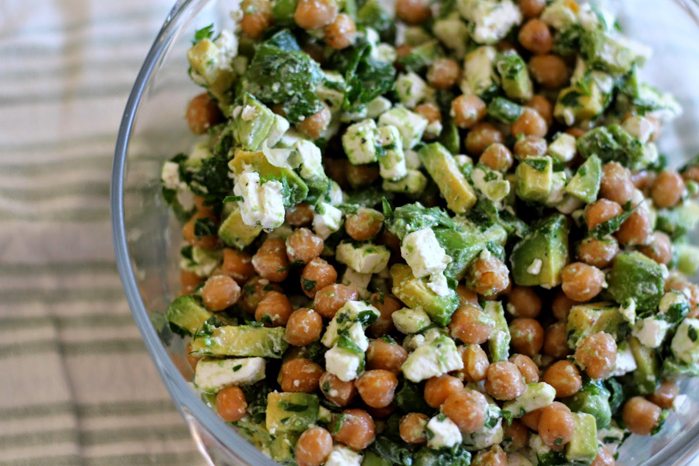 A tasty high-protein summer salad complete with simple, nourishing ingredients that is perfect for lunch, dinner or as a side. I especially love the sprightly lime!
Per serving: 319.5 kcal, 31.2g carbs,11.3g fibre,18.3g fat,11.5g protein
The Healthy Maven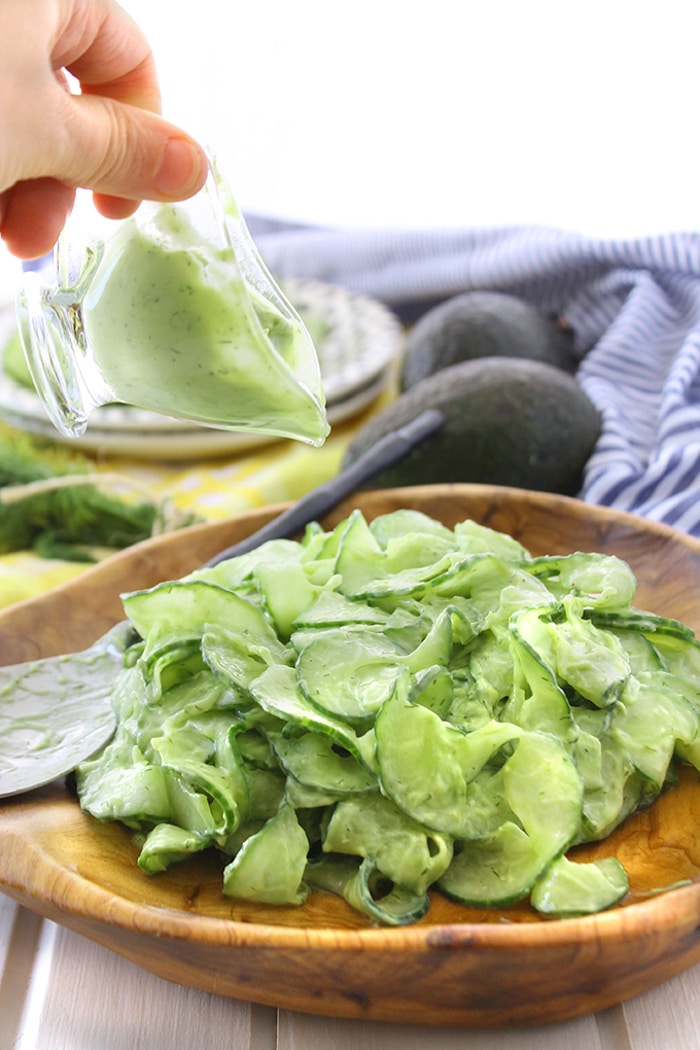 I love spiralizers – I've used them before here, here and here! Served cold, this salad is super refreshing as it uses some of our favourite summer ingredients: cucumbers, avocados and a lemony twist.
Per serving: 121.9 kcal, 14.1g carbs, 5.1g fat, 7.6g fibre, 2.6g protein
Edible Perspective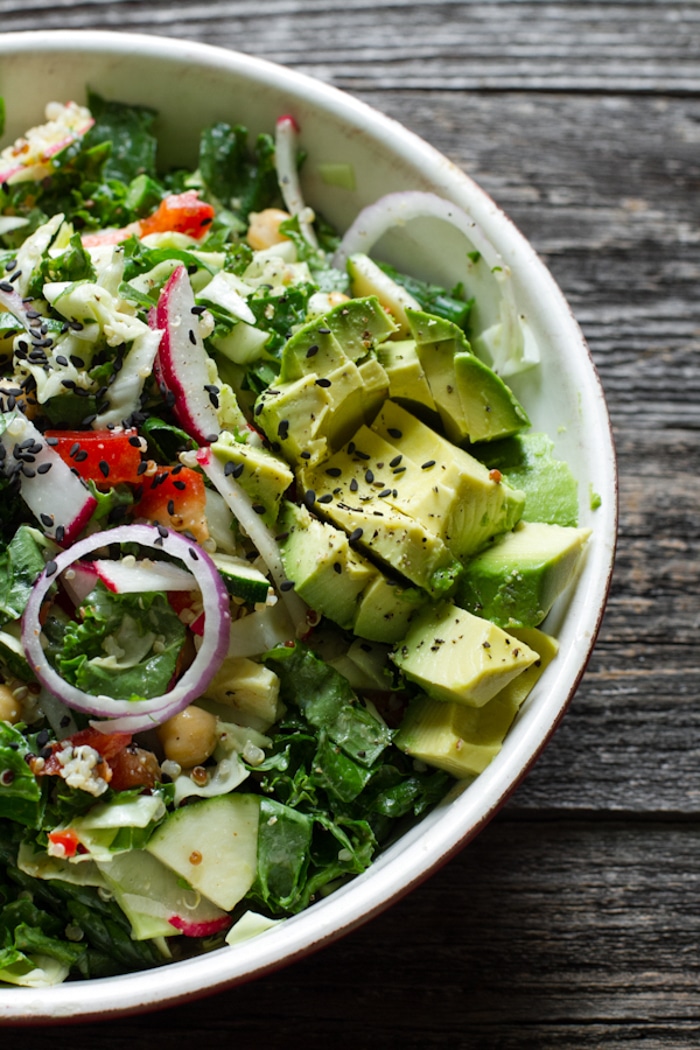 How could we NOT include a kale salad in this summer salads round up! Whether it's in chip or salad form, foodies everywhere can't get enough of kale. Mixed to perfection with fresh summer vegetables, kale salads will never go out of style. This recipe also happens to be vegan and gluten free (but even the biggest grain and meat lover will never oppose!)
Per serving:  196.5 kcal, 29.3g carbs, 8.6g fibre, 7.1g fat, 8.0g protein
Nourished Simply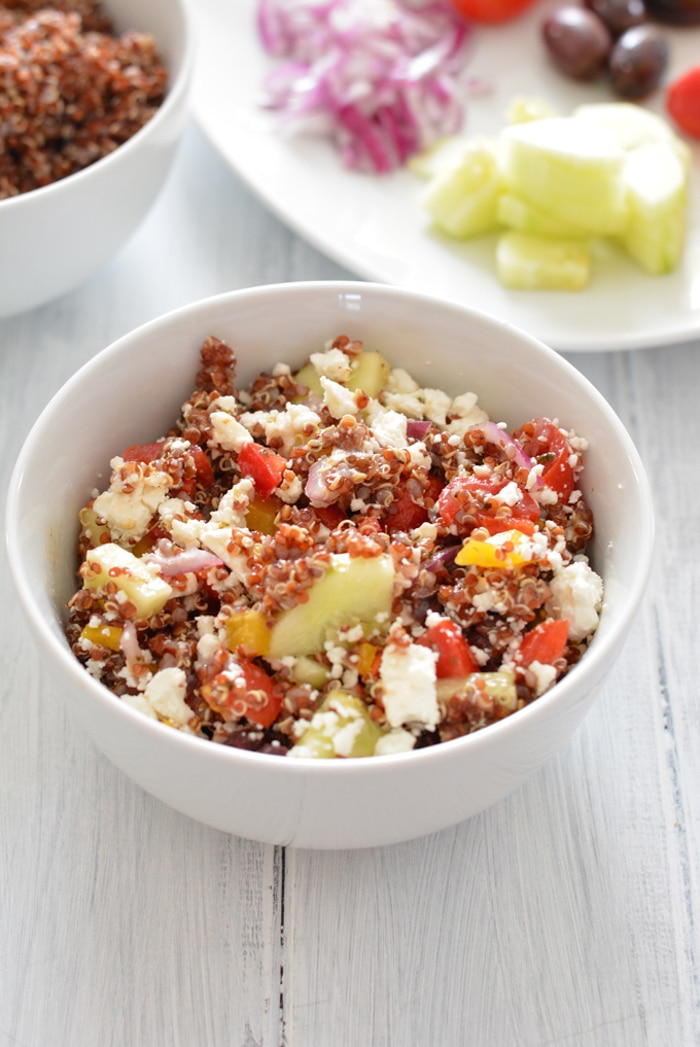 Author and dietitian, Jennifer Pullman, combines protein-rich quinoa with a classic Greek salad recipe and stresses that healthy eating doesn't need to be a challenge!
Per serving: 364.9 kcal, 25.8 g carbs, 4.7 g fibre, 25.6 g fat, 10.1 g protein
Heather Goesch Nutrition
If I had to pick 3 words to describe this salad, they would be: sweet, light and so, so fresh. Heather Goesch, a Registered Dietitian claims that this recipe may be her favourite salad of the year, and we may just agree! The combination of sweet summer fruits, crunchy corn and milky mozzarella cheese uses summer ingredients to its fullest potential while maintaining a healthy profile.
Per serving: 131.7 kcal, 14.7 g carbs, 3.0 g fibre, 4.2 g fat, 11.3 g protein
Nutty Nutrition & Fitness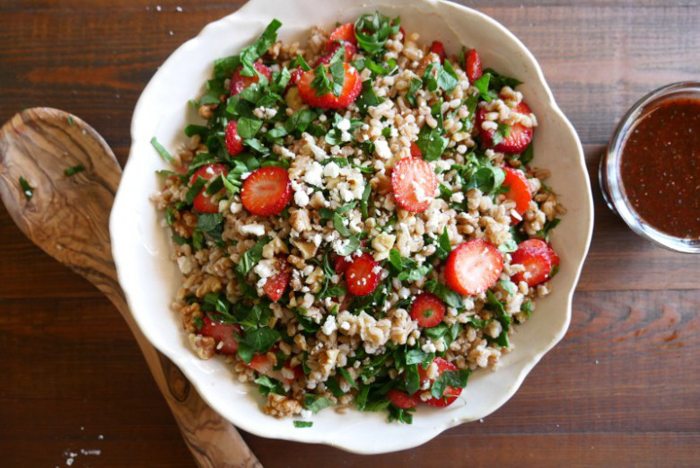 As Heather Mason, Registered Dietitian, claims, move aside quinoa- there is a new grain in town! Farro has the same amount of fibre and protein as quinoa, with a unique nutty flavour and supple texture. Summer salads with whole grains are some of my faves!
Per serving:  161.5 kcal, 14.2 g carbs, 2.8 g fibre,10.0 g fat, 5.2 g protein
Lynsey Loves Food
Lynsey Walker, foodie and Registered Holistic Nutritionist, has a total kale obsession. She stresses that simple, healthy recipes are key to nourishing the body—and this recipe delivers all that and more!
Per serving:  320.1 kcal, 17.0 g carbs, 2.7 g fibre, 26.2 g fat, 7.2 g protein
The First Mess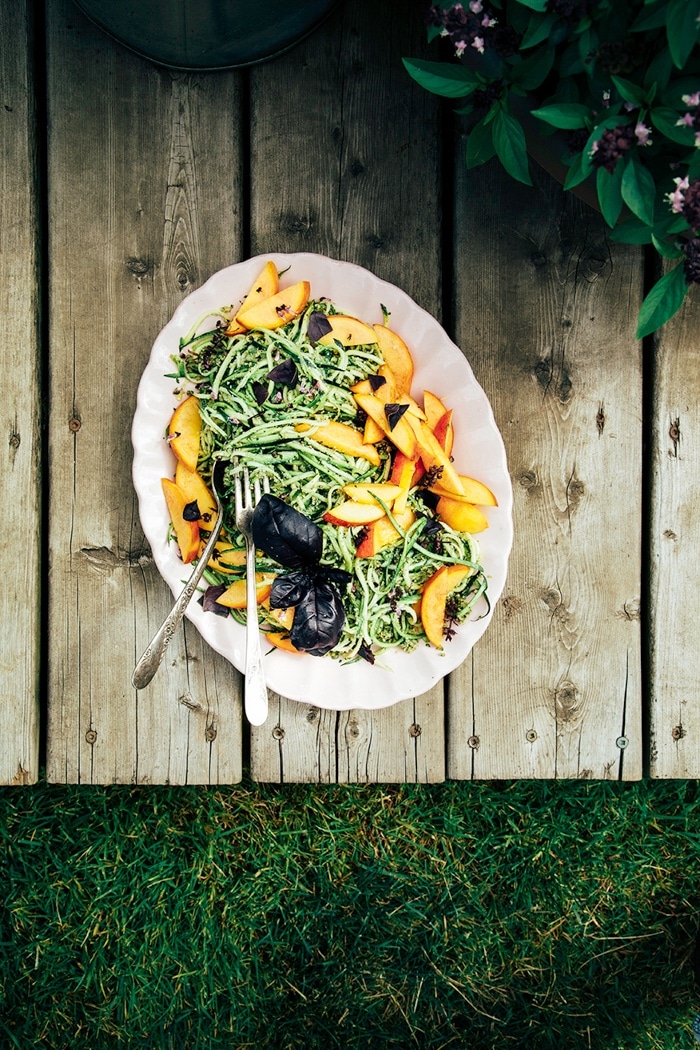 Here the spiralizer is again- it's clearly an essential for summer! A savory pesto, combined with the sweetness of juicy peaches creates a delicious contrast that's packed with protein and healthy fats.
Per serving: 377.4 kcal, 15.8g carbs, 5.4g fibre, 31.1g fat, 16.1g protein
A Couple Cooks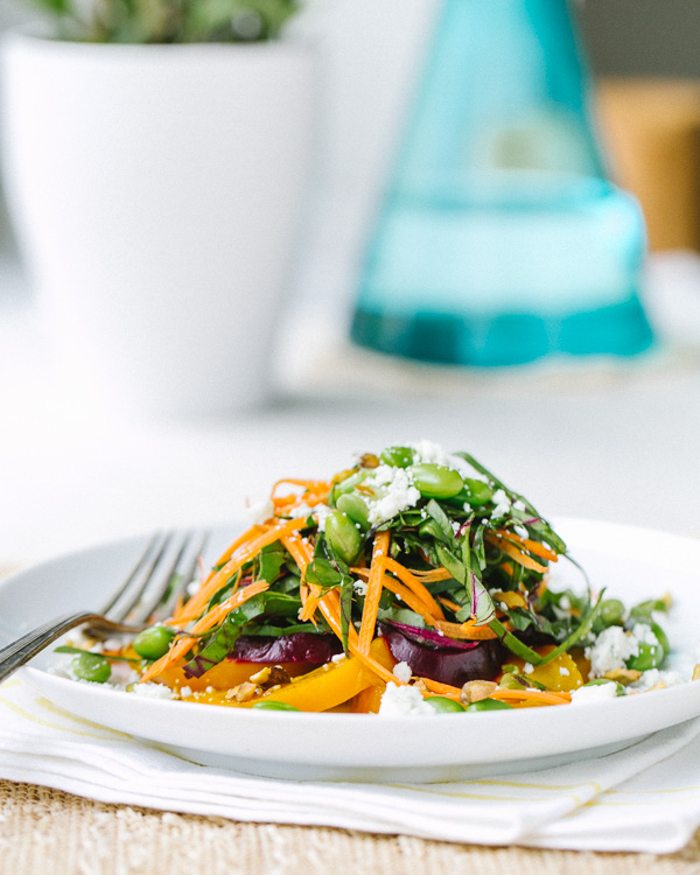 Compete with the most refreshing and light spring and summer ingredients of your supermarket, this high protein salad will keep you sustained all day long—there's nothing you can't beet after eating this! Love summer salads like this.
Per serving:  307.8 kcal, 27.1g carbs, 7.9g fibre, 16.2g fat,18.0g protein
Sharon Palmer
Kiwi Herb Salad with Pistachios and Orange Dressing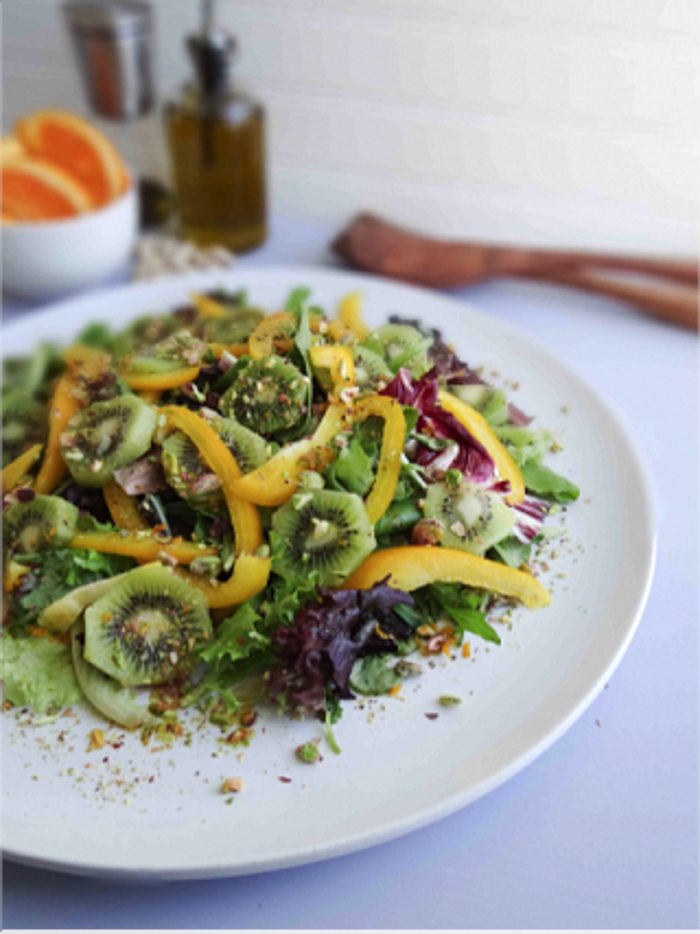 Created by Sharon Palmer, Registered "Plant Powered" Dietitian, the juicy and colorful fruits and vegetables combined with leafy greens and crunchy pistachios creates an antioxidant-rich salad for dinner or lunch.
Per serving: 109.6 kcal, 14.7g carbs, 3.4g fibre, 5.4g fat, 3.0g protein
What are your go-to healthy Summer salads? Leave us a message in the comments below!
Updated on May 12th, 2020