Should you go low carb? We look at the benefits of healthy carbs, the role of carbohydrates and weight loss and health. 
Poor carbs. Protein has always been the hot macronutrient on the scene, and while fat definitely took a beating circa 1950s, it's back with vengeance as North Americans embrace extreme diets like Paleo (we covered that one here), and Keto (I've written about that here). Carbs, on the other hand, well they've been in the naughty books for as long as I've been practicing nutrition, and today are more vilified than ever.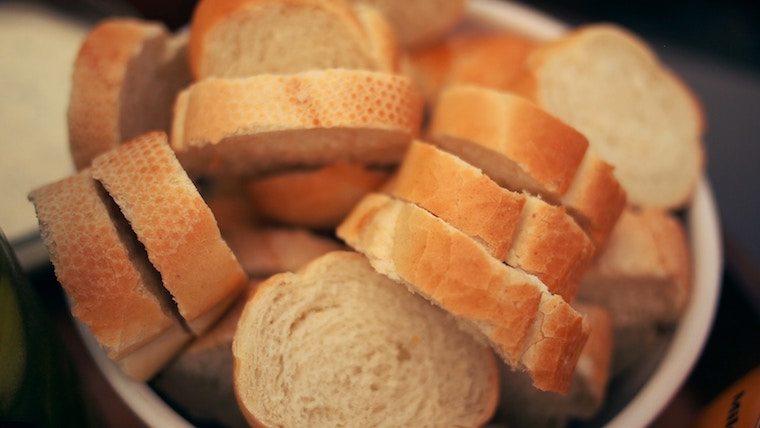 You know I love me a lovely slice of bread, bowl of pasta, or piece of fruit, so in the name of moderation, I'm going to set the record straight. I'm going to answer the question Should You Go Low Carb? and look at the role of carbohydrates and weight loss and good health.  
Should You Go Low Carb?
A lot of people think that carbs are the devil, so cutting them out can only benefit their bodies and health. Here are some of the ways why carbs it's important and beneficial to get healthy carbs in our diet every day.
Carbs and Athletic Endurance (Pre-Workout Fuel)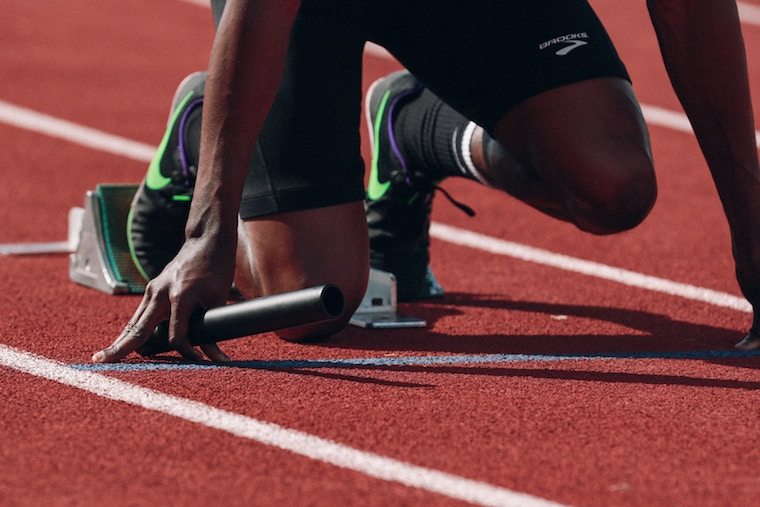 Carbs are important for both pre and post workout fuel when getting your cardio in. When you eat carbs before your workout, the glucose from the carbs (aka. energy) is converted to glycogen which is then stored in our muscles and liver. During our workout, our body takes the stored glycogen and converts it back to glucose so that it can be used to fuel our workouts. If our body keeps taking glucose from our stores to get through a long grueling cardio sesh, eventually we run out and our body turns to breaking down protein from our muscles to fuel our body.
The key? Getting enough carbohydrates in our pre-workout meal to fuel our workout. Here are some great pre-workout carbohydrate based meals to get you started.
Athletic Recovery (Post-Workout Fuel)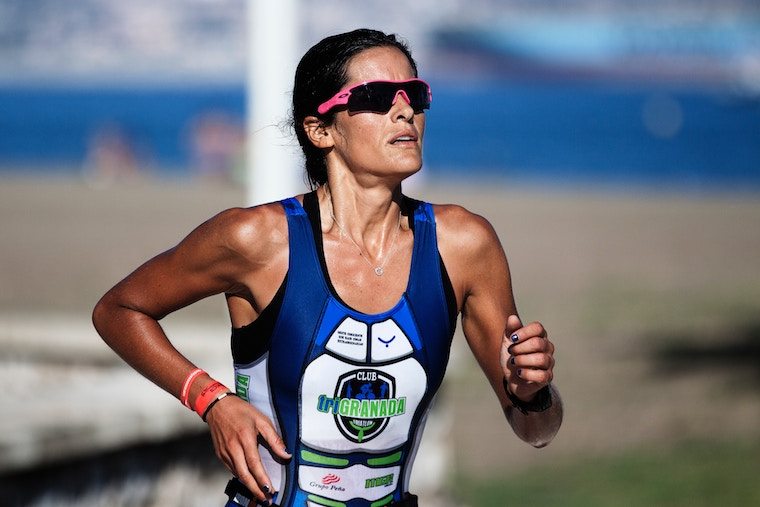 Carbs are just as important after a work-out as they are before. Eating a meal or snack with carbs within an hour of working out can help us refuel glycogen stores and optimize recovery. Ideally, I like to combine my carbohydrates with protein to enhance glycogen replacement and also repair sore tired muscles. You can check out some of my go-to post-workout meals with carbs here.
Promotes Muscle Building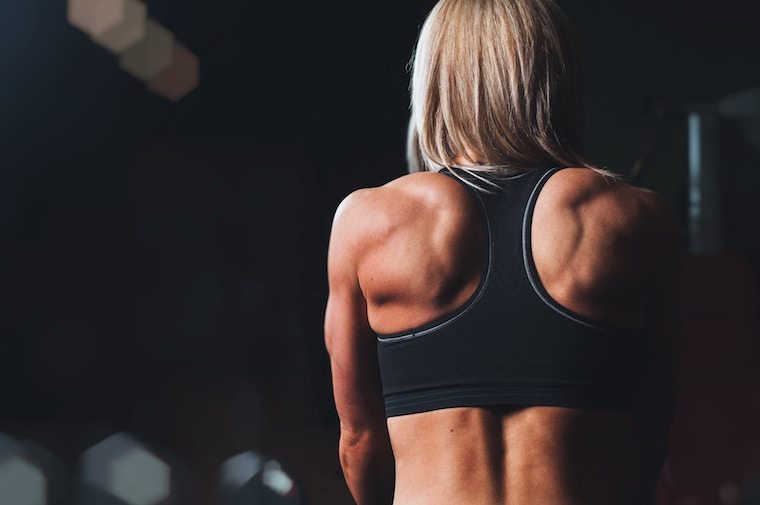 People always think of protein as being the only thing you need for muscle building, but the reality is, carbs play a key role, as well. When we eat carbs, our pancreas releases a hormone called insulin which acts as the key to unlock our muscles to let protein into our hungry muscles where to can do its job. If we skimp out on carbs, especially after a heavy lifting sesh, we miss out on important muscle building opportunities. One study found that people following a low carb diet experienced muscle breakdown more than those on a higher carb diet.
Carbs and Brain Function
While yes, our brain can learn to function on ketones when you transition into a state of ketosis (as you would on a very low carb diet), our brain's ideal diet consists of carbs. This may be why a lot of people describe "brain fog", fatigue, fuzziness and just difficulty concentrating when they cut their carbs too low. Both the The institute of Medicine and Canadian Diabetes Association have suggested that our brains need sugar to thrive, and have set the recommendation at a minimum of about 130 grams each day to be thinking and feeling our best.  Again, I'm well aware of the research that our brain CAN and WILL run on ketones quite readily when it's in a state of carbohydrate starvation, however, in its natural state, this is not its default.
It Doesn't Make You Lose Weight Faster
So a lot of people have been using low-carb diets recently to lose weight thinking it's some mystical weight loss secret. The reality is, any time you eliminate a major food group, you limit your food choices and intake, and will likely lose weight. However, research has shown that while low carbers tend to lose more weight at first, by about 1 year, that weight loss levels out and is no different than our low fat (moderate carb) dieters. Translation? I say choose a way of eating that you can maintain for life.
Regularity and Weight Management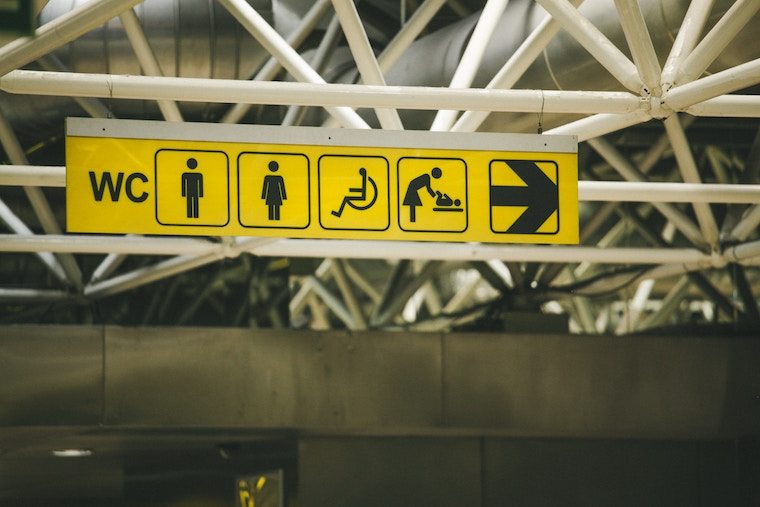 Carbohydrates are our sole source of dietary fibre, of which we actually need between 25-38 grams/ day. Most North Americans are falling seriously short of that mark, and cutting carbs (or choosing the wrong ones) may be the culprit. Fibre has been shown to help us feel fuller longer, which may help us better manage our weight and curb cravings. It's also been shown to help lower cholesterol, promote regularity, manage blood sugars and protect against a host of chronic diseases like cancer. The best sources of fibre rich carbs are whole grain pasta (I like Catelli Ancient Grains), quinoa, berries, and vegetables.
Healthy Relationship with Food
When we tell ourselves we can't have something (like carbs), we tend to think about it more intensely and the second we allow ourselves to "cheat", we go hog wild and eat ALL THE CARBS in one sitting. If you've ever been on a low carb diet only to break it by eating an entire pizza and cheesecake, you know what I'm talking about.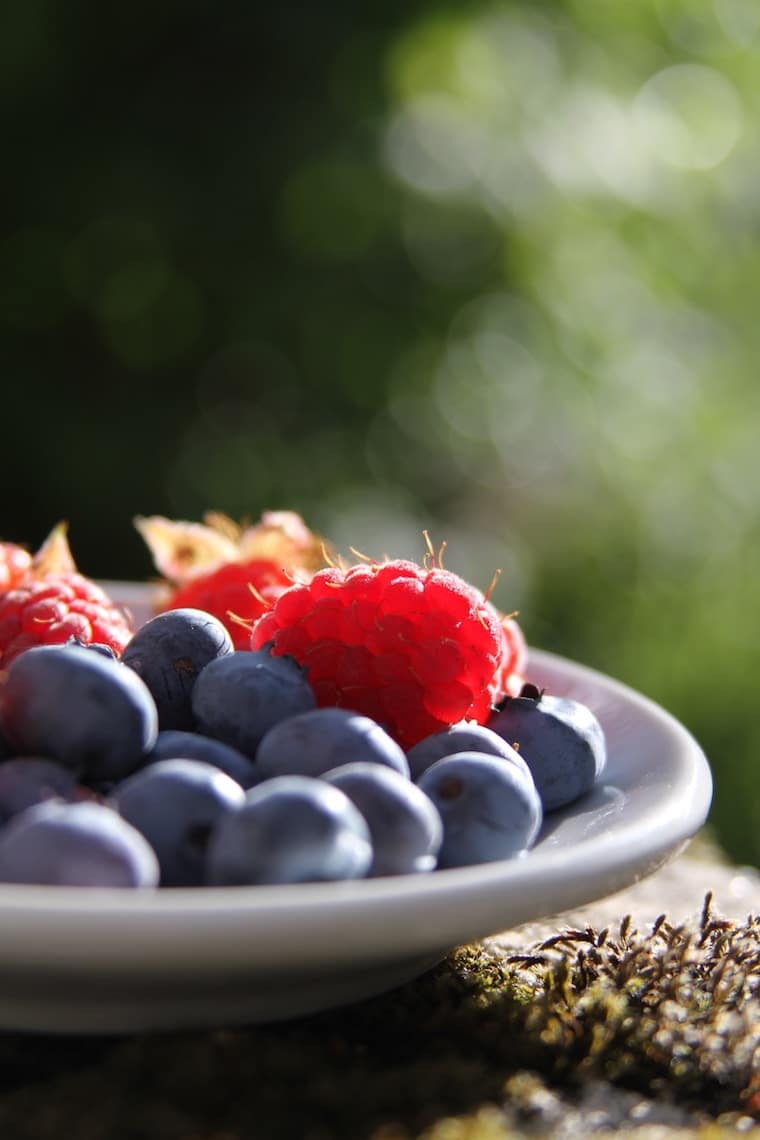 My advice? Don't go low carb. Don't make anything off limits in your diet. Rather, allow yourself a balanced diet that includes the right carbs (more on that below), healthy fats and protein.
How Much Carbs Should You Eat?
Again, while it is technically totally possible to live without carbs and do just fine, that isn't likely optimal. Carbs are the basis of most of our healthy plant-based foods that research has consistently linked to a reduced risk of chronic disease.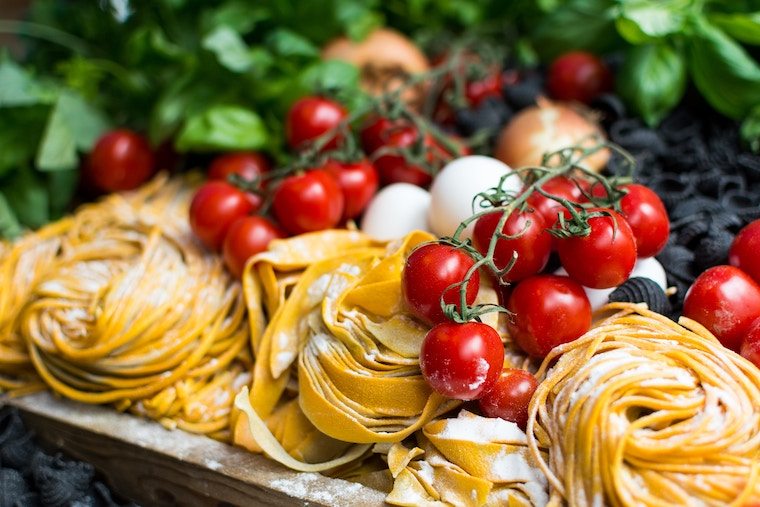 In light of this research, the Institute of Medicine recommends a macronutrient distribution range of 45-65% of calories from carbohydrates, 10-35% of calories from protein and 20-35% of calories from fat. In the context of a 2000 calorie diet, that would mean about 250 grams of carbs per day on average (about twice the bare minimum for our brain's ration). If that seems like a lot, consider that there are 23 grams of carbs in ½ cup of brown rice, 24 grams in a medium sweet potato, and 43 grams in a cup of cooked pasta. If you're including a wide range of foods in your diet, and not restricting, you're likely meeting your carb goals.
What Kind of Carbs Are Best?
Now, having said all that, it's important to note that not all carbs are created equal. Getting 22 grams of carbs from chocolate is very different than getting 22 grams of carbs from a serving of oatmeal, largely because the latter has fibre. Fibre (and other important components in plant based foods like protein and healthy fat) helps slow down the insulin response after eating carbs to prevent a spike in blood sugar. This allows us to feel fuller longer, which ultimately helps prevent overeating and may promote weight loss or weight management. It also keeps our blood sugars stabilized which is important for reducing the risk of chronic disease.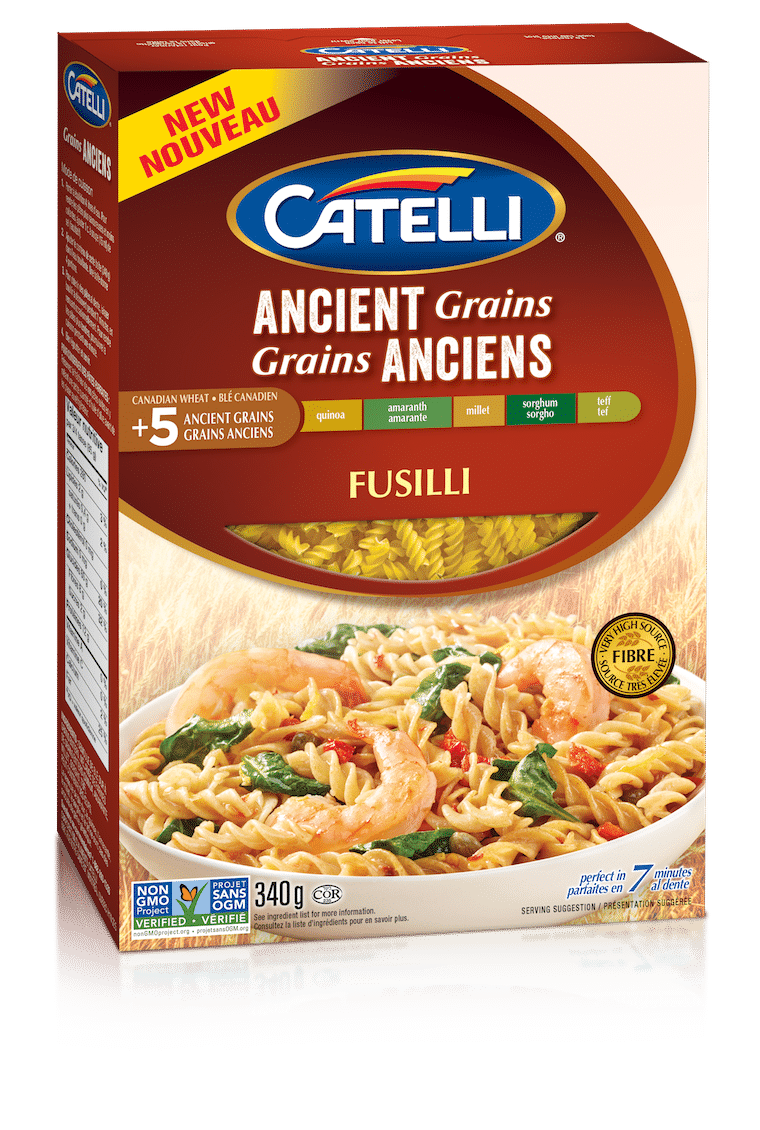 So when I'm looking for healthy carbs, I try to look for something with 4 grams or more per serving. For example, compared with refined white pasta, my go-to Catelli Ancient Grains pasta packs 12 grams of protein and 8 grams of fibre per serving. Those are some seriously good-for-you carbs. Here's an easy shopping list of the best healthy carbs to fuel your day:
Whole Grain Pasta (like Catelli Ancient Grains)
Quinoa
Barley
Squash
Sweet Potato and Potato
Berries
Apples
Pears
Pulses (beans and lentils)
Whole Wheat Bread (I like Ezeikiel!)
Oatmeal
Yogurt and Milk
Buckwheat
Teff
Amaranth
Beets
Carrots
How to Eat Carbs to Get the Best Health Benefits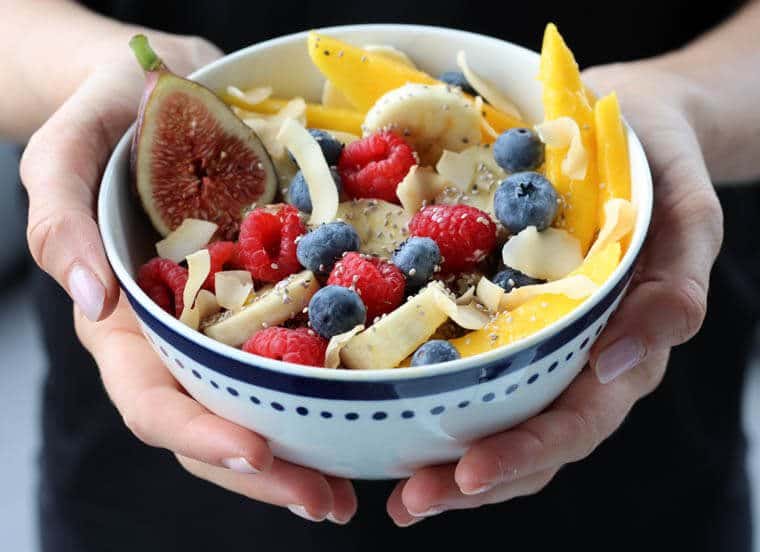 Like every food, carbs are only healthy as part of a balanced day. When we pair high fibre carbohydrates with protein and fat we double down on its satiating properties to get the most millage most out of each meal. So here's some of the combinations of how I like to pair my carbs with healthy fats and protein.
Catelli Ancient Grains Pasta + Tomato Sauce + Lean Turkey Sausage + Parmesan Cheese
Quinoa + Tofu + Cashews
Greek Yogurt + Apples + Pistachios
Oatmeal + Raspberries + Egg Whites (check out that recipe here)
Chickpeas + Olive Oil Vinaigrette + Veggies + Barley
Whole Wheat Bread + Avocado + Poached Egg
So, what do you think?
Should you go low carb?
Do you include carbs in your diet? If so, how much?
How do you eat your carbohydrates?
Leave me a comment below with your favourite carb-packed snacks and meals!
Disclaimer: This post was developed in paid partnership with Catelli, however, all opinions are genuine.