I might as well hand in my designation as Registered Dietitian, because this week has been filled with indulgent Superbowl treats. But if you're feeling vulnerable to dieter's guilt, please see my post on
mindful eating tactics
for the big game. I'm not suggesting that anyone only consume high-fat, deep fried fare on any day, including an epic football showdown! But I do believe in having a little fun. And sometimes, fried food is fun! Especially fried food on a stick. Hell, you could put a steamed broccoli crown on a stick and I might crack a little giggle.
But there is room for moderation with snacks of all types, and sometimes the best way to promote moderation is through portion size.  So rather than marathoning it through a foot-long corn dog, as we occasionally do at the local fair, I'm going to suggest we opt for the mini-versions. And if a little bit of bacon happens to fall into the works, don't get anxious. Just have one or two, savour every crunchy, salty, meaty bite, and fill the rest of your plate with fresh crudite, hummus, and salsa.
This is what I did:
Mini Bacon Corn Dogs
Serves 45 appetizers
Ingredients
45-50 wooden cocktail sticks
Vegetable oil, for frying
1 1 lb package cocktail wieners
3 tbsp cornstarch
1 lb maple bacon
1/2 cup yellow cornmeal
1/2 cup cornflour
1/2 cup all-purpose flour
1 tbsp cayenne pepper
2 tsp chipotle chili pepper
1 tsp salt
1 tsp pepper
1 tsp baking powder
1/4 tsp baking soda
2 eggs, whisked
3 tablespoon honey
1 cup low fat buttermilk
Dips, to serve
Instructions
1. Let your cocktail sticks rest in water for at least an hour.
2. Fill a deep fryer or a large pot (no more than half full) with vegetable oil. Preheat your oil to 370 degrees F.
3. Preheat your oven to 200 F. Line a baking sheet with aluminum foil, and place a cooling rack on top sprayed with nonstick cooking spray.
4. Dry off your cocktail wieners well, and toss in the cornstarch. Tap off any remaining corn starch, then skewer each with a toothpick and set aside.
5. Arrange your maple bacon in a large skillet over medium low heat. Cook until very crispy, turning and moving bacon to evenly cook the strips and draining off some of the residual fat as it accumulates in the pan. Once crispy, drain the bacon on a few sheets of paper towel and set aside until cool. Once cool, crumble or slice into small bits and set aside.
6. In a medium bowl, whisk together the cornmeal, corn flour, all purpose flour, salt, pepper, cayenne, chipotle chili, salt, pepper, baking powder and baking soda.
7. Add in the eggs until combined, then the honey and buttermilk and stir until smooth. Fold in all of the crumbled bacon.
8. One or two at a time, depending on your dexterity, dip and roll the wieners in the batter until coated completely. Working quickly, drop the corndogs gently into the oil and fry, turning once or twice, until golden brown on all sides, about 4 minutes.
9. Transfer the corndogs to paper towel to absorb a bit of the oil, then transfer them to the cooling rack. Keep warm in the oven while you prepare the remaining dogs.
10. Serve with all your favourite hot dog condiments, like mustard, ketchup, mayo, relish or BBQ sauce. Enjoy!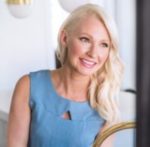 Abbey Sharp is a Registered Dietitian, an avid food writer and blogger, a cookbook author and the founder of Abbey's Kitchen Inc.