Wow, what a week. In general, it has felt like such a blessing. I have slept in until 8 AM every day (which is nuts for me), have started on a bunch of exciting plans, and spent much needed time with my friends and family (including my parents new puppy, Hank).  What was not such a blessing was having to write a 6 hour exam on a Saturday, and then finding said exam ridiculously ambiguous and difficult.  Thankfully, in the words of the Beatles, I get by with a little help from my friends. And oh, did we get by.  We got by post-exam over cocktails and nachos, in classic dietitian style.
After our little mid-day drink-fest, I headed home to greet my significant other who had plans to take me out for a special celebratory dinner at the new Momofuku Shoto restaurant.  If you haven't read anything online that is even remotely related to food and Toronto (or NYC for that matter),  you might not have heard about Momofuku. Headed by David Chang, the restaurant is modeled after its NYC counterpart, and features four different restaurants in one chic location (the new Shangri-La Hotel).  There's the Noodle bar (for noodles, obviously, and buns), Nikai, which is a bar, Daisho, which serves casual fusion fare, and then Shoto, their 22 seat tasting menu venue.  Obviously, this was a special occasion, so I had made a reservation (two weeks to the date) at the latter.
So let's just talk about the set up of all this.  We entered in the main Momofuku door, which leads right into the loud, busy noodle bar.  We were greeted by a somewhat frazzled host with an iPad who instructed us to go upstairs to the restaurant.  With a tonne of prospective diners just standing all around the Noodle bar, waiting to be called for a table, it all felt a bit hectic and disorganized. Thankfully, that feeling didn't last long as we soon were up two floors at another hostess stand for Daisho and Shoto.
Shoto is set up like a bit of a show, where the kitchen operates in the middle of a U shaped counter for seating.  The menu is set (10 courses) at $150 per person, and gives you the option of ordering drinks a la carte, a full flight (each course, $80), or a half flight (every other course, $40).  We opted for one half flight (moi) and one full (him), and awaited our first course.  The way service works at Shoto is that the chefs serve (and describe) your courses, while a few other servers walk around the seating bar to replace cutlery and glassware, remove soiled dishes, and pour (and describe) drinks.  We both felt that this experience left a lot to be desired in terms of overall experience.  The chefs, while friendly, seemed very annoyed each time they had to stop what they were doing to serve and describe a dish.  The other servers (responsible for drink pours etc) did not really have much of an opportunity to interact with us diners, and that was definitely something I missed.
Speaking of drinks, I found the pairing combinations somewhat unusual.  A number of the offerings (maybe 4?) were sparkling wine, which I don't mind, but it's definitely not a popular choice.  Other than the sparkling, there was one red, a sake, a beer (which neither of us were a fan of), and a delicious cocktail with some fruit puree, cinnamon and wine.  Regardless of the spotty choices, I found the price point ($80 for 10 pours of 2 oz or more) very appropriate.
Now let's move onto food.  While the dinner was officially 10 courses, the amuse was long lasting and generous.  Here is what we had (just an FYI, some of these are not really official "dish names", just my approximation of what I was able to pick up from the chef's descriptions, so don't shoot me if I'm a little off):
Manitoba Roll
A flaky, buttery pastry (like so deliciously buttery, I saw some little pea-size bits of butter still inside).  My only complaint was that the top of the bun was a bit dry and stale- these would have been much more appealing had they not been sitting long at all.
Sea Urchin with Cranberry and Almond Garnish
My partner thought this was one of the top dishes of the night, but I had a hard time with the flavour profile.  The combination of a strong fish aroma with the mildly sweet cranberry jelly was a little too much of a reach for me to make.
Grilled Octopus with Tandoori Sauce and Breadcrumbs
This was a nice dish. The octopus was cooked perfectly, and I liked the mild heat and sweet aroma of the Indian inspired sauce.
Celeriac Soup with Lamb Belly and Apple
This was probably one of my top dishes of the night.  The soup was creamy and luscious, but not heavy or thick.  The lamb belly, much like pork belly, offered a crispy textural contrast, but with a more deep, gamy flavour.  With all of those rich, fatty elements, that little bit of brunoise apple offered a sweet and mildly sour note.  A really well composed amuse.
Fluke with Capers, Dill and Turnip
The fish was tender, and flavourful, and while I appreciated the freshness from the dill, I was a little overwhelmed by the sulfurous aroma of the turnip. I know, that's turnip, but there are ways to minimize that.
Geoduck with Squash and Black Soy
I can't say I am a huge fan of the geoduck texture in general, but I found the flavour profile appealing where the sweetness of the squash was beautifully complemented by the salty black soy.
Goose Wonton with Brussels Sprouts and Mustard Oil
Again, with the sulfurous aroma, but the flavours going on were so delicious, I made my nose shut down.  The wonton filling was rich, moist, with a delicate gaminess, while the casing was tender with a satisfyingly chew.  The broth was absolutely addictive.  It was light but complex, salty, but palatable, and had a mild buzz of heat from the mustard.  I would have traded one of my wine pairings for a 2 oz pour of this broth.
Slow cooked Egg, Dashi and Horseradish
The dashi was flavourful, but a little heavy on the strong fish flavours, so much so that I could not detect any horseradish.
Spaghetti with Nori, Fried Sardines and Lumpfish Roe
This was again a star dish.  The pasta was cooked perfectly, and dressed in a tight savoury sauce that was really enhanced by the crispy salty sardines.  It was a bit of a salt bomb, but when you're talking about sardines, those kinds of flavours are totally welcome.
Roasted Monkfish with Vadouvan (a French curry), Yogurt Foam, and Carrots
A beautifully composed dish.  The fish was moist and tender, and a perfect vessel for the deeply aromatic, slightly sweet curry sauce, and the carrots were perfectly cooked.  The yogurt foam had a pleasant creamy, but light texture, and a slightly tangy spiced flavour that complemented both the protein and veg on the plate.
Sunchoke Consomme with Foie Gras, Black Pepper and Sunflower Granola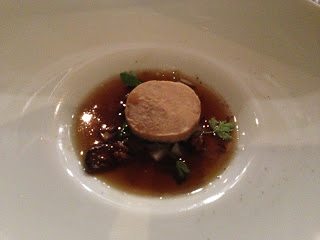 I can't say this is the best foie gras dish I have ever had, but I have a theory that foie gras is pretty much always going to be good.  And it definitely was. The consomme had a mellow sweet nutty aroma, which is really the essence of jerusalem artichokes.  I particularly enjoyed the caramelized crunchy granola in stark counterpoint to the buttery foie gras torchon.  It was nice to have a foie gras dish that really effectively balanced salty and sweet.
Veal Cheek with Green Chili and Sichuan Peppercorn
After a lot of fish and sea-food, I was really looking forward to some meat, and this was a generous portion of rich meat.  With a pleasantly mild sweet glaze, the veal cheek was perfectly cooked with lots of rendered fat to cut all the heat on the plate.  I just loved the numbing sensation from the peppercorn, and those smokey, toasty, slightly caramelized flavours of the chili.  And while there was a substantial amount of pepper going on, it was all beautifully layered, palatable and not overwhelming in the least.
Banana Ice Cream with Cashew Butter, Mint, Gula Jawa and Dried Banana Bread
This was an unusual dish in that I found it difficult to identify whether it was best classified as sweet or savoury.  The banana ice cream was a smooth as a dream, but lacked any distinct banana flavour or even sweetness.  I enjoyed the sticky rich mouthfeel of the cashew butter, but there wasn't much sweetness coming out of that component either. Similarly, the crumbly crispy banana bread offered a nice textural contrast to the satin like ice cream, it didn't provide any distinct sweet or banana flavour.  As long as I kept in my mind that this was a savoury course (which I'm not sure that it was), I enjoyed it.
Hootenanny (Country Pancake) with Maple Sorbet, Crumbled Sausage and Candied Orange
This was a hit and miss kind of dessert.  The sorbet was beautiful, with lots of big aromatic flavour, and like the banana ice cream, lusciously smooth.  I appreciated the smokey, spicy note from the crispy sausage, which also added a nice textural contrast, and the brightly sweet tangy flavour of the orange. My main issue with the dessert was the pancake, which while texturally delightful, was a little eggy for me. Actually, the whole dessert smelled a bit like cooked eggs, and that was pretty much all I could taste. I would have been happier had this bit been left off the plate.
Take Home Treat: House-made Pickles, Kimchi, BBQ Sauce and Sesame
This was a really interesting idea, as usually when you're sent home with goodies, they're of the sweet variety.  I obviously wasn't going to dive into my vacuum pack that night when I got home after all this, but I did bust it out as a mid-day snack on Sunday.  The pickles were delicious, a perfect balance of sweet, heat and tangy, and I also loved the slightly spicy Kimchi, which managed to retain its crunch fairly well.  I wasn't crazy about the BBQ sauce though, which I found a bit grainy, thin, and flat in its flavour.
So for two tasting menus, a half drink pairings and full drink pairings, the bill was over $500 including tax and tip.  Was I completely blown away? No, particularly not for the price. Was I really disappointed? Not necessarily.  I can say that I don't think that Toronto's Momofuku Shoto really has lived up to its legacy, but that I can't completely expect that it should.  It's still very young in its culinary life, and there is plenty of time to work out the kinks and menu.  It was an enjoyable and creative meal and I really appreciated some of the menu risks (most of which I found successful), but it was a sub-par overall experience, and for that, it left me a little underwhelmed and unsatisfied.  So for me, I certainly would not cross Shoto off of my return-to list, but that it will have to be limited to special occasions, and be down the road sometime once we've seen some growth happen.
Updated on May 8th, 2019