I talk about the newest kitchen innovations and how having a functional kitchen makes cooking and eating well actually enjoyable.
Foodie confession: I spent 10 months living in a shoebox with a kitchen I hated and cooked only for work. I know food is my job, and my Instagram account would have never spilled my secret, but for those 10 months, UBER eats was my BFF. It's amazing the difference a well-organized, functional kitchen makes in a foodie's home, because since moving into my house (and fully-stocked kitchen), I've literally cooked every day. And not because I ran out of cash from the renovation, but because I found cooking actually pleasurable. I actually wanted to be there. So, when I walked into the impressive KitchenAid pop-up showroom for their #YoursForTheMaking event, I was itching to get behind the stove. Located at the beautiful Storys Building in downtown Toronto, I got a chance to try out some of the new, innovative products from KitchenAid.
The Newest Kitchen Innovations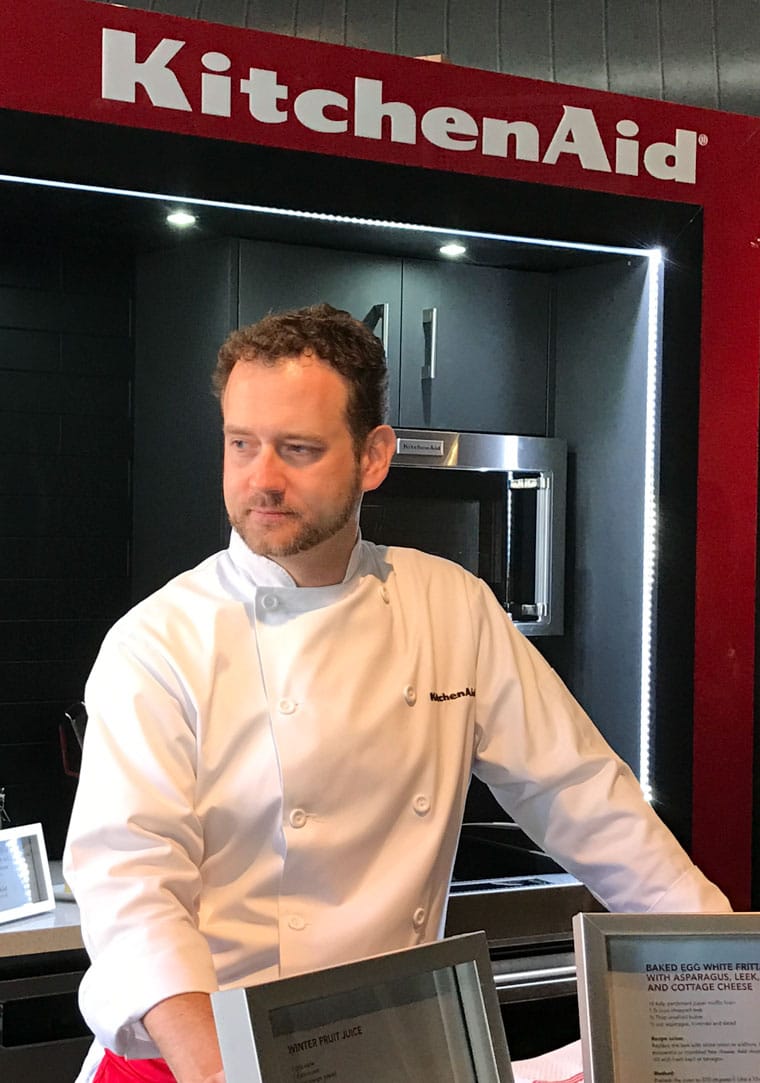 Celebrity chef Corbin Tomaszeski was on hand to walk us through the latest major appliances from KitchenAid. First, I got to check out the stunning KitchenAid Counter-Depth French Door Platinum Interior Refrigerator with Freshvue™ Door-Within-Door . OMG this thing is a beauty! It has this beautiful little window for peeking in at what you've got, plus a door-within-door feature lets you grab your favourite ingredients quickly. I also love the super wide and deep crisper drawer that's perfect for all my fresh produce and the marinating tray is such thoughtful addition.  I don't know about you, but I really like seeing everything in my fridge so that I don't accidently re-buy things when I go to the store. The interior of this KitchenAid fridge is so well lit and organized, everything is so easy to see – no more hidden food!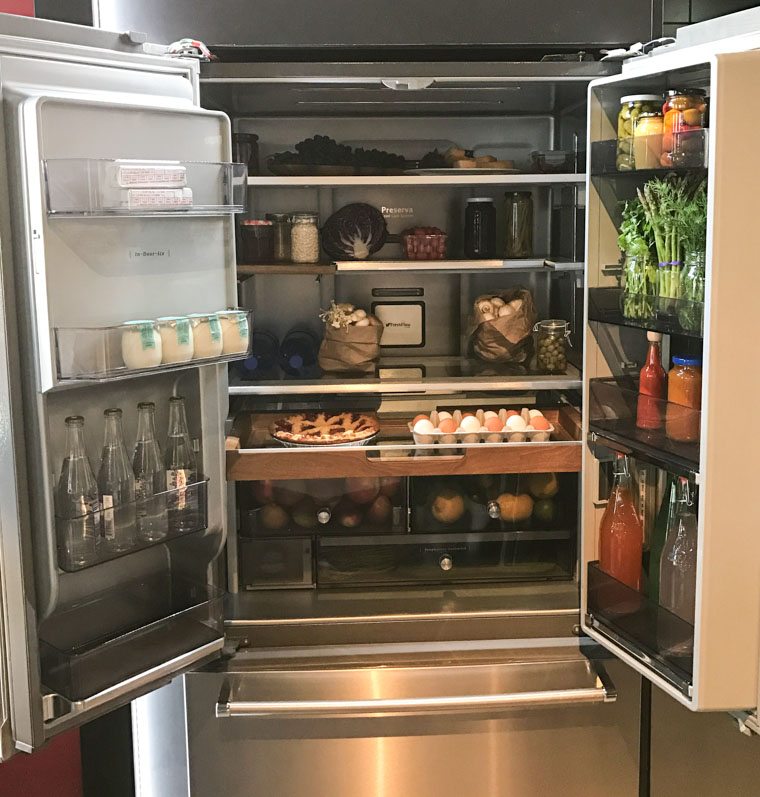 Chef Corbin then walked us through a few recipes on the new 30-Inch 4-Element Induction Convection Front Control Range with Baking Drawer. If you're a control freak like me, you'll love induction cooking. It's fantastic for getting water up to a boil CRAZY fast and delivering consistent heat throughout the surface so you never get hot spots or bits that never cook through. Corbin showed us how to make super healthy and easy egg white frittatas (which I am totally making this week for meal prep), and some amazing potato latkes using the spiralized potatoes. I am totally stealing that idea for Hannukah this year!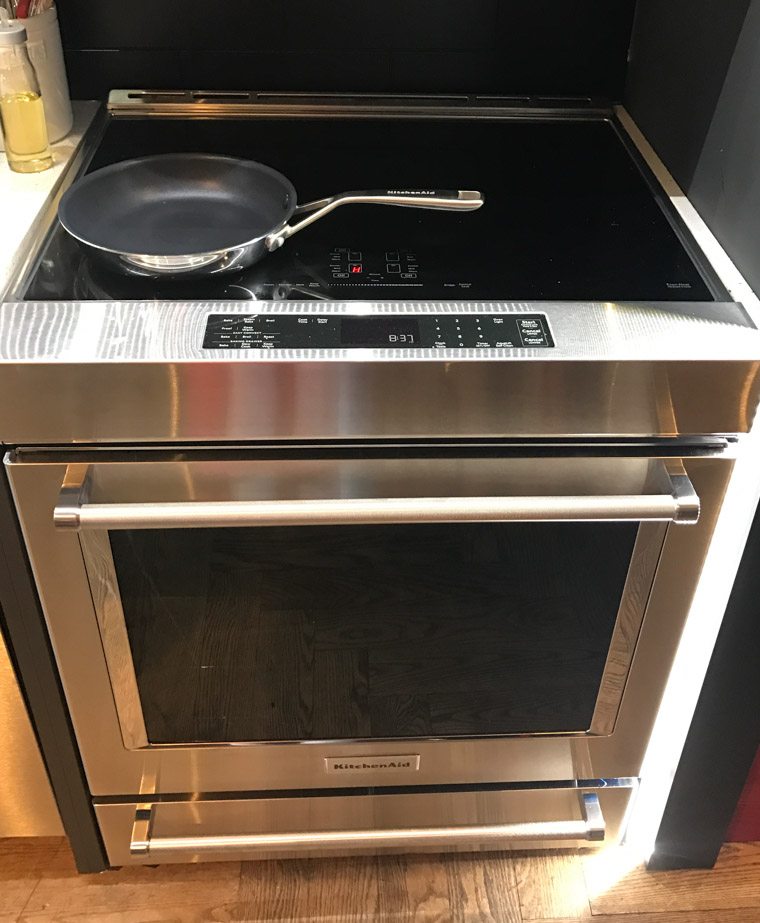 In the spirit of Hannukah, we prepped potato latkes using the KitchenAid Stand Mixer and Spiralizer Plus with Peel, Core and Slice. The spiralizer (you know, my favourite product in the world for helping me make my super popular Zoodle Carbonara and Zoodle Pad Thai) can spiralize root veggies without any effort. I have a lot of spiralizers at home but most are just too fragile (or require way too much muscle) to work the tough potatoes, beets or carrots. I've tried them all, and only the KitchenAid Spiralizer is up to that job! With the holidays upon us, this would be PERFECT for making latkes, shoe string fries or pretty salads this holiday season.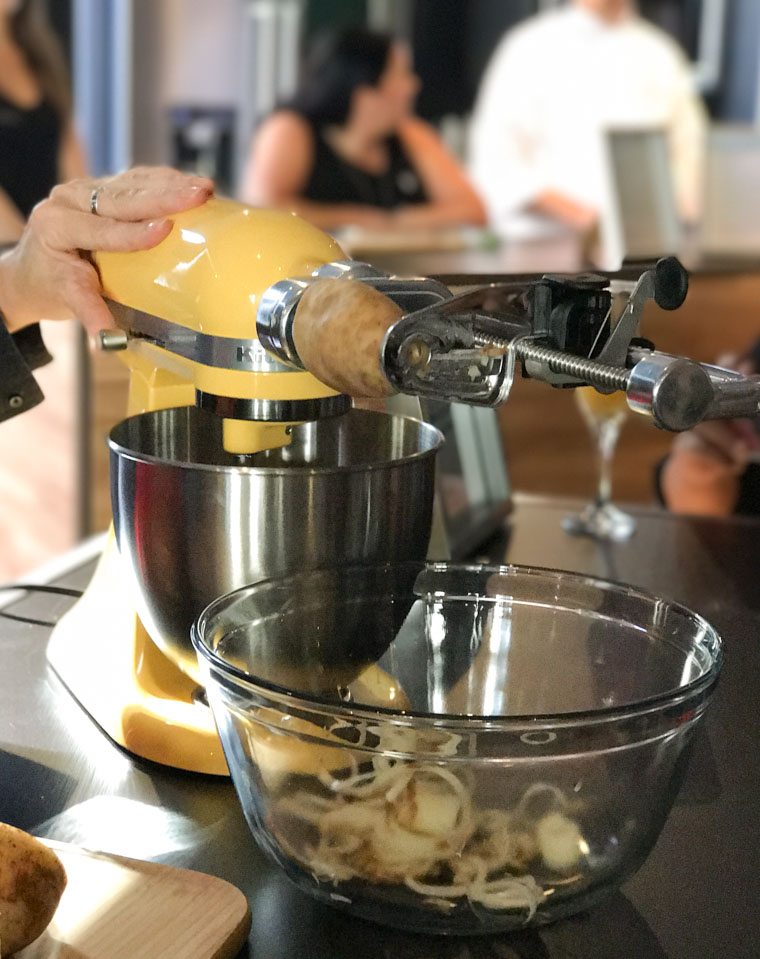 If you have a KitchenAid Stand Mixer (and if you don't, you really should), you have GOT to try their amazing juicer and sauce attachment. The juicer did an incredible job extracting every single little drop of juice from the apple, pear and orange medley I fed into it, leaving behind nothing more than thick dry pulp.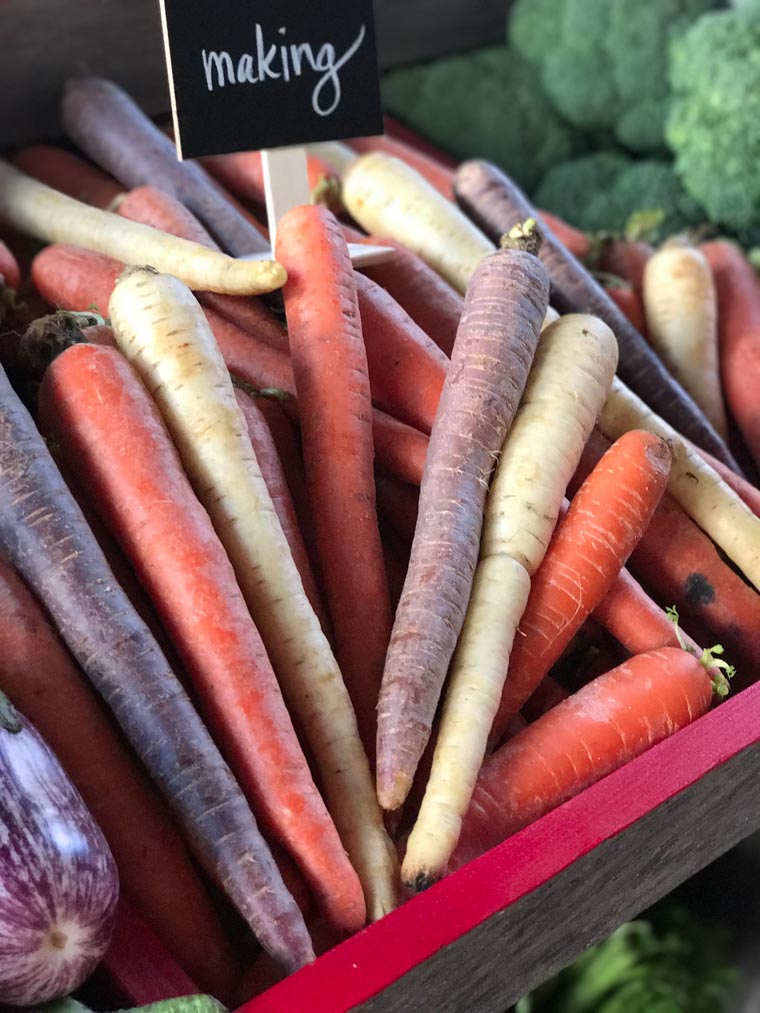 Finally, while clean up is everyone's least favourite task, at least you know the KitchenAid Fully Integrated Dishwasher with Pocket Handle makes it as easy as load and go. Its pocket handle is a really nice design feature and it has a special finish to resist fingerprints.  My favourite feature though is bottle wash! For those of us who are smoothie queens and struggle getting all the little bits of pulp stuck at the bottom of bottles (oh hi there!), this revolutionary design will get them out! I also like that it has a unique fan to help get those pesky plastics dry – um, WHY HASN'T ANYONE THOUGHT OF THIS HAPPENED BEFORE?! Sold! Sold! Get me two!!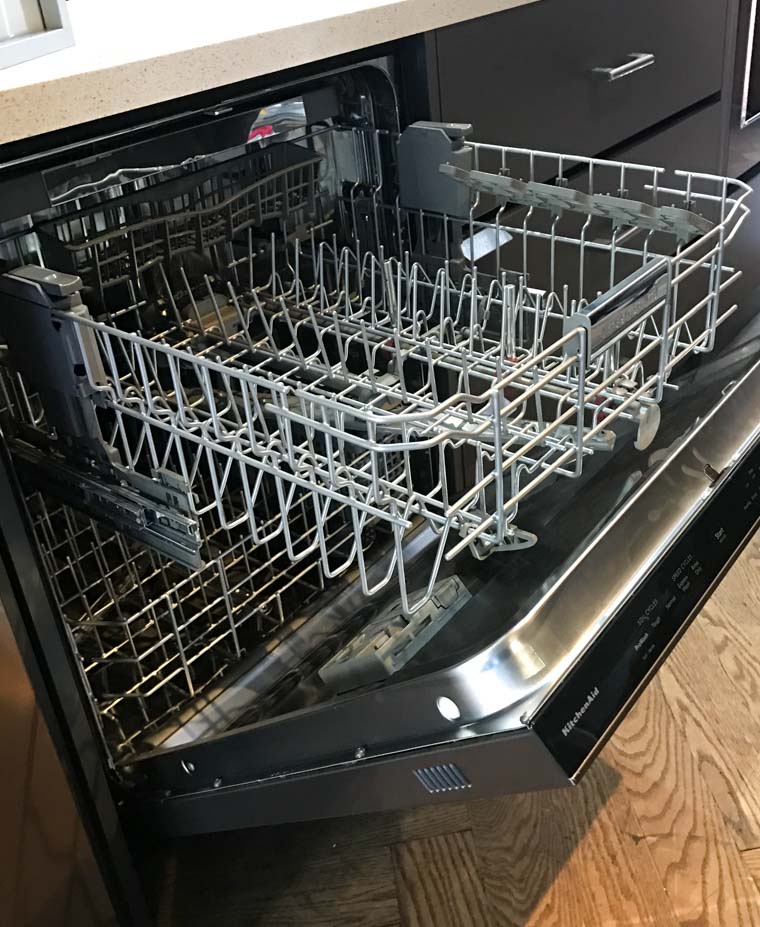 Well, they basically had to kick me out of the event because I was riffling through that fridge trying to decide what I wanted to make for lunch on the induction range. Yes, I may be a foodie, but even for those who cook to live, this is proof that cooking can be less of a chore with the right tools.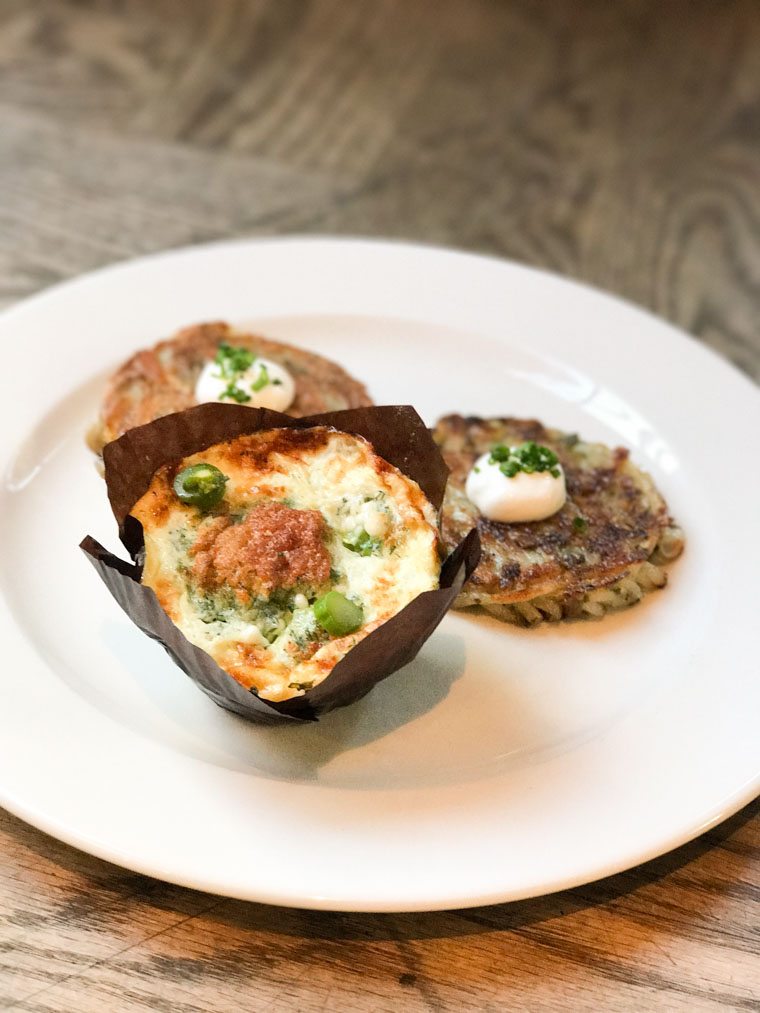 Now I want to know from all of you guys what appliances and kitchen tools make cooking enjoyable for you?
What can you absolutely not live without?
What's the definition of a functional kitchen to you?

Disclaimer: this post was developed in paid partnership with KitchenAid, however all opinions are genuine.