Last week I posted an article from The New Yorker by Michael Specter on my Facebook wall that I felt gave a thorough, unbiased, and comprehensive analysis of the multi-faceted Gluten Free for Weight Loss debate. It was a long article filled with lots of fantastic storytelling that I quite personally really enjoyed. But some of my busy facebook friends suggested that it may be helpful if I summarize the main points. I know this doesn't exactly look like a short version, but I wanted to give you enough details to understand everything and organize it in a more quick and dirty format. For more great narrative, I highly suggest you read the full article here– it's fantastic.

What is Gluten?
Gluten is a protein found in wheat, barley, and rye that's created when two molecules (gliadin and glutenin) form a bond. If you have ever pulled pizza dough and watched it stretch out and shrink back- that is gluten. Gluten gives bread its chewy texture, and also adds volume to it by trapping carbon dioxide in its structure.
What is Celiac?
Celiac affects 1% of the population. When people with celiac come in contact with gluten, it triggers and immune response that damages the surfaces of the small intestine. It can cause everything from severe GI upset to complete malnutrition as a damaged intestine cannot adequately absorb nutrients from any kind of food (with gluten, or otherwise).
Should Anyone Else Go Gluten Free?
Well, 10 years ago, everyone else probably had never even heard the word gluten, nevermind assumed they had some sort of disease that precludes them from consuming it. But a few doctors (William Davis of the "Wheat Belly" and David Perlmutter of "Grain Brain") wrote books that were riddled with anti-gluten propaganda and sent the world into a state of gluten anxiety. As a result, we now have another gluten-related ailment called "Non-Celiac Gluten Sensitivity". Unlike celiac, there is no reliable diagnostic measure for Gluten sensitivity (other than ruling out celiac and finding relief on a gluten-free diet).
The numbers:
-20 million people say they experience GI distress from gluten.
-1/3 of American adults say they're trying to eliminate gluten.
-Celiac has increased 4x in the past 60 years.
-Sales of gluten free products will exceed $15,000,000,000 (Christ!) by 2015.
Why is wheat (or more specifically, gluten) making people sick today after thousands of years without issue? Could it be something else in wheat causing problems? Is non-celiac gluten sensitivity all in your head? Here is a summary of the cited theories and literature in the article.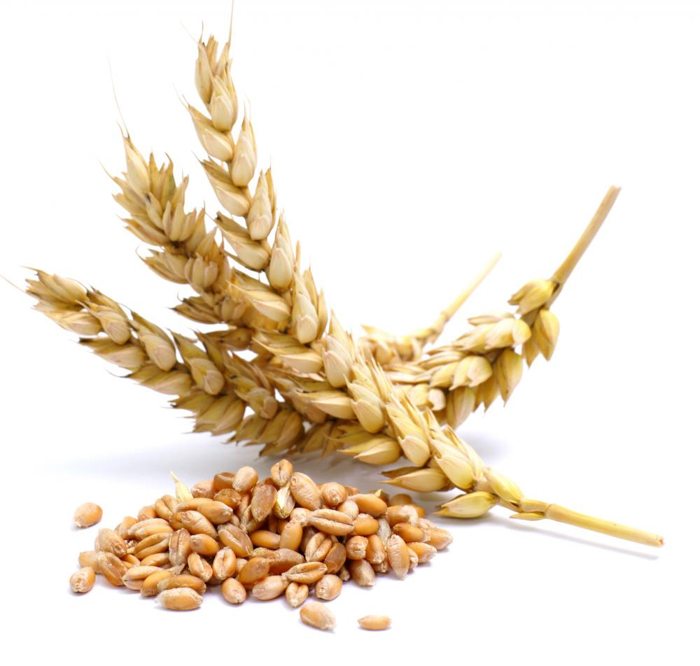 The increase in celiac since the 50s is not just due to greater diagnosis rates but rather, is likely related to changes in environment
Joseph A. Murray of the Mayo Clinic tested the antibodies of 9000 Air Force recruits from the 50s expecting to find the same percentage of celiac markers as we would see today (1%)- but it was much lower in the 50s – only 2/10ths of 1%! In other words, celiac rates are likely increasing.
Increases in celiac is not likely due to changes in wheat breading
Joseph A. Murray and Donald Kasarda (Journal of Agricultural and Food Chemistry) both say that the wheat grain is not much different then it was 50 years ago.
Very small study has suggested the existence of non-celiac gluten sensitivity
Peter Gibson (American Journal of Gastroenterology) conducted a double blind study with two groups following a strict gluten-free diet. He then gave one group gluten free muffins and bread, and the other group regular muffins and bread but doctors and participants didn't know which treatment they were getting. Those given gluten complained their symptoms returned. More larger studies are now given conducted as this study is extremely small (sample of 34).
FODMAPS may be the real culprit of your digestion woes
FODMAPS (fermentable oliogosaccharides, disaccharides, monosaccharides and polyols) are a group of carbohydrates that are osmotic (they pull water into the intestinal tract) and therefore can cause abdominal pain, bloating, diarrhea and gas as the carbs enter the colon undigested and are fermented by bacteria. FODMAPS are found in foods with fructose (honey, many fruits etc.), dairy, and fructans (like onions and garlic). Gibson put 37 volunteers who claimed to have gluten sensitivity on a FODMAP-free diet and they all felt better. Then he secretly gave them gluten and they still felt better. The results are not surprising because bacteria ferment carbs regularly but rarely ferment protein (like gluten) so perhaps the problem is FODMAPS and NOT gluten. Gibson conducted both studies (the gluten one and the FODMAP one), but after the first was released and people went crazy with the gluten free phase, it was too hard to reel everyone back in with the updated (more realistic) news. But a FODMAP-free diet isn't as sexy as GLUTEN free diet… at least not in 2014. Again, this is far too small a study to change the game, and more similar studies are now underway.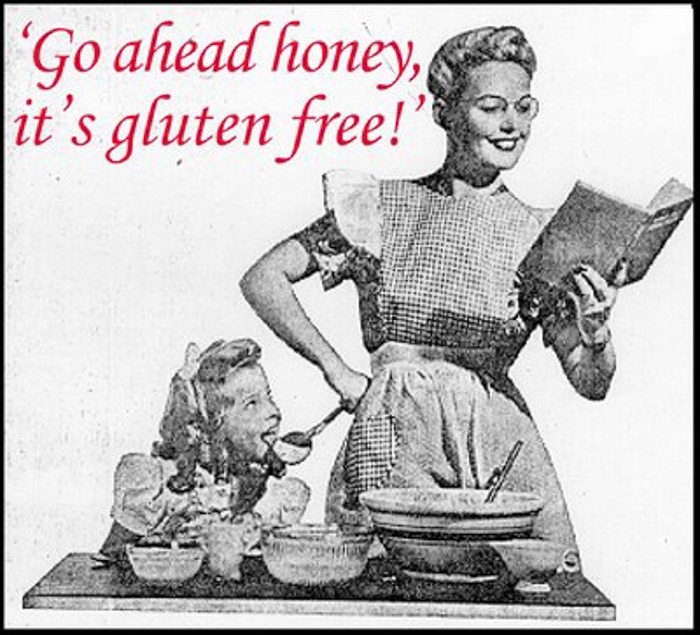 The way bread is Made may play a role in the spike in gluten sensitivities and celiac
The traditional way to make bread is using only wheat flour, water, salt and yeast. You let the flour absorb as much water as possible and give it lots of time to ferment. Then you knead it by hand to create a strong elastic gluten and bake. No magic, just patience and passion.
The modern (much faster) way to make commercial bread is using steel rollers to discard the germ and bran (the healthy bits) so you're left only with the white, starchy endosperm devoid of fibre, vitamins and healthy fats. Add extra gluten (called vital wheat gluten) so you don't have to wait so long for it to rise and so it can withstand the powerful process of industrial mixers. In other words, there is gluten in the bread to begin with, and unlike 50 years ago, today, we're adding more. There is no current data to determine how much extra gluten we can digest but this may be the key.
Gluten Free is often less healthy
I've written about this here, but when food manufacturers remove gluten, they often have to add more sugar, salt and fat to compensate. Most of the gluten free products I see on the shelves are less healthy and more refined than the original. Moreover, there is a certain health halo associated with the words Gluten Free where people forget a gluten free cake is still a cake.
Non-Celiac Gluten Sensitivity is largely self-diagnosed or "diagnosed" by non-medical professionals
People are going on strict gluten free diets (or putting their children on them) without them being indicated medically. Everyone except doctors are prescribing them (from podiatrists, unregulated nutritionists, and "life-coaches") and Peter Green (director of celiac-disease centre at Columbia university medical school) suggests it's doing more harm than good.
Gluten Free diets may be the first step to an eating disorder
Green suggests this mis-advise may be related to the rise in cases of orthorexia nervosa. Orthorexia is a somewhat new, yet debilitating and life threatening eating disorder where people eliminate foods or food groups they deem "unhealthy" until they reach a very unhealthy, malnourished state.
Eliminating gluten also eliminates junk
It's quite possible the physiological benefits people experience on a gluten free diet is actually related to the elimination of refined carbohydrates, bread, desserts, beer and other high calorie foods.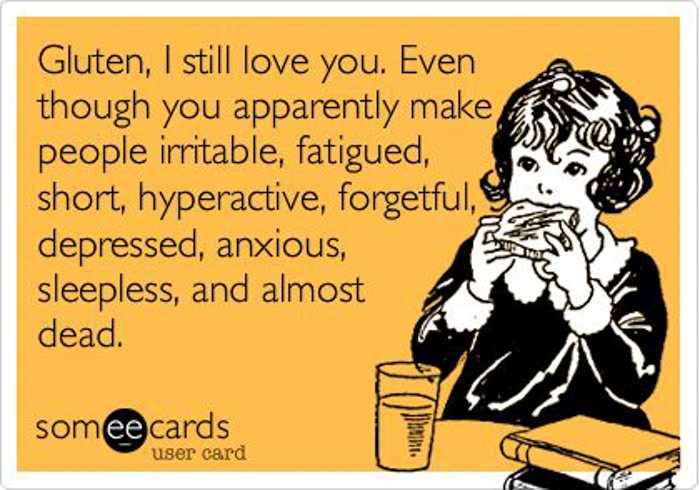 My Take on Going Gluten Free
Longitudinal nutrition data is notoriously hard to gather, but unfortunately, with gluten, that's what we need. For that reason, we won't have a definitive answer on gluten or Non-Celiac Gluten Sensitivity for many, many years. Until then, here is my personal and professional opinion as a Registered Dietitian that you can take, leave, love, hate, whatever. It's your body. First of all, Celiac disease is a very serious condition that should not be taken lightly. As a dietitian and a food lover, I am overwhelmed with excitement that the food industry has stepped up to provide a multitude of options for the 1% of people living with Celiac. For the 99%, there are those of us (like me- apparently just 1/3rd of everyone) that don't believe they have issues with gluten. The rest, for whatever reason, do and are therefore actively trying to cut it down or out.  I would argue that the people in the latter category are likely experience these improvements for a few reasons, some that I think are more prevalent than others (but we won't know for sure without more research).
1)      Too much gluten from processed foods- As the points above suggest, it's possible that today's processing of gluten into bread and other products with the use of added vital wheat gluten and quick fermentation times may simply just be too much gluten for the body at any given time. Perhaps it could be as simple as cutting back on processed gluten-filled foods and consuming mainly homemade versions- who doesn't love homemade bread?
2)      Cutting back on Gluten means cutting back on junk food- So you cut out gluten and you feel so much better! Maybe gluten wasn't the culprit of your digestive woes, but rather, maybe it was the cake, cookies, pastries, white breads, sugary cereals, pizza and other snacks that were the problem, and nixing gluten got rid of these foods too. Hey, maybe it comes down to moderation?
3)      FODMAPS are more likely the issue at hand- Many health professionals in the gastroenterology field feel strongly that gluten isn't the problem- it's FODMAPS. Early evidence suggests that reducing ones intake of FODMAPS provides relief to about 75% of people with IBS (Irritable Bowel Syndrome) symptoms. Unfortunately, like with all of North American's fad diets, people like to blame one thing for all of their health problems rather than looking at their entire lifestyle and making more holistic changes. This is why the gluten-free diet has caught on with raging enthusiasm, but the FODMAP-free diet has not. Just check out this list– there are lots of foods with FODMAPs! To make things even more potentially complicated, everyone responds differently to each individual FODMAP food. This means that through a careful elimination diet with a Registered Dietitian, I may discover that I can handle bread quite well, but garlic and cream cheese (separately, or together, I suppose) are big no-nos for this bod.  Yes, it's more complicated, but it's also potentially good news because your trigger could be as simple as the honey in your tea and you can go back to enjoying bread, pasta and beer (in moderation)! The research is still very young on FODMAPS, but I believe this is going to become the answer to the long-term research questions we're posing now.
4)      It's somewhat psychological- Ah, here comes the backlash but just hear me out. We call this the nocebo effect (and Gibson found this in his research, as well). I don't think everyone falls into this category, but the mind is a powerful thing and it's very possible that if you think you will feel better by eating or not eating something, then it's quite likely that you will.
5)      Gluten free has become part of a trendy sexy lifestyle (and this really boggles my mind)- Going gluten free has also become somewhat of a status symbol, whether people admit or even acknowledge that at all. Gluten free foods are trendy, expensive, and also carry a "health halo" that make some people feel good about their food choices, no matter what they are (gluten free cake is healthy, right?!). I went into this in detail in my post here, but what most people ignore is that often Gluten Free products are less healthy than their gluten-full counterparts.
In conclusion, I don't have a definitive answer because Registered Dietitians strive to operate by evidence-based practice and right now, there's just not enough evidence to convince me of anything. But I hope you will find my clinical judgement (if nothing else) good food for thought, and will question your own intentions, needs, and well being when making decisions about gluten or any other aspect of your health.
What's your take on the gluten dilemma? Do you want to go gluten free?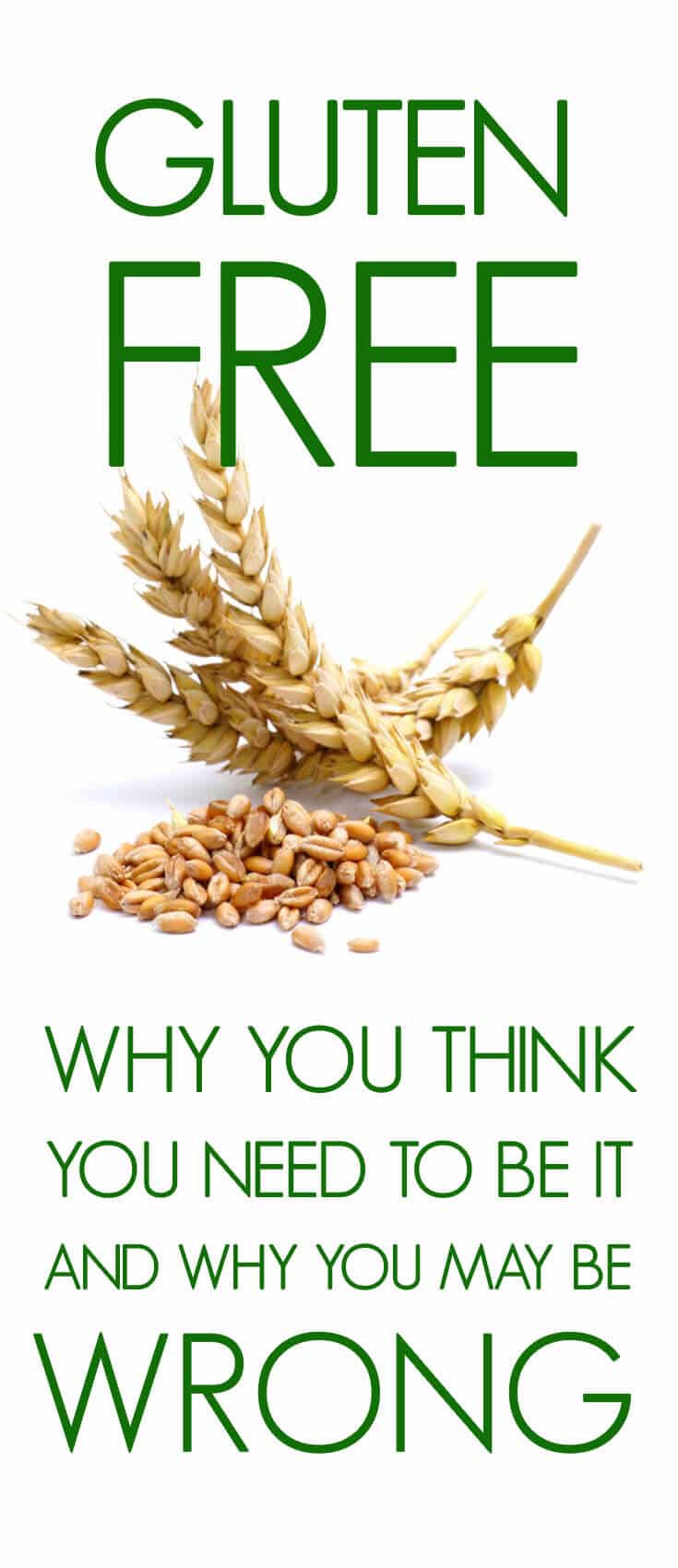 Updated on April 17th, 2016