The ball has dropped, the kiss has been planted, we all drank too much champagne, and now everyone is asking everyone else, "what's your New Year's resolution?" Well, if you're not a smoker, the next token answer is probably that you want to "lose weight," regardless of what weight you are to begin with. It seems we're all programmed to be thinking about our changing our bodies, exercising more and planning healthy snack recipes.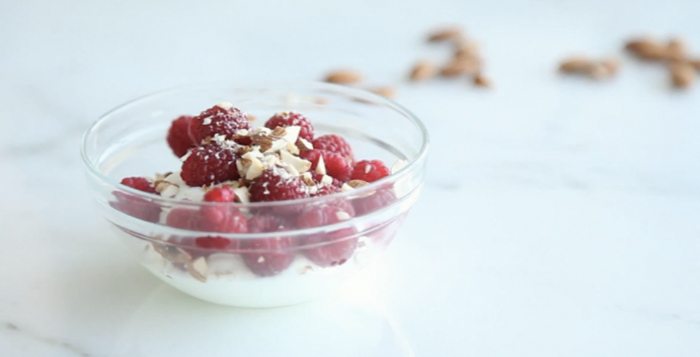 Yogurt with Berries
I propose that we ignore the persistent gym advertisements and supplement claims that dominate ads in print, web, radio and TV. I say that this year, we aim to fall back in love our bodies, ourselves and food! No guilt. No anxiety. No fear of [inevitable] failure when you realize you are human and can't subsist on juice for the rest of your life. For once, let's try a New Year's resolution that will not only improve your health but will also become something to look forward to integrating into your life for years to come.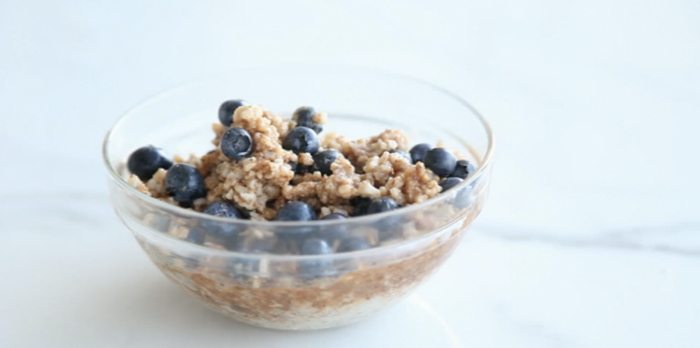 Mini Oat Bowl
How can we do this?
My New Years Resolutions
1. Put Enough Gas in the Tank: I like to think of my body like a car and my hunger is my gas gauge. You wouldn't wait until you're on empty to leave the house to go get gas, so why do we always do this to our body with food? Throughout the day, check in with your hunger, and decide if you need some healthy snack recipes or a full blown meal. I like to start eating when I'm 3/4 empty- so maybe I am starting to feel my energy level drop a bit but I'm not shaking or ravenous. If I know I have a meal coming up (and planned) then I'll just go for a snack- something like my recipe below for Figgy Chia Pudding to bring me back up to the half way mark. When it is time for a meal, the key is to try to not let yourself get over the 3/4 full mark; no one likes food cramps or has time for a post-lunch nap.
2. Make Eating the Priority: When it is time to eat, always turn off the TV and put away your phone- okay, just take the picture of your snack, then put it away. I pride myself on being a multitasking queen but if there is one activity that deserves my undivided attention, it's eating. Even if it's not "meal time" and you're just enjoying one of my healthy snack recipes or that handful of almonds, allow yourself the time to sit down to a nicely set table, put your food on a plate or in a bowl, and tune into every sensation in the experience- the crunch, the rich flavour, the delicate sweetness, the smooth texture. Love-it-all.
3. Cook with Loved Ones: Food always tastes better when it's part of an experience and memory. If you make healthy home-cooking a regular date-night or family affair, you will start to form associations of eating with the warm feelings we have when we're with people we love.  These food-love linkages can last a lifetime and will become the default if we practice enough.
4. Get Adventurous: Shake up your mindless eating routine by picking up an unfamiliar ingredient every week to play with! Don't worry about looking into the nutritional facts, just focus for now on exploring the sensual properties of the food. How should you cook it? Does it taste like anything familiar? What flavours will pair nicely with it? Don't worry about pulling off a black box chef-worthy meal, simply use it to spark some excitement about food.  For example, have you ever cooked with almond milk before? Why not pick up a box and experiment by substituting it for the heavy cream in your favourite soup or the mayonnaise in a creamy slaw dressing or try it with one of my healthy snack recipes.
5. Think Positively about Food: In today's diet-obsessed world, we typically only think about the "bad foods" and how to cut them out of our diet, rather than instead focusing on all of the inherently beneficial aspects of foods and how we can add more in. If you are listening to your body for cues on when you're satisfied (see tip 1), adding more nutritious foods to your diet will have the automatic effect of edging out the less healthful ones. It may also help you stop thinking of foods in such dichotomous "good" and "bad" terms which tends to make us feel deprived when we choose the former, and guilty when we choose the latter. This certainly isn't your fault. We're constantly bombarded with messages that highlight the villainous elements of foods like fat, sugar or gluten and that tend to defame that entire food without the whole picture in mind. For example, almonds, are high in fat and the media likes to paint fat as the enemy, but if we focused so much on that isolated factoid, we wouldn't be able to appreciate that those fats are heart-healthy monounsaturated fats that are associated with weight management and reductions in chronic disease. We wouldn't be able to see how delicious they are in some of my healthy snack recipes. All foods have redeeming qualities, so celebrate why your favourite foods are good for you in that moment of that day.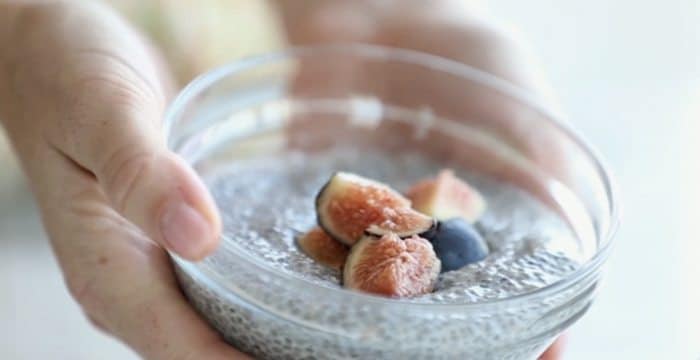 Figgy Chia Pudding
Looks like 2015 is going to be a delicious year, and it's not just because I've made a pact to love myself and food. I'm so pleased to announce that I will be joining the Life Squad campaign as the Canadian spokesperson for California Almonds!  This is an absolutely perfect marriage for me because almonds represent everything I stand for as a brand. They're delicious – first and foremost –  and yet, come with a range of remarkable health benefits like fibre, protein and healthy fats. I find ways to sneak almonds into my meals from morning to night, and they always show up in my healthy snack recipes.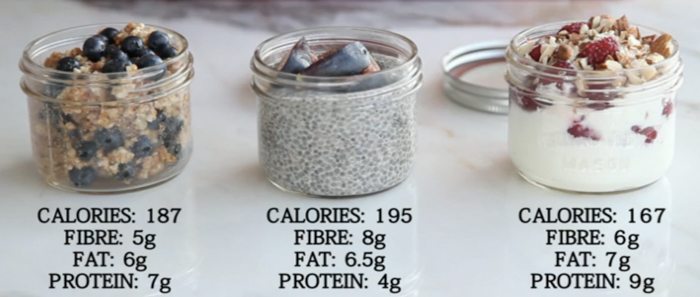 Healthy Snack Recipes
Speaking of snacks, check out these three easy healthy snack recipes under 200 calories to get you out of that classic 3PM energy slump. The key here is a combination of protein, fibre and healthy fats that you can find in power foods like almonds. More of a visual person? No problem! Check out my YouTube video below and be sure to subscribe to my channel for by-weekly videos!

Berry Yogurt Parfait
These three easy healthy snack recipes are under 200 calories and will get you out of that classic 3PM energy slump.
Ingredients
1/2

cup

non-fat plain Greek yogurt

1/2

cup

raspberries

1/2

ounce

almonds

crushed
Instructions
Top the yogurt with the raspberries and almonds.
Mini-Oat Bowl
These three easy healthy snack recipes are under 200 calories and will get you out of that classic 3PM energy slump.

Ingredients
1

pinch

salt

3

teaspoons

steel cut oats

1/2

tablespoon

almond butter

2

tablespoons

blueberries
Instructions
Bring 1/2 cup plus 1 tablespoon of water and salt to a boil.

Add oats, reduce heat and cook for 5-10 minutes, stirring occasionally.

Stir in the almond butter and top with blueberries.
Figgy Chia Pudding
These three easy healthy snack recipes are under 200 calories and will get you out of that classic 3PM energy slump.

Instructions
Mix the chia seeds and almond milk in a bowl.

Cover and allow to sit in the fridge over night.

When ready to eat, top with the diced fig.
Disclaimer: The preceding recipes were developed as the Canadian Spokesperson of the Almond Board of California.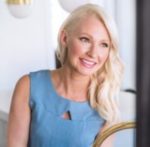 Abbey Sharp is a Registered Dietitian, an avid food writer and blogger, a cookbook author and the founder of Abbey's Kitchen Inc.