If you haven't noticed, I've been laying low on the restaurant scene this year. Not because I'm watching my weight for my wedding (ha, that's not going so well), but just because I've been so busy with recipe development and spokesperson campaigns that I can't find a ton of time to go out. Having said that, if there was one new restaurant I was desperate to try before the summer fizzled off, it was Alo. Alo promised a few things I really, really like that have been missing today in Toronto's dining scene. For one thing, tasting menus. Alo offers a single (affordable) tasting menu. Second, fine dining. I love cheap tacos and tapas, but lately I've been dying to make the few restaurant meals I have time for really, really special. And third, Chef Patrick Kriss. Okay, that sounds a little stalker-ish but honestly, I've been waiting for Kriss' comeback. This man carries with him a pretty impressive CV including his time spent at Acadia (in what I see as some of the best Acadia years), Splendido, Auberge du Pommier and Lumu. Well, after a short hiatus, Kriss landed himself a killer location at Queen and Spadina and spent about 7 months renovating the 3rd floor space.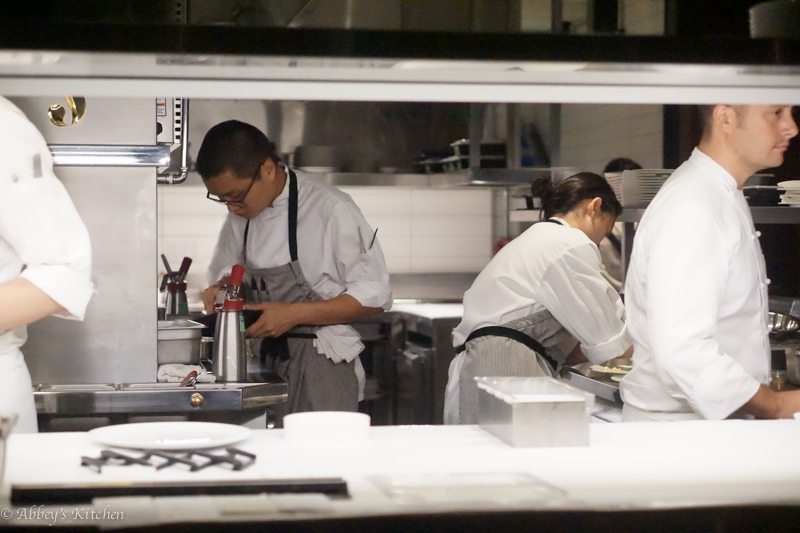 While an unsuspecting location for a fine dining establishment, being whisked away to a 3rd floor restaurant immediately feels like an exclusive culinary getaway. Without the noise and commotion of the busy street corner, it's easy to forget you're going home to your own bed and not a NYC hotel room. When you arrive up the rickety elevator (or for those without heels, the stairs), you're directed through the gilded sultry bar space, past the bright clean open kitchen and into the sophisticated dining room. Designed by Commute home, the palate is masculine and refined, with gorgeous woods, slate greys and clean white walls that soak up the natural light. Alo may be small, but don't expect to be eating on top of your neighbours. Each of the banquettes and booths are luxurious and grandiose, a breath of fresh air from Toronto's usual tight quarters and communal set up. As I nestled into my spacious quarters, I couldn't help but feel like I was settling in to a Michelin-style meal.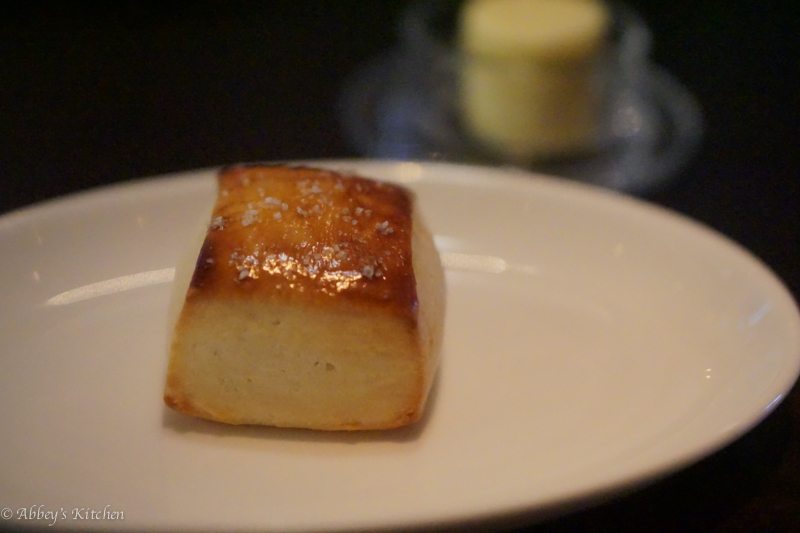 Milk Bun
Speaking of Michelin experiences, I got a little giddy when immediately after sitting we were offered our choice or a white or black napkin. I'm fairly confident no one else in Toronto is doing this, though I find it's the norm in highly acclaimed establishments throughout Europe and the US. Alo is clearly raising the dining experience bar. Overseen by GM Amanda Bradly (previously George), the service moved in an impressive dance-like rhythm despite hosting a full house at only three weeks in. Servers and food runners were exceptionally well trained on the menu (ours even suggested he had done his own research on obscure ingredients), and everyone seemed to move from the kitchen, to the pass, to the dining room with a confident air.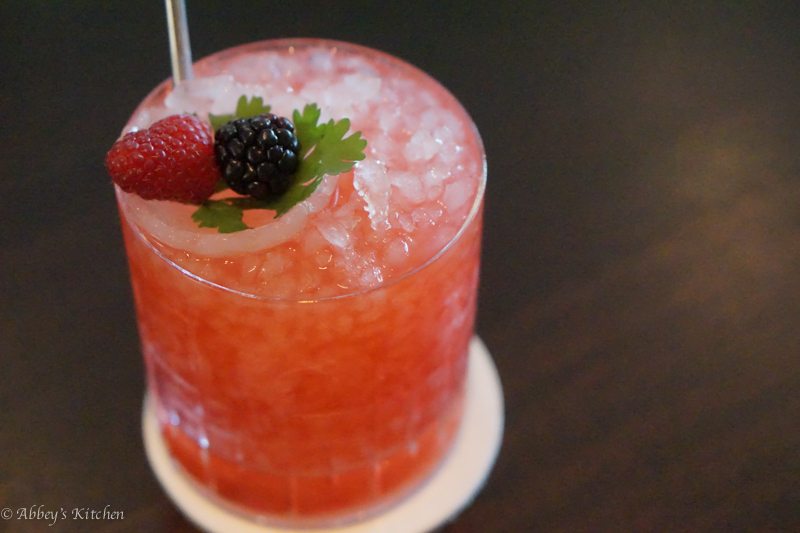 Vodka Fix
In line with the refined service, Alo offers a sophisticated list of libations. Curated by mixologist John Bunner, the cocktail list features twists on classics using less-common spirits like Absinthe, Herbsaint, and pineau des Charentes. Folks who can't handle the heavy hitters will love the Vodka Fix ($14), a sweet and refreshing combination of vodka, bramble fruit cordial, lemon and cilantro. I also found the sour-style Tilting at Windmills ($15) an easy summer sipper with its bright citrus Seville orange, lemon, and frothed egg white balancing the Tanquerey gin and Bols Genever. Wine drinkers can opt for the $65 wine pairings along with their tasting menu courses, or choose from Sommelier Anjana Viswanatha's mainly organic and old world selections. Glasses are reasonably priced starting at $10, while bottles range from $45-250, making a premium meal much more accessible than expected.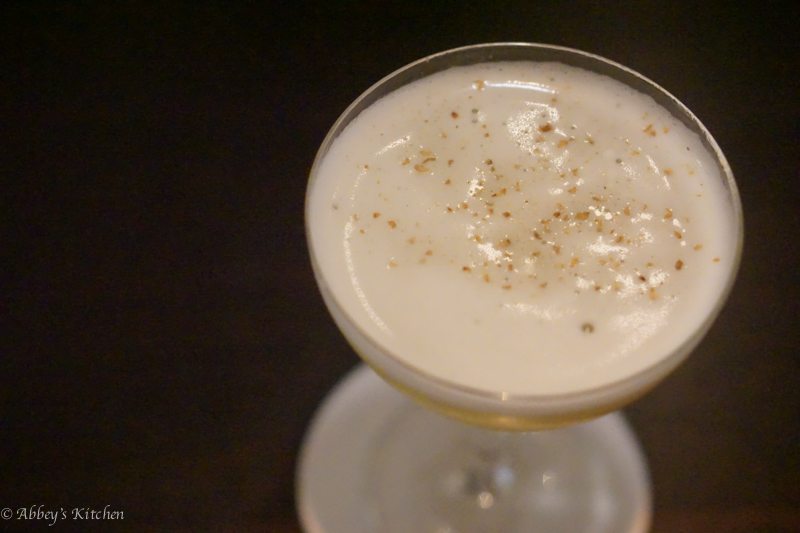 Tilting at Windmills
Likewise, Kriss' tasting menu is surprisingly affordable for the quality and quantity of premier fare. For $89, guests get a carefully crafted five course meal (plus an additional 6 smaller courses or bites) that changes regularly and consciously responds to diner's dietary restrictions.  For each of the five official courses, guests can select from two options, allowing couples who share to try a larger spread.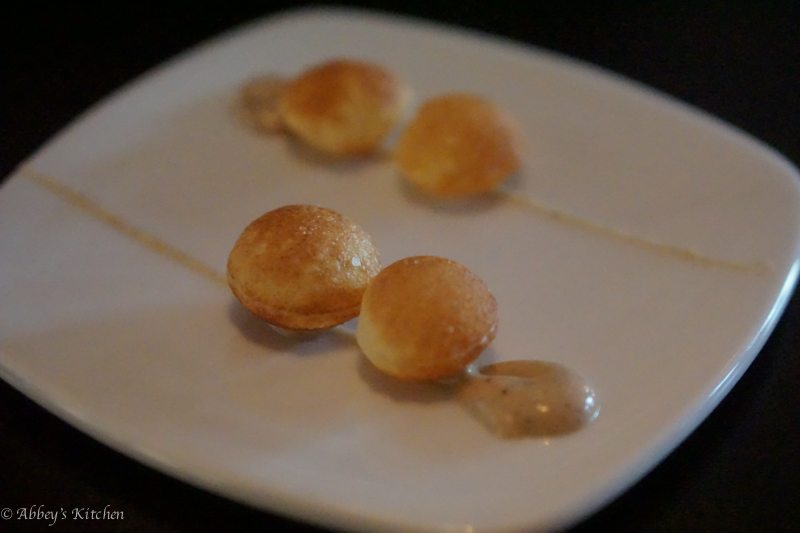 Pomme Souffle
Alo Food
Our meal promptly began with a playful Pomme Soufflé in Black Pepper Aioli that I swear tasted like Miss Vicki's sea salt and malt vinegar chips. Another bite featured a variety of preparations of Summer Corn, including a sorbet, puree and chip complimented by buttermilk and amaranth.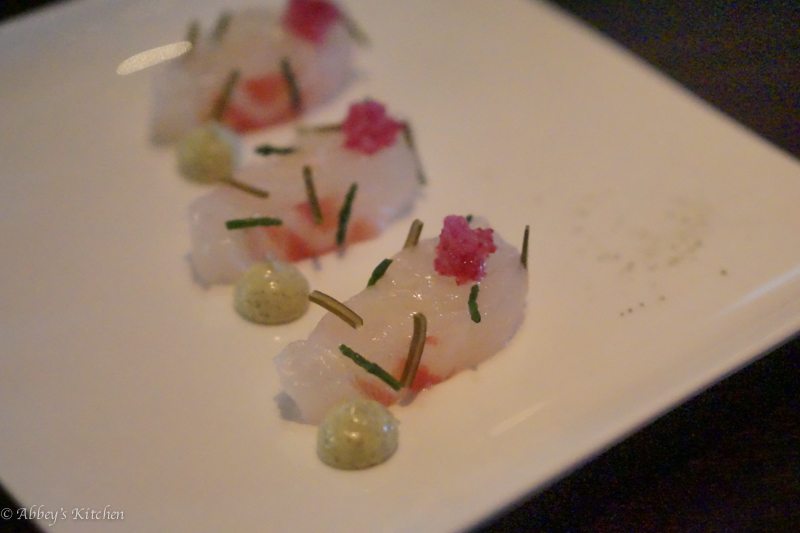 Japanese Sea Bream
Our first course featured two takes on raw fish. One option showcased a few plump Pemequid Oysters in a light cultured cream, balanced out by a sweet salsify, crunchy crouton and verdant watercress. The other (my preference) was a Japanese Sea Bream adorned with a finely minced radish, samphire, and an aromatic yuzu kosho aioli, offering just enough fat to round out the fresh fish.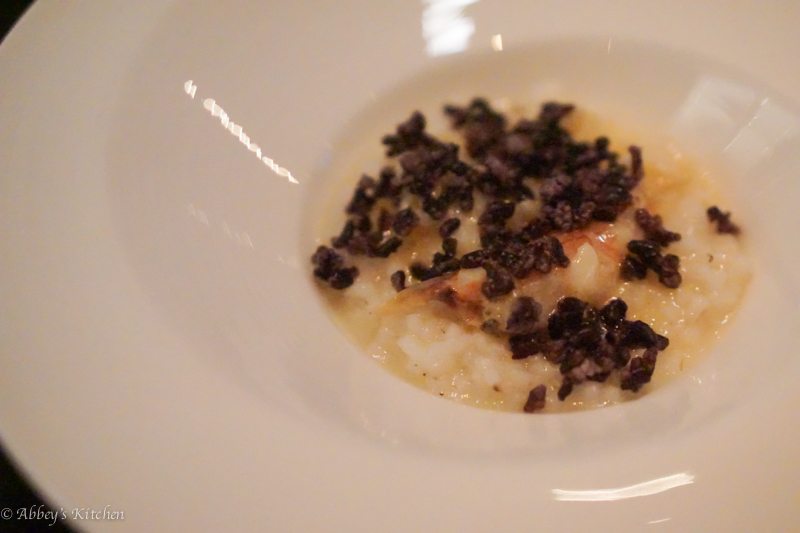 Carolina Gold Rice
Course two was prefaced with an irresistible Milk Bun sprinkled liberally with fleur de sel and served with house made cultured butter that tasted so fresh it was nearly cheese. Why does the bread always have to be so good at fancy restaurants that I'm almost tempted to ask them to stop everything else just to stuff myself with carbs. Alas, I exercised a little restraint and continued on (and boy, was I ever glad I did). What came next was a duo of comfort fare. A shallow bowl of creamy Carolina Gold Rice with buttery Dungeness Crab and crispy toasted black rice for crunch has hands down the best plate of the night. The alternative was a delicate, yet decadent bowl of Veal Trotter and King Oyster Mushrooms in a thick unctuous broth topped with a mountain of fresh shavings of Quebec Foie Gras. It's the kind of thing you can only eat a few bites of before the guilt inevitably kicks in but my goodness, will you ever enjoy those few bites.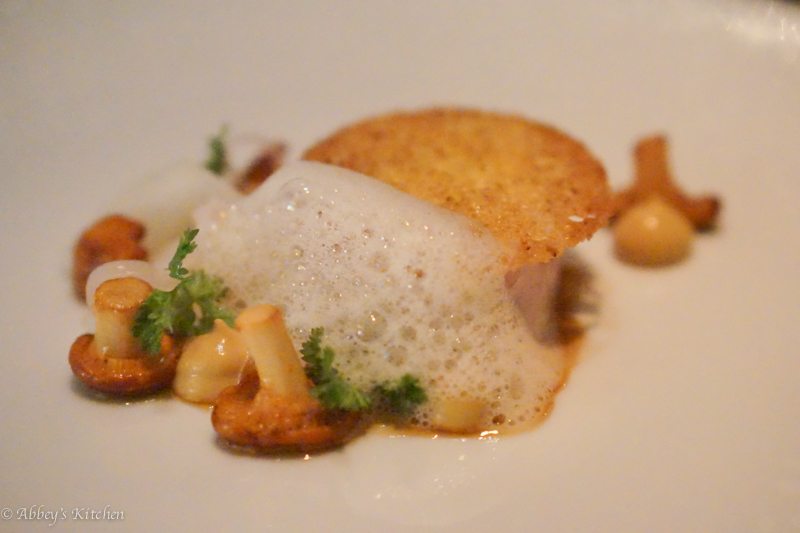 Hamachi
We were back to the sea with our third course, this time with a perfect Hamachi served with buttery Chanterelles and a tangy Sherry Vinegar jus. Exactly what I needed after the unapologetic gluttony of the earlier foie. The alternative and lighter option featured a luxurious hit of fish flavour with a bed of humble Linzer Delikatess Potatoes dressed with Salmon Roe and Bonito flakes. Definitely not you're mom's Sunday hash.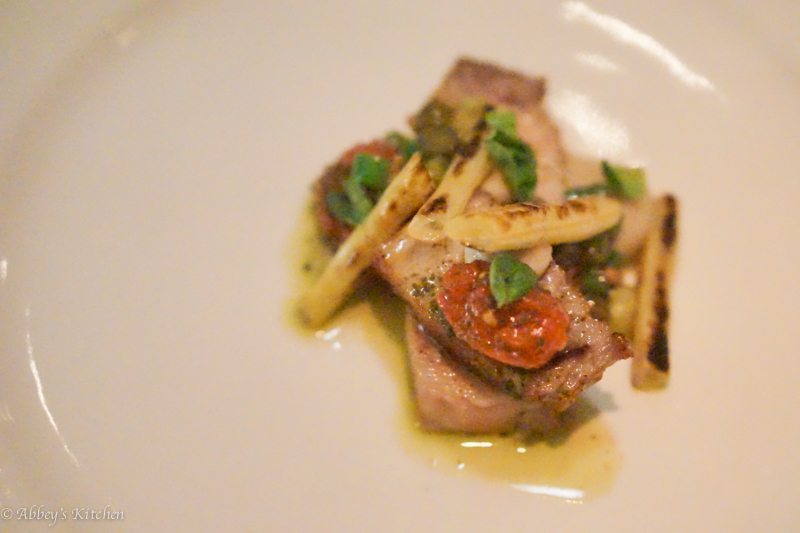 Yorkshire Rack of Pork
This all lead us nicely into a well balanced two main course options. The Yorkshire Rack of Pork at Alo was moist, yet relatively lean, paired with a refreshing summer combination of blistered tomatoes, charred beans and spicy mustard seeds. The alternative Dorset Lamb Shoulder was a meltingly beautiful piece of meat served Mediterranean accompaniments to balance out the rich meat.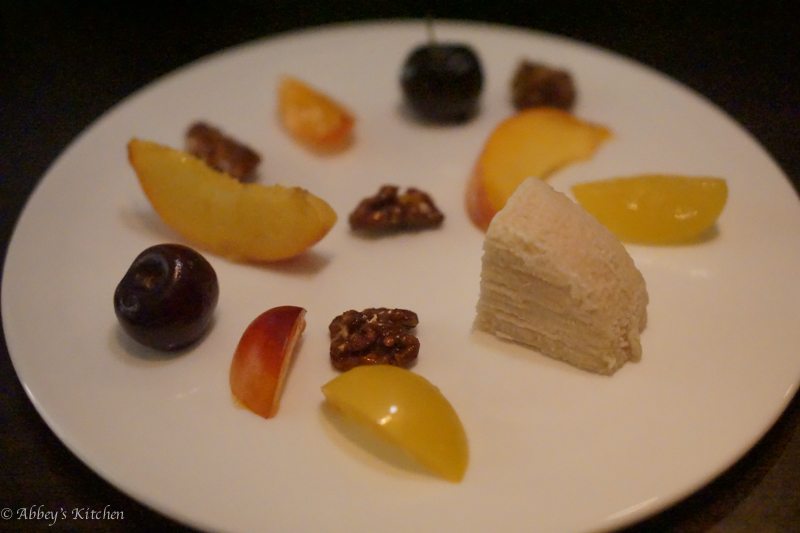 Chevre Cheese Plate
As we transitioned from sweet to savoury we were asked if we wanted to add their on today's Chevre Cheese plate, to which I immediately obliged. The light goats cheese was served simply with seasonal fresh stone fruit, candied walnuts, compote, thin toasted baguette and local honey comb. I could have easily just stopped there and called it a night. Next was what I thought of as a sweeter dessert version of the earlier Corn amuse, this time with Plum Sorbet and puree, puffed bulgur and bitter almond foam. We were then asked if we preferred white, milk or dark chocolate for our next dessert so we decided we'd try one milk and one white. The White Chocolate was a light cremeaux served with a cucumber granita and caramelized white chocolate crumbs. For those of you who think cucumber doesn't have flavour, try this heavily concentrated frozen version and then try to tell me again.  The combination of the rich cream with the refreshing granita was unusual and almost confusing on the palate but decidedly appropriate and well balanced. The Milk Chocolate was a chocolate lovers delight. A moist chocolate cake served with luscious milk chocolate ice cream and caramelized malted milk meringue straws. I'm not even a hocolate lover and I nearly licked the plate. Next was a refreshing vanilla bean Panna Cotta adorned with bright summer berries- a beautiful homage to this season's natural candy. And finally, Cream Puffs filled with cream and dulce de leche which I admittedly inhaled in one determined bite, signaling that I was indeed full, happy and so ready for bed.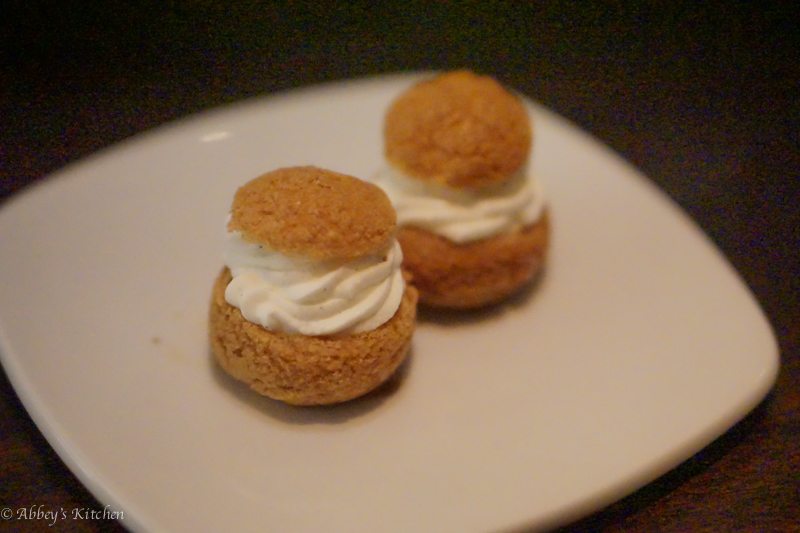 Cream Puffs
In conclusion, my fiancé and I walked out of Alo so excited for a new (hopeful) trend in Toronto dining. I'm not saying we need to get rid of the casual taco, BBQ and snack bars, I'm just really excited to see someone take a risk to return to the golden days of hospitality and put out a beautifully orchestrated multi course meal with exceptional service and stellar drinks. Most impressively, I'm excited that this doesn't need to cost Torontonians an arm and a leg. Alo really has hit that ideal balance between uncompromised fine dining, and an unpretentious-no-BS experience where the traditions that make a difference are put into play, and the over-the-top elements that drive up menu prices to inaccessible levels are reserved for those inaccessible Michelin starred experiences.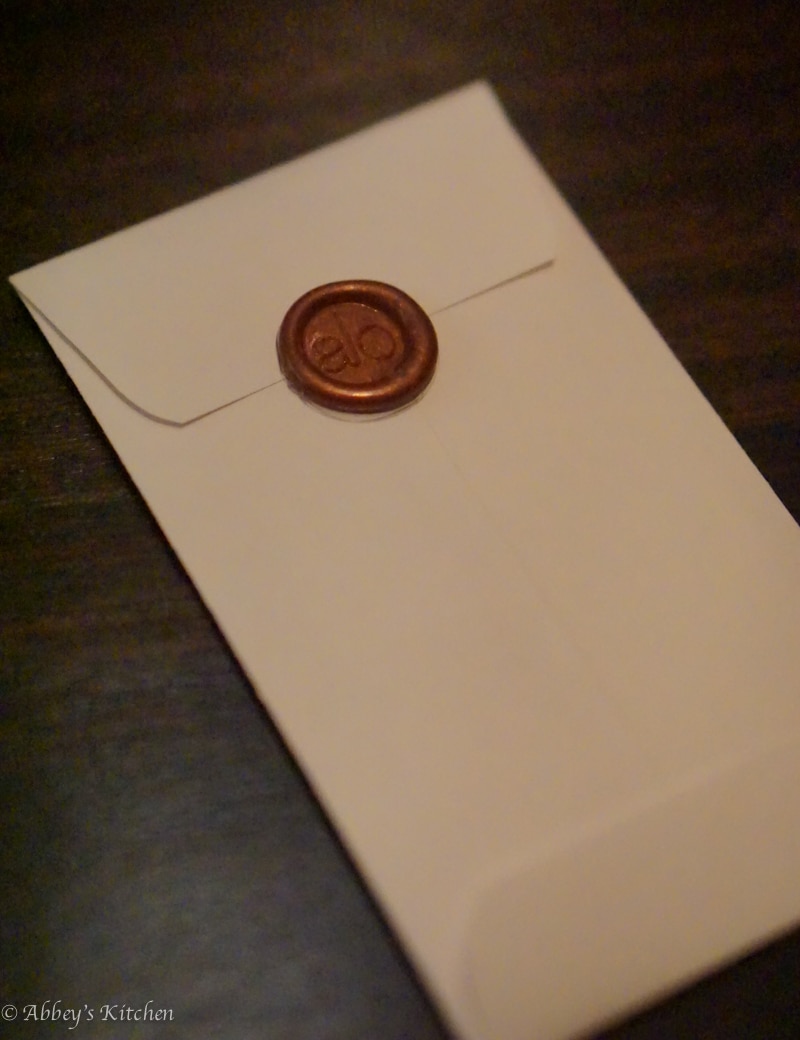 The meaning of Alo is to nourish, cherish, support, sustain, maintain and keep. Here's hoping we get to alo this hidden away gem for many years to come. Alo is open Tuesday-Saturday for dinner only, with reservations accepted online. For more information, check out their website here.
Updated on March 9th, 2016