The love child of Donald Trump, Oliver & Bonacini and INK Entertainment, the highly anticipated America has finally opened their doors. The former Stock on the 31st floor of the Trump Hotel has been revamped into the new hotspot after a rapid pre-TIFF renovation.  In classic hotel-restaurant form, America serves brunch, lunch and dinner as well as a late night menu. And when the clock strikes 10 PM, expect the space to be completely transformed into sexy night club at 10 pm, complete with a DJ and first class bottle service.
With the help of Toronto's own dream team, O&B, every dish at America is designed to wow. True to its name, the restaurant features luxurious takes on traditional American diner classics – think foie gras flapjacks and frog leg cobb salad- who could not love that?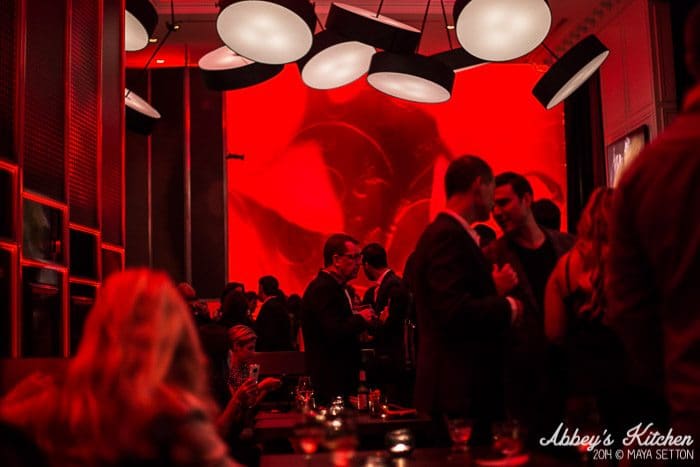 Upon my arrival at the official launch party, I glided past the four burly bouncers and sashayed by the velvet ropes into the glamorous Calvin Bar. There, I was immediately immersed in a sea of models masquerading as waitresses, all of which were dressed in matching black dresses the size of a cocktail napkin and adorned with platinum blonde bob wigs.   Have a few drinks, and this really becomes confusing.
I was then promptly herded into a private elevator headed towards the 31st floor. What was presented as the doors opened was a massive, modern two story space with large black and white canvas photographs and splashes of paint strewn across. Large modern light fixtures hung over chic gray couches, while the patio appeared to boast one of the best views in the city- even on a foggy night. The whole place simply exudes an air of luxury and wealth – true to the Donald Trump name and the American dream.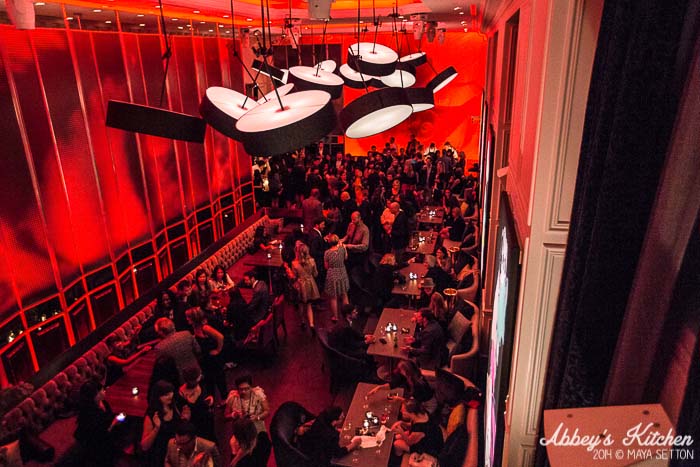 It was very clear that no detail of this event was overlooked. In addition to the team of sexy waitress clones, every corner of the space offered a touch of whimsy like the liquid nitrogen freezing station and huge crystal vases filled with caramel corn.
Without a doubt, this was some of the best food I've tasted in a while. The innovative culinary skill of O&B mixed with the showmanship of Donald Trump and INK Entertainment made for one hell of a night. Drinks and food were flowing as the some celebrities and Toronto's elite – both dressed to the nines – flooded the space. Here is a sneak peek at some of the nibbles we all shared.
America Eats & Drink
Soho Cosmo
Sobieski, Soho Lychee, Cranberry Juice, Lime Juice, Crème de Cassis, Raspberries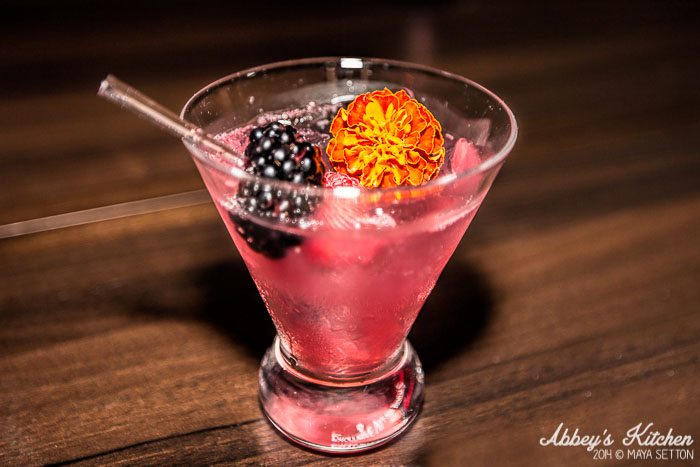 A bit sweet for my taste but still a beautifully presented drink.
Beef Shin BBQ
Trumped Macaroni and Cheese, Heirloom Carrots, Bone Marrow, Billy Bob's Birch BBQ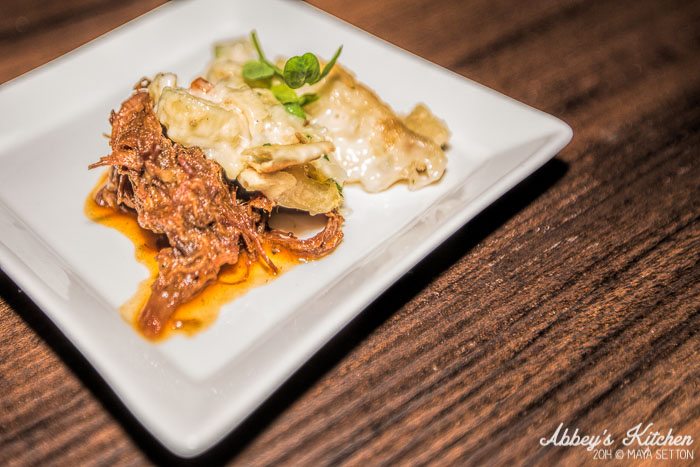 Such tender, juicy beef and addictively cheese macaroni.
Foie Gras Flapjack
Buckwheat, Preserved Peach Caramel, Peanut Marzipan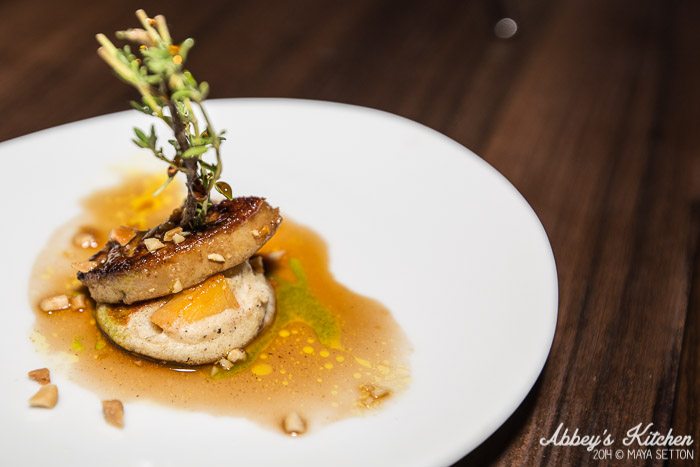 Wow – this dish was absolutely mouth watering! The foie was luscious and unctuous, pairing beautifully with the bright sweetness of the peach caramel and the nutty buckwheat pancake.
Crispy Frog Cobb Salad
Avocado, Cactus, Smoky Blue, Sauce Piquante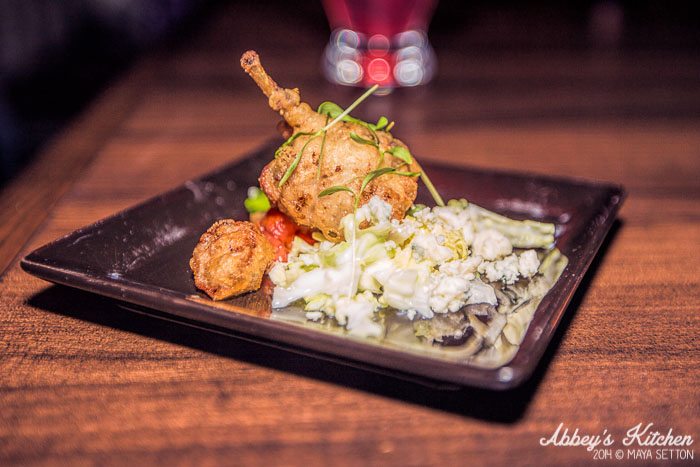 Loved the crispy coating on the frogs leg with the crisp salad, creamy avocado and pungent cheese.
Ahi Tuna Poke Cocktail
Pineapple, Macadamia Nuts, Coffee, Coconut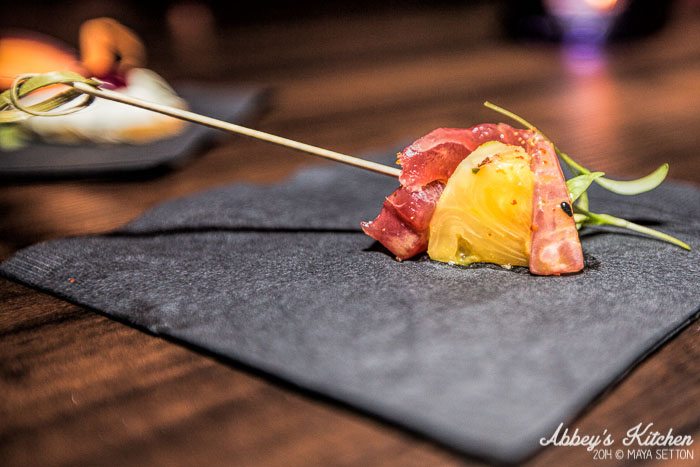 I love how the acidity of the pineapple cut the buttery tuna, and that little hint of bitter coffee balanced its sweetness.
Heirloom Grits
Big Ed's Gouda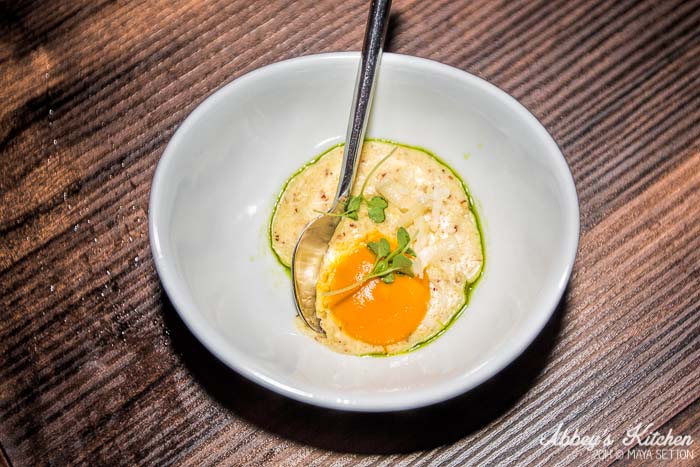 Such a luxurious bowl of comfort food topped with just enough cheese to keep me coming back for more.
John Bil's Best Oyster
On the Half Shell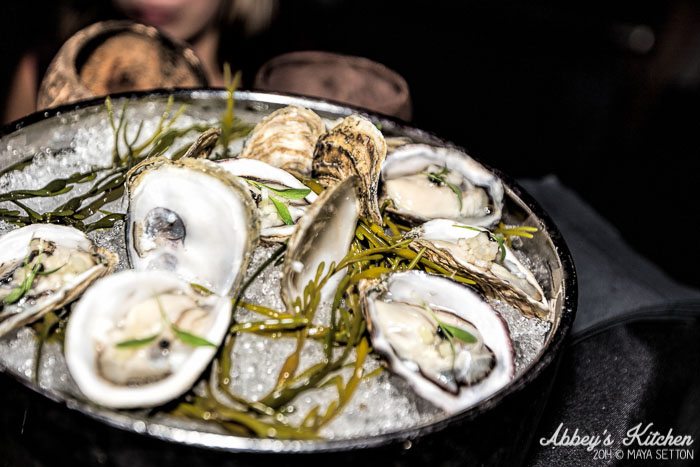 Briny and salty albeit a bit too large for my tastes, though they would be ideal for those who like large meaty oysters.
Fried Chicken Bites
Coca-Cola Honey Glaze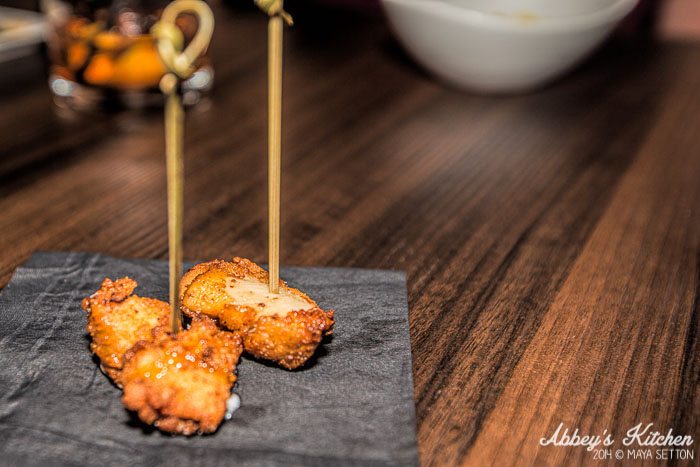 I could have eaten 10 of these little crispy bites smeared with some of that sticky sweet glaze.
Goat Cheese Crostini
With Concord Grape Jelly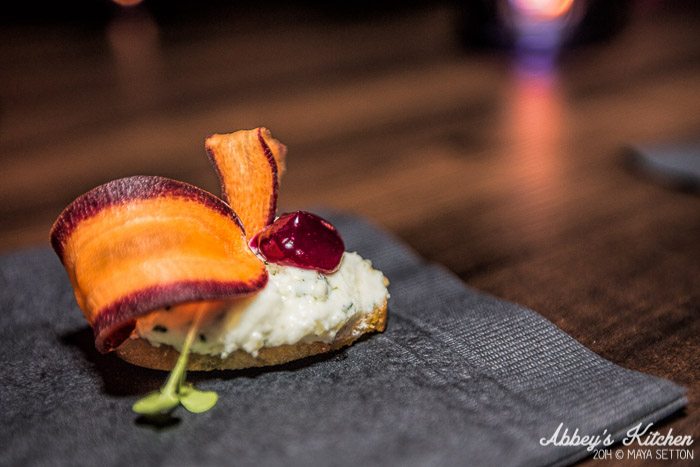 The tangy bite of the goat's cheese paired perfectly with the sweet grape jelly and crisp crostini.
After one of the ritziest nights out I've had in years in the city, I would be happy to return soon (especially on someone else's dollar). So if you're in the market for a spectacular night out, put your fancy pants on, kick back on a velvet couch and take in the view of the city from the 31st floor. I'll see you in America!  For more information on America, check out their website here.
Disclaimer: The preceding meal was complimentary, however, as always, all opinions are genuine.
Contribution by AK Tasters Brea Giffin and Maya Setton
Updated on May 12th, 2020