As a member of the food media, the number one question I get asked (other than how am I not fat?) is, "what's your favourite restaurant?" I honestly never can pick a favourite but usually "Bar Isabel" is one of the first to roll off my tongue. (Read on because Bar Raval is my new first choice). I
first checked out
Bar Isabel back when it first opened with overwhelming buzz in Spring 2013. Usually these things die down significantly soon after, and getting a reservation shifts from impossible to no big deal, but that wasn't the case for Grant Van Gameren's celebrated College St. Spanish hotspot. More then a year and a half later, I had to book 3 weeks ahead for a less-than-ideal time slot to dine out on a Sunday night when
I returned for my birthday
meal in December of 2014!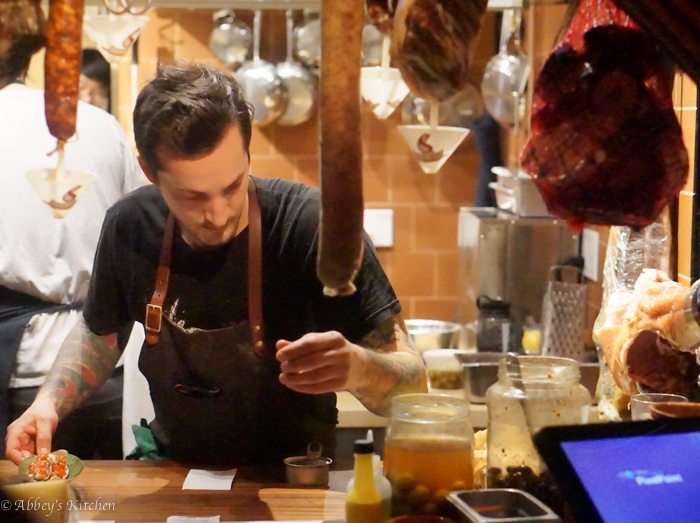 And that's how you know a restaurant isn't built on typical Toronto-foodie hype. Grant Van Gameren is not just the chef du jour, he's a culinary pioneer who inspires and leads culinary trends throughout the city. First, he made charcuterie and offal sexy at The Black Hoof, and when he opened up Isabel and Bar Raval, Toronto went from taco-crazed to Spanish tapas-obsessed.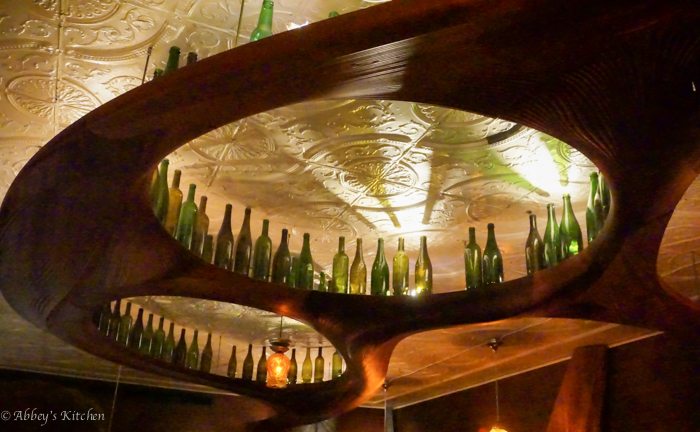 Surely, Grant isn't done innovating yet. So when he announced he was opening a pintxos bar concept called Bar Raval, gossip started circling that this style of dining would soon be Toronto's next hot thing.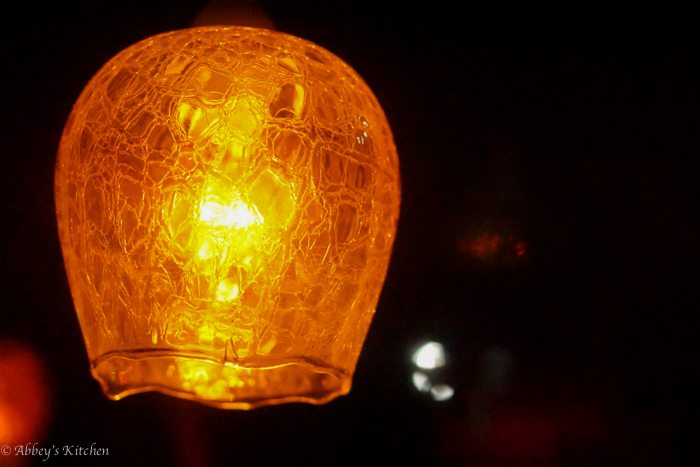 Located on College St at Palmerston, Bar Raval shares a block with some of the city's consistent hot destinations including La Carnita, DaiLo and Woodlot.  The former Teatro was overhauled and redesigned by Alex Josephson (Partisans) and turned it into a Gaudi-inspired masterpiece of a space. As suggested in a recent piece in the Globe and Mail, architecture like this is built to go down as an institution, not just some trendy bar that will be fun for 18 months, then sold and repurposed.
I was dying to try Bar Raval as soon as I could so my fiancé and I went by for dinner a week after they opened. When we arrived through the side door (where the patio will be), our coats were checked and a friendly server encouraged us to find a spot. When I say "spot", I precisely mean just that- there are only about 12 seats in the whole place, and none of them are at conventional tables. Grant built Bar Raval to be an authentic pinxtos bar, and if you've ever been to Spain (read up on some of my favourite pintxos here), you'll know that the point isn't to sit down. Rather, you pop in for a pint and a few pintxos, meet up with a few friends, and then mosey down the street to the next bar. Well, there aren't any other pintxos bars to move onto after your stint at Bar Raval- but trust me, you're not going to want to leave.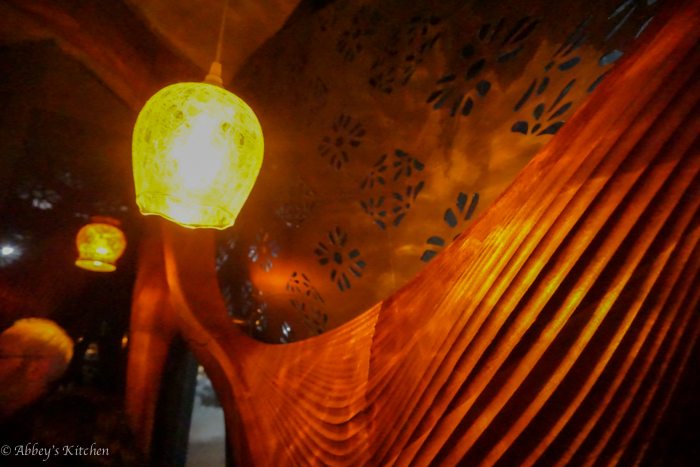 Bar Raval is built like a Spanish dream. As you enter the cozy dim room, you can't help but notice Grant through the open kitchen pushing out pintxos from underneath a wall of hanging cured meats. Framing Grant like a majestic piece of art, and continuing throughout the walls and ceiling is a swirling installation of curvaceous wooden panels. Tracking close by is a steel layer laser-cut into a delicate pattern that somewhat resembles the look of Spanish lace.  The winding whimsical wooden fixture is set a few feet below the ceiling to make room for a collection of colourful glass bottles that glow warm hues amidst the hanging lamps. The whole thing feels pleasantly disorienting, and obviously nothing like anything from home.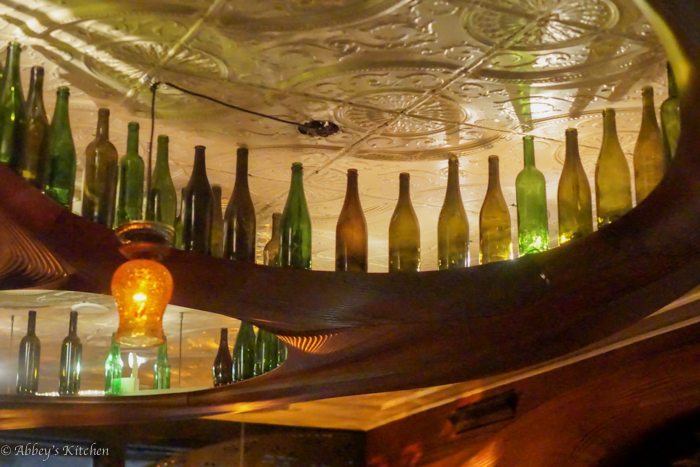 We pulled up a spot along the window between a few other sets of couples, all of which we ended up chatting with by the end of the night. From 7-9 PM on a Friday night, the place was buzzing and full. It was loud in there, yes, but not anywhere near as loud as some west Toronto restaurants can get, and people were surprisingly respectful of people's eating space.  Once you claim "your spot" at Bar Raval, food and drinks were delivered to the nearest shelf, bar or wooden barrel, while purses could be stowed below on one of the many hooks. While my immediate concern with this whole set up would be that I would feel uncomfortable and cold, if anything, it was completely the opposite. I would recommend not wearing your heartiest sweater to Bar Raval, as there are so many bodies in there it feels hotter than most nights in Spain.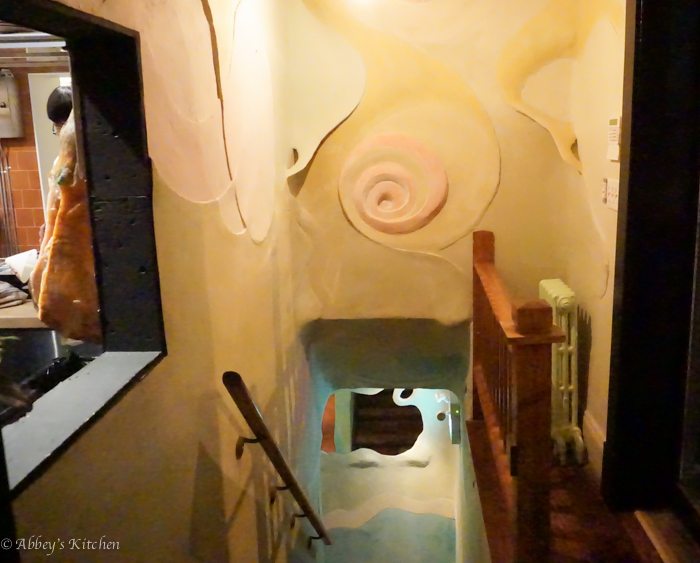 Service at Bar Raval during my visit was personable, charming, well paced and knowledgeable- and that last attribute is super key here. Unless you speak fluent Spanish, you're going to need help because the extensive menu basically just lists dishes as 1-3 words and most of those words are not English. I googled some of them while we were waiting for our order to be taken, but otherwise our server stepped in to explain the rest. This is where seeing the pintxos right on the bar comes in handy, but I hear this is restricted to dining in the day. Maybe it's just a bit too busy and hectic in the evening, and it may get stressful trying to keep track of who picked up what piece. Or maybe Toronto is just not ready for the pinxtos honour system that I saw employed at some of the hot San Sebastian bars. Either way, expect to order off the menu if you dine at night.
And speaking of menu, let's go there. As expected from a Bar Isabel follow-up (which sports some of the top cocktails in the city), the folks at Bar Raval don't mess around behind the bar. Robin Goodfellow and Mike Webster are not just in charge of drinks but are also co-owners in the place. Together they've curated a list of over 2 dozen signature cocktails ($10-16) divided into vodka, stirred, shaken, alto vaso (tall glass) and apertivo (aperitif).  Also available is an extensive selection of vermouths and sherries ($7-15), two beers ($8-9), almost 30 (mainly European) wines by the bottle ($45-100) and 8 by the glass ($7-12). Coffee is also huge at Raval, not surprisingly since they open for breakfast and all day, but there's no decaf so restrain myself from getting to taste. In general, it was hard to pick our poison, but we opted for the following drinks.
Bar Raval Drinks & Eats
Rose Fizz ($11)
Pale PX, Lemon, Sugar, Egg White, Peychaud's, Rose Cava
Easy drinking and smooth with a nice delicate bubble from the cava.
Basque Flip ($15)
Dickel Rye, Osbourne PX, Ameretto, Milk, Whole Egg, Nutmeg
Creamy and sweet without it being overwhelmingly rich.
Gothic Quarter ($15)
Tanqueray, Kaffir Lime, Sugar, Creole
My favourite of the night- the fragrant kaffir lime really came through nicely and made for a refreshing sipper.
@King_of_Ginger ($15)
Lot 40, Bowmore, Averna, Ginger, Lemon, Bell Pollen Honey, Egg White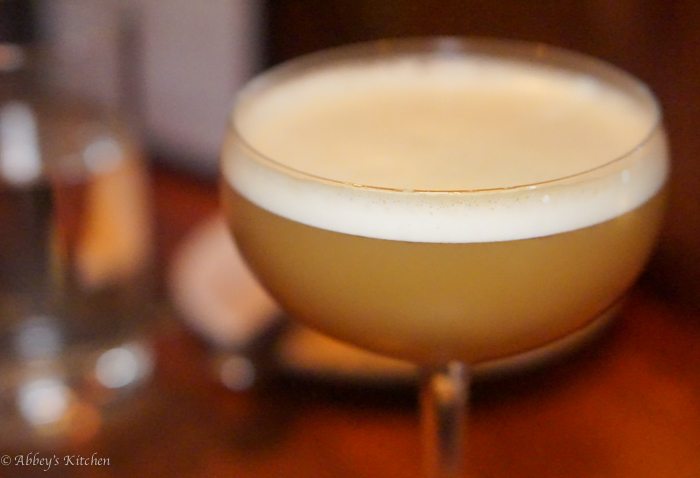 Herbal and well balanced from the zippy ginger, sprightly citrus and sweet honey.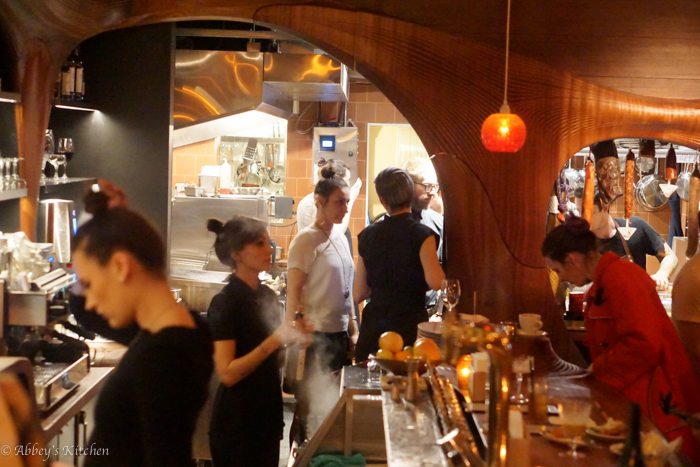 As previously alluded, the food menu is extensive and authentic (from what I recall from my eating adventures across Spain). Everything is easy to share and eat without a knife and proper fork, so it's perfect for eating standing up. Items are organized into Embuditos (charcuterie), Cheese, Spanish Imported Canned Seafood, In House Canned Seafood, Tapas (mostly warm dishes), Pintxos (mainly served on bread), Bocadillos (sandwiches), A La Planxa (grilled on a plank), A La Parilla (grilled on grills over fire).
In House Sardines in Tomato ($10)
Salty bites of buttery sardines bathed in a light tomato sauce- perfect on simple white baguette.
Jamones Trevelez ($12)
While we had a lot of great imberico ham in Spain, I figured I could "downgrade" and go with the more affordable Trevelez. Trust me, you still won't be disappointed. Rich and flavourful with a silky texture and a pleasant level of salt. Fantastic.
Pig Cheeks in Cider ($9)
One of my favourite bites of the night. The dense spicy chorizo and unctuous pork belly bits were made crispy and caramelized in a sweet cider glaze and balanced out by the pickled bite of the guindillas. Do yourself a favour and order this.
Croquetas ($4.25)
Croquetas were the first things I ate when I landed in Barcelona so this immediately brought me back. A very traditional- albeit perfect- version, these hot babies were stuffed with creamy béchamel and little chewy bits of ham and then fried to a crispy golden brown.
Cojunado ($10)
This one is a messy one, so I recommend bring the plate up to your mouth to catch the inevitable egg yolk explosion but still, oh so worth it. Here you get crispy bacon, spicy chorizo, sweet piquillo pepper and a perfectly fried runny quail egg. Yes, yes, yes and yes.
Jamon & Manchego ($8)
Silky ham and delicate shavings of manchego that together just melt into the bread like butter. Simple and divine.
Beef Tenderloin and Shishito ($17)
This was the other clear winner of the night- even the men behind us couldn't help but comment on how good it smelled coming by (so naturally we offered them both a piece). The steak was blessedly tender and flawlessly seasoned- honestly, it brought me back to the beautiful beef we had at Etxebarri. Obviously we loved the shishitos as well, which have become a staple in our house since coming home from Spain.
Squid in Pork Fat ($8)
Finishing off the way we started- with some delicious seafood (albeit in pig fat for good measure, of course). As expected, the squid were nicely cooked with a mild sweet flavour of lard that easily refreshed by a squirt of fresh lemon.
Did I love it? I really loved it. I really really did. The food was fantastic and truly authentic, the drinks were all on point, the atmosphere was mind blowing, and the servers were clearly well-trained and friendly. There isn't much negative I can say about my first experience at Bar Raval, aside from the fact that I wish it was larger so that once the word gets out, I can still get a "spot". I guess I also wish the prices were more "authentic" as well, where most pintxos in Spain cost 1 € ($1.43 CAD) and not $9 CAD. But I guess we are paying a bit for the novelty, the imports and to their defense, the pintxos quality as I ate a lot of obvious "drunk food" pintxos in San Sebastian and Logrono. All in all, I cannot wait to return with friends and I'm itching with excitement to see the patio open this Summer. Bar Raval does not take reservations, but are open daily from 8 AM to 2 AM. For more information on their menus, check out their website here.
Updated on May 8th, 2019