A lot of pretty awesome things have come out from Queens, New York. We had the famous Run DMC, LL-Cool J, NAS, and also famous for her Superbase song, Nicki Minaj. Those artists are pretty impressive, I guess, but as a foodie, I'm definitely more excited by their beloved burger joint,
Bareburger
.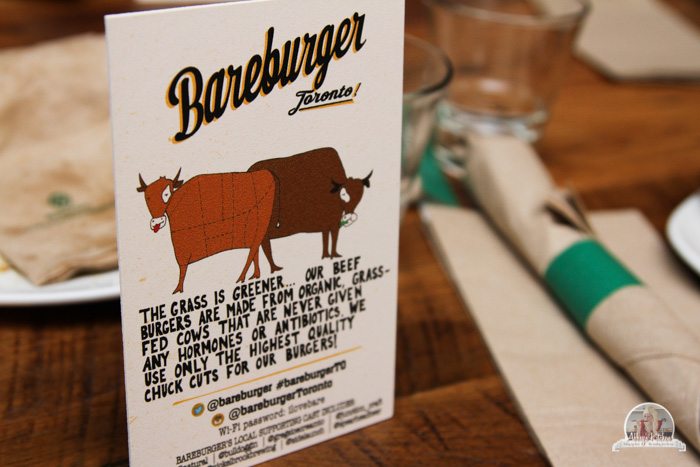 Having opened their first location in 2009, Bareburger soon grew a cult following across New York, New Jersey, Connecticut, Philadelphia, and Ohio and after 6 years in the burger-making biz, they've landed a whopping 23 locations across the U.S. Lucky for us, owner and founder Euripides Pelekanos decided to bring his empire north of the border and Toronto is getting in on the first taste.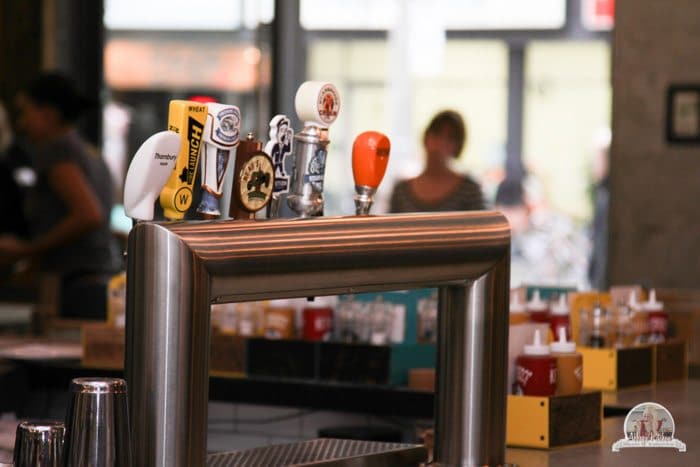 Located on Dundas at Bay Street, the brand new restaurant's façade offers a very clean and modern look with beautiful floor to ceiling windows. Once inside, the theme is decidedly more rustic and farmhouse chic, equipped with wooden chairs, tables and walls.  This no doubt plays up their commitment to using fresh, healthy ingredients- all of which are organic, fair-trade, GMO-free, and raised without pesticides. They've also got a huge range of vegan and gluten free items so no one feels left out of the burger lovin' game.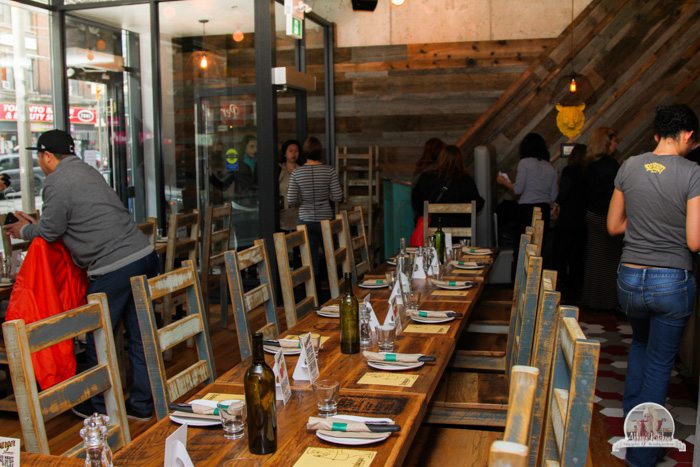 Well, I'm definitely a fan of organic meat, and I do love myself a good burger and I must say, you really can taste the quality here.  Bareburger offers a large selection of gourmet Burgers as well as the option to creatively build your own. Yep, that means you can pick your burger meat (they've got everything from beef, to sweet potato and wild rice, to duck to wild boar), your bun (like the brioche or gluten free hemp milk), your cheese (yumminess like aged cheddar, gouda, pimento and vegan cheddar!), your bacon (yes, you can put duck bacon or even brisket on your burger), your veggies (literally anything you could dream of), your sauce (OMG try the curry ginger ketchup), and your spread (from guacamole to tomato fig jam- yum-o). You could eat here daily and literally never get bored.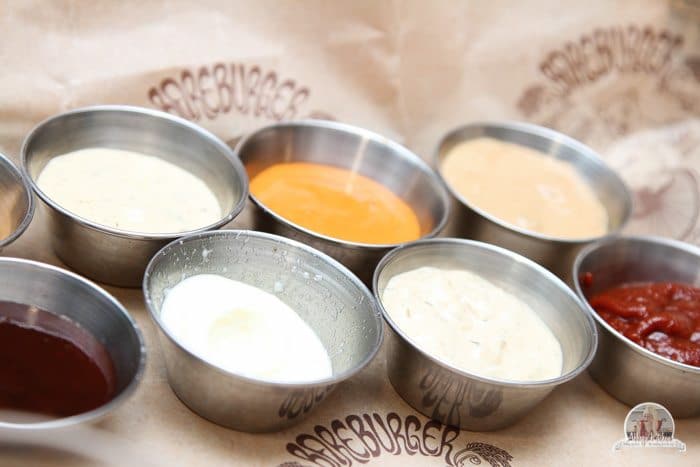 Following Pelekanos' brief history of Bareburger, we got right into the delicious treats. Check out a preview of what Bareburger has to offer!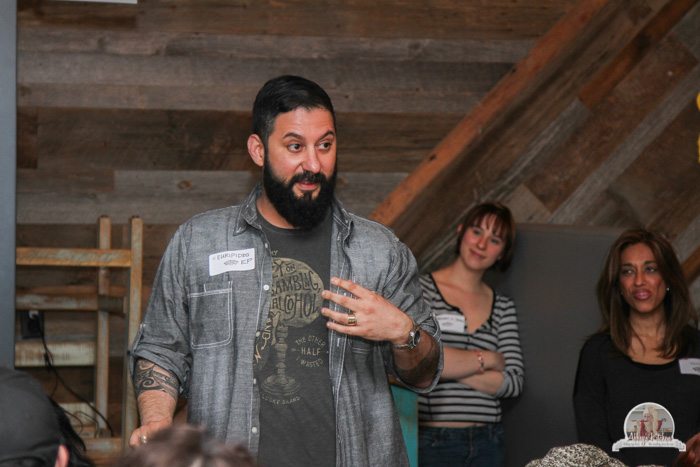 Euripides Pelekanos
Bareburger Eats
Onion Rings & Sweet Potato Fries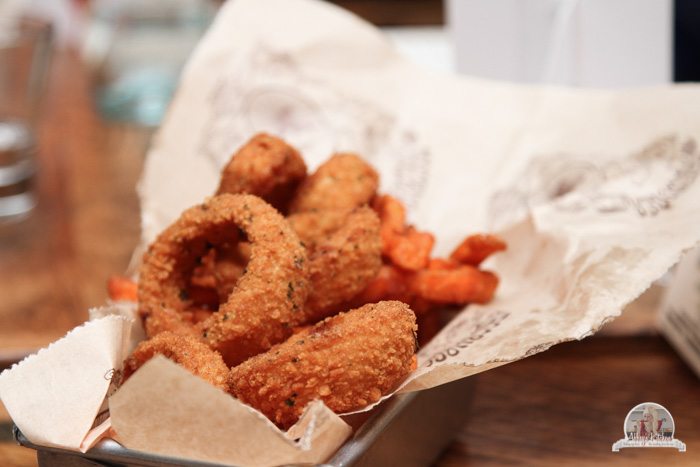 Beef Brisket Poutine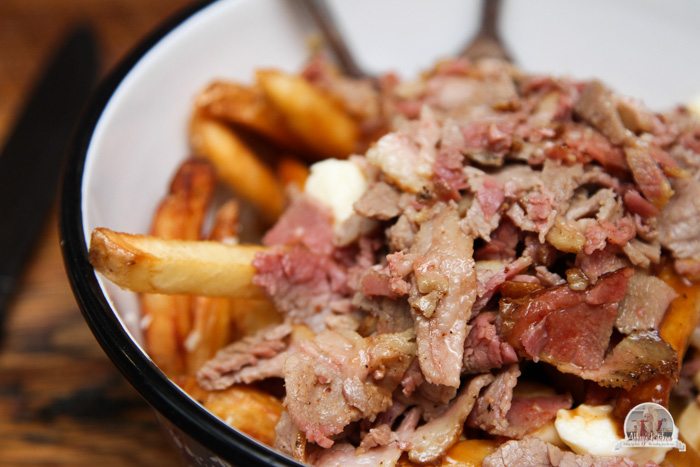 Cali Fresh
Baby kale, cauliflower hummus, red quinoa, grape tomatoes, watermelon radish, red onion, alfafa sprouts, and a lemon tahini dressing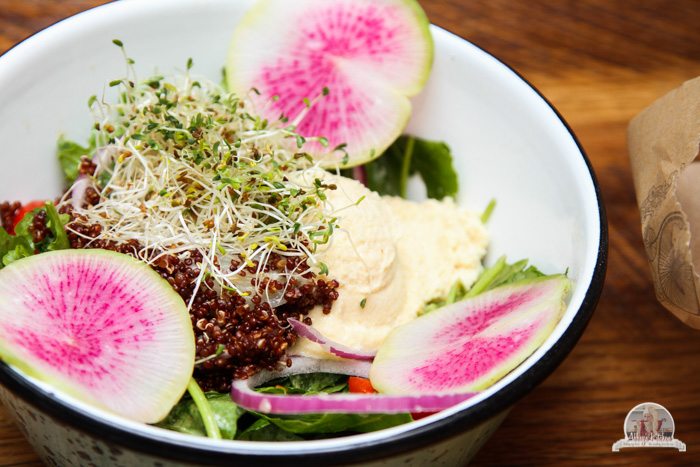 Guapo Chop
Little gem lettuce, cheese curds, pickled jalapenos, red onions, pico de gallo, guacamole, blue corn tortilla, avocado basil dressing, and with buttermilk fried chicken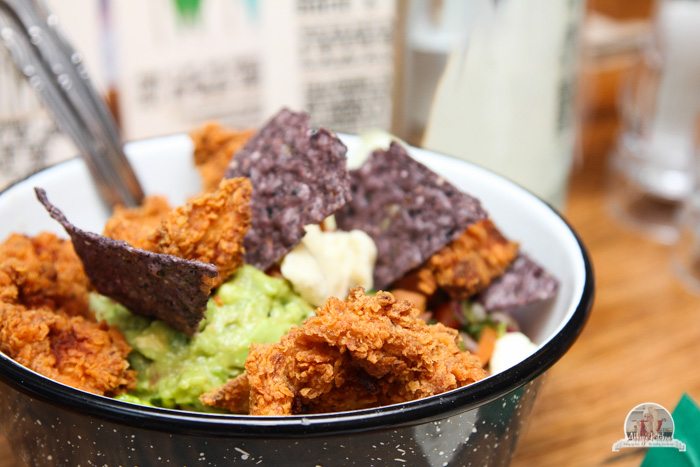 Numero uno. Farmstead Collard Slider
Sweet potato & wild rice patty, with tomatoes, baby kale and a cauliflower hummus, all wrapped up in a collard green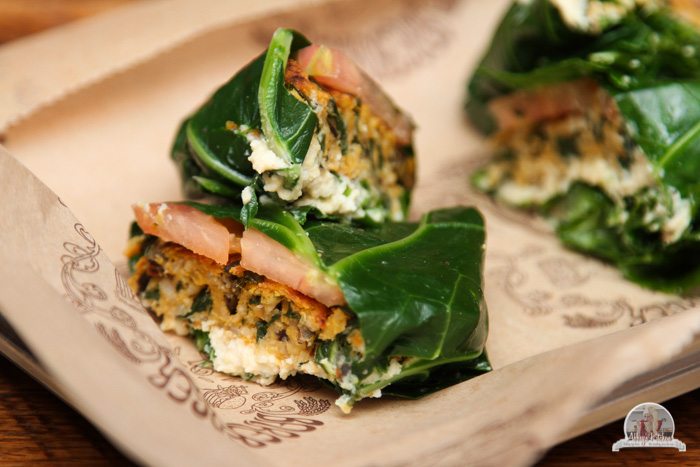 Second. Blue Elk
Canadian elk, with a delicious tomato-fig jam, bleu cheese, and stout griddled onions on a brioche bun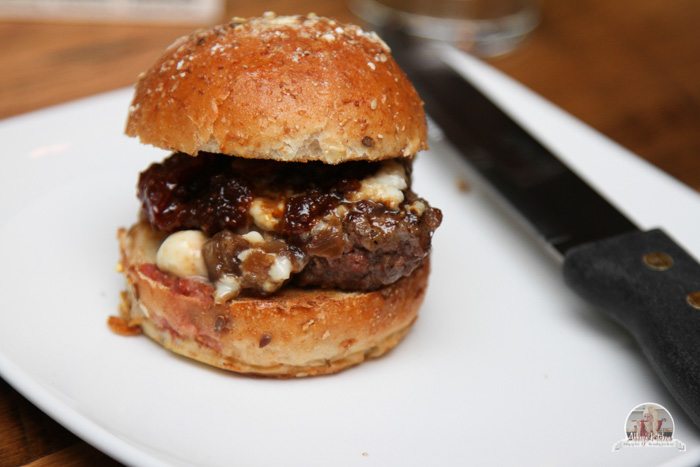 Third. The Beef Standard
Grass fed beef, Bareburger special sauce, stout griddled onions, pickles and Colby cheese on a brioche bun.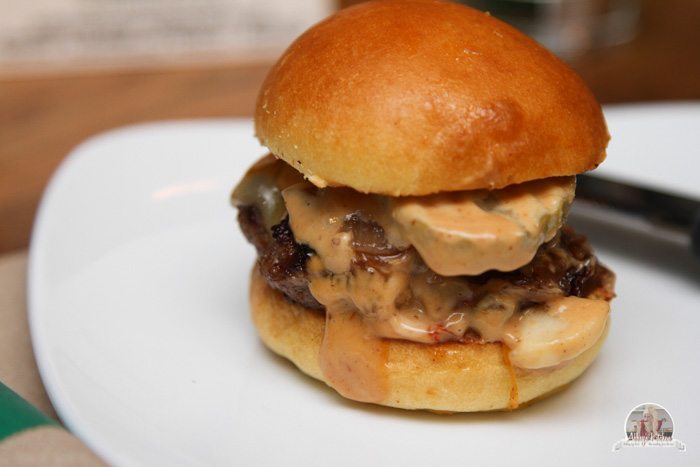 Oh boy, that was good.
El Matador
Bison, cheese curds, guacamole, pico de gallo, jalapenos and green leaf on a brioche bun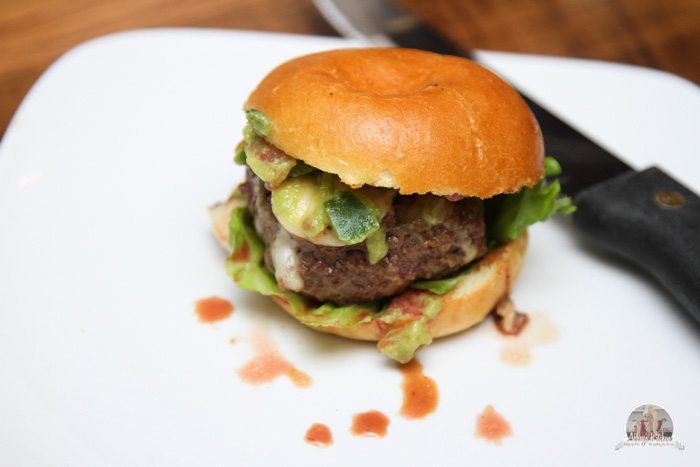 This burger grabs a piece of Mexico, and fits it between two buns.
One bite at a time we reached the end. At this point of the evening I was stuffed.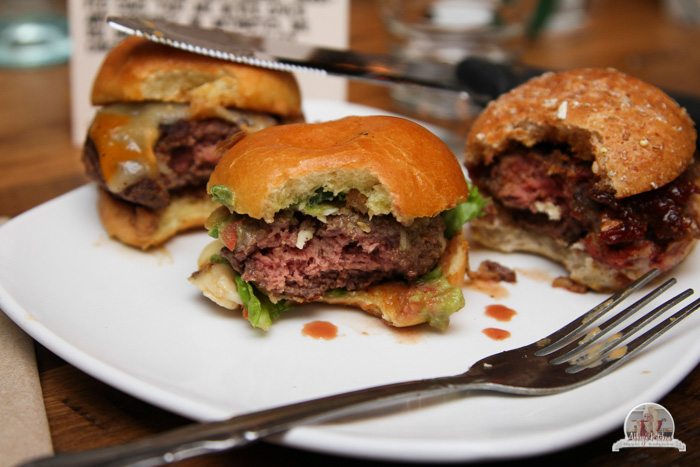 After an exciting evening I had to undo my belt and loosen up my jean button only because of what was next…
Chocolate Vanilla Milkshakes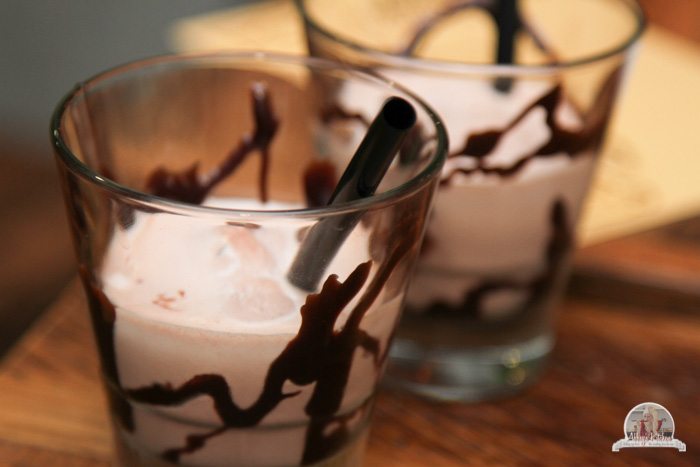 Ice cream Sandwiches made by Batch 17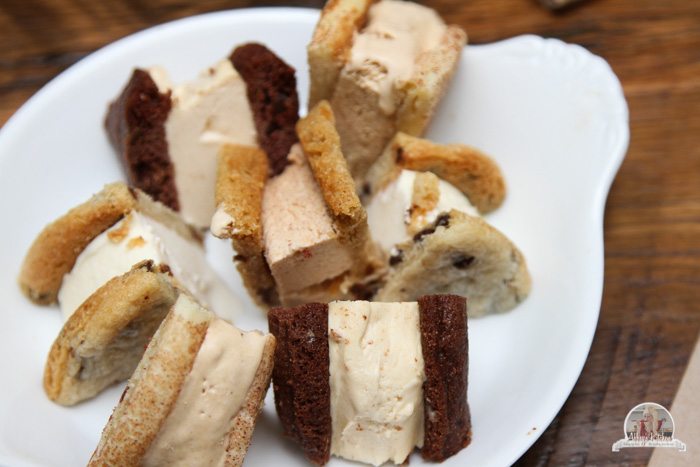 Whether you're by yourself, hanging out with friends or even on a date, I'd definitely recommend Bareburger for anyone to go and order some food, drinks, and enjoy a good time.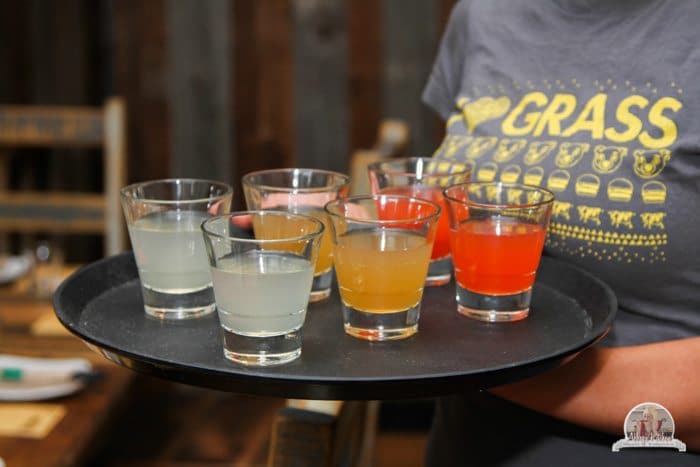 Bareburger offers the perfect guilt-free pleasure for anyone committed to an organic lifestyle, but who still just needs a good burger every now and again. Bareburger is located at 111 Dundas St W. For more information about Bareburger or to check out their mouth-watering menu, you can visit their website here.
Disclaimer: The preceding meal was complimentary, however, as always, all opinions are genuine.
Contribution by AK Taster Brian Cerminara 
Updated on January 8th, 2018